There's a sweet spot between escaping it all for an unconnected, remote campsite and staying in a plush hotel suite. Yes, it's called "glamping." And Under Canvas might just epitomize the absolute best of glamping.
Under Canvas is a chain of high-end "glamping" experiences located outside of some of the nation's most popular and scenic National Parks. I recently put the experience to the test during a road trip through Wyoming, stopping at Under Canvas Glacier to explore Glacier National Park.
Its location just outside of the west gate of Glacier is a perfect way to experience the great outdoors with amenities you wouldn't expect while camping. And that's what you'll get whether you're heading for Glacier, Moab in Utah, Zion National Park, Yellowstone, or any of its nine locations and counting.
Here's a look at what the Under Canvas experience is like from my stay at Under Canvas Glacier.


A Look At What It's Like at Under Canvas Glacier
On paper, glamping pairs the outdoorsy, adventurous spirit of regular camping with modern amenities. In practice at Under Canvas Glacier, it struck that balance well.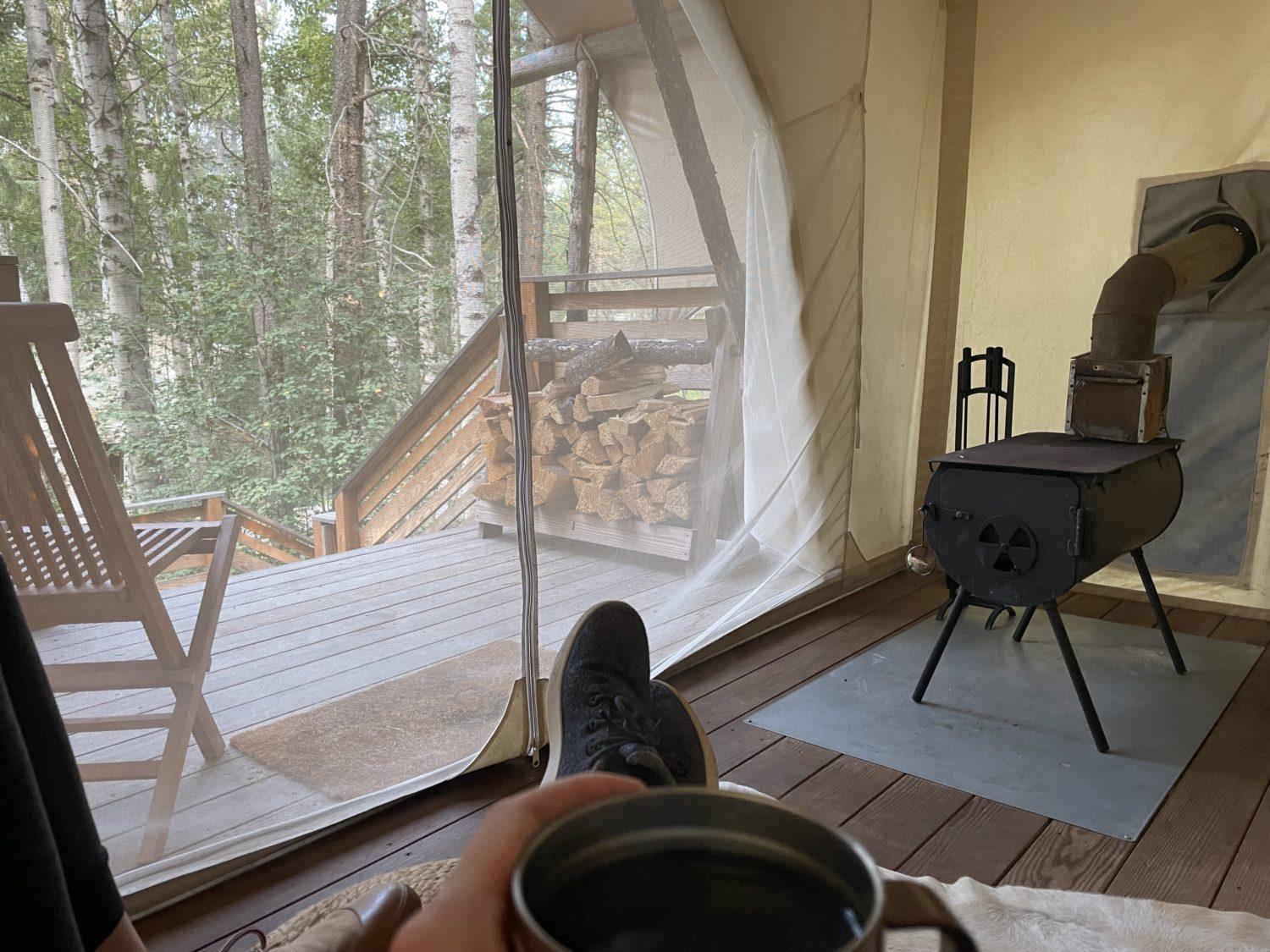 Leave your tents and gear at home, as Under Canvas Glacier already has tents in place. They are made from thicker canvas material and are elevated off the ground by stilts, and are accessible by staircases.
Each tent features a front porch with a neat stack of firewood and some chairs for lounging.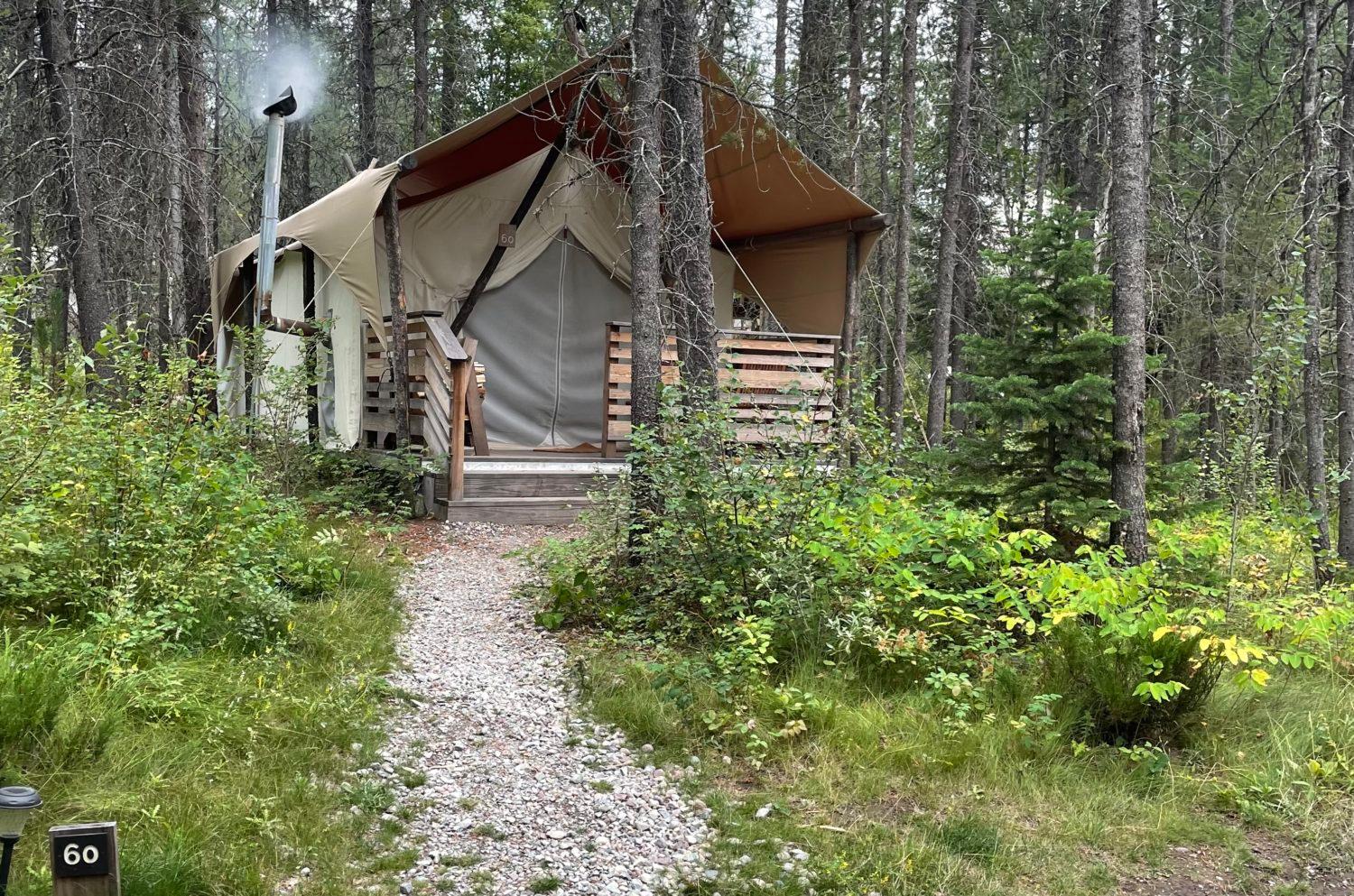 Inside, all of the tents contain a real bed with a mattress, some indoor seating, and a wood-burning stove to heat the tent when needed. Some of the tents feature king beds, some have king beds and pull-out couches, and some tents feature a number of twin beds.
Read next: How to Score Cheap Flights to the National Parks
At Under Canvas, some of the campsites also feature adjacent "hives" which feature two more twin beds and are meant for children.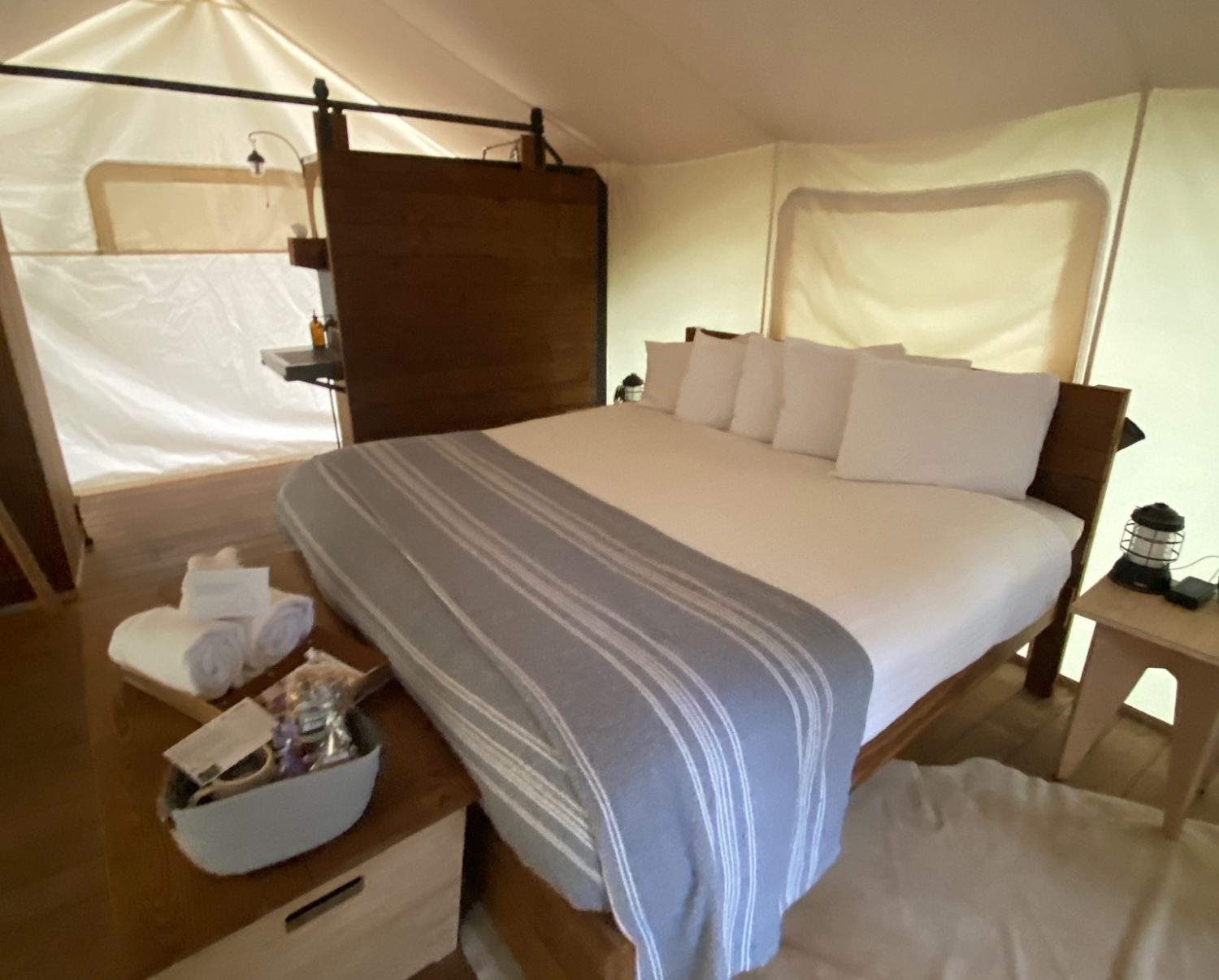 The amenities at each tent vary based on what you pay for. But the nicer tents have full bathrooms inside, including flushing toilets, sinks, and showers. The shower water is warmed by a propane heater, making for a pretty luxurious shower you won't find under almost any other tent.
For the tents without bathrooms inside, shared restrooms are available. The shared restrooms are long buildings with individual restroom pods inside of them. Each one features a sink, mirror, garbage can, toilet, and full shower.

Add on daily housekeeping (on demand during the COVID-19 pandemic) and you've got yourself a pretty plush stay at any of the Under Canvas locations.
The common areas also have a lot to offer. The reception tent features a number of seating areas for guests to unwind or enjoy the free, 24/7 coffee, tea, and water. There's also a small, a-la-carte food shop featuring oatmeals, granola, sandwiches, cold coffee drinks, snacks, and soft drinks.

A Glacier and Under Canvas-themed gift shop can also be found inside the reception tent. It featured Lululemon apparel, some casual t-shirts and sweatshirts, and commpon necessities like bug spray, sunscreen, water bottles, and more.
Across the driveway from the reception tent is a common area featuring five grills, some dining tables, and some yard games like cornhole, ladder toss, extra large connect four, extra large jenga, and others. Next to those games were three separate fire pits (which used propane, so Under Canvas guests could continue using them even during fire restrictions in the state) that had seating for anywhere between eight and 20 people each.

On the other side of the campsite, a separate event space was available with some more cornhole sets and seating areas. That space can be reserved for group activities, meals, or receptions.
Overall, the Under Canvas Glacier campsite, despite being close to the highway that takes visitors in and out of the popular National park, felt very quiet and secluded. There was some traffic noise the closer you got to the road and the Great Northern Railway brought about the occasional train rumble or whistle, too, but the noise was hardly a disturbance. Staff offered us free earplugs when we arrived if the noise were to be too bothersome.

What is Under Canvas & Under Canvas Locations
Launching in 2012 with a campsite in West Yellowstone, Montana, Under Canvas now operates these nine different campsites outside of popular National Parks – with more on the way.
Montana Locations
Utah Locations
Moab
Zion
Bryce Canyon (coming in June 2022!)
Lake Powell-Grand Staircase
Looking for recommendations for Utah's National Parks? Check out our guide.
South Dakota Locations
Tennessee Locations
Arizona Locations
Maine Locations
Of course, each campsite has its own unique features and amenities. Some of the camps feature "stargazer" tents with windows on the ceilings, allowing guests to take in the night sky. Under Canvas Glacier is the only campsite with "treehouses," which are built high up into the air around big trees that go straight through the center of the tents.
Read more: How to Book Your National Parks Pass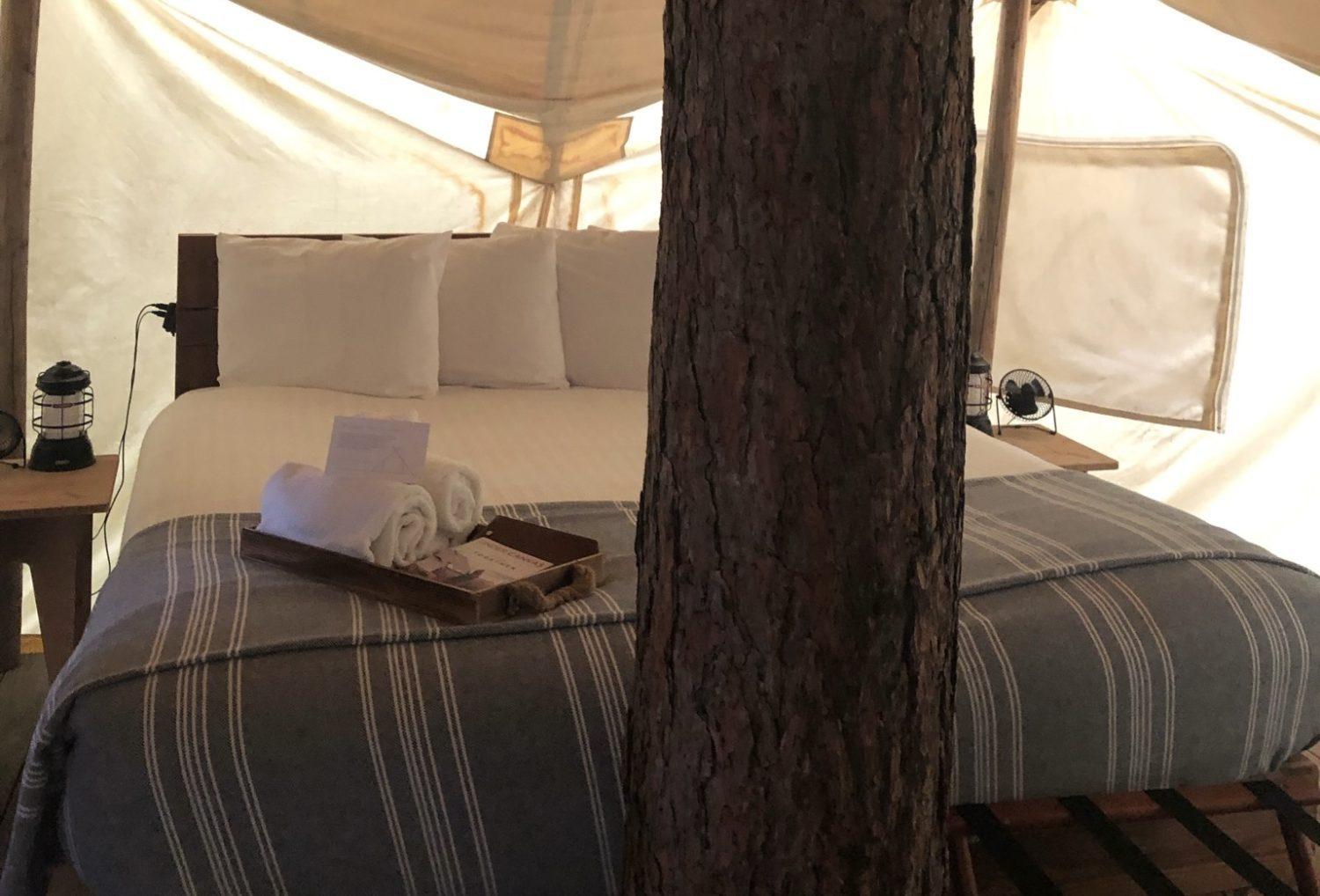 Acadia is the newest Under Canvas site and sits on the shores of the Atlantic Ocean, making it the first oceanfront Under Canvas property. Its tenth property will open at Bryce Canyon National Park next summer.
Depending on which park you're heading to, Under Canvas's sites vary in distance from park entrances – some are more remote than others.
What You Need to Know About Glamping at Under Canvas
When glamping, you don't need to pack like you would for a camping trip. Here is what you can expect from Under Canvas based on my experience at the Glacier location.
Bathrooms
Many tents have their own private bathrooms – if you're willing to pay for it.
The tents with bathrooms inside feature running toilets, sinks, and showers. Each has hand soap, shampoo, conditioner, and body wash like a regular hotel room. Toilet paper and a variety of towels are also available in each tent.

The in-tent restrooms feature a large barn door for some privacy, but beware: These are still tents and there is little you cannot hear from outside of them.
Other, lower-priced tents have access to shared restroom facilities. Inside those buildings, you'll find individual units with the same amenities as higher-priced tents. All shared restroom guests are provided towels, too.
Electricity
One thing you won't find inside your Under Canvas tent? Electricity. You'll only get that in the reception area.
Instead, each guest is given a USB charger featuring multiple USB ports for charging devices. The receptionist told us each holds about six hours of charge each. I stayed two nights and charged both my phone and watch overnight both days and never had any issues with running out of power.
Read more: How to Book a National Parks Trip Using Points and Miles
Inside the tents, there is a lantern on each bedside table and another small one in the bathroom area. All the lanterns are portable and can be taken anywhere. Each of them are electric and also require USB charges when they run out. Similarly, our lanterns never ran out of electricity during our two nights and did not require charging.

Wi-Fi
By design, there is no Wifi at any Under Canvas property.
There is, however, some cell phone service at Under Canvas Glacier, so you could use your phone as a hotspot in a pinch. The service was not always consistent though, so I wouldn't count on it.

Food
While other sites have kitchens and some food offerings, the Under Canvas Glacier location does not. It has a small a-la-carte food shop inside the reception area including oatmeals, granola, sandwiches, cold coffee drinks, snacks, and soft drinks.
Plus, there is 24/7 hot coffee, tea, and water in the reception area as well.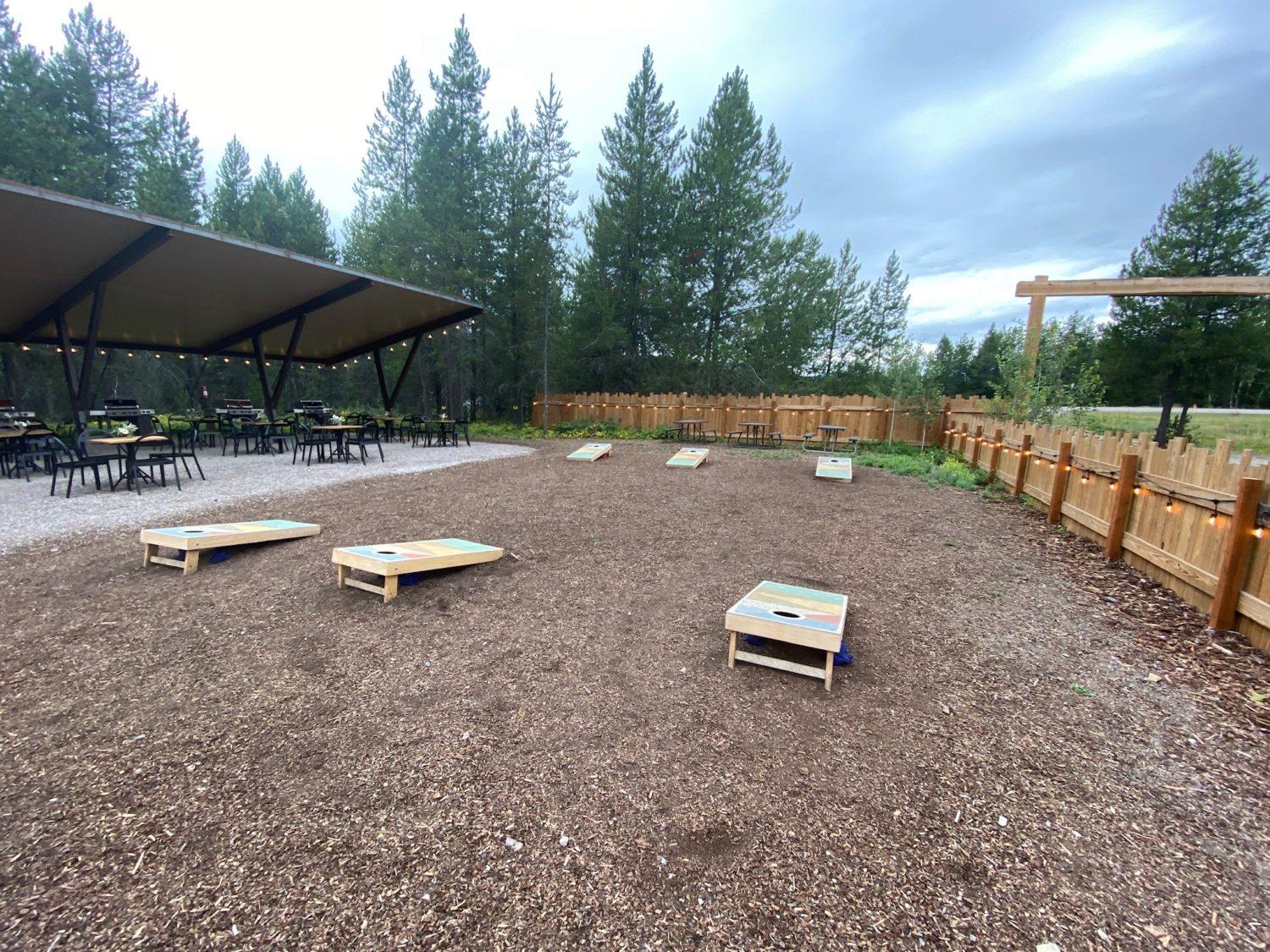 Guests are permitted to bring in their own food they can prepare on the five large grills in the common area. There are also a dozen or so tables set up under the awning near the grills as well.
One note: Glacier is bear country, and while the site is surrounded by an electric fence to deter wildlife, guests are not permitted to keep food in their tents and must keep anything that attracts wildlife in their vehicles instead.
Activities
The reception area features a map of the Glacier National Park area and a list of things to do in the surrounding area. Glacier's camp also featured a helpful guide to their staff members and what they like to do in the area, too.
With each site at the doorstep of one of the country's finest National Parks, the campsites were largely empty during the day.

At night, Under Canvas provided daily, family-friendly programming from rock painting to s'mores-making stations.
Some partook in those site-sponsored get-togethers, others enjoyed their tents and porches, and some gathered around the campfires for a nightcap, too.
Heating & Air Conditioning
There is no heating or air conditioning in the Under Canvas locations.
However, each tent is equipped with a wood-burning stove for heat. With temperatures dipping into the low-40s in August at Glacier, the wood-burning stoves were in full use throughout the campsites.
Each stove comes with matches, logs, kindling, and little fire starters to get the fires going. Upon arrival, we were given a step-by-step tutorial on how to build the fires safely and quickly.
There is no air conditioning in the tents, but they do come with small, hand-held individual fans, which can also be charged by USB in the tents.
Bottom Line
If you don't think you're rugged enough for camping in the wilderness before venturing off for a hike but you still want an outdoorsy retreat, this style of glamping is perfect. Honestly, even if you're a hardened camper and want a similar feel with a pinch of luxury, Under Canvas is your spot.
The Under Canvas Glacier camp was a beautiful, sprawling, wooded, and hilly location that really makes you feel like you're in Montana. But it's hard to believe you're camping as you fall asleep in a king bed with the sounds of nature and a crackling wood-stove next to you.