W Hotels, part of Marriott, have gotten a reputation for being a bit tired, out-of-date, and in need of a revamp. If the brand new W Hotel in Abu Dhabi is any indication, Marriott and W Hotels are upping their game.
The W Abu Dhabi Yas Island is flashy and modern like many W hotels around the world. But it's also packed with classic touches that will help it stand the test of time. With every amenity and luxury offering, you could want, if you find yourself in Abu Dhabi, a stay here won't disappoint. Here's what you can expect.
The Hotel
The W Hotel Abu Dhabi is located on Yas Island, just 10 minutes from the airport. Yas Island was built in 2006 as a hub of leisure, shopping, and entertainment featuring Ferrari World and the site of Formula One racing.
In fact, the hotel is located right in the middle of the Formula One track right on the water. You'll see dozens of boats and yachts parked all around the racecourse, as well as lined up all around the island.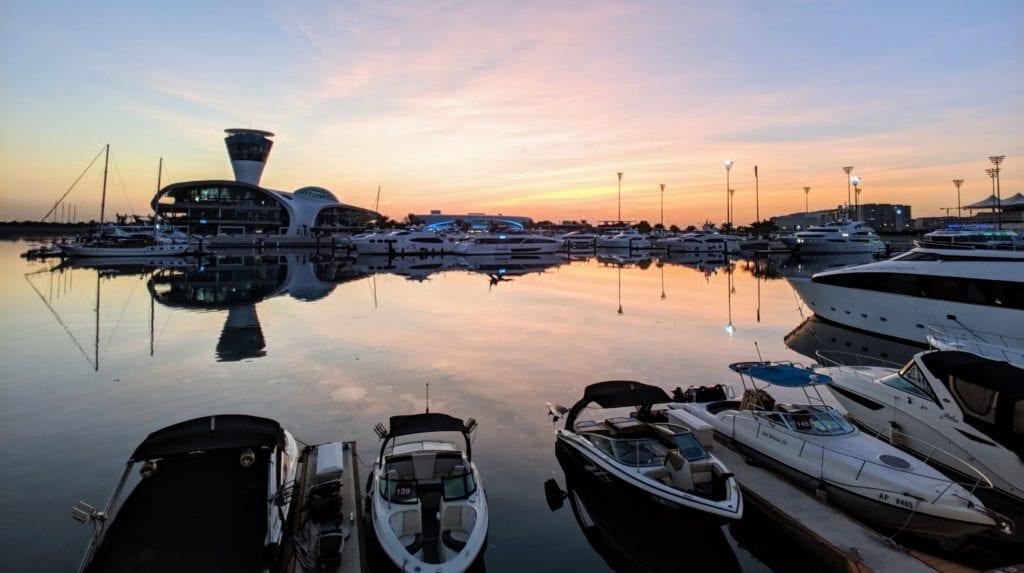 The hotel itself was opened in November 2019, so it's still got that new hotel smell. Step inside and you'll find a super-modern lobby with an open concept coffee bar at the back.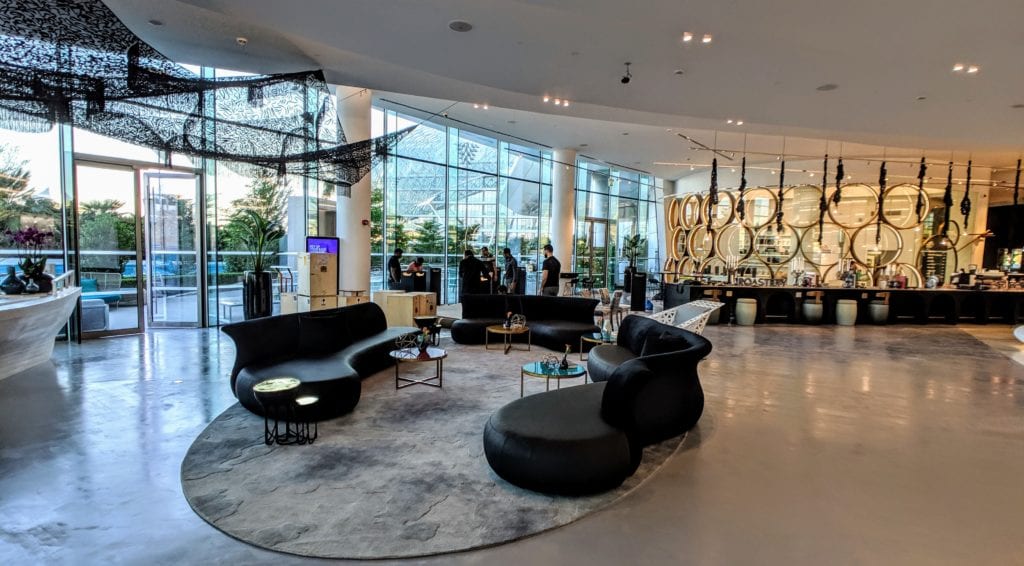 You'll find three small check-in desks to the right, and the process was fun and informal rather than stuffy. Thanks to our Marriott Platinum status, we were given a free room upgrade as well as a choice between free breakfast or points – we chose the points. But because the hotel is brand new, a hotel staffer pulled up a "spin the wheel" game for a free amenity, and we got free room-service breakfast!
Thrifty Tip: Get the Marriott Bonvoy Boundless Credit Card to earn points, a free night, and automatically get Silver Elite status for possible room upgrades.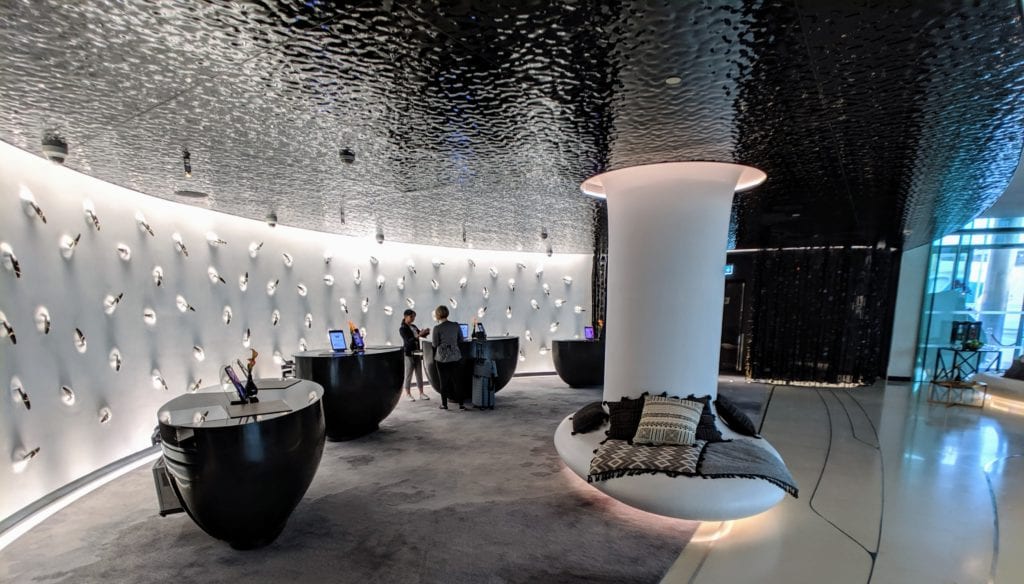 The Fantastic Suite
We were upgraded to a Fantastic Suite, and it was aptly named.
These larger suites are located in the hotel's second building, through the lobby to an elevator and a walkway. While there are a few categories of rooms even higher than the Fantastic suites (called Fabulous, Wow, and Extreme Wow), this was plenty fantastic.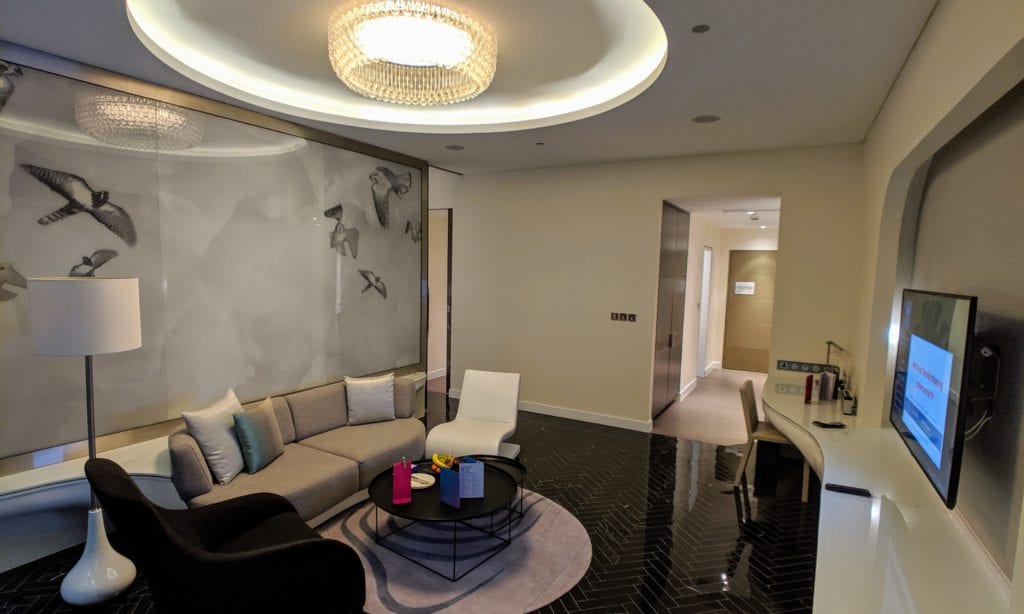 The room opens to a seating area, with a half bath and a small hall closet. There was a basket of fruit, macarons, and other snacks waiting for us on the table.

The bedroom, located on the other side of the seating area, was large and comfortable. There is a vanity station located next to the TV, as many plug-ins as you could want, along with controls for the lighting in the whole room. And the classic king-size bed was as comfortable as it looks.
Just off the bedroom is a large bathroom attached to a large dressing room.

The bathroom features double sinks, a standalone bathtub, a large shower, and an enclosed toilet.

Fitness Center, Pools & Spa
Within the second building where the suites are housed, you'll find a large fitness center. And it has everything you could want.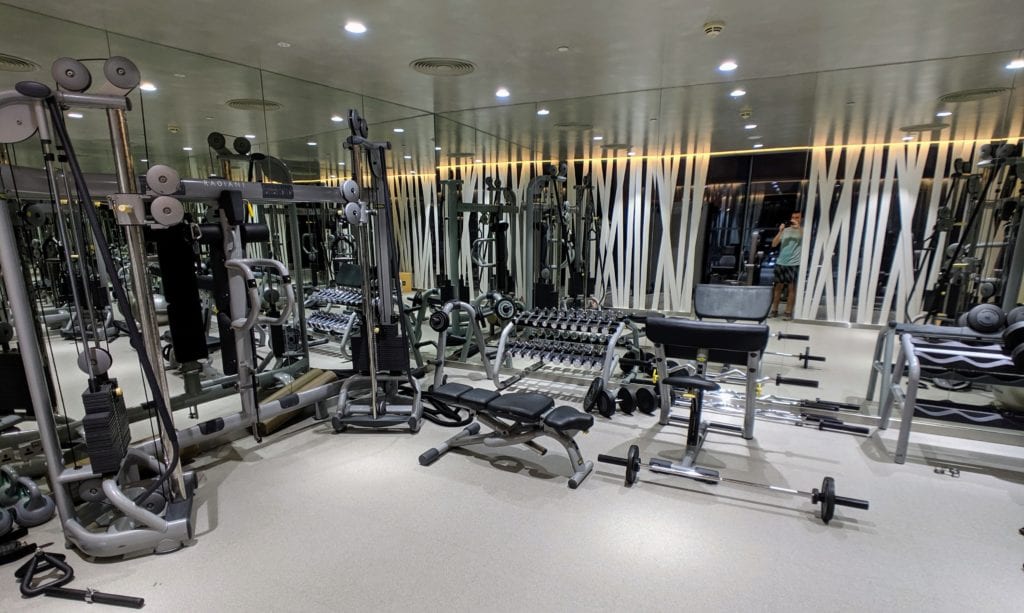 The treadmills and other cardio equipment are lined up around the edge of the building facing out to give you a view of the water below. It's a fantastic setup.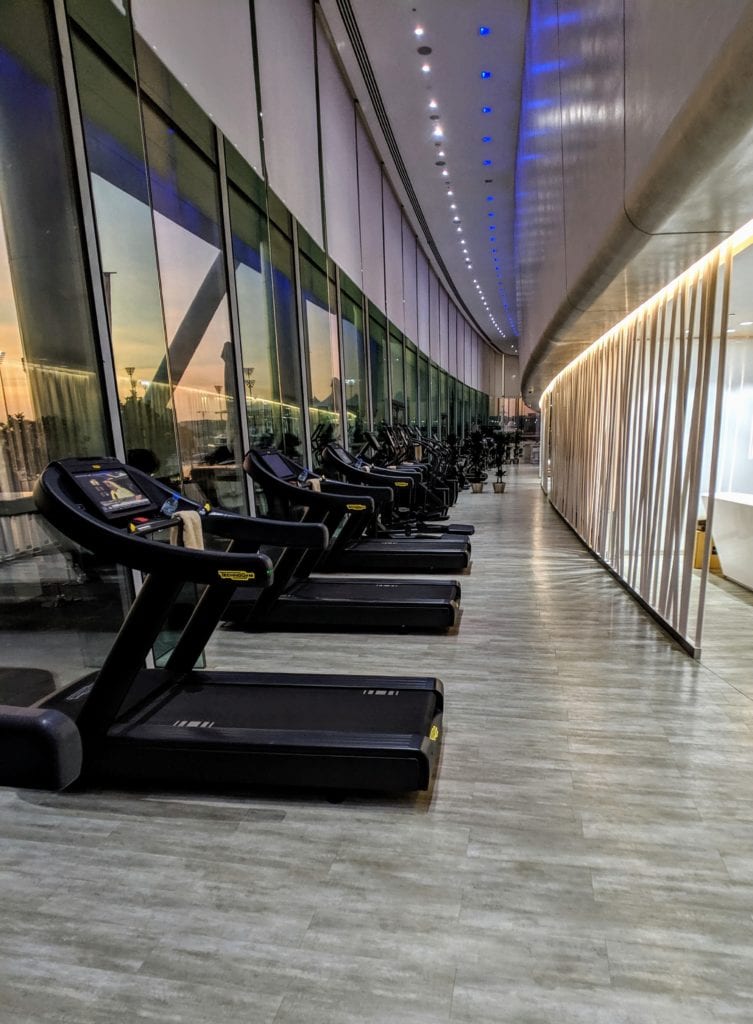 The hotel has two pools: One for adults only, and another that's family-friendly. Both pools are outdoors, and unfortunately, they were both closed during our stay.
The hotel is also equipped with a two-story spa, complete with nine treatment rooms including a couples massage area. We didn't have time to check it out during our stay.
Food & Drink
You won't go hungry or thirsty at the W Hotel Abu Dhabi.
The hotel has four restaurants, a poolside eatery open only during the day, two bars, and a coffee shop. There's also a breakfast buffet daily that costs $34 USD per person.
We wound up with free room service, a continental breakfast. And if it's any indication of what's on the buffet, I can imagine it's impressive. The continental breakfast came with coffee, orange juice, yogurt, fresh fruit, a large bag full of toasted bread, and another bag with a wide array of pastries.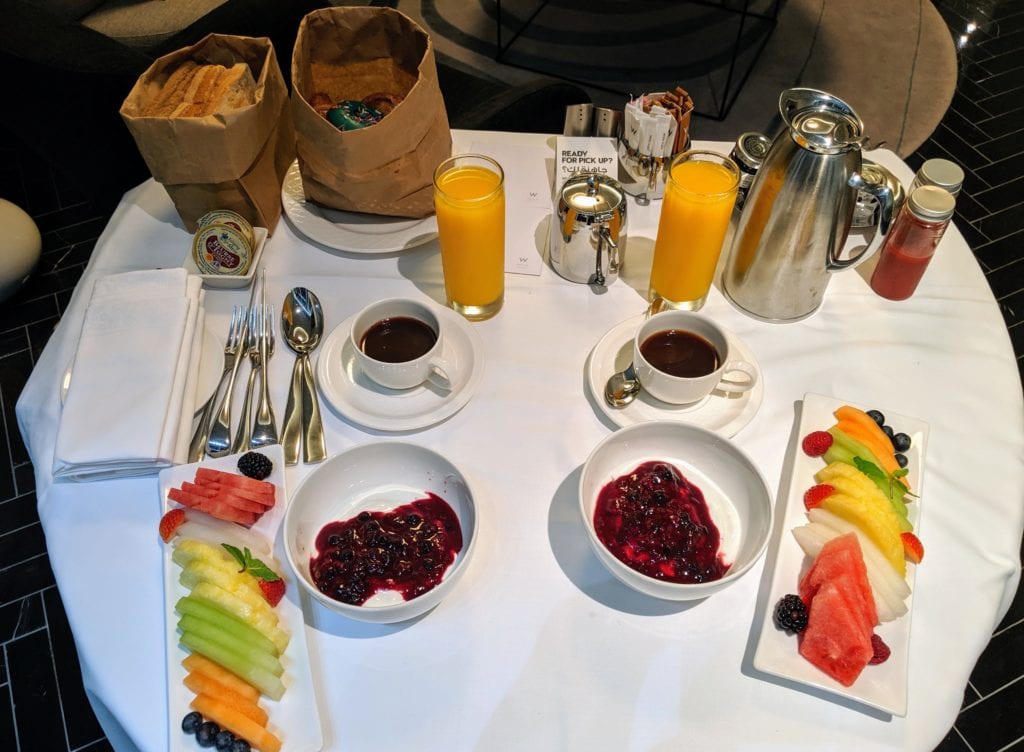 The three main restaurants start with The Garage, a food-court style eatery with international food stations. There's also Amici, an Italian restaurant, and Angar, which serves Indian food.
There are two bars to enjoy great cocktails, wine, and beer, along with small bites. The rooftop bar is more of a club scene with a DJ, lounge seating, and hookah service.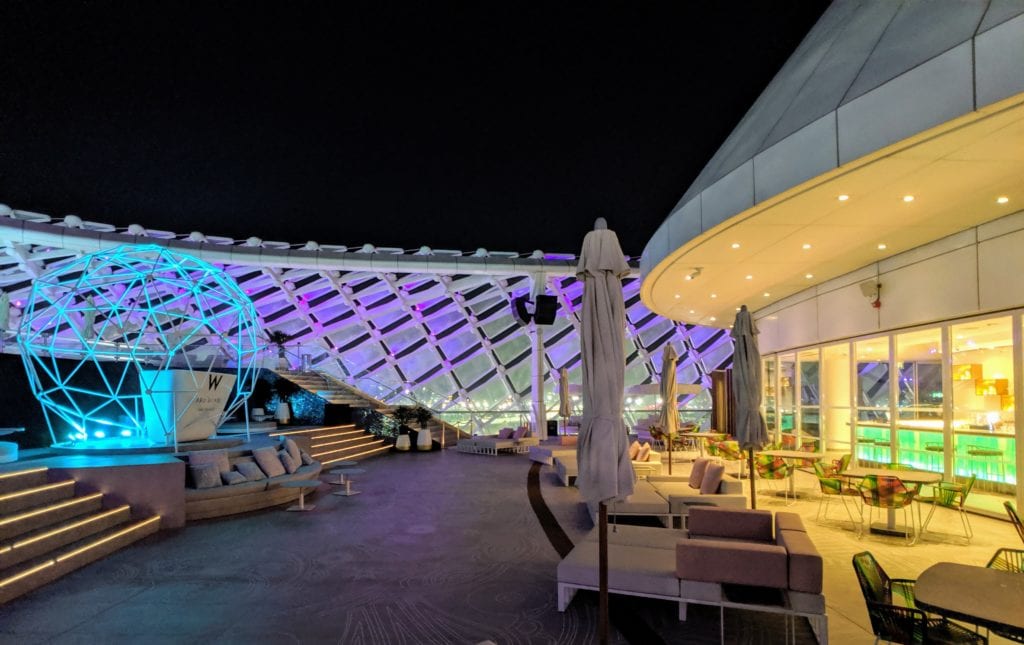 Then there's the W Lounge, perched overlooking the racetrack. It has an upscale cocktail bar vibe with three different bars. One bar is for International flavors, one is for innovations with cocktails that are served with dry ice or other unique presentations, and the third is a gin bar. Drinks run from about $8 USD to $20 USD.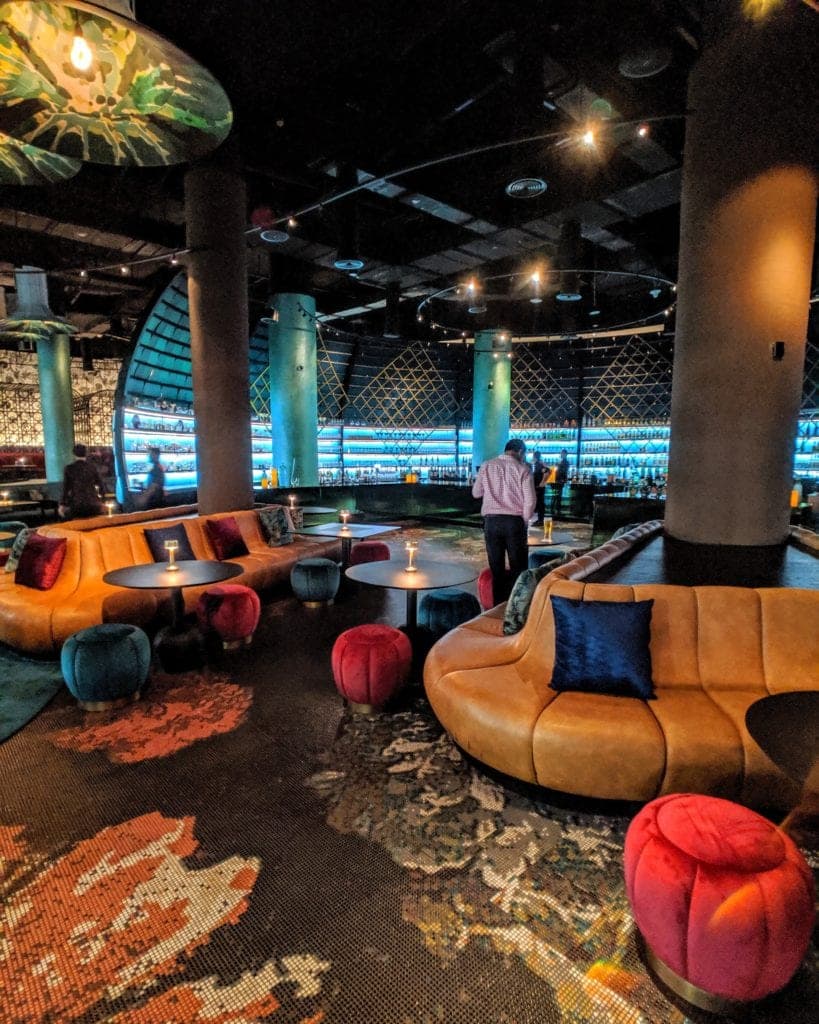 The Racetrack
The W Abu Dhabi's setting in the midst of a racetrack makes for some interesting scenery, to say the least.
There are many views of the racetrack all around the hotel. You can even easily walk out of the hotel and get a great view.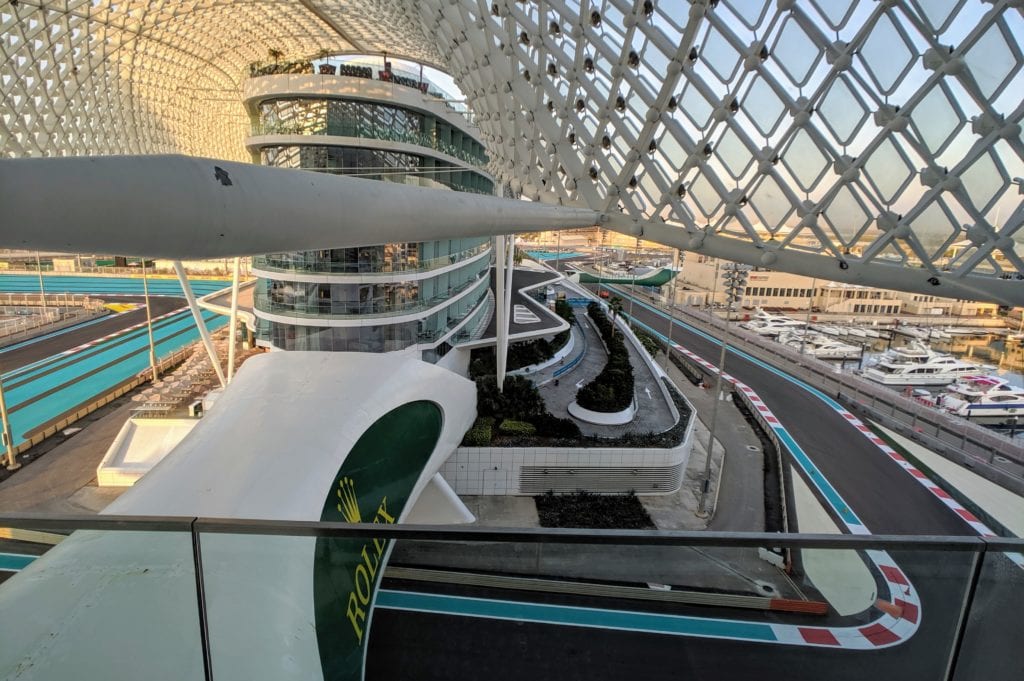 Although the Abu Dhabi Grand Prix for Formula One takes place just one weekend a year – typically in November or December – plenty of other events are hosted on the track. Check to see what's going on during your visit!
Bottom Line
If you find yourself in Abu Dhabi, the W Abu Dhabi Yas Island is a great place to stay. More importantly, it's a great sign of what may be in store for future W hotels around the globe.