There's a lot to love about the Hyatt Ziva and Zilara Cap Cana in Punta Cana, Dominican Republic.
While Hyatt got most of its other Ziva and Zilara all-inclusive properties through acquisition, this was the first resort Hyatt built from the ground up, opening in November 2019. And it shows.
I recently made it to the new property for the first time and had an absolutely incredible experience. Between the incredible service, beautiful facilities, and the incredible location, and how easy it is to book, it is easily the best all-inclusive resort I have ever been to. If all-inclusive resorts are your thing (and even if they're not), I can't recommend the property enough.
Read on for a full review of the property and everything you need to know before your next visit – including how Hyatt's new precautions during the COVID-19 pandemic.
Ziva vs Zilara: What's the Difference?
When you are looking to book a stay at the Hyatt Ziva and Zilara Cap Cana, you'll have the option of booking rooms at either the Ziva or Zilara. So what's the difference?
The Hyatt Zilara brand is for adults only –  you must be 18 or older to stay at the property. The Ziva side is family-friendly. If you plan to bring kids that are under the age of 18, you will need to book your stay at the Ziva side of the resort.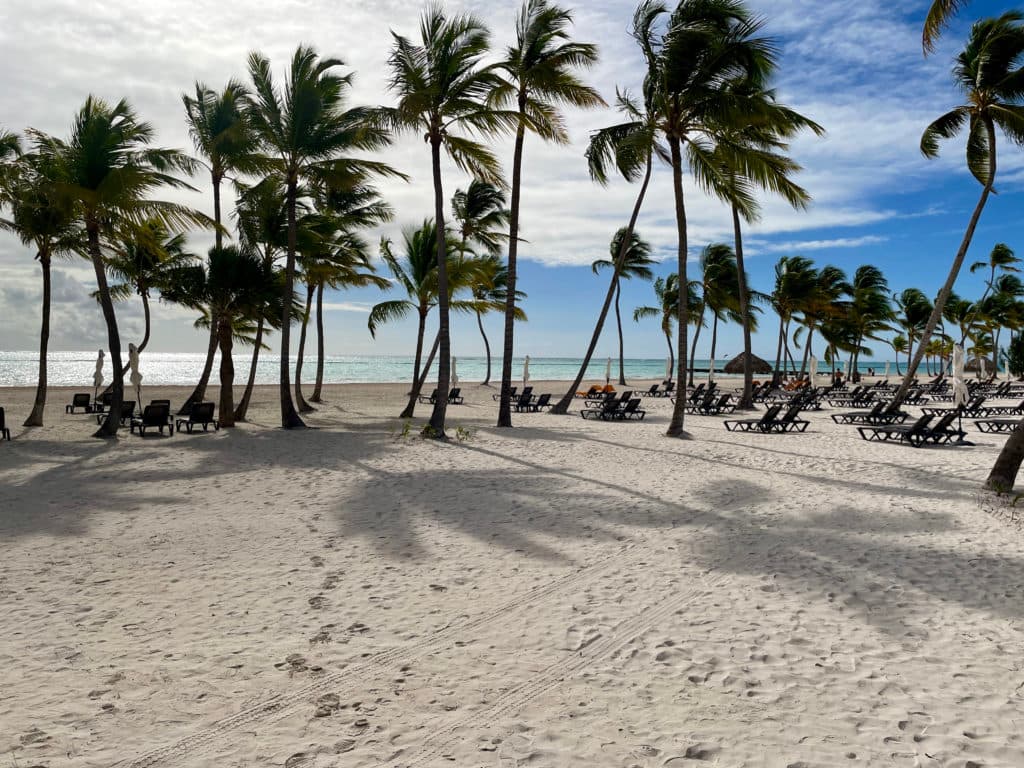 In the rendering below, the Zilara is on the left, while the Ziva side of the resort is on the right. Staying at the Zilara? You'll still be able to crossover to the Ziva side of the property. But the opposite is not true: If you're staying with kids at the Ziva, you won't be able to access some parts of the Zilara resort.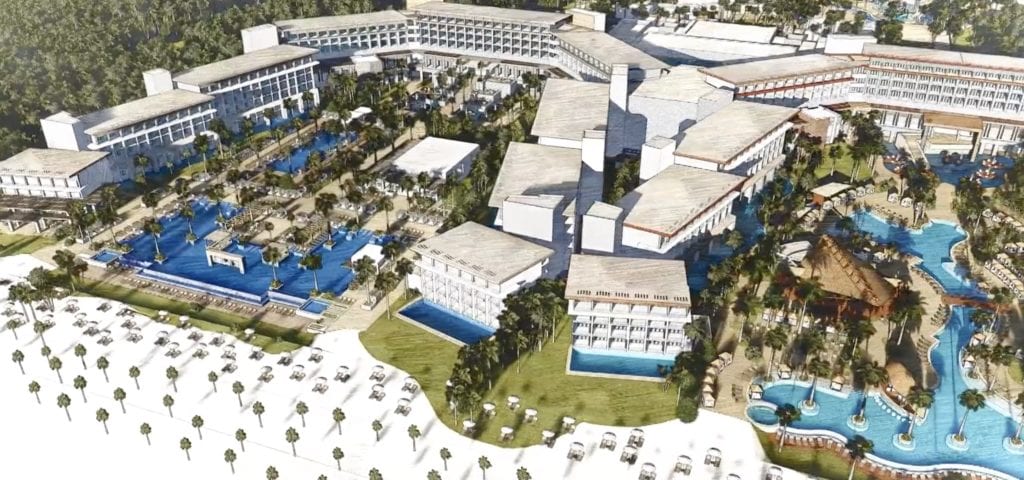 Hyatt also has Ziva and Zilara locations scattered across Mexico in Cabo San Lucas, Puerto Vallarta, and Cancun. There are also Ziva and Zilara Resorts in Montego Bay, Jamaica. And the hotel chain has plans to open a Ziva all-inclusive resort in Barbados sometime in 2022.
Booking
One of the things we love most about the Hyatt Ziva and Zilara is that you can book them with World of Hyatt points. Better yet, the rates are very reasonable.
Whether you are staying at the Zilara or Ziva side of the resort, it will cost just 25,000 World of Hyatt points each night. That rate includes your lodging, all your food, drinks, and most amenities the resort has to offer.
Think of it this way: Book your flights with miles and your stay with Hyatt points, and you can easily spend less money on your vacation than you would sitting at home.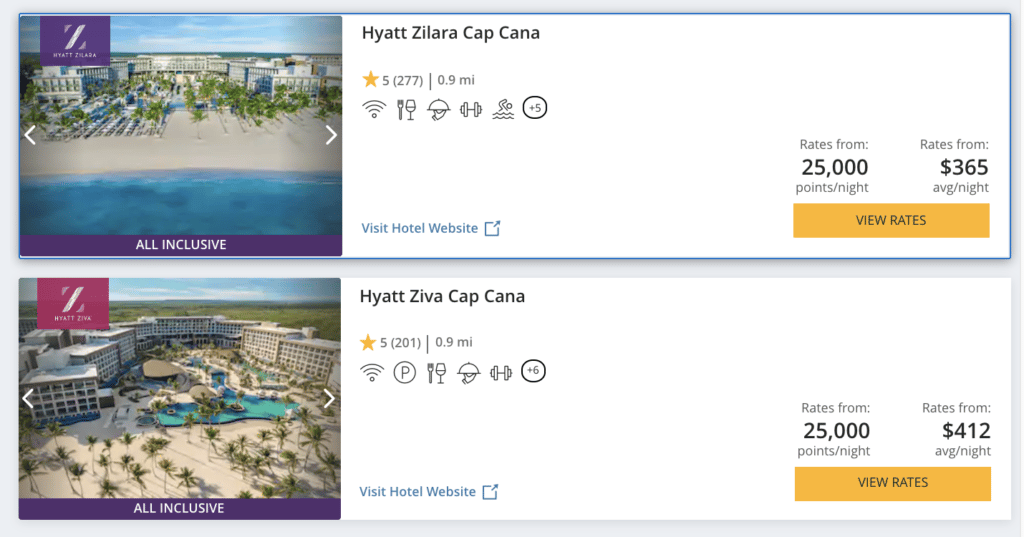 If you don't have World of Hyatt points, cash rates are typically pretty reasonable as well. Depending on the time of your stay, you can expect to pay anywhere from $200 to $500 a night for a stay at either property. Again this will include your room rate, all your food and drinks, and many amenities at the property.
Hyatt had plans to introduce a new peak and off-peak award pricing system in 2021. That's been delayed due to COVID-19. Whenever Hyatt decides to implement this, it means it could cost more (or fewer, if you're lucky) points to book a night depending on when you stay. See the chart below for the points rates you can expect. Both the Hyatt Ziva and Zilara Cap Cana are considered Category 2 all-inclusive resorts.

How to Earn World of Hyatt Points
Don't worry about earning Hyatt points to cover for your all-inclusive stay. You don't need to be a road warrior to rack up enough points for the Ziva and Zilara properties.
There are a few different credit cards that make earning Hyatt points relatively simple and straightforward. The first is obvious: the World of Hyatt Credit Card. Just for opening the card and spending $3,000 in the first three months of card membership, you will receive 30,000 World of Hyatt points. You'll also earn 2x points per dollar spent on up to $15,000 of spending in the first 6 months of card membership. That's 60,000 points total – enough for at least two free nights at any of the Zilara and Ziva properties.
The card has a $95 annual fee which is not waived for the first year of card membership. But starting in year two, it offers an annual free night certificate to be used at any Hyatt category 1-4 property. Unfortunately, none of the Ziva and Zilara hotels are eligible for the free night certificate. Still, it's reason enough to justify the annual fee.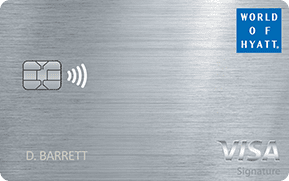 Click Here to learn more about the World of Hyatt Credit Card.
But you can also earn Hyatt points by transferring points from Chase Ultimate Rewards. Because Hyatt is one of the airline and hotel transfer partners of Chase's Ultimate Rewards program, you can transfer Ultimate Rewards points into your World of Hyatt account at a 1:1 ratio – 1,000 Chase points gets you 1,000 Hyatt points.
And if you don't have Chase Ultimate Rewards points, they can be earned from a number of personal and business credit cards. Our favorite option: The Chase Sapphire Preferred Card, which is currently offering a welcome offer bonus of 60,000 points after spending $4,000 in the first three months of card membership. That's enough for another three free nights at the Hyatt Ziva and Zilara Cap Cana resort, with some left over.
This card also has an annual fee of $95 which is not waived in the first year of card membership. However, the welcome offer bonus alone is worth at least $750, and often times much more. If you book three nights at one of these Hyatt properties, you could easily get more than $1,000 out of these points.
Read More: How to Book Hyatt's Incredible All-Inclusive Resorts for Free with Points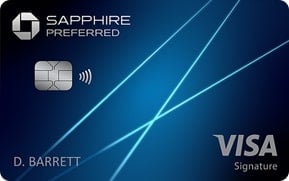 Click Here to learn more about the Chase Sapphire Preferred Card. 
Airport Transportation
One of the best things about the Hyatt Ziva and Zilara Cap Cana resort is its proximity to the Punta Cana airport (PUJ). It's just a short 15 to 20-minute drive away.
And while Hyatt does not offer airport transportation to the resort, booking a private transfer (or even taking a taxi) is very easy and fairly cheap. We used Dominican Airport Transfers (DAT) and had a great experience. Due to COVID-19, we opted for the private transfer, paying $65 total for roundtrip transportation to and from the airport. When we arrived in Punta Cana, our driver was waiting for us and everything went smoothly.
The resort itself is located inside the Cap Cana gated community right on Playa Juanillo which has arguably some of those most beautiful blue waters in Punta Cana.
Lobby & Checking In
From the moment you walk into the resort, you'll be wowed by the expansive and impressive open-air lobby. We were immediately greeted by the warm and welcoming staff who took our luggage and ushered us over to a comfortable seating area while they processed all of our check-in paperwork.
It was clear from the moment we arrived that the resort wasn't very full. If I had to guess, only 15% to 20% of the property's 750 rooms were occupied.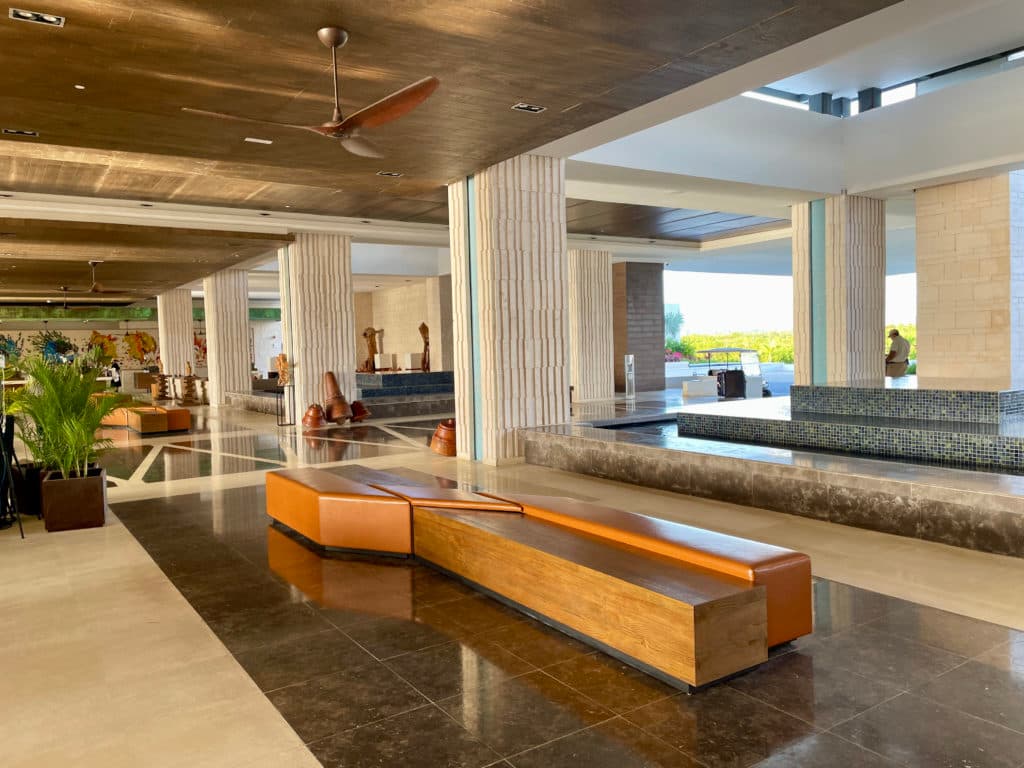 While we were relaxing, the front desk staff brought us a welcome cocktail and collected our passports, and asked us to fill out some information for our stay. We were also notified of the new COVID-19 testing requirements to re-enter the United States and informed that Hyatt would be providing that test as a complementary part of our stay. We were told to head to the concierge within 72 hours of our return flight to the United States to schedule our test.
Related: What It's Like Getting Tested to Return from an International Trip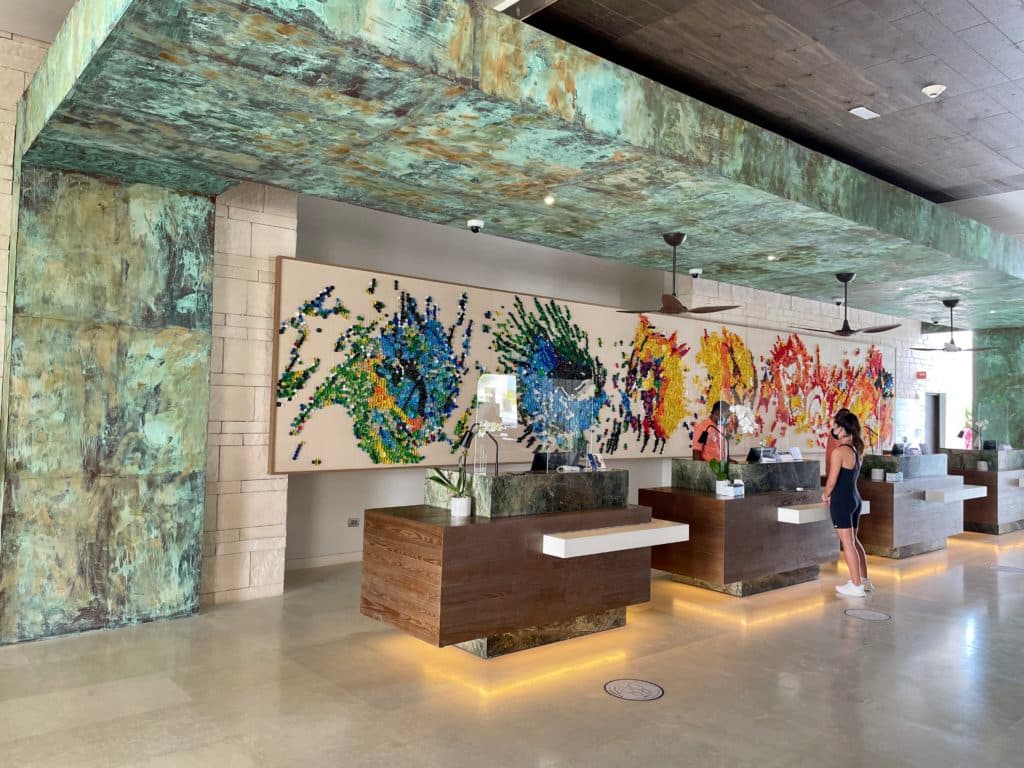 Rooms
As we weren't traveling with kids, we stayed on the Zilara side of the resort and booked a Junior Suite Double Room which cost us 25,000 World of Hyatt points each night.
When we first got to the room, there was a label on the door indicating the room had been cleaned and sanitized as part of their additional cleaning procedures during the COVID-19 pandemic.
The room was roughly 600 square feet and equipped with everything you would expect at a higher-end resort. This included a fully stocked minibar – also included as a part of the all-inclusive rate.
We stayed at the Zilara, however, the staff indicated that the Ziva offers more "family-friendly" furniture. Think fold-out sofa beds to accommodate additional family members.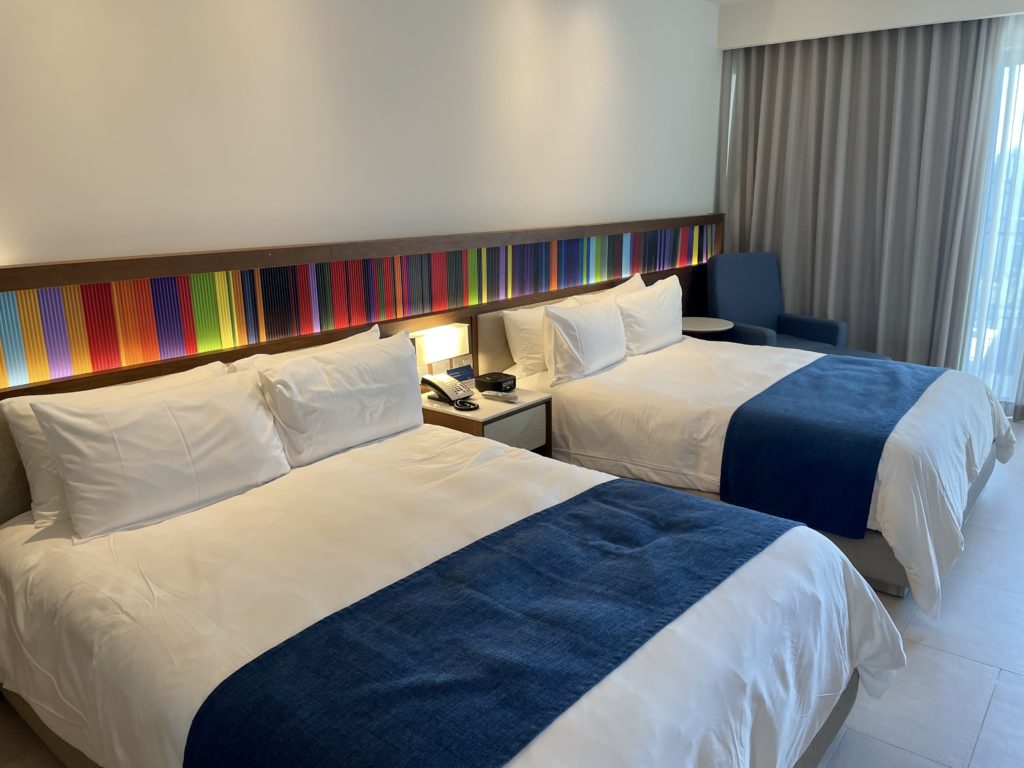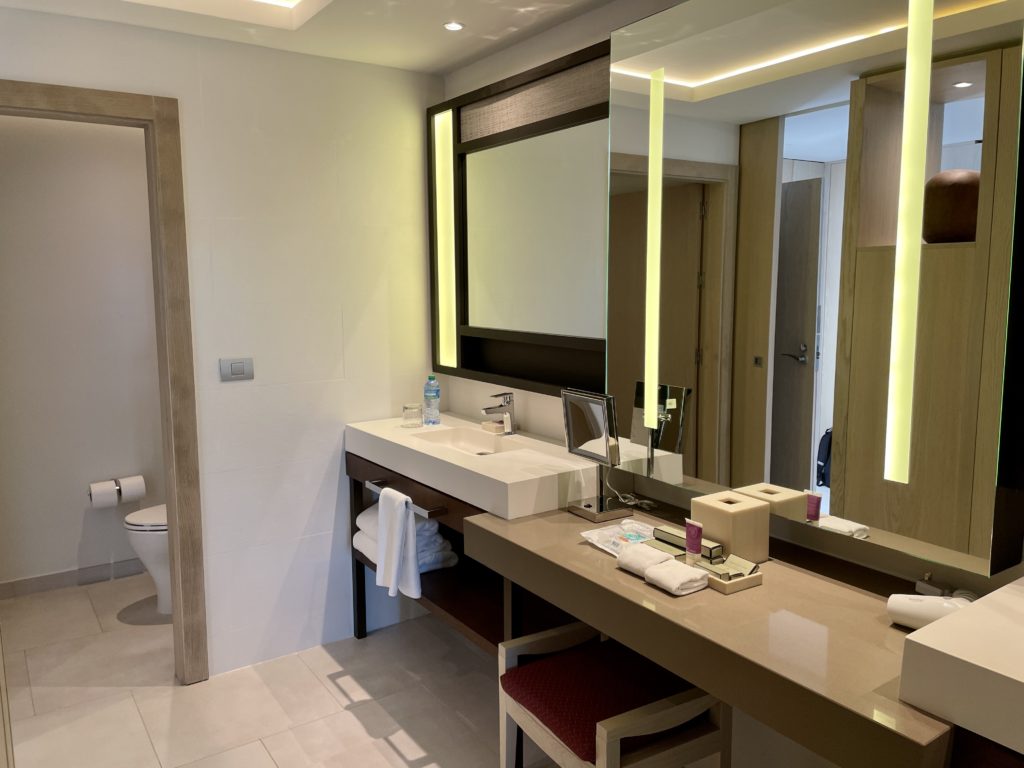 All of the rooms at the Hyatt Ziva and Zilara Cap Cana come equipped with a fully furnished balcony that was quite nice. It was a great place to relax after a day at the pool.
Our balcony offered some amazing views of the resort and the beautiful blue Caribbean waters of Playa Juanillo.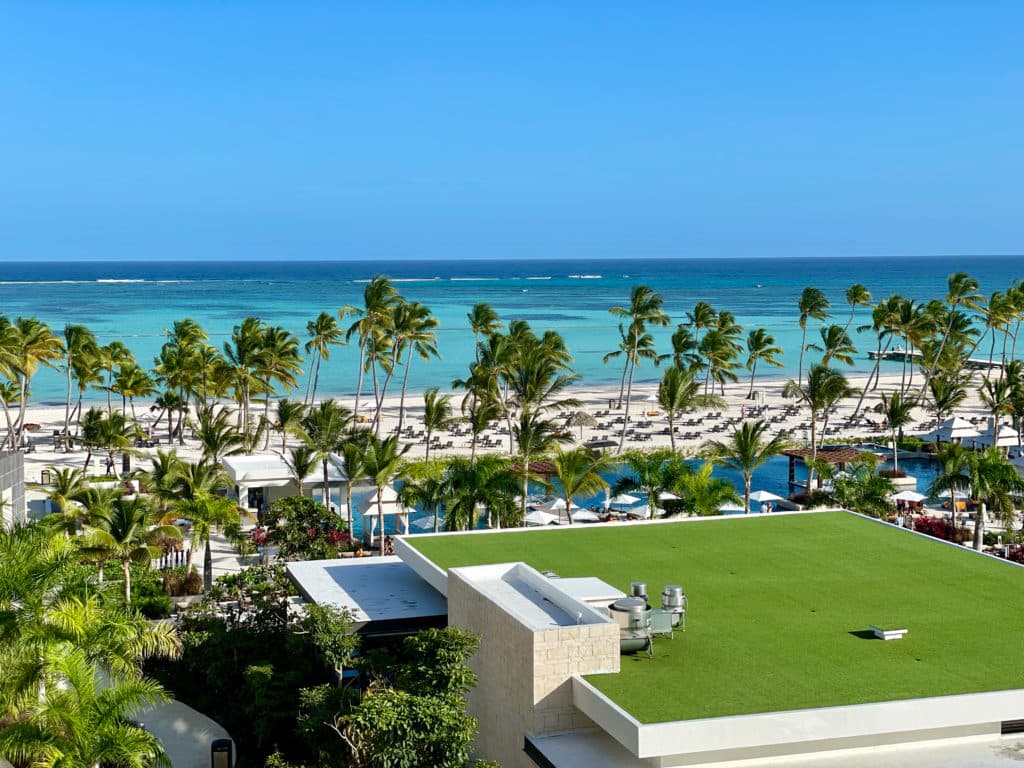 There are also suites that can be booked for 40,000 World of Hyatt points that are a bit bigger and offer better views. But given the little time we actually spent in the room, it wouldn't have been worth it.
Additionally, there are rooms that have access to their own swim-out balcony pool with an oceanfront view (pictured below). These are not bookable with World of Hyatt points, though you can pay to upgrade to these rooms upon arrival. You can also book these rooms if you are paying cash on the Hyatt website.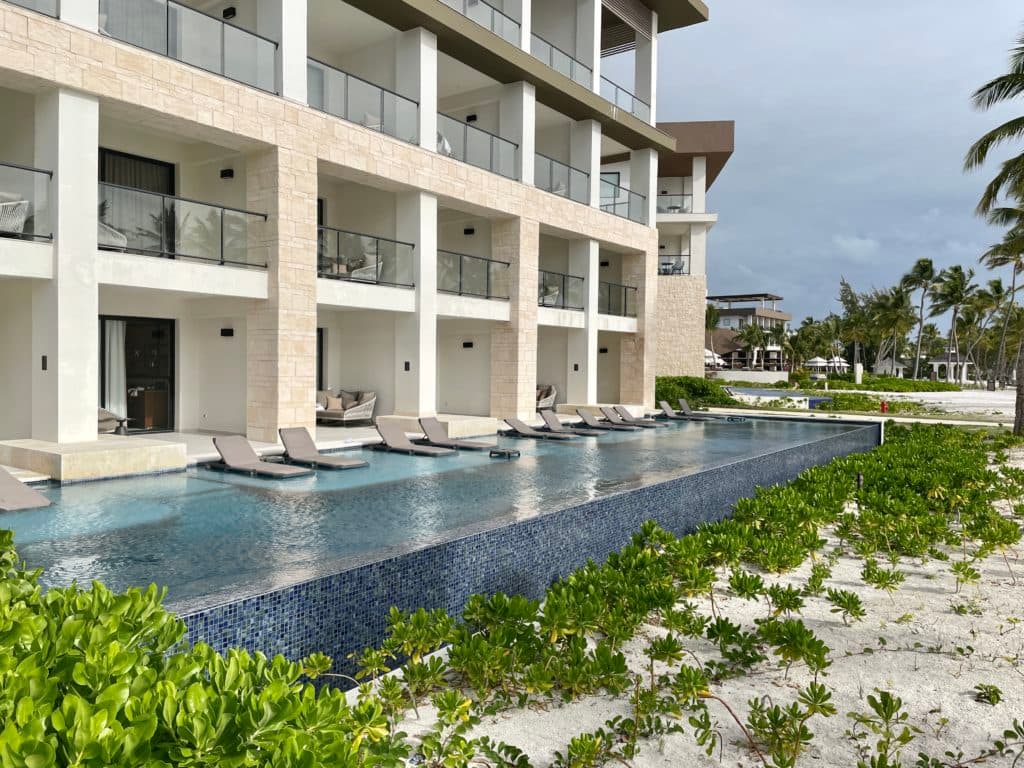 Overall, our room was very nice, comfortable, and clean.
Facilities & Amenities
The property has multiple pools, an incredible water park, a large spa (which is not included as a part of your all-inclusive rate), the largest hotel fitness center I have ever seen, beachfront activities, and if you are interested – paid excursions you can book through the resort.
Pools
Both the Hyatt Ziva and Zilara Cap Cana have a massive main pool as well as a pool available for guests who opt for the Club Level package (more on this later). As mentioned, during our stay, we estimated that the resort was at 15% to 20% occupancy and thus there was plenty of space in the pool. It also wasn't hard to find a spot poolside for your stuff.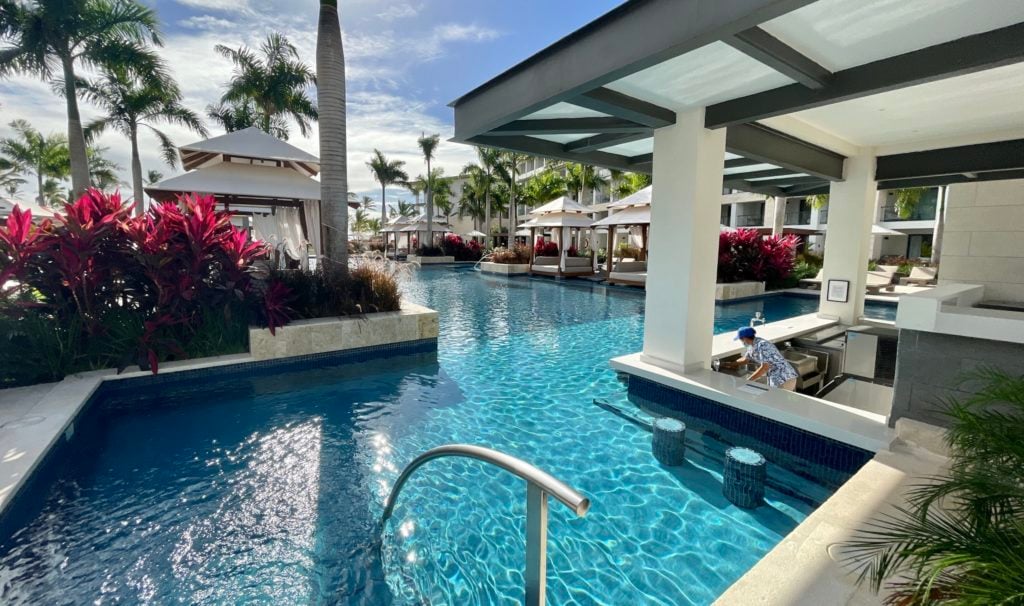 Pools were all equipped with beautiful swim-up bars. But due to COVID-19, they have been shut down by the Dominican government since June 2020. You could swim up and order and a server could find you in the pool, but you can't congregate at the bar.
Canápolis Water Park
One of the most fun and unique parts of the Hyatt Ziva and Zilara Cap Cana resort is the Canápolis water park which is included with your all-inclusive rate. I had zero expectations for this space and was blown away by the size and that it wasn't an additional cost.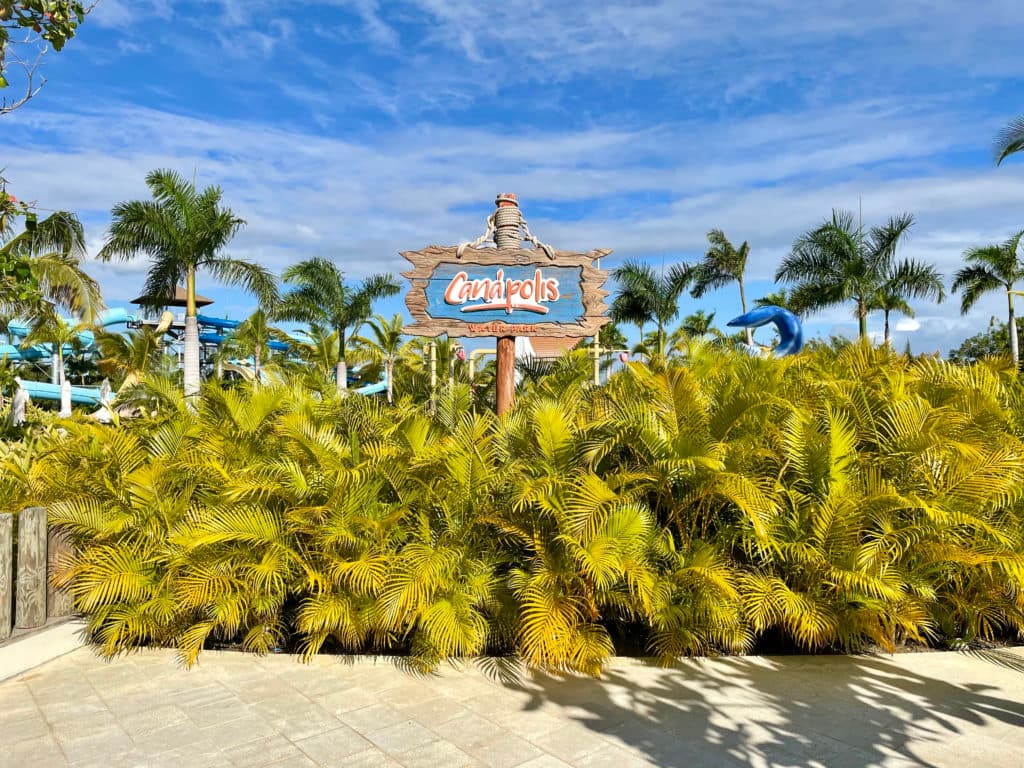 The main water park had five slides in total, all surrounded by a lazy river.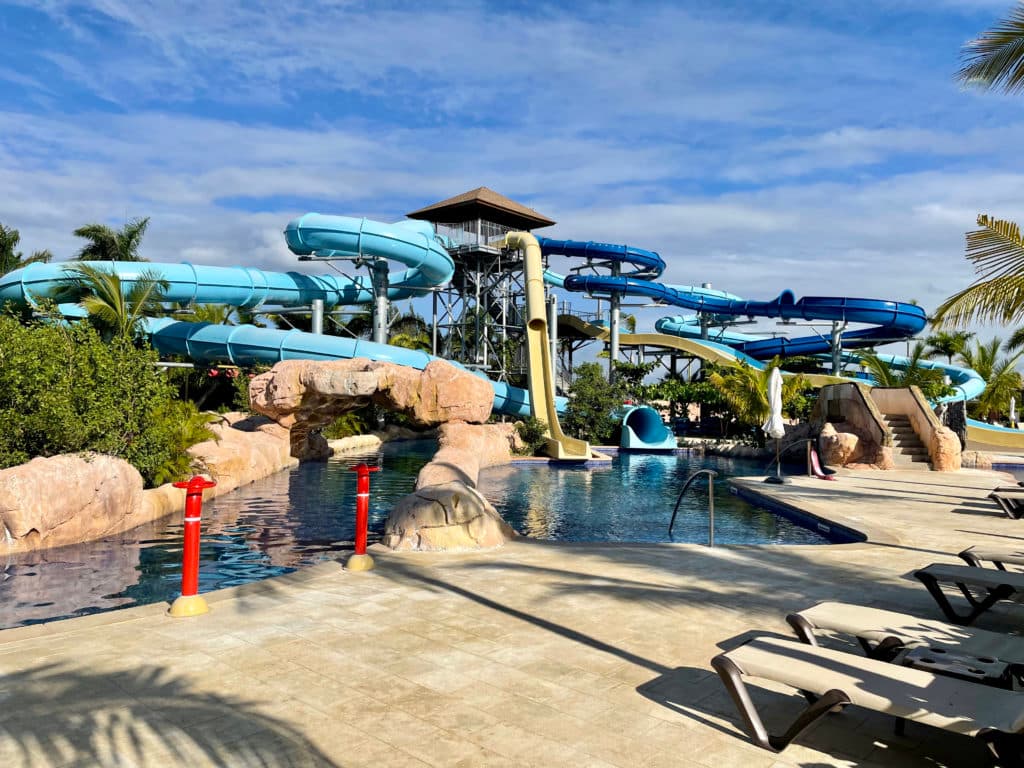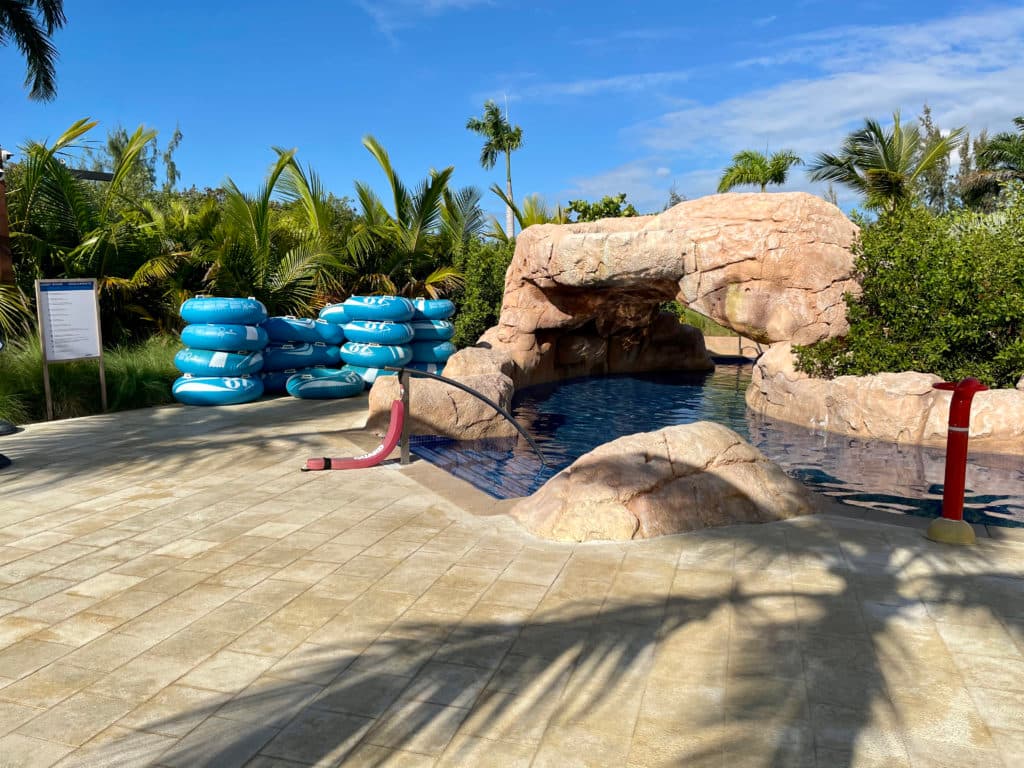 For younger guests, there was a smaller water playground just off to the side of the main water park area.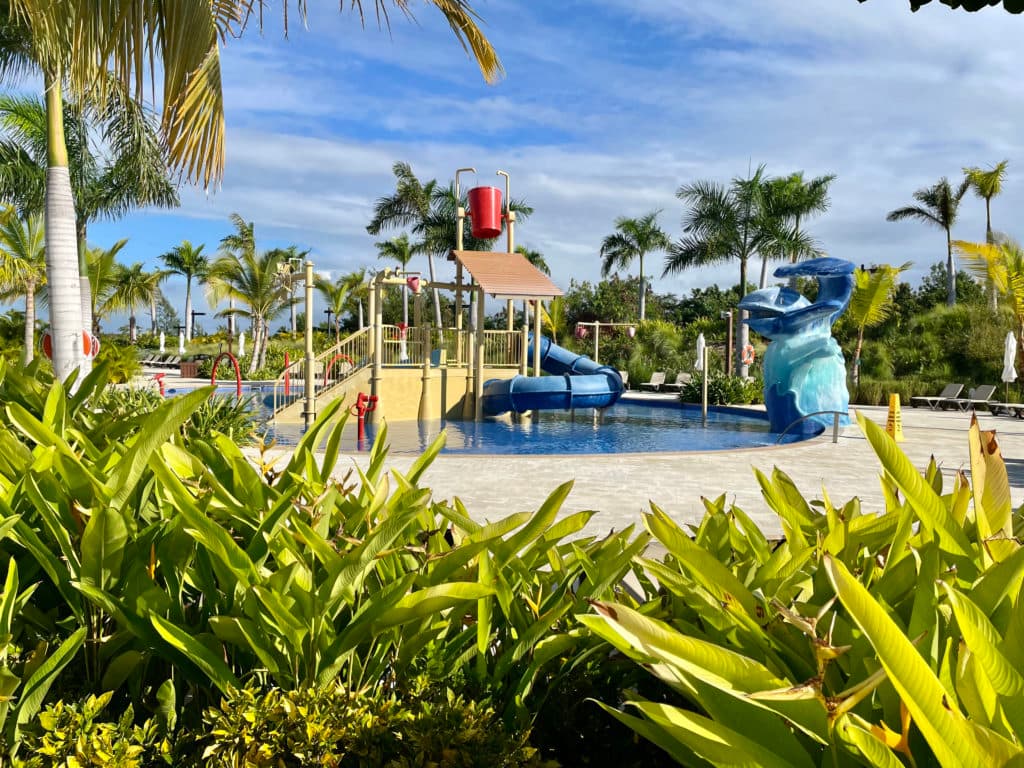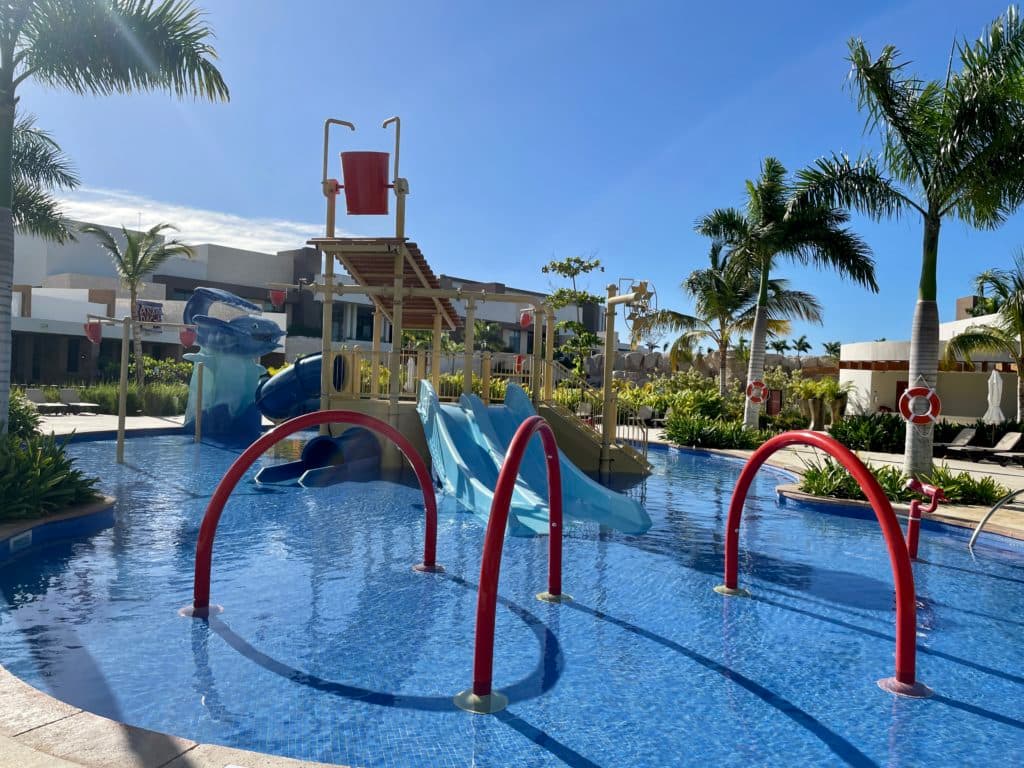 Within the grounds of the water park, there was a food truck with a few lunch items (and some treats). Again, all of this was included.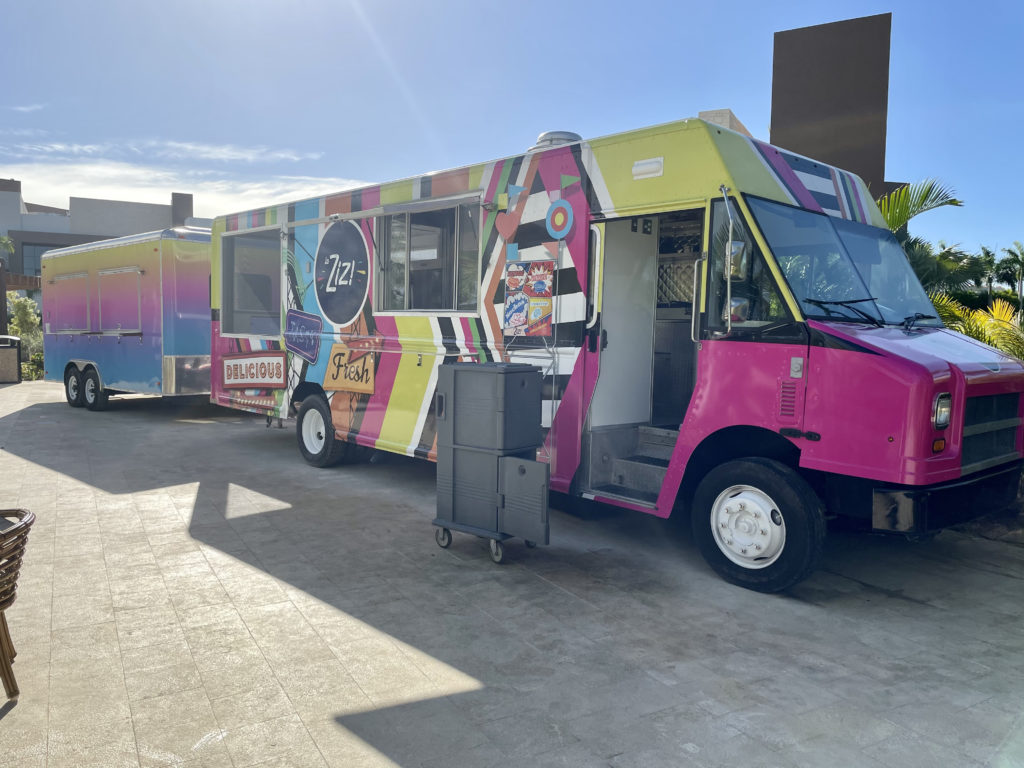 Just outside the grounds of the Canápolis water park was both a kids club and a teen club offering different activities for kids of different ages.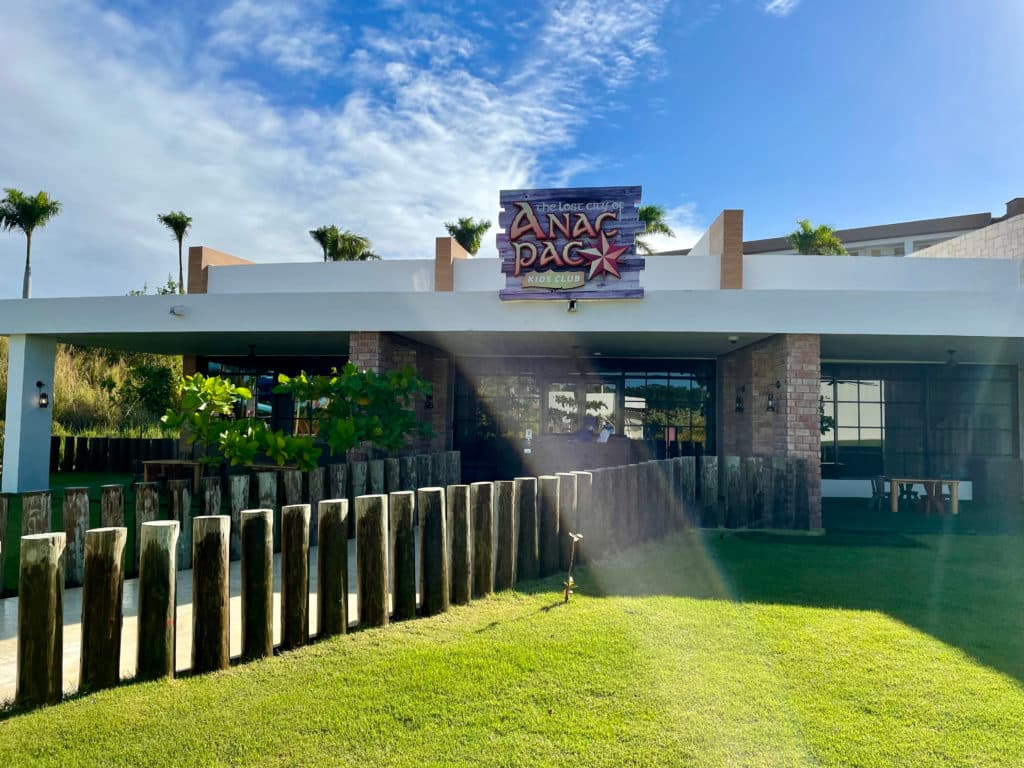 The Larimar Spa
While not included in the all-inclusive rates, the Larimar Spa offers an onsite oasis for guests of both the Ziva or Zilara. The spa itself was inspired by a cenote.
The spa features a larimar stone-infused sky-lit lagoon and the Dominican Republic's first Himalayan Salt lounge.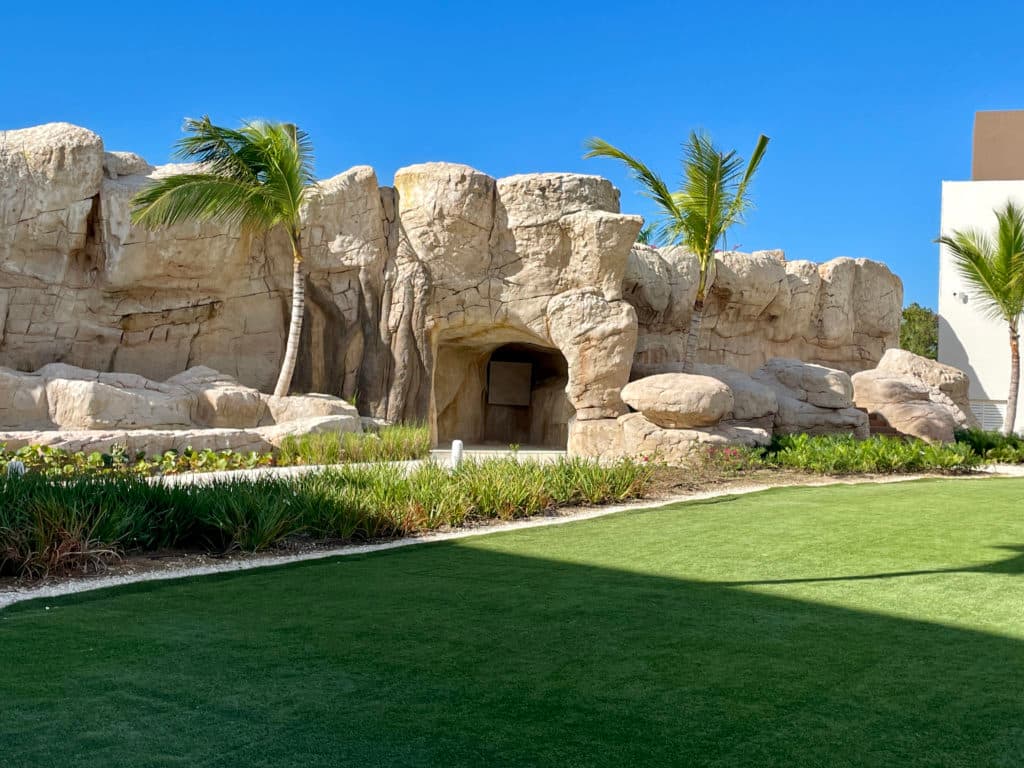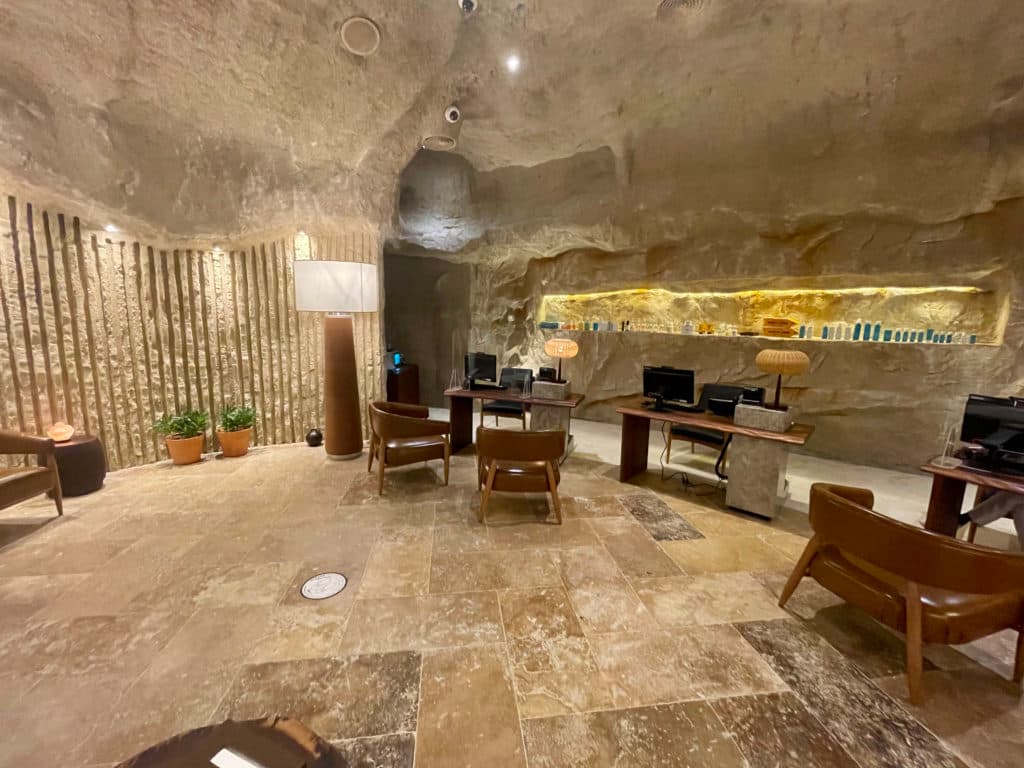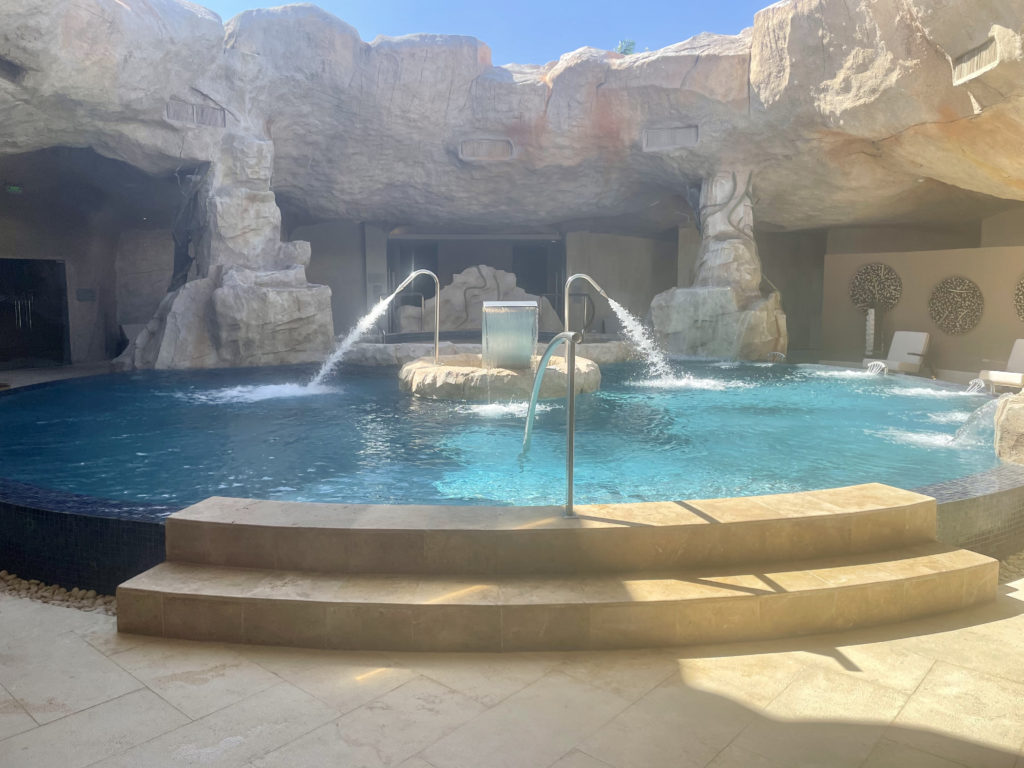 The spa itself offers a wide variety of treatments, ranging in price from around $50 to $250.
Thrifty Tip: If you are a Hyatt Explorist or Globalist elite status member you'll get 20% any of the services at the Larimar Spa.
The Fitness Center
While working out might not be at the top of your mind for a relaxing beach vacation, the fitness center at the Hyatt Ziva and Zilara Cap Cana might just change your mind. It's the nicest hotel gym I have ever seen, period.
The gym itself is 14,000 square feet and chock-full of brand new, state-of-the-art fitness equipment including two cardio areas, an area with weights, a studio for both Zumba and yoga, a full spin studio, and an area with TRX equipment.
Masks were required at all times, and the Hyatt Cap Cana staff was enforcing this policy.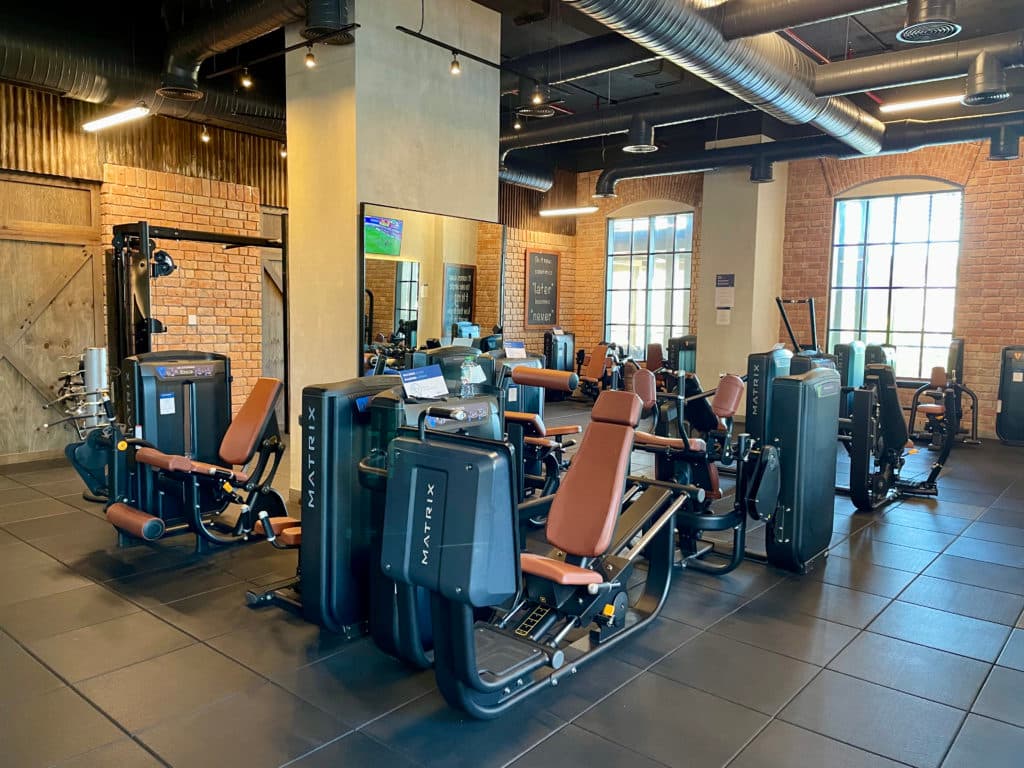 Food & Dining
There is all-inclusive food and then there is Hyatt Ziva and Zilara all-inclusive food.
I have stayed at some of the other Hyatt Ziva and Zilara resorts throughout Mexico and I am continually impressed by the food that is offered at the resorts. Consistently, it's far above average – and much better than the food I have had at any other all-inclusive resorts.
All said, there are 12 restaurants and over 20 bars on-site at the Hyatt Ziva and Zilara Cap Cana. There really is something for everyone. Every morning, El Mercado buffet was open for breakfast which we found to be more than adequate with just about every breakfast option you could think of.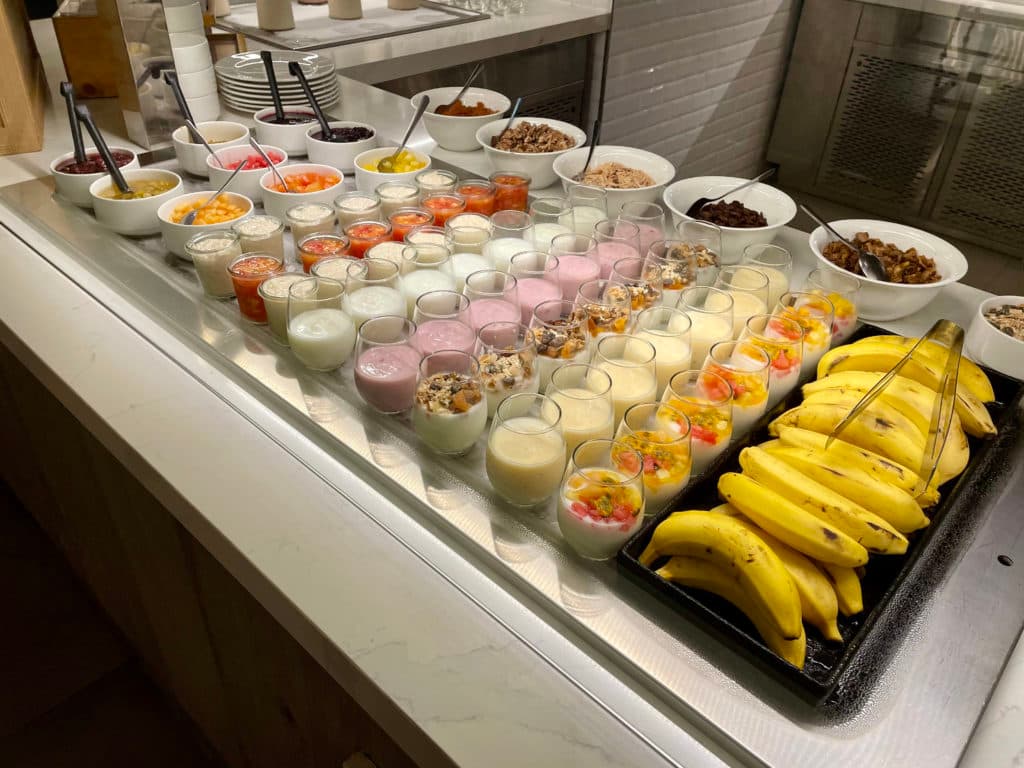 During our stay, we ate at Tempest Table – the Mongolian Grill and Asian fusion restaurant, Brando's – the French/Polynesian restaurant, Shutters Beachside Caribbean cuisine restaurant and Waves Steakhouse. I don't have a bad thing to say about any of the restaurants. We found the food at all of them to be quite tasty.
For more information on the Hyatt Ziva and Zilara Cap Cana dining options, check out the link on their website.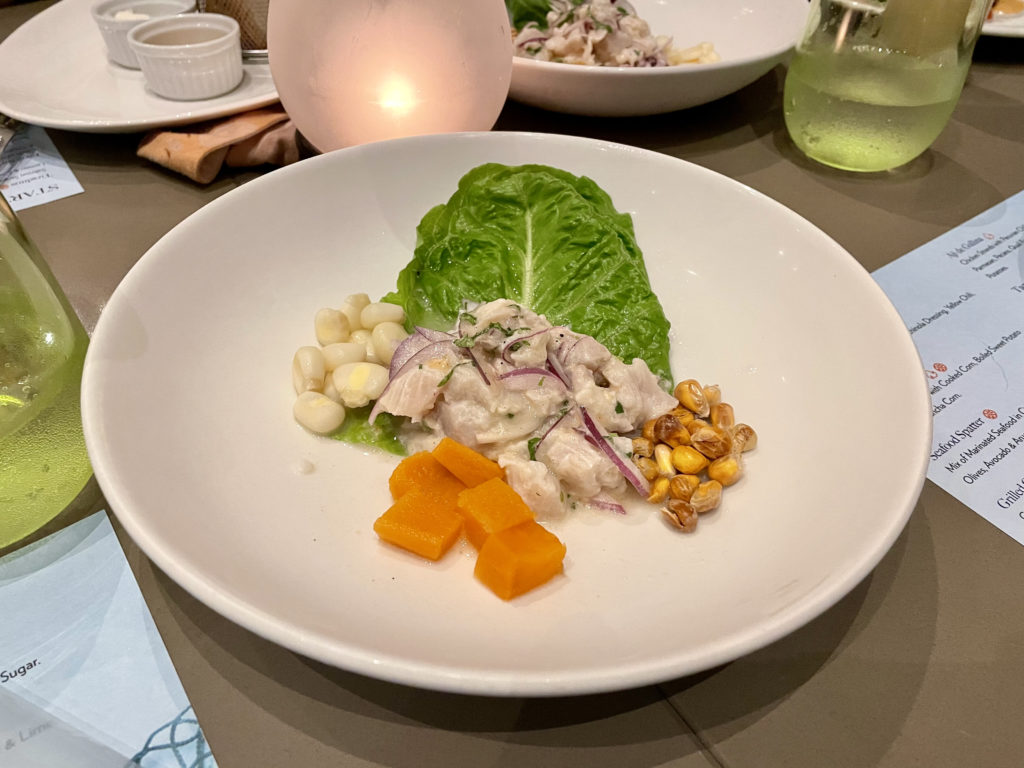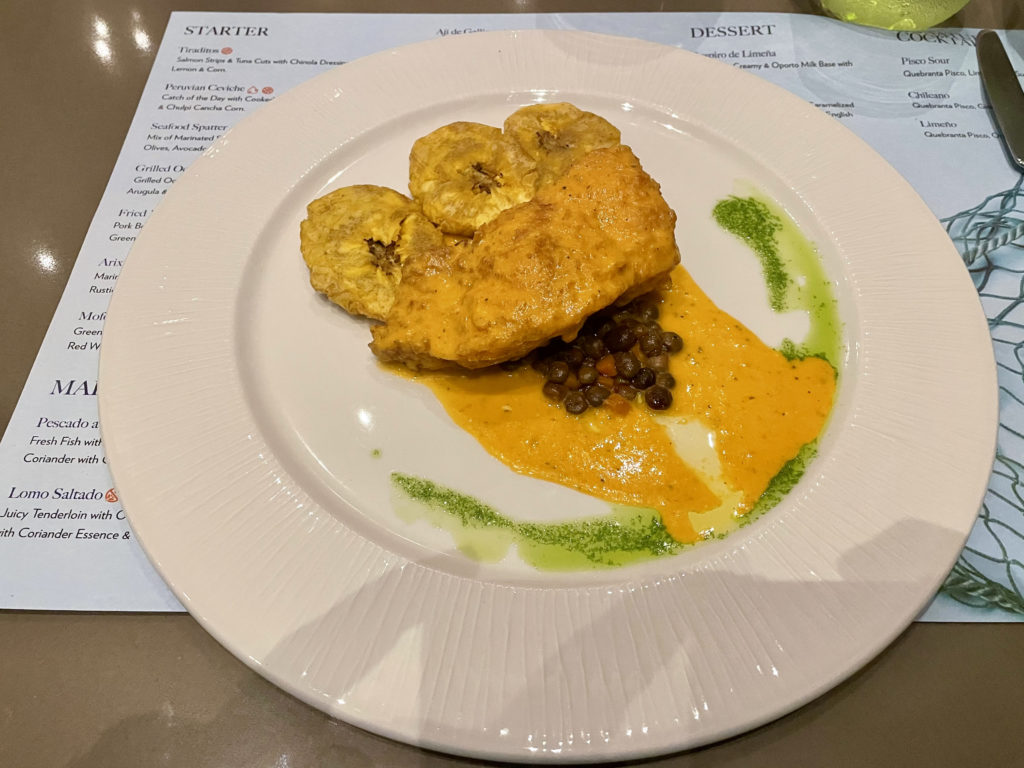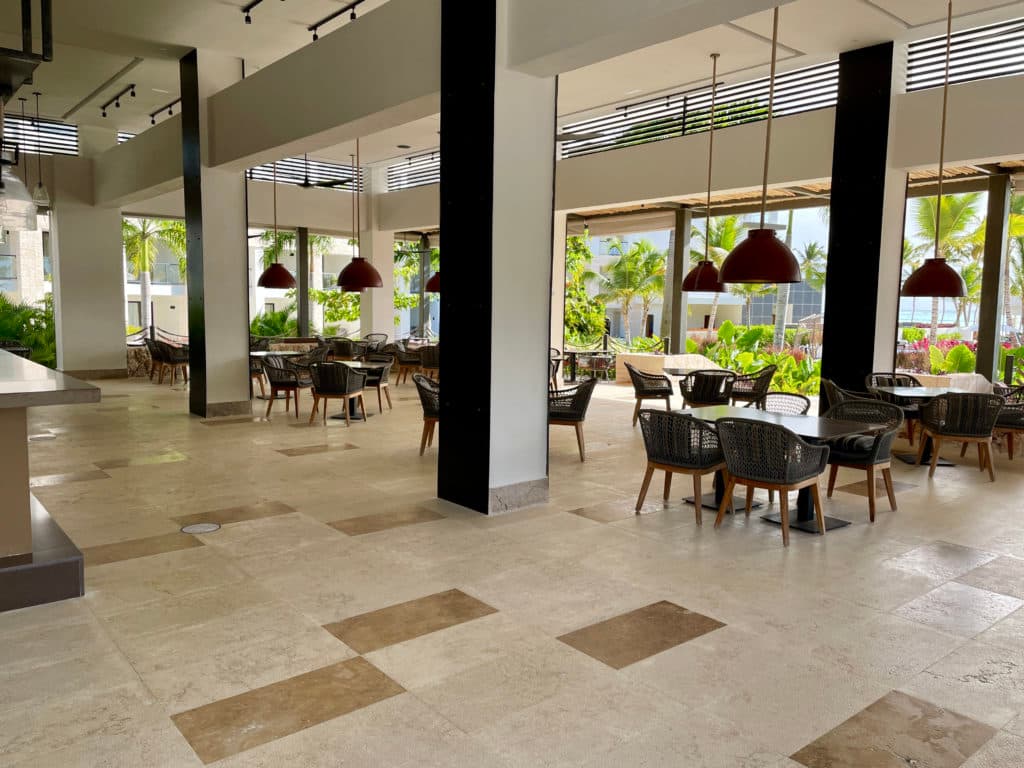 As I mentioned, there are over 20 bars total on the property. But our favorite place to grab a drink each night was the One-Eyed Cat martini and cocktail bar. They had a fun list of interesting drinks and the staff went above and beyond each night we visited.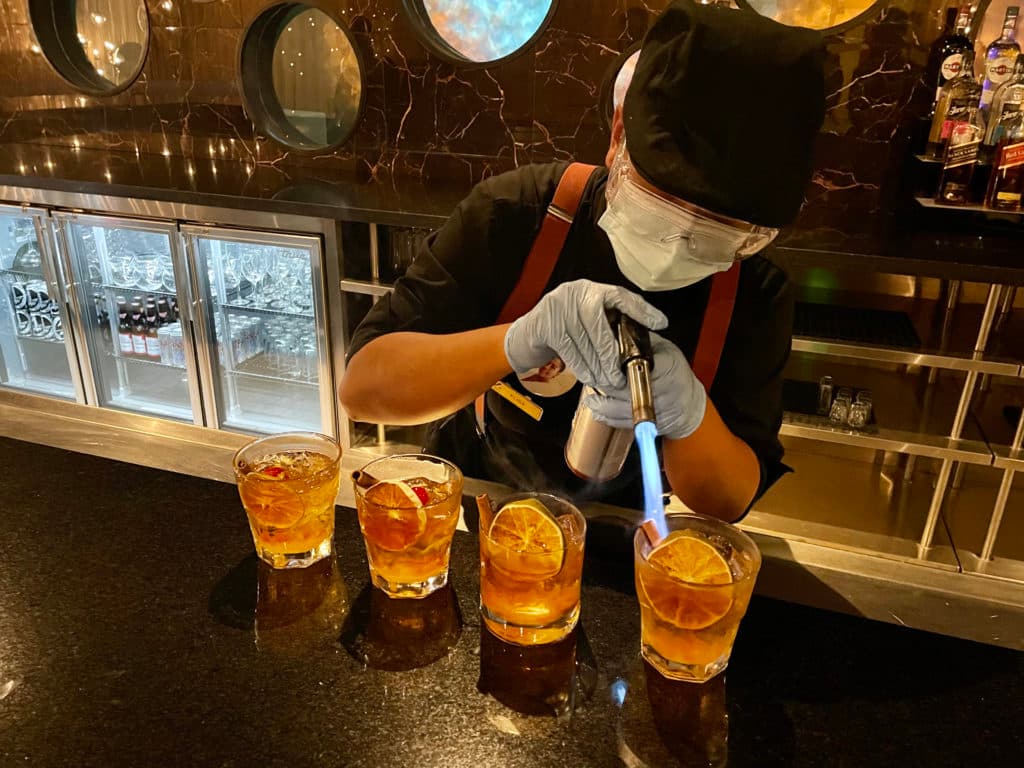 Another great place to hang out was Moments Sports Lounge. In addition to drinks, it had your typical bar fare available to order.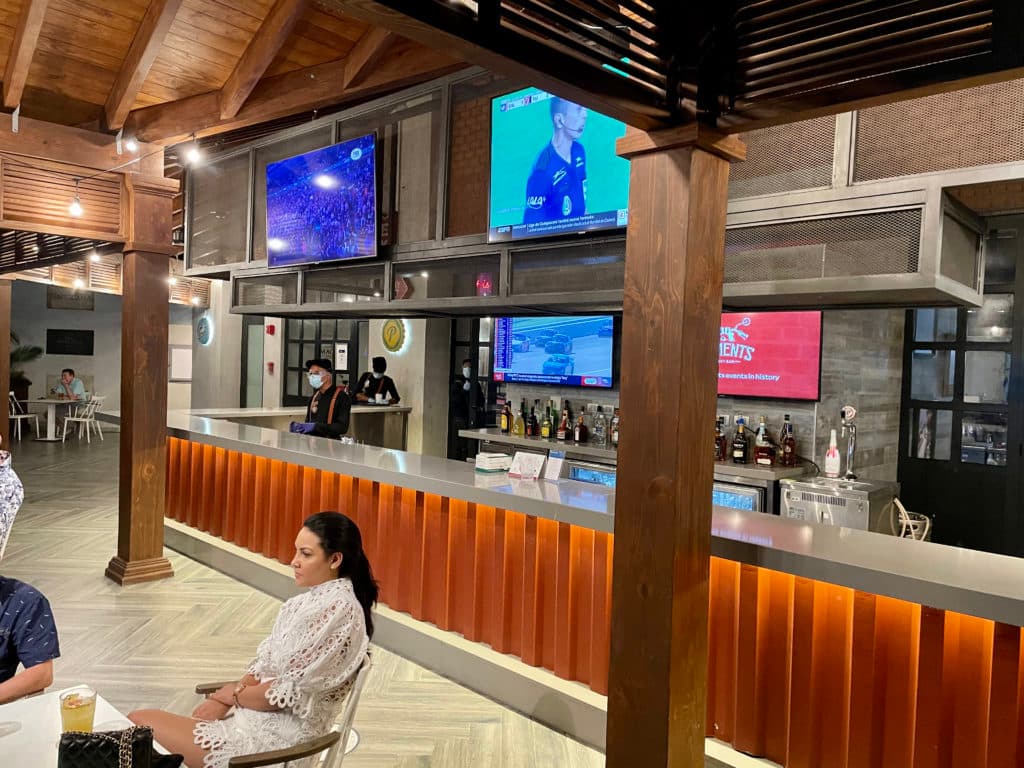 Finally, the Deja Brew Coffee Shop located in the main lobby was a great place to grab a coffee each morning. They also had a number of coffee shop-style snacks that were a great pick me up throughout the day.
They even had some tables with outlets if you needed to log in and get any work done during your stay. It was a great space with a great view out to the main pool and the ocean.
Service
I cannot say enough good things about the service at the Hyatt Ziva and Zilara Cap Cana.
Each and every employee we interacted with was genuine and warm. They were happy to welcome us and even thankful that we ventured down to the resort during this strange time in life and in travel.
We felt very well taken care of in all aspects of our stay. Service at each and every restaurant and bar we visited was exceptional and we were all impressed.
When we were enjoying a drink in the pool or at the beach, the servers did their best to not let our glasses get empty – always remembering what we were drinking, to boot.
Is Upgrading to the Club Package Worth It?
A few days before we arrived at the resort, we were offered an upgrade to a Club level package. We were offered to upgrade again at check-in.
By upgrading to the club level, you are promised slightly better alcohol and access to both breakfast and lunch at a few of the beach-front restaurants that are not available for non-club guests. There is also a pool that is exclusive for club-level guests – though during our stay I only saw a few people using it.
They offered us each a club-level package for around $80 each day. It was quickly apparent that this was negotiable as we went back and forth on price a few times and we were soon offered around $50 each.
We decided to pass at check-in but our check-in host made sure to remind us that we could add club level at any time during our stay.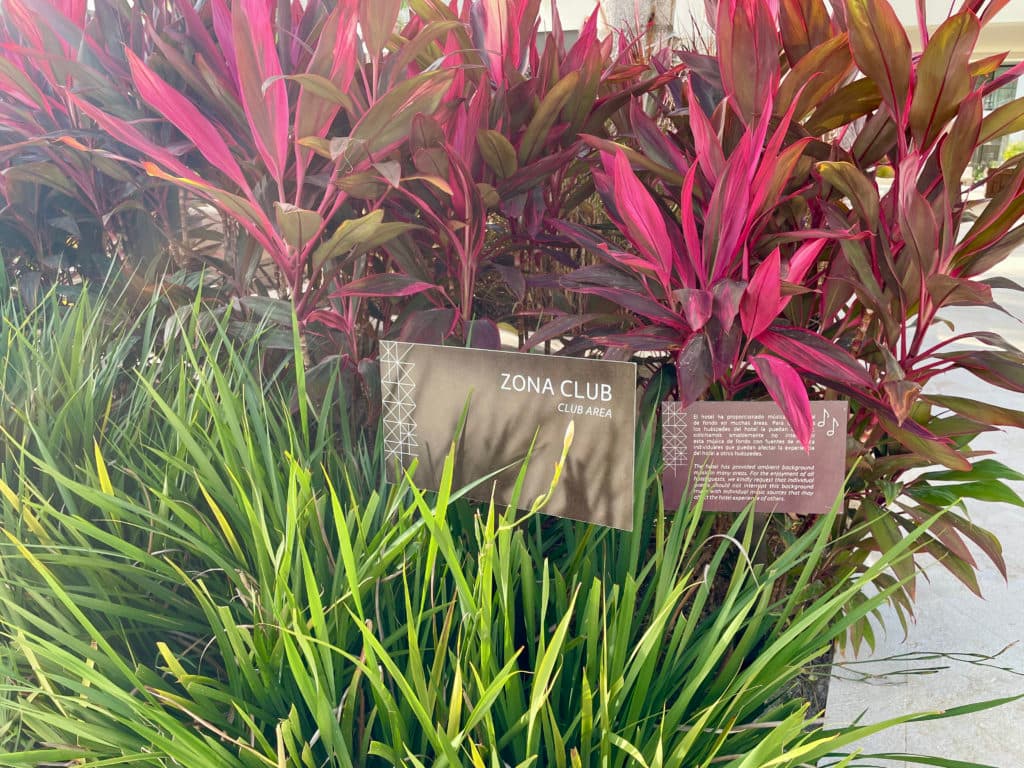 In normal times, upgrading to club might be worth it. But with the lack of crowds during our stay, we just didn't see the need. The main pool was not crowded at all, and some of the restaurants that were supposed to be for club guests only were allowing regular guests in.
There were no wristbands to differentiate club guests from regular guests – though I am sure this will not be the case as things at the resort return to some sort of normalcy.
COVID-19 Precautions
Hyatt – and specifically the Ziva and Zilara Cap Cana – have made a lot of changes during the COVID-19 pandemic. We were all impressed with the precautions in place at the resort.
To start, masks were required in all public spaces if you were moving about freely. Once you were seated at a restaurant or poolside, you were able to remove your mask. Most importantly, the staff was kindly but sternly enforcing this. And throughout the resort, there was staff that had disposable masks on hand. If for any reason you forgot your mask or didn't have yours handy, they would provide you with one to put on.
Additionally, at the entrance to every restaurant and in the other main areas were these sanitizing stations. With the resort only being about 15% to 20% full during our stay it also wasn't hard to stay socially distant.
In general, I was impressed with how the resort was handling COVID-19, and at no time did I feel unsafe being there. It also helped that a vast majority of the resort is open-air, so there were not many situations where we were fully inside of a building.
Testing to Return to the U.S.
The U.S. threw a major wrench in countless travelers' plans in January 2021. As of Jan. 26, all travelers flying to the U.S. must present a negative COVID-19 test before boarding the flight. And yes, that includes Americans heading home from abroad.
That new requirement has put massive questions and roadblocks on many upcoming international trips, forcing travelers to find a COVID-19 test in a foreign country before coming home. Luckily, many hotels and resorts in Mexico and the Caribbean have stepped up with onsite testing available to guests. Still, it's a complication for international travel for the foreseeable future. From the hotels to the government to the airlines, there's a lot to work through.
However, the Hyatt Ziva and Zilara Cap Cana is one of the nearly 20 properties in Latin America where Hyatt has promised to offer free testing to guests returning to the U.S. To date, it's the only major hotel chain to do so.
But the Dominican government went further: We were also offered an insurance policy that would cover all additional expenses (including lodging) of up to $10,000 in the event of a positive test. It cost just $34 per person, in total. 
This seemed like the logical choice, and everybody in our party opted for the $34 coverage. At the time of our stay, the staff at the Hyatt Zilara Cap Cana said they had not yet had a positive test at the property requiring a quarantine.
This Hyatt Ziva and Zilara property is positively massive, and it includes a large convention center that, for obvious reasons, isn't in use right now. That's where Hyatt was performing all its onsite COVID-19 testing.
Just a short walk from the main lobby, we entered the convention center and headed down the hall to get a test. We provided our paperwork and passports to the Hyatt Ziva & Zilara staff members who went over a few things with us and indicated that we would be taking a rapid antigen test that would satisfy the entry requirements to get back into the United States.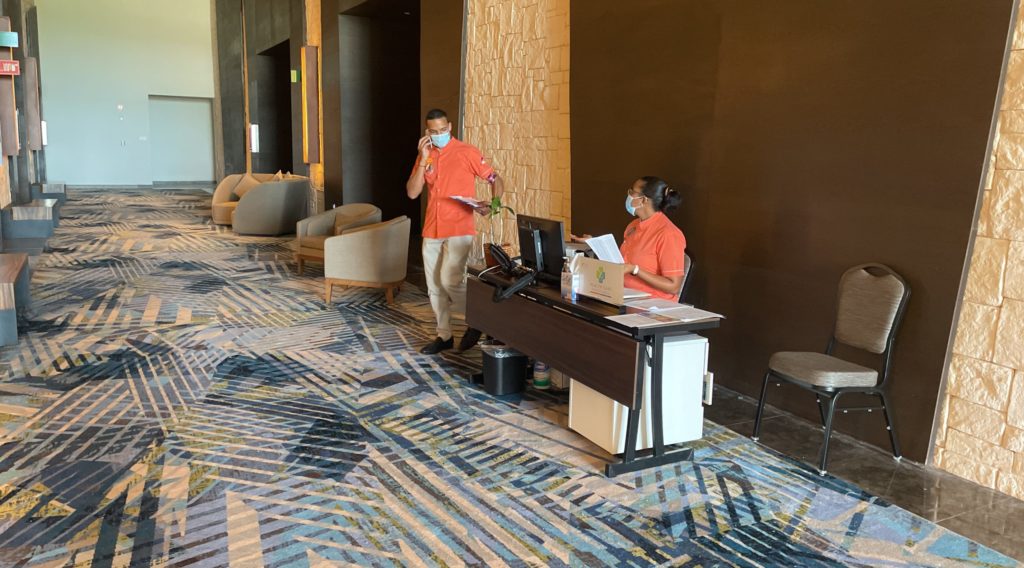 Once we were completed with our testing, we were ushered to a waiting area within the convention hall and told that our test results would be back within 15 to 20 minutes.
Sure enough, about 15 minutes later the staff member came in the room to inform us that we were all negative for COVID-19 and she handed us each our test results in a Hyatt envelope.
She indicated that we would just need to present this at the airport on our return trip to the United States.
Overall the process was quick, easy, and well organized by the staff at the property.
Read More: What It's Like Getting Tested to Return from an International Trip
Bottom Line
Simply put, the Hyatt Ziva and Zilara Cap Cana resort is phenomenal and I can not wait to return. Whether you want an adults-only getaway or a family-friendly adventure, the resort is massive, with tons of amenities, great finishes, excellent food, and more.
Best of all, it's a truly excellent use of points and miles to book your all-inclusive stay for free.