Hyatt Hotels will be adding a new Ziva all-inclusive resort to the Caribbean island of Barbados sometime in 2022. The Hyatt Ziva Barbados will mark the hotel chain's ninth Ziva or Zilara all-inclusive resort scattered throughout Mexico and the Caribbean.
The new property will be located in Carlisle Bay in the island's capital city of Bridgetown, roughly a 20-minute drive from the airport. And since the property is a Hyatt Ziva as opposed to a Zilara, it will be family-friendly. Zilara is Hyatt's adults-only all-inclusive brand concept.
It's worth noting that while applications have been submitted to construct the property, final approval has not yet been granted to start construction.
Details About the Hyatt Ziva Barbados
Per Hyatt, the property was originally planned to be a Hyatt Centric, Hyatt's brand focused on millennials which aren't an all-inclusive concept. We are glad to see Hyatt shifting gears with this.
The property plans currently include a 380 room hotel with 40 condominiums. There will be multiple buildings on the premises ranging between 10 and 18 floors. The property is currently slated to open in 2022, but that timeline could be extended as official approval to begin construction has not yet been granted.
Read more at the Hyatt Ziva Barbados Official Website.
Book Hyatt All-Inclusives Free with Points
Simply put, Hyatt's Ziva and Zilara all-inclusive resorts are awesome.
Most top-notch all-inclusive resorts are expensive and aren't affiliated with hotel loyalty programs, making it impossible to use hotel points to book a stay. But Hyatt changed the game back in 2013 when they acquired a small chain of all-inclusive properties.
We're huge fans of these resorts, and not just because of the great facilities, solid food, and tasty-top shelf drinks that are included with the cost of your room. They're also outstanding because they are incredibly easy to book for free with points.
You can typically expect to pay between $250 and $500 a night to book a room at either a Ziva or Zilara property. This will ultimately depend on the exact location you are looking at, and the time of year.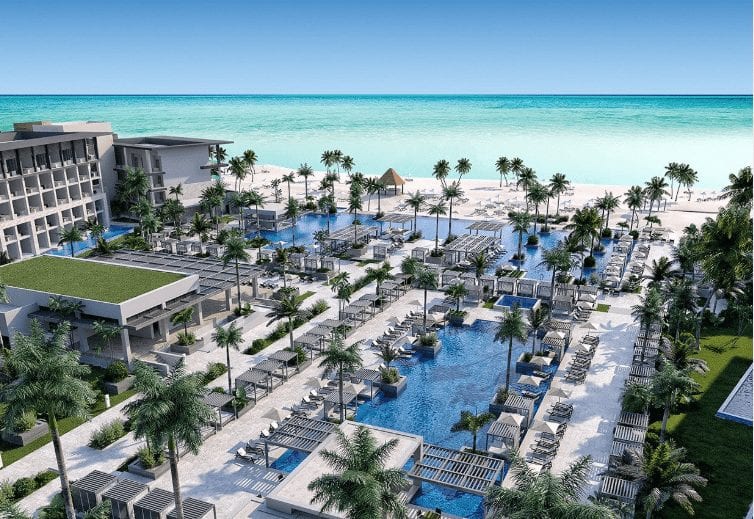 But here is the beauty of these properties; all of them can be booked for either 20,000 or 25,000 World of Hyatt points each night!
Not only will the 20,000-25,000 points cover your lodging, but all of your drinks, meals at the restaurants on the resorts, and the mini bar in your room are included! Hyatt doesn't charge resort fees that other chains like Marriott and Hilton are currently getting sued for. That means just 20,000 or 25,000 points covers everything. 
However, we always recommend tipping your servers as it's the right thing to do and it will greatly improve your service when you are waiting for a drink at the beach or sitting poolside. Hyatt will be introducing peak and off-peak award pricing in 2021, which will influence award pricing at these all-inclusive resorts.
Read: How to Book Hyatt's Incredible All-Inclusive Resorts for Free with Points. 
Bottom Line
It is great to see Hyatt expanding their portfolio of Ziva and Zilara properties throughout Mexico and the Caribbean. We will provide updates to this story as they become available and we get closer to the projected opening date.