Hyatt Hotels will be adding a new Ziva all-inclusive resort to the Caribbean island of Barbados sometime in 2022. The Hyatt Ziva Barbados will mark the hotel chain's ninth Ziva or Zilara all-inclusive resort scattered throughout Mexico and the Caribbean.
The new property will be located in Carlisle Bay in the island's capital city of Bridgetown, roughly a 20-minute drive from the airport. And since the property is a Hyatt Ziva as opposed to a Zilara, it will be family-friendly. Zilara is Hyatt's adults-only all-inclusive brand concept.
It's worth noting that while applications have been submitted to construct the property, final approval has not yet been granted to start construction.
Details About the Hyatt Ziva Barbados
Per Hyatt, the property was originally planned to be a Hyatt Centric, Hyatt's brand focused on millennials which aren't an all-inclusive concept. We are glad to see Hyatt shifting gears with this.
The property plans currently include a 380 room hotel with 40 condominiums. There will be multiple buildings on the premises ranging between 10 and 18 floors. The property is currently slated to open in 2022, but that timeline could be extended as official approval to begin construction has not yet been granted.
Read more at the Hyatt Ziva Barbados Official Website.
Book Hyatt All-Inclusives Free with Points
Simply put, Hyatt's Ziva and Zilara all-inclusive resorts are awesome.
Most top-notch all-inclusive resorts are expensive and aren't affiliated with hotel loyalty programs, making it impossible to use hotel points to book a stay. But Hyatt changed the game back in 2013 when they acquired a small chain of all-inclusive properties.
We're huge fans of these resorts, and not just because of the great facilities, solid food, and tasty-top shelf drinks that are included with the cost of your room. They're also outstanding because they are incredibly easy to book for free with points.
You can typically expect to pay between $250 and $500 a night to book a room at either a Ziva or Zilara property. This will ultimately depend on the exact location you are looking at, and the time of year.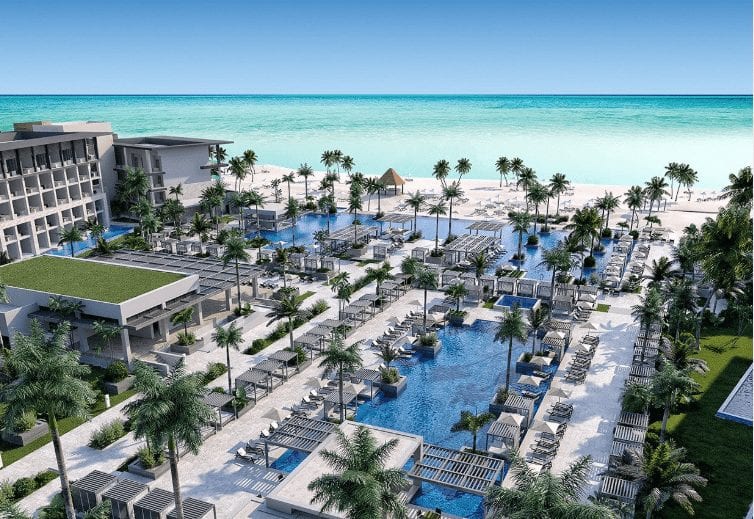 But here is the beauty of these properties; all of them can be booked for either 20,000 or 25,000 World of Hyatt points each night!
Not only will the 20,000-25,000 points cover your lodging, but all of your drinks, meals at the restaurants on the resorts, and the mini bar in your room are included! Hyatt doesn't charge resort fees that other chains like Marriott and Hilton are currently getting sued for. That means just 20,000 or 25,000 points covers everything. 
However, we always recommend tipping your servers as it's the right thing to do and it will greatly improve your service when you are waiting for a drink at the beach or sitting poolside. Hyatt will be introducing peak and off-peak award pricing in 2021, which will influence award pricing at these all-inclusive resorts.
Read: How to Book Hyatt's Incredible All-Inclusive Resorts for Free with Points. 
How to Earn World of Hyatt Points
You might be saying to yourself: "This sounds great, but I don't have any Hyatt points." Don't worry.
You don't need to be a road warrior who constantly stays at Hyatt hotels to earn enough points for a stay at any of the Ziva and Zilara properties. There are a few different credit cards that make earning Hyatt points relatively simple and straightforward.
The first is obvious: the World of Hyatt Credit Card. Just for opening the card and spending $3,000 in the first three months of card membership, you will receive 30,000 World of Hyatt points.
You'll earn 2x points on all spending up to $15,000 in the first 6 months – enough to earn another 30,000 points. That's 60,000 points total and enough for at least two free nights at any of the Zilara and Ziva properties.
The card has a $95 annual fee which is not waived for the first year of card membership. However, starting in year two, it offers an annual free night certificate to be used at any Hyatt category 1-4 property. None of the Ziva and Zilara hotels are eligible for the free night certificate, but for me, it is reason enough to justify the annual fee.

Click Here to learn more about the World of Hyatt Credit Card.
In addition to the World of Hyatt Credit Card, you can also earn Hyatt points by transferring points from Chase Ultimate Rewards. Because Hyatt is one of the twelve airline and hotel transfer partners of Chase's Ultimate Rewards program, you can transfer Ultimate Rewards points into your World of Hyatt account at a 1:1 ratio. This means one Chase point will equal one World of Hyatt point.
If you don't have Chase Ultimate Rewards points, they can be earned from a number of personal and business credit cards. Most notably the Chase Sapphire Preferred® Card which is currently offering a welcome offer bonus of 60,000 points after spending $4,000 in the first three months of card membership. That's enough for up to three free nights at these Hyatt all-inclusive resorts.
This card also has an annual fee of $95 which is not waived in the first year of card membership. However, the welcome offer bonus alone is worth at least $750, and often times much more. If you book three nights at one of these Hyatt properties, you could easily get $1,500 or more out of these points.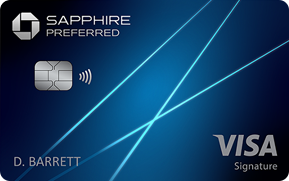 Click Here to learn more about the Chase Sapphire Preferred Card. 
The Chase Sapphire Reserve® is another option for earning Ultimate Rewards points, and you can think of it as the older brother of Chase Sapphire Preferred. While the Sapphire Reserve earns the same Ultimate Rewards points, it offers a number of premium benefits that push the card's annual fee to $550 a year.
Just for holding the card, you'll get an annual $300 credit that can be used for any travel expense. The credit happens automatically and makes it easy to trim down that annual fee to just $250 a year if you can use it.
It also offers a credit of up to $100 every four years to cover the cost of either Global Entry or TSA PreCheck, a Priority Pass lounge membership that will get you into thousands of airport lounges and restaurants across the world, and many other premium benefits.
The card earns 50,000 Chase Ultimate Rewards Points after spending a total of $4,000 in the first three months of card membership.
Click Here to learn more about the Chase Sapphire Reserve.
So hypothetically, you could open the World of Hyatt Credit card and one of the Chase Sapphire cards and earn up to 120,000 points. That's enough to cover up to five free nights at Ziva and Zilara locations.
Do you have a spouse or a significant other? You can both earn points in your own World of Hyatt accounts and book back-to-back reservations for a longer stay, or just combine your World of Hyatt points.
You won't find a better deal when it comes to all-inclusive resorts. Period.
Read: The Best Points Programs & Credit Cards for Traveling Families. 
Bottom Line
It is great to see Hyatt expanding their portfolio of Ziva and Zilara properties throughout Mexico and the Caribbean. We will provide updates to this story as they become available and we get closer to the projected opening date.