Few words conjure more fear or dread in the world of flying than these two: Spirit Airlines.
From the tight to nonexistent legroom to horror stories of canceled flights, the infamous ultra-budget airline has gotten its fair share of flack over the years, tainting the image of budget carriers nationwide.
But budget airlines like Spirit have their place in the travel industry: Do it right, and there's no cheaper way to get from Point A to Point B. And Spirit has improved its operations to become one of the nation's leading airlines for on-time performance.
You just have to know what you're getting into. Read on to find out.
How Spirit Offers Cheap Airfare
Spirit is the king of the "no-frills" low-cost carrier approach to selling cheap airfare.
By unbundling things like seat selection, baggage, priority boarding, and even water, Spirit can make more money on a handful of different fees. Think of it like basic economy fares on the major U.S. airlines, just on steroids.
It allows Spirit and airlines like it to offer a rock-bottom fare, then hit you with upsells and add-ons that can make those savings disappear fast. To truly save with Spirit, you generally have to go barebones.
That's exactly what I did on my recent roundtrip Spirit flight from Minneapolis to Denver (MSP-DEN).
Booking
You need to keep a few things in mind when navigating Spirit's website to buy a ticket.
Spirit displays up to five days of flights at a time, with pricing that generally follows the rules of when it's cheapest to travel: Tuesdays, Wednesdays, and Saturdays. But don't be fooled by the initial pricing Spirit displays. Unless you're a paying member of the $9 fare club, your fares will be higher.
Spirit's $9 Fare Club is actually $59.99 on the day you join (and $69.99 a year after that), for which Spirit offers cheaper fares and cheaper costs for bags. If you fly Spirit frequently, do the math and see if this would save you money. But for most folks flying Spirit once or twice a year, the savings don't seem to be good enough to justify it. Make sure you've selected a "Standard" fare, or you'll have the $59.99 charge added to your total.
Thrifty Tip: You can often shave some fees (typically $10-$30 per ticket) off your fare by going to the airport and buying your Spirit tickets in person rather than online.
You won't be surprised by the next unbundled cost: Bags cost more. Just as with other budget carriers and even United basic economy fares, you'll have to pay for a carry-on when flying Spirit. In fact, carry-on bags typically cost slightly more than a larger checked bag. Only smaller personal items (like a purse, backpack, etc.) fly free.
These costs can add up fast. For my flight, adding a carry-on bag would cost $37  in bag fees each way, for a total of $74. I opted for the rock-bottom price and decided I'd do my three-day trip to Denver out of a personal item only. I have a backpack that fit the size requirements and planned to pack light.
The Spirit website will prompt you over and over again to buy a bag, reminding you that it's cheaper to purchase them now rather than at check-in or the gate (if your bag is too big).
Another unbundled cost we've likely all seen: seat selection. Airlines use our fear of getting stuck in a bad middle seat to convince us to pay up $10 or more for a window or aisle seat each way. Again, I went for the extra savings and did not select a seat.
At check-out, Spirit will give one more option to upgrade with this "perks package" known as the Thrills Combo. For $49 each way, you can get a checked bag, carry-on bag, pick your seat, and a few other add-ons. In many cases, it's a bad option, as that extra cost could likely push your all-in price above flights on other, more-inclusive airlines.
And one last cost to beware of: If you want to check-in at the airport, you'll need to pay $20. Instead, I recommend checking in 24 hours before your flight on Spirit's website or downloading their mobile app. Save yourself the $20 and opt for online check-in.
The Week Before Travel
During the week before travel, I got a few email reminders about my flight, specifically recommending I purchase bags in advance. They reminded of personal item size and mentioned personal item options as a purse or laptop bag, though you can bring a backpack too. Again, I passed on paying for bags.
They also sent a reminder that all food and drink on the flight are for purchase. Yes, even water. So be sure to bring your own snacks and water along for the flight.
Boarding Process
Before boarding, the gate attendants reminded travelers to check their bag sizes at one of the dreaded bag sizers or come up and pay $65 one way. I double-checked with the gate attendant, who told me: "If you've got a backpack, you're fine." Though Spirit doesn't explicitly advertise backpacks as an option, most travelers had one as their personal item.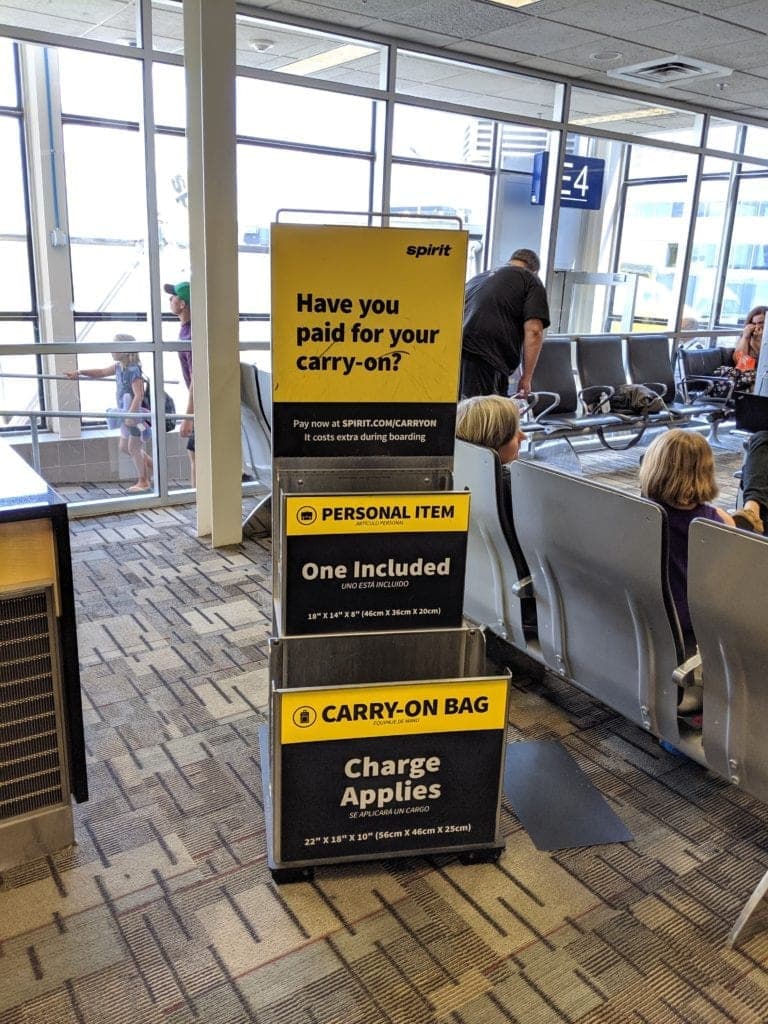 Our flight from MSP to DEN was overbooked. Spirit was offering $250 and to be rebooked on another United or Spirit flight to get in a few hours later.
On the return flight from DEN back to MSP, our boarding area was a bit of a disaster: they had two full Spirit flights boarding next to each other at the same time. Spirit boards in groups 1-4. I was Group 3.
Both flights began boarding nearly on time, and we pushed off from the gate right on time on both flights. It's true, Spirit has been working hard at their timeliness reputation and is now one of the most on-time carriers in the U.S.!
Seat
These Spirit flights were on the Airbus A320, the workhorse of their fleet. Spirit's small seats and no-frills are a big part of what allows them to keep costs very low.
Unless if you pay up for a Big Front Seat, the average seat pitch on a Spirit flight is 28 inches. That's a few inches less than most other U.S. carriers, where you'll typically find between 30 inches to 32 inches of legroom. The seats also do not recline. Seats themselves are very rigid with little padding and do not have a soft headrest. Armrests and tray tables are absolutely tiny.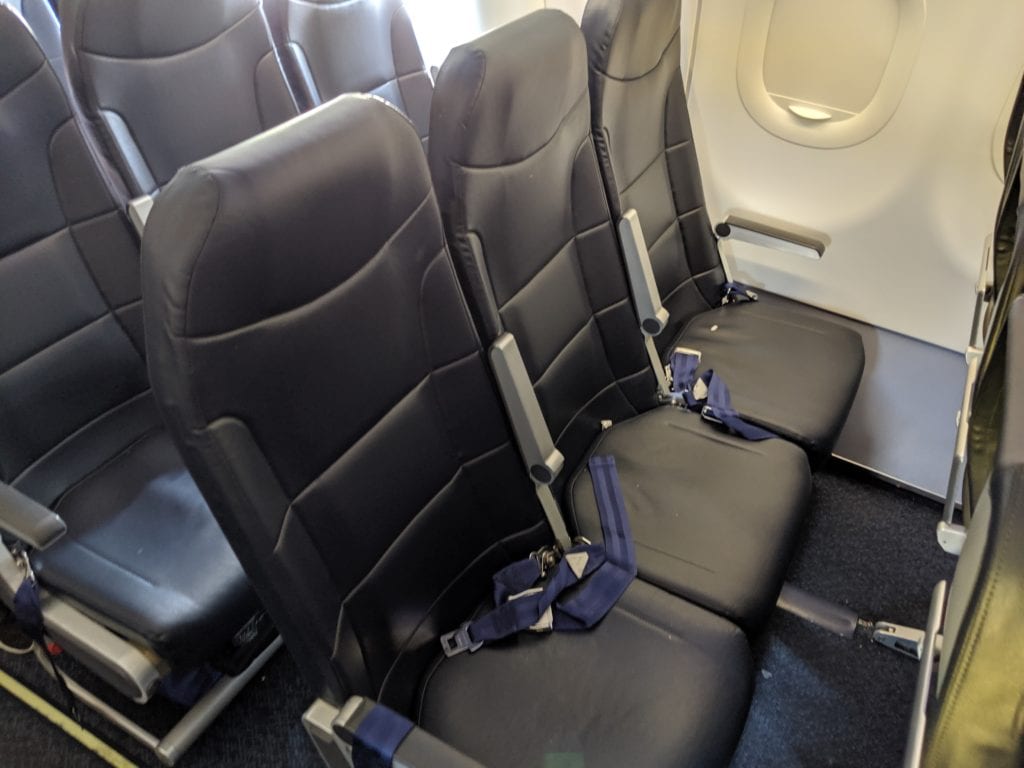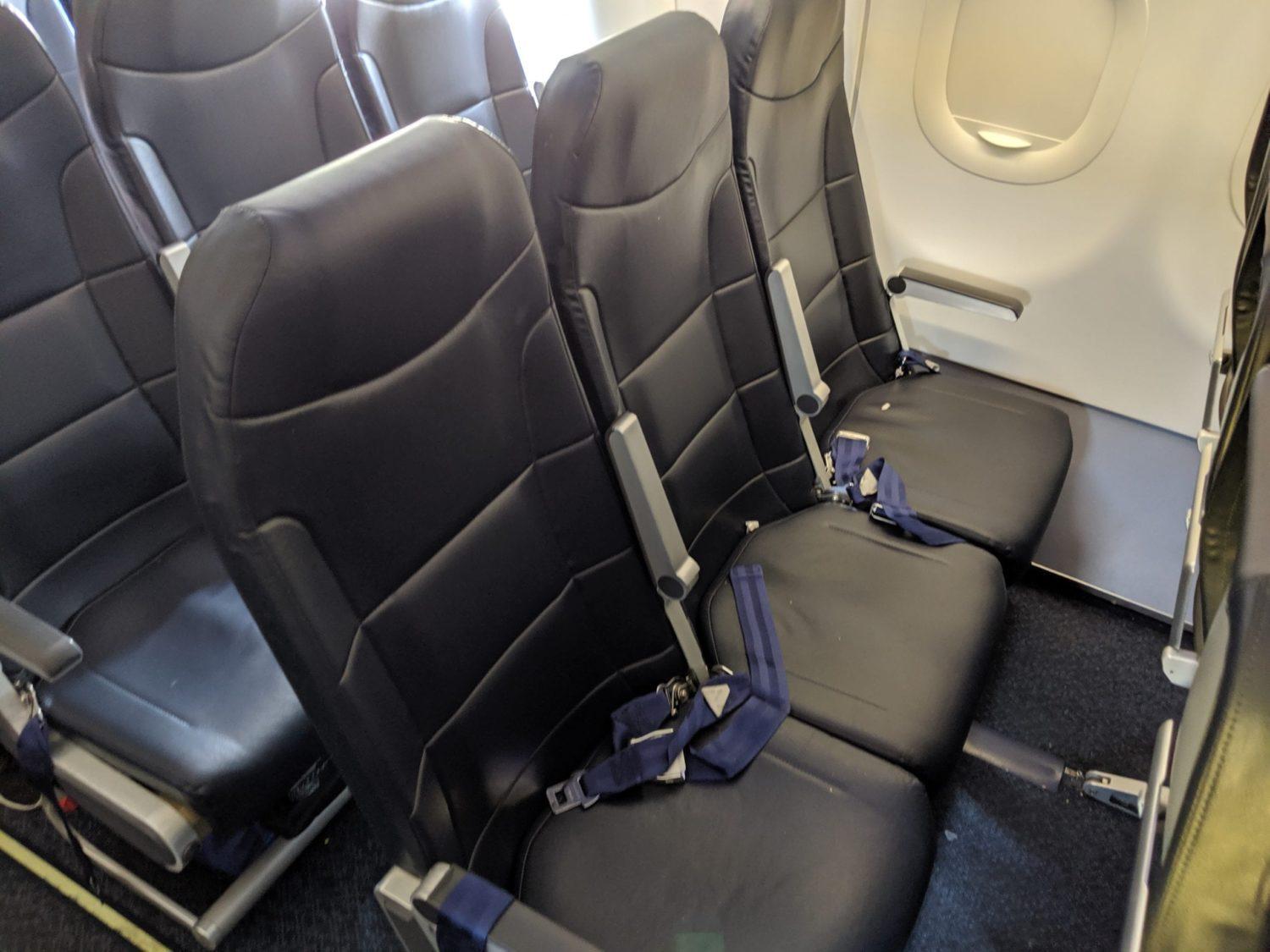 I took a gamble by not purchasing a seat, and in this case, I got what I expected: the middle seat. On this flight, I lucked out and found space in the overhead compartment for my personal item. This made much more room for my feet under the seat in front of me. For reference, I am 5 feet 8 inches.
My travel companion is 6 feet tall. Safe to say that Spirit's seats could be uncomfortable for anyone over 5 feet 10 inches, but I made do for this short flight.
Tray tables do not have a drink holder and aren't big enough to hold anything much larger than a phone or small tablet.
There is also no inflight entertainment on the seatback or offered streaming through the Spirit app, as you find with many mainline U.S. carriers.
Food & Drink
As mentioned above, Spirit warned me in emails the week prior to my flight that all inflight drinks and snacks cost extra. I brought my own water and snacks for this reason. A water bottle will cost you $3 on a Spirit flight. You can find all Spirit inflight food and beverage costs here.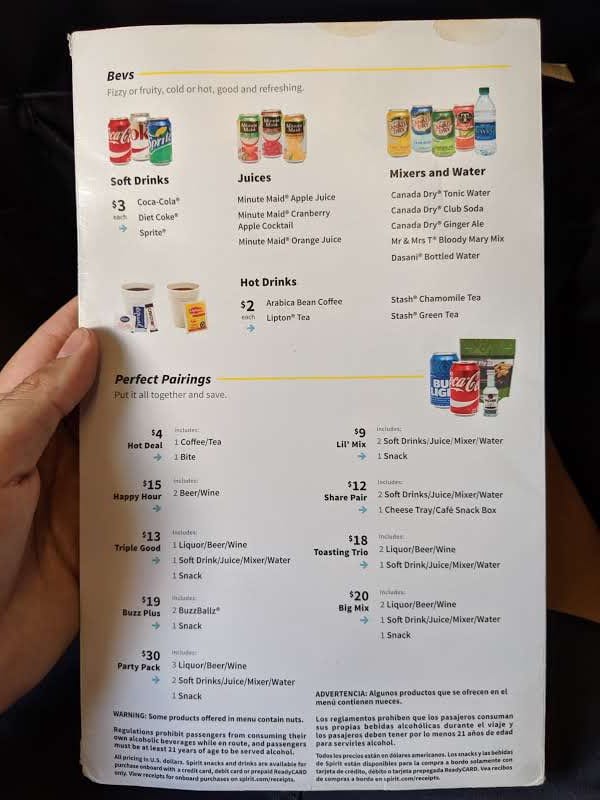 Inflight Experience
The seat might be lacking, but the service on Spirit was not.
My flight from MSP to DEN was uneventful, in a good way. Attendants were cheerful during boarding and when taking food and drink requests.
On the flight back from DEN to MSP, we had a hilarious pilot. He had some great plane safety one-liners, like: "Please no smoking on this flight. If you wish to smoke, I encourage you to quit" and "Someone on this flight is 100 years old today, let's give them a round of applause! Let me introduce you to … your pilot!" I got a kick out of his pilot jokes.
A baby had an unfortunate bowel movement on this flight that stunk up the back half of the plane. But attendants acted quickly and discreetly sprayed freshener into the air.
These are small things, but they matter. It's great to see that while Spirit cuts costs everywhere it can, the service can still be excellent.
Restrooms were nothing special but nothing terrible either. However, I did notice they provided feminine products for free. The restroom was kept clean.
At the end of both flights, attendants tried to solicit applications for the Spirit credit card. Both sets of attendants got on the intercom to pitch it two or three times at the end of the flight and came around with applications.
At the very end of my flight from DEN-MSP (but not my MSP-DEN flight), the attendants did the "Lucky Seat" announcement. It's Spirit's way of getting people excited before the end of the flight, and attempts to instill hope in us middle seat dwellers. A random middle seat wins 5,000 Spirit miles. Those 5,000 Spirit miles don't go far unless you have other miles to add to that or fly Spirit often, but it's a fun addition to the end-of-flight ritual.
Our Analysis
Spirit gets a bad rap, but it's truly a mixed bag. Here are some of the pros and cons of traveling with Spirit.
Pros:
Cheap upfront fares…isn't that why we've all considered flying Spirit?
Don't pay for anything you don't want: seat assignment, carry-on or checked bag, inflight food and drink services, and so on.
Reliably on-time, thanks to their recent near-spotless timeliness record.
Fun and friendly attendants and pilots.
Cons:
Nothing but a personal item comes included in the base fare of your flight.
Legroom is a few inches tighter than other airline seats, tray table and armrest are small, and seats do not recline.
No free food or drink inflight.
No inflight entertainment on seatback or in Spirit app.
All in all, I think Spirit serves a purpose in the travel industry. You just have to know what you're getting into.
If you're looking for the cheapest flight possible from Point A to Point B with no frills, this is a great option. If you can pack in just a personal item, bring your own food and water and inflight entertainment, this is for you!
But if sacrificing a free carry-on bag, more comfortable seat with more legroom, and inflight snacks isn't worth it for you, pass on Spirit. Adding on these perks to your flight would likely mean you'd come out ahead flying with another airline.
Bottom Line
The seats were bearable, the service was great, everything departed on time, and the price was right. I was pleasantly surprised with Spirit.
What has your experience been flying with Spirit?
This post has been updated to note that Spirit flyers can often save more on fares by buying tickets in person at the airport rather than online.