Lufthansa First Class has an almost mythical reputation in the world of points and miles.
It's widely regarded as one of the best, most luxurious ways to fly to Europe – and one of the absolute best ways to use points and miles. Who doesn't want to fly in the nose of a Boeing 747, sipping champagne and noshing on caviar then catch a nap as you cross the Atlantic?
But with all the hype and expectation, does it live up to it all? Check out this review of a recent flight from Chicago-O'Hare (ORD) to Lufthansa's Frankfurt (FRA) hub to see for yourself.

How to Book Lufthansa First Class
A one-way ticket from the U.S. to Frankfurt in Lufthansa First Class regularly tops an eye-watering $10,000. Luckily, there are other ways to get a seat in the pointy end of a 747 for much less by putting points and miles to use.
First things first: You won't find Lufthansa first class on every single route to and from the U.S. First class disappeared throughout much of the pandemic as the German airline scaled back its flights, but it made a comeback in 2021 as the carrier brought its fleet of Boeing 747-8 jets back to the states.
As of publication, you can find first-class equipped Lufthansa flights flying between Frankfurt and Newark (EWR), New York City (JFK), Miami (MIA), Chicago-O'Hare (ORD), Houston-Intercontinental (IAH), Los Angeles (LAX), and San Francisco (SFO).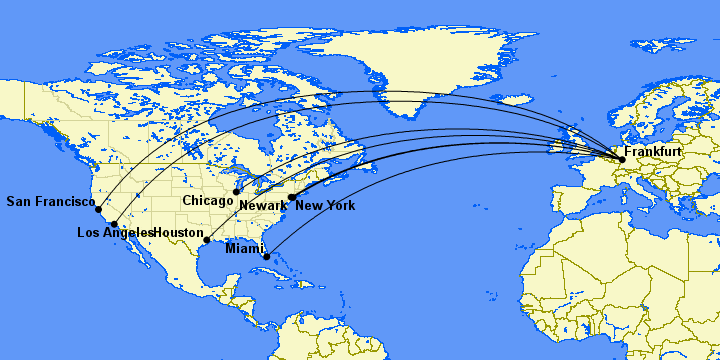 Lufthansa is part of the Star Alliance, so there are plenty of options to book these seats using miles – some far better than others. But actually finding the award availability to fly Lufthansa first class is another matter. Because it's one of the most sought-after flights in the world, Lufthansa is notoriously stingy when it comes to releasing these seats to partner airline programs like United, Air Canada Aeroplan, Avianca LifeMiles, and others.
Generally, you'll only be able to find and book Lufthansa first class seats through these airline programs within two weeks of departure. And though there have been reports that has extended to a 30-day window, the sweet spot is even closer in: Your best bet is looking just five to seven days before departure… or even less.
Thrifty Tip: Focus on flights to and from Chicago-O'Hare (ORD) and Miami (MIA) – in our experience, these airports tend to have the best availability.
Here's a look at what some of the best airline programs charge to book Lufthansa First Class.
Air Canada Aeroplan: 90,000 miles to 120,000 miles, depending on your departure or destination city.
Avianca LifeMiles: 87,000 miles
United MileagePlus: 121,000 miles
My go-to way to book this flight was Lifemiles, the quirky mileage program of South America's Avianca. While their website can be a little finicky and customer support can be spotty at best, it's a great way to book flights like this one with low mileage, low taxes and fees, and some advantages you won't get elsewhere. You can transfer to LifeMiles from American Express, Capital One, and Citi.


Usually, this ticket would cost 87,000 miles and about $50 in taxes. But one quirk with LifeMiles is that adding a connection will often drop the cost thanks to mixed-cabin award pricing. Because I was connecting in Frankfurt onward to the UK, I actually saved a few thousand miles: I used a grand total of 84,630 miles and about $90 in taxes.

Ground Experience & Lounge
I had flown in to Chicago on a Delta flight a few hours earlier, and hung out in the Delta Sky Club before exiting the secure area to check in my carry on bag for my Lufthansa flight. Check in was smooth and efficient, and I was even given a fancy first class boarding card holder!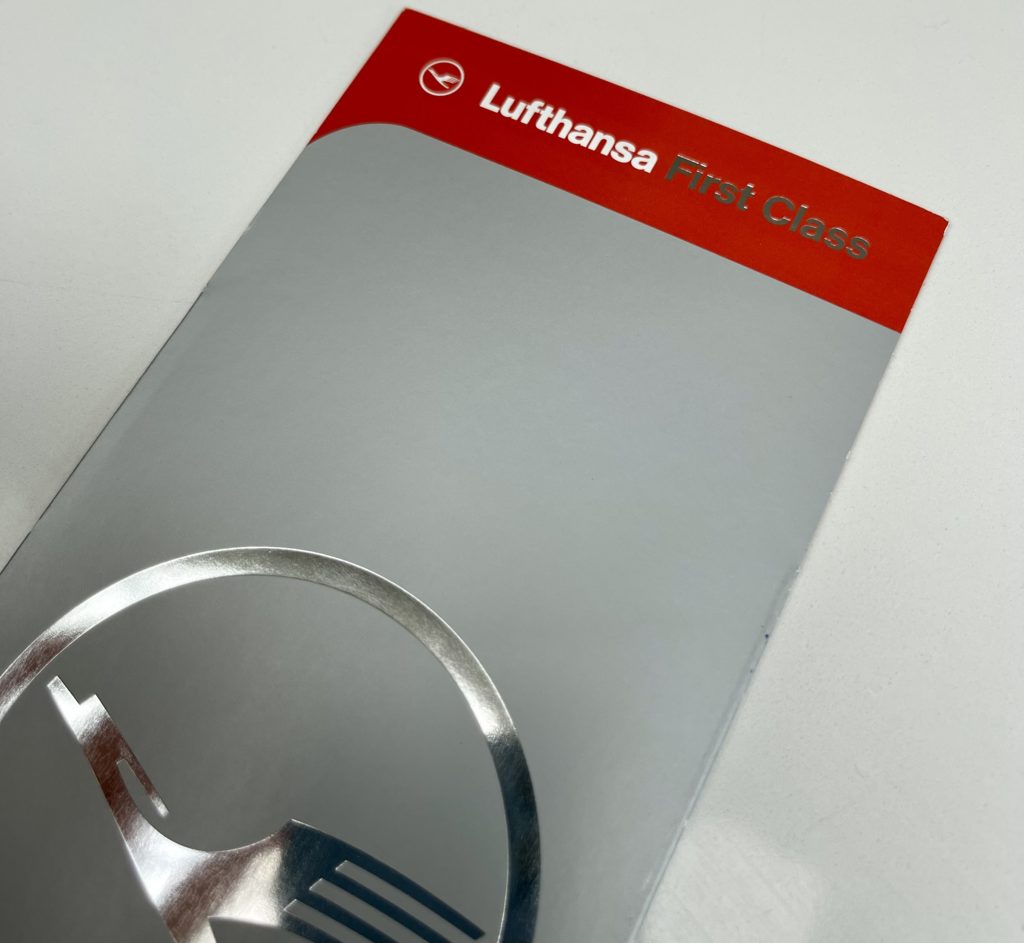 Pre-COVID, passengers flying Lufthansa First Class out of Chicago would have access to the fantastic United Polaris Lounge. Unfortunately, this lounge remains closed, so I headed for a United Club ahead of my flight.
It has been a while since I last visited a United Club, and I was pleasantly suprised. I was able to get some work done and enjoy a drink or two at the bar with a friendly bartender before my flight boarded. The club was also conveniently located next to gate B17 where our flight would depart.
Exiting the club, I found long lines of passengers grouped up for boarding. Unfortunately, First and Business passengers shared a line which already had 40-plus passengers by the time I arrived. Unlike some other Lufthansa outstations, there was no separate boarding line for first class passengers in Chicago. Oh well: First world problem!
Departing from Frankfurt – or connecting through – you're in for a treat on the ground: The Lufthansa First Class Terminal is truly one of the world's best airport lounges. You can clear security at the lounge itself, enjoy a made-to-order meal of schnitzel or steak while picking from an extensive bar menu, then grab a shower or even a nap in one of two private sleeping rooms.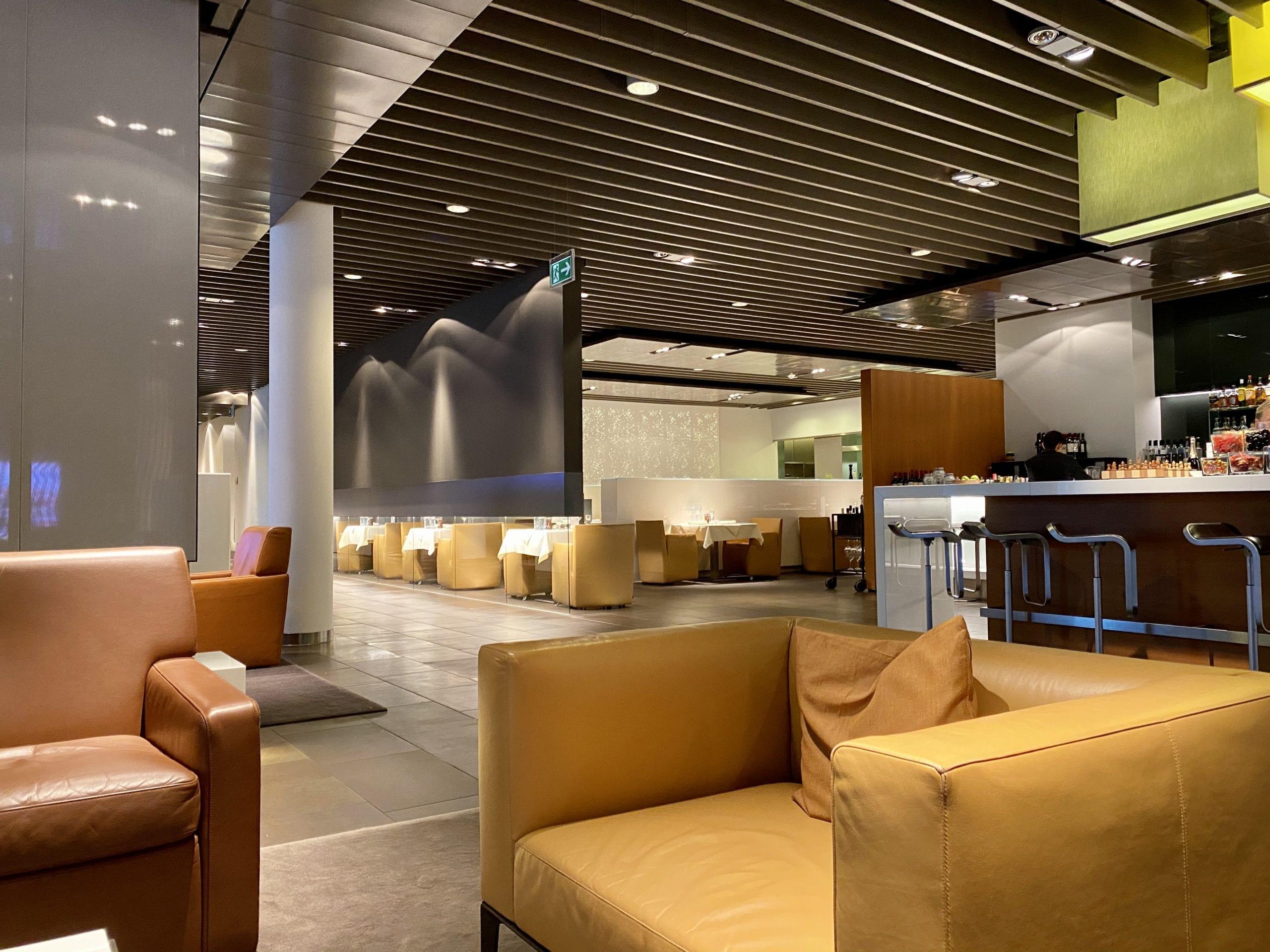 Read our full review of the Lufthansa First Class Terminal!
And when it's time to depart, your own personal attendant will come grab you and whisk you to a Porsche for a private ride on the tarmac straight to your plane. It doesn't get any cooler than that.
After being closed for nearly 18 months, the First Class Terminal finally reopened Sept. 1.

Cabin
After a short wait to board and document check at the gate, I was on board Lufthansa's beautiful Boeing 747-8. It is an aviation geek's dream to ride one of these relatively rare aircraft – and in the front, no less! Due to the design of the plane, first class passengers are actually seated farther forward than the pilots up on the upper deck!

Unlike some other airlines (cough cough, British Airways), Lufthansa only put eight first class seats on their 747s. It creates a spacious and open feeling, with ample room to move about – though not as much privacy as you'll find with other carriers. Plus, the entire cabin is just classy. It's simple but elegant.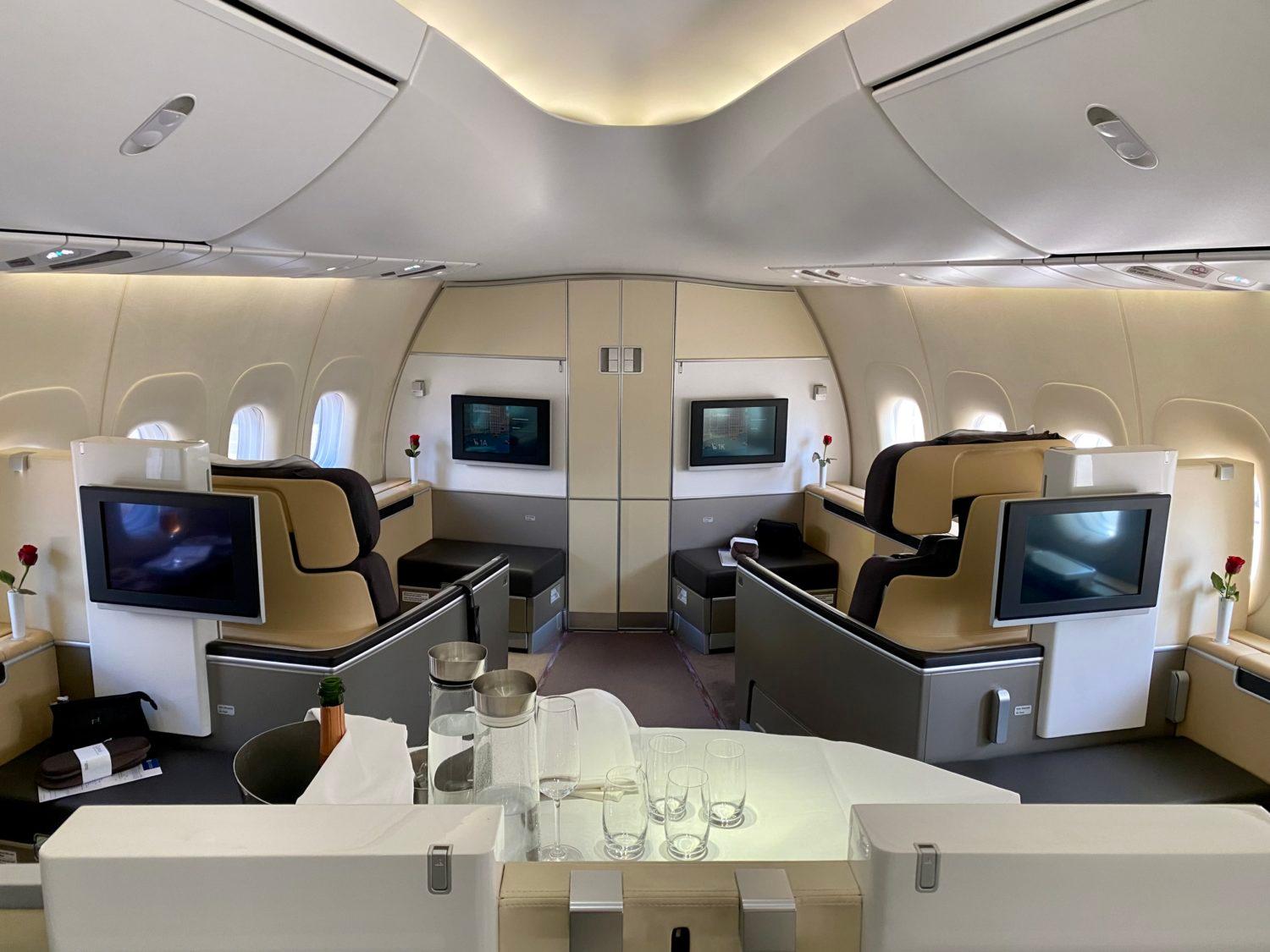 Because first class is at the front of the lower deck, most seats are arranged along the windows, with three seats on each side of the plane. And then there are two seats right in the middle, which might be the best option for couples or companions traveling together – though picking seats 1A and 1K at the front of the cabin may be a close second.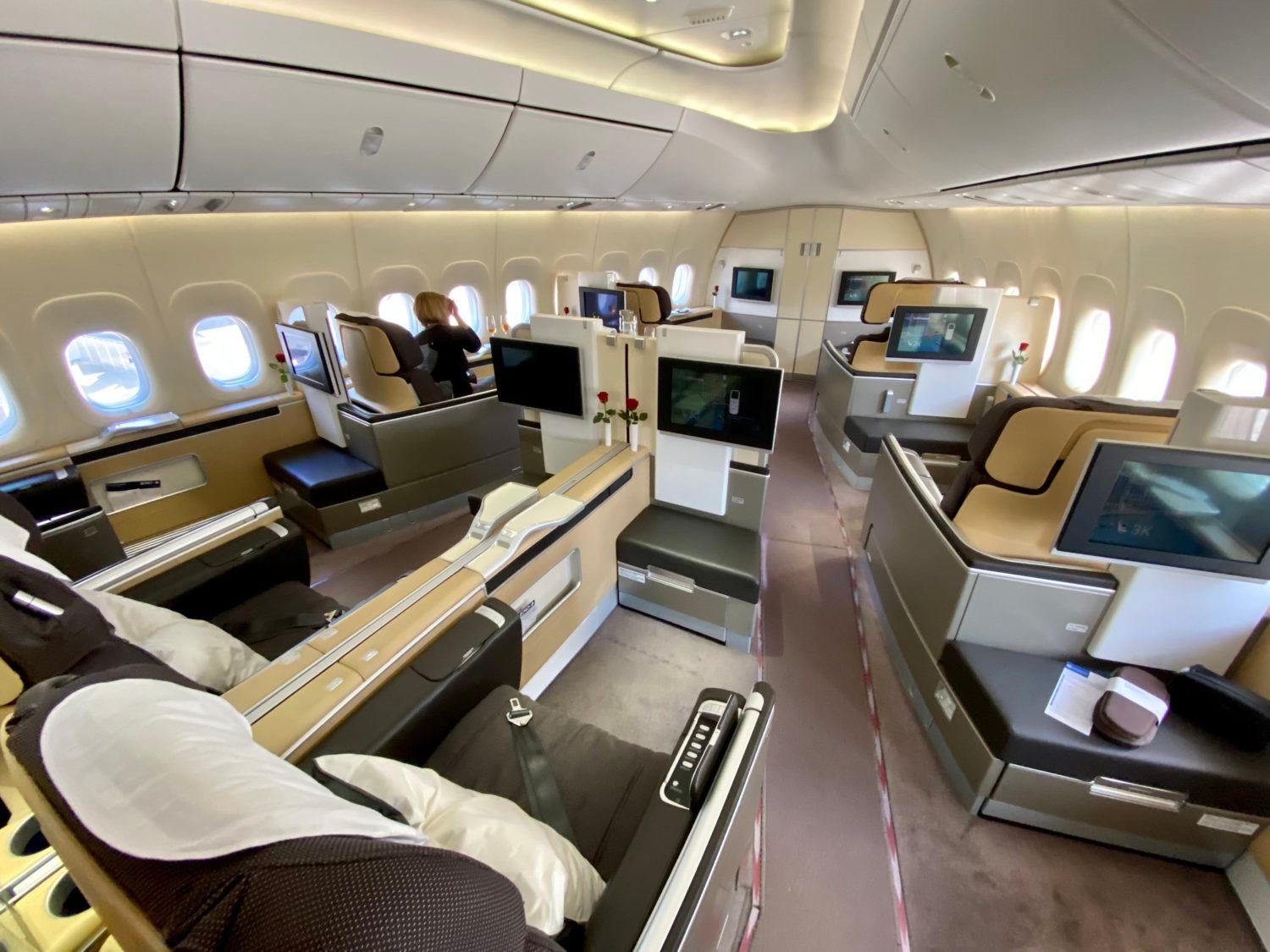 Here's a look back at the cabin, with that beautiful accent wall christened with Lufthansa's logo.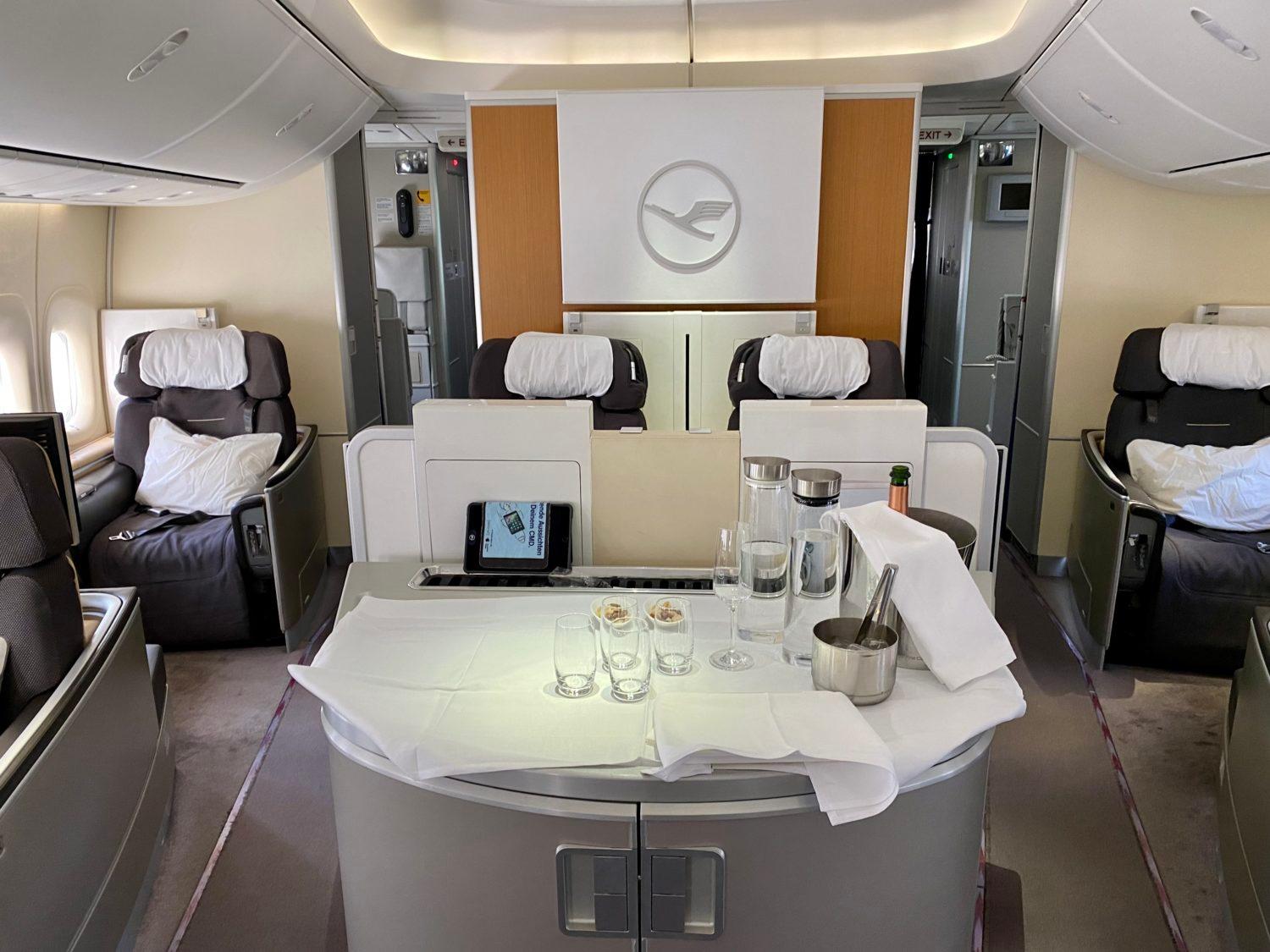 Check out that bar positioned between seats 2A and 2K, which flight attendants used as a staging area to pour champagne during boarding and throughout meal services.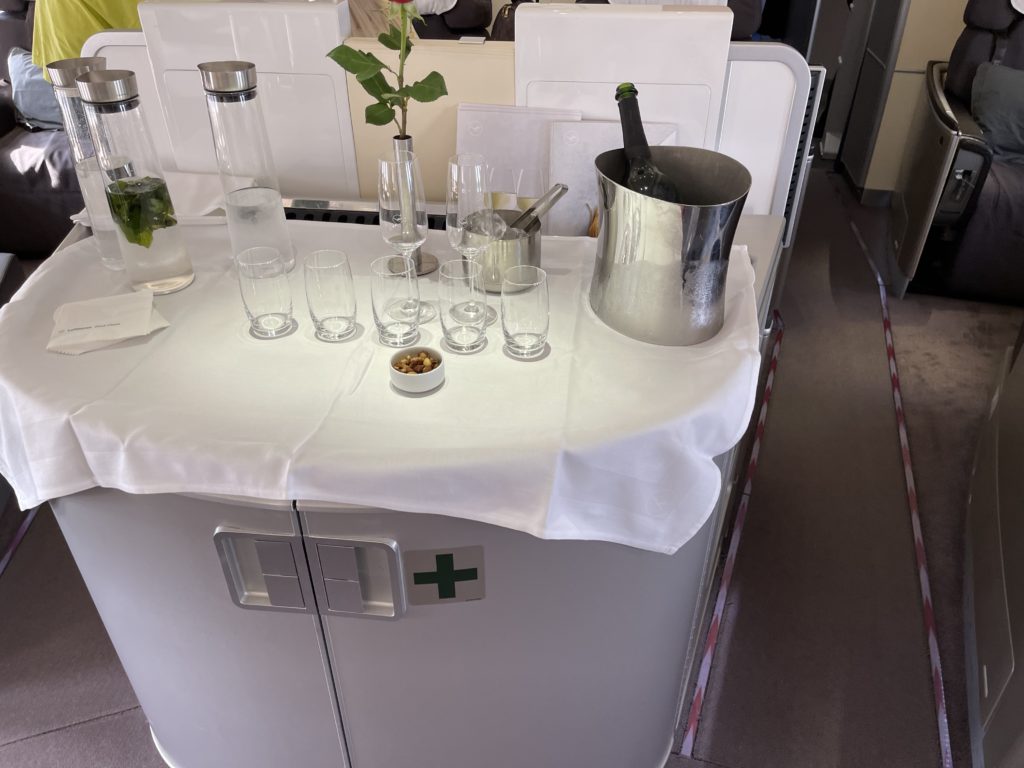 There are overhead bins positioned above every seat – aside from seats 3D and 3G in the center – so storage isn't an issue. But Lufthansa takes it even farther with a set of storage lockers back in the galley, with one reserved for each and every passenger. You can fit a large carry-on bag (or a few, even) into each locker.
There are also two identical lavatories on either side of the galley between the first and business class cabins, and they're specifically reserved for first class passengers. While they're not the largest bathrooms you'll find on a plane, they're beautifully designed – including a window!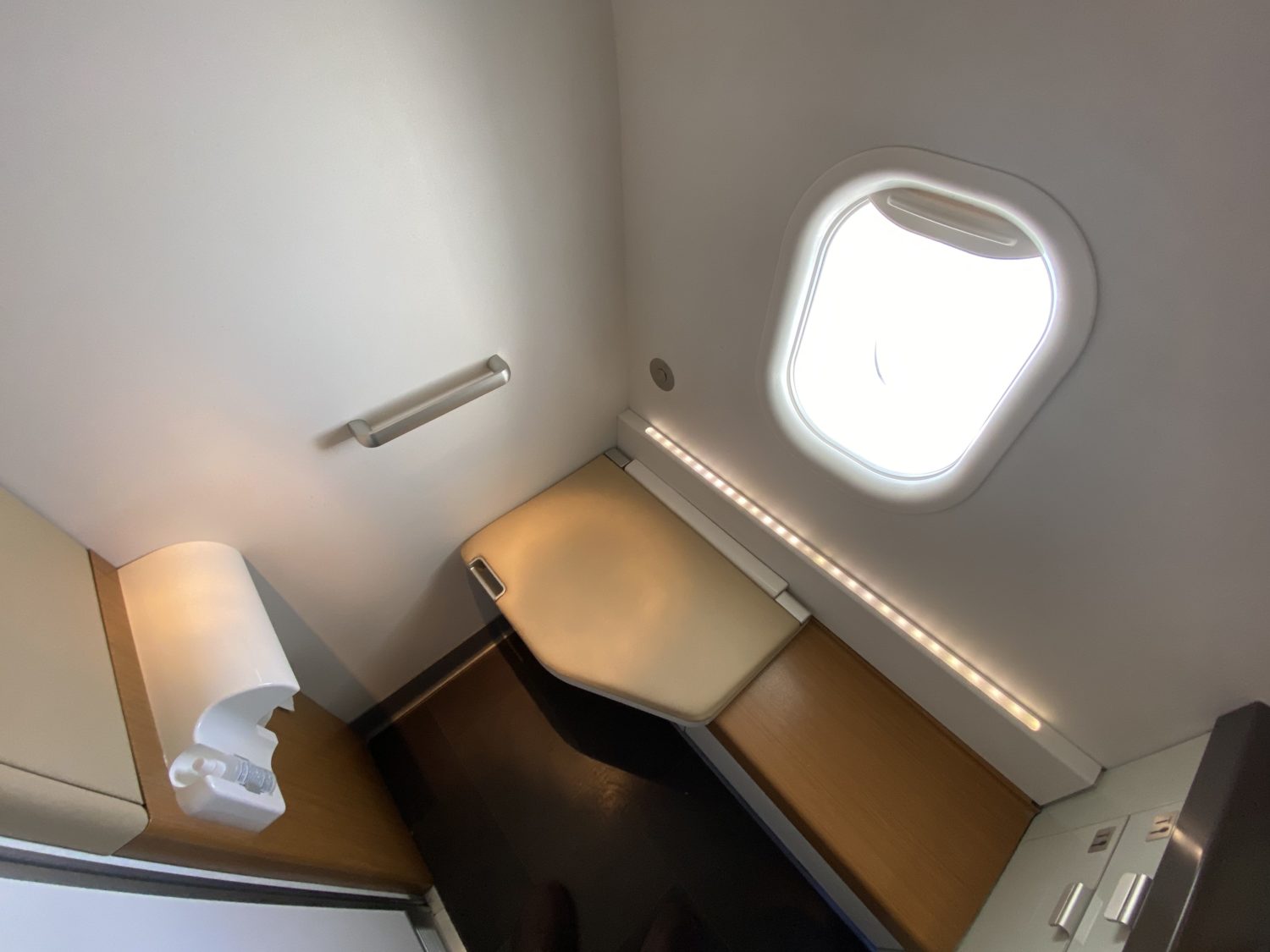 There's even a great fold-out bench on the wall of the lavatory, which comes in handy when it's time to change for bed.

Seats
Nothing beats sitting right at the front of the plane, so I chose seat 1A. That meant I had direct aisle access, no one walking past me, and three (yes, three) windows all to myself. Here's a shot at 1K across the aisle.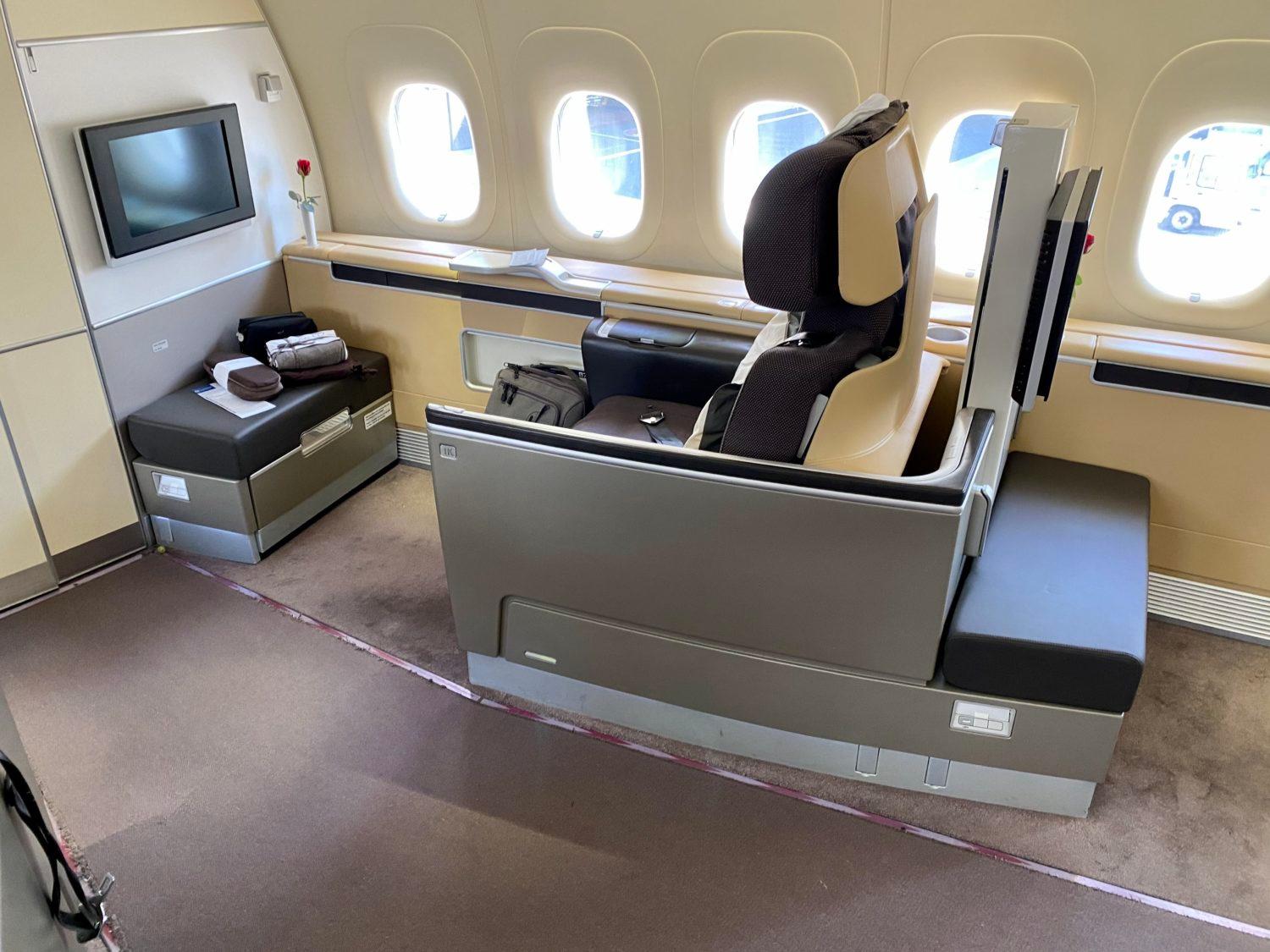 While Lufthansa's first class seat is not as private or innovative as some their competitors, I found it to be both comfortable and spacious. Each seat features a large, soft recliner with a very adjustable headrest.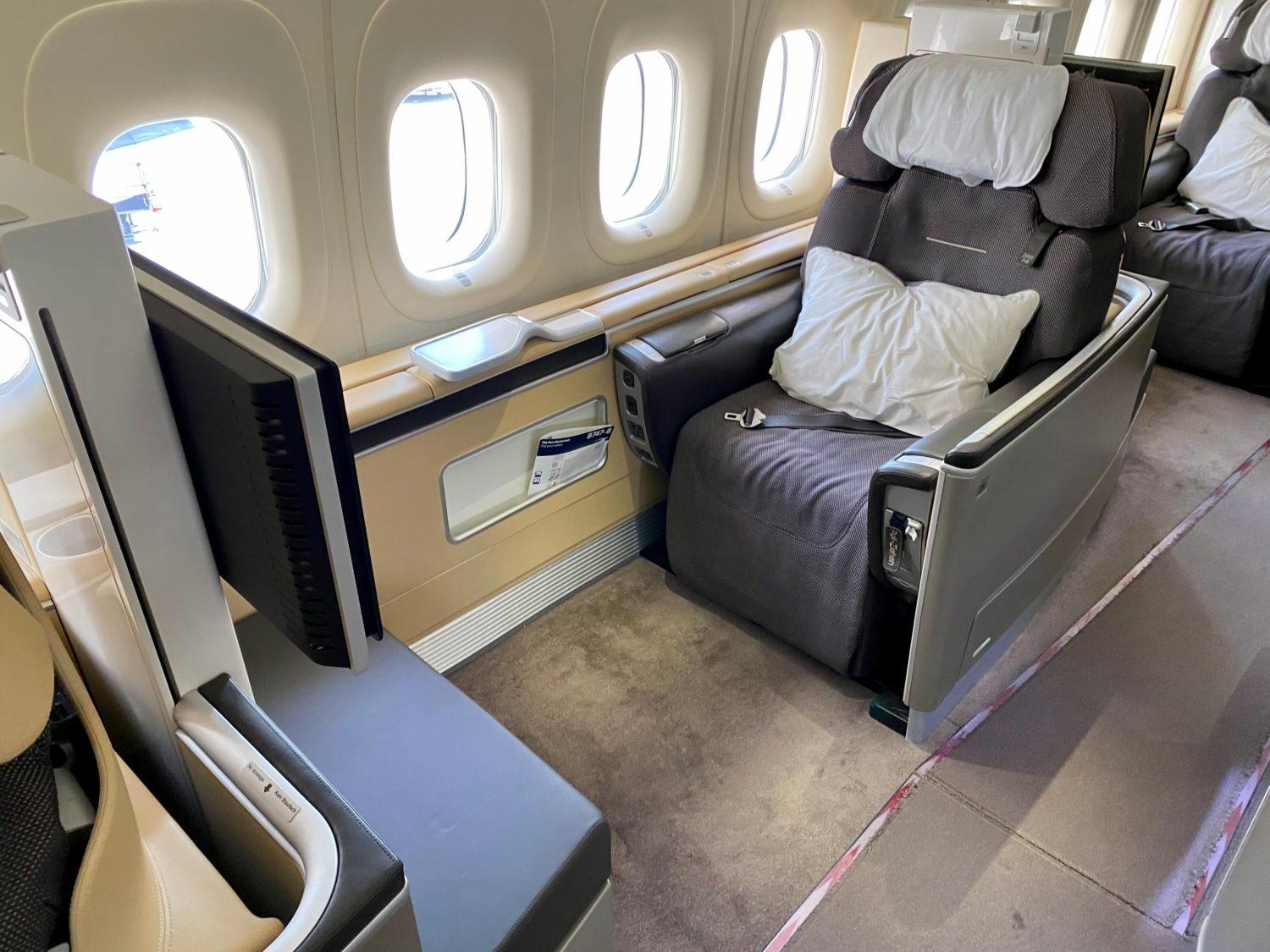 There's no question that privacy may be an issue for some flyers – especially when it comes time to sleep. Fortunately, Lufthansa addresses that with a sizable privacy partition that you can raise and lower with the press of a button after takeoff, closing off much of your seat from your neighbors.
One thing that Lufthansa first class absolutely nails is storage space – and that's not always the case. There's a long counter space hugging the windows at each seat, with a nice spot to put a drink to enjoy as you board.
And yes, roses are back. These roses at each seat have been a signature touch of Lufthansa first class for years, but they disappeared throughout much of the pandemic.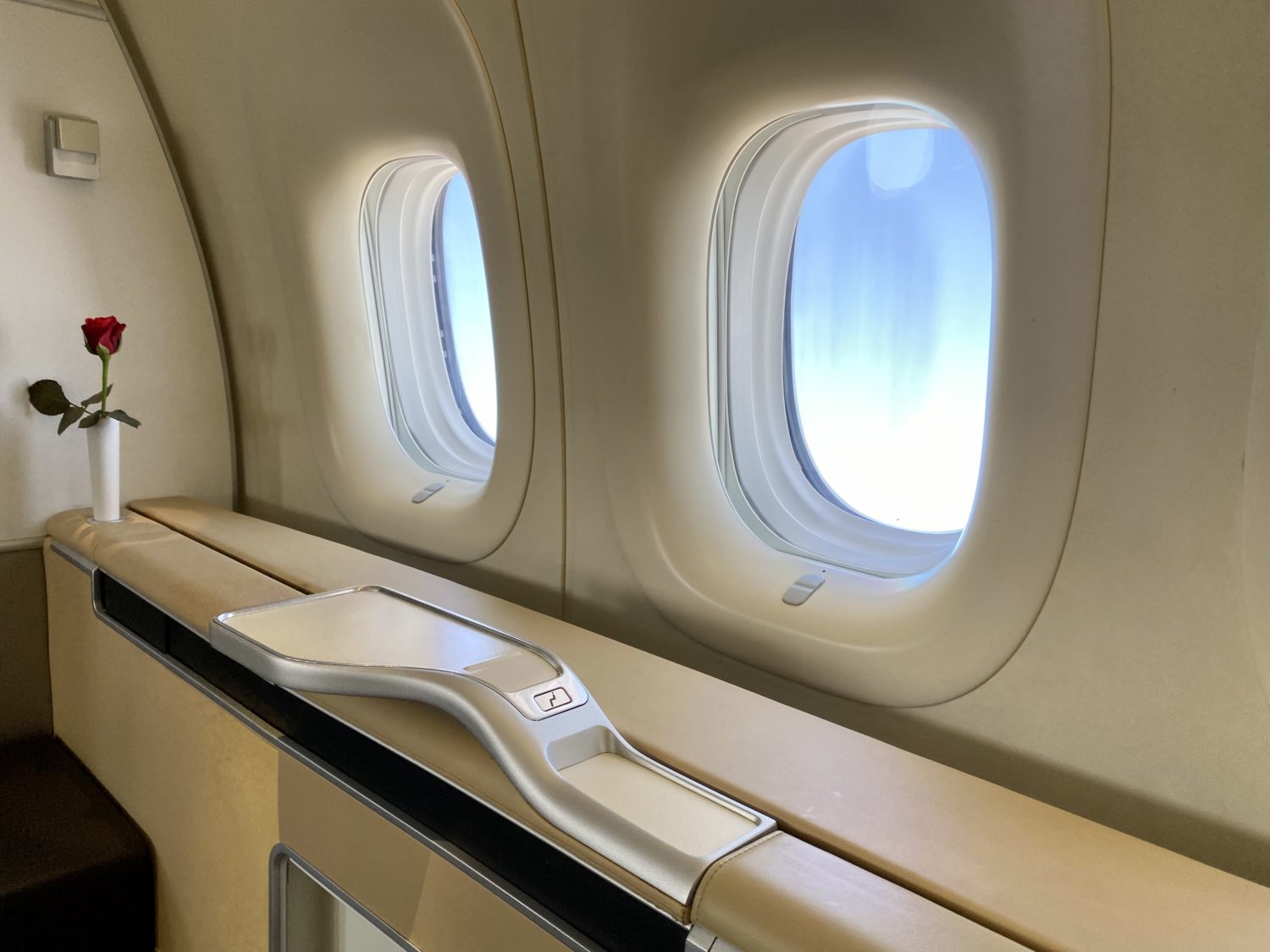 Further back along that counter you'll find two storage cubbies: Hit the button and pop them open to find plenty of space to store your personal items. There's also a handy spot for a water bottle back here, too. And below it all, there's a small compartment for literature or other goodies.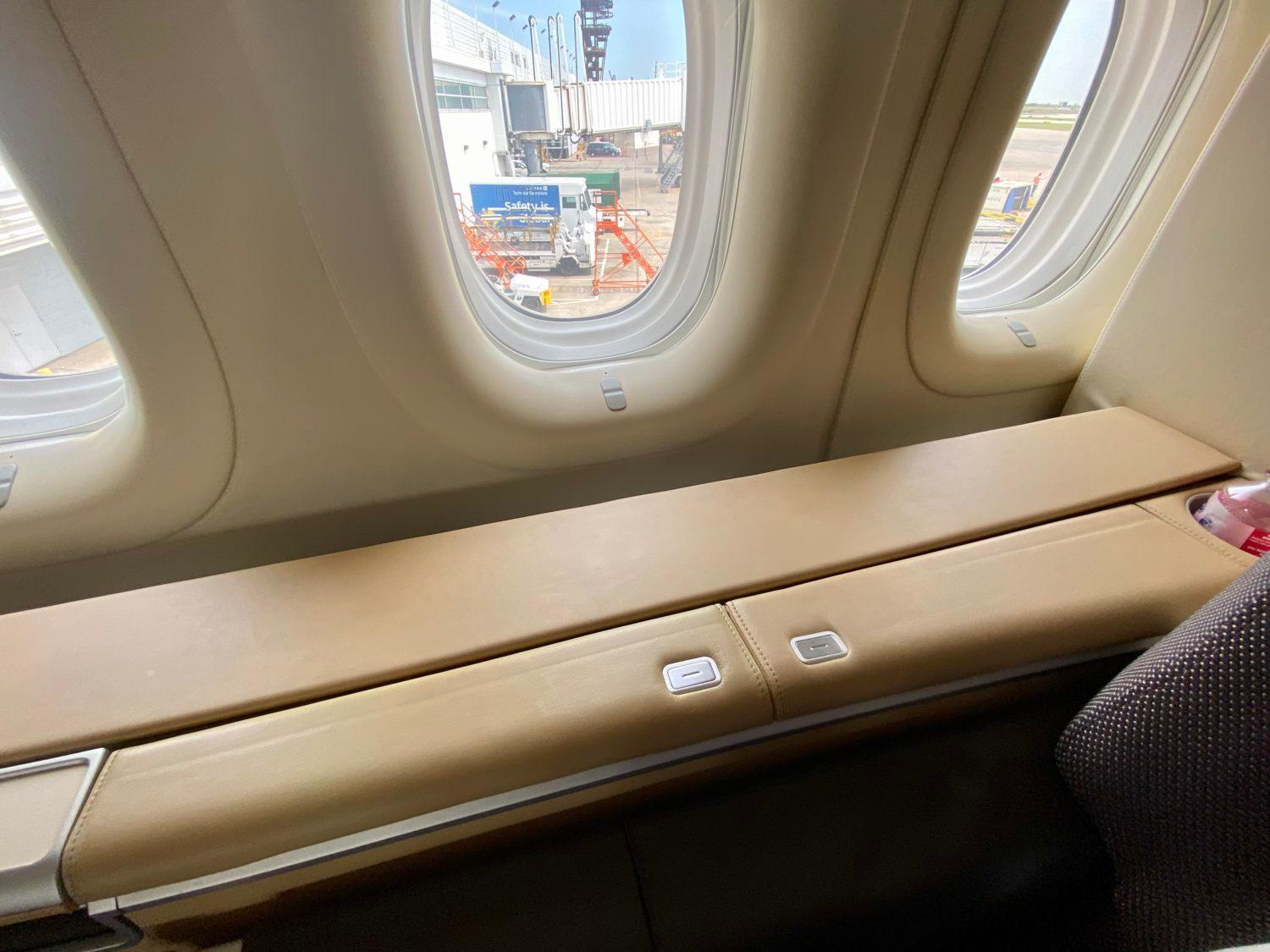 The ottoman is massive, so go figure it doubles as a huge storage compartment. I was able to fit my full-size backpack there, along with other bits and pieces like the amenity kit and pajamas. At the press of a button, this can be moved forwards and backwards when you're ready to relax or sleep.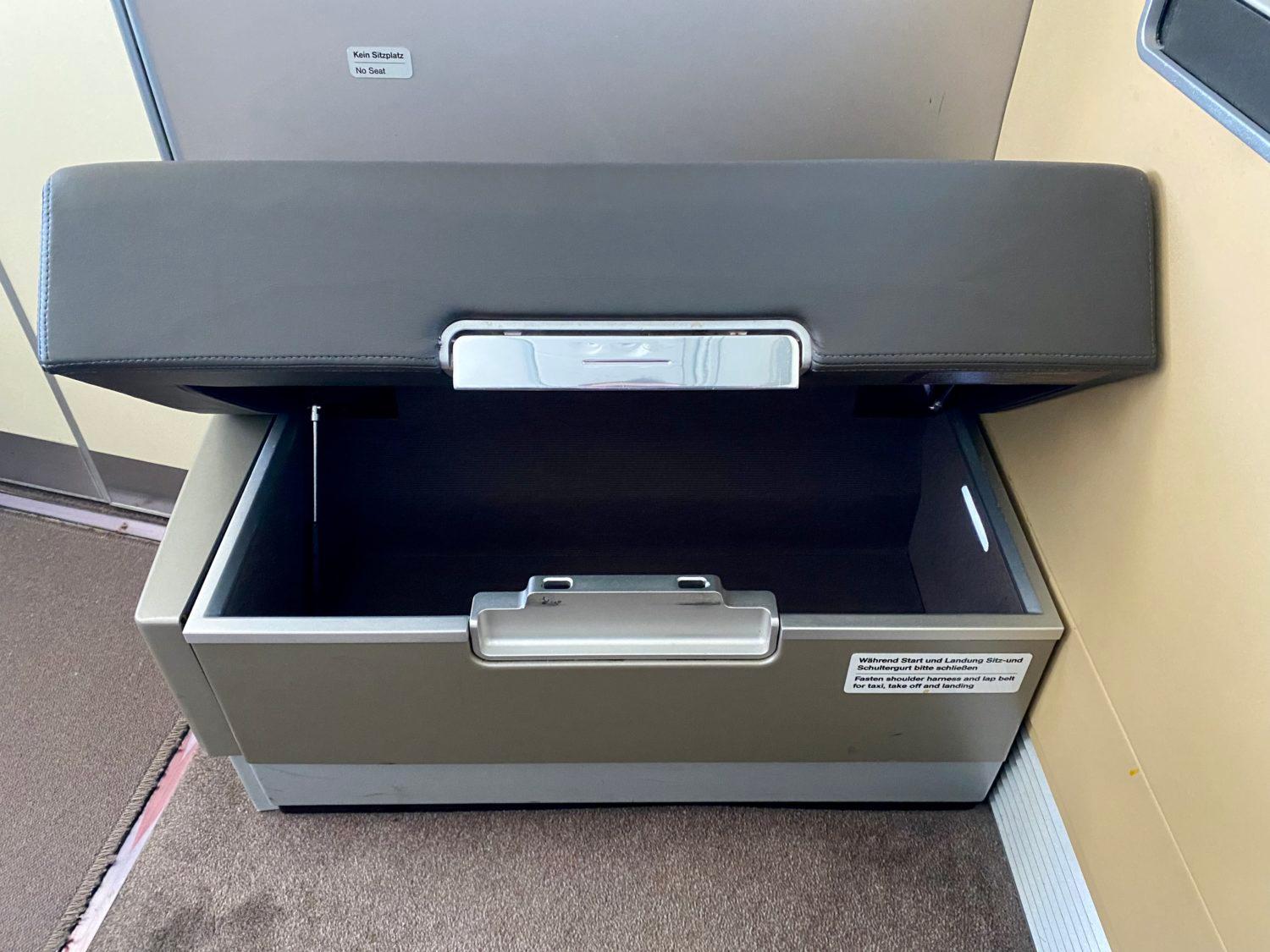 Speaking of adjusting the seat, you'll find seat controls tucked away conveniently under panels in the armrest. Plus, it's a great way to learn some German: Now know that 'Sichtschutz Gang' means 'Aisle Privacy Screen!' There's also a few buttons exposed that you can use to quickly adjust your seat to return to upright or lie-flat mode, if you don't need more detailed buttons.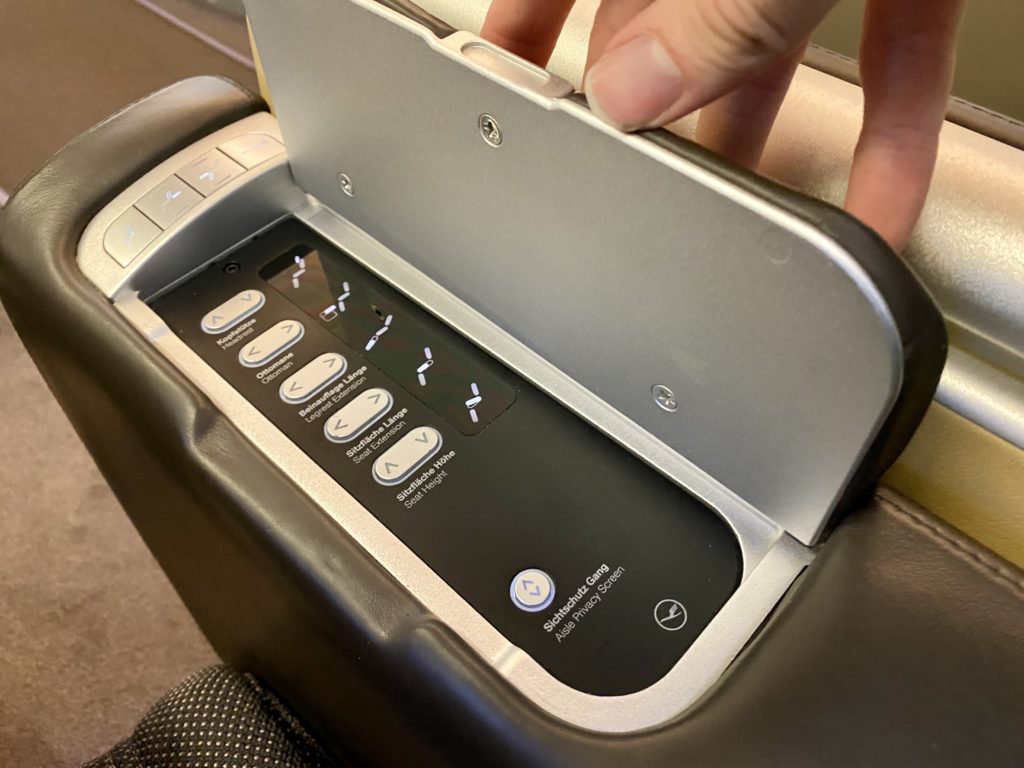 You'll also find a wired entertainment control in the other armrest, along with some handy buttons exposed that allow you to quickly pause or adjust the volume.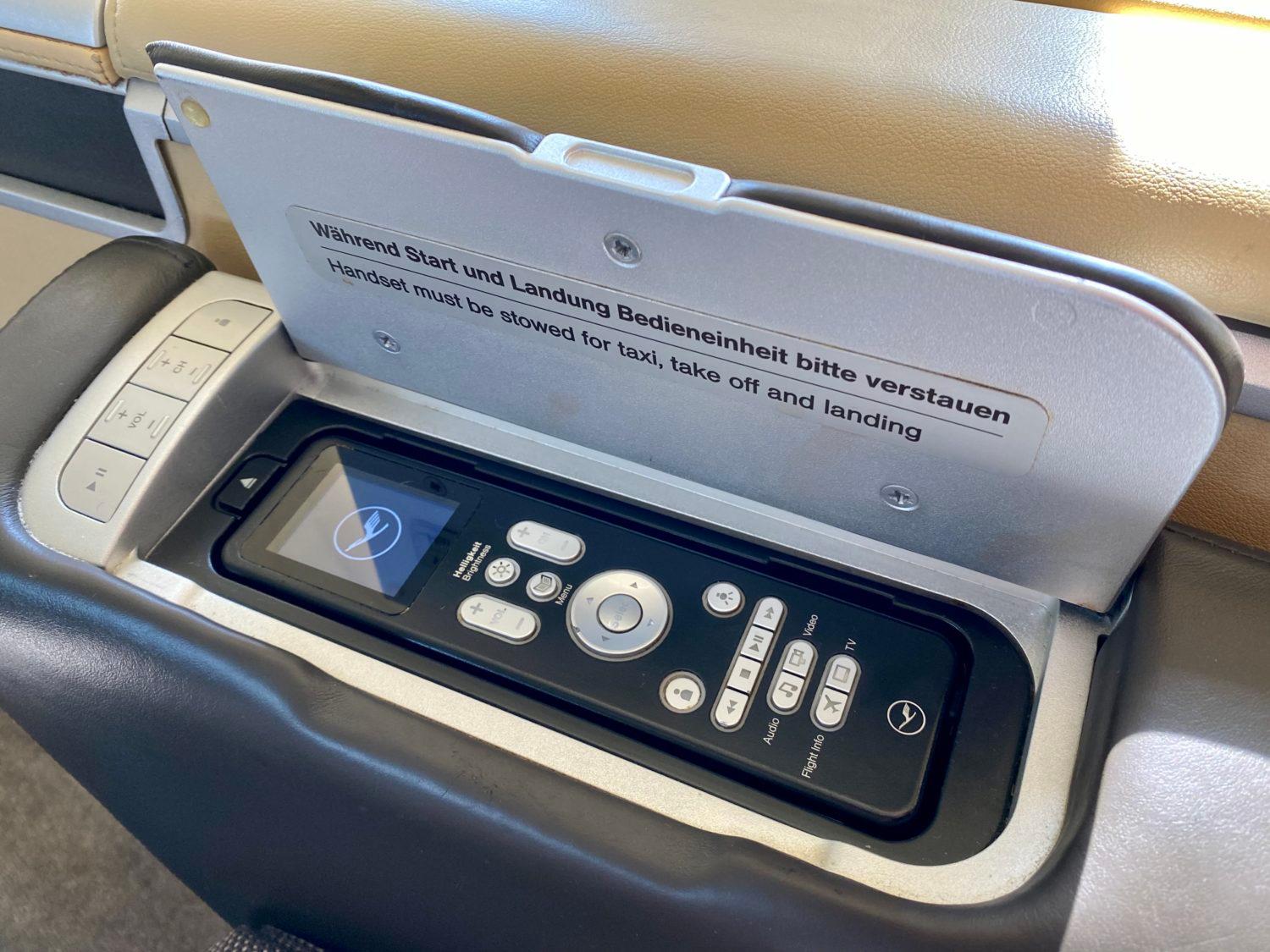 But let's talk about the bed, and what a bed it is. Reclined into lie-flat mode with the privacy partition up, you won't find many more comfortable beds in the sky. Lufthansa flight attendants are usually happy to turn over your seat to get ready for bed when it's time to sleep.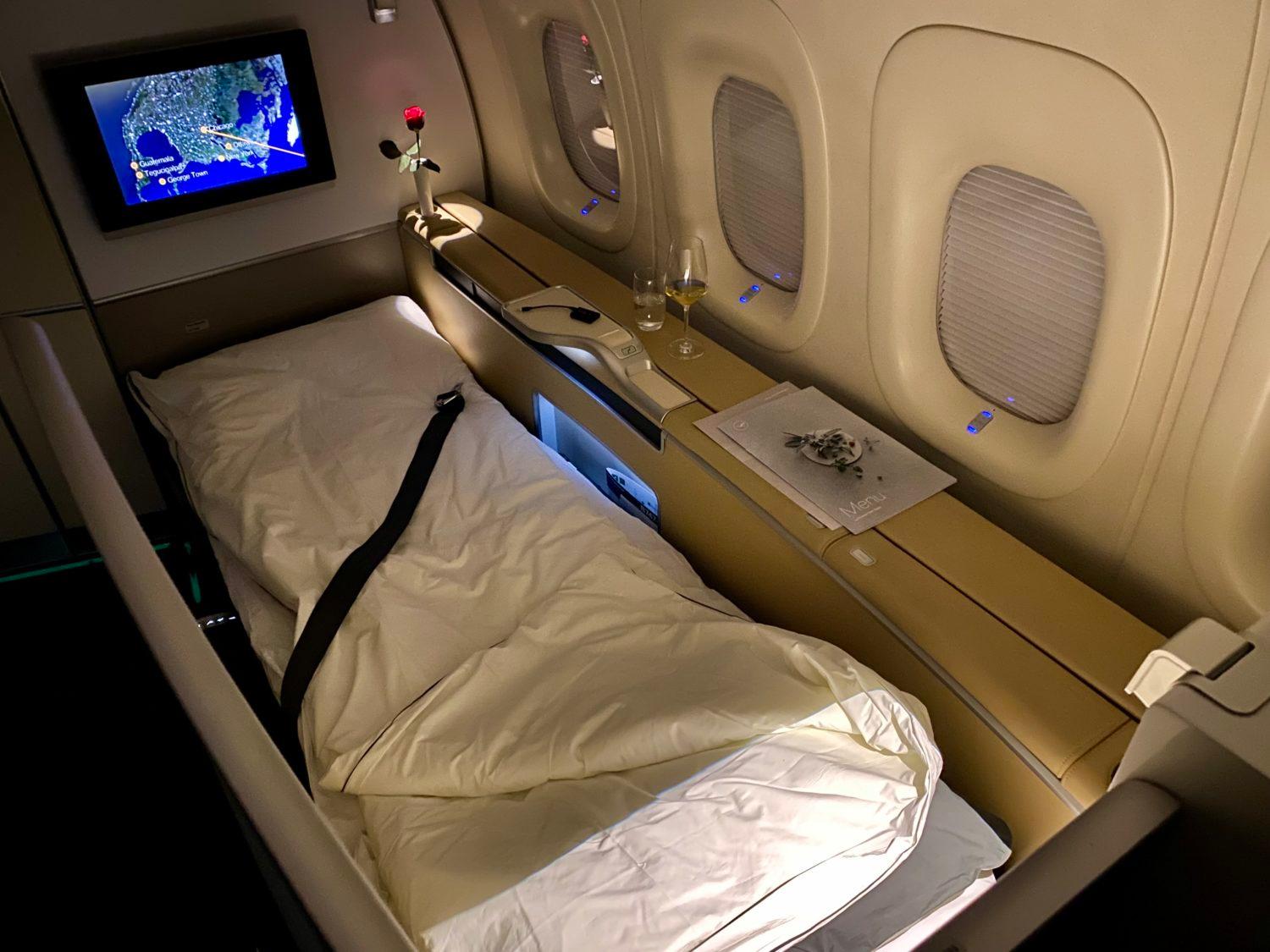 Amenities
Lufthansa goes all out when it comes to amenities in first class. Waiting at my seat when I boarded was a classy Van-Laack amenty kit, which included the usual suspects like eye shades and socks, but also more rare items like a shoehorn and comb.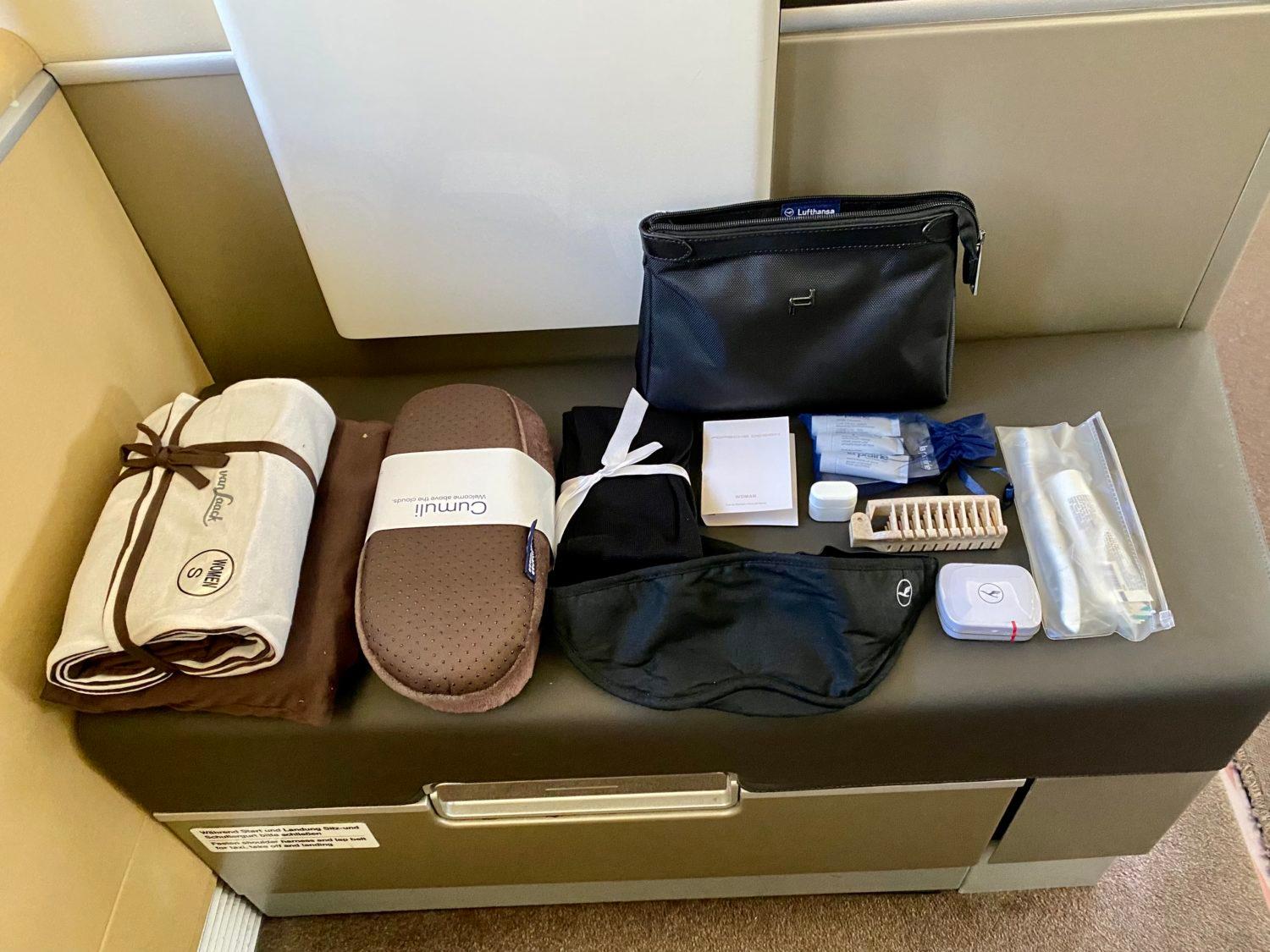 Particularly noteworthy are the La Prairie lotions and potions. A 50ml jar of the included "Swiss Ice Crystal Cream" sells for over $200 at retail!
Soon after boarding, I was also presented with some comfortable Van Laack pajamas and memory-foam slippers shortly after boarding, which I changed into once we took off.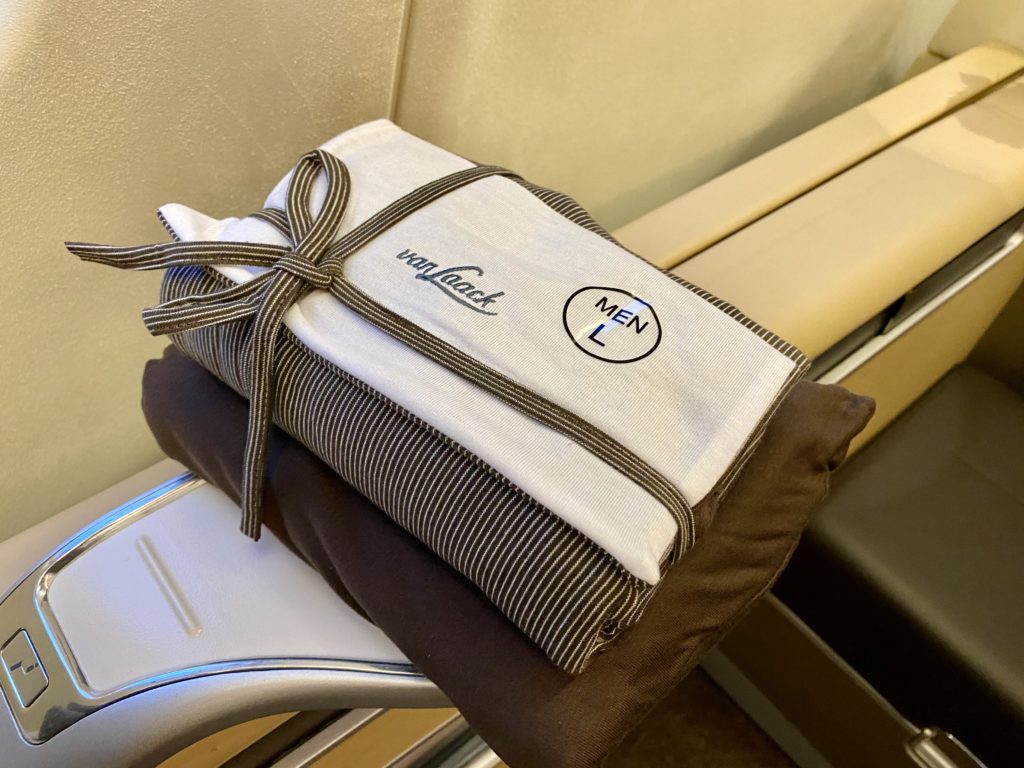 Lufthansa offers excellent (and comfortable) Bose QC15 noise-canceling headphones in first class, which worked great for watching a movie.
Food & Service
Small details and the service are what set a first class experience apart from business class. The food and service up in Lufthansa first class is routinely excellent and attentive, a far step above what you'll get flying almost any other airline.
While my trip across the pond was extremely comfortable with attentive service, there were a few details that stood out. Are these deal breakers? No, but this is one of the most luxurious (and expensive) ways to fly. Every detail matters.
Shortly after taking my seat, I was welcomed aboard by one of the flight attendants and offered a glass of champagne and some mixed nuts, which I gladly accepted. While the flight attendant poured the glass behind me, I peaked back later and saw a bottle of Laurent-Perrier Grand Siecle: A very nice champagne that retails for as much as $150 a pop.
British Airways and Air France pour the same champagne in their first class cabins.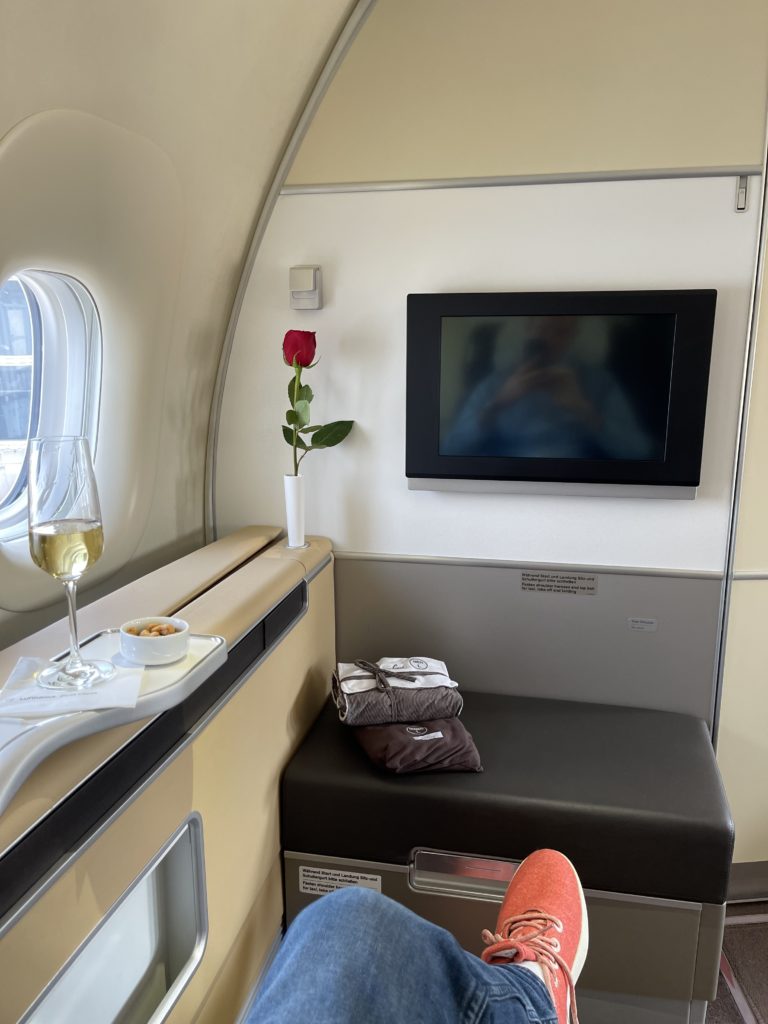 After a delay while boarding, our flight attendant offered the cabin a refill of the Laurent-Perrier before opening a (cheaper) bottle of Lanson 2005 Brut. My fellow flyers and I enjoyed one more glass before takeoff.
Once in the air, my food and drink extravaganza began. First class passengers can order from a substantial menu, which includes caviar, a selection of appetizers, choice of four entrees, and a couple of desserts, including a cheese course.
In most cases, dining in first class means you can eat whenever you want. On this flight, flight attendants implied everyone should eat just after takeoff – perhaps due to the short overnight flight to Frankfurt. That was my choice anyway, but it felt like a slight ding against the otherwise polished service.
My meal started with a tasty spring roll amuse bouche.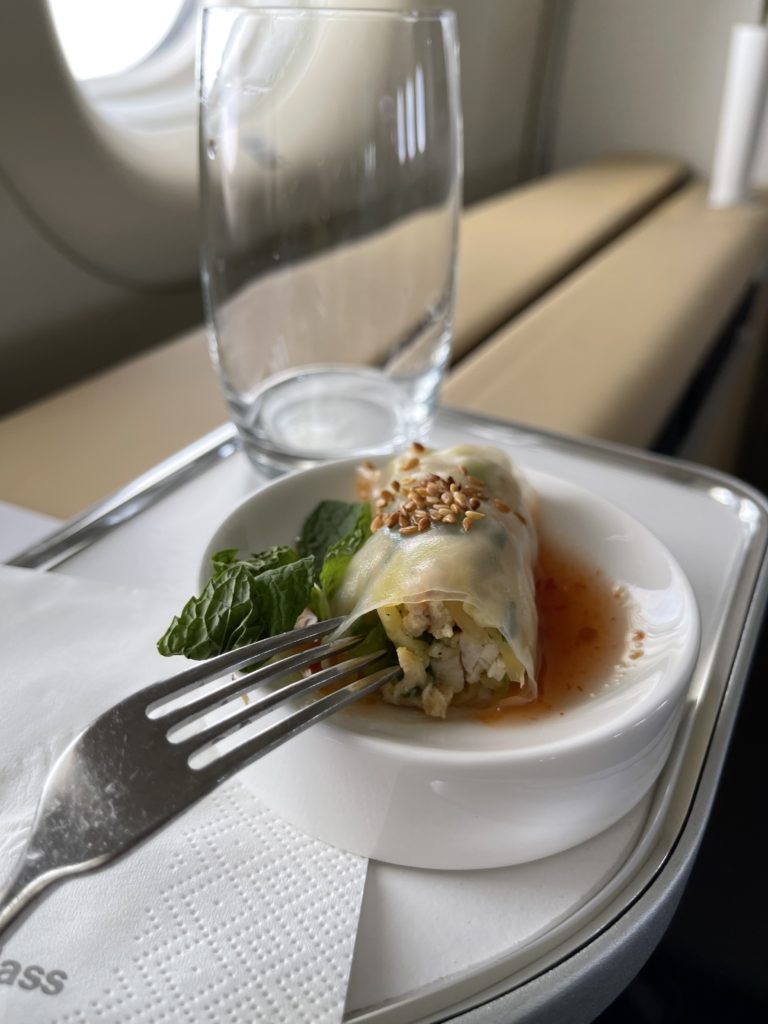 Following this, I enjoyed the caviar service. Before COVID, this would have been prepared on a cart next to your seat, but this time was brought to me already made in the galley. Regardless, it tasted excellent! Caviar at 35,000 feet is always a treat.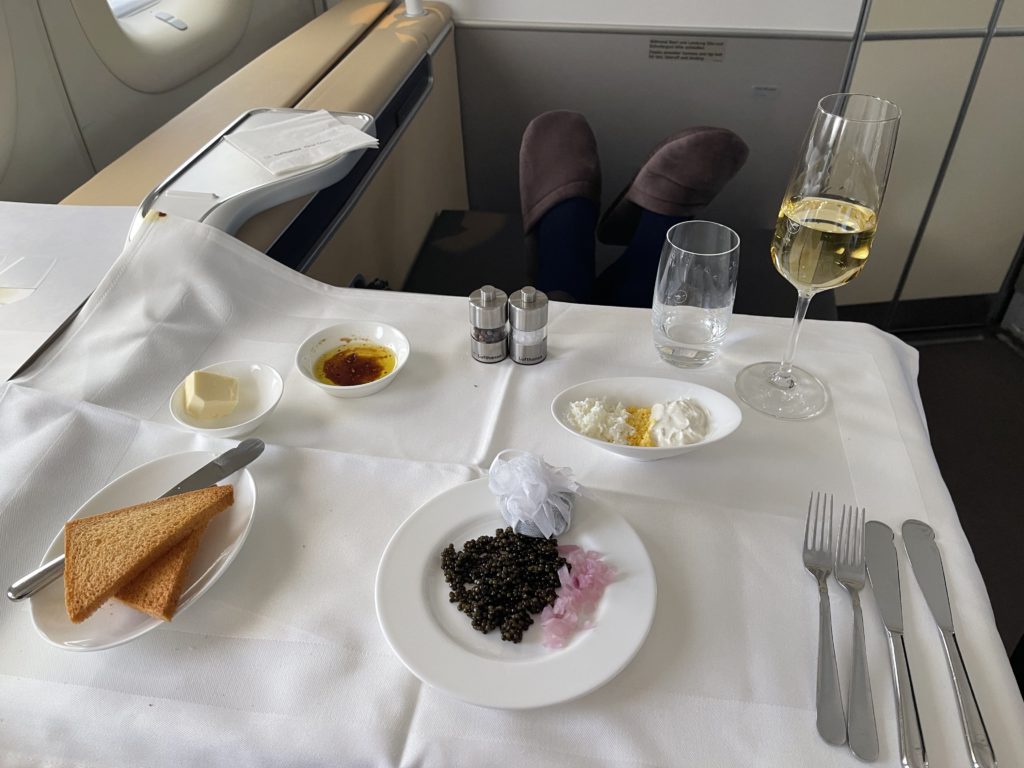 I then enjoyed the trio of appetizers, which included a grilled shrimp, prosciutto & tomato combo, and broiled goats cheese. All were very tasty, and accompanied by a fresh green salad with dressing.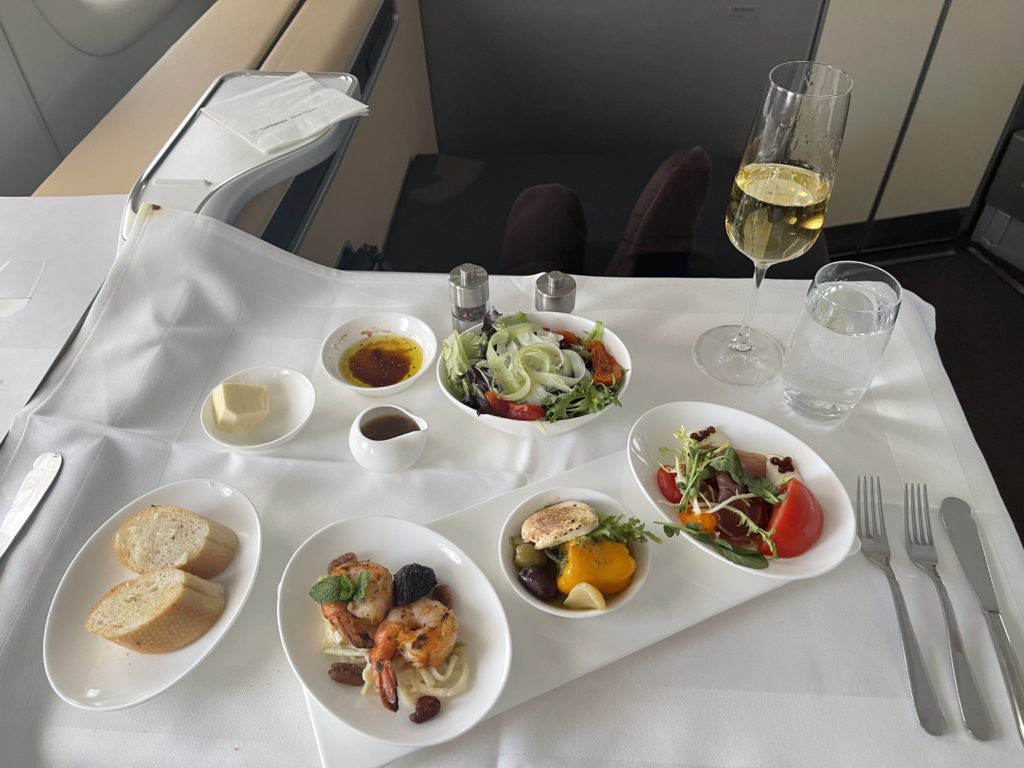 For my main, I took a bit of a gamble and ordered the veal medallion in a peppercorn sauce. And a gamble it was: It was a bit of a disappointment. While the meat was flavorful, it was quite dry, and there wasn't enough sauce to accompany it. I wish I had chosen the halibut thai curry instead, a much safer bet on a plane.
I enjoyed some more Laurent-Perrier throughout the meal service before switching to a glass of bordeaux with my main. Once again, I wasn't shown the bottle or allowed to taste the wine before getting a full glass. Fortunately, it was tasty.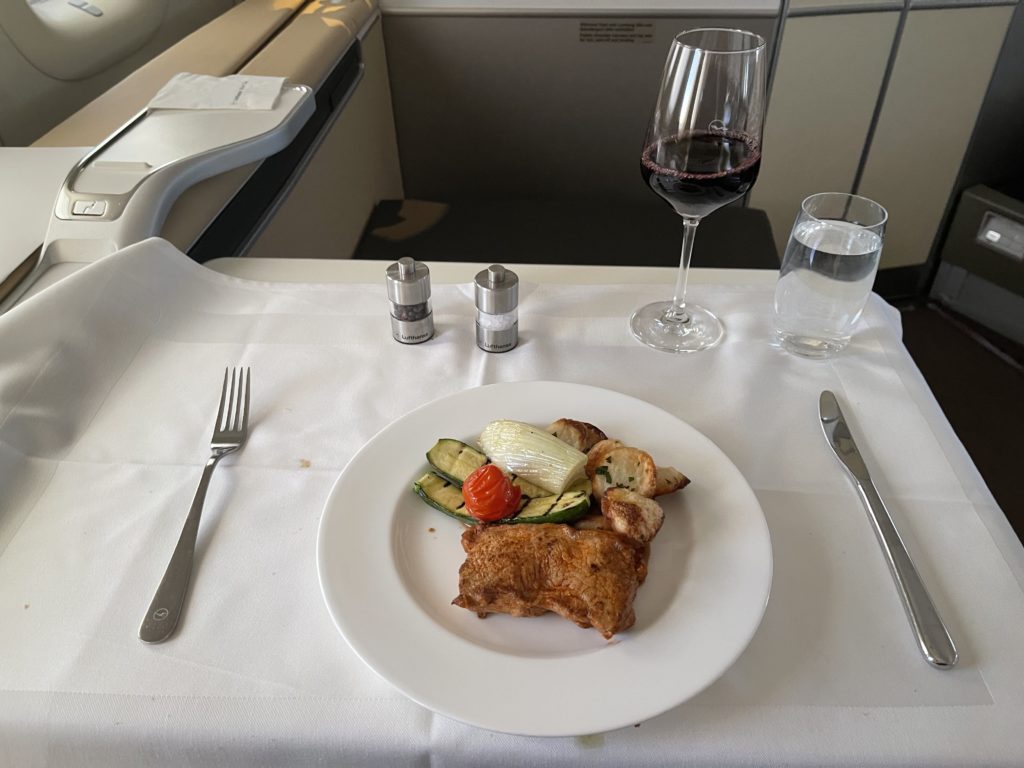 The meal ended on a high note with a selection of cheeses and a glass of port. Again, this usually would've been prepared next to my seat, but instead was brought from the galley. I wasn't asked which cheeses I wanted to try.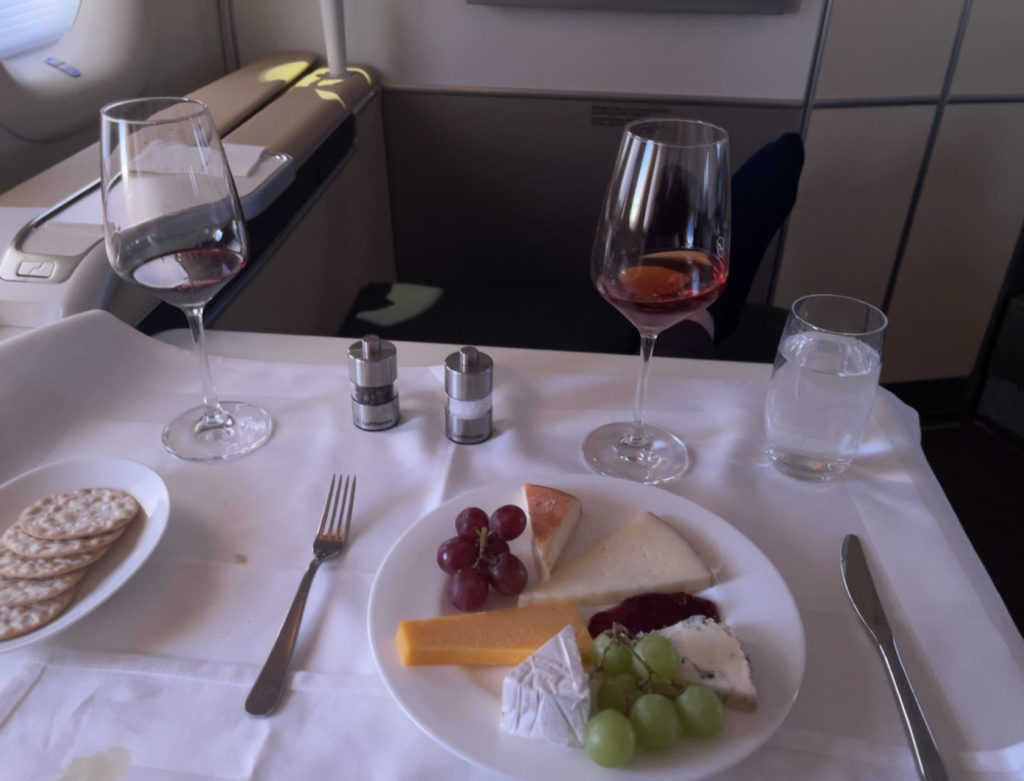 Let's not kid ourselves: This was a great meal, far above what you'll get flying economy or even business class on most airlines. But still, it lacked some of the polish and personal touches that sets an outstanding flight apart from a merely good one. My flight attendant was friendly enough, if not a bit impersonal and brief. But the crew excelled at other small details like clearing plates as I was in the bathroom and placing a bottle of water at my seat when they made the bed.
Speaking of bed: What a treat. Thanks to an almost half-empty cabin on this flight, I was able to ask for the seat behind mine to be made into a bed while I was finishing my meal. It was the first time I've ever had two seats to myself in first class, and it was a great novelty!
I slept like a baby for about three hours before being awoken for breakfast about 90 minutes before landing.
Lufthansa offers a full assortment of hot and cold breakfast items, including fresh-made scrambled eggs onboard. But I was still full from my feast a couple of hours earlier, so I just ordered some cold cuts and cheese along with some coffee.
In my sleepy state I forgot to take a photo of breakfast, so instead here's a nice view of the Severn River Estuary in England at sunrise.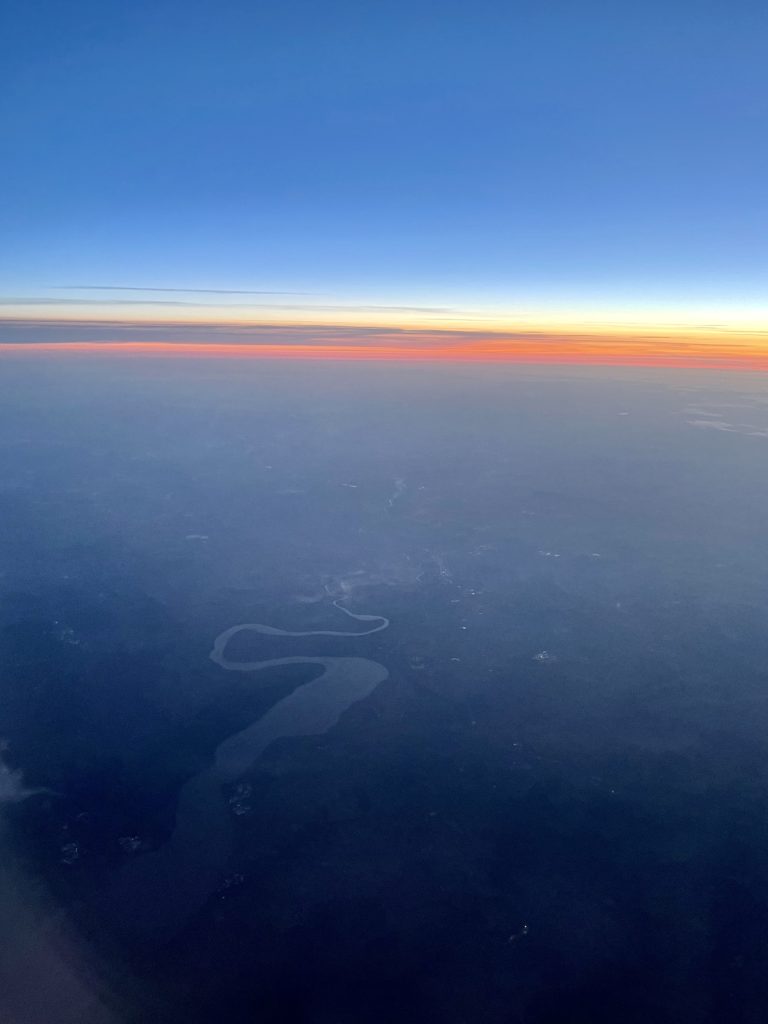 Entertainment
Every Lufthansa first class seat is equipped with a 17-inch TV screen, which is somewhat large display.
I say somewhat large, as they're positioned so far away from each seat that they start to feel on the small side. What's more, these screens are showing their age: They're a bit outdated, which means they're not quite as crisp as the screens you get flying newer seats.

Fortunately, there was a great selection of both movies and TV series. Plus, you can always watch the flight maps as you make your way across the Atlantic. I watched a movie (Up in the Air, what else?) with dinner but nothing else for the rest of the flight.
Every seat also has a pair of Bose QC15 noise-canceling headphones tucked away in a storage cubby, which is also where you'll find the audio input if you'd rather use your own headphones.
Best of all, first class passengers are also provided with complimentary Wi-Fi for the duration of the flight. Even better, there are no data caps! I found the service to work pretty well the entire way, and I was even able to send photos and update my Instagram story while in the air.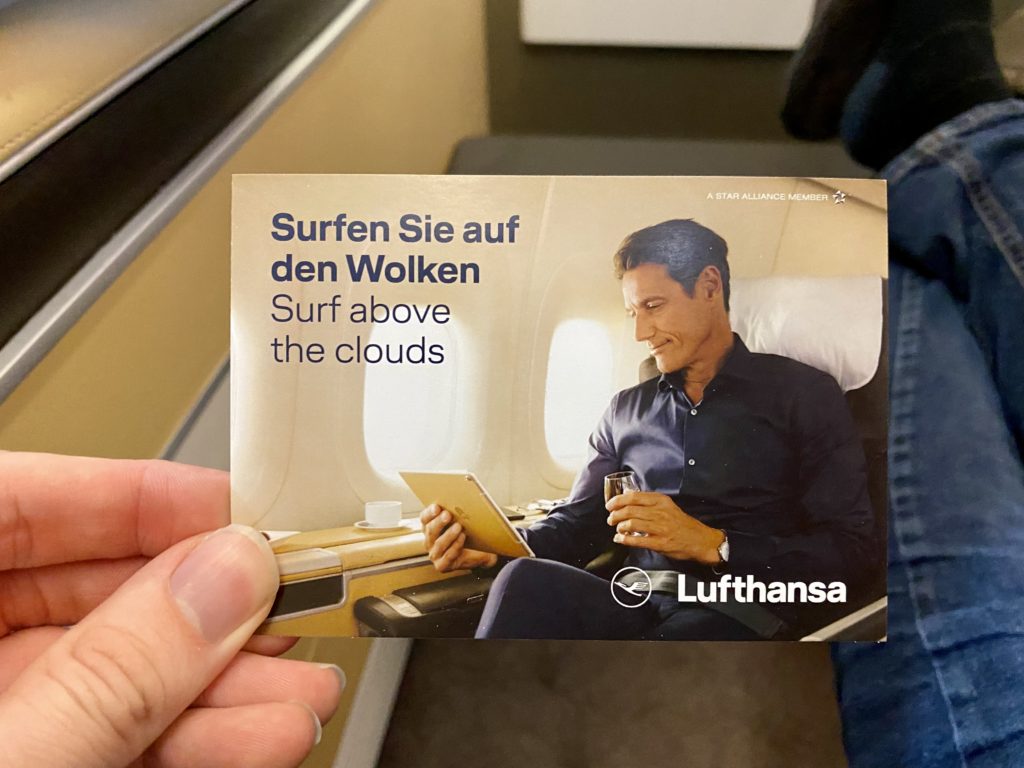 Bottom Line
This was a great flight, there's no arguing about that. Flying Lufthansa First Class has earned its place on travelers bucket lists, and it absolutely deserves to be there.
But that doesn't mean this flight couldn't have been better – especially for something surrounded by so much hype. Simple details and fixes could have turned a great flight into an excellent one.
Regardless, it's hard to beat the comfort of these seats, the great food and drink on board, and the pure magic of flying in the nose of a 747 across the Atlantic. I won't hesitate to do it again.