A federal government shutdown is looming – and with no signs of a deal in Congress, it seems all but certain. If past shutdowns are any indication, travelers in the U.S. may feel the pain.
The federal government will shut down if Congress fails to pass a funding package by Saturday, Sept. 30, ceasing all non-essential operations. While airport security checkpoints will remain open, the Biden administration has warned it could eventually disrupt the nation's air travel system.
If it sounds familiar, it should. The U.S. government shut down for a record five weeks back in late 2018, stretching into early 2019. While planes kept flying, problems mounted as the stoppage dragged on: TSA workers began calling in sick rather than report for unpaid work, Global Entry applications stood in limbo, and some airlines' new planes and routes were kept on the ground.
The lesson? The longer a shutdown drags on, the worse it could get for travel. Here's a look at what's at stake this time.
Will I Still Be Able to Take My Trip?
Short answer: Yes.
Airport workers like air traffic controllers are considered essential employees so they'll continue to work throughout the shutdown, making sure planes take off and land as normal. Travelers don't have to worry about canceling any upcoming trips.
But federal officials have warned the government shutdown could lead to some issues in the long run by exacerbating an air traffic controller shortage that has already been causing delays and cancellations. In a shutdown, all training and hiring will cease. So while things could move smoothly throughout a shutdown, it could lead to more disruptions in the future.
"After everything that we have been through, after all of the disruptions to air travel, especially the ones that we saw last year, we have finally seen cancellations and delays get back down to normal levels. In fact, we've finally seen cancellations and delays get back down to pre-pandemic levels," Transportation Secretary Pete Buttigieg said at a press conference on Wednesday. "But a shutdown would stop all of that progress. It would mean we would immediately have to stop training air traffic controllers and furlough another 1,000 controllers that are already in the training pipeline." 
Will Airport Security Take Longer?
TSA agents are deemed essential employees and will still be required to work during the shutdown … but they won't be getting paid. So while TSA checkpoints at airports will continue to operate as they always do, that could change the longer the shutdown drags on.
That's what happened in the previous shutdown, as TSA agents began calling in sick, leading to some lengthy delays at security. The problem even got so bad in Miami (MIA) that the airport closed one of its terminals early on the weekends, forcing some flights to depart from different terminals.
As it tries to get the upper hand in negotiations with Congress, the White House has warned a shutdown could lead to significant delays and longer wait times for travelers at airports across the country. TSA agents are some of the lowest-paid workers in the federal workforce at an understaffed agency. Working unpaid can take its toll.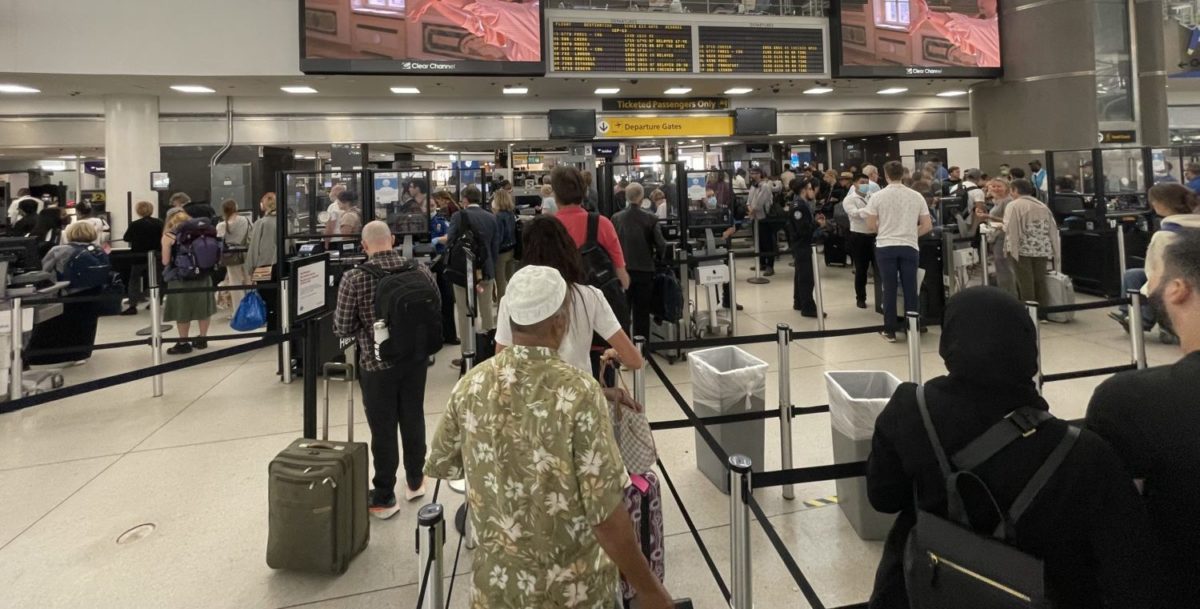 It's impossible to guess whether security will be a breeze or a nightmare for your next flight. Play it safe: Arrive earlier than you normally would, especially if we get into mid-October with no signs of a federal spending package.
Can I Still Apply for Global Entry or TSA PreCheck?
Global Entry is a must-have for international travelers, allowing you to breeze through customs and immigration after returning to the U.S. And better yet, you can get it for free with a handful of different credit cards.
But once the shutdown begins, you'll have to wait.
While TSA agents are deemed essential and required to work during a shutdown, that's not the case for the bulk of Customs and Border Protection employees. So your Global Entry application likely won't be processed. And securing an interview – the final step in your Global Entry enrollment – will be impossible, as enrollment centers will be closed during a shutdown.
Bigger picture, the last federal government shutdown contributed to a massive backlog of applications that persists today. It's part of the reason why many Global Entry applicants still wait months – in some cases, more than a year – in order to get conditional approval.
But if you've already got Global Entry, you're set. You should have no problem cruising through customs and immigration. But if not, check out Mobile Passport in the meantime. This free smartphone app will get you into a dedicated fast lane when returning to the U.S.
TSA PreCheck, the trusted traveler program that lets you get through security faster, is a fee-funded program. TSA PreCheck enrollment centers will continue to operate, so you'll still be able to apply for and finish your TSA PreCheck enrollment during the shutdown.
Can I Still Get a Passport?
Getting a passport has been a major pain point for travelers this year, with far longer processing times than before the pandemic. A shutdown won't bring applications to a halt, but it may not help, either.
The State Department says passport and visa services in the U.S. and abroad will continue as the budget permits. However, passport agencies that are located in federal government buildings that will be closed during a shutdown will also shutter, which could would lead to further delays.
Right now, passport processing times are 10-13 weeks for routine processing and seven to nine weeks for expedited service. With fewer passport agencies processing applications, those timelines could worsen. Plus, many travelers are still waiting for their passports just days or weeks before their international trip. During a shutdown, they'd have fewer options should they need to make an in-person appointment.
If you're renewing your passport, you can still mail your application as the U.S. Postal Service doesn't rely on government funding. And if you're applying for a passport for the first time, you'll still be able to submit your application at a passport acceptance facility such as a post office, clerk of court office, or a public library.
Bottom Line
The U.S. government is barreling toward a government shutdown that could begin on Sunday, Oct. 1.
There won't be many immediate impacts for travelers: Planes will continue flying and airport security checkpoints will remain open. But other services could feel the pain.
And the longer a shutdown drags on, the more problems travelers may encounter.