Can't bring yourself to pay $100 to speed through customs and immigration with Global Entry? Or don't have a credit card that will cover your application fee?
Try out the smartphone app Mobile Passport! This app is run by Customs and Border Protection. It replaces the traditional paper declaration, getting you in a dedicated lane as you make your way back into the U.S. and saving you some serious time. And the best part is there's an absolutely free version.
Mobile Passport is available at 26 of the largest international U.S. airports (along with three seaports) and counting.
How Mobile Passport Works
First things first: Download the Mobile Passport app. It's available for both iPhones and Android smartphones. You'll need to create a profile with the app, including entering your passport information and snapping a selfie. You can also create profiles for your family members!

As you're arriving at the airport on your international flight, just open up the app and enter some simple information about your trip. You'll get a receipt on your phone once you're done – keep it handy.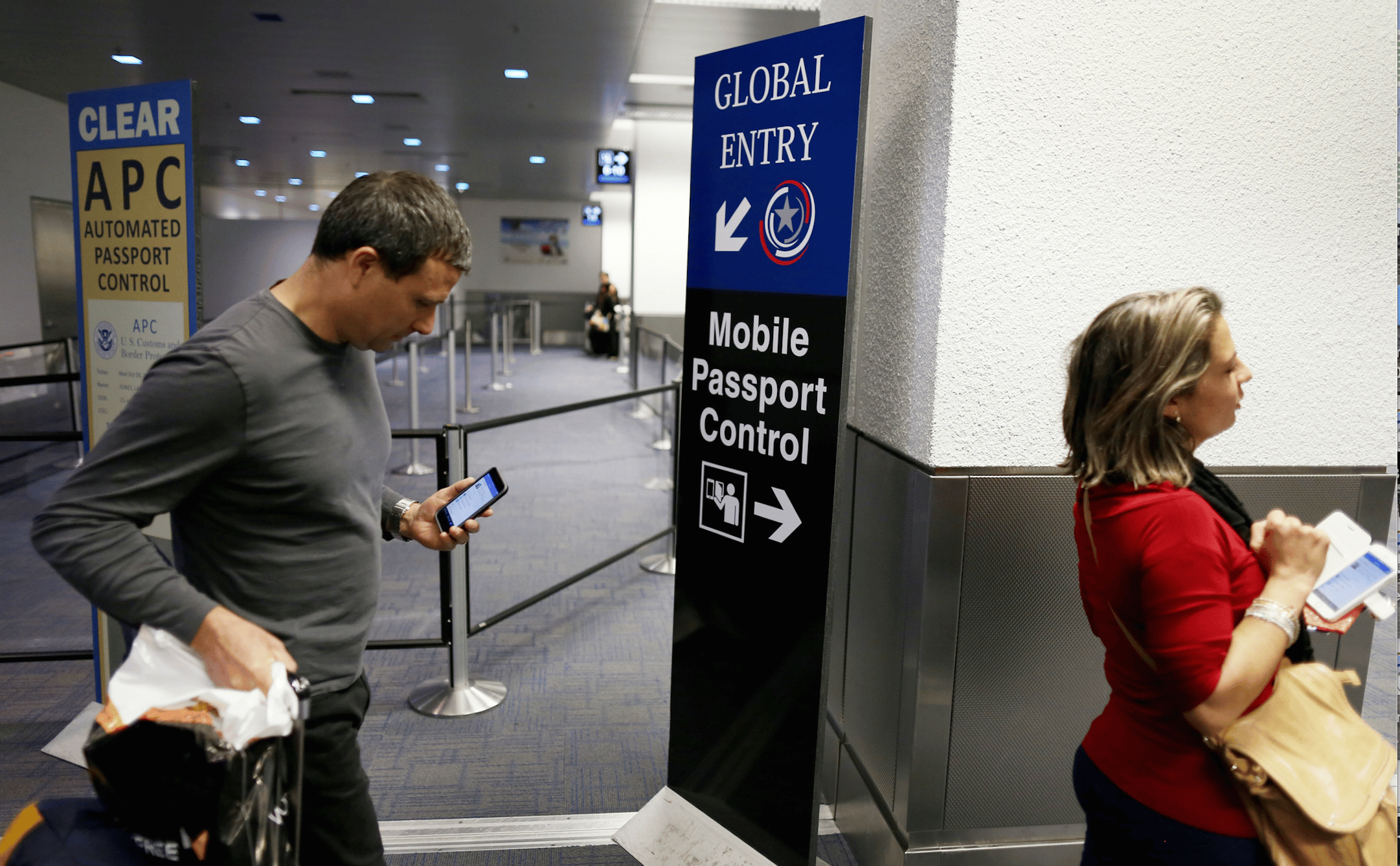 As you get off the plane and funnel through immigration, look for the signs for the Mobile Passport dedicated lane. Make your way to the next available agent, hand him/her your phone with the QR code along with your passport. And that's it! You're done.
Some travelers say Mobile Passport can be even faster than Global Entry. In our experience, that's not quite true. But this app still hasn't caught fire, so it's sure to get you through immigration and customs faster than the standard, paper-in-hand lines.
But it's not all good news. Until recently, Mobile Passport was free for everyone. Now, the federal government is charging $15 per year for full functionality – mostly the ability to store your passport information for each use. Of course, you can simply continue using the free version of Mobile Passport and tap in your passport information every time you're re-entering the U.S.
Where is Mobile Passport Available
Scope out the list of where you can use Mobile Passport, and you'll find nearly every major U.S. airport.
    Atlanta (ATL)
    Baltimore-Washington (BWI)
    Boston (BOS)
    Chicago-O'Hare  (ORD)
    Dallas-Fort Worth (DFW)
    Denver (DEN)
    Fort Lauderdale (FLL)
    Houston-Intercontinental Airport (IAH)
    Houston-William P. Hobby (HOU)
    Los Angeles (LAX)
    Miami (MIA)
    Minneapolis-Saint Paul (MSP)
    New York City-JFK (JFK)
    Newark (EWR)
    Orlando (MCO)
    Phoenix (PHX)
    Pittsburgh (PIT)
    Portland (PDX)
    Raleigh-Durham (RDU)
    Sacramento (SMF)
    San Diego (SAN)
    San Francisco (SFO)
    San Jose (SJC)
    Seattle (SEA)
    Tampa (TPA)
    Washington-Dulles (IAD)
That's nearly every U.S. airport with international flights. The only major airports that don't have Mobile Passport I can think of are Detroit (DTW), Philadelphia (PHL), and Las Vegas (LAS). And that may change!
Bottom Line
Mobile Passport is a must-have app if you don't have Global Entry. It's free, easy to use, and can shave some serious time off your trip through immigration and customs.