CLEAR® Plus promises a quicker trip through airport security by cutting you to the front of the line – and it frequently delivers. But the service's already hefty price tag of $189 a year is getting even bigger if you want to share benefits with friends and loved ones.
As Danny Deal Guru first highlighted, the price of adding adults to a CLEAR® Plus Family Plan just jumped from an extra $70 to $99 a year – without a word of warning from CLEAR itself. That higher price tag is already reflected on the service's main page, its terms and conditions, as well as in existing CLEAR members' accounts.

Read our full review to see if CLEAR is worth the high price!
Current CLEAR® Plus travelers will pay the higher price for their additional members whenever their own annual membership renews next. Gratefully, bringing children under 18 with you into the CLEAR lane remains free.
Adding friends and family to your CLEAR® Plus at a lower cost has been an underrated perk of the service. CLEAR allows you to add up to three adult "family members" to your account – though there's no requirement that they're actually family (or even share an address). Best of all, members on your Family Plan can use CLEAR anytime they're flying: You don't have to be traveling with them to unlock that benefit.
But a 40% increase overnight for adding friends and family to your CLEAR® Plus plan is tough to swallow for the service's already exorbitant cost. And this is the second price increase in less than a year. Each additional adult cost just $60 a year as of early 2023.

The price of getting CLEAR® Plus for yourself has gone up, too. The company raised its annual fee from $179 to $189 a year. And big discounts available to frequent Delta and United flyers have shrank substantially, too – though top-tier elite status holders with either airline can still get a free membership.
Paying with a *amex platinum* or the *amex green*  can take the sting out of that hefty fee with a credit of up to $189 that covers the entire cost. But as airline discounts have shrunk and the cost of adding additional adults grows, those credits don't get you nearly as far these days.
For example, travelers with an Amex Platinum Card and status with either Delta or United could get CLEAR® Plus for themselves and a companion for nothing out of pocket just a year ago – the annual CLEAR credit covered it all. Now, CLEAR® Plus for two will cost at least $248 a year – or $59 a year even after maxing out the CLEAR credit.
CLEAR® is a privately run security program that uses biometrics (think fingerprints or iris scans) to allow you to cut to the front of the line – and it's much different than TSA PreCheck.
On its own, you can skip to the front of the standard security line by heading through a dedicated CLEAR® Plus lane. In tandem with PreCheck, you can skip to the front of that shorter, faster line – keeping your coat and shoes on and keeping electronics inside your bag, too.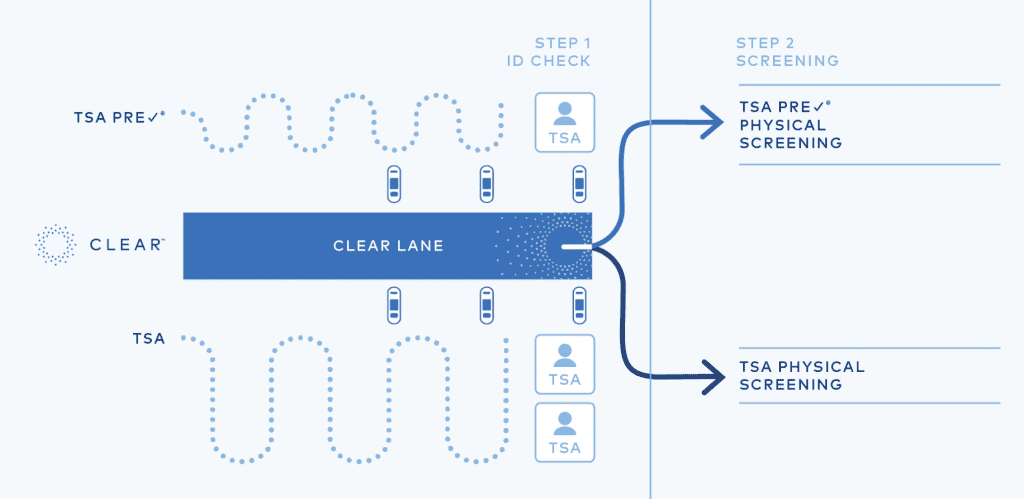 But CLEAR's growing popularity has outpaced some airports' capacity to handle all the travelers signing up, leading to long lines and negligible time-savings at many busy hubs. And as CLEAR has been forced to double-check more and more members' IDs, one of the core value propositions of the service has been negated – as have the time savings.
Higher prices for adding friends and family to a CLEAR® Plus membership could make the math even tougher to justify for many travelers – especially at a time when the cost of a TSA PreCheck membership is going down … for a five-year membership, to boot. Plus, teens can accompany adult PreCheck members through security for free now, too.
Bottom Line
Is CLEAR® Plus worth its growing cost? It depends on how much you travel … and how many people you want to go through the CLEAR lane with you.
For the second time in less than a year, CLEAR has increased the cost of adding another adult to your Family Plan to $99 a year apiece. While travelers with CLEAR® Plus can still bring children under 18 with them for free, this is just the latest hit to the program.