JetBlue Mint is easily one of the best ways to fly in the U.S. The brand new Mint Studios flying on select transcontinental routes and set to take off for London-Heathrow (LHR) this summer look even better. And one of the best ways to book these business class seats is using … miles from Emirates?
Hear us out: Emirates and JetBlue are partner airlines, which means you can use Emirates Skywards miles to book JetBlue flights. But for years, you could only book JetBlue economy flights employing this workaround – JetBlue Mint was off-limits.
Until now. Nerdwallet was the first to report that you can now book JetBlue Mint fares using Emirates Skywards miles. Better yet, the rates are reasonable: As low as 40,000 miles for a one-way flight to the Caribbean, 52,000 miles to fly across the country in Mint, and 64,000 miles for a one-way flight to London in your own Mint Studio.
Considering how easy it is to get these miles – you can transfer them from Chase, American Express, Citi, Capital One, and even Marriott – this could now be the go-to way to book a JetBlue Mint flight.
Emirates' Award Rates for JetBlue Flights
Emirates spells out exactly what you need to book a JetBlue flight using Skywards miles. And you're in luck because the rates are fairly reasonable.
It's based upon the distance of the flight: The longer your route, the more Emirates miles you may need to book a ticket. Not sure how long your flight is? Plug the route into GCmap.com and it will tell you.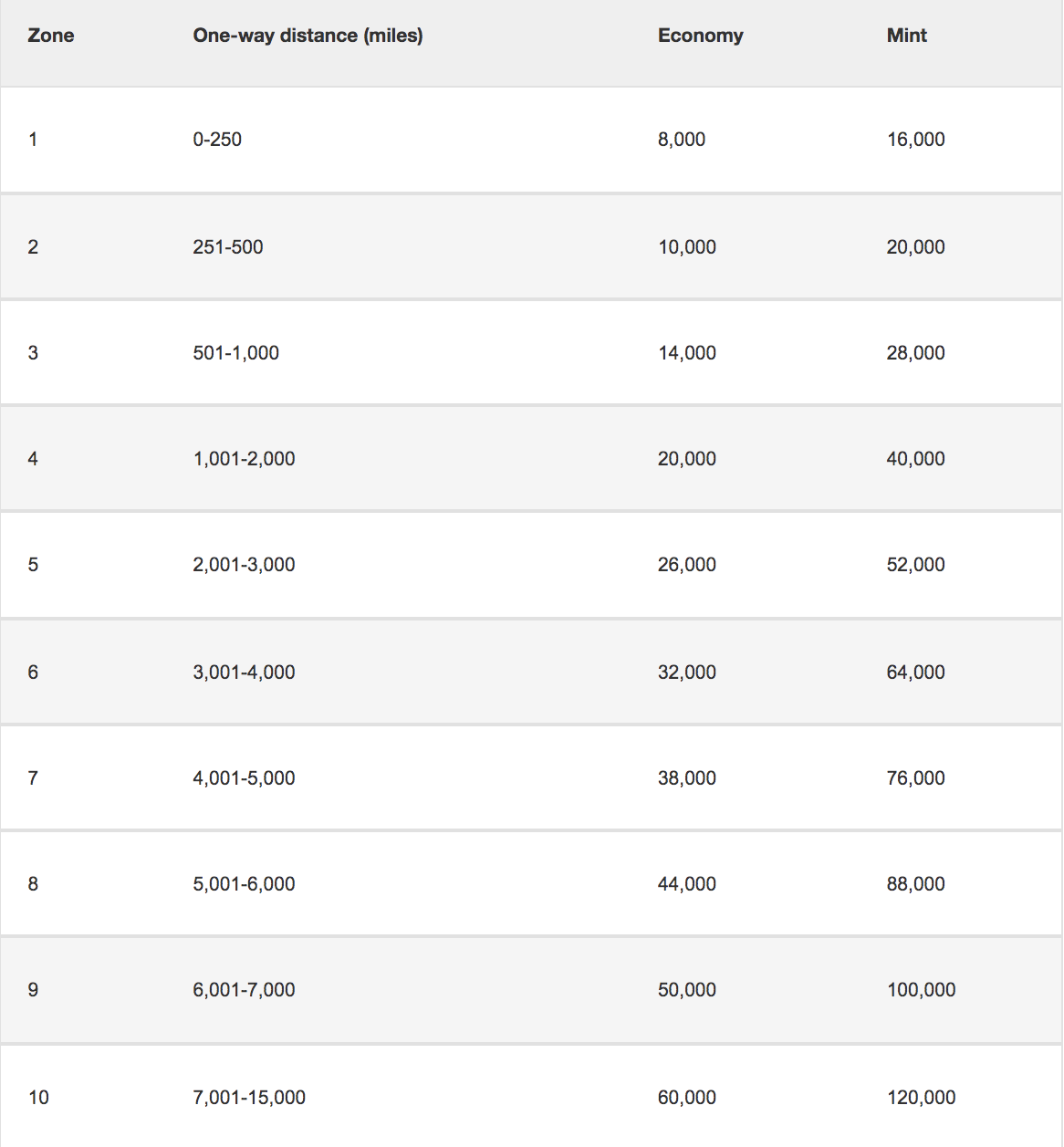 Of course, not every JetBlue flight has Mint seats available onboard. You'll find them mostly on premier transatlantic routes like New York City (JFK) to Los Angeles (LAX) or San Francisco (SFO), heading to London starting this summer, and a few Caribbean routes from the East Coast to spots like Aruba (AUA).
For now, you'll only find the stellar new Mint Suites flying from New York to Los Angeles and London – but even the standard Mint seats are a treat. In our experience, the food and service are second to none in the U.S.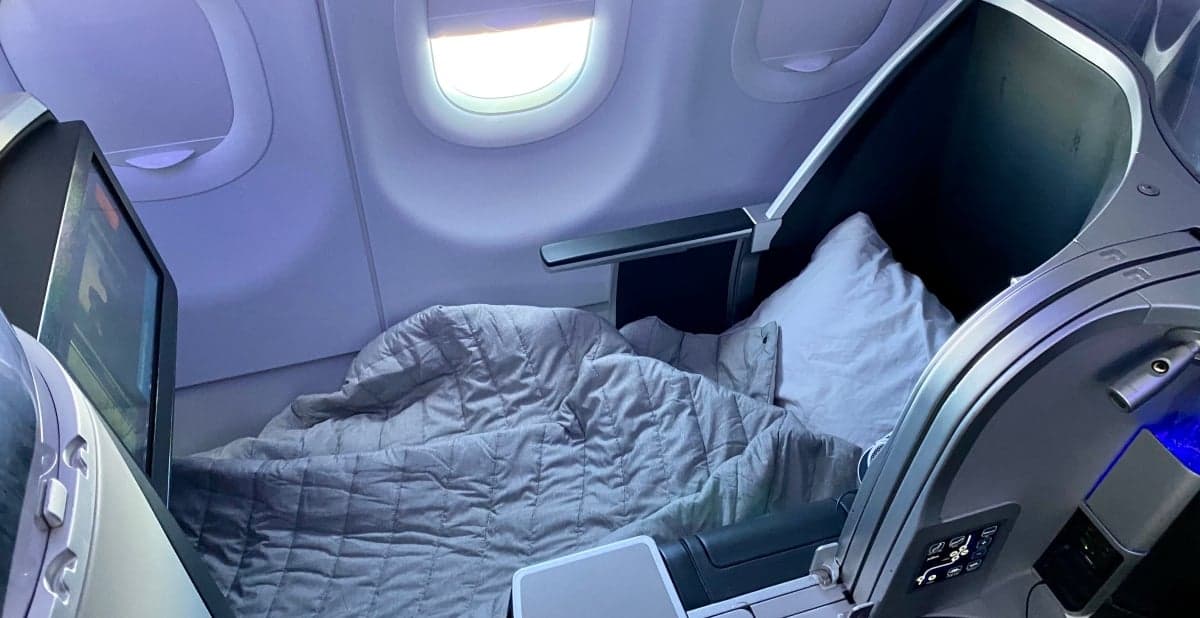 Read our full review of flying JetBlue Mint from Boston (BOS) to Las Vegas (LAS)!
So let's do some math here on what this all means for booking Mint with Emirates miles with a few examples of one-way prices.
New York City (JFK) to Aruba (AUA): 40,000 miles
Boston (BOS) to St. Thomas (STT): 40,000 miles
New York City (JFK) to Los Angeles (LAX): 52,000 miles
Boston (BOS) to Las Vegas (LAS): 52,000 miles
New York City (JFK) to Seattle (SEA): 52,000 miles
New York City (JFK) to London-Heathrow (LHR): 64,000 miles
Compare that booking with JetBlue TrueBlue points outright, and it's a wash. JetBlue uses a cash-based redemption system: The higher the cash price, the more JetBlue points you'd need to book it. In this case, the exact same flight from Boston to Las Vegas would run you a whopping 136,700 points.
Of course, if you can snag a deal on a JetBlue Mint fare, you could come out ahead. We've seen Mint fares drop as low as $299 each way through Thrifty Traveler Premium.
That means it could make far more sense to book through the Chase travel portal thanks to the bonus you get when booking with points from the Chase Sapphire Preferred® Card or Chase Sapphire Reserve®. One of our favorite ways to book these Mint fares is by using the 35% rebate on the Business Platinum Card® from American Express – you'll get 35% of your points back on all first and business class fares.
But when cash prices are high, booking through this new workaround with Emirates is clearly the way to go. So how do you actually do it?
How to Book
Many JetBlue Mint routes are bookable online straight at Emirates.com. Just follow this link to Emirates' search tool, click to search for classic rewards and be sure to limit your search to partner flights only.
Critically, the upcoming flights to London are not yet bookable online – and Nerdwallet reports select routes to the Caribbean aren't available online, either. Fortunately, you should have no problem booking these awards by calling Emirates at 1-800-777-3999. Emirates will even let you put these JetBlue Mint awards on hold while waiting for your credit card points transfer.
But finding the award space to book these seats is another matter. Emirates' typically handy flexible date search (which shows a full week of availability) won't work when searching for JetBlue flights. Searching through JetBlue's website first won't do you much good.
That means you'll have to manually search date-by-date until you find the flights you want. Tools like ExpertFlyer can help you zero in on award availability for booking these JetBlue Mint fares through Emirates.
Bottom Line
This is a great new way to fly in some serious style with JetBlue Mint. At 52,000 miles for a transcontinental trip or 64,000 miles to hop across the pond, booking Mint with Emirates Skywards miles is tough to beat.
JetBlue Mint is one of our favorite ways to fly in the U.S. And by the looks of it, its upcoming service to London is going to set the bar even higher.
Lead photo courtesy of JetBlue