Editors Note: The Limited Edition Boeing 747 Delta SkyMiles® Reserve American Express Card design was available while supplies lasted through August 3, 2022, and is no longer offered at this time.
You think travel credit cards made of thick metal are cool? Try a card made out of metal from an old plane.
Delta in June unveiled one of the coolest looking limited-edition credit cards we've ever seen: A sleek, black Delta SkyMiles® Reserve American Express Card card made with metal from one of its retired Boeing 747s. It's emblazoned with the silhouette of the Queen of the Skies as well as some statistics about the majestic plane. Just look at this.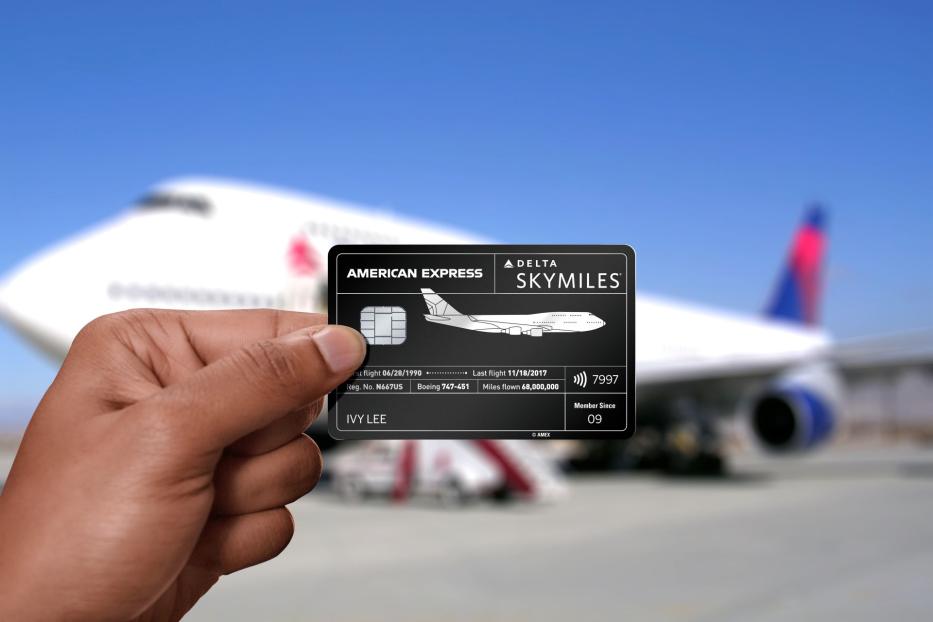 That new 747 design is part of a broader summer splash with some massive new bonuses on each of Delta SkyMiles American Express cards – including a whopping 100,000-mile bonus after spending $5,000 in three months on the Reserve. But if you want it in your wallet, you'll have to hurry: The bigger bonuses and limited-edition design will disappear this Wednesday, Aug. 3.
After initially making it available to both new and existing cardholders, Delta and American Express now only allow new applicants for the Reserve card to get this new design.
Let's be clear: Credit cards are serious business. You should never apply for a credit card if you're already in debt, and never charge more to a credit card than you can afford to pay off immediately. And of all the reasons to apply for a new credit card, the way it looks is at the bottom of the list.
That said … there's no denying this is pretty darn cool. It looks just as good in the flesh as it does in fancy mockup images – maybe even better.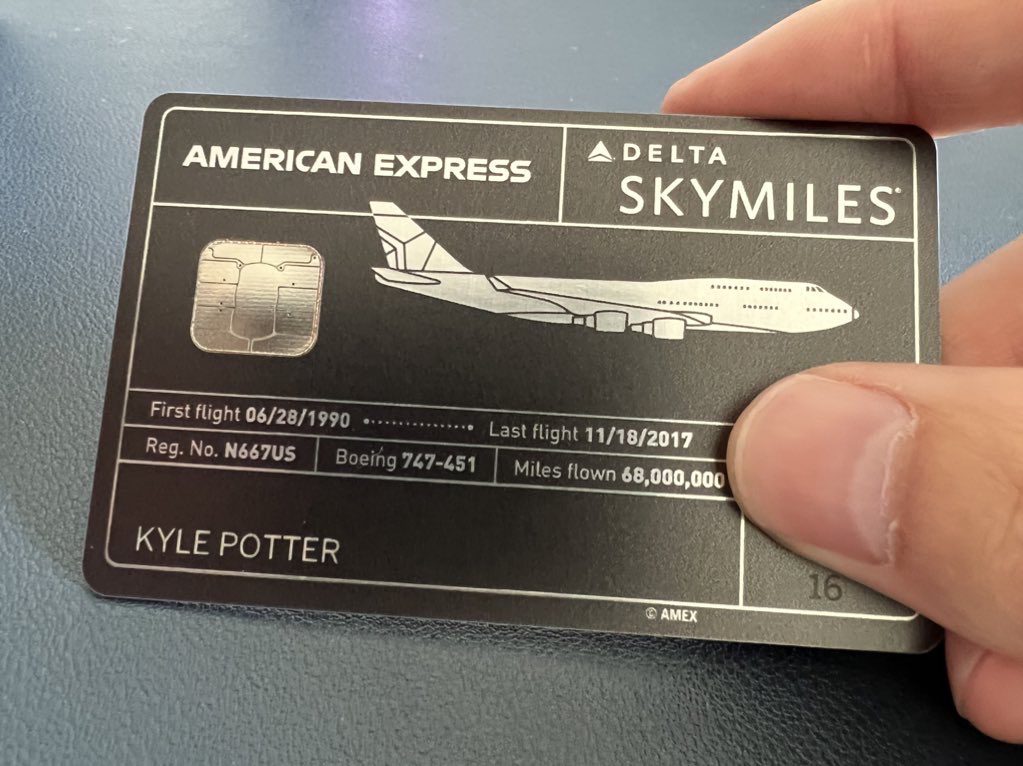 Delta retired its Boeing 747s back in 2017, ditching the iconic double-decker plane in favor of a new generation of fuel-efficient wide body planes to connect the world. The card itself is made from 25% metal from one old Delta 747: N667US, which originally belonged to Minnesota-based Northwest Airlines until the two airlines merged in 2008. It flew a total of 68 million miles from the time it entered service in 1990 until its last flight on Nov. 18, 2017.
Here's a shot of the very Northwest 747-400, before it was re-painted and re-configured for Delta, that will now find a spot in travelers' wallets.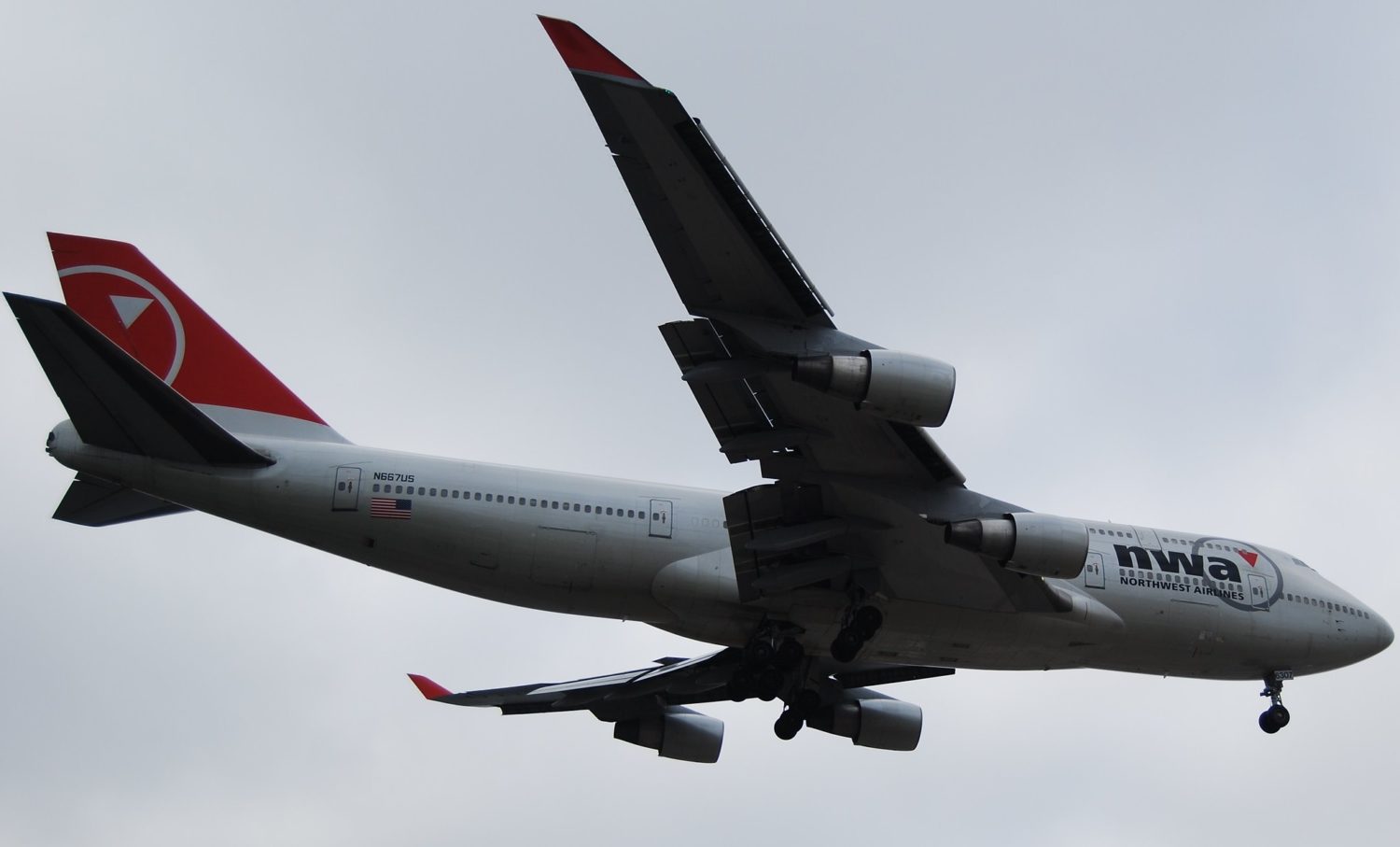 "The idea of making a metal credit card out of actual airplane metal began years ago, and the creativity and innovation that was required to achieve this is incredibly meaningful," Dwight James, Delta's senior vice president of customer engagement and loyalty and the CEO of Delta Vacations, said in a statement back when this card first launched. "We've partnered with Amex to transform a piece of Delta's history into a collector's item you can use in your everyday. The 747's legacy lives on for a new generation of Delta flyers through this first-of-its-kind credit card that our members will be proud to keep in their wallets."
About the Delta Reserve Card
The Reserve Card is Delta's top card, but that doesn't mean it's the best card for Delta flyers.
It depends on what you need. The Reserve is best for ultra-frequent Delta flyers who want Sky Club access and to climb the rungs of Delta Medallion Status. And at $550 a year (see rates & fees), it's not for everyone.
Beyond lounge access, you also get an annual companion certificate on any Delta flight within the continental U.S., including first class. It also has all the usual card perks you get from other Delta products, like free baggage, priority boarding, and more. But if you're just in the market to earn a bunch of Delta SkyMiles, you're probably better off with a different Delta credit card.
Instead, the real value of the Delta Reserve Card is in the chase for status … and you need to spend a lot of money to make that happen.
With status boost, you can get 15,000 MQMs by spending $30,000 throughout the year. That's almost enough to automatically get Delta Silver Medallion Status without taking a single flight. You can repeat that by spending $60,000, $90,000 and $120,000 as well. That's enough to spend your way to Gold Medallion Status without taking a single flight. 
If this is all making your head spin and you don't understand or care about status with Delta, move along. If you don't value status, or can't spend that much money to unlock it, this card isn't really worth the annual fee of $550.
Full Benefits of the Delta SkyMiles® Reserve American Express Card
Check your first bag free on every Delta flight – savings of at least $60 on each round-trip flight, per person.
Priority boarding (even with a basic economy ticket)
Complimentary Delta Sky Club access when you are flying Delta. You'll also get two, one-time guest passes each year to the Delta Sky Club.
Complimentary access to the American Express Centurion Lounges when you are flying Delta on a ticket purchased with your Reserve card. You can also bring up to two guests in with you for a fee of $50 each.
Get a domestic main cabin or first-class round-trip companion certificate each year upon card renewal.
Earn 3x SkyMiles per dollar spent on Delta purchases.
Receive up to a $100 credit to cover the cost for Global Entry or TSA PreCheck once every four years. You receive this benefit every four years for Global Entry and every 4 1/2 years with TSA PreCheck®
Complimentary space-available upgrades, even for non-Medallion members – a great way to improve your upgrade chances.
Enjoy 20% off in-flight purchases such as food & drinks in the form of a statement credit.
No foreign transaction fees
The ability to choose a card made with 25% metal from a retired Delta Boeing 747 aircraft.
$550 annual fee. See rates & fees.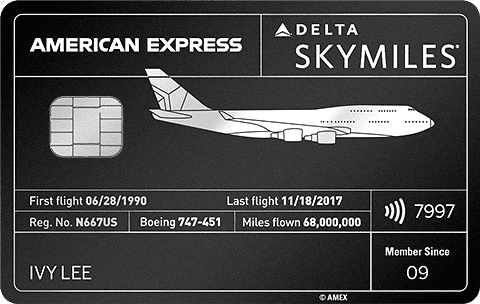 Bottom Line
A travel credit card made after aviation geeks' hearts!
We've seen other airlines and credit card companies roll out limited-edition designs, but this one takes the cake. It's not just a credit card: It's a piece of history.
But this new design (and a massive 100,000-SkyMiles bonus) is only available through Wednesday, Aug. 3. So if (and only if) you've had the Reserve card in mind, now's the time to act.