Staying connected while traveling abroad is a must. From using Google Maps to ordering an Uber at the airport, most of us need access to mobile data the moment we land in a new country.
Over the years, we've tried lots of options for getting online while traveling. There's the tried and true, Google Fi – best for the frequent international traveler who typically spends more than a few days abroad at a time. There's the more affordable and convenient, Airalo … which is great for the occasional traveler who wants a quick and easy way to get online.
And of course, you can always pay the $10 per day (or more) that most U.S. wireless carriers charge while roaming.
But now, if you've got the U.S. Bank Altitude® Connect Visa Signature® Card in your wallet, you have some extra incentive to try a different option. As was first reported by Doctor of Credit, U.S. Bank, and Visa recently updated the card's benefits to include a complimentary 1 GB/15-day global mobile data plan from GigSky.
Adding a mobile data benefit to the already sneaky-good Altitude Connect card is a great move by U.S. Bank. While 1GB of data likely isn't enough to surf the web over a week-long vacation, it's enough to get you started and will help ensure you're connected the moment you land at your destination. With the ability to "top up" your data at any time, you shouldn't need to worry about finding a local SIM card even when you start running low on data.
Read on for everything you need to know about this new GigSky mobile data benefit.
Unfamiliar with the U.S. Bank Altitude Connect Card? Read our full breakdown of the card for more information! 
How Does This GigSky Benefit Work?
GigSky works very similarly to Airalo and other global eSIM providers by providing mobile data in more than 125 countries around the world. Instead of getting a physical SIM card to insert into your phone, you'll instead need to have the GigSky app on your phone and download an eSIM. In order to do this, your phone must be an unlocked eSIM-compatible device.
It's probably best to download the app ahead of time so that you're all set the moment you arrive at your destination, rather than trying to rely on airport wifi. Once you've downloaded the app, you'll enter your Altitude Connect credit card number and Visa will verify your eligibility for this complimentary coverage.
Once your Visa card has been verified, you'll be able to select your complimentary 1GB global mobile data plan. The plan will show a $0 purchase price, confirming that it is in fact free. After completing your purchase, your phone's operating system will help you install the eSIM card on your device. You don't have to activate your eSIM immediately upon downloading it, but if you don't activate it on your own within 30 days, it will auto-activate for you.
Once activated, your 1GB of data is good for 15 days of use. If you run out of data during your time abroad, you can top it up at any time. An additional 1GB of data costs as low as $5 and you also have the option to purchase bigger plans at more favorable rates.
This benefit can be used once every 15 days and there is no maximum number of times a complimentary GigSky global mobile data plan can be redeemed for Altitude Connect cardholders. However, you must wait to activate another complimentary data plan until after the prior plan's 15-day duration has expired.
It's worth noting that as of now, this appears to be a temporary benefit of the Altitude Connect Card, as it requires you to redeem your complimentary data plan no later than Aug. 31, 2024. Time will tell if this benefit sticks around or if it truly is limited-time only.
However, based on a recent LinkedIn post from GigSky's Chief Commercial Officer Samuel King, the company has plans to roll this benefit out to additional banks and Visa credit cards in the future.
Other Benefits of the Altitude Connect Card
Welcome Bonus Offer
Just for opening the card and spending $2,000 in eligible purchases in the first 120 days of card membership (four months), you'll earn 50,000 bonus points. Those points are redeemable for up to $500 towards travel, merchandise, gift cards, cash back, and more.
Your points will never expire for as long as you hold the card.
Earn 4x Points on Travel and at Gas Stations
U.S. Bank Altitude Connect Visa Signature Cardholders will earn 4x points for every dollar they spend on both travel purchases and at gas stations. Eligible travel expenses include flights, hotels, rideshare, cruises, and much more.
Since these points are worth one cent each when it comes time to redeem them, that's effectively a 4% return on purchases in both categories.
Earn 2x Points at Grocery Stores, Streaming Services, and Dining
Cardholders will also earn 2x points for purchases at grocery stores (including grocery delivery), dining at restaurants, and on streaming services. All other eligible purchases on the card will earn 1x point for every dollar you spend.
Annual $30 Streaming Credit
Each and every year you hold the card, you'll receive a $30 credit to use towards streaming purchases like Netflix and Spotify®. Simply use your card to pay for a streaming service of your choice and U.S. Bank will automatically reimburse you up to $30 each year.
After 11 months of consecutive streaming service charges, the 12th month will make you eligible to receive the $30 credit.
Examples of services that will qualify are Amazon Music, Apple Music, AT&T TV Now, Disney+, Google Music, Hulu, Netflix, Pandora, SiriusXM, Slacker Radio, Sling TV, Spotify, Tidal, Vudu, YouTube Music, and YouTube TV.
Airport Lounge Access
This card includes a limited Priority Pass Select membership which gives you cardmembers four free visits to over 1,300 airport VIP lounges worldwide each year.
This Priority Pass membership is nowhere near as good as the unlimited memberships that come with premium travel rewards cards like the *venture x*, but it's still a really nice benefit for a card in its category and would be great for the occasional traveler.
Up to $100 Credit for Global Entry® or TSA PreCheck®
Cardholders will receive up to a $100 credit to cover the cost of either TSA PreCheck® or Global Entry® once every four years. Membership in either program is good for five years.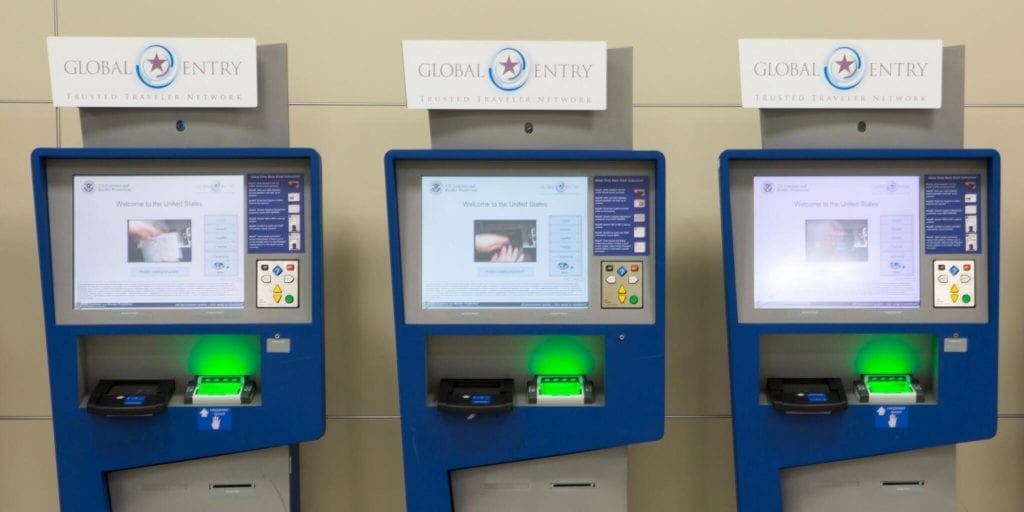 If you plan to do any sort of international travel, Global Entry should be your choice as it also includes a TSA PreCheck membership.
Read More: Want TSA PreCheck or Global Entry? Let Your Travel Credit Card Cover the Cost
Cell Phone Protection
As long as you pay your monthly phone bill with your Altitude Connect card, you'll get up to $600 in reimbursement if your cell phone is stolen or damaged.
Annual Fee
The annual fee on the U.S. Bank Altitude Connect Visa Signature Card is $95. However, that fee is completely waived in your first year of card membership. You won't be on the hook to make your first payment until your second year holding the card. Additionally, the card does not charge foreign transaction fees.
Bottom Line
The U.S. Bank Altitude® Connect Visa Signature® Card recently added a limited-time benefit for cardholders to get 1GB/15 days of global mobile data for free. This is a really cool travel perk and one that I hope spreads to other travel rewards cards down the road.
And since it's actually a Visa benefit, rather than a direct partnership between U.S. Bank and GigSky, I'd say that's likely.