On Wednesday, CLEAR sent an email to current members informing them of their arrival at Phoenix Sky Harbor International Airpor (PHX). Phoenix is now the 25th domestic airport to offer CLEAR service.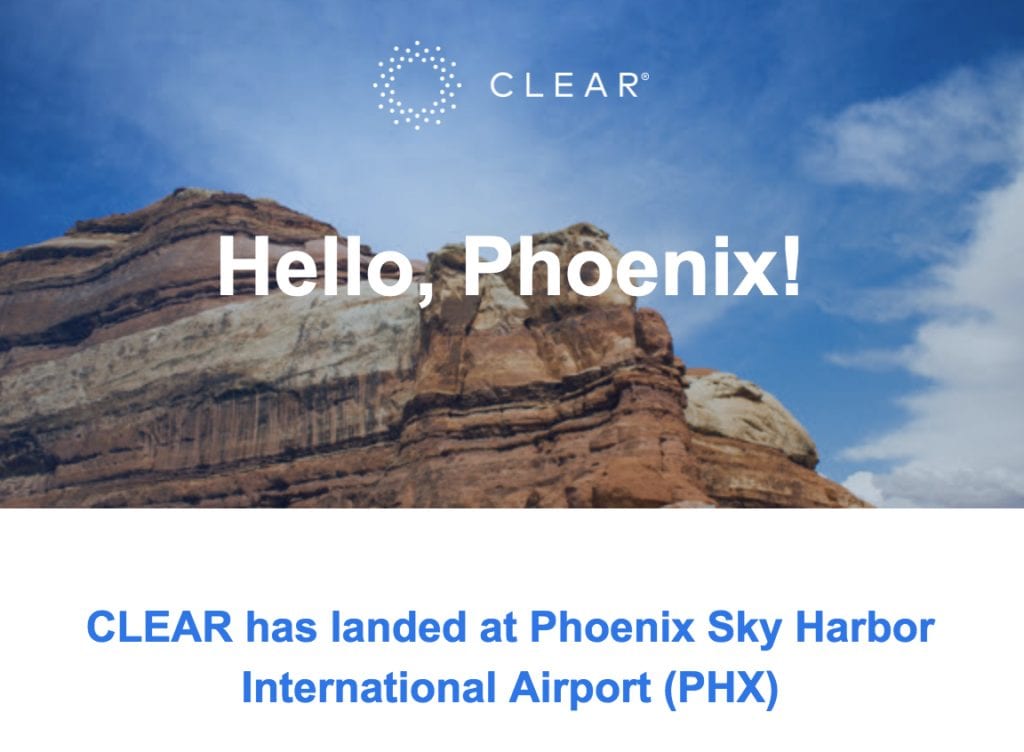 What is CLEAR?
If you are not familiar with CLEAR, it is a private, trusted-traveler program that uses both fingerprint and iris identification technology to confirm a traveler's identity. After enrolling on their website, travelers can go to any airport offering the service to complete the registration process (it takes roughly five minutes).
Once you have been cleared at the CLEAR personal kiosk, an ambassador will escort you to the front of the metal detecting and baggage scanning lines depending on your TSA eligibility. This means that if you have TSAPreCheck, you will then be escorted to the front of the Pre Check line. Because CLEAR authenticates your driver's license or passport during the enrollment process, you never have to take your identification out when checking in through CLEAR. Just scan your boarding pass and you will be on your way within minutes.
Thrifty Tip: See our complete guide to the CLEAR service.
CLEAR Service Cost?
Annual membership in the CLEAR program is $189, which is a steep price to pay. However, there are many discounts available (including simply being a Delta SkyMiles member). Many of the CLEAR airports are located in Delta airlines hubs. In April of 2016, a partnership was announced between Delta and CLEAR to bring the service to more airports around the country.
As a part of this partnership, Delta offers the service at a discount for all SkyMiles members. You can receive membership for $79 just for holding one of the co-branded American Express Delta SkyMiles credit cards or for being a Platinum, Gold, or Silver Medallion member. Further, the service is free for their Diamond Medallion members. General SkyMiles members can join the program for $99.
Bottom Line
I have been a member of CLEAR since early 2017 and I am a huge fan of the service. Being located in Minneapolis, it has drastically cut down my time waiting in security lines for outbound flights. It is great to see them add more airports to the service and I hope that the list continues to grow. What I would love to see is a credit card that offers complimentary CLEAR service as a benefit of membership.