Pandemic or not, American Express has been on a tear with their Centurion Lounges in the last year, opening new lounges across the U.S. and refreshing old ones. Its New York City-LaGuardia (LGA) location got a bit of both.
American Express opened its new LaGuardia Centurion Lounge this week, and it looks to be a massive improvement over the older, cramped space. For starters, it moved to a brand new location: The old space was located before security, forcing travelers to leave the lounge early for the unpredictable airport security guessing game. The new location is post-security in Terminal B, home to American Airlines, United, Southwest, and Air Canada.
With that new space, the LaGuardia lounge has doubled in size from its quaint 5,300 square feet before to more than 10,000 square feet today. And by the looks of it, Amex has outfitted this bigger space with some of the sharp decor and design flairs that make other new Centurion lounges in Denver (DEN) and New York City (JFK) stand out.
Amex's Centurion Lounges have stood out among U.S. airport lounges for years thanks to their comfortable seating, great meals, a beverage program with free cocktails and wine, and more. But they've elevated that recently by giving their newer spaces some signature touch and local feel – think the craft beer bar slinging local brews at the Denver Centurion Lounge or the speakeasy bar tucked inside the JFK Centurion Lounge.
That trend continues at LaGuardia, where Amex has built a stunning bar showcasing views of the runways and Manhattan skyline in the background. There's a special "study area" meant to be a quiet space to get work done – and it's designed by local bookstore McNally Jackson. Coffee is served up from Brooklyn Roasting, some of the wines are handpicked from New York's Finger Lakes vineyards, and New York City-area breweries are supplying several beers on tap, too.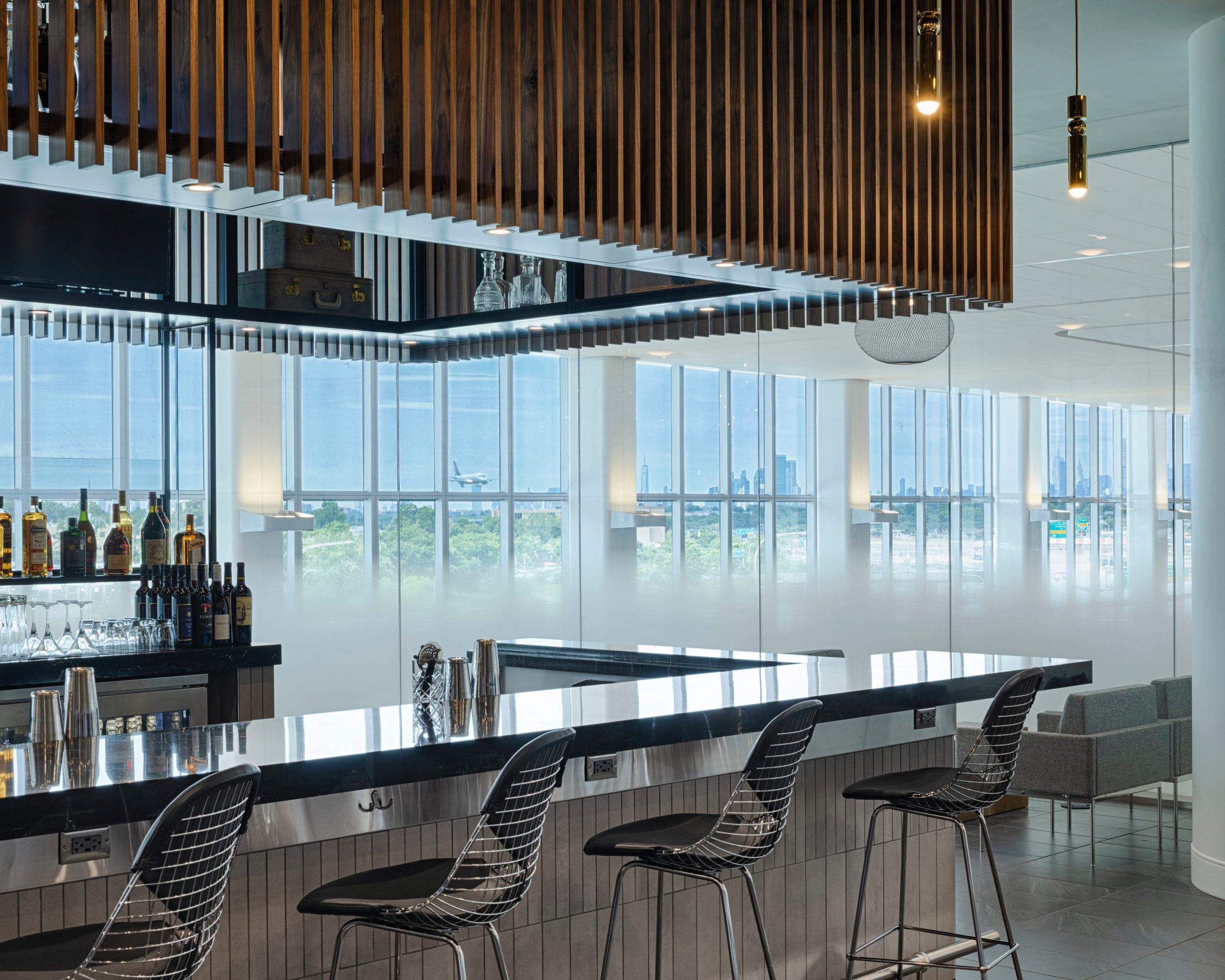 This is just one of several major improvements across the Centurion Lounge network. American Express recently wrapped up a major renovation of its very first Las Vegas (LAS) Centurion Lounge, expanding by 50% and refreshing the look and feel of the space. Similar projects are planned at both San Francisco (SFO) and Amex's tiny Seattle (SEA) lounge.
And more new lounges are on the way. A long-awaited London-Heathrow lounge is on track to open later this year. The credit card company is aiming to open its Washington, D.C.-Reagan (DCA) Centurion Lounge in late 2022. Amex now has its sight set on the world's busiest airport: A Centurion Lounge in Atlanta (ATL) is in the works.
Read more: Amex Doubled Down on Centurion Lounges During COVID-19. What's Next?
Getting into Centurion Lounges
To get into any Centurion Lounge, you'll need the right credit card. And few are better than The Platinum Card® from American Express. It'll get you (and two guests) into all 14 current Centurion lounges and counting for free. And it also opens doors to 1,000-plus Priority Pass lounges, Delta Sky Clubs if you're flying Delta that day, Escape Lounges, and more.
Read our full review of the Amex Platinum Card.
Click Here to learn more about the Platinum Card from American Express.
The Business Platinum Card® from American Express will get you in as well. And there's a relatively new option: The Delta SkyMiles® Reserve American Express Card, Delta's top-tier travel card. But you have to be flying Delta that day to use a Centurion lounge, and you can't bring free guests with you – they'll be $50 each.
Read our master guide to getting into & using Amex Centurion lounges!
Bottom Line
It should be no surprise by now given Amex's track record, but the brand new New York City-LaGuardia Centurion Lounge looks like a winner.
It's roughly double the size of its predecessor, with a fresh new look and new features that stand out. But perhaps most importantly, it's located after security at the airport's Terminal B – which means no more "how long will it take me to get through security this time?" guessing game if you want to relax in the lounge before your flight.
All photos courtesy of American Express