Today's the day: Delta's long-awaited new Sky Club in the G concourse of Minneapolis-St. Paul Airport (MSP) is officially open for business.
We got a sneak peek of the brand-new Delta Sky Club before it opened and we were impressed. The new lounge is a major improvement over MSP's existing Sky Clubs in the F/G concourse and down in the C gates.
Delta has been knocking it out of the park with their new Sky Clubs including recent outposts in Chicago O'Hare, (ORD), Los Angeles (LAX), New York LaGuardia (LGA), and more. Each lounge has elements that make it unique and the new Sky Club at MSP is no different.
Read on for the four things we love about the new MSP Sky Club – and one thing that feels like a big oversight.
A Year-Round Sky Deck
One of the coolest new features of Delta's latest and greatest Sky Club in Minneapolis is a year-round, all-weather outdoor Sky Deck.
It's spacious: The Sky Deck is 3,000 square feet and has seating for up to 110 guests.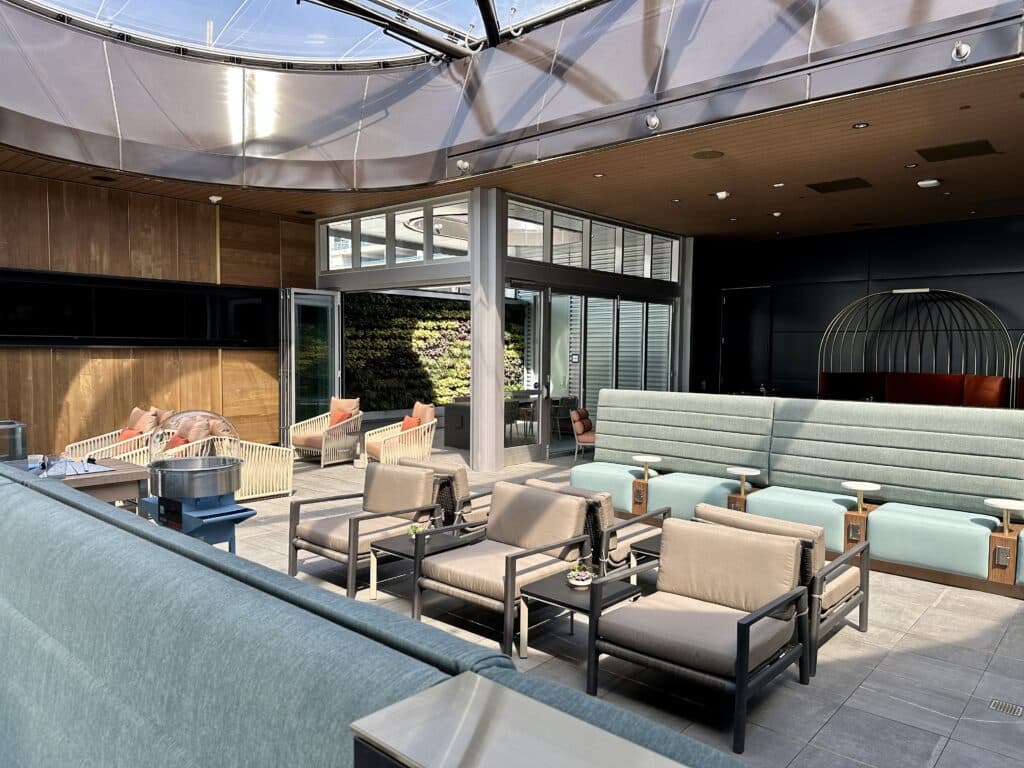 It was a bright sunny day yesterday during our visit and the space gets flooded with great natural light.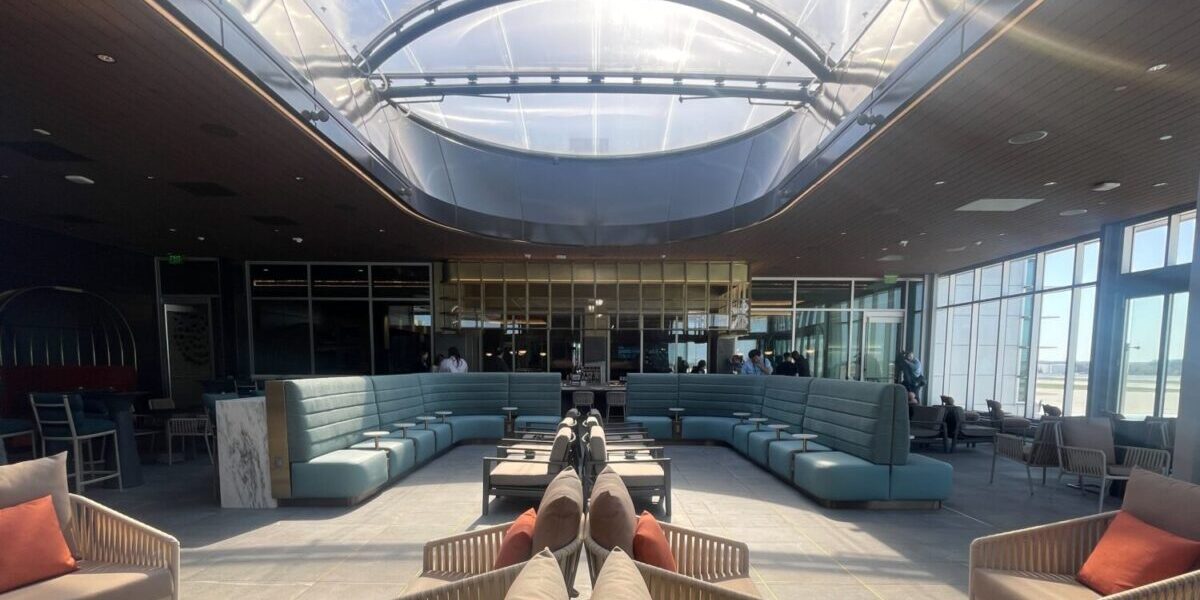 In either corner, opposite the bar, there are two smaller spaces that are truly open-air. These areas can't be heated, though, so when it gets too cold in Minnesota, they will simply be closed. But when the weather is nice, the main area has windows that can open for a true outdoor feel.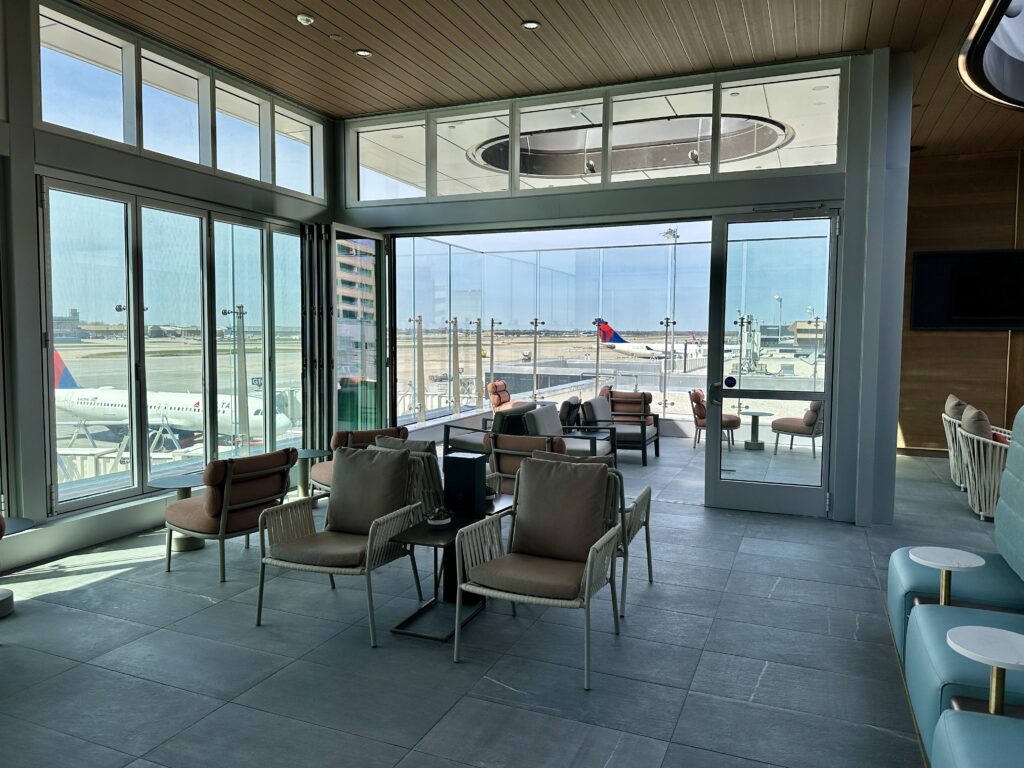 Not to mention, there is a full bar out on the Sky Deck that will be open year-round.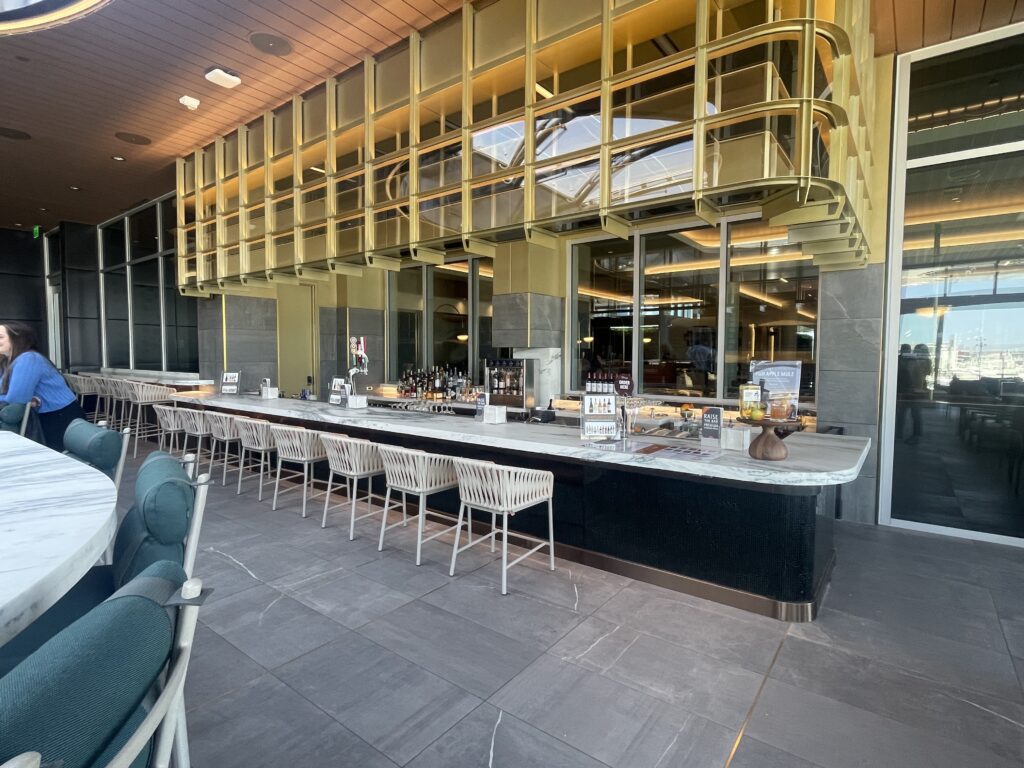 Space is limited on the Sky Deck and I imagine it will fill up fast. But, this is a first for MSP airport. Having a spot where people can wait for their flight while enjoying the outdoors is sure to be a big hit – as long as you can access the Delta Sky Club.
A Touch of Minnesota Flair
One thing you'll notice about Delta's newest Sky Clubs is that the Atlanta-based airline makes a big effort to give each space a local feel. And the new club in the G concourse at MSP is no different.
"Every time we build a Sky Club, we like to focus on the city we're in," Claude Roussel, the Delta Sky Clubs managing director, told Thrifty Traveler at Tuesday's media preview.
To start, Delta says that the design of the entire space was inspired by Minnesota's designation as the land of 10,000 lakes, featuring a rich color palette meant to evoke the state's natural foliage and summer sunsets at the lake – earth tones like sage greens paired with warm copper and amber hues.
You can certainly see those design choices come to life throughout the space and it has a unique feel that's different from that of Delta's other new Sky Clubs I've visited recently.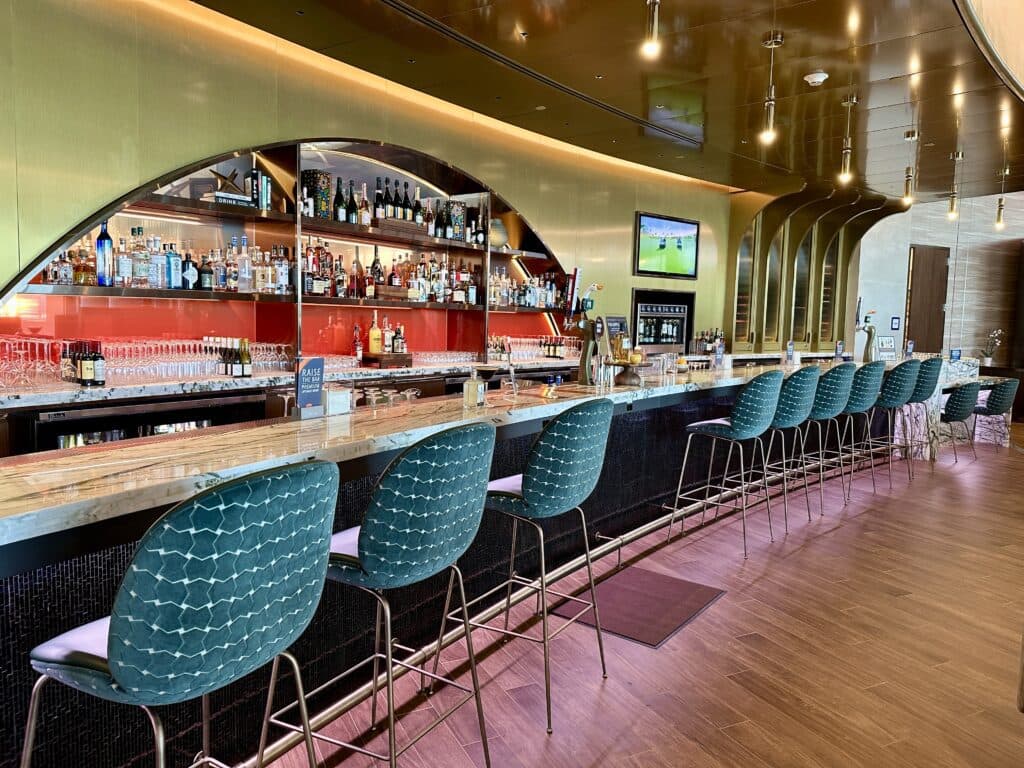 Local Drinks
That local Minnesota flair continues as a part of the lounge's food and beverage program.
First, there's a cocktail exclusive to this Delta Sky Club that they've branded the "Thistle While You Werk." It's a take on an espresso martini created with spirits from St. Louis Park, Minnesota-based Dampfwerk Distillery. The cocktail itself has 1.5 oz of Dampfwerk's Pfefferminz peppermint liqueur, 0.75 oz of creme de cacao liquor, 1.5 oz of espresso, and 0.25 oz of simple syrup.
As an espresso martini fan, I enjoyed the cocktail quite a bit. As one Delta employee stated, "It's like an espresso martini that will give you fresh breath after you drink it."
The cocktail itself will not be complimentary. It will be priced similarly to Delta's other signature cocktails that are available for purchase – think $9 to $12, or you will be able to pay with SkyMiles as well.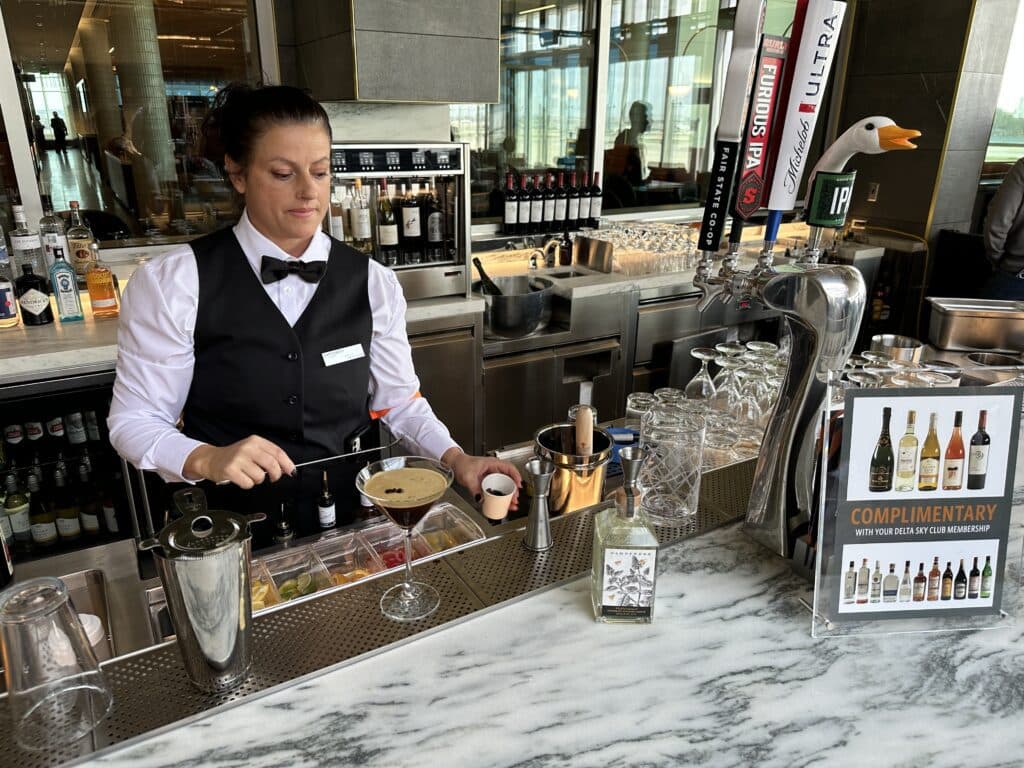 You'll also find beers from local Minneapolis breweries Fair State Co-Op and Surly Brewing on tap at both bars.
Local Food
Like many of the newer Sky Clubs, the food at this lounge is part of Delta's Local Flavor program, which showcases recipes from a rotating queue of local chefs.
First up: Justin Sutherland, the Iron Chef champ and owner of the Handsome Hog in St. Paul along with several other restaurants. Unfortunately, none of Sutherland's dishes were available to sample during the media preview we attended.
Delta says they have other local chefs lined up for later this year but were not ready to release that information.
Local Art
All of the artwork found throughout the MSP-G Club was done by Minnesota-based artists, and many of the pieces lend the lounge a uniquely Minnesota vibe.
Take a moment while you're checking in to admire the artwork at the club's entrance, including this MSP sculpture. A Delta employee was quick to point out that the polka dots on the walls are meant to resemble falling snow – fitting for Minnesota.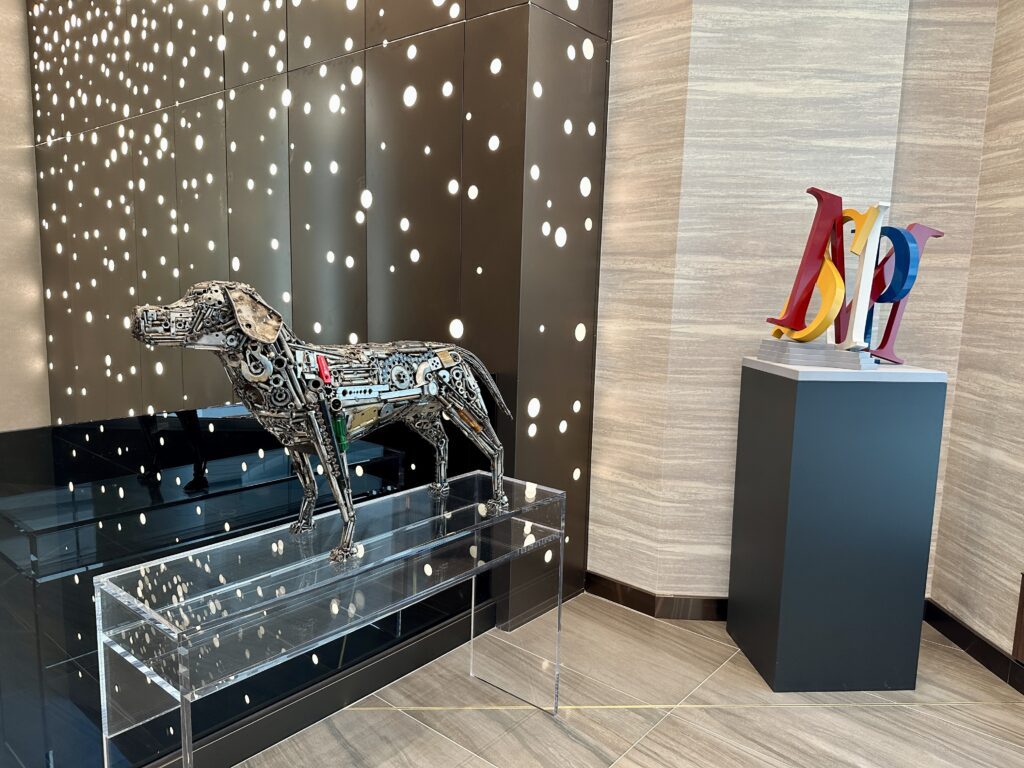 From the entrance to the Sky Deck, you'll find many unique pieces, along with a description of what each work is and more information about the artist. It's certainly a nice touch.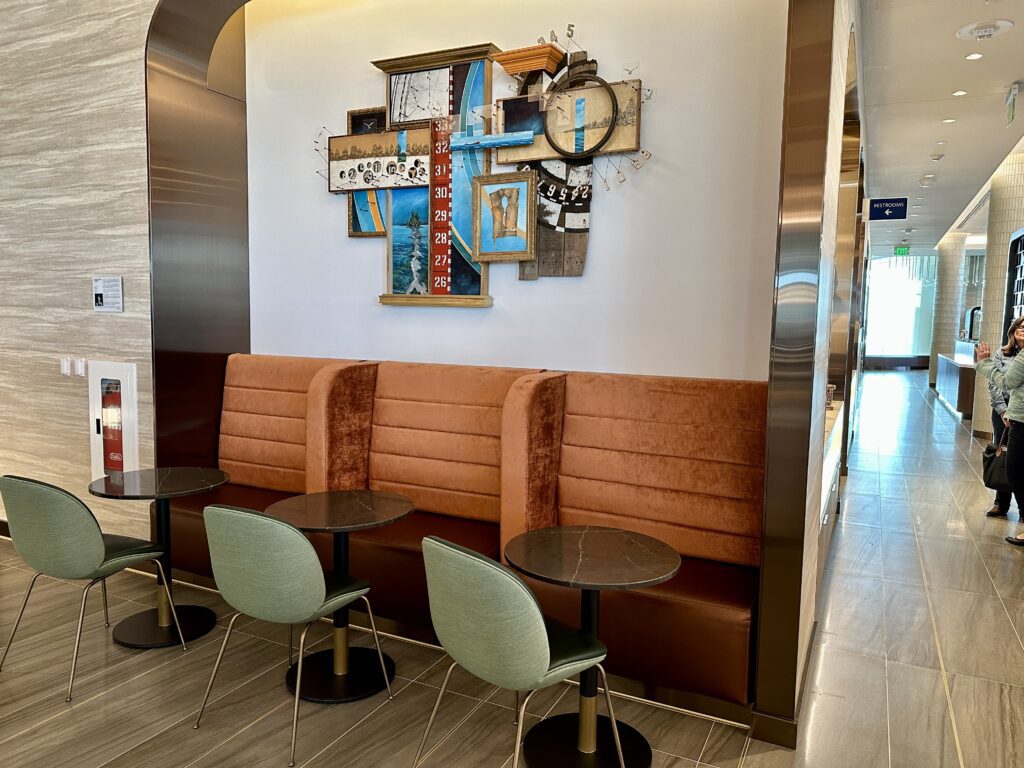 Yes Really: This Sky Club Has Gelato Machines
One of the most unique features of the new Delta Sky Club at MSP is the station of build-your-own gelato machines out on the Sky Deck, just to the right of the bar.
The company, Solato, has partnered with Delta to offer their product at no charge in the Sky Clubs, but this new lounge in Minneapolis is only the third location where you'll find these. The Solato representative confirmed that the gelato stations are now available in Los Angeles (LAX) and Atlanta (ATL) in addition to the new MSP-G Club.
Think Keurig coffee meets gelato. First, you pick your flavor from the refrigerator below and then you put the pod in the machine. About 30 seconds later it'll instruct you to take the empty container from the machine and in another 30 seconds you can use it to catch the freshly made gelato.
I was expecting the gelato to be just OK, but I was impressed at how tasty it actually was. This is certainly going to be a hit, but let's hope the machines don't break down as often as the McDonald's McFlurry machines.
More Sky Club Capacity at MSP
Perhaps the most important thing this new lounge brings to Minneapolis is more Sky Club capacity – and it's sorely needed for this Delta hub. This 23,000-square-foot Sky Club has space for up to 450 guests and is almost twice as large Delta's current primary lounge at MSP's F/G concourse.
Across the three Sky Clubs, Delta now has more than 900 lounge seats at MSP, according to Roussel. He's confident this will help alleviate some of the congestion issues these lounges have been facing over the past year, with wait times pushing a half hour or more just to enter. Roussel said that based on throughput at MSP, he feels 900 seats is the right number to provide a consistent experience – at least for now.
Only time will tell if this added capacity will actually provide a relief point. Once Delta flyers with Sky Club access know that the new club is open, it will likely attract a lot of attention. Roussel told us Delta is in the early planning phases of renovating the F/G and C concourse Sky Clubs at MSP, but nothing has been finalized yet.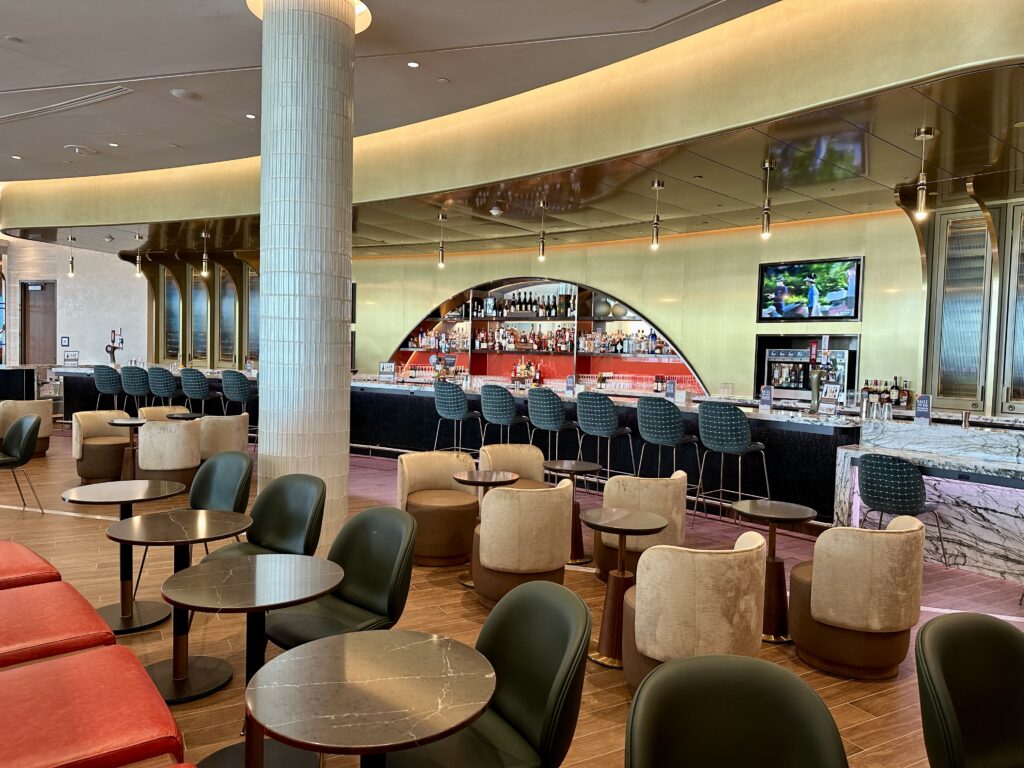 It's worth noting that Delta saw yet another record number of travelers open a co-branded Delta American Express card last quarter. As more travelers spring for premium travel cards with more benefits, it also means the long lines regularly forming outside Delta Sky Clubs likely aren't going to disappear anytime soon.
In some ways, Delta has been a victim of their own success with these new Sky Clubs. Creating spaces people want to use, has naturally created crowding problems. Especially since getting into the Sky Club is as easy as holding the right credit card.
One Big Miss: No Showers?
As great as the new Sky Club at MSP is, there was one big miss in our eyes: None of the shower suites that have been quite popular at Delta's other new Sky Club buildouts. When asked specifically about why Delta opted to not put shower suites in the new club, Roussel said the volume of international travelers in the G concourse didn't necessitate it, and they take up valuable space within the Sky Club when they're not truly needed.
That answer didn't quite pass the smell test. Delta will operate up to 11 daily international departures starting this summer, substantially more than their hub in Salt Lake City (SLC) which has a newer Sky Club with shower suites. And with the exception of a few Sky Team partners whose passengers would get Sky Club access, Delta has almost no international presence in Chicago O'Hare (ORD) where its brand-new club also boasts shower suites.
One interesting nugget from our conversation with Roussel: He said that the initial plans for the new lounge called for a much smaller outdoor space. It's possible that as the space evolved, it stole a bigger budget from other parts of the project and the shower suites could have been a casualty of that.
It's also possible that whenever Delta does update the clubs in the F/G and C concourses, those lounges might include showers.
But for now, it feels like an oversight for an otherwise stellar lounge.
Bottom Line
All things considered, Delta's new MSP-G Sky Club is an incredible space and a much-needed improvement for flyers with Delta Sky Club access. It adds lounge capacity for an additional 450 Delta travelers and it's simply one of the most beautiful spaces in the airport, period.
As a Minneapolis-based traveler with Sky Club access, I can't wait to make this my go-to lounge before my travels.