French Polynesia is calling. Soon, Delta will get you there.
The Atlanta-based airline announced on Friday it will launch flights from Los Angeles (LAX) straight to Papeete (PPT) on Tahiti this winter, adding another new nonstop option to Polynesian paradise. The route is expected to begin Dec. 17, flying a Boeing 767-300ER on the roughly eight-hour journey three times a week.
It's Delta's first time putting Tahiti on the map, a bucket list destination deep in the Pacific Ocean known for its world-class accommodations, pristine beaches, and pure solitude. Tahiti itself is dreamy, but it's also just a stone's throw from other amazing islands like Moorea, Rangiroa, and Bora Bora.
Air France, a close Delta partner, already flies the same Los Angeles to Tahiti route along with Air Tahiti Nui, which recently added nonstop flights from Seattle (SEA) to Tahiti. United and budget airline French Bee offer nonstop service to Tahiti from San Francisco.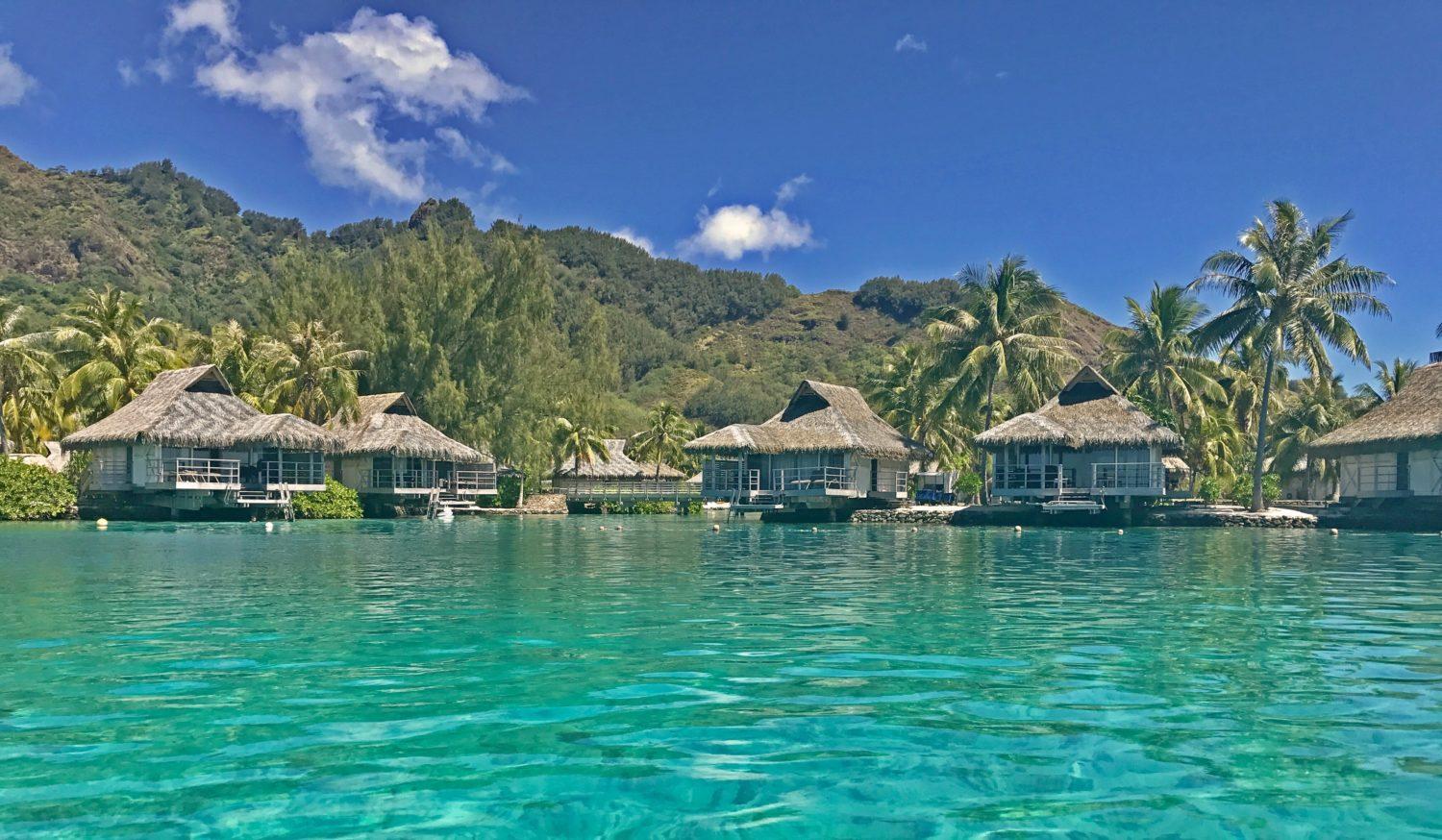 But loyal Delta flyers and SkyMiles hoarders will be delighted by this new nonstop route – and it was just one of several new routes unveiled Wednesday. A long-awaited nonstop flight to Cape Town (CPT) in South Africa is finally on the calendar to commence Dec. 17. And come May 2023, Delta plans to launch service between Atlanta (ATL) and Tel Aviv (TLV) – its third nonstop route to Israel.
None of these three new routes are on sale just yet – they should go up tomorrow. Until then, here's a look at each new flight in more detail.
Delta's Nonstop to Tahiti
This one's the highlight, and we have to admit: We didn't see this one coming.
Come mid-December, you can fly Delta nonstop to Tahiti. The airline will fly from Los Angeles to Tahiti on Tuesdays, Thursdays, and Saturdays, departing at 11:10 a.m. and landing in French Polynesia at 6:10 p.m. on the same day. Eastbound flights back to the states also depart on the same days but they take off around 8 p.m., getting you back bright and early at 6:40 a.m. the following morning.
It's unclear whether this is a winter seasonal route or if Delta plans to fly to Tahiti year-round.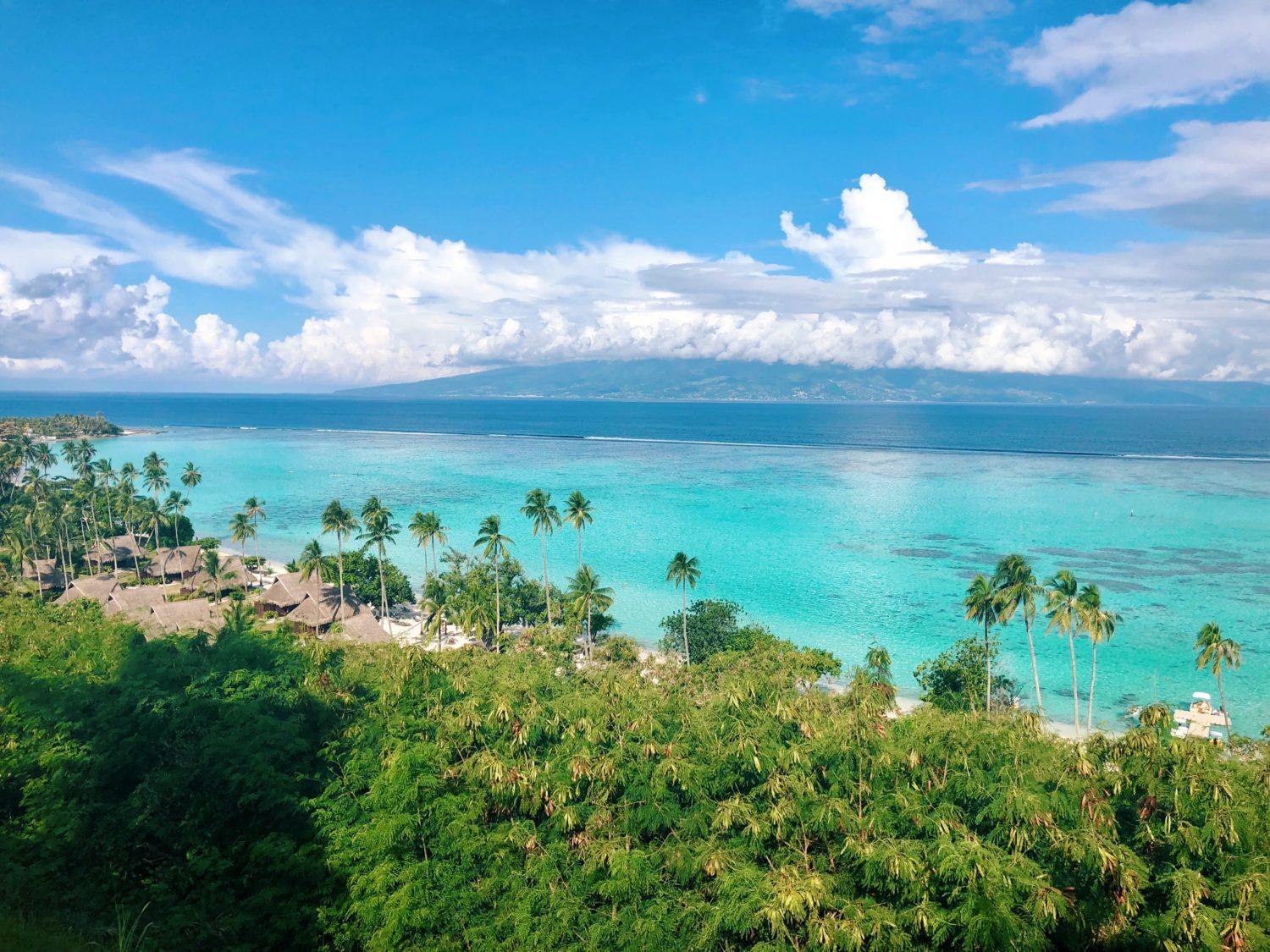 If you're aiming to fly to paradise in the fancy seats, it's a mixed bag. Delta plans to fly this route on one of its Boeing 767-300ER jets, which have outdated Delta One business class seats up front. Some of these 767s have gotten a facelift in the last year or so with new finishes and the installation of Delta Premium Select seats, but we don't know if Delta plans to operate these retrofitted jets to Tahiti.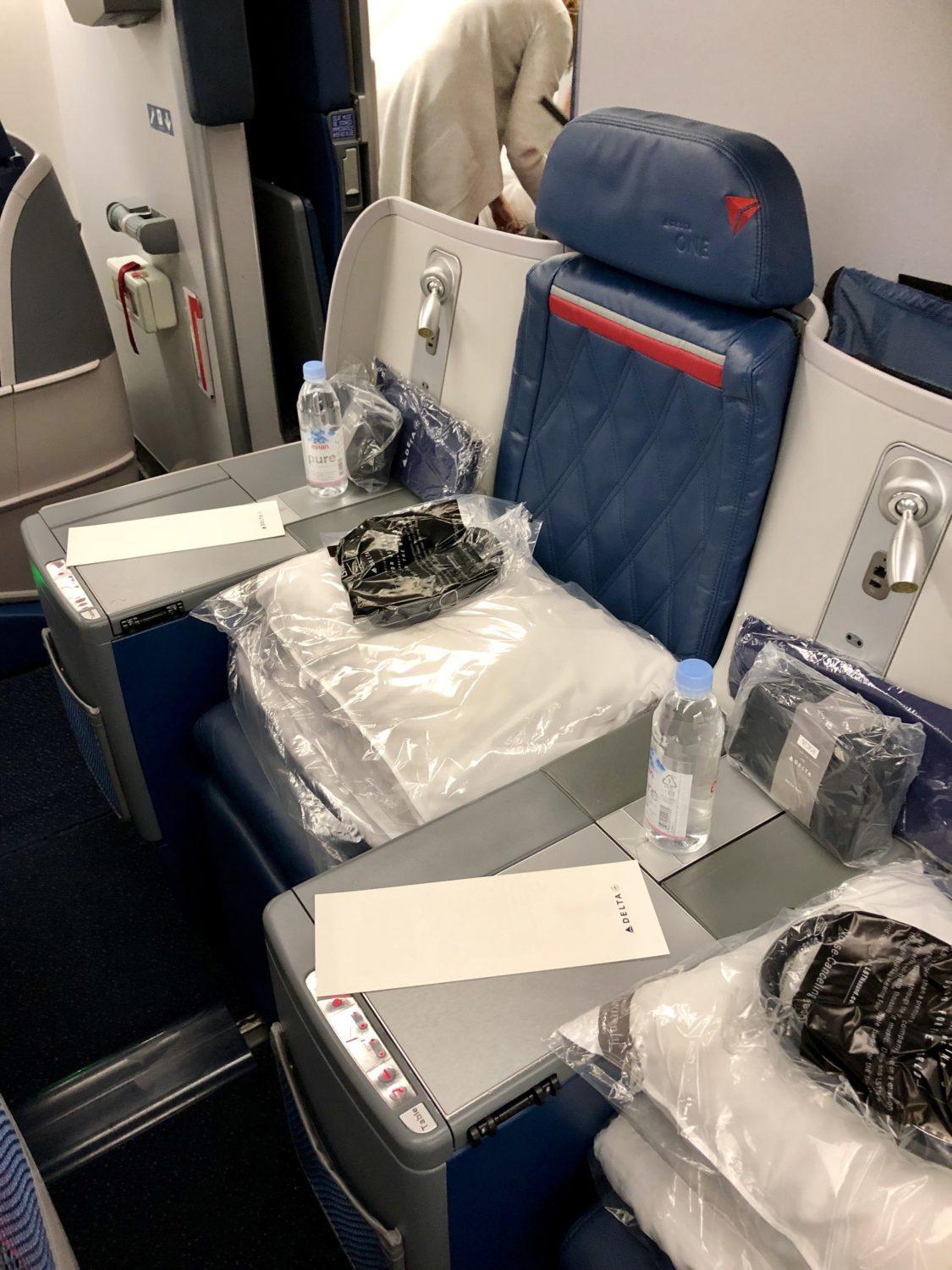 On the plus side, it should be a comfortable ride in economy thanks to the 2-3-2 seating configuration, which makes it ideal for companions, couples, and honeymooners to grab their own small section for the flight to paradise.
Aiming to cash in some SkyMiles for a trip to Tahiti? Flights aren't on sale yet so we don't know what Delta will charge – and Delta's dynamic award pricing means that those rates are often unpredictable and constantly changing, anyway. We'll have to keep our fingers crossed for a stellar Delta SkyMiles flash sale with discounted rates.
Otherwise, expect to fork over 200,000 SkyMiles or more for a one-way flight in Delta One seats.
Atlanta to Cape Town
It's finally happening.
Delta first put Cape Town on the map way back in May 2020, initially planning to fly from Atlanta (ATL) to Johannesburg (JNB), pop down to Cape Town, and then fly from the popular South African city straight back to the states. But that didn't happen thanks to regulatory snafus.
After many, many months of planning, Delta finally has the go-ahead to commence nonstop, roundtrip flights to Cape Town – in addition to the airline's existing Johannesburg nonstop. Come Dec. 17, Delta will fly to Cape Town from its Atlanta hub and back three times a week, on Mondays, Thursdays, and Saturdays.
Best of all, Delta is flying its flagship Airbus A350-900 to South Africa, equipped with top-of-the-line Delta One Suites. That ensures a nice ride on the grueling 14-plus-hour flight. These planes have 32 Delta One Suites, 48 Premium Select, 36 Delta Comfort Plus seats with a bit of extra legroom, and 190 economy seats onboard.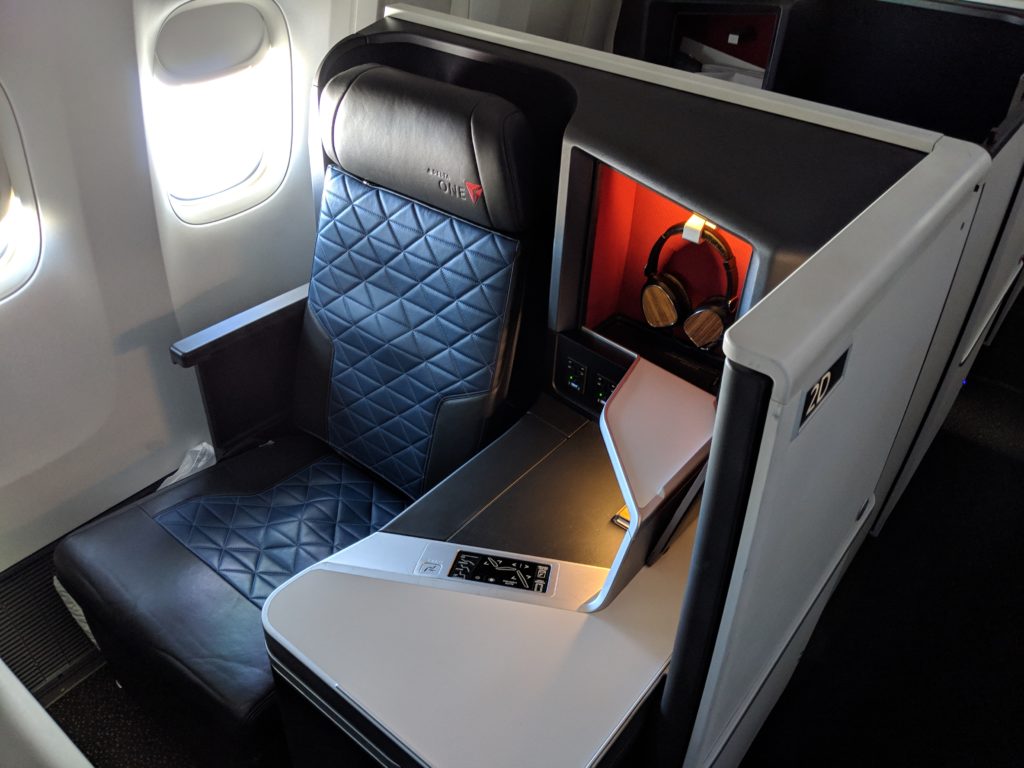 Read our full review of Delta One suites!
Expect to pay a small fortune if you're aiming to use SkyMiles for a suite to South Africa. Delta regularly charges 500,000 SkyMiles or more each way for a business class award to Johannesburg today. On the flip side, we've sent Thrifty Traveler Premium members roundtrip economy fares to South Africa from cities nationwide for as low as 58,000 SkyMiles. Fingers crossed similar deals are in store to fly nonstop to Cape Town.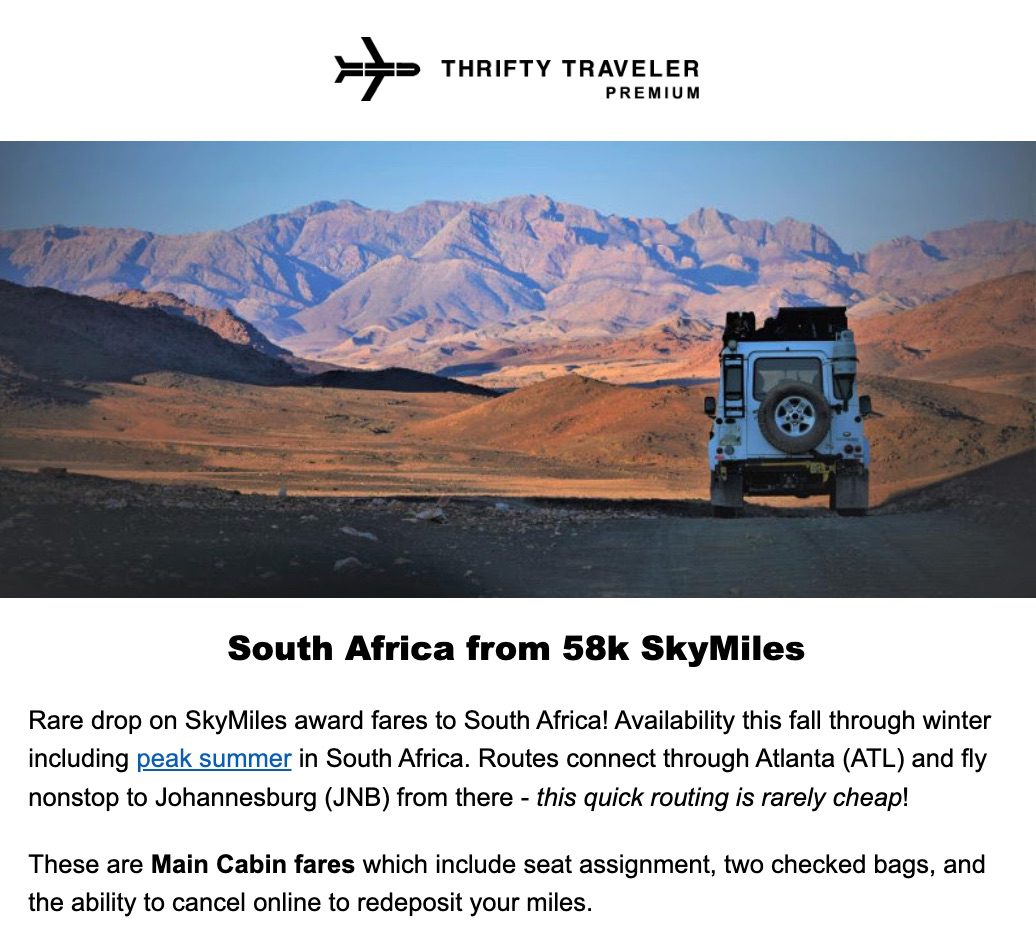 Get deeply discounted Delta SkyMiles flash sales like this one and more award alerts in your inbox with Thrifty Traveler Premium!
If you're aiming to use cash, things are looking up, too: We've found a slew of recent dirt-cheap fares to Cape Town for under $600 roundtrip – almost $1,000 off normal prices!
Delta is joining United in offering nonstop flights to Cape Town. United has flown there from Newark (EWR) for a few years and recently finalized plans to add another nonstop route from Washington, D.C.-Dulles (IAD) starting in November.
Another Nonstop to Tel Aviv
Delta already flies nonstop to Israel from New York City (JFK) as well as Boston (BOS). But now another city is joining the list.
Starting May 10, 2023, Delta will launch a nonstop route connecting Atlanta (ATL) and Tel Aviv – though the first flight will actually head west from Israel to the U.S. on May 8. Like the new route to Cape Town, Delta will fly from its megahub to Tel Aviv using an Airbus A350 three times a week: on Wednesdays, Fridays, and Sundays.
The flight to Tel Aviv should clock in at around 11 hours or so – and a bit longer coming back to the states.

It's actually not a new route for Delta. The airline previously offered nonstop flights between Atlanta and Israel but scrapped that route back in the early 2010s.
Bottom Line
See you in Tahiti?
There's a lot to love in these recent route announcements from Delta, but the upcoming nonstop from Los Angeles to Tahiti is undoubtedly the most exciting one of the lot. Flights should go on sale tomorrow.