Same-day changes to flights can be a lifesaver when your plans change: Most major airlines allow you to change to an earlier (or later) flight within 24 hours of what you're scheduled on for a modest fee – or free, if you've got elite status. And Delta just made it much, much easier to make these changes.
In its latest update this week, the airline just added the ability to make same-day changes to flights right through the Delta smartphone app. Typically, that's required a phone call or a message to Delta to pull off. And as Delta phone centers get hammered with calls with balooning wait times, this is a great option.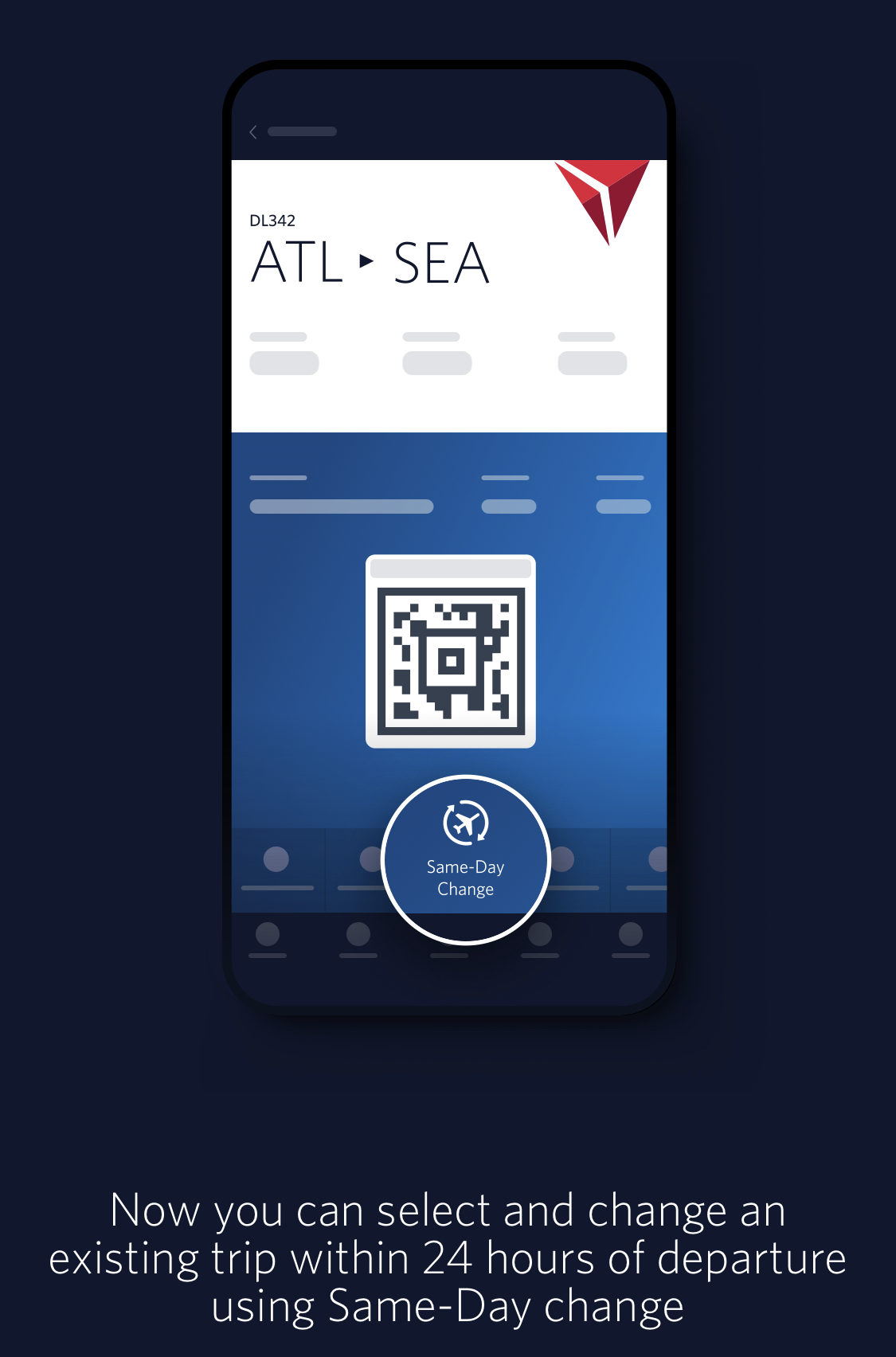 Just as with checking in, the window to change your flights opens 24 hours before departure. That's when you'll see the option to make a same-day confirmed change (if seats in your cabin or lower are available on your new flight) or get in the standby queue. Delta basic economy fares are not eligible for same-day changes.
These changes cost $75 – unless if you've got Gold, Platinum, or Diamond Delta Medallion Status, in which case they're free. If you go standby, you won't be charged that $75 unless your standby request clears.
Even at $75, the savings can be substantial. Consider this: You could change your flight ahead of that 24-hour window since Delta and other airlines did away change fees on most fares last year, but you'd be on the hook for a potentially bruising fare difference.
With a same-day change, you won't have to pay the difference when changing to a more expensive flight. So long as a seat is open, you can change to an earlier or later flight so long as it departs on the same day.
Being able to handle all this within the smartphone app is a great improvement, but it's not as if Delta is forging new ground here. Both United and American have had this functionality for years. Still, a win is a win.
How Same-Day Changes Work
Seems simple, right? And it just got simpler thanks to this new smartphone app feature. But there are plenty of caveats, loopholes, and restrictions around making same-day changes to Delta flights that can complicate things. Here are some basics:

According to Delta's rules, the window to make a same-day change opens 24 hours before your current flight is scheduled to depart.
Same-day changes are only available on flights within the United States, to the U.S. Virgin Islands, Puerto Rico, and Canada – though standby is not available on flights to/from Canada.
Basic economy tickets are not eligible for same-day changes.
You can only make a same-day change to the same cabin you initially booked or lower. For example, a Main Cabin ticket cannot be changed to first class, while a first class seat can be changed to a different flight in main cabin.
While Delta technically requires you to change into the same fare class you initially booked, in practice, it's typically easier than that. If a seat in your cabin is available on a flight that day, it's usually possible to make the change.
You cannot change from a connecting flight to a nonstop itinerary, or vice versa.
You also can't change to a flight departing from or arriving to a different airport in the same area. For example, changing a flight into New York City (JFK) into New York City-LaGuardia (LGA) is not allowed.
However, you can change to a flight with a different connection. For example, changing from a flight from Minneapolis-St. Paul (MSP) to Atlanta (ATL) to Charlotte (CLT) to a flight from Minneapolis to New York City (JFK) to Charlotte.
Delta has some more information on the ins and outs of same-day changes on its website, so study up.

Bottom Line
The pandemic (and a surge of calls into airline call centers) has forced airlines to get more and more digital. This should make it much, much easier for travelers to make a same-day change to their Delta flights.