If you're planning to explore Iceland – and trust me, you need need to visit Iceland – by driving the Ring Road, you need to think out of the box. Renting a camper van is the way to go.
Sure, a camper van around Iceland may seem like isn't for everyone. But it's a great way to cut costs: your accommodation is your transportation, after all. Plus, you can see as much of the island as possible, and it makes for some great stories.
If you're not sold on the camper van approach, read on to find out why it's the way to go in Iceland and what it's like to spend a week driving and living inside one.
To Camp, or Not to Camp?

Why You Should Rent a Camper Van in Iceland
Before we get into what it's like to travel Iceland in a camper van, let's lay it all on the line. There are some definite pros to seeing Iceland by camper van, but some cons to keep in mind, too.
Pros of Renting a Camper Van in Iceland:
You have everything you need in one place: car, lodging, kitchen, luggage storage, and Wi-Fi.
No need to move your bags into a hotel each day; just unpack and organize your luggage in the camper van.
It's affordable: a 2-in-1 rental car and nightly accommodations for one price!
You have the freedom to go as far as you want in a day, or stay put. No reservations needed.
It's an experience, and makes for great stories to tell friends and family back home!
Cons of Renting a Camper Van in Iceland:
It's camping. It's not for everyone.
Icelandic campsites are not luxury hotels. Campsite facilities are typically limited to restrooms, showers, and maybe a kitchen or guest area.
It's tight quarters. You're cooking where you're sleeping, and the bed isn't the most comfortable (in ours, at least!)
Depending on when you're there, it can get chilly at night, but you'll want to use your battery-run heat sparingly.
You're staying in a van, so it's harder to meet many Icelandic locals than if you were staying in guesthouses and dining at local restaurants every day.
For me, the benefits of having mobile lodging on a road trip around Iceland far outweighed the negatives. Everyone's preference will be different, but if the camper van experience excites you, read on!
How to Rent a Camper Van in Iceland
Renting a camper van to drive the Ring Road is a very popular way to see the country, so there are several different well-reviewed companies you can book through. Some of the highest-rated rental companies include:
Pricing and van amenities are pretty comparable for all these companies. We decided on Happy Campers for our trip, based on reviews and multiple recommendations from family and friends who had done the same trip with a Happy Campers van.

We selected the Happy 1 Auto camper van: the only automatic van available with Happy Campers. Because our trip was from April 30 through May 7, we paid the low-season price for a few days and the mid-season price for the rest of our trip.
All told, our total for eight days in the camper van plus insurance and amenities like Wi-Fi came to just under $1,500.
Let's do some math. An average car rental will cost $35 to $75 USD per day, if not considerably more. Once you add in hotels for each night – which can be very expensive in Iceland – it's easy to see that this is a pretty great deal.
Add in the ability to cook your meals on the road, and you'll save even more on food. Dining out in Iceland is pricey.
What the Camper Van Includes
The camper van has everything you'll need for cooking, sleeping, and living in the van for your trip. Our Happy 1 Auto camper van included:
Gas stove
Four gas canisters
Heating system
Refrigerator
Sink with running water
Pots, pans, and cookware
Dishes and cutlery
Curtains
Linens, pillows, and blankets
CD player & Auxiliary outlet
Unlimited km/miles
Fuel discount cards (-3kr/l)
CDW insurance
You can also purchase some add-ons, such as:
WiFi ($45 per rental)
BBQ grill ($33 per rental)
Camping table ($22 per rental)
Inverter ($22 per rental)
Additional gas canisters ($8 per rental)
Extra driver ($40 per rental)
Camping chair ($17 per rental)
Sleeping bag ($28 per rental)
Child car seat ($11 per day)
Winter kit (Free during winter)
We purchased the Wi-Fi and added an extra driver. The Wi-Fi worked surprisingly well throughout our entire trip, and was perfect for loading Google Maps and looking up information on our next stop on the itinerary.
CDW insurance is the basic insurance coverage package and is included in the van price. You can purchase additional insurance for tires, sand and ash, theft, gravel, etc. from roughly $5 to $85 more per day. We chose to purchase additional gravel protection for about $11 per day.
Happy Campers also offers free shuttle pick-up to and from the airport to Happy Campers office. The staff went over some resources and tips like emergency numbers, weather information, and roads to avoid before we headed out.

They also had a free section in the office, where you could pick up leftovers that other campers had left behind. We grabbed some salt and oil so we wouldn't have to buy those ourselves.

What the Camper Van Looks Like 
When we got into our van, I was pleasantly surprised.
First, it wasn't obnoxiously large! I would have been nervous to drive a huge motor home around windy Iceland, but our van wasn't much larger than an average SUV. It's important to note this is not a 4×4 vehicle and cannot be taken off-roading. If that's your fancy, you're better off renting an off-roading truck.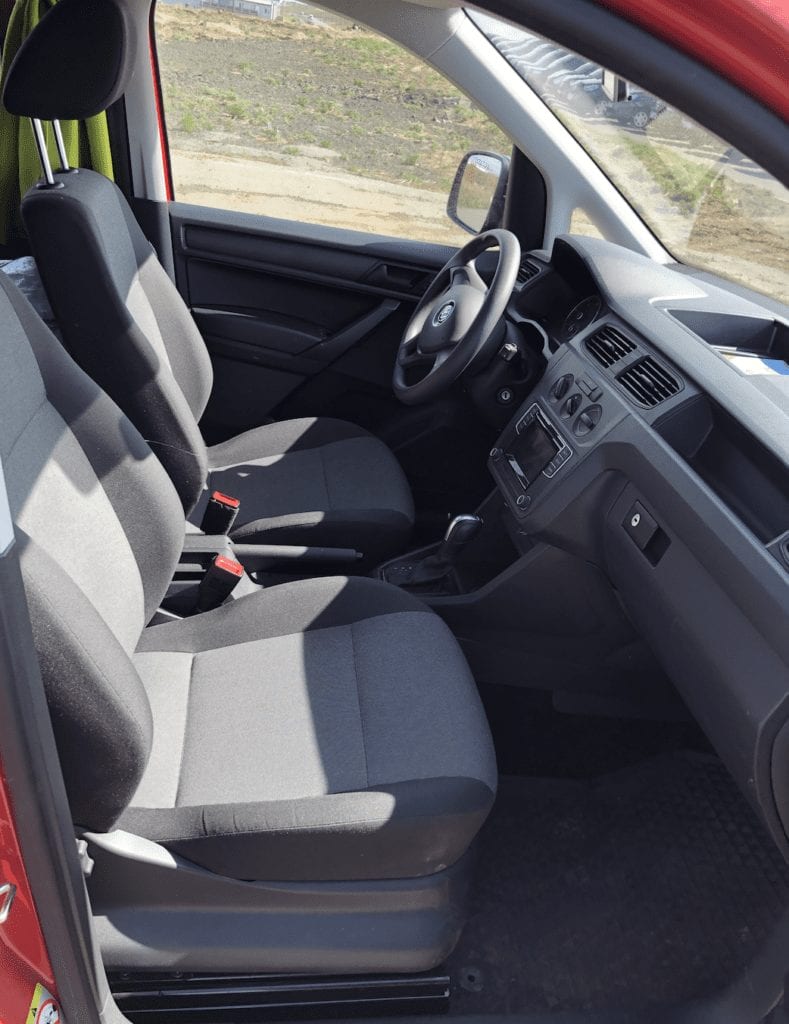 If you look back from the two front seats, this is what you'll see. The sofa folds down to make a bed with storage underneath. Our sink, cookware storage drawers, and refrigerator (looks like a cooler but is temperature controlled and powered by the van battery) are on the right. There's a dial just above the yellow drawer: that's the battery-fueled heater.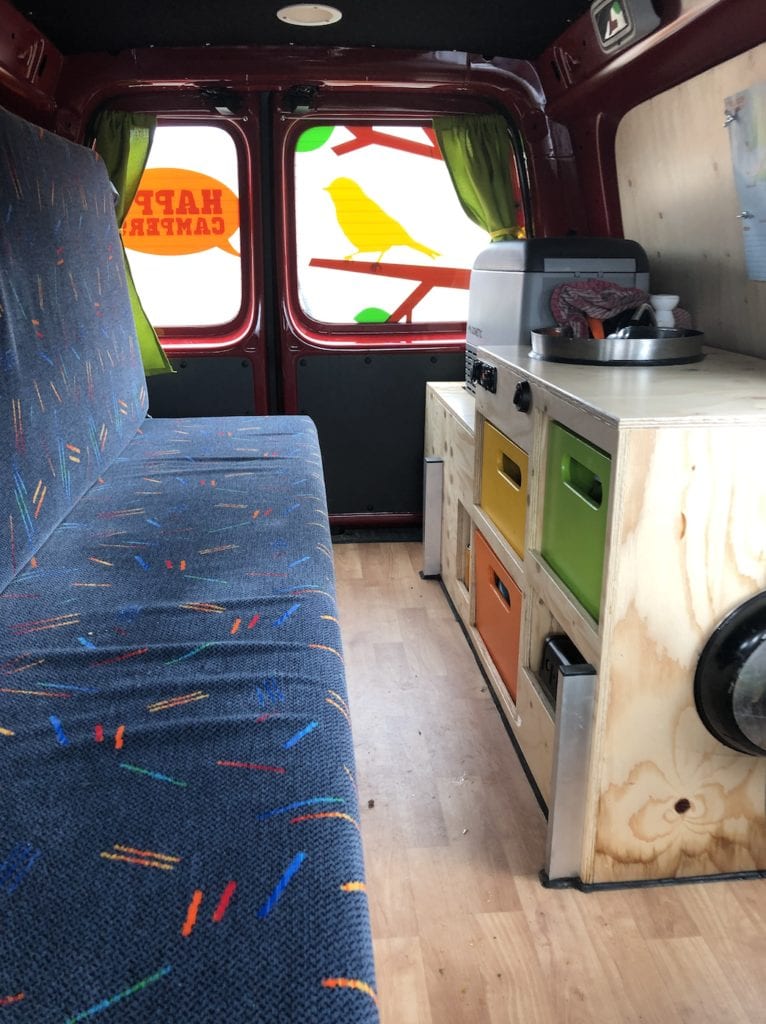 Come bedtime, here's what it looks like. This wasn't a TempurPedic bed by any stretch, but it certainly worked for a week.
The blankets weren't super warm, so I'd consider renting sleeping bags next time. We had the heating system, but that uses the battery and we didn't want to run the battery all night. Our strategy was to blast the heat in the front for an hour before bed, then if we got too cold at night, turn the battery-run heating system on for the rest of the night. 
You can better see the refrigerator here, and where the water for the sink is stored and can be replenished. We easily fit a week's worth of ham, 24 eggs, cheese, broccoli, peppers, and any leftovers we had throughout the week comfortably in the fridge. It's sneakily spacious!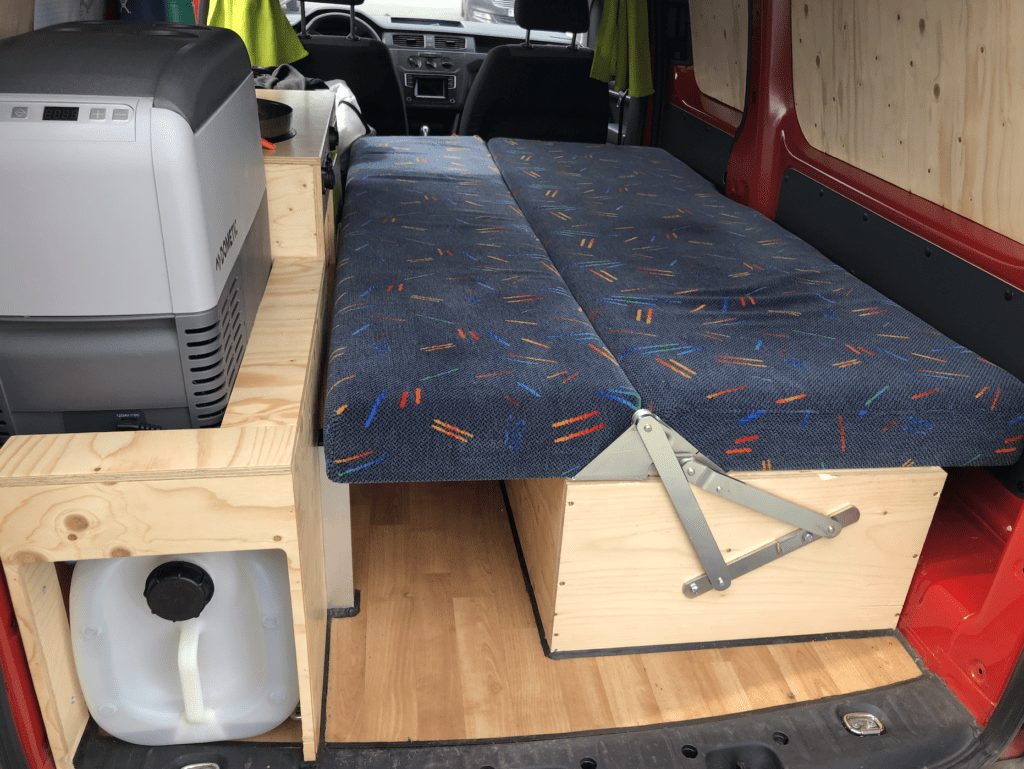 Here is the storage space underneath the sofa. It easily fit all the luggage and clothing we brought.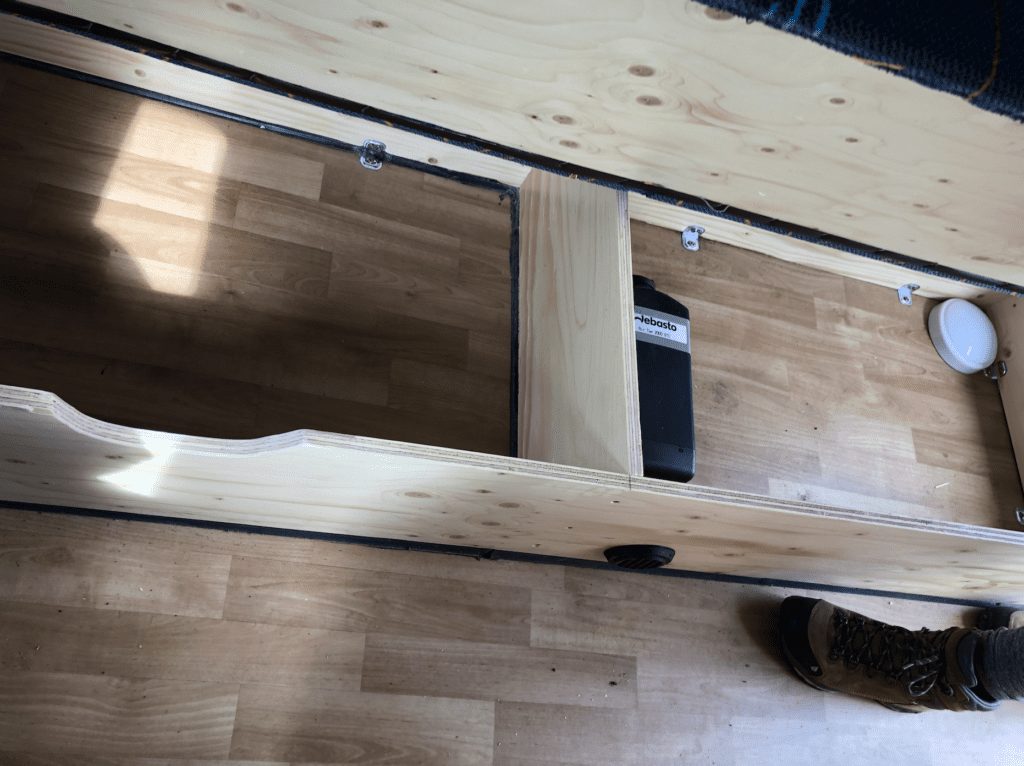 Some other groceries and the bedding did not fit underneath comfortably. Luckily, there is some extra space behind the driver's space for more storage.
Here is the cooking setup! We were able to store some more groceries in the drawers as well.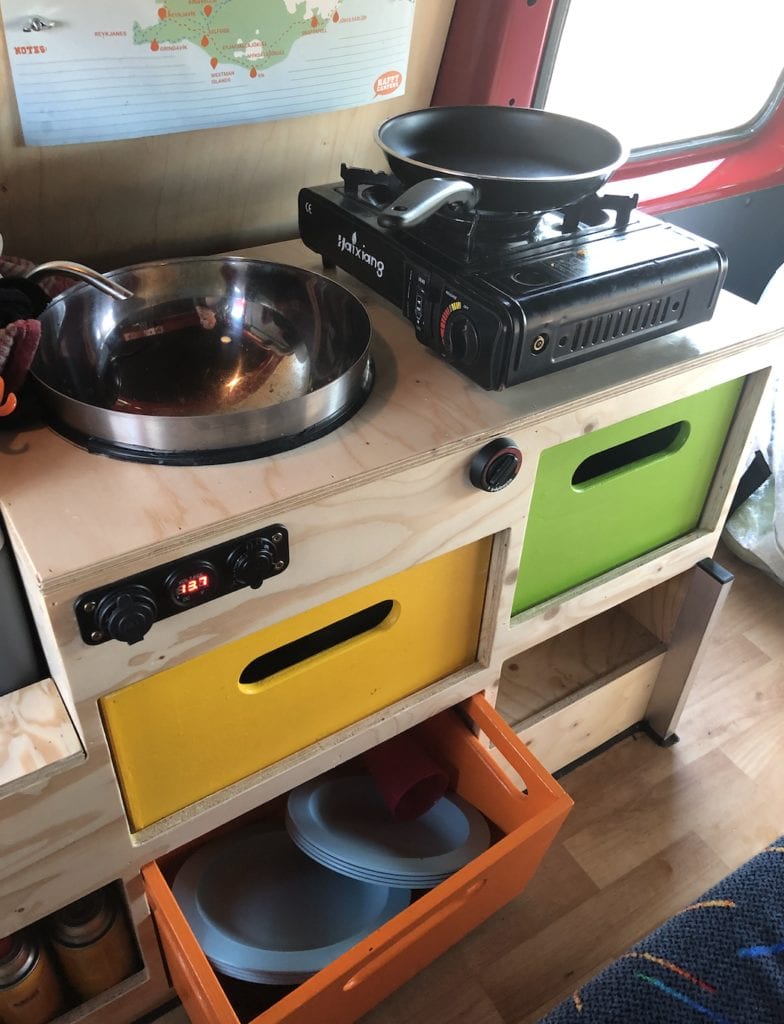 How to Cook in a Camper Van
The first stop on your camper van adventure should be, (drumroll please…) Costco! If you've got a Costco membership card, be sure to pack it for your trip.
If not, grab your groceries at a Bonus supermarket, one of the other cheap grocery options in Iceland. We loaded up on $200 worth of groceries at Costco in Reykjavik, and planned to prepare all our meals for ourselves (except for a hot dog in Reykjavik on the last day).

Need some ideas for camper van-friendly food?
Breakfast:
Aussie bites and granola nut bars
Clementines
Lunch and dinner:
Scrambles: eggs, ham, bell peppers, and potatoes
Stir fry: boil-in-a-bag rice, eggs, and broccoli with sweet and sour sauce or korma sauce
Camping Pad Thai: rice noodles, eggs, canned peas and carrots, leftover vegetables with sweet & sour sauce or peanut sauce
Snacks:
Rice cakes and Nutella
Carrots and hummus
Cheese squares
Chips

I found cooking in the camper van to be a lot of fun! I love cooking and enjoyed the added challenge of using one stovetop and one pan at a time. If you prefer to spend less time cooking, go the ramen and soup route instead.
Driving a Camper Van in Iceland
Let me say this first: Driving the Ring Road is very straightforward. You stay on Highway 1 for almost the entire time, and the well-paved road is marked with plenty of signage. I think it's nearly impossible to get lost if you stay on that one road!

Driving the camper van was easy and enjoyable. It's not much different than driving any SUV. All you U.S. drivers will be used to driving on the right side of the road, and the automatic transmission made it easy.
We didn't have too many hours to drive each day, but with the number of waterfalls, gorges, and viewpoints we stopped at each, we did spend much of our time driving in the car. And honestly, that was just as enjoyable! The topography and landscapes of Iceland change dramatically every hour you drive, so the car ride is never boring.
I personally enjoyed how few other cars were on the road. It felt very peaceful and adventurous.

Prices vary, but gas is typically 221.9 – 231.7 isk per liter of diesel fuel in Iceland. That works out to roughly $7 USD per gallon, so it's far from cheap. To give you an idea of what gas prices to expect: We spent about $50 on a half tank of diesel gas every day or two. 

Iceland's population is just 300,000, and roughly half of them those people live in Reykjavik. That means the rest of Iceland is fairly sparsely populated. We passed a small town every few hours or so, so make sure to fill up your tank and use a WC when you get the opportunity. We never let our gas tank get below half, and filled up whenever we were in a decent-sized town.
How to Camp in the Camper Van
No, you don't just pull over anywhere in Iceland and spend the night in your trusty van.
Iceland has a plethora of campsites available to both tent campers and camper vans. Some campsites even have little cabins or heated rooms to rent!
This Google My Maps of campsites in Iceland created by Happy Campers gives you an idea of the sheer number of campsites you can choose from. However, note that the colors on this map indicate whether the campsite is open year-round or only during summer.
Even though you don't make reservations at Iceland campsites in advance, we did our research on each campsite beforehand and selected a few in each area that we would want to stay at based on amenities, price, and location.
Prices range from 700isk to 2000isk per person, per night – about $5 to $15 per person per night for campsites with all the amenities. Paying for these campsites varies: some have an online form to fill out, some have a small office, and others have a warden come around to collect or direct you to pay at the nearby swimming pool or gas station.
These aren't your regular campsites: You're in Iceland! Check out this stunning view we had of the Seljalandsfoss Waterfall at Hamragarðar campsite. In addition to a kitchen and lounge area, this site also offered washing machines for less than $3 a load.


We tried to select campsites that had cooking facilities as well, since it's much faster to cook with a few stovetops than just one. This is the Seydisfjordur Camping Site. We didn't stay here, but stopped in to cook lunch and use the restrooms.

Campsites may be a bit more bare bones when it's not the thick of summer. The hot water may not be turned on or showers may not open up until the end of May, so be sure to select year-round sites if you're traveling outside of summer months.

The Grundarfjordur Camping Ground was simply a plot of land and two restrooms with hot water, toilets, and a sink. But it worked for a night! We visited so many thermal pools and hot springs with showering facilities that we didn't miss that much when a campsite didn't offer it.
Some of our favorite campsites were those that offered a communal space, like this one at Mosskogar Campsite – one of our favorites. It had a garden and this greenhouse with a kitchen to relax and enjoy a meal inside.

All the campsites were stunning, but I saved one of the best for last. The Sæberg/Farfuglaheimili HI Hostel offers camping in addition to hostel rooms. The campsite had a full kitchen and lounge cabin with a gorgeous view. Plus, a natural thermal pool right on the water!


Camping doesn't get much better than this.
Bottom Line
You're not truly exploring Iceland if you're not deep in nature. And while camping in a van may not be for everyone, there's no better way to immerse yourself in the majesty of Iceland.
So if you're planning to drive the Ring Road, renting a camper van is a must. It's not the most luxurious experience, but it's an unforgettable experience. Parking in front of Iceland's greatest views will be a trip you'll remember forever.