You've seen the stunning landscapes on Instagram and heard years worth of hype about Iceland.
From the Ring Road to the thermal baths, there is so much to see and do in this amazing country, it makes it easy to leave Reykjavik behind. Don't make that mistake.
Over 70% of the country lives in Iceland's capital city, making it a destination for food, culture, entertainment and some true Nordic charm. Here's our guide for hitting all the top spots in Reykjavik and making the most of your time in the Icelandic capital.
Getting to Reykjavik
First things first: Transportation.
Iceland's main airport isn't in Reykjavik. Instead, it's way west in Keflavik (KEF). And just like the country itself, getting to and from the airport can be expensive. Save money on your journey into the city by taking the Airport Direct or Airbus shuttle. It's about $30 each way – far cheaper than an expensive cab or a private hotel transfer. Just buy a ticket at the airport and jump on the shuttle waiting outside baggage claim.
Thrifty Tip #1: Stock up on the finest Icelandic vodka in the airport's duty-free shop before you leave the airport and head into the city. Alcohol is quite expensive in Reykjavik – drinks range from $18 to $20. And liquor stores are sparse, as they're controlled by the government. So the airport is a great place to stock up, if need be.
We used Reykjavik as a base for our five-day Iceland trip and recommend staying within walking distance of the majestic Hallgrimskirkja. From there, you can get to all the hot spots. We stayed at the Reykjavik Residences Hotel and loved it.
The Can't-Miss Spots of Reykjavik
We kicked off our adventures at Hallgrimskirkja. What better spot to start than the most photographed and iconic building in Iceland? Hallgrimskirja is a modern architectural church in the heart of Reykjavik.
The modern, minimalistic design stands in contrast to the ornate churches of Europe. It's free to get in the main part of the church but worth paying the small amount for a trip to the top. The views across Reykjavik on a clear day are stunning.
Leave Hallgrimskirja via Rainbow Street a few blocks away. For your Instagram-worthy pic, snap a shot on this colorfully painted road with the church as a dramatic background. There are plenty of cute shops as you make your way down to buy traditional Icelandic wool or a Viking souvenir.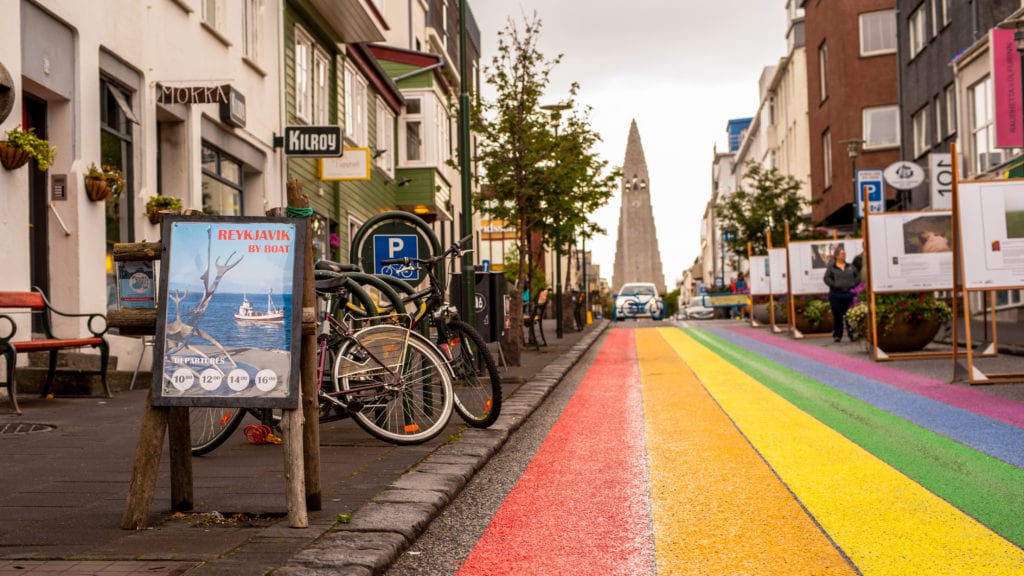 Next, head down towards the water and check out the Harpa concert hall for a show, musical performance, or just walk around and take in the unique architecture. The building is worth a stop at night for the colorful light show on the outside. This building was constructed by the wealthiest person in Iceland and then given to the people of Iceland upon its completion.
The Northern Lights are a must-see in Iceland. It is possible to see them from Reykjavik if you head down to the water towards the lighthouse. Use the app My Aurora Forecast to get up-to-date information. Don't book a tour in advance –  check for activity the same day.
With Reykjavik as home base, we did tours around Iceland using Reykjavik as our base and covered the Golden Circle, Southern Iceland, diving Silfra, the Blue Lagoon and riding Icelandic horses.
We used a travel company called Nice Travel Iceland, which was amazing and highly recommended. The roads can get dangerous during winter months, so having an experienced guide is a solid option. No matter when you go, having a guide and driver to navigate the journey throughout Iceland is nice.
Top Spots to Eat in Reykjavik
I had no idea that Reykjavik has a hot food scene.
In talking with the locals, most people in Reykjavik eat out despite the high prices. Let's break it down into breakfast, lunch, and dinner.
Start off your day in Iceland at Braud. They leave the door open so you can smell the deliciousness all the way down the block. Choose from a huge selection of pastries and breads, but go early for the best selection – they can sell out quickly. They are known for their cinnamon buns!
If you are a fan of ramen, Hi Noodle is your spot. It's an affordable place to eat in Iceland, with a small and cozy shop where you can choose from many varieties of ramen, sit at the bar, and watch the ramen being made.
Another tasty lunch spot is Icelandic Street Food. Iceland is known for their lamb, so try some of their lamb soup. It's also on the more affordable side for Iceland and you get a free soup refill, a bread bowl, and unlimited dessert bites.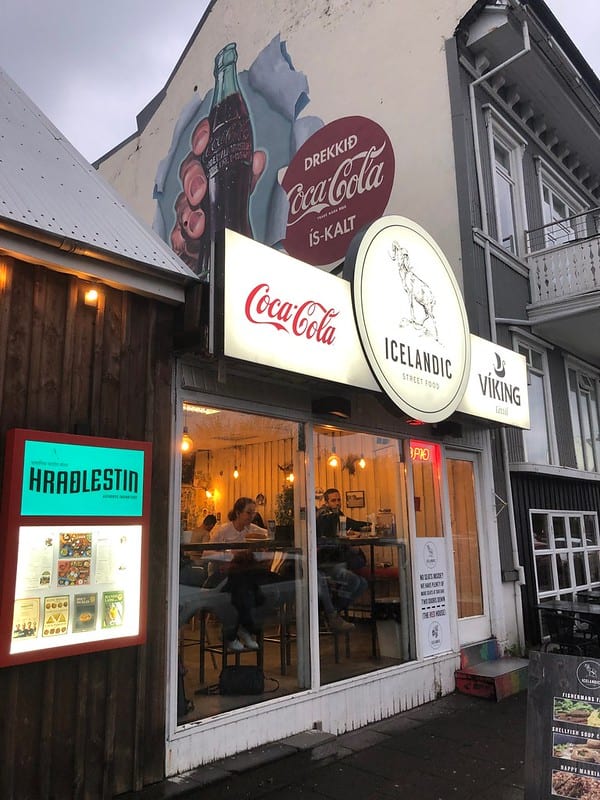 I had the best pad thai of my life in Iceland, and I got it at Mai Thai. This spot doubles as a food market, so just order at the counter, take a seat, and wait for your delicious entree to arrive.
For a smorgasbord of choices, check out the Hlemmur Food Hall or the Grandi Matholl Food Hall. Both have cheaper eats and lots of variety with Mexican, Italian and Asian options.
My two favorite dinner options in Iceland are Ghandi Indian Restaurant and Tapas Barinn. At Ghandi, we had chicken tikka masala, naan and lamb chops. Tapas Barinn had a fantastic, upbeat vibe. We sat at the bar, ordered a sangria cava, and a variety of tapas. They are larger than your typical tapa, so plan accordingly.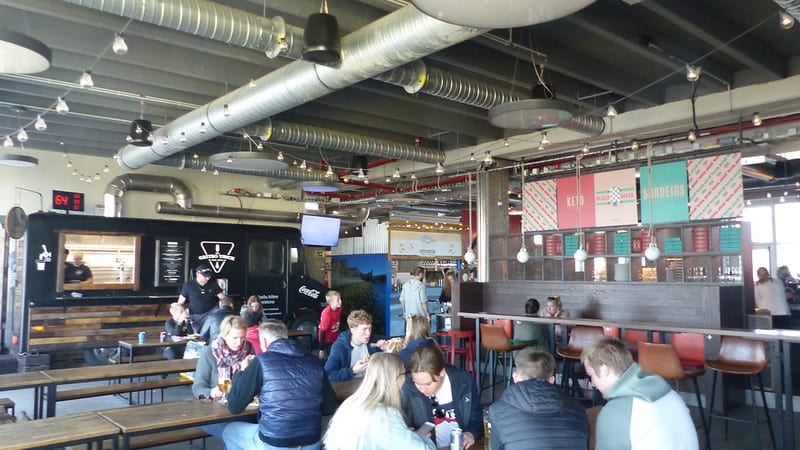 Thrifty Tip #3: The Bonus grocery store is where it's at. Skip a $30-40 lunch in favor of a tasty $5 sandwich from this affordable grocery store. Look for their mascot pig icon and don't make the mistake of going to the 1029 grocery store … it's twice the price. Stock up for breakfast or dinners and bring your own lunch as you head out to explore Iceland.
Soak in the Culture of Reykjavik
On a nice day, a stroll around Lake Tjornin in the heart of Reykjavik can't be beat. You can see many ducks and geese along the walking path. You will also pass the Reykjavik City Hall along the way, which houses the offices of the mayor and is sometimes used for concerts or exhibitions.
This walk is on your way to the National Museum of Iceland for culture stop number one. The museum traces back the history of Iceland all the way back to its Viking roots. There are photographs, many different types of artifacts, clothing, and paintings.
On the way back from the museum, head towards Austurvollur Square. The square is the main gathering spot in town surrounded by a church, a park, and Parliament. There is also a large statue of Jon Sigurdsson, leader of the Icelandic movement for freedom. Protests and rallies still take place in this square today.
Happy Hour in Reykjavik
Yes, happy hour is still a real thing in Iceland. In fact, it's even more important because of the high prices.
We made it our job to find the best happy hours in town during our short stay in Reykjavik.
Thrifty Tip #3: Download the Appy Hour app to do the drink deal-searching work for you.
First stop on happy hour is Café Paris. It's super close to Auturvollur Square. And it feels like Paris in the heart of Reykjavik, with tables facing out for great people watching. They have happy hour deals on wine and aperol spritzes.
Port 9 is a wine bar that is part of the Reykjavik Residences Hotel. They offer deals on their house red and white wines as well as tasty cheese and charcuterie plates. The décor is modern and stylish, with green accents everywhere.
With over 100 whiskeys to choose from, the Dillon Whiskey Bar is a laidback spot to have a drink. It has a cool local vibe and music at night.
Bottom Line
Iceland is a magical country with beauty beyond what you can imagine. But skipping Reykjavik altogether would be a shame.
Don't miss this capital city. The food scene, people, and its charm will make it a top destination.