If you've got a pulse, visiting Tokyo is on your bucket list. And if it's not, it should be.
Japan is one of the world's fastest-growing travel destinations – for good reason. And Tokyo is at the heart of it all: A massive, sprawling capital city that seems to offer every tourist site, smell, bite, and experience you could want. From Shibuya to Shinjuku to Tsukiji and beyond, there are so many pockets to explore.
That can make Tokyo overwhelming, especially for a first-timer. If you're ready to set off for the city known for its cherry blossoms, unique culture, amazing cuisines, and temples and shrines, we've got you.
Getting There & Getting Around
First things first, you need to hitch a flight across the Pacific Ocean.
While flights to Japan can easily break the bank, Thrifty Traveler Premium members have received alerts for round-trip flights to Tokyo under $500. You'll have your choice of flying into Tokyo-Haneda (HND) and Tokyo-Narita (NRT). Haneda is the better bet, as it's just 10 miles or so away from Tokyo's city center. Narita, meanwhile, is at least an hour-long train ride from the city.
Got some airline miles burning a hole in your pocket? Check out our guide on the best ways to get to Japan using points and miles!
Getting from the airport to your lodgings can be expensive if you use Uber or a Taxi. Instead, use Tokyo's amazing metro system – one of the cleanest, timely, and most modern subway systems in the world. It can be intimidating but it's easy to use once you get the hang of it, and you'll save a boatload.
Thrifty Tip #1: Purchase a three-day Tokyo subway ticket starting at 1,500 yen (under $14 USD). It's a super cheap and efficient way to bounce around the city, giving you unlimited use of all the Tokyo Metro lines. Buy them at Tokyo Metro station offices or at either airport. If your trip is longer and you plan to head out elsewhere in Japan, then a JR Pass makes sense. Make sure you wait until you leave Tokyo to activate and you get more bang for your buck and there are seven, 10- and 14-day options to choose from.
Thrifty Tip #2: Cash is king in Japan. Make sure you have an ATM card to access your cash without paying fees like the Charles Schwab debit card or SoFi Money!
Taking on Tokyo By District
Trying to boil down a trip to Tokyo into a list of must-do sites and bites is impossible. Instead, it's best to approach Tokyo district-by-district.
There are dozens of districts spread across Tokyo's 20-plus city wards, each with their own distinct feel. Each district has its own shopping, sights, and restaurants to keep you busy. Save yourself the hours of research as we break down what to see, eat, and do by district.
Shibuya for Nightlife
Shibuya is a hip neighborhood that is known for trendy shopping and nightlife. But it wouldn't be Shibuya without Shibuya Crossing, one of the busiest intersections in the world. Make sure you take the #shibuyascramble challenge and see if you can make it across. Magnet by Shibuya109 (mall with rooftop deck) and the Starbucks on the corner of the Shibuya Crossing offer the best birds-eye views.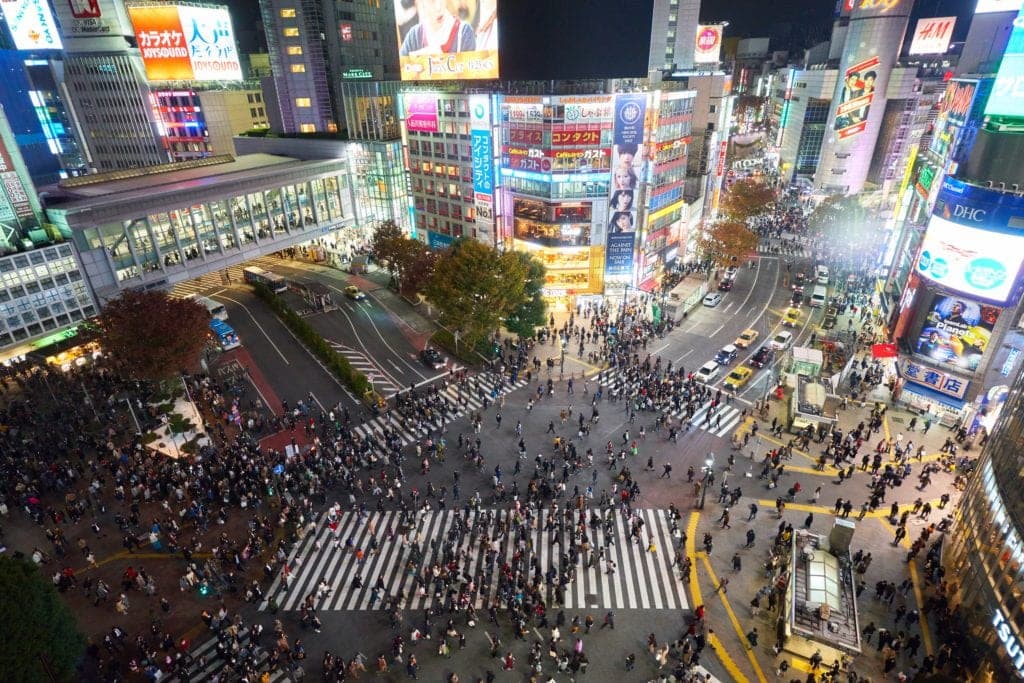 After your scramble, head to the best ramen spot we discovered on our trip, Ichiran Shibuya. It's an exciting ramen adventure as you order and pay a vending machine (cash only of course) and then head to your solo booth to eat. Make sure to check Udon noodles and dipping noodles off your 'Tokyo foods to eat list' while in Tokyo as well.
Head out after ramen to the many shops around the area. Complete your visit to Shibuya with drinks at the Nonbei Yokocho aka Drunkards Alley. This was one of the most fun experiences of our trip sitting at an izakaya (small Japanese pub) that only fit about 10 people – an amazing and authentic night.
Thrifty Tip #3: Convenience stores aren't known for food. Well, not in Japan. If you are looking for a decent meal for about one hundred yen (or $1 US Dollar), stop by the 7-Eleven, Family Mart or Lawson. There are a tremendous amount of hot food pork, beef or chicken options on a skewer. These convenience stores became our go to snack and liquor stops during our trip.
Shinjuku For Your Entertainment Fix
Get ready for the bright neon lights during your visit to the Shinjuku neighborhood, known as Tokyo's epicenter for entertainment.
A perfect example of this colorful neighborhood is the must-see Robot Restaurant. It will overwhelm your senses with lights, neon and noise. It's hard to describe: You simply need to see it for yourself. Book ahead of time, as it always sells out.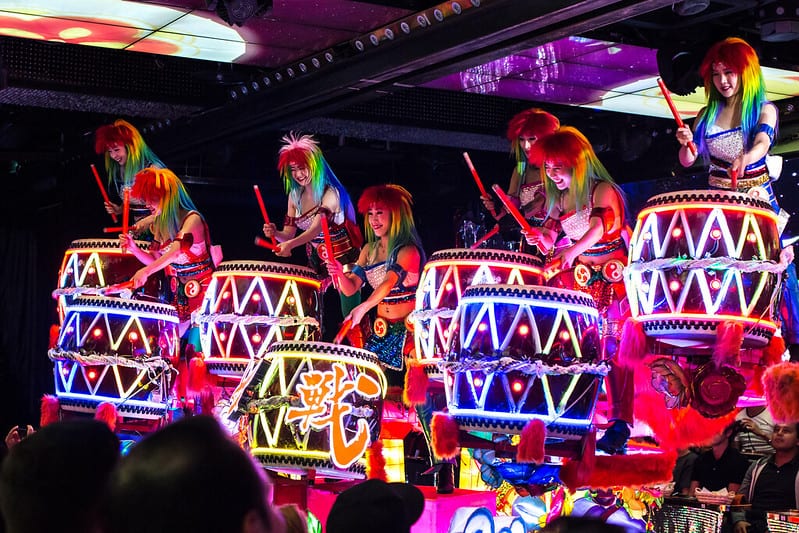 The food isn't great, so instead head to Omoide Yokocho aka Piss Alley (no, we're not joking about that name) near Shinjuku Station for food and drinks at one of 60-plus izakayas before the show. Golden Gai is another option in the neighborhood for food or drinks: Wind your way through six alleys packed with Japanese food.
The service in Japan was amazing, easily some of the best I have ever received. Excellent service and a job well done is a part of the culture. Smile, bow, and say "Arigatou" (thank you) – tipping can be considered rude throughout Japan and is not recommended.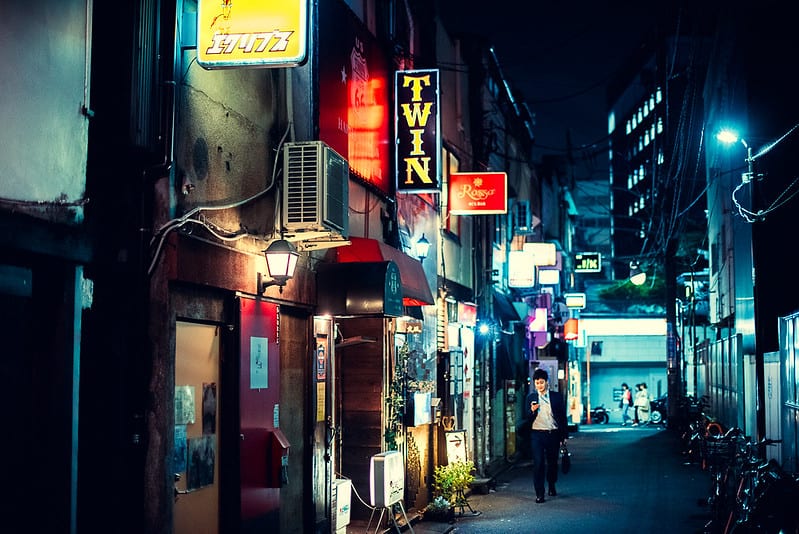 Finish off your night with Tokyo's gaming obsession called pachinko. Imagine rows and rows of colorful and brightly lit machines – a cross between a pinball and slot machine. Welcome to the madness that is pachinko! Just be sure to bring your earplugs.
Harajuku for a Slice of Japanese Pop Culture 
Welcome to Harajuku, the neighborhood where you can find the infamously clothed and styled Harajuku girls.
This neighborhood is full of bright and wild colors across row-after-row of shops. Find the heart of Harajuku on the famous Takeshita Street. Snag a sweet while you stroll along such as a crepe or a cream puff stick – basically a churro filled with a rich custard cream.
There are many types of … let's just call them unusual cafes in Japan – and especially within the Harajuku neighborhood. We opted for a visit to a maid café called Maidreamin. Maid cafes are continuing to increase in popularity in Japan. You'll have to visit to see why. Be sure to follow the rules, like pretending to be a cat and say "meow, meow" when you are ready to order. Good times.
The Meiji-Jingu Shrine is just a stroll away from the Harajuku neighborhood. Beautiful forests line the road as you walk up to the shrine. This monument also houses the largest tori gates in all of Japan. Time it right and you'll see some religious ceremonies taking place during your visit.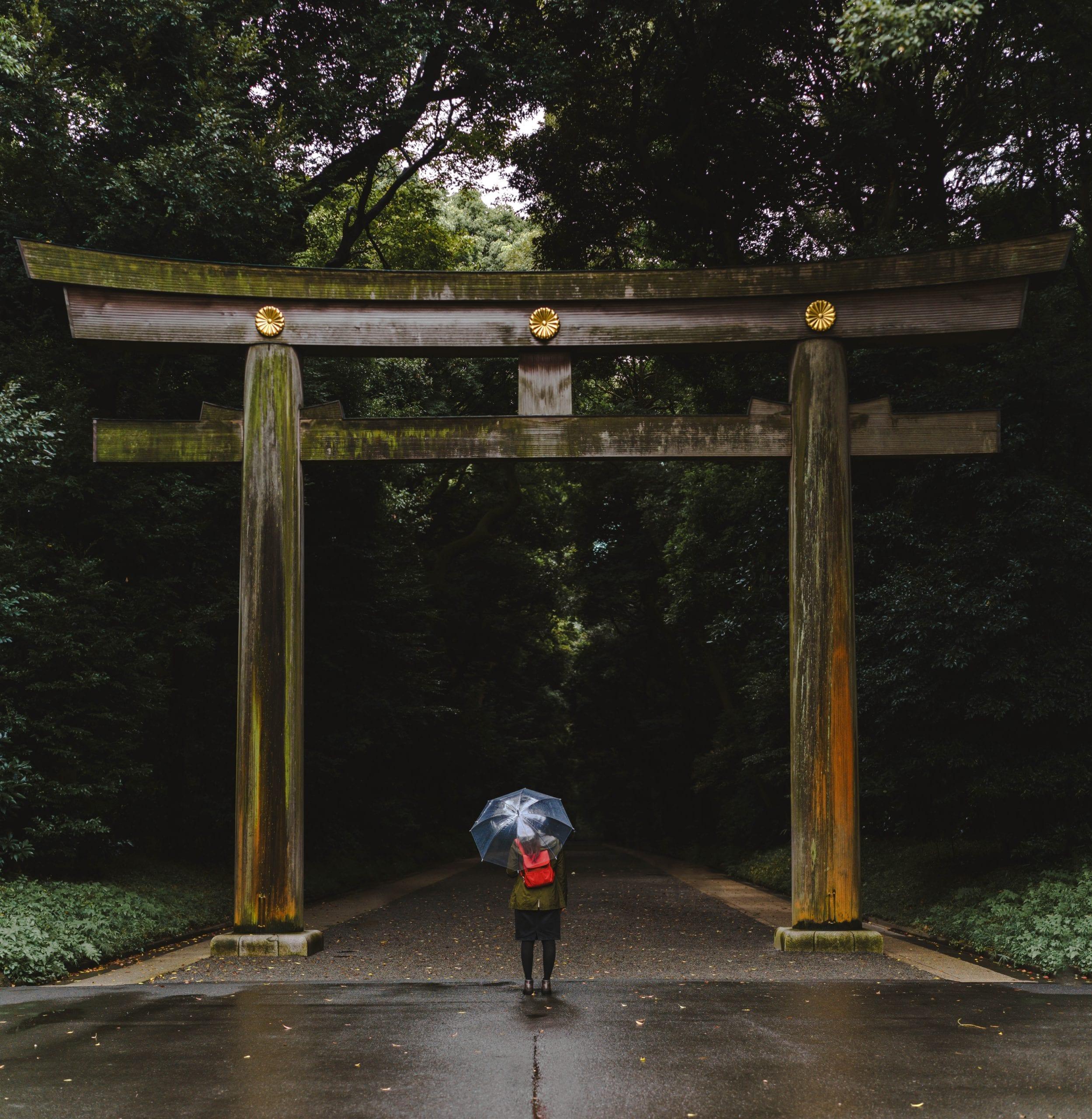 Ginza for Some High-End Glamour
The Ginza neighborhood is known for high-end shopping, think Champs Elysees in France or Fifth Avenue in New York City. If you're in the market for a designer bag or some famous Japanese skincare products, this is your spot. If not, it's worth a quick stroll – not a stop.
One highlight was the Ginza Mitsukoshi department store with an amazing food market in the basement. Keep an eye out for these markets in department stores or train stations across the country – they can't be beaten.
You've heard about the famous fish markets of Tokyo. The live daily Tuna auctions take place at Toyosu Market, and you need to secure a ticket in advance. If you're suffering from jetlag, it's a great way to be productive in the early morning.
Otherwise, make a beeline for Tsukiji Market just south of Ginza. Once the home to those fish auctions, Tsukiji remains host to an endless supply of fresh seafood vendors.
Asakusa for Historical Mecca
One of the biggest tourist sites in all of Tokyo is the Sensoji Temple, the oldest in the city.
Sensoji is crowded with tourists, so it's best to visit first thing in the morning. There are many traditional Japanese experiences to participate in such as getting your omikuji, or fortune. You will enter the temple via Nakamise Street, which is a great place to browse shops and local food stalls.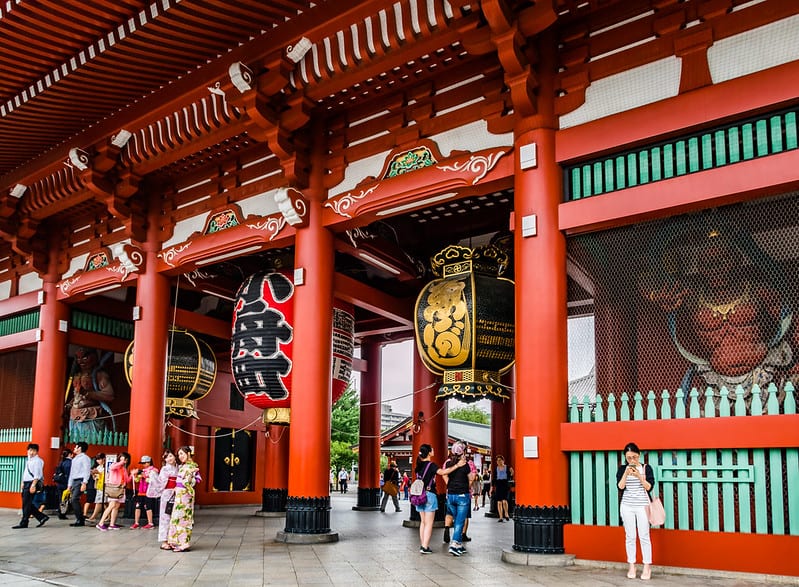 After your visit to the temple, head to Suzukien Asakusa for the richest matcha gelato in the world! You can pick an option between 1-7 for potency and I opted for a 4, which I was happy with.
Tokyo's Imperial Palace
The Imperial Palace is located in the Hibiya district, the financial center of Tokyo. And besides the Imperial palace, there's isn't much to see or do throughout Hibiya.
The palace is open each day of the week except Sundays and Mondays. The grounds are beautiful, and it feels like a forest in the middle of Tokyo with a bamboo forest, koi fish and many gardens.
Thrifty Tip #4: There are free 75 minute tours in English each day at both 10 a.m. and 1:30 p.m.
Tokyo Side Trips
If you are looking for a break in the action from lively Tokyo, consider a day trip to Mount Fuji. There are many ways to get there from the Shinjuku Station, with a train journey taking about two or 2 1/2 hours each way.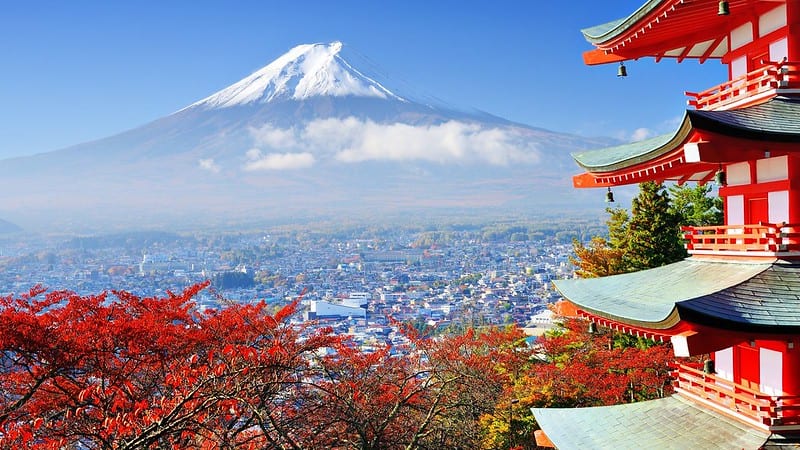 There are many hiking options to explore Mount Fuji's lake, forests, parks and caves. But be sure to time your visit during peak climbing season, from July through mid-September. The mountain is inaccessible in the winter months.
While not quite a day-trip, a visit to Japan isn't complete with a stop in Kyoto, Japan's former imperial capital. Check out amazing temples like Kinkaku-ji, stroll through the iconic black and red gates of Fushimi Inari, and head out to the Arashiyama Bamboo forest.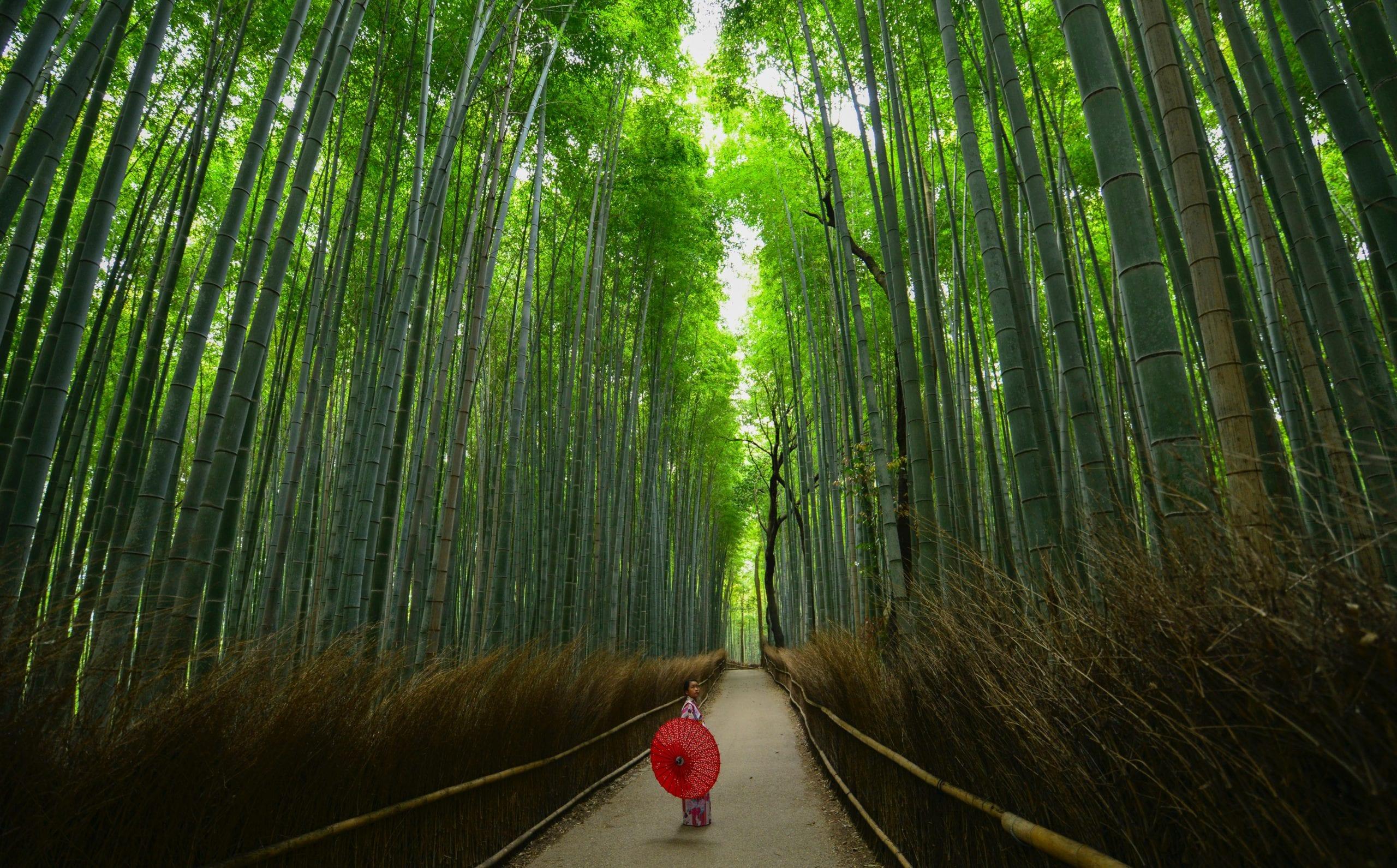 Bottom Line
You came, you saw, you conquered. But, did you?
This was just the tip of the iceberg for all that Tokyo has to offer. You can't possibly hope to cover the entire city in one visit – let alone the country. Now that your interest is piqued, it's time to plan your first – or second or third – visit.