Venice is one of the few places in Europe where you can easily transport yourself back to the height of its power.
Without cars to ruin the view, you can easily picture Venice at its peak in the 13th and 14th centuries when it was a major trade route that opened up the rest of Europe to Asia. Silk, spices, gold, and the first coffee to make it to Europe came through Venice all on gondola-like boats.
Look around, and you'll see the spoils of the sacking and plundering of Constantinople in 1204, all the way up to the gilt bronze horses perched above the entrance of St. Mark's Basilica.
Venice is Venice – there are some must-visit spots.
Of course, you have to stop at the Piazza San Marco with the Doge's Palace and St. Mark's Basilica, walk over the Rialto Bridge. And if you feel so inclined, shell out some money for a gondola ride.
But trust us: There's more to the city. Here are some other favorite ways to enjoy Venice and really immerse yourself in the local culture.
Get 'Lost'
Head away from the main tourist canals and wander. There are so many meandering walkways and tiny picturesque canals to explore. You will stumble across beautiful piazzas (town square) with statues and cafes or lesser-known churches. Each corner you turn will be another beautiful surprise and will make you want to be lost in this city for hours.
Thrifty Tip: Google Maps does not work well in Venice. So you don't actually get lost, grab a city map from your hotel or Airbnb with you. These will have the Vaporetto (water bus) stop locations as well, so when you're tired of walking you can take a more direct route back on the water.
Sit Outside at a Cafe … For Hours
One of our favorite afternoons in Venice was sitting outside at Al Prosecco, drinking glasses of bubbly and spritz's, enjoying the beautiful weather and people watching.
The best part?! The free cicchetti (snacks) that came along with our drinks. Cicchetti (pronounced "chi-KET-tee") is Venice's version of tapas or small bites. Chiccheti is usually served as small, one-bite, open-faced sandwiches with everything from prosciutto to tuna tartare, local cheese, shrimp, and more. These are a perfect accompaniment to go along with a few drinks and relaxation.
Not all ciccheti is free with a drink, but it is usually just a few euros per plate. You can find ciccheti at many small bars or cafes. Stop for an afternoon snack or make a cheap meal out of a handful of plates. Whatever you do, make sure to linger for a while to people watch and feel more like a local.
Visit the Rialto Fish Market
Airbnb hosts have the best recommendations.
When we asked our host in Rome for a must-visit, authentic Venetian experience, she immediately told us to stop at the Rialto Fish Market right away in the morning.
We headed there at about 7 a.m. and walked around for about 45 minutes, taking in all the different seafood for sale that day. It was mobbed by Venetian restaurant owners buying supplies for that day – yet few tourists, which made it feel more authentic.
After strolling through the market, we headed over to a famous Venetian wine bar (called a bacari) named Cantina do Mori. It's of the oldest in Venice, with fantastic ciccheti and wine by the glass. There were no tables, so we ate the ciccheti right at the bar, surrounded by Venetians.
Go to the Opera
What could be more Venetian that going to the opera at one of Italy's most renowned opera houses: La Fenice.
Tickets run from 45 euros to 110 euros (roughly $50 to $122 USD) for performances every weekend night and on a few weekdays, too.
Is opera not your thing? You should still visit the building itself. Open most days from 9:30 a.m. until 6 p.m., you can walk through the theatre for 11 euro ($12 USD) per person – and it's worth it. This is an amazing building to walk through. Walk out into a fancy opera box and view the theater in all of its gilded glory. Read the history and view photographs in a small museum in the hallway. Then walk up the stairs where you can view grand party rooms and buy a cup of espresso and a snack.
Go to Murano & Burano
Visiting Murano, the island of glass-blowing, and Burano, known for its brightly colored fishermans' houses, will take you at least a half-day. Grab a ticket – about 18 euro ($20 USD) for a half-day and get on the Vaporetto and hop on and off to visit the different islands.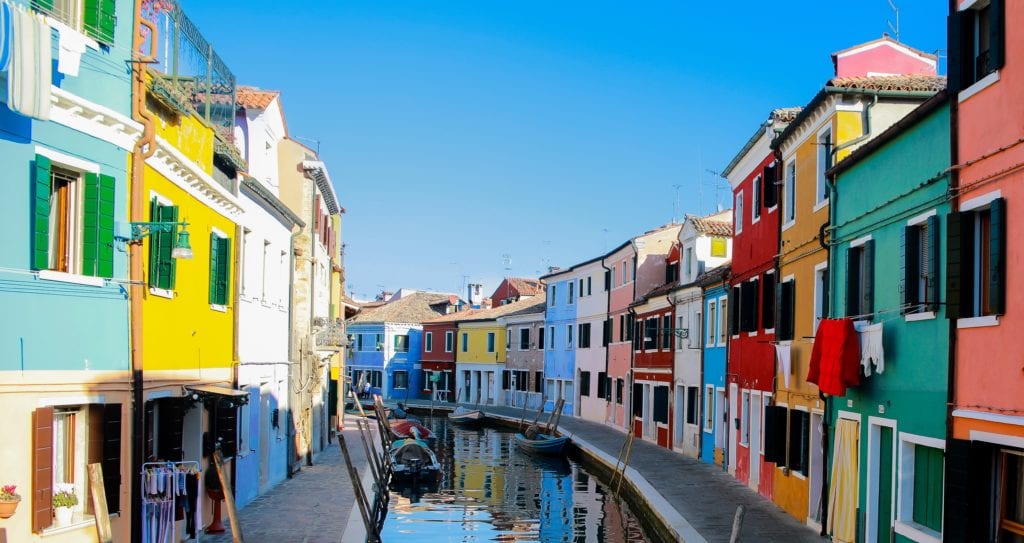 On the island of Murano, you will find dozens of shops with anything and everything made from glass. When you get off the boat, head left, away from the busy part of the island. Walk a little way down and you will come across Vetreria Murano Arte. Every 20 minutes, all day long, you can find free glass-blowing demonstrations for tourists. This is the perfect spot to start your visit on the island.
Burano is so colorful and perfect for photos. Wander around checking out the cute shops with scarves and local handmade lace, and spend a little time sitting at a cafe.
Take a Boat Ride at Night
There is something magical about Venice when the sun sets. Get on a Vaporetto at night and enjoy the lights reflected in the water. Finally, peace and quiet – quite a contrast to the bustle of boats and tourists during the day.

Bottom Line
There is so much to do in Venice. Make sure you don't miss all of the hidden gems and above all, soak in the local culture!
Want the best flight deals and travel tips delivered to your inbox?
Sign up for Thrifty Traveler, and like us on Facebook or follow us on Twitter & Instagram


Editorial Note: Any opinions, analyses, reviews, or recommendations expressed in this article are those of the author's alone, and have not been reviewed, approved, or otherwise endorsed by any card issuer.