Forget Las Vegas for a weekend getaway. It's "Nashvegas" time. 
Regular visitors have lovingly bestowed that nickname on Nashville, Tennessee. But while The Strip is what brings millions of tourists to Sin City each year, Nashville has more to offer than just country music. 
Get ready for a hot food scene, up and coming musicians, history galore, and a laid-back southern vibe. From the must-dos on Broadway to some lesser known haunts, here's everything you need to know to and what to do in Nashville.
When to Go
First things first: there's not a bad time to visit Nashville. With events year-round, you'll always find something to do. Country music fans should consider hitting up CMA Fest in June or the CMA Awards in November, but beware of the crowds!
Summer offers spectacular weather! Visitors over the Fourth of July will be treated to a world-class (and free!) fireworks display and concert series in Riverfront Park. The summer months will typically be a bit more expensive for lodging.
Late fall offers cooler weather and a fabulous Christmas display at the Gaylord Opryland Resort. The display runs mid-November through New Year's Day, featuring a walking tour of endless Christmas trees within the giant resort. Since fall and winter don't bring the crows like the warmer months, the Grand Ole Opry moves from Opryland back to its first home at the Ryman Auditorium in downtown Nashville. That makes it a great time for true country fans to attend the Opry in its original glory.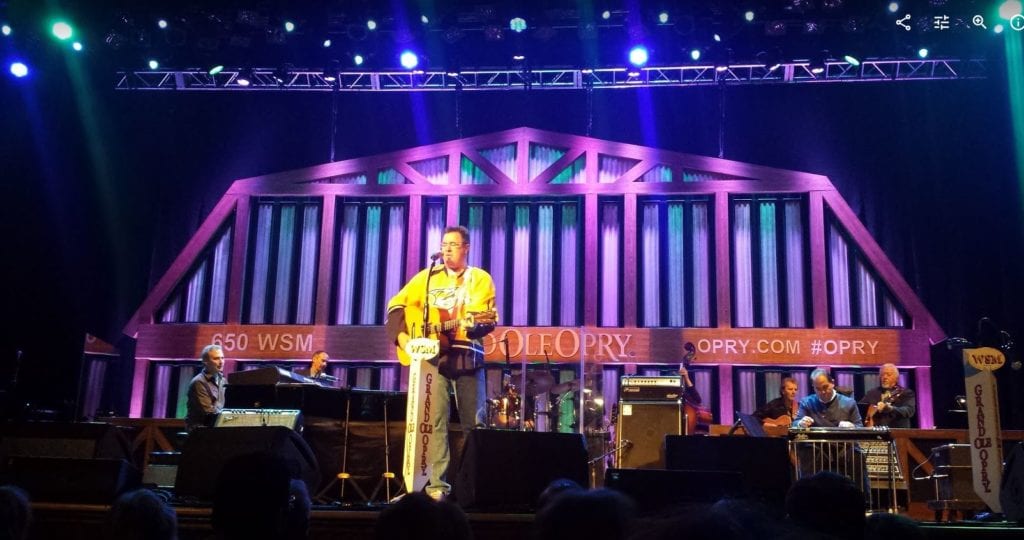 Getting into Town
It's pretty easy to hop on a nonstop flight straight to Nashville (BNA) from most major cities across the U.S. – especially if you live near an airport where Southwest Airlines flies.
And getting from the airport into town is straightforward, too. An Uber into the heart of downtown Nashville will generally cost about $25 each way. Nashville is also a great town for a rental car – drive into town from the airport, and then you've got it if you feel the need to escape Broadway.
But if you're feeling extra thrifty, there's an Airport Express bus that runs straight from the airport into downtown Nashville. And it costs just $1.75 each way. 
Where to Stay
Let's be honest: Everyone wants to go to Nashville these days. And with demand so high, there is no such thing as cheap lodging in downtown Nashville, particularly on the weekends. Fringe areas such as The Gulch and the neighboring suburb of Franklin both offer lower prices if you are willing to drive.
If you're on a budget, your best chance for cheap lodging near downtown Nashville will be on Airbnb. Some "budget" hotels still run $200 or more per night and aren't located in the best areas. However, condos like this one can still be found for a steal every now and then. Read our guide to make sure you pick the best Airbnb.
Thrifty Tip #1: New To Airbnb? Sign up using our link and you will receive $40 towards your first stay (we will get $20 as well).
If you're not on a tight budget but not looking to spend a fortune, Hotel Indigo has a trendy vibe and is located next to Printer's Alley, a longstanding staple of music history in Nashville. The rooms are well-appointed and modern and everything will be within walking distance.
But if you're ready to splurge, the Hilton Nashville Downtown is one of the city's priciest properties. The luxe lobby is enough to stun anyone and is just the beginning of this amazing hotel located in the heart of downtown. All the action is just a quick five-minute walk (no cabs necessary!) and this all-suite hotel has large rooms that are well worth the price. 
Thrifty Tip #2: If you're going with an Airbnb, be sure to link your Delta SkyMiles account to Airbnb and book through deltaairbnb.com to earn 1 mile per dollar on your stay.
What to Do
No visit to Nashville is complete without a stop at the Country Music Hall of Fame. Yes, it's touristy and yes, it's expensive. But you won't find a collection of relics from country's early years to present day like this anywhere else. The museum features rotating exhibits and some must-see permanent items. For starters, make sure to seek out Elvis Presley's 1960 Gold Cadillac.
Spend an afternoon with the Jugg Sisters on the big pink NashTrash bus. This adults-only event is part history tour and part comedy show. Nash Trash features plenty of drinks, lots of laughs, and delightful insider history about Nashville. This usually isn't my type of activity when traveling but I had an amazing time and wholeheartedly recommend it to anyone. Another plus: no bachelorette parties allowed!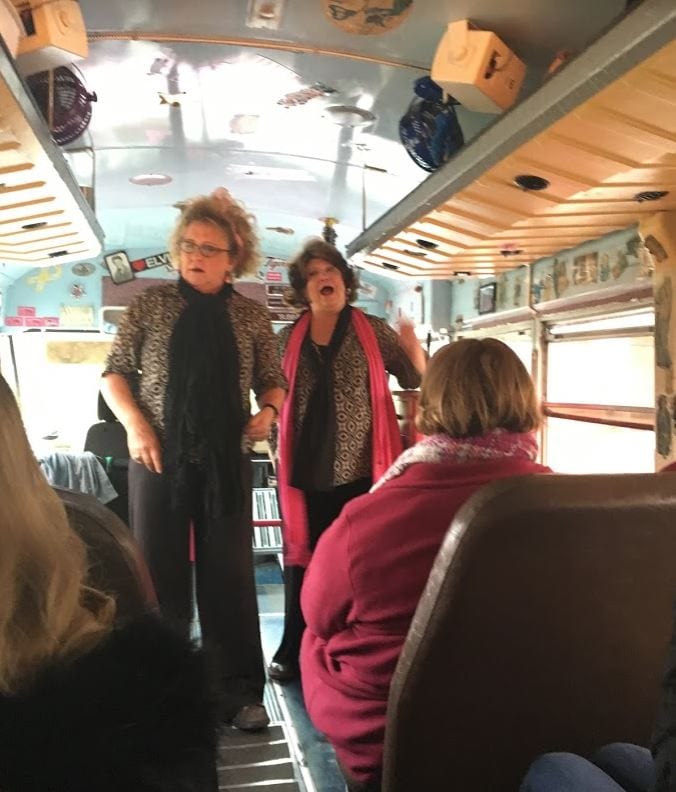 The Listening Room makes a great start to any evening. Enjoy dinner while listening to some of Nashville's most famous songwriters. They'll play acoustic sets of many of their hit songs. I found the intimate twist on these radio hits to be a brand new experience, and loved hearing them played as the songwriters originally intended.
End your night by heading over to Broadway and visiting all the honky tonks. This is why Nashville is called Music City and where artists come to get noticed. You might even catch a glimpse of stars that got their start on Broadway coming back for a visit! While Tootsie's Orchid Lounge and HonkyTonk Central are definitely worth a visit, my personal picks for the best honky tonks on Broadway are The Stage & Legend's Corner.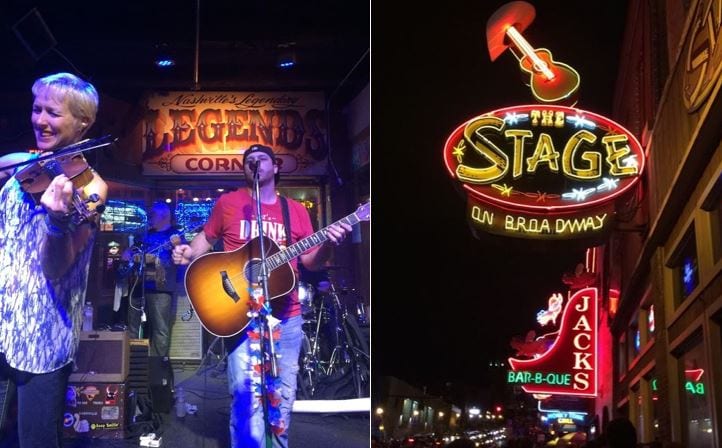 Thrifty Tip #3: Catch a show featuring fiddle player Renae Truex. She's recorded with the likes of Big & Rich and Charlie Daniels and can regularly be seen playing the honky tonks. Trust me, your mind will be blown.
Where to Eat
Everywhere. No, really. 
Hattie B's is a Nashville institution known best for southern fried hot chicken. Get it as a plate sandwich in any spice level your heart desires. The sides are affordably priced and authentically southern. Expect mac and cheese, baked beans, cole slaw, and cornbread. You won't be disappointed in the food or the pricetag. Plan on around $20 for a meal that will leave you bursting at the seams.
For a mid-range meal, head to Rolf & Daughters. It first debuted on the Nashville food scene in 2012 with a menu focused on rustic pasta and whole animal butchery. It earned attention from the likes of Bon Appetit and Eater almost immediately. Since then, it has transformed into a national sensation. Rolf & Daughters is best experienced as a group due to the tapas-style nature of the menu. Expect dinner to set you back about $60-$70 per person with drinks.
If you're ready to splurge on a meal of Nashville's finest, head to The Catbird Seat, a spot currently led by two chefs who met while working at two-Michelin star Noma. The restaurant has generated tons of buzz over the past few years and offers an open kitchen concept using locally sourced ingredients. After a quirky elevator ride, you are seated around the counter.
A 10-12 course tasting menu is prepared before your eyes with a handwritten menu as your guide. The menu is challenging, thoughtful, and exciting  – and it's not cheap. It will set you back about $125 per person with an additional charge for drink pairings.
But on a scale of 1-10, a meal at The Catbird Seat is "life-changing." And it's completely worth the price. 



Thrifty Tip #3: Arrive about an hour before your reservation to enjoy a pre-dinner cocktail at The Patterson House. This speakeasy-style bar below the Catbird Seat delights with upscale craft cocktails.
Where to Drink
You can get both great wine and a healthy dose of history at Belle Meade Plantation just 20 minutes outside downtown Nashville. The plantation dates back to the 1800's and has a strong history rooted in Thoroughbred breeding. Tours run 45 minutes and are $24 for adults. The price includes a tasting of the winery's fun Thoroughbred-themed wines at the end of the tour. If you prefer to just visit the winery, you can book a visit here.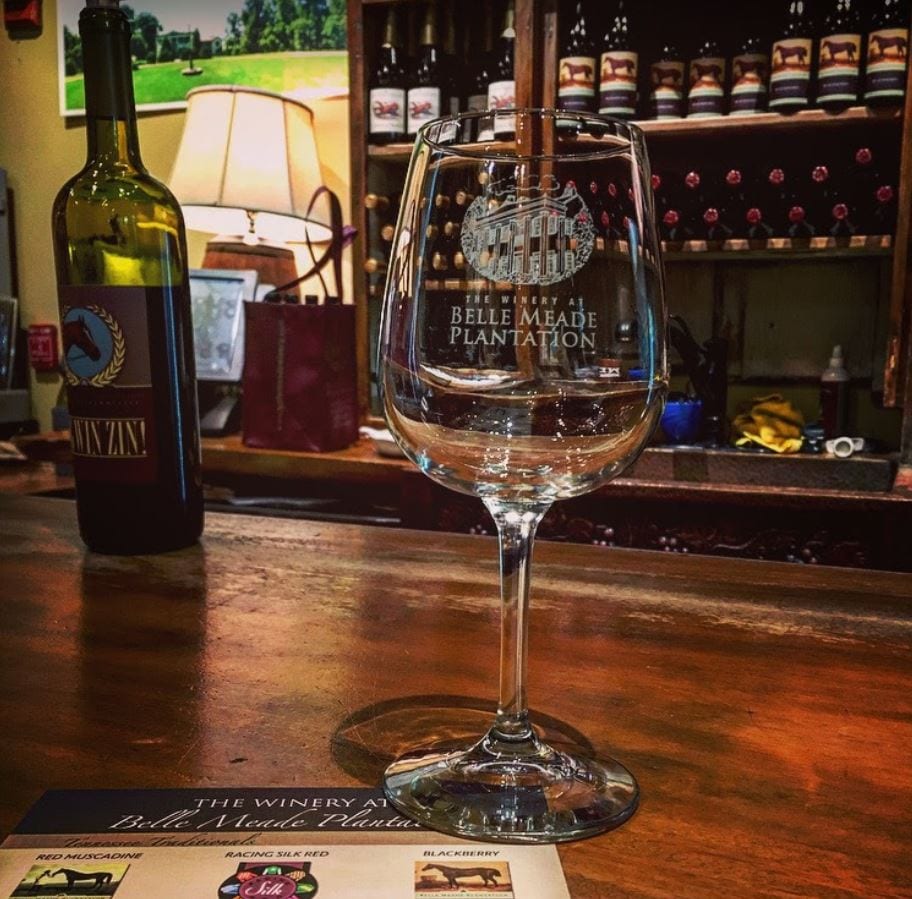 If beer is your thing, Yazoo Brewing is one of Nashville's most famous breweries. They have a large taproom and host daily tours and tastings. At $8 per person, it's one of the best deals in town. The price includes a souvenir glass and free-flowing pours during the tour.
But if liquor is what you're after, head over to Corsair Distillery for a unique experience. Corsair is a micro-distillery focusing on small-batch artisan spirits. The spirits have won a fair amount of accolades and the distillery offers a variety of tour experiences that you can enjoy. Public tours start at $12 with a tasting included. They also offer cocktail classes and more in-depth small group tours.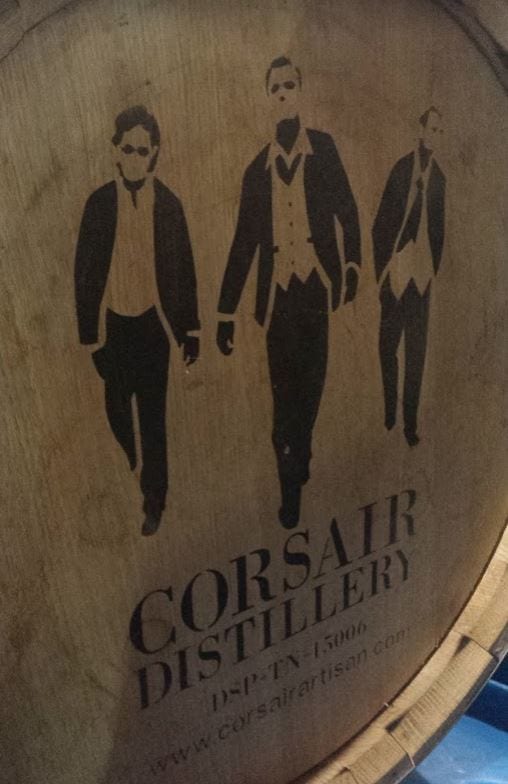 Bottom Line
From the flashing lights and honky tonks on Broadway to an up and coming food scene, Nashville doesn't disappoint. You'll be planning your second visit to this vibrant city before the first is even over.
Subscribe to our Newsletter, like us on Facebook, and follow us on Twitter & Instagram

Editorial Note: Any opinions, analyses, reviews, or recommendations expressed in this article are those of the author's alone, and have not been reviewed, approved, or otherwise endorsed by any card issuer.