Have you stayed in a hostel abroad? I often book hostels for my accommodations for travel in Europe and Asia, because it fits my thrifty budget and I love the added benefits that staying in a hostel provides.
There are many hostels that have popped up in major U.S. cities, including Los Angeles, New York, Boston, Las Vegas, San Francisco, San Diego, and more. I was surprised to see that many have been around since 2016 or longer.
I've often used Hostelworld to book hostels while traveling abroad but hadn't heard much about hostels here in the U.S. or utilized them during domestic trips.
I recently had a chance to stay at the HI Phoenix – The Metcalf House, and in this post, I will share my experience.
Booking Process
I was booking accommodations for a recent trip to Phoenix with my family. I arrived a day earlier than the rest of my family did, so I decided to book a hostel for my first night in Phoenix. I chose a hostel in this case because I was looking for cheap and easy accommodations in a central location.
I use Hostelworld.com to book hostels around the world. Never stayed in a hostel before, or have some reservations about giving it a try? Read my reasons why you should stay in hostels.
I did a quick search for hostels in Phoenix, and unlike other major cities like New York or Los Angeles, just one hostel was available in Phoenix, so I decided to give the HI Phoenix: The Metcalf House a try.
As I mention in my guide to booking hostels with Hostelworld, I always check out the photos, amenities, and reviews. This hostel had great reviews and provided amenities such as free WiFi, free breakfast, air conditioning, and a kitchen area. I decided to book the 6-bed Female Dorm for $34.50, the same price as a 10-bed Mixed Dorm.
Check-In Process
I was arriving after 10 PM and this particular hostel does not have 24-hour reception, so I requested a late check-in time by replying to my confirmation email.
As I was dropped off by my Lyft ride from the airport, and I was surprised to see that this hostel was nestled into a quiet neighborhood. The HI Phoenix: The Metcalf House was just a short drive (about 10 minutes) from the airport, and just a few blocks from Roosevelt Row, the arts district in downtown Phoenix.
I paid for my stay and the receptionist went over the rules of the hostel. She also gave me the key codes to get into the main hostel shared space, the gate to the rooms, and the key code to my particular room. After signing my understanding of the hostel rules, she took me on a tour of the hostel.
Shared Spaces
I checked in, in what is also the main shared space. It has a piano, a couch, and a large circular table for guests to sit and eat.
Like other hostels I've stayed at, there are maps on the walls and suggestions of local things to check out, hikes to do, and restaurants to try. There was also a weekly schedule of activities and hostel-coordinated events.
Next, the receptionist showed me the communal kitchen. This is where the complimentary breakfast is served each morning starting at 8 AM, which includes toast, cereals, and other options. All kitchen items are available for use for those who are looking to cook during their stay. Some communal dry goods are available as well.
This other room has a small communal space with a computer, TV, couch, and a few board games.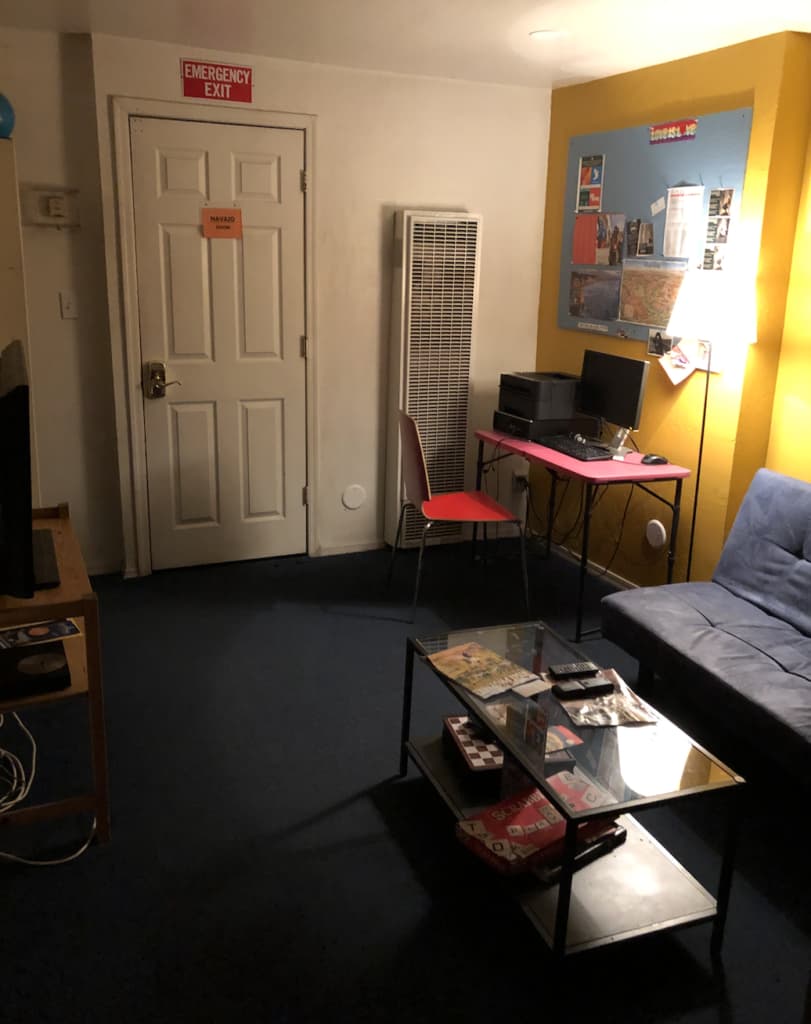 Outside in the front lawn of the hostel is patio furniture. The front of the house is decorated in vibrant colors, which are complemented by the palm trees and other greenery out front.
They also have this fun little seating area out front, with some pillow seats and a nice canopy. This would be a great place to sunbathe or chat with friends and play music.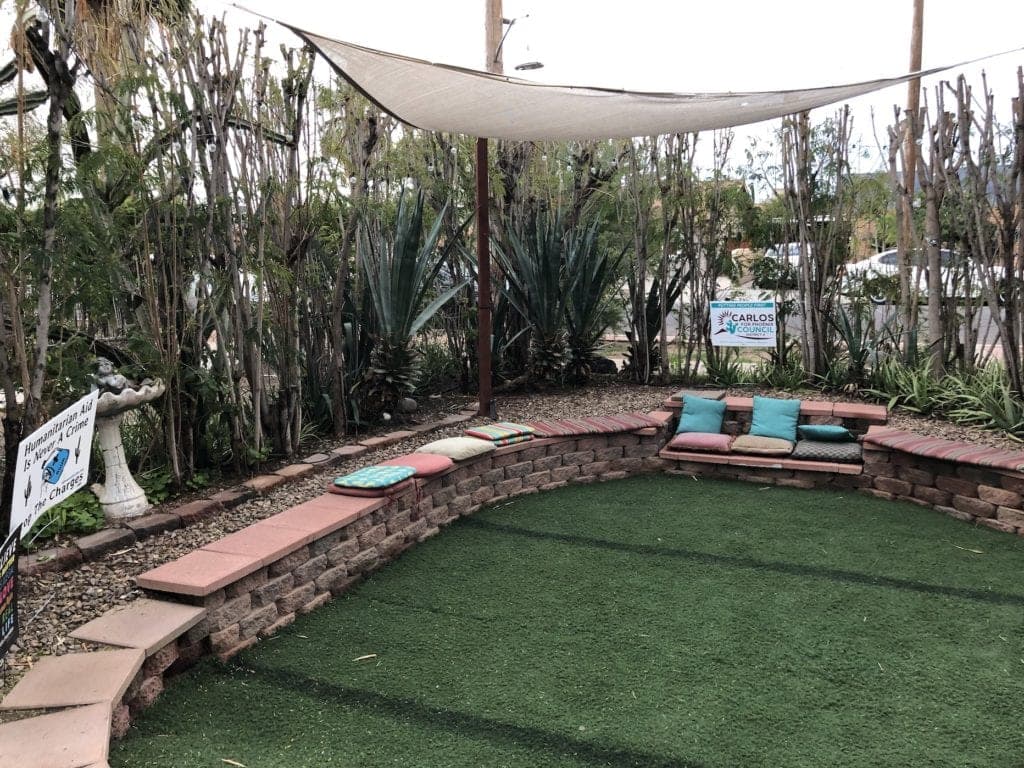 Dorm Space
On the right side of the building is a gated door to the rooms. I used my key code and the receptionist showed me to my dorm room.
The dorm room was pretty typical of a 6-bed Female Dorm: three bunk beds with a fitted sheet, loose sheet, comforter, and pillow. I wouldn't say the bed or pillow was the comfiest I've ever had in a hostel, but it worked for the night. There was also a small closet with small lockers (without locks — remember to always bring your own to lock up valuables!) and space to store large luggage.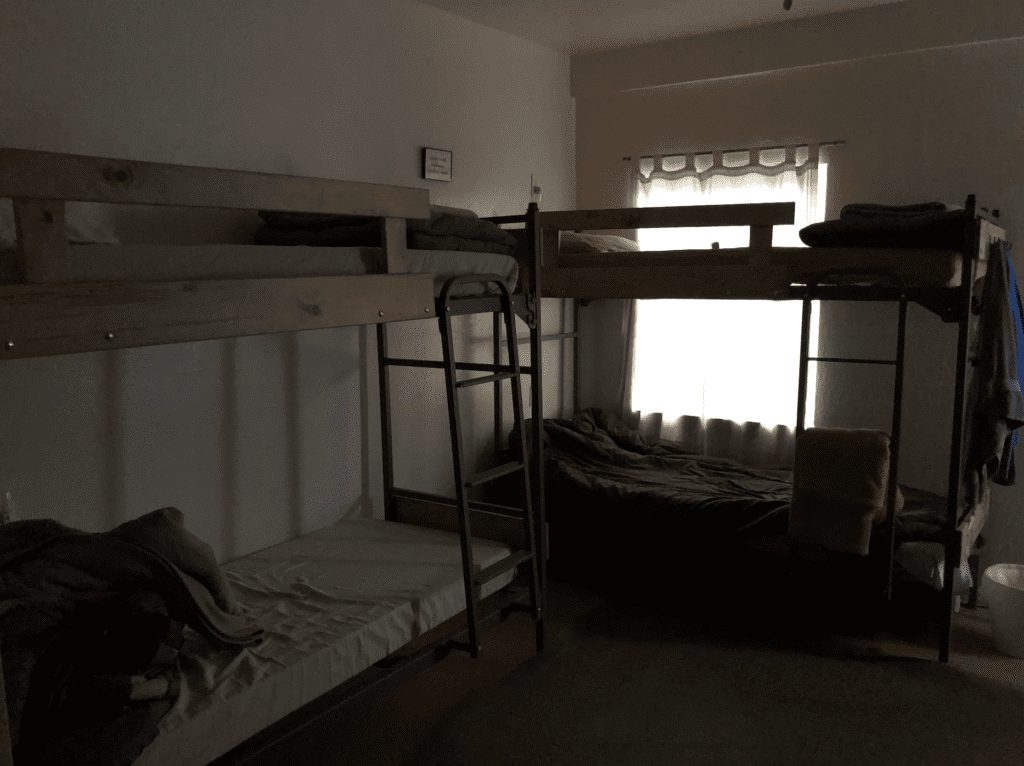 My particular room was only at half occupancy: two other guests besides myself occupied the other two bottom bunks. One of the women was really chatty and wanted to talk even at the late hour I arrived, and the other came back into the room later around midnight and immediately went to sleep.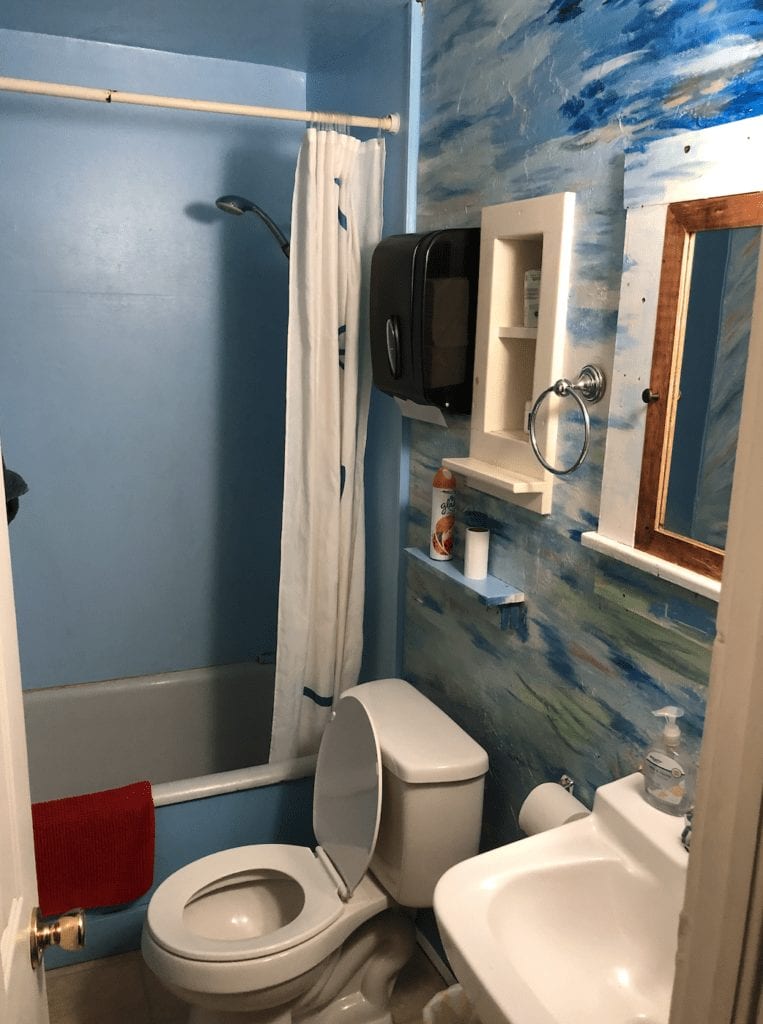 I was glad to have an attached bathroom — at some hostels, the bathroom is shared, like a locker room. Pictured above is the small bathroom that was attached to our 6-bed dorm room.
Overall Rating
Overall, I'd give the HI Phoenix hostel an 8 out of 10.
The Pros? The shared spaces were clean and comfortable. The free breakfast and large kitchen were a major bonus. The free WiFi worked well. The receptionist was accommodating and helpful.
The Cons? The beds and pillows were a little uncomfortable. Lockers were too small to fit my laptop and only fit small personal items.
Should You Try a U.S. Hostel?
I often recommend hostels abroad without hesitation. Especially when traveling alone, I find that staying in hostels keeps me social, gives me ideas of things to do, and hostel staff are always so helpful in providing local recommendations.
As with all hostels, it's a roll of the dice who you stay with. I felt a bit frustrated with my chatty and probing fellow dorm-mate. This is no fault of the hostel itself, but rather a challenge for guests staying in any hostel. You'll be staying with strangers who may have a nasty cold, may want to talk your ear off, or may come back drunk late at night. Usually, hostel guests are pretty respectful and if there are any issues, hostel staff will address them. However, it's an important aspect of hostel stays to keep in mind.
My hostel stay cost $34.50 for a bed in a 6-bed dorm. I've been spoiled with crazy cheap hostel beds in Europe and Asia for less than $15. It makes sense that their cost of operation is higher. However, I'd recommend comparing prices and amenities of a hostel to an Airbnb private room or shared space to see if it is your cheapest option.
While some Airbnb private rooms seem cheaper, the cleaning and service fees add up quick. Below is an example of an Airbnb private room I considered, thinking it was cheaper than my hostel bed. However, after all the Airbnb fees, it ended up over $50!
When deciding if you should stay in a U.S. hostel, consider the following:
How much does getting the cheapest price for your accommodations matter to you?
Do you prefer to stay with others, or stay alone?
Are you comfortable staying in a 6 – 10-bed dorm with others?
Does the hostel have the amenities you'd want to have for your stay?
Does the hostel seem to have a clean, safe, and fun atmosphere?
Does the hostel have great reviews?
If the hostel you're considering checks these boxes, give it a try!
Bottom Line
As with all accommodations when traveling, make sure you do your due diligence and check the hostel's profile out. View all the photos, read the reviews, and research the amenities provided. You may find that for your next weekend getaway or domestic trip, a hostel is a perfect fit for you.