This year's ski season isn't over yet. Chairlifts across the world are still running and places like Utah and Lake Tahoe are still getting foot after foot of fresh snow. Yet I've already purchased all of my ski passes for next season … and even booked a ski trip in January 2024 already.
Why? Because right now is when you can lock in those 2022-23 ski passes at the cheapest prices. That's why I've been preparing for next season for weeks: Spring savings make my oft-expensive pursuit of sliding down snowy mountains more affordable.
Don't worry, there are still some ways to save on a a last-minute ski trip. But the best bet for saving is getting ahead of things – way ahead of things. From ski passes to hotels and rental cars to even flights, booking in advance is the key to saving on what can be an expensive wintertime activity. And all the major ski pass programs (which can offer huge savings for avid skiers and snowboarders) have put their passes on sale for the next season – at the best price you'll find.
So if the lifts are still running all over the world for this current ski season, why is right now the best time to plan for next year? Let's take a look.

Not sure where to start? Check out our roundup of some of the best ski resorts for the year ahead!
Season Passes are at their Cheapest
If you're planning to hit the slopes a few times or more each year, buying a season pass – or even a mega ski pass that covers multiple resorts – can unlock some huge savings. These season passes won't get any cheaper than they are right now. 
Whether you're looking to ski in the Swiss Alps or at Little Switzerland Ski Area in Slinger, Wisconsin, the best deals on next year's seasons passes all usually spring up during … well, spring.

At my small, local ski hill in Minnesota, buying a season pass during the spring sale saves you about $250 on what eventually sells as a $550 season pass. It's a no-brainer for both you and the mountain. They get a little cash infusion from their members heading into the quiet summer months, and you get a cheap pass in your pocket so you're ready to rip as soon as the snow flies next fall.
But it's not just individual resorts and the little guys who offer big savings in the springtime. The mega ski passes that offer days at dozens of different resorts around the world are also offering sales this time of year. The Ikon Pass, Epic Pass, the Mountain Collective Pass, and the Indy Pass have all announced their introductory pricing for the 2023-24 season.

2022-2023 Ski Passes
Ikon
Epic
Mtn. Collective
Indy Pass
Adult Price
$1,159
$909
$570
$279/$379* (*no blackout dates)
Teen Price
$859
N/A
$460
N/A
Youth Price
$369
$463
$155
$149/$189*
Total Number of
Destinations
55
63
24
120
Unlimited Access Destinations
15
41
N/A
N/A
Additional Destinations
40
22
N/A
N/A
(prices current as of Mar. 21, 2023)
Choosing the right pass is important to help you save money on your ski season. Check out our guide comparing the Epic vs Ikon Pass (as well as some of the smaller options.)
But let's take a closer look at what's different this year and why right now is a great time to buy.
Ikon Pass
With 55 ski destinations in its portfolio – and a minimum of seven days of skiing and riding allowed at each one – the Ikon Pass is one of the ski pass behemoths. It also comes at a big price of over $1,000.
But if you ski or snowboard a lot, that price tag might well be worth it considering many major ski areas now routinely sell $200-plus single day lift tickets.
At $1,159 for the full Ikon Pass, it's the cheapest price point you can expect that pass this year. Historically, Ikon Pass does not run any promotions or discounts. This is as cheap as it gets. Last year's final price was $1,179, which was up by $100 from its initial price.

The Ikon Pass has an unbeatable roster of resorts. Even if you ski just five days on the pass, it's definitely worth purchasing one. Many of these resorts are some of the best in the world and offer day ticket rates exceeding $200 pretty routinely.
For reference, my wife purchased just four ski days at Big Sky – a resort on the Ikon Pass – for more than $1,000 this year. When compared to the overall price of the Ikon Pass, it was a hard pill to swallow. We won't be making that mistake again this year.
This is the pass I'm purchasing for my 2023-2024 ski season. It's tough to stomach that $1,159 up front purchase, but I have at least 10 days tentatively planned on this pass for next ski season and I'm sure a few more will pop up, too.
Epic Pass
For the 2023-2024 season, the Epic Pass will start off at a price point of $909. It's a small increase of $50 from last year's final rate.
The 2023-24 passes on sale now include 10 "Buddy Tickets" if you buy it this spring. Last year, that same promotion ended April 21, for reference. Buddy Tickets give you significant discounts on day ticket window rates for family and friends. The actual rate varies resort-to-resort, but can offer significant savings.

Just like the Ikon Pass, roughly five days of skiing will make purchasing the pass worth it. Epic resorts like Vail and Whistler-Blackcomb are known for having $200-plus day lift tickets.
The Epic Pass offers more destinations (63) for a lower cost (~$200 less than Ikon), so on paper, it's a better value. If you live near Epic resorts in Colorado or in the Midwest or on the East Coast, this pass makes a ton of sense.
Let's say live in the Twin Cities suburbs, where local hill Afton Alps is an Epic Pass member. That means you get unlimited access to that hill, plus all of the other hills on Epic's roster out west.
For my money, however, Epic Pass actually has fewer substantial mountains on its list than Ikon does. Epic has many smaller, local ski areas on its list of resorts, making that total of 63 total destinations a little misleading. I would count a total of 38-ish major resorts on Epic's list, with the rest being smaller Midwest or East Coast hills.
It's still a fantastic value if you plan to ski five or more days, and definitely deserves your consideration if you are planning a trip to one of those major resorts in 2024.
Mountain Collective
The Mountain Collective is a great budget option for people interested in many of the resorts featured on the Ikon Pass at about half the price.
The Mountain Collective's introductory offer of $570 will only last a few months before it climbs again. By the holidays last year, the pass was more than $600.
Passholders get just two days at each resort on the list, which features Ikon crossovers like Alta, Aspen, Big Sky, Jackson Hole, Snowbird, Taos, and more. Mountain Collective also added Sun Valley and Snowbasin last year, but dropped Lake Tahoe-area favorites Palisades Tahoe and Mammoth Mountain.

If you purchase the pass during Mountain Collective's introductory offer this spring, you also get to select a bonus third day at a resort of your choice. I held a Mountain Collective pass this season and used my bonus third day on a trip to Big Sky that saved me approximately $270.
Plus, one of the best perks of the Mountain Collective is the pass also gives skiers and riders 50% off all additional days at its destinations. During my aforementioned Big Sky trip, I used my three free days (thanks to the bonus day) and paid only half price (about $125) for my fourth day.
The Mountain Collective is a great option for skiers and riders who don't like the look of that $1,100 price tag on the Ikon Pass, but are still planning a few short trips in 2023-24. Because of the two-day limit, it's better for a weekend warrior-type skier or someone who isn't planning a full-week trip anywhere next year. It's also a pretty good hedge if you haven't purchased a major pass before, but are looking to dip your toes into the waters of the mega passes.
One inconvenience of the Mountain Collective is that you have to go to the ticket window at each resort to get your lift ticket or card. However, Mountain Collective has been experimenting with a card of its own to potentially remedy this problem in the future.
Indy Pass
The single best value in skiing is back for 2023-24. And it just keeps getting better.
The Indy Pass has expanded its member resorts to over 120 for next year. Skiers and riders get two free days at each ski area, which are all independently-owned resorts. It's all of the skiing, and none of the crowds.
This year's Indy Pass starts at the exact same introductory rate as last year of $279 with blackout dates – or $379 without. If you're dead set on skiing Christmas, MLK Day, or President's Day weekend, then the no blackout-pass is the best way forward for you. The cost of the Indy Pass is also expected to climb slightly as the year goes on. It's safe to say that this is the best rate you'll find in the calendar year.
Indy Pass is currently has a waitlist open for a special sale beginning Friday, March 24. A wider public sale is currently set to begin April 1 at slightly higher prices.

The Indy Pass is a pretty amazing deal. I've purchased an Indy Pass two years and while I didn't use it as much as I would have liked this season, I'm still going to get a ton of value out of it. Just two or three ski days will make this pass worth it, no problem.
The biggest drawback to the Base Pass is the blackout dates. At the most popular Indy Pass resorts, it means skiing on holidays and weekends is blacked out. I went to Mt. Hood Meadows a few weeks ago for a Friday and Saturday weekend trip and I was able to use my pass Friday no problem, but had to pay full price Saturday due to a blackout date I wasn't aware of.
That could make the Indy+ Pass an even more amazing value at a higher price point, since it frees you from planning around blackouts.
If you're a nordic skier, the Indy Pass also has a ton of cross-country ski area partners that give you free access. And for backcountry skiing enthusiasts, you get two free days at Bluebird Backcountry (a human-powered-only ski resort with no chairlifts) in Colorado, too.
Score The Cheapest Ski Gear
Passes, flights, rental cars, and hotels can add up on a ski trip. But to get started, you need some gear. And all that equipment and apparel you need can get pricey, too.
That's why it pays to plan ahead. You'll generally find the best deals and biggest sales on skis, snowboards, boots, poles, and soft goods like jackets and pants over the next two months or so.

Ski shops all over the country, especially the brick and mortar stores, are going to start looking to unload last year's models of equipment and apparel in preparation for their summer selections and next year's new winter models, too. Pop in to your local ski shop to see if there are some savings to be had.
The savings on ski and snowboard equipment in March and April can be enormous. I purchased my last pair of skis for $400 in April. The next fall, I saw REI selling the same pair for $1,100. Don't fall into the fall and holiday trap! Think ahead to save big.
Travel Bookings for Next Winter are Open
There's no best day to book flights. There's no hard-and-fast rule about the best time to book flights or how far in advance you should book to get the best deal, either. Flight prices are fickle and constantly changing.
But if you've poked around on Google Flights lately, you might have noticed you can book flights for all of January and out into February of 2024, too. Most airlines start selling flights about 11 months in advance – aside from Southwest, which releases its schedule in batches.
I've already booked my flights for a ski trip for next year to the notoriously snowy destination of Hokkaido, Japan, grabbing seats on the Minneapolis-St. Paul (MSP) to Tokyo (HND) nonstop flight for just 70,000 Virgin Atlantic points roundtrip. As you can see from the flight deal below we sent to Thrifty Traveler Premium+ subscribers, some rates were even better thanks in part to a 30% transfer bonus from Capital One to Virgin.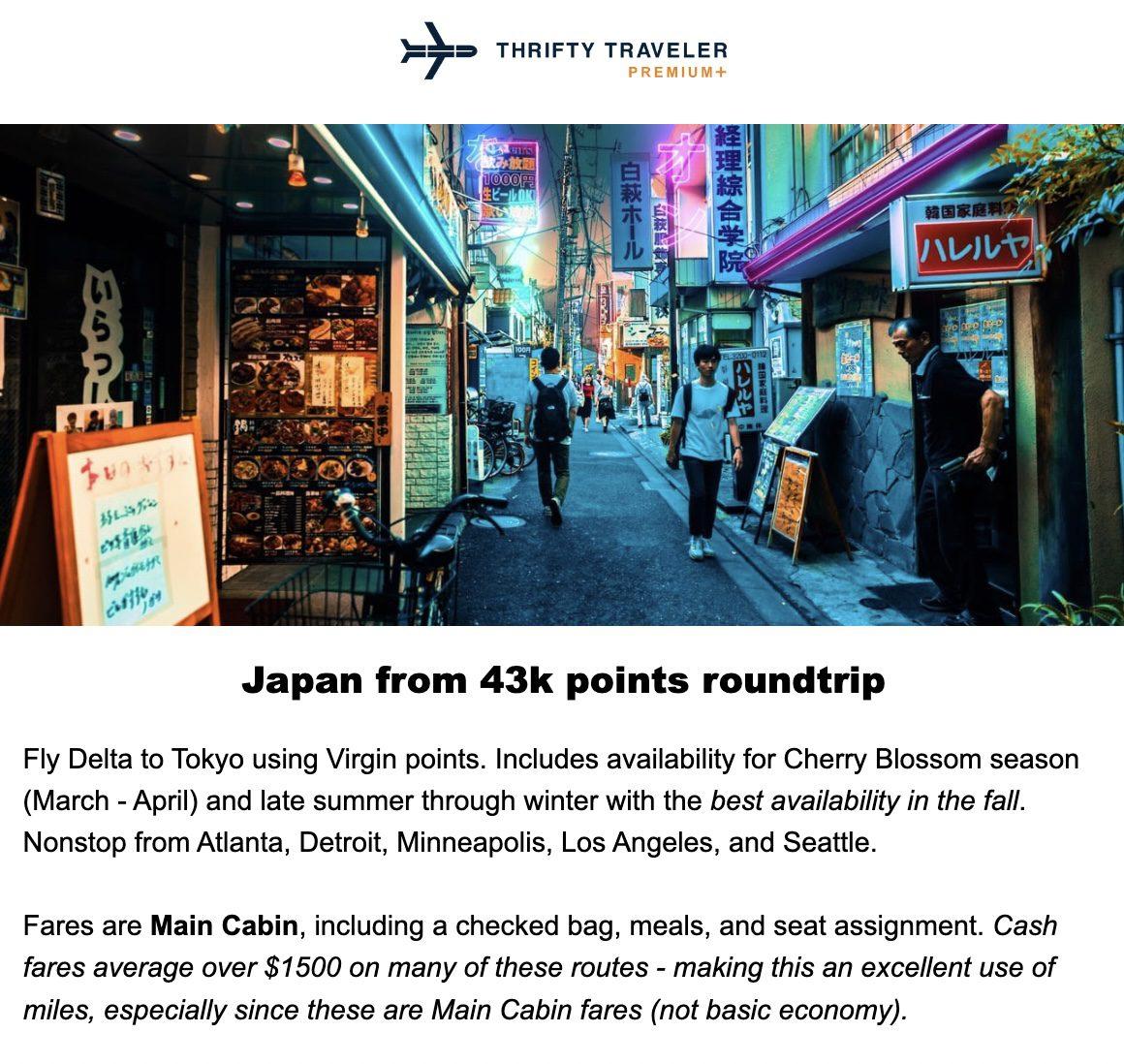 But even for a ski trip much closer to home, it can pay to book your flights early. It's always the most expensive part of your ski trip if you bought a pass like the Ikon, Epic, Mountain Collective, or Indy Pass. Let's look at an example.
Earlier this year, I flew SWISS Economy from New York City (JFK) to Geneva (GVA) to go ski Chamonix, France. Chamonix is bucket list fodder for most skiers and riders. If you book right now for next winter, you can book that seat at just $603 roundtrip to put you within an hour's bus ride of the world famous ski region. And because it's about 10 months away still, you can pick almost any date you want for that low price.

It can be even more important to plan ahead (and book far in advance) if you're looking to use your points to fly – especially for a flight as nice as that same route to Switzerland in SWISS Business Class. You're welcome.

This Thrifty Traveler Premium+ deal included great availability in January 2024, which puts you in the heart of the Alps in the heart of ski season. Nothing will limber you up for a sunny run at Brevent or Flegere, or a hard-charging powder day at Grand Montets than some champagne and a good-night's sleep in a lie-flat seat on the way there.
Read next: Why You Should Put Chamonix on Your List This Year or Next
At the very least, set yourself a few Google Flights price alerts so you can get an email as soon as fares go down for next winter.
Bottom Line
If you want to maximize the value of your 2023-24 ski or snowboard season, the best time to make some of those purchases is while the snow is still flying this season. It's right now.
Spring brings the best deals in the snow sports industry. Season passes, gear, and travel are all at some of their cheapest price points right now. So even if you still have a ski trip coming up this season, starting taking a good, hard look at next winter if you want to save.
That way, when the snow starts falling next season … all you have to do is ski!