Calling all students, teachers, and young adults under 30: If you haven't heard of the ISIC card, you are missing out.
College may not be cheap, but taking advantage of your "student" status can be a small win. When I was an undergraduate and again as a graduate student, the ISIC card was one of my thrifty travel secrets. This card helps identify you as a student in nearly every country, unlocking discounts on pretty much anything you do while traveling.
That means you can save big money on admission fees, transportation, dining, and more. Here's what the ISIC card is, how to get one, and how to maximize your savings abroad.
What is an ISIC Card?
ISIC stands for International Student Identity Card (ISIC), which helps identify you as a student in over 130 countries. This card provides over 160,000 benefits and discounts on travel, shopping, accommodation, food, entertainment, excursions, transportation, and more. For example, you can unlock discounts on Hotels.com, Booking.com, Expedia, Emirates Airlines, Qatar Airways and more to save on travel. Once you're in another country, bring your ISIC card to museums and attractions to get discounted student admission.
Check out the full list of countries and discounts here.
Oftentimes, your U.S. college ID isn't enough to prove you are a student abroad. This card is the only student ID that is internationally recognized for student discounts around the world.
Am I Eligible for an ISIC Card?
Any student age 12 or over can apply for this identification card. This is particularly handy for students in high school, college, or doctoral students looking to travel and take advantage of student discounts.
To apply for an ISIC card, you will need to provide the following:
Proof of identity: a valid driver's license, national identity card or passport
Proof of student status: university ID card, letter from the school, or official enrollment letter
Digital photo with a white or blue background (for the ISIC card)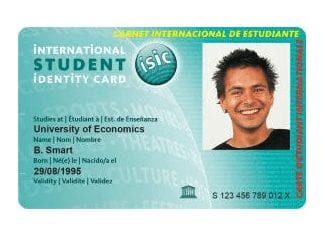 If you are a full-time teacher, the ISIC company also offers an International Teachers Identity Card (ITIC) that provides similar benefits. You can find more information on that here.
If you're not a student or teacher but are under 30 years old, you can also get these benefits with the International Youth Travel Card (IYTC). Yes, you 29-year-old travelers are still considered "youth!" That's got to make you feel good.
These cards cost $25, and you can apply for any of the above-mentioned cards (ISIC, IYIC, and ITIC) online here. Make sure you have the required documentation to prove that you are or were recently a student. For teacher and youth card options, requirements are less strict.
You can pay to have it shipped to you, or get it made and picked up at a local ISIC printing office (typically at university study abroad college offices). This small price will quickly pay for itself with savings abroad!
ISIC Card Benefits
The Global ISIC card benefits include 2,800 museums and cultural sites, 2,400 hostels and hotels, 1,200 airlines, buses, coaches, trains, and ferries, 2,700 attractions, and 21,000 restaurants, bars, and entertainment events all around the world.
I have used my ISIC card to get half off or free admission to attractions all over the world. I got an instant 25% off Busabout transportation for a backpacking trip, and have saved hundreds of dollars on museum, cathedral, and palace admission tickets in Europe and Asia. Here are some of the best ways to use your ISIC card discounts and services.
Admission Tickets
This is my favorite way to use my ISIC card. Most attractions and sites around the world give a discount for students. However, if you don't have a student ID to prove you're a student, you'll be out of luck. Simply show the admission ticketing booths your student card and ask for the student discount. This has saved me up to 50% off (and sometimes gotten me free admission) on so many entrance tickets.
A few favorite places to get student discounts include the numerous cathedrals in Western Europe and the Great Wall of China. Make sure to have your card with you to get the discount wherever your travels take you.

Restaurants
Dining bills always add up quick while traveling abroad – especially in Europe. To save some "dough" while out eating pastries, ask the barista or server if they have a student discount. Many places will honor a 15-20% discount on student tabs.
If you're a planner, you can also check out the list of restaurants, cafes, and bars that provide student discounts in the city you're visiting. Click on any of the listed restaurants to see where the deals are available.

Activities
Doing a city tour in Europe? Going skiing or skydiving? Yes, there are student discounts for that, too. Check out the discounted activities in your destination city you have access to with an ISIC card. Even if you don't book in advance, always ask for a student discount when purchasing tickets for any activity, excursion, or attraction. You never know until you ask, and the worst thing they can say is no.
Transportation
Be sure to ask if there are any student or youth discounts when you book and purchase transportation abroad – especially in Europe and Asia. For most sightseeing tours like the Hop-On Hop-Off City buses, you can save 25-50% off the regular fare.
I saved 25% on my Busabout Hop-On Hop-Off month pass for bus travel throughout Europe. Oftentimes, you can also get discounted public transit tickets with an ISIC card.
Oh, and ISIC cards work domestically, too. Keep your ISIC card in your wallet to get discounts on transportation, attractions, restaurants, and more within the U.S. For more details on discounts and benefits within the US, see ISIC's discount list here.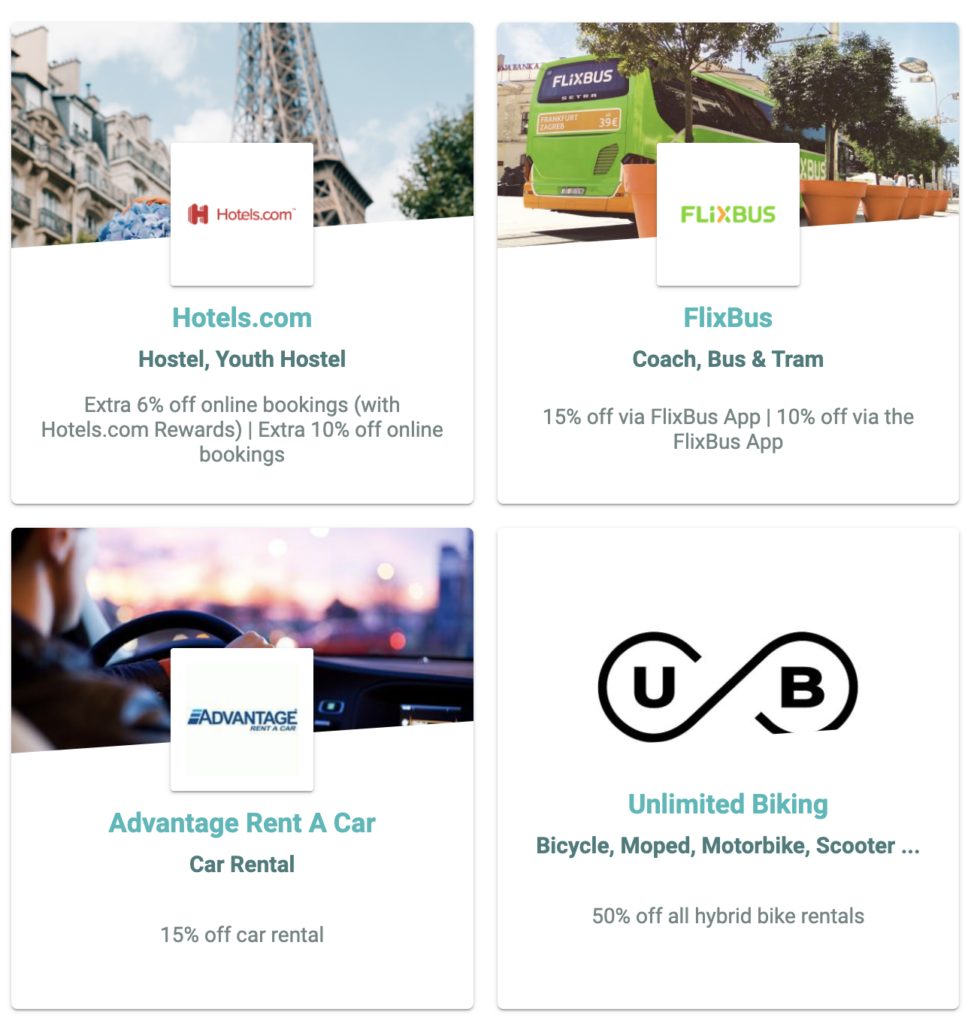 Is the ISIC Card Worth It?
If you travel internationally and buy admission tickets, eat at restaurants, use transportation, and stay at hotels or hostels, then yes! I've saved hundreds over the years by using my ISIC card and asking for a student discount. Here's how I saved over $100 on a trip with the ISIC card.
In just one trip, you can easily recoup the cost of this card. Be sure to book your accommodations and travel with your student discount whenever possible. Once you're on your trip, keep your ISIC card in hand for any admission tickets, restaurant bills, public transportation, and other travel costs that arise. You'll be surprised how many places offer student discounts!
Bottom Line
I am a huge fan of the ISIC card: it has saved me a ton of cash during my travels. Applying for the card is easy, so long as you are a student or under the age of 30. Grab your card and start keeping more of your hard-earned cash while you travel.