Got a newborn and ready to head abroad with your little one? Before you plan your trip or start packing, you'll need to get your baby's passport.
With all the talk of delays, hard-to-get appointments, and pandemic disruptions, getting a passport these days seems daunting … no matter your age. But applying for a passport for a baby (or any minor) requires a few more steps. That includes an in-person application with both parents – and the child.
But take it from me: Getting a passport for baby is not as challenging as it seems. A few months ago, we went in to apply for a baby passport for our then three-month-old ahead of our first international trip together. And thanks to expedited service, got a newborn passport back in just three weeks! It all comes down to a good passport photo, a bit of organization, and … well, that's it.
Here's everything you need to know to get a passport for your baby. And keep in mind: These steps also work if you're getting a passport for any child under 16.

When to Get a U.S. Passport for Baby or Child
You can get a passport for your baby or child at any age!
I would recommend getting a passport right away, even if you don't have any immediate international travel plans. That way when cheap flights pop up or a big family trip to Mexico comes together, you won't have to scramble to get one for your child in time. Traveling abroad with a baby can be daunting, so why add more stress by rushing to get a passport last-minute?

One factor to keep in mind is that passports for kids have to be renewed every five years, rather than every 10 years for travelers 16 and up. So if you know you'll be heading abroad sometime in the next few years, getting a passport for baby sooner rather than later makes sense. If you know you're not traveling internationally anytime soon, you might want to hold off a bit.
Luckily, renewing a passport is much easier than getting a brand new one. That's especially true with a new online passport renewal process coming soon – it's being slowly rolled out and tested right now.
What You Need to Apply for a U.S. Passport for Baby
Fill Out Form DS-11 and Print it Off: You can find that form here.
An appointment (maybe): Some passport office locations require an appointment in advance.
Original Birth Certificate & Copy: Yes, you need both an original birth certificate and a copy of the birth certificate. I'd recommend requesting a few original copies for an extra fee when your child is born. That way, you can send off their birth certificate and not worry about getting it back. You should get it back, but it may take much longer to return than the passport. The birth certificate is used both for proof of U.S. citizenship for your child as well as proof of parentage.
Copy of Parents IDs: You will need to bring identification with you to your passport appointment, but you'll also need photocopies of your IDs. They can do copy your IDs for you during your appointment, but bringing copies yourself can speed up the process.
Passport Photo: Some locations will take a photo for you, but you can bring your own. Here are the exact requirements for a child's passport photo from the State Department.
Apply In-Person with Both Parents: With a few exceptions (including single parents with legal proof), both parents or legal guardians need to be present with the child to apply for the child's passport.
A Check: Yes, really. You'll pay at least two different fees when applying for a passport for your child. There's an acceptance fee of $35, which can be paid by credit card. But the application fee of $100 must be paid by check. If you want expedited service, tack on an extra $60.
For all of the specifics and a detailed list of everything you need, use the Department of State website.
How to Get a Good Passport Photo for a Baby
There are a couple of ways to get a good passport photo of a baby. Some passport acceptance locations also take photos. You can go to a pharmacy like Walgreens.
But you can also take a photo of your child yourself. The photo must…
be in color.
be less than 6 months old.
be a clear image.
have a white or off-white background.
have both eyes open.
have your child's whole face in full view.
The State Department states that they "realize that an infant's pose and expression are challenging to maintain for a photo" and gives tips for taking an infant's photo.
One of the tips is to lie them on a white sheet and take the photo from above … but that won't work for everyone. We found it super difficult to get our then six-week-old to keep his head straight. Plus, the State Department requires that you "there are no shadows on your baby's face, especially if you take a picture from above."
So the best tip is to cover your car seat with a white or off-white sheet and take a picture of your infant inside. This is explicitly allowed, and it was definitely the easiest way to get a good photo of our newborn. The car seat keeps them upright and also keeps their head in place and facing forward.
We took the photo ourselves but you could also use this method at a pharmacy or another
How Long Does it Take to Get a U.S. Passport?
It really depends.
According to the State Department, current processing times are eight to 11 weeks for regular service and five to seven weeks if you pay for expedited service. But those are just averages – and keep in mind that they don't include shipping times. In practice, many Americans (and their babies!) are receiving their passports much faster – or slower.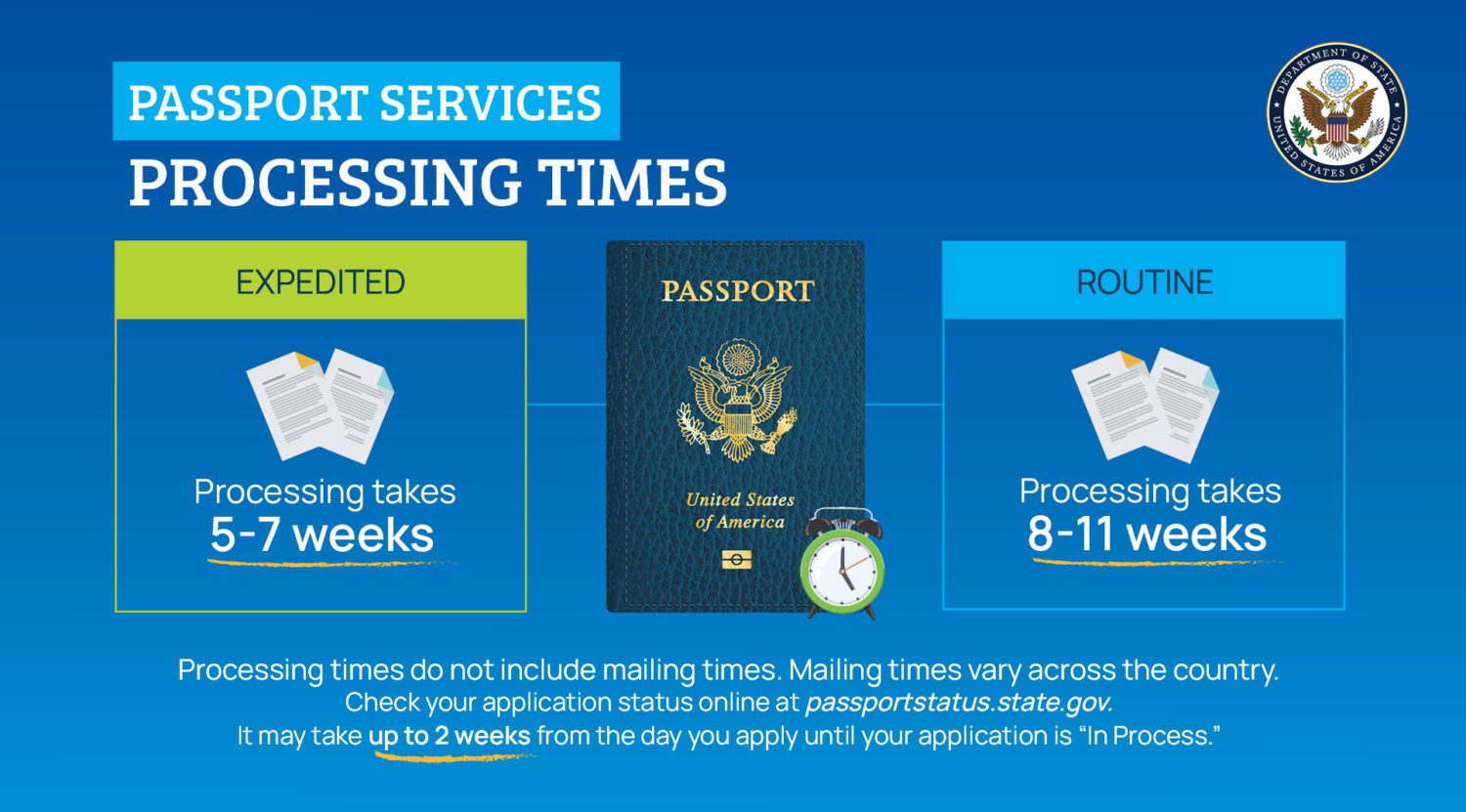 When we applied for our son's passport back in March 2022, we paid for expedited service and got his passport in three weeks. But you should never assume that you'll get a passport back that fast. Be sure to give yourself plenty of time to get it back before a trip abroad.
You can also apply for expedited services at specific locations in certain circumstances such as an emergency or urgent travel and get your passport even quicker.
Once you've applied, you can track your child's application status online. Travel.state.gov says that it could take two weeks from the day you apply until your child's application status is "In Process." If your passport status update says "Not Available," your child's application is still on the way and hasn't been received yet.
Bottom Line
It takes a little organization and planning but getting a passport for your baby or child is ultimately fairly easy. Get the process started long before you have your big trip abroad planned so you have your baby's passport in hand and will be ready to hop on the next cheap flight deal somewhere fun!