It's hard to get a true feel for Norway without leaving the city and spending time amongst the country's rugged natural landscape.
With a total population similar to that of the Miami metro area, Norway isn't a country of cities – but rather a collection of small towns and villages, perfectly set within its jagged coastline and majestic peaks and valleys. To know Norway, you need to get out and breathe the fresh coastal air or take a hike and explore its scenic mountains.
Lots of first-time visitors plan to check out one of Norway's many fjords to get a sense of the natural beauty the country has to offer. These narrow waterways were carved out thousands of years ago by glaciers and created an inlet for seawater to flow between the steep cliffs. To say their grandness and beauty are breathtaking would be an understatement.
A couple of the country's fjords have even been designated as UNESCO World Heritage Sites for their cultural and historical significance. This distinction protects them from development and ensures they'll remain unchanged for years to come.
With family heritage tracing back to Norway, the country had long been on my travel bucket list and after seeing photos of the Norweigan fjords, visiting them became a top priority on my family's trip to Europe last month.
The Norwegian fjords are truly a place where pictures just don't do it justice. One minute you're caught in a fog, feeling like you're trapped in a black-and-white movie, and the next you're mesmerized by some of the most lush green mountainsides you've ever seen. The best way to experience these natural marvels is by boat where in every direction you turn, you're surrounded by jaw-dropping scenery.
After my recent trip to Norway, I can definitively say, the question isn't if you should start planning your own trip – but when. Here's why you should add a tour of the Norwegian fjords to your itinerary and how to make it happen.
How & Where to Do It
With over 1,000 fjords throughout the country, there's no shortage of choices for taking in some of the best scenery that Norway has to offer.
First-time visitors to Norway flock to the most accessible fjords  – those within driving distance of major cities and cruise ports – while return visitors will likely be in search of the harder-to-reach, hidden gems.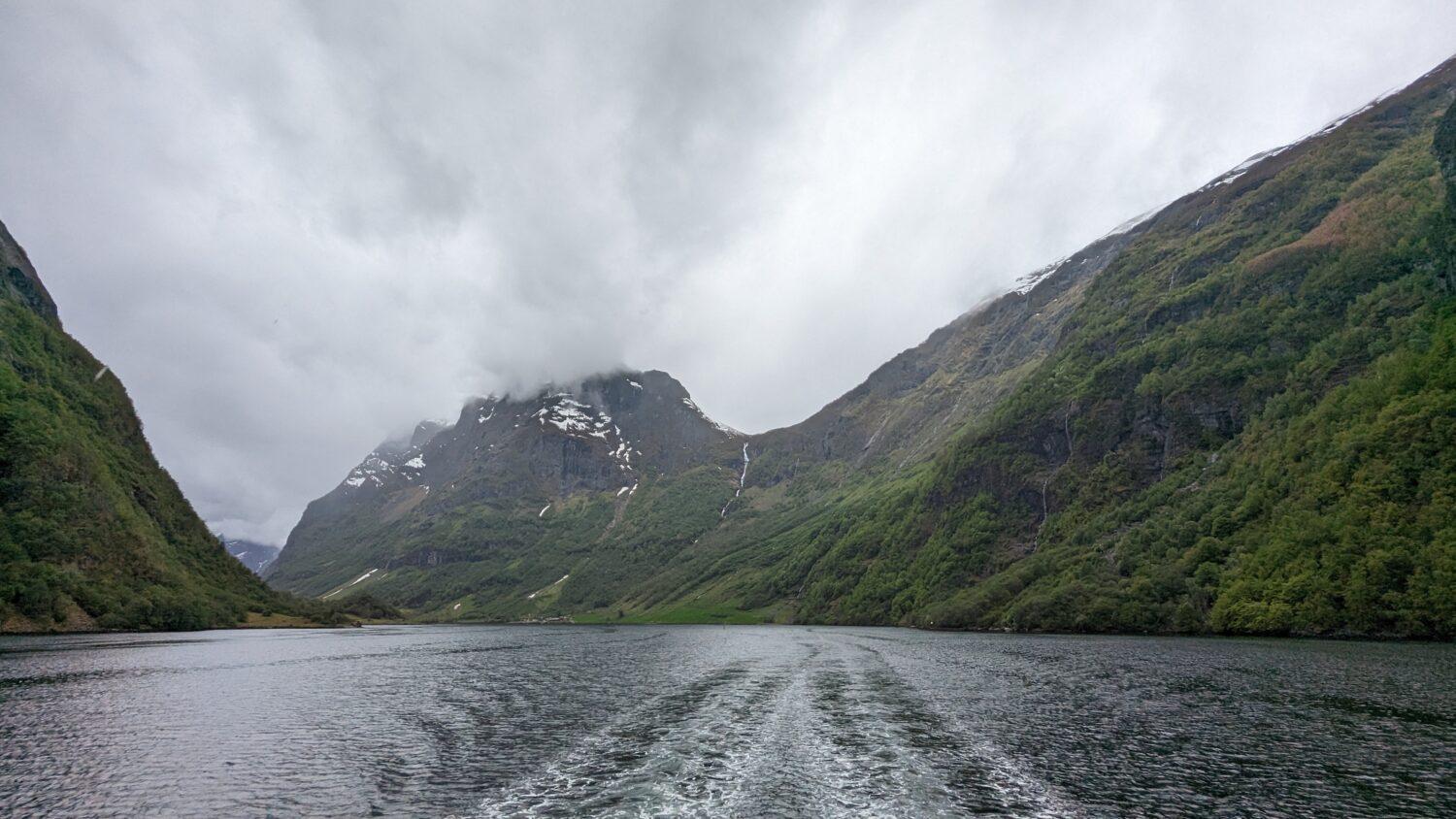 When deciding which fjord is right for your time in Norway consider how it will fit with the rest of your trip. If you fly into Oslo, many of the top fjords will require a minimum two-day journey with an overnight somewhere along the way. This can be a good way to see more of the country, but it could also be a deal breaker for someone on a time crunch.
Alternatively, if you start your trip in the lovely port city of Bergen, you'll be at the doorstep of several of the country's most beautiful fjords. Bergen is a great option for seeing the fjords, whether you're arriving by air or even if you're stopping here as a port of call on a European cruise.
When it comes to how you'll see the fjords, you'll find several private and public chartered tour options through travel sites like Viator and Trip Advisor. Or you can piece it together yourself as I did by purchasing ferry tickets through a site like Norway's Best.
No matter which fjord you choose to visit, you're bound to be awed by the natural beauty and left plotting a return visit. But here are a few of the top options for first-time visitors.
Geirangerfjord
Geirangerfjord is one of two fjords designated as UNESCO World Heritage Sites. Part of what makes Geirangerfjord so magnificent is its deep blue water and two can't-miss waterfalls: Seven Sisters and Bridal Veil.
The Seven Sisters waterfall is especially impressive in the springtime as melting snow from the mountains above floods the seven streams that combine to make up the over 800-foot-high waterfall.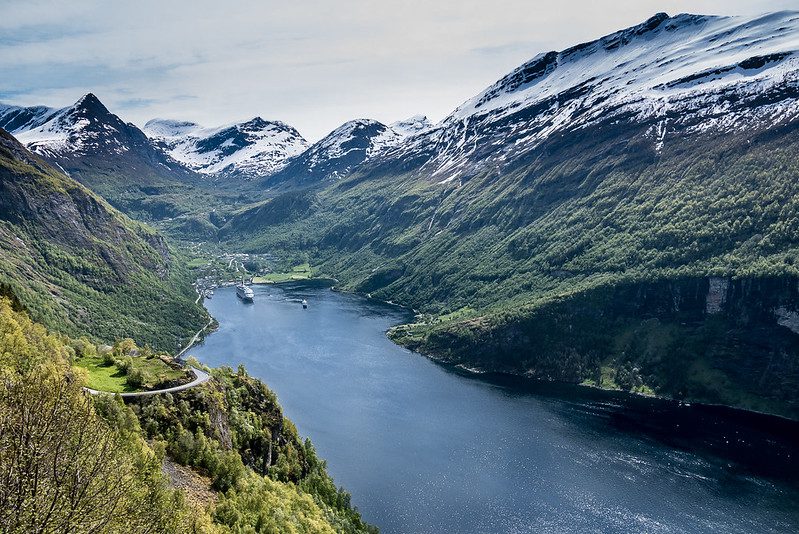 For a trip to Geirangerfjord, it's best to start in Ålesund, which is most accessible by air from other Norwegian cities like Oslo, Bergen, and Trondheim. Alternatively, Ålesund has direct flights from other cities in Europe like Amsterdam and Copenhagen.
Other options for getting to Geirangerfjord include ferry, bus, car, and train.
Pre-arranged tours of Geirangerfjord depart from Ålesund or Åndalsnes and combine both boat and bus before bringing you back to your final destination. You can expect one of these tours to take the full day and run approximately $200 per person.
Sognefjord
Just like Budweiser is the "King of Beers," Sognefjord is the "King of Fjords." In fact, two other arms of this fjord – Aurlandsfjord and Nærøyfjord – also make our list, further proving Sognefjord's reign as the top fjord in all of Norway.
What makes this fjord so special? It's the longest and deepest fjord of them all, stretching more than 100 miles inland before branching off into smaller arms, such as Aurlandsfjord and Nærøyfjord. It also has some of the most dramatic mountains.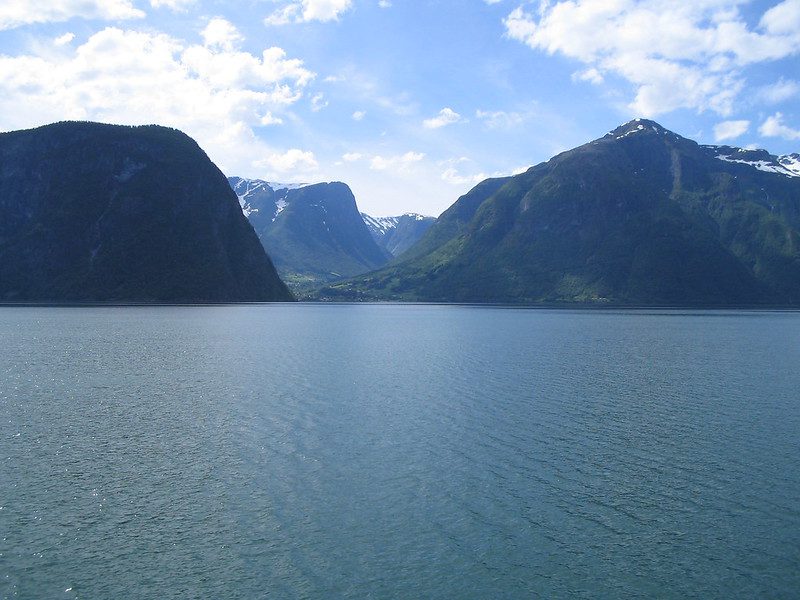 To get to Sognefjord, you'll want to start in Bergen, considered the "Gateway to Norway's Fjords," which is a charming little city worth spending a few days in on its own, before venturing off to the fjords.
It's also possible to begin a tour of Sognefjord in Oslo, by first taking a train to Flåm and then hopping on a cruise through the fjord, disembarking in Bergen. You can do this as a one-way journey or roundtrip back to Oslo with an additional train ride.
There are several different tour operators that combine multiple modes of transportation throughout your journey, such as boat, train, and bus.
One such operator, Fjord Tours, offers several different "nutshell" itineraries for the various fjords throughout Norway – including Sognefjord. Most of these tours give you the option to start with a boat or train, before making your way to Flåm and Gudvangen, and then returning back to Bergen.

Tours beginning and ending in Bergen start around $200 per person roundtrip and take the majority of the day. Those originating in Oslo are around twice the cost and take two full days with an overnight (lodging not included) in Bergen.
Thrifty Tip: The breathtaking Flåm Railway is widely known as one of Europe's most beautiful train rides.
Aurlandsfjord & Nærøyfjord
Aurlandsfjord is the eastern arm of the larger Sognefjord, while Nærøyfjord is to the west. Together, these two fjords are widely considered to be the most beautiful of any in Norway and a popular destination for visitors.
It's possible to visit Aurlandsfjord through a larger cruise of Sognefjord, but the only way to see Nærøyfjord is with a ferry ride from Gudvangen to Flåm (or vice versa) – and that's exactly what I did on my recent trip. It's the perfect way to see the tiny villages and farms that sit along the banks of these fjords.
On our ferry ride from Gudvangen to Flåm, we docked at this idyllic farm to let off passengers visiting the family that lives there. Being completely surrounded by mountains, boats are the only way in or out for this family and their visitors.
As the "Gateway to the Fjords," Bergen is once again the perfect starting point for a visit to Aurlandsfjord and Nærøyfjord. If you're planning to take a pre-arranged tour, you'll leave Bergen by bus or train before getting on the ferry in Flåm or Gudvangen. You can take the ferry ride as a roundtrip or just in one direction, with a short 20-minute shuttle ride back to your starting point.
While there are plenty of tour operators that take the planning and stress out of visiting these fjords, I elected to do it myself with a rental car and individually purchased ferry and shuttle tickets from Norway's Best.
By taking the do-it-yourself approach, we saved around $400 for our party of four adults. But while the cost savings were nice, this wasn't the real motive. We were traveling with a toddler and the thought of being in an uncontrolled environment, on tour busses and boats, for an entire day was just too much for us to handle. Not wanting to miss out on seeing the fjords, this was our next best option – and it proved to be a really good one at that.
We started the day by picking up our rental car from a Hertz self-service kiosk inside a local parking garage in Bergen. Think of this as a vending machine for cars. I was initially apprehensive about this but after toggling the kiosk menu to English, it couldn't have been a simpler process for both pick-up and return.

Thrifty Tip: Be sure to pay for your rental with a card that includes primary rental car insurance. I used the Capital One Venture X Rewards Credit Card as it also gives me Hertz President's Circle status and resulted in a vehicle upgrade.
By car, it takes a little over two hours to get from the center of Bergen to Gudvangen, where you're able to hop on the ferry. Finding our way to the fjords was easy thanks to our all-electric Ford Mustang Mach-E's monster built-in navigation display. From Bergen, you'll follow Europe's E16 highway the whole way to Gudvangen or Flåm, with several long tunnels helping you make your way through the mountains.

Along the way, you can stop off in Voss, known as the "Adrenaline Capital of Norway," where you can go white-water rafting, sky-diving, or mountain bike riding.
If you drive all the way to Flåm and begin your ferry ride there, you should definitely make an effort to continue on just a little further to the Stegastein Viewpoint for dramatic views of Aurlandsfjord from high above.
Onboard Experience
For the nearly two-hour journey through Aurlandsfjord and Nærøyfjord, we rode on an all-electric ferry aptly named Future of the Fjords. The vessel just came into service in 2018, designed with natural elements and muted colors that seemed to fit perfectly in the fjords.

Despite being able to accommodate up to 400 passengers, the boat's multitude of outdoor viewing decks never made the ship feel crowded.
If the weather turns and you want to take shelter inside, there are plenty of comfortable seating options from individual seats, booths, tables, and other leather sofa-like seats.

You don't have to worry about getting hungry or thirsty during the trip. The boat has a restaurant that sells a variety of light bites, soft drinks, coffee, beer, and wine. Despite having a captive audience, we found the prices for food and beverage items onboard to be quite reasonable. In fact, most items were cheaper than you'd find in the restaurant and gift shop on land at either end of the journey.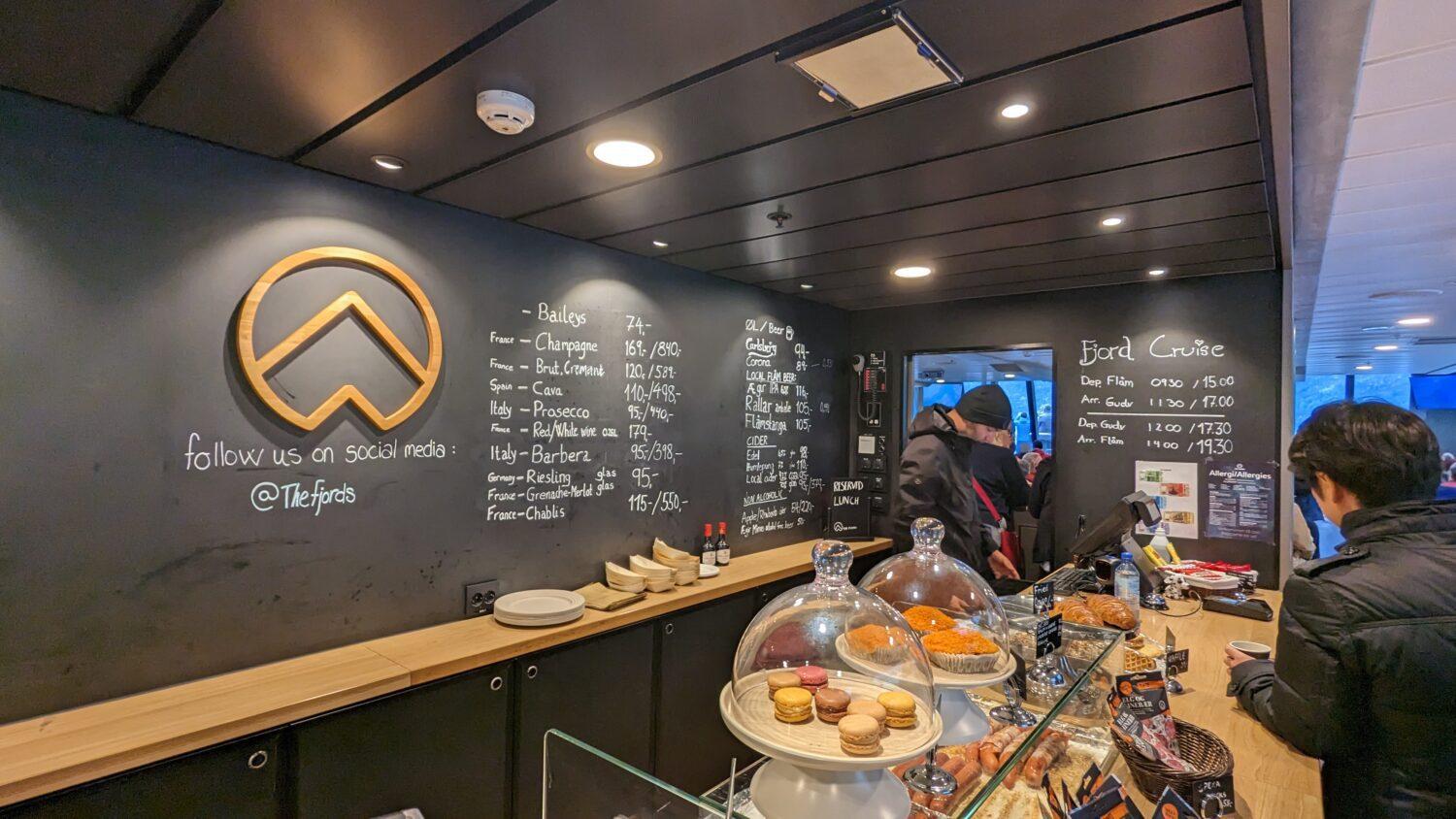 Throughout the cruise, TV screens inside the boat shared information about the fjords and provided context for what we were seeing outside. This was extremely helpful as it gave us more information on the history of the fjords and also provided a reference point for other sites to visit in the area.
Dos & Don'ts for Visiting the Norwegian Fjords
Do: Dress Warm and Wear Layers
Even in the summer, it can get chilly on the fjords. This is especially true if it's raining or windy, and the weather is known to change quite quickly in these parts.
Dressing in layers allows you to shed an article of clothing while in the sun and out of the breeze, but gives you the option to bundle up when a cold front moves through.
While on the ferry through the fjords, you'll always have the option to go inside the cabin and get out of the elements, but the views are of course better from the outside, so this is likely where you'll want to spend the bulk of your time.
Don't: Be Afraid to Skip the Tour Operator & DIY
I'll be the first to admit that the thought of driving in a foreign country can be intimidating – with foreign street signs and unfamiliar surroundings, it can be a lot to take in at first. But once you get a little way down the road and adjust to a speedometer that's in kilometers instead of miles, it's much like driving back home – just with narrower roads.
Using your in-car navigation or having a passenger help you with Google Maps will also make your journey much easier.
Piecing the rest of the trip together is a breeze. With a little help from Google, it was quite easy to book ferry tickets for the date we needed and it even gave us the option to complete our itinerary with a return shuttle back to our starting point.
Do: Bring Snacks and Water
While you shouldn't have trouble finding something to eat while onboard the boat, the ride from Bergen to the fjords – either by car, bus, or train – will take a couple of hours so it's best to be prepared with something to snack on or drink if needed.
Much of Norway's water is naturally pure, coming from mountain streams, so bring along a reusable bottle and don't be afraid to refill with tap water along the way.
Don't: Worry About When to Go
The best time to visit the fjords is whenever it works for you.
Summertime will obviously provide the best weather when visiting the fjords, and you'll also be able to take advantage of the long days – the sun doesn't set until after 11 p.m. in Bergen during the summer solstice. But with the peak summer weather comes peak summer travel and you'll pay higher prices and have to deal with more crowds along the way.
The shoulder season from mid-April to June, and again from September to mid-October can be a great time of year to visit the fjords, with less crowds and lower prices.
The ferry between Gudvangen and Flåm runs year-round, so even though it will be colder, you could even visit the fjords in the winter. This would be a great way to pair your visit with a chance to see the northern lights.
Bottom Line
Norway and much of Scandinavia are often a lower priority for travelers heading to Europe, but with breathtaking natural beauty around every corner, it really shouldn't be.
There's no better place to experience Norway's incredible scenery than by touring one (or more!) of the many fjords. It lived up to my expectations – and then some. Whether you're going through a tour operator or doing it on your own, the Norwegian fjords are a must-do on your next trip to Norway.