6,000 miles of ancient history, resting peacefully on the mountains of northern China, is the Great Wall of China. The Wall is a must-see for anyone planning travel to China. As one of the seven Wonders of the World, many dream of seeing it but few have the opportunity to actually walk the Wall in their lifetime. Seeing one of the greatest wonders of the world is actually rather inexpensive; with Thrifty Traveler's guide to the great wall, you'll cross this wonder of the world off your bucket list for cheap.
There are several different portions of the Wall you can visit, with varying degrees of reconstruction, levels of hiking difficulty, and surrounding landscape beauty. Each is a different distance away from Beijing. I'll discuss three options below, but know that there are many to choose from based on what you're looking to see and do.
Getting to China
Remember, if you're traveling to China, you'll need a Visa. Those cost around $140 currently.
Also, consider traveling to China, and particularly the Great Wall and Beijing, during non-peak China travel times. Avoid peak summer if possible, as many are traveling during this time. Other holidays to definitely avoid are the Mid-Autumn Festival (September 24th this year) and Chinese New Year (February 16th this year). Most of January and February is pretty busy in China, as students are out of school and traveling home to be with family.
Mutianyu
Mutianyu is known for being one of the most beautiful portions of the wall and not as difficult of a hike. I chose this portion of the Great Wall when my friend came to visit in December, as well as when I took my family to the Great Wall in May. The Mutianyu portion offers a cable car ride up to the Wall and a toboggan ride back down. The cable car ride to the wall is really scenic and much easier than hiking up. The toboggan ride down is a must. It was so much fun to race down the toboggan chute, all while enjoying the scenery.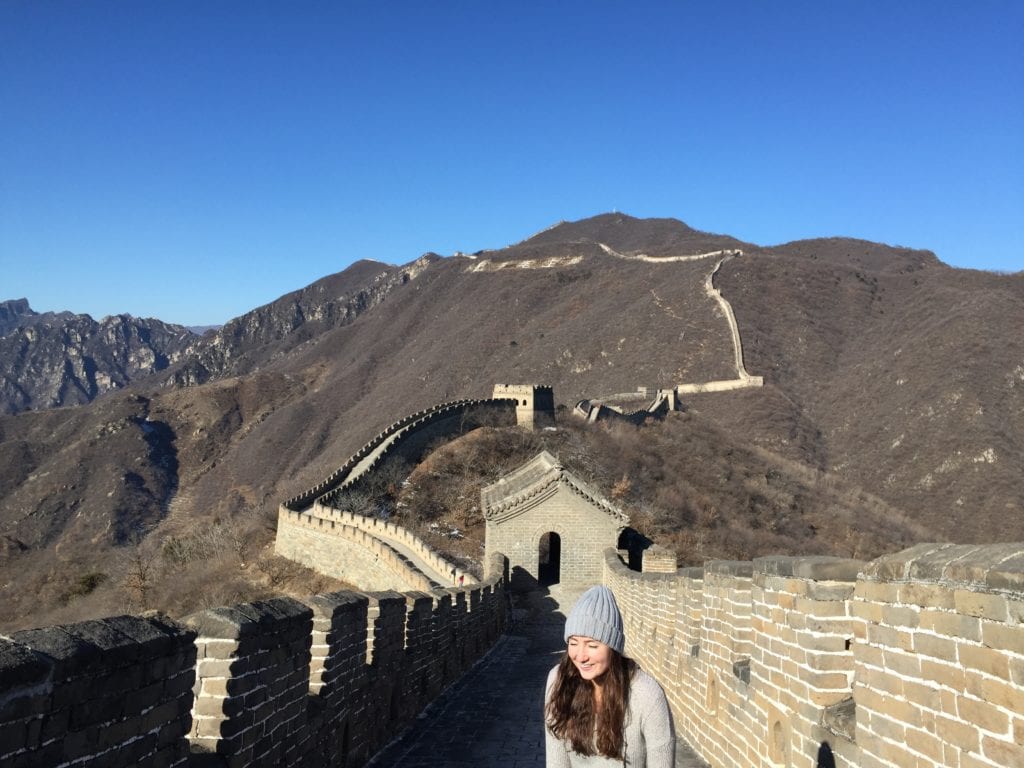 Thrifty Tip #1: Take the bus! Booking a tour through a hotel or hostel can save you time, but isn't the cheapest option.
Take a public bus from the heart of Beijing to an outlying suburb near the Mutianyu Wall entrance for $2 USD a person (We used the recommendation of Travel China Guide and took the 916 Express from Dongzhimen Bus Station to Huairou North Avenue Station). This trip takes about 70 minutes. Once you are here, you can take a cab right to the entrance which is about a 15 minute drive for $3 USD.
For the entrance ticket, cable car ride up, and toboggan ride down, we each paid 135 RMB (about $17 USD). A regular pass without cable car and toboggan is 40 RMB ($6 USD). Six dollars to see one of the most amazing sights in the world is a great deal if you ask me.
After taking the cable car up, we walked the wall for nearly five hours. The Wall itself was interesting; some stairs were only inches tall while others were half our height. It was definitely a workout.
Thrifty Tip #2: Pack snacks, water, and a lunch. We had forgotten to pack a lunch and there was nowhere to eat. We ended up buying overpriced Snickers bars and water and had "lunch" at one of the highest parts of the Mutianyu Wall.
Perhaps it was because it was winter or because we chose to go to a less touristy portion of the Wall, but I was shocked at how few people were there. I think we saw less than 20 people during our five hour excursion. This really enhanced our experience and made for some awesome pictures.
Badaling
This is the most visited and most crowded portion of the Wall. It is the closest to Beijing, so it takes the least amount of travel time. I didn't visit the Badaling portion of the wall during my time in Beijing, but wanted to include it as an option. You can get from Beijing to Badaling by train or bus in about an hour. Head to Beijing North Railway Station and take Suburban Line S2 to Badaling Station.
Thrifty Tip #3: Bring your student ID. If you have a student ID, you can get half off the entrance fee to the Great Wall. Even if you aren't currently enrolled but have a recent ID from your university, it's worth a shot.
This portion of the Wall is rumored to be very crowded and not as scenic as further portions of the Wall, so we opted to travel 30 minutes further to Mutianyu portion of the wall to get a better view.
Jinshanling
When I visited the wall another time with some friends who came to visit, we chose to go to the Jinshaling portion. Jinshaling is known for its very steep slopes and difficult level of hiking. We booked a tour through the hostel we stayed at for $45 USD. This tour included the private bus round trip transportation, tour guide, entrance fee, breakfast and lunch. For us, the higher price was worth the ease of traveling with a group.
Jinshaling was absolutely gorgeous. I would say it is more picturesque than Mutianyu, but much more difficult. It had snowed there the day before so the Wall was covered in snow. This made for great photos, but also made the worn steps and steep slopes very icy. We had to take a much slower pace to keep from slipping. Because of this, we didn't go as far as we had wanted, but still spent 3 hours on the wall. I'd recommend this portion of the wall when it's not winter.
There were even less people here than at Mutianyu. Our tour group of 20 people were the only people at the Wall, so the view of snow-covered mountains and the un-trodden Wall was spectacular.
Bottom Line
If you can make it to China, you've got to see the Great Wall. Visiting this wonder of the world can be pretty inexpensive if you use Thrifty Traveler's guide to the Great Wall. Choose transportation wisely, get your ticket at a discount, and pack a meal to save money.