There is so much unknown at the moment, but one thing is certain – brighter days are ahead.
So while you may have to put your travel on hold for the time being, that doesn't mean you have to stop daydreaming. Our wish for you (and for ourselves) is that eventually, we can all start globetrotting once again. Slowly but surely, those days seem to be on their way.
So whether you're ready to book your next trip in the future or just need to build a new wish list, we hope this guide can be of some assistance. Historians, bibliophile, and yogis – keep reading. 
For the Yogi: Khao Sok National Park, Thailand
There's nothing you love more than a little R&R. You dream of dropping everything: your job, your iPhone, your responsibilities, and jetting off somewhere warm. This summer, do just that with a visit to Khao Sok National Park.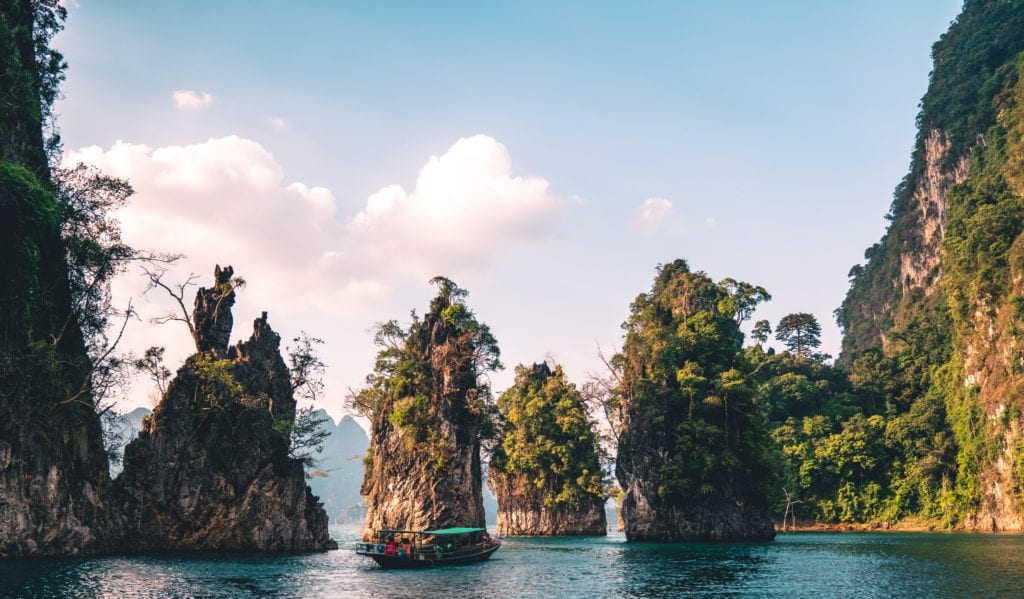 Tranquility awaits you in the emerald waters and endless islands that make up this undiscovered corner of Thailand. You can spend your days on Cheow Larn Lake, floating on bamboo boats and swimming in grottos. Then spend your nights glamping in the oldest evergreen rainforest in the world. 
How to get there: There are no nonstop flights between the U.S. and Thailand, so your best bet is to hop on a one-stop flight with a five-star airline like Japan Airlines or EVA Air to get down to Thailand. Head for Surat Thani (URT) or Phuket (HKT), then hop on a bus or in a taxi to make it to Khao Sok.
For the Wine-Lover: Bordeaux, France
Wine is your love language. Be it bottled or boxed, you'll drink it all. This fall or next, gather up your thirstiest friends and head to Bordeaux for a wine-soaked week in the French countryside. With over 10,000 Châteaux to tour and an annual production of roughly 960 million bottles, you'll have enough wine till your heart's content.
While Bordeaux is the main capital of the wine region, there are plenty of quaint small villages in the surrounding areas worth checking out. We highly recommend Saint-Émilion, which is home to dozens of world-renowned Châteaux — all appearing to come straight out of a fairytale.
How to get there: From Air France to Lufthansa to budget carriers like easyJet, many international airlines fly directly into Bordeaux (BOD). Just hop on a one-stop flight from the U.S. and you'll be set.
For the Musician: New York City, New York
You've accumulated more listening hours on Spotify than your friends combined. And don't even get us started on your vinyl collection. If there is any city in the world your music-loving soul should visit, it's New York City. Vienna has classical music. Nashville has country music. But NYC has it all (and then some).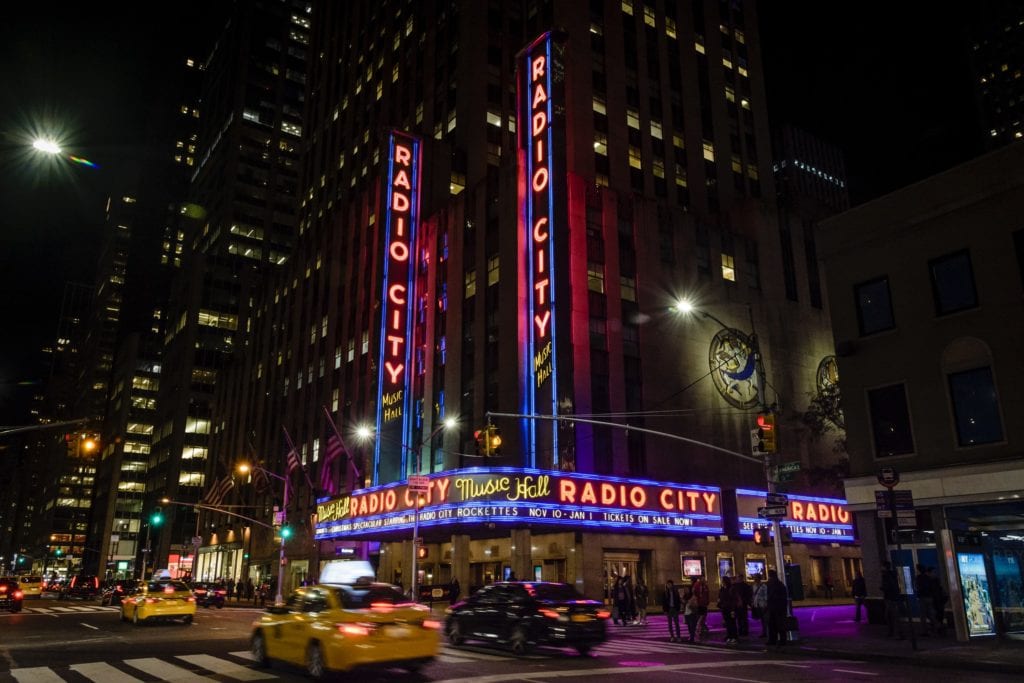 Some of the biggest names in the industry started out here: Jay-Z, Talking Heads, Blondie, The Strokes. On your agenda: A tour of Radio City Music, drinks at Bob Dylan's favorite hangout Cafe Wha? and live music at the Village Vanguard.
As far as accommodations are concerned, it only makes sense to stay at Gramercy Park Hotel. The Rolling Stones were once tenants of the old-school hotel, alongside guests like Bob Marley and David Bowie. Need we say more?
How to get there: It's one of the biggest cities in the world. We trust you've got this one.
For the Naturist: Banff National Park, Canada
Happiness to you is being one with nature. Hiking, swimming, skiing, kayaking… the list could go on. So why not go somewhere that allows you to do everything you love? Come October, make your way to Banff National Park for an excursion that will leave a lasting impression. Pictures do not do this place justice.
Read more: Bringing the Family to Banff … On a Budget
The ice-blue Lake Louise surrounded by snowcapped peaks is one of the many highlights, alongside vast hiking trails, farm-to-table restaurants, and even dog-sledding in the Winter. You'll never run out of things to do, we can promise you that. 
For a place to stay, you cannot beat the Fairmont Banff Springs or Fairmont Chateau Lake Louise. If you're aiming for a Banff getaway by the end of the year, use Fairmont's amazing promo to get BOGO hotel nights.
How to get there: Banff is just 90 minutes or so outside of Calgary (YYC), so fly there and rent a set of wheels to make the drive up to this majestic place.
For the Historian: Boston, Massachusetts
What makes a true historian? Someone who reads War & Peace for fun and knows the difference between art nouveau and art deco. If this sounds like you, there's no better destination than Boston. The city is so rich with American history, you can barely walk a city block without running into a national landmark.
Nestled among the cobblestone streets and Irish pubs, you'll find Paul Revere's House, the Old North Church, the Freedom Trail, and Harvard Law School. Not to mention, you can also visit the graves of John Hancock and Benjamin Franklin at the Granary Burying Ground.
Read more: How to Spend the Perfect Weekend in Boston
To round out your day, visit Paul Revere's old haunt, The Green Dragon Tavern, for a pint of beer and a bowl of clam chowder. If you're lucky, you may be seated next to a table of war reenactors decked out authentic Union uniforms.
How to get there: Just hop on Google Flights and find your cheap flight to Boston (BOS). Skip the rental car – Boston is a lovely city to see by foot.
For the Bibliophile: Edinburgh, Scotland
Most people find joy in Netflix or socializing with friends. You find joy in reading a really good book. In your opinion, the best nights are spent on the couch with your pet and a New York Times bestseller. Take your love for literature one step further with a trip to Edinburgh — a city with one of the highest concentrations of libraries in the world.
We're talking 60 libraries per 100,000 people. But it doesn't stop there. Edinburgh is also home to The Elephant House cafe, also known as the birthplace of Harry Potter. It is said that this cafe is the very place J.K. Rowling first started writing the iconic series back in the '90s. Can you imagine a better city to experience as a bibliophile?
How to get there: Edinburgh (EDI) has a major airport with plenty of service from both U.S. and international airlines. But consider flying into London-Heathrow (LHR) and making your way up to Scotland.
For the Art-Aficionado: Århus, Denmark
You've seen The Guggenheim, The Louvre, Rijksmuseum. The list could go on. Expand your knowledge of the arts in Århus or Aarhus, Denmark's second-largest city and the European Capital of Culture as of 2017.
The cobblestones streets are filled with small art galleries showing everything from tapestries to paintings. Then there is the ARoS Århus Art Museum, a 10-story tall structure boasting its most iconic work of art on the roof. Your Rainbow Panorama by Ólafur Elíasson is a circular skywalk giving off 360-degree views of the city through the rainbow-hued glass.
And because we consider food art, we can't go without mentioning the city's three Michelin-starred restaurants: Restaurant Domestic, Restaurant Gastromé, and Restaurant Frederikshøj. 
How to get there: Book a flight into nearby Copenhagen (CPH) and hop on the train to Århus from Copenhagen Central Station.
For the Foodie: New Orleans, Louisiana
You can't call yourself a foodie until you've visited New Orleans. In this historic southern city, food isn't just fuel. It's a way of life. And its cuisine is something every self-proclaimed foodie needs to experience.
The city is home to one of the country's oldest restaurants: Antoine's, established in 1840. Known for their Creole fare, this family-run institution is the birthplace of some iconic dishes, such as Oysters Rockefeller. But while NOLA is home to many classic dishes (gumbo, po'boys, jambalaya), it's also a huge hub for contemporary gastronomy. Our favorite is Justine, whose menu features dishes such as Moroccan spiced short rib. Hungry? Because we are.
How to get there: Getting down to the Big Easy is … well, easy. Pull up Google Flights and find a direct flight when you're ready to dive headfirst into a food coma.
Bottom Line
Foodies, bibliophiles, historians … add these spots to your wish list. While travel is on hold for now, it's never too early to plan your next trp.