After a difficult few years that have stripped away our ability to travel freely, travel looks hopeful for 2022 and beyond.
And if more travel is your goal – there's no better option than the Chase Sapphire Preferred® Card to accelerate your travels. And that's true whether you plan to travel domestically, internationally, or both.
Chase Ultimate Rewards points are simply some of the best out there, as they provide an unbeatable amount of flexibility to accommodate a lot of different travel goals. So let's dive into why this card is the perfect option for getting started with points and miles in 2021, why it might be the best for planning domestic travel.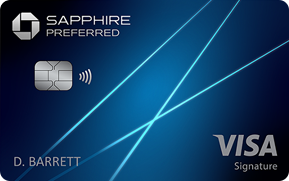 Click Here to learn more about the Chase Sapphire Preferred Card. 
The Basics of the Chase Sapphire Preferred Card
You can currently earn 60,000 Chase Ultimate Rewards points after spending $4,000 within the first three months. Those points are worth a minimum of $750 towards travel – more on that later.
The card also comes with some of the best travel insurance protection you will find from any credit card and some unparalleled rental car coverage, too. You won't pay foreign transaction fees when traveling internationally.
Best of all, it has an annual fee of $95 each year. And if you play it right, you can easily come out way ahead on that upfront cost.
But earning those points doesn't do you a lot of good if you don't know how to use them. So make sure to read our master guide to earning and burning Chase Ultimate Rewards points.
Plenty of travelers weigh the Chase Sapphire Preferred against credit cards from their favorite airline. Those airline credit cards can offer some good value, with benefits like free checked luggage, priority boarding, and the occasional big welcome bonus.
But the average traveler shouldn't be swiping one of those co-branded credit cards for each and every purchase. Earning points with one airline can be great until you need to fly with a different airline. At that point, your stash of airline-specific miles doesn't have much value. That's why we encourage readers to quit putting all of their spending on an airline-specific credit card.
That's where the Chase Sapphire Preferred Card shines – and a big part of why we think it is the best card for domestic travel. With a stash of Chase points, you'll be able to use them to book airfare on just about any airline. And when you do, your points will be worth more.
How? Enter the Chase travel portal.
Book Domestic Flights Through the Chase Travel Portal
Chase's travel booking portal allows you to book flights, hotels, rental cars, cruises, and more with your Chase Ultimate Rewards points. With the Chase Sapphire Preferred Card in your wallet, each point is worth 1.25 cents booking through the portal.
That means that the 60,000 point bonus will have a value of $750 when redeemed through the portal. And it's an easy way to book travel.
Using the Chase travel portal is simple: It's run by Expedia – though that will be changing soon. Generally speaking, the prices you find for airfare through Chase will match what you will find in Google Flights – our favorite flight booking search engine.
And these points work simply: The cheaper the price of your flight, the fewer Chase points you need to use to book.
The COVID-19 pandemic has brought deals for 2021 and 2022 travel like we've never seen. And that's especially true when it comes to domestic flights, with roundtrip fares regularly under $100. Add in the policies allowing free change or cancellation on new tickets, and it's a great chance to book flights now and travel later.
Since most airlines are available through the Chase travel portal, you don't need to worry about deals popping up on one specific airline if you hold the Sapphire Preferred Card. But don't just take my word for it. Let's take a look at a few examples.
We recently sent a deal to our Thrifty Traveler Premium members for non-stop roundtrip flights to Las Vegas (LAS) on Delta out of Minneapolis- St. Paul (MSP) for just $97.
That's a heck of a deal. But it can get even better if you use your Chase Ultimate Rewards points to book the deal. As you can see, that same flight is bookable for $96.20 or only 7,696 Ultimate Rewards points since your points are worth 1.25 cents each ($96.20/0.0125 = 7,696 points).
At that rate, you could book eight round-trip tickets with just one sign-up bonus! And better yet, you'll still earn airline miles when you book through the Chase portal – in this case, Delta SkyMiles.
Or how about Los Angeles (LAX) to Miami (MIA) for just $79 flying nonstop on American?
Using the Chase Travel Portal, you could have booked this ticket for only 6,256 points. 
While this is a great method for booking cheap domestic flights, it's a great option for international airfare as well.
To see exactly how to book cheap flights using this method, make sure to read our master guide to using the Chase Travel Portal.
Airline Transfer Partners
Another great way to use Chase Ultimate Rewards points is to take advantage of the 11 airline and three hotel transfer partners. Every Chase point you transfer gets you 1 airline mile or 1 hotel point in that program.
That gives your points immense flexibility that shouldn't be overlooked. In many cases, sending your points to Chase transfer partners can get you far more value than if you were to just use the Chase Travel Portal. But you'll have to do the math and see whether it makes sense to utilize one of these transfer partners or simply book directly through Chase. 
First things first, let's take a look at the list of Chase transfer partners below. And make sure to read our full guide on how to utilize the transfer partners and how to make a transfer from your Chase Ulitmate Rewards account.
| Program | Type | Transfer Ratio | Transfer Time |
| --- | --- | --- | --- |
| Aer Lingus | Airline | 1:1 | Instant |
| Air Canada Aeroplan | Airline | 1:1 | Instant |
| Air France/KLM | Airline | 1:1 | Instant |
| British Airways | Airline | 1:1 | Instant |
| Emirates | Airline | 1:1 | Instant |
| Iberia Plus | Airline | 1:1 | Instant |
| JetBlue | Airline | 1:1 | Instant |
| Singapore Air | Airline | 1:1 | 12-24 hours |
| Southwest Airlines | Airline | 1:1 | Instant |
| United Airlines | Airline | 1:1 | Instant |
| Virgin Atlantic | Airline | 1:1 | Instant |
| World of Hyatt | Hotel | 1:1 | Instant |
| IHG | Hotel | 1:1 | 1 day |
| Marriott Rewards | Hotel | 1:1 | 2 days |
When it comes to booking domestic flights, transferring your Chase points will give you a lot of options. To start, transferring points to United or Southwest are obvious options. But there are some additional sweet spots that can help you get ahead.
Iberia Plus Avios
While American Airlines isn't a transfer partner of Chase Ultimate Rewards points, there is still a way to book American Airlines flights with Chase points. It's made possible by their Spanish partner airline: Iberia. And since you can transfer Chase points to Iberia, it can be a good option for booking flights with American.
The airline is a bit quirky in how they set prices for mileage awards. The amount of miles Iberia charges for a flight is based on the actual distance you fly.
Booking with Iberia Avios, flights under 600 miles total price as low as 11,000 miles for a round-trip domestic flight in economy. Trips between 601 and 1,000 miles come in at just 12,000 Iberia Avios. That's a great sweet spot to book short flights in the U.S.
Take, for example, this flight below from Chicago (ORD) to Minneapolis-St. Paul which clocks in at 12,000 Iberia Avios and $20.20.
Flights up to 2,000 miles cost just 17,000 Iberia Avios, which still gives you some solid savings. Critically, Iberia sets the price based on the total distance of your round-trip flights, regardless of how many stops it takes.
But there is one major restriction to keep in mind when booking American Airlines flights this way. Round trip fares are required – you can't book a one-way flight on American Airlines using Iberia miles. 
In order to transfer points and book fares with Iberia for travel on American Airlines, you'll first need an account with Iberia. If you don't have one, you can create one here.
It's also worth noting that you can book domestic flights on American Airlines through British Airways as well. However, the airline charges a minimum of 7,500 miles each way no matter the distance and also charges per segment, so one-stop flights can double in price. For that reason, Iberia is likely a better option.
Thrifty Tip: Not sure how long your flight is? Head to GCmap.com and type in your full route (like ORD-MSP-ORD) to get the numbers.
Virgin Atlantic Flying Club
Thanks to Virgin Atlantic's partnership with Delta, you can book many Delta flights with Virgin Atlantic miles. And since Virgin Atlantic is a transfer partner of Chase Ultimate Rewards, it can be a great way to book domestic flights on Delta.
While Virgin Atlantic drastically increased the costs to book many Delta flights to ring in the new year, there was an upside. Because of Virgin's new distance-based award chart, some shorter domestic Delta flights will now cost less.
These awards start at just 7,500 points for a one-way redemption up to 500 miles and 8,500 miles for a flight up to 1,000 miles long. That's an improvement from Virgin Atlantic's previous pricing, which was 12,500 miles for any flight within the continental U.S.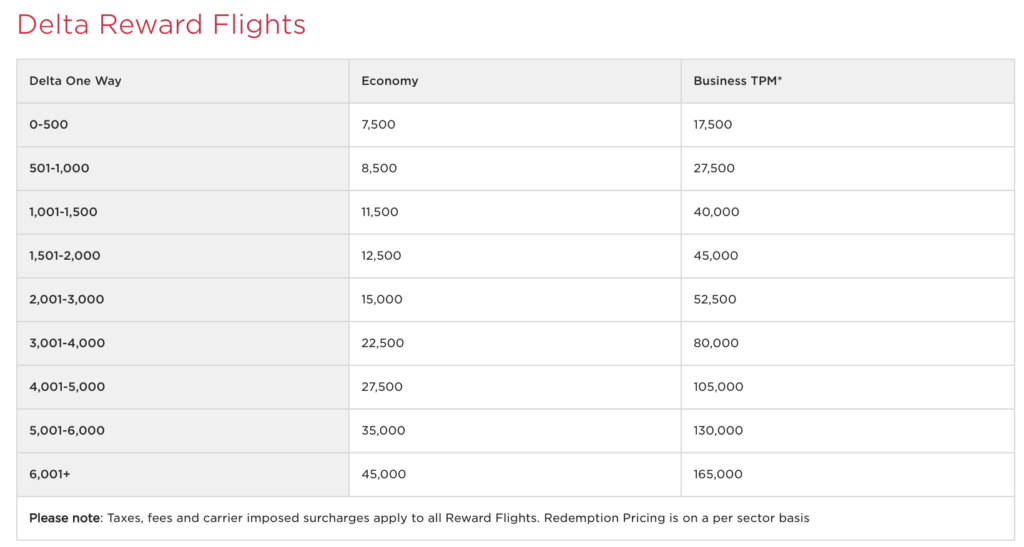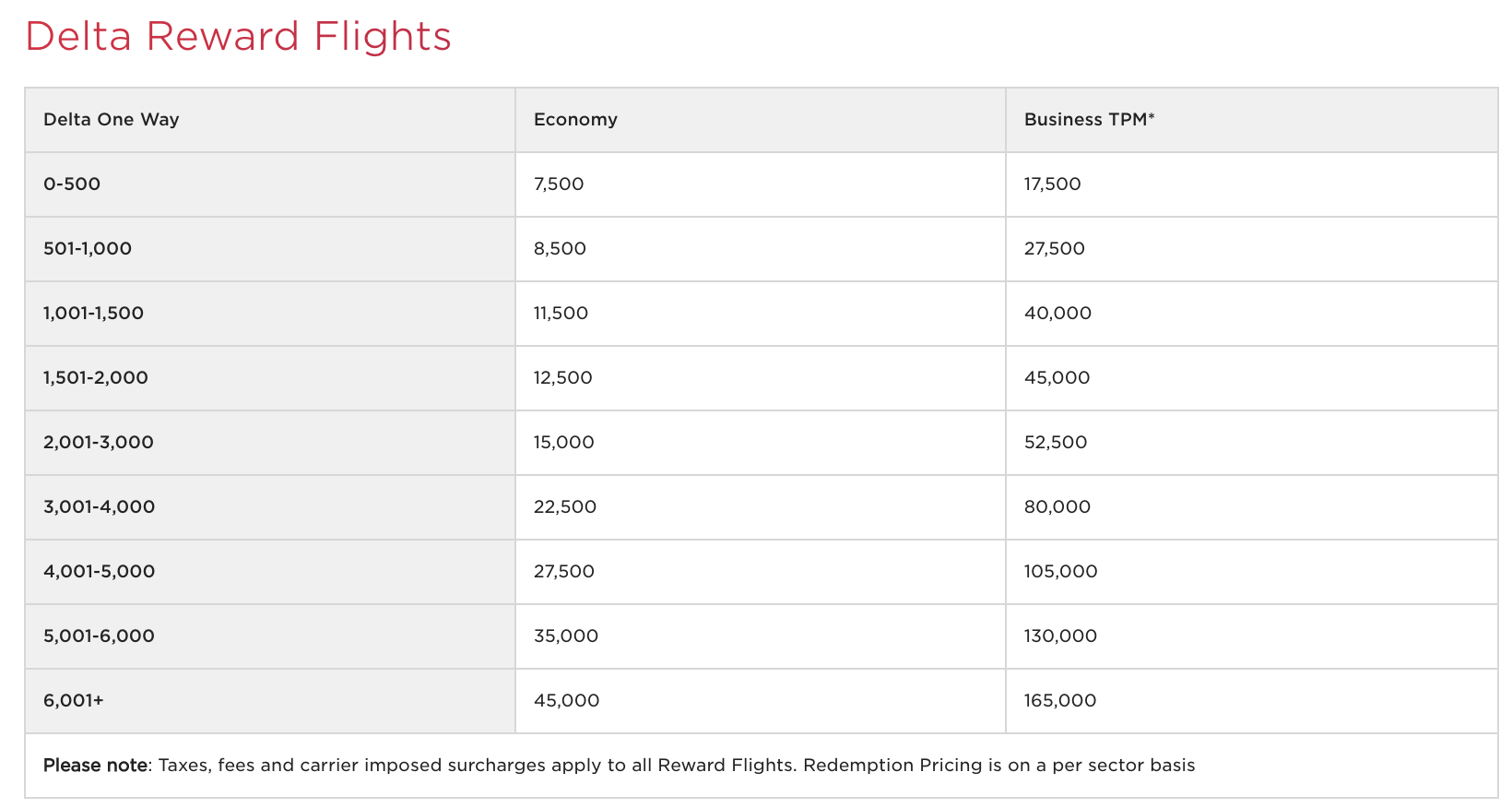 For example, this flight between Minneapolis-St. Paul (MSP) and Chicago O'Hare (ORD) clocks in at less than 500 miles. That means it can be booked for only 7,500 points each way – regardless of what the cash price of the flight is. And unlike the cheapest award tickets booked with Delta SkyMiles, these awards won't book into basic economy – you'll get a main cabin fare with free seat assignment.
But if you have SkyMiles, you'll want to make sure you check that option as well. This same flight can be booked for 10,500 SkyMiles – or just 6,500 for a Delta Basic economy ticket if you're OK giving up free seat selection and boarding last.
You'll want to compare these redemptions to the cash price, of course – or using your points to book directly through the Chase travel portal. While it's an option, using Virgin Atlantic points to book Delta flight may not always be the best option. But in some cases when cash prices are high, it could provide tremendous value.
In order to transfer points to Virgin to book flights on Delta, you'll need to create a Virgin Atlantic Flying Club account. If you don't have one, you can set one up here.
Air France/KLM Flying Blue
In addition to Virgin Atlantic, Air France, and KLM's Flying Blue loyalty program is another Delta partnership that is made possible through the Sky Team airline alliance. And if you're looking to book cheap flights to Hawaii, this partnership can really shine.
With some flexibility, you can use these easy-to-earn miles (which can be transferred from Chase Ultimate Rewards and many other programs) to book flights on Delta from almost anywhere in the country to the four major Hawaiian islands … for just 35,000 miles round-trip. 
Much like Delta itself, Flying Blue doesn't publish an award chart – the cheat sheet that spells out exactly how many miles you need to book a given flight. And just as with Delta SkyMiles, that means rates when using Flying Blue miles can be all over the place.
But you can use Flying Blue miles to book seats on a Delta flight. And when you do that, it's much more predictable. And cheap.
Delta flights to Hawaii start at just 17,500 Flying Blue miles each way. That means you can fly from the continental U.S. to the Hawaiian islands and back for only 35,000 miles. And it's not just Honolulu (HNL) on Oahu. Whether you're flying to Kahului (OGG) on Maui, Lihue (LIH) on Kauai, or Kona (KOA) on the Big Island, you can find flights for 35,000 miles round trip.
You can get from almost anywhere in the U.S. with Delta service to Hawaii and back for 35,000 miles. And Considering Delta normally charges more than 75,000 SkyMiles for the exact same flights, you can find a ton of value with these redemptions.
But just because this is possible, it will require some patience and trial and error to find award space. It will not be available for every flight, so make sure to read our guide on how it works.
Read More: Score Flights to Hawaii for Just 35K Flying Blue Miles. 
Bottom Line
The Chase Sapphire Preferred is one of our favorite travel cards, period. But while many travelers focus on piling up Delta SkyMiles or United MileagePlus miles for domestic flights, we also think the Chase Sapphire Preferred Card is among the best for domestic travel.
Chase Ultimate Rewards points offer so much versatility and flexibility. One way or another, you can use the points to book a flight on just about every major airline.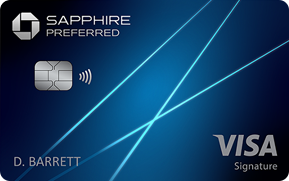 Click Here to learn more about the Chase Sapphire Preferred Card.