With inflation and gas prices rising on a daily basis, it may seem like cheap travel is out the door this summer. Many flights may seem more expensive than ever.
But that doesn't mean cheap flights don't exist. You just need to know where to look … and when.
No, it's not about booking your flights on a Tuesday – there's no such thing as a best day to book flights. Instead, by focusing on the right time to travel and the destinations where you can still find cheap flights, you can still find a good deal for travel this summer.
Here's how to do it.

Fly in August or September (Yes, It's Still Summer)
In normal years, summer flights are always more expensive. This year, flight prices are through the roof as Americans return to the skies in record numbers for their first summer vacations in years.
But there's still a sweet spot to score a better deal: late summer. Rather than taking a trip from late June through early August, you can often find drastically cheaper flights by shifting your travel dates to late August or early September. 
For some families, that may be tough if the kids are set to go back to school in late August. But for others, many school districts don't start class until after Labor Day.
If you can pull off a late August trip, you might be able to save hundreds of dollars per ticket, squeezing in a cheap vacation before the kids head back to school.
Late August is Cheaper than Early August
At Thrifty Traveler, we search for flight deals every single day. And a clear trend has emerged: Though airfare is high through much of the summer, we regularly see much cheaper prices emerge in mid- to late-August.
Here's a telling example from a Google Flights search from Minneapolis-St. Paul (MSP) to San Francisco (SFO). At time of publication, the cheapest nonstop flights on Delta were selling for as much as $618 roundtrip for a five-day trip departing on a Tuesday and returning on a Sunday in early August. Depending on departure times, it went up to $718.
After opening the flexible date calendar, you can see that there are considerable savings if you're able to take a trip a few weeks later. In fact, the price goes down every week for this same Tuesday-to-Sunday trip. It's $568 if you fly Aug. 16-21; $379 if you fly Aug. 23-28; or, just $260 if you fly Aug. 30 – Sep. 4. That's nearly a 60% savings if you can fly later in the month.
It's worth noting that the $260 price over Labor Day Weekend requires a red-eye flight on the return in this example. This is one thing to keep in mind when searching for cheap summer flights: You may be able to save even more by flying at less-desirable times.
But, from the calendar above, you'll see that there are several more dates available for $260 in September, like this Saturday to Thursday trip over Labor Day Weekend with flights at much better times of the day.
Basically, the key to finding a cheap summer flight is similar to what it's like any other time of the year: Flexibility. And now more than ever, it's critical to follow The Flight First Rule and scope out your flights first to lock in the best deal.
September is Even Cheaper
Labor Day may mark the end of summer for many … but officially, summer doesn't end until Sept. 22. And you'll often find the cheapest flights for summer travel in September.
An extreme example of how much you could save by flying in September rather than on peak dates in July can be shown with cross-country flights. The cheapest flights from San Diego (SAN) to Burlington (BTV) are over $1,000 roundtrip for a Saturday-to-Saturday, weeklong trip in mid-July.
Shift those dates to catch the end of summer up in Vermont two months later in September … and flights are just $298 roundtrip on Delta. That's nearly $1,000 less than Delta is charging for a similar trip in July.
As is the case pretty much everywhere in the U.S., the weather is still great and September is a beautiful time to visit Vermont.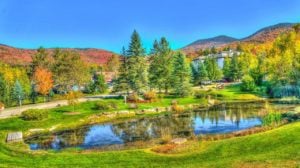 Explore Your Region This Summer
Can't fly later in the summer? Another great way to save on summer travel is to look a little closer to home.
If you're only interested in domestic travel, a bigger trip across the country could cost an arm and a leg for peak summer travel. However, sometimes flights within your region may not be so bad.
Thrifty Traveler Premium members along the West Coast recently received a cheap flight alert for peak summer travel to Hollywood by flying into Burbank (BUR), with flights starting from just $87 roundtrip!
Want to know about the next summer flight deal? Get it sent straight to your inbox with Thrifty Traveler Premium!
This deal included flights from several cities in the West, all for peak July and August summer travel. And every single fare clocked in under $196 roundtrip, including two free checked bags!
Possibly the best deal of all was flights from Seattle (SEA) to Burbank (BUR) for $175 roundtrip in July.
Compared to the cheapest flights flying other airlines on these dates, this was a real steal. Alaska Airlines was charging a minimum of $428 roundtrip.
Thrifty Tip: Always check Southwest to see if you can find a lower price, as you'll only find its fares on its website.
And when you compare it to what it would cost to fly across the country this summer, you'd be getting a pretty stellar deal by staying put on the West Coast for a cheap flight. Flights from Seattle (SEA) to New York City (JFK) on the same travel dates were going for $758 roundtrip. To Miami (MIA), it was $908. Ouch!
Fly on Tuesday or Wednesday for a Cheap Summer Flight
While there isn't a magic answer for the best day to book a flight, there is, unquestionably, a cheapest day to fly – especially during the busy summer.
What are those days? Tuesday and Wednesday.
From the Seattle to Burbank example mentioned earlier, you'll see this put into action when looking at Southwest's flexible date calendar. It's nearly $100 cheaper each way to fly on a Tuesday or Wednesday compared to other days of the week.
Since kids are out of school for the summer, it may be easier to be a little more flexible with your travel dates. Fly mid-week and save a ton on flights – and hotels, too!
Head Abroad This Summer
Want to fly far away this summer? Plan a trip overseas, and you may even find that flights are cheaper to Berlin than they are to Boston.
Demand for domestic travel is exploding this summer – and so are prices. While international travel demand is growing – especially after the U.S. dropped return testing requirements – it's still got a ways to catch up. And that means 2022 might be the year to pull off a trip abroad … especially with some cheaper flights.
New competition from low-cost carriers PLAY airlines and Norse Atlantic has prompted some low prices on summer flights to markets where these airlines fly – and beyond. When Norse Atlantic started selling tickets for its new nonstop flights to Berlin (BER), Thrifty Traveler Premium members got an alert with roundtrip flights as low as $465 from New York City (JFK) and $514 from Los Angeles (LAX). These fares included summer travel dates in August.
When looking for August flights from Los Angeles to Boston (BOS) on Google Flights, you may find flights to be more expensive than a trip to Europe, such as this one-week trip departing on Aug.18, with the cheapest nonstop flights going for $768 roundtrip on United – and up to $881 on JetBlue. That doesn't even include a checked bag.
One of the best deals we've seen for transatlantic flights recently included flights to Oslo (OSL) on Delta and SkyTeam partners, starting from just $230 roundtrip. These fares included late summer travel dates. You could buy three tickets to Norway for the cost of many domestic flights.
If you like to travel overseas with a little extra legroom, we've also seen some great deals for premium economy fares to Europe, such as this widespread deal Thrifty Traveler Premium members received in May flying SAS. For the regular price of an economy ticket, you could book larger seats and have lounge access. Premium Economy fares were as low as $621 roundtrip to Europe.
If you've been itching to get out and see the world, you may want to set your sights on an international destination this summer. Compared to domestic flights, the price of a ticket overseas may not seem so bad … and it may even be cheaper.
Use Your Points and Miles
Finally, when ticket prices are high, you may want to consider using your points and miles to book the flight. It can help soften the blow and you may even find a great deal on a points redemption even though cash tickets are sky-high.
Say you were looking to fly from Detroit (DTW) to Key West (EYW) in early August. A cash ticket might cost more than $400 roundtrip, like this itinerary on American Airlines.
But you could book the same exact flights for just 12,000 American AAdvantage miles plus $11.20 in taxes and fees, roundtrip.
Loaded with Delta SkyMiles? Flights to and from Minneapolis-St. Paul (MSP) have been fairly expensive this summer compared to past years. However, we unearthed a Delta SkyMiles deal in early June with rates starting from just 12,000 SkyMiles roundtrip. Most routes had travel dates starting in late August.
Sign up to get cheap flight alerts for free – or upgrade to get 10x as many flight deals including award alerts like this one from your home airport with Thrifty Traveler Premium+!
If you want to fly in style, you'll often get an even better value for your points when booking business class tickets. Thrifty Traveler Premium+ members have been receiving numerous award deal alerts for availability to book business class seats with points and miles.
Just last week, we alerted members to saver award space in business class on Singapore Airlines' fifth freedom routes between the U.S. and Europe. Lie-flat seats on one of the best airlines in the world could be booked for 72,000 miles one-way, including summer travel dates through all of August and into the fall!
In other words, flights that usually cost over $4,000 roundtrip could be booked for 144,000 miles plus $277 in taxes and fees. In this case, Singapore miles are incredibly easy to earn as they're a Chase transfer partner, Amex transfer partner, Capital One transfer partner, and even a Citi transfer partner. That means you can transfer points from cards like the Chase Sapphire Preferred® Card, American Express® Gold Card, or the Capital One Venture X Rewards Credit Card straight to your Singapore account and book!
Bottom Line
Don't let the summer blues hit you if you're finding summer flights too expensive.
With a bit of flexibility, shift your dates to late August or early September, where we're still finding cheap flights. Whether you head abroad or stay close to home, you can find a bargain. Or turn to your points and miles to offset the sky-high summer airfare.