If you're looking for summer getaways, you might notice that many flights may seem more expensive than ever.
But that doesn't mean cheap flights don't exist. You just need to know where to look … and when.
It's not about booking your flights on a Tuesday: There's no such thing as the best day to book flights. And you can't beat the airlines by clearing your cookies or searching incognito, either.
The only way to find the best summer flight deal is by focusing on the right time to travel and the destinations where you can still find cheap flights. Here's how.
Fly in August or September (Yes, It's Still Summer)
In normal years, summer flights are always more expensive. This year, flight prices are through the roof as Americans return to the skies in record numbers for their first summer vacations in years.
But there's still a sweet spot to score a better deal: late summer. Rather than taking a trip from late June through early August, you can often find drastically cheaper flights by shifting your travel dates to late August or early September. 
For some families, that may be tough if the kids are set to go back to school in late August. But for others, many school districts don't start class until after Labor Day.
If you can pull off a late August trip, you might be able to save hundreds of dollars per ticket, squeezing in a cheap vacation before the kids head back to school.
Late August is Cheaper than Early August
At Thrifty Traveler, we search for flight deals every single day, and a clear trend has emerged: Though airfare is high through much of the summer, we regularly see much cheaper prices emerge in mid-to late-August.
Here's a telling example from a Google Flights search from Minneapolis-St. Paul (MSP) to Calgary (YYC) for this summer. August is the perfect time to go visit Banff National Park, Lake Louise, and any other part of the incredible Canadian Rockies. But peak summer flights to YYC can get pricey. That's not always the case the later you get in August, though.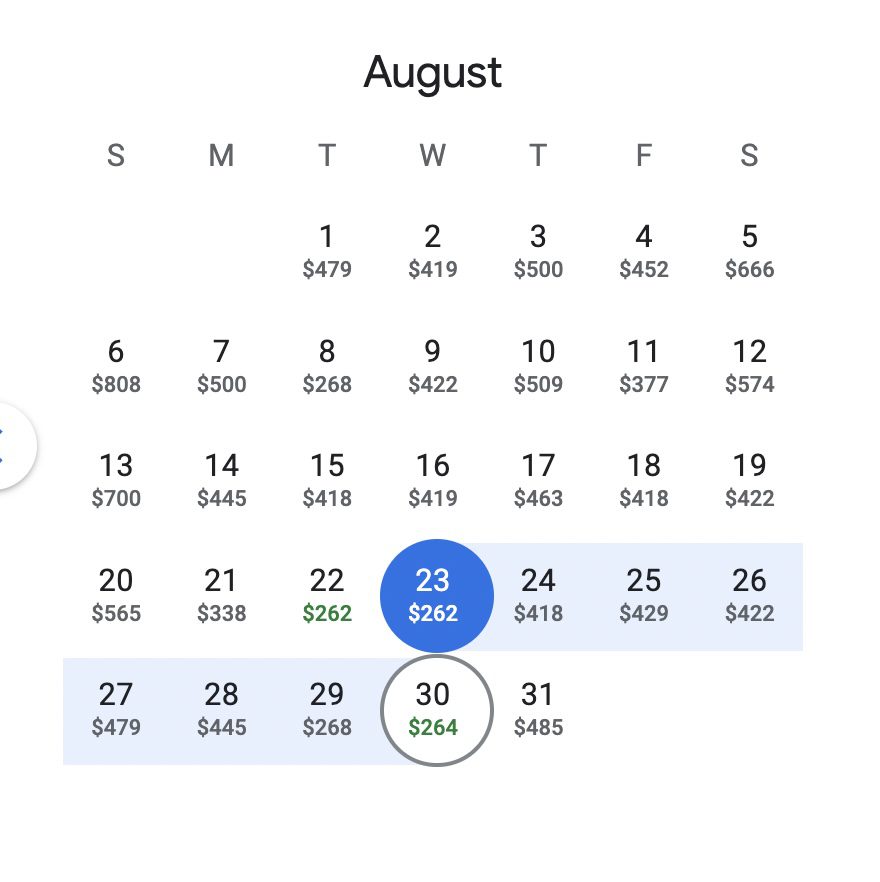 After opening the flexible date calendar, you can see that there are considerable savings if you're able to take a trip a few weeks later. If you want to fly to Banff in the first, second, or third week of August, it's likely going to cost you $400+. If you choose those green dates in the last two weeks of August, however, it's almost half off.
It's not all about price, either. Flying at the end of August sets you up to avoid peak summer crowds at many destinations, too. Banff National Park is as crowded as it gets in June and July. But the weather is best in August and September and there are fewer crowds as families ready to go back to school, youth sports begin again, and calendars start to fill up heading into the holidays.
The same goes for the attractions, beaches, and National Parks of the U.S., too. In 2021, we analyzed the surge in crowds at National Parks in the U.S. If you're stuck going in peak times, you have to wake up before dawn, or wait to head into the park until the early evening to beat the crowds. But if you travel at the end of summer, you can skip those headaches and just enjoy the parks at normal hours instead.
Finally, there's one more fantastic, time-off-saving reason to fly at the end of August: Labor Day weekend.
If you can make Labor Day weekend travel work for you and your family, it's a perfect way to save an extra day of PTO and travel over the long weekend. Despite being a national holiday, Labor Day doesn't typically see the surge in airfare that Memorial Day, the Fourth of July, or Thanksgiving weekend typically do. So if you locked in one of those fares from the August calendar above extending into the first weekend in September, you could take advantage of Labor Day for this low price.

Basically, the key to finding a cheap summer flight is similar to what it's like any other time of the year: Flexibility. And now more than ever, it's critical to follow The Flight First Rule and scope out your flights first to lock in the best deal.
September is Even Cheaper
Labor Day may mark the end of summer for many … but officially, summer doesn't end until Sept. 22. And you'll often find the cheapest flights for summer travel in September.
Remember how much cheaper flights were at the end of August on our Minneapolis (MSP) to Calgary (YYC) flights? Well, you're going to like the looks of the September calendar.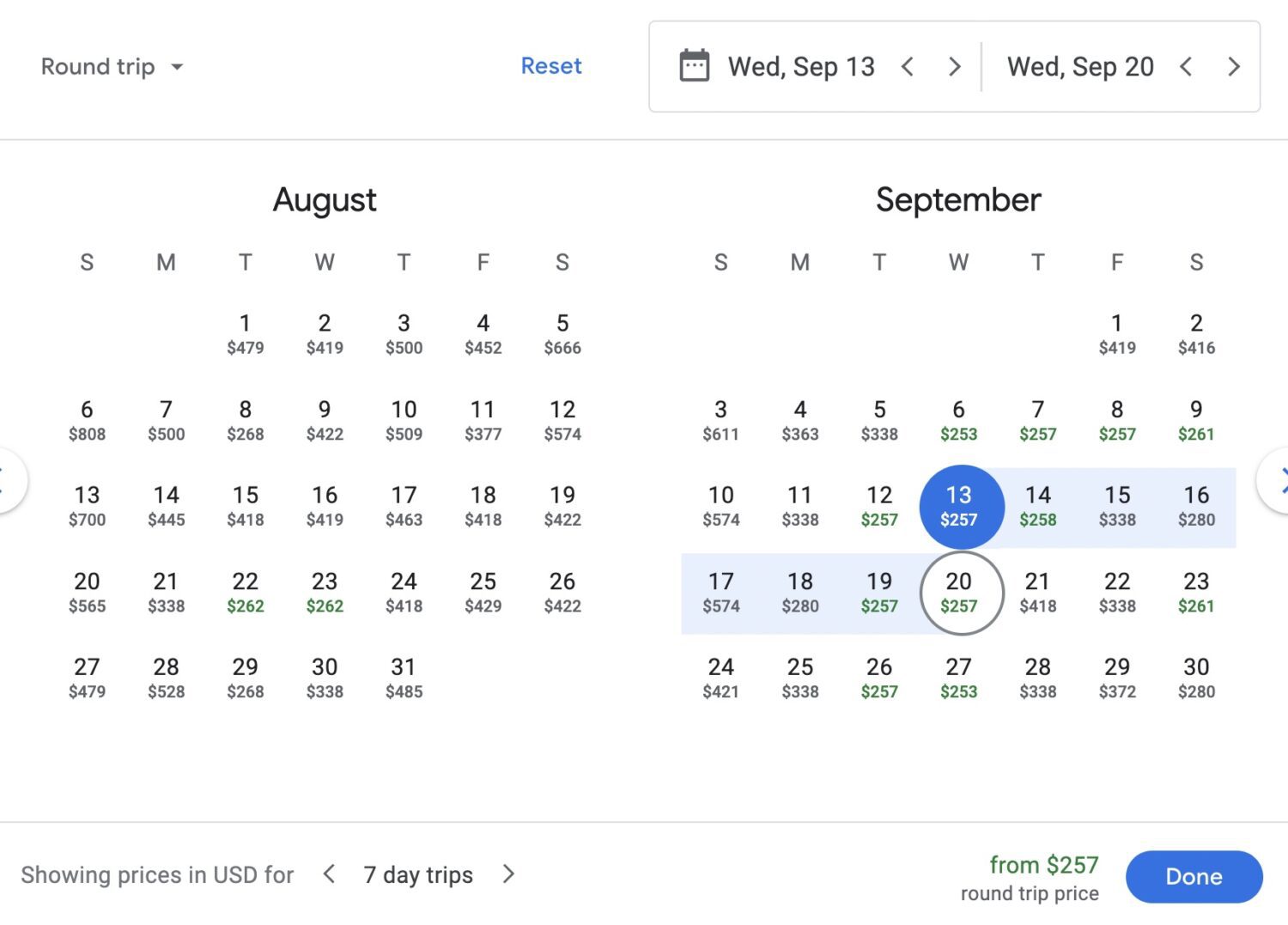 There are quadruple the number of available, cheap dates in September than there are in August. The reason? More people are busy with school and other activities during the month of September, meaning demand is lighter during that time.
But because there are so many more dates, you can use that increased availability to build in a long weekend, where you and the family will only miss one or two days of school or work for the experience of a lifetime in the Canadian Rockies.
We love flight availability that lets you build a weekend trip. We have a full guide to planning and saving on weekend summer trips that can help you plan one yourself.
Explore Your Region This Summer
Can't fly later in the summer? Another great way to save on summer travel is to look a little closer to home. And lucky for you, domestic flight prices are plummeting for travel this summer.
Thrifty Traveler Premium members have been facing a barrage, an onslaught, a tactical offensive of incredibly cheap domestic flights for travel this summer. Sub-$100 airfare is back!
Want to know about the next summer flight deal? Get it sent straight to your inbox with Thrifty Traveler Premium!
We've logged sub-$100 flights like these between NYC and Florida; between Minneapolis-St. Paul (MSP) and Charleston (CHS), New Orleans (MSY), and Savannah (SAV); between Nashville (BNA) and Miami (MIA); between Los Angeles (LAX) and Las Vegas (LAS) and Phoenix (PHX); and many, many more.
You can also visit the Massachusetts Islands of Nantucket (ACK) and Martha's Vineyard (MVY) for just a few dollars more.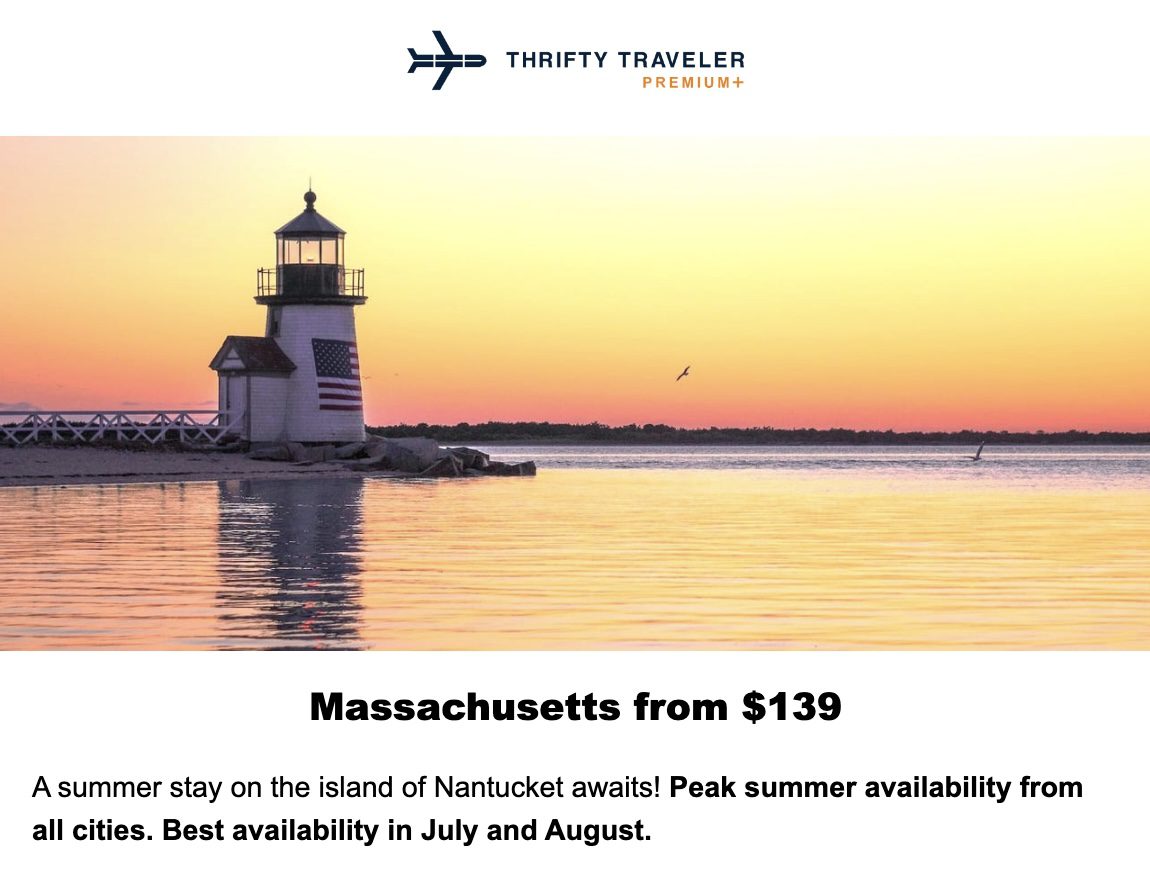 And if you're still yearning for some National Parks action, a late summer visit to Glacier might be exactly what you're looking for.
We have too many examples, really. Domestic flights are really cheap for travel this summer, and that's not usually the case. Take advantage while you can and book that dream getaway ASAP!
Fly on Tuesday or Wednesday for a Cheap Summer Flight
While there isn't a magic answer for the best day to book a flight, there is, unquestionably, a cheapest day to fly – especially during the busy summer.
What are those days? Tuesday and Wednesday.
The calendar above is for flights between Chicago (ORD) and Nashville (BNA) this August and September. It's about as clear a picture as you'll find of the cheapest days to fly.
You can save at least $100 or more per person on summer airfare by flying in the middle of the week, which can go a long way toward making your trip that much more comfy, or being able to afford airfare for the whole family.
Head Abroad This Summer (Yes, Really!)
Want to fly far away this summer? Plan a trip overseas, and you may be shocked to see that you can still find cheap summer fares abroad.
In order to find the best fares, you should definitely adhere to the rules we've already listed above: Aim for the end of summer, aim for the middle of the week, and aim a little closer to home for the best chances at finding a low fare.
But we're not just talking Mexico and Canada here, either. How about halfway around the world?
And if you want to head the other way, consider booking the first-ever nonstop flight between the U.S. and the Faroe Islands.
And if some extra comfort is what you seek, you can fly business class for some insanely low rates, too. This fare from Ottawa (YOW) to Florence (FLR) was the lowest on a crazy business class deal flying all over Europe from most of Canada's airports for peak summer travel.
If you've been itching to get out and see the world, you may want to set your sights on an international destination this summer. The price of a ticket overseas may not seem as bad as you thought. There are flight deals out there for you if you want to leave the country this year.
Use Your Points and Miles
Finally, when ticket prices are high, you may want to consider using your points and miles to book the flight. It can help soften the blow and you may even find a great deal on a points redemption even though cash tickets are sky-high.
Say you want to fly business class to Germany this summer. Well…if you're squeamish, look away…
To purchase these swanky new lie-flat seats we just reviewed (and loved!) on this Condor route, you're looking at paying more than $3,000 roundtrip per ticket and it's $3,230 if you book directly with the airline (which you should always do.)
But that's not what you'll pay!
With just 55,000 Alaska Airlines miles each way, this seat could be yours for just the $48 in taxes and fees. It's a pretty incredible deal for a flight this long in a seat this nice!
If a cheaper business class seat is interesting to you, you can also book lie-flat seats to Madrid, Spain (MAD) for as low as 34,000 miles on Iberia Airlines, too. Read our full guide to booking this amazing Iberia Business Class sweet spot to snag a lie-flat seat on one of these routes.
Loaded with Delta SkyMiles? How about a trip to Hawaii?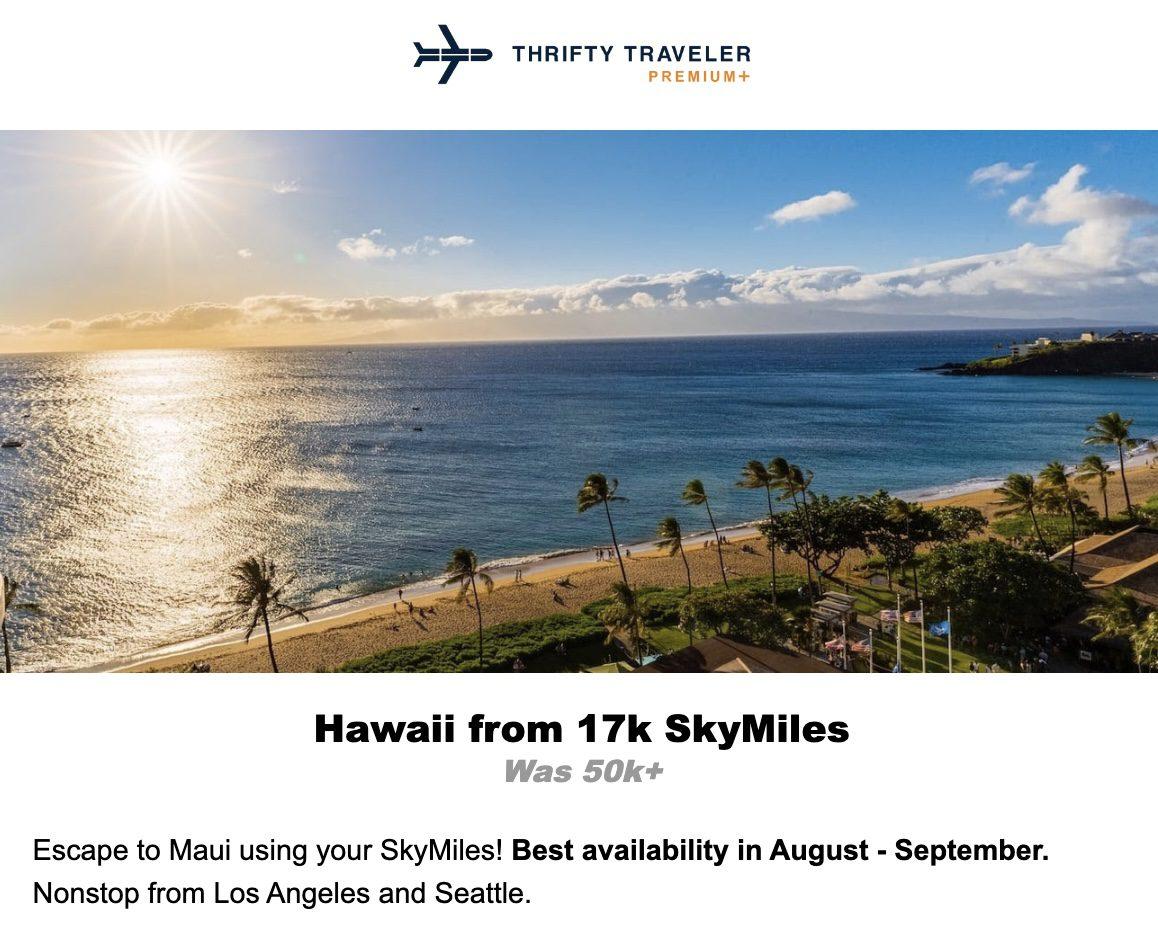 Sign up to get cheap flight alerts for free – or upgrade to get 10x as many flight deals including award alerts like this one from your home airport with Thrifty Traveler Premium+!
Hawaii's perfect weather stays perfect all year round. There's never a bad time to go, but summer is an exceptionally good time to go if you have kids in school or are locked into an academic calendar yourself. And at these roundtrip SkyMiles rates, you might have just found your ticket to paradise.
These are some of the best SkyMiles rates we've ever seen to Hawaii and we're sure this is the only affordable way to get to the islands during the summer travel season. These August and September fares are making our subscribers' years all over the U.S. and Canada. We hope you were one of them!
Points and miles unlock so many more peak summer travel opportunities. If you've crossed off a summer trip this year, think again! Use your hard-earned points instead.
Bottom Line
Cheap summer flights are still well within reach if you use a few of our favorite methods to find them.
By shifting your travel dates to late August or early September, looking a little closer to home, finding an international travel sweet spot, and using your points and miles, summer flight deals are all still at your fingertips, even as we head into June.