Pull up a webcam of one of the entrances to Yellowstone National Park and you'll see hundreds of cars waiting to enter. On the website of Glacier National Park you'll find a page entitled "dealing with crowds" essentially telling travelers: "Don't come here." In West Yellowstone, Montana, restaurants and shops don signs that simply say, "Be Patient" as tourism there has exploded. Lots and trails at Zion National Park are regularly packed.
Heading into the great outdoors has never been more popular as travelers escape quarantine with new travel priorities, and there's no better place to go than the network of U.S. National Parks. But the pandemic has pushed the already growing popularity of some of these parks to a breaking point, leading to long lines and overcrowding that spill over into surrounding communities.
But if you plan your visit to the U.S. National Parks correctly, you can avoid long lines and the brunt of the crowds altogether. Take it from me: Earlier this month, I headed west to visit Yellowstone, Glacier, and Grand Teton National Parks.
Read more: How to Book Cheap Flights to the National Parks!
While the West Gate of Yellowstone National Park frequently suffers from waits of an hour or more, we got through the gate three times over the course of three days without waiting more than 2 minutes. On the first day, we drove through without even a stop.
Just How Busy Are National Parks?
Despite being in relatively remote locations, Yellowstone and Grand Teton National Parks were both in the top five most visited National Parks in 2020 as travelers stayed closer to home, leaving big cities behind and heading for the great outdoors.
Those two Wyoming parks and Glacier were all in the top 10 most visited National Parks in 2019. Data from 2021 is not yet available for all three parks, but Grand Teton saw record visitation in both May and June, according to the National Park Service.
You can see how interest in Yellowstone has surged in this graphic from the National Park Service – while employment at the park has remained steady or even dropped. The park says visitation has increased by 40% since 2008 – with half of that increase occurring just from 2014 to 2016.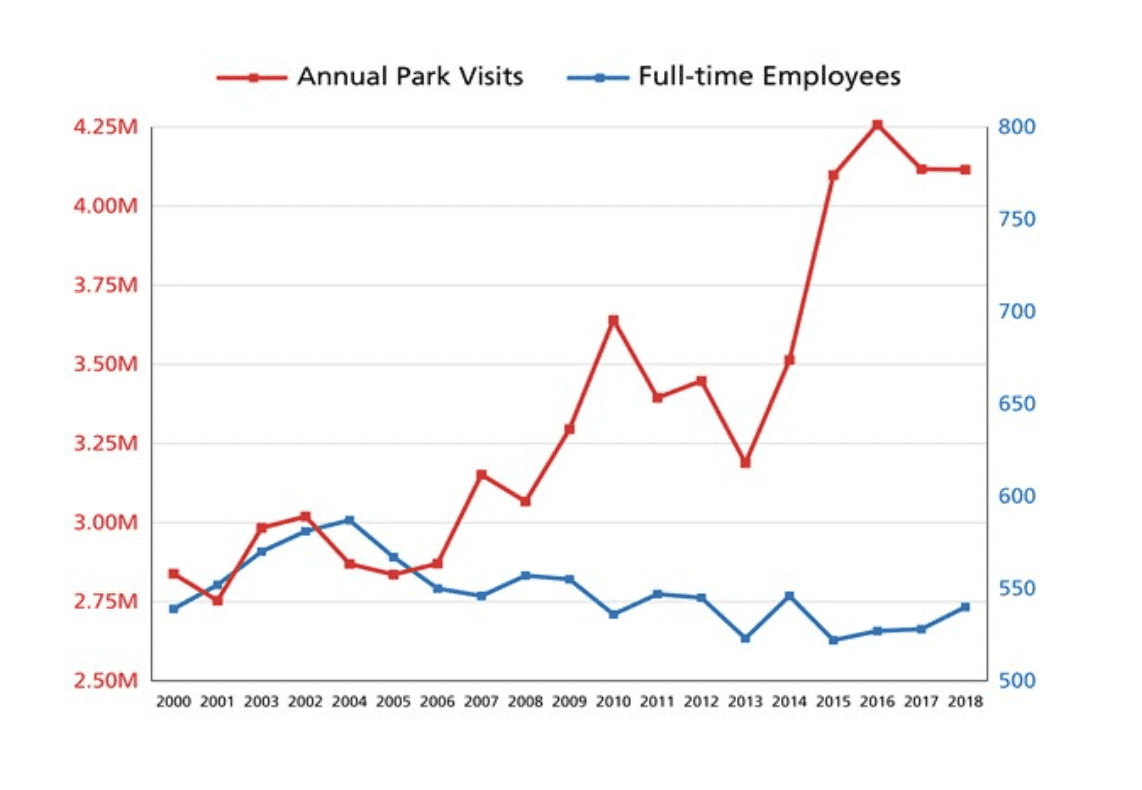 And you can feel those swelling numbers can be felt at the most popular locations in the parks during the day. Last week, I visited Yellowstone's Old Faithful geyser on two consecutive days. The first time, I went just before sunset (around 7:45 p.m.) and was greeted with minimal crowds and a parking lot that was about 10% full.
But the following afternoon, we went to Old Faithful around 2 p.m. … and that's when we encountered the crowds we heard about and feared. With a nearly full parking lot and throngs of visitors lining the boardwalk, it felt more like Disney World than a National Park.
Just south of Yellowstone you'll find Grand Teton National Park. While it sees fewer visitors, there are also fewer access points and crowds are concentrated to just a handful of areas. One of the most popular spots to soak in the soaring Teton Mountain Range is the stunning Jenny Lake.
As we left Jenny Lake at 2 p.m. after a nine-mile hike, a parking lot that was empty when we arrived was now completely full. Worse yet, there were cars parked along the nearby highway for miles and miles, forcing late-arriving visitors to walk miles before even reaching the trailheads or visitors centers.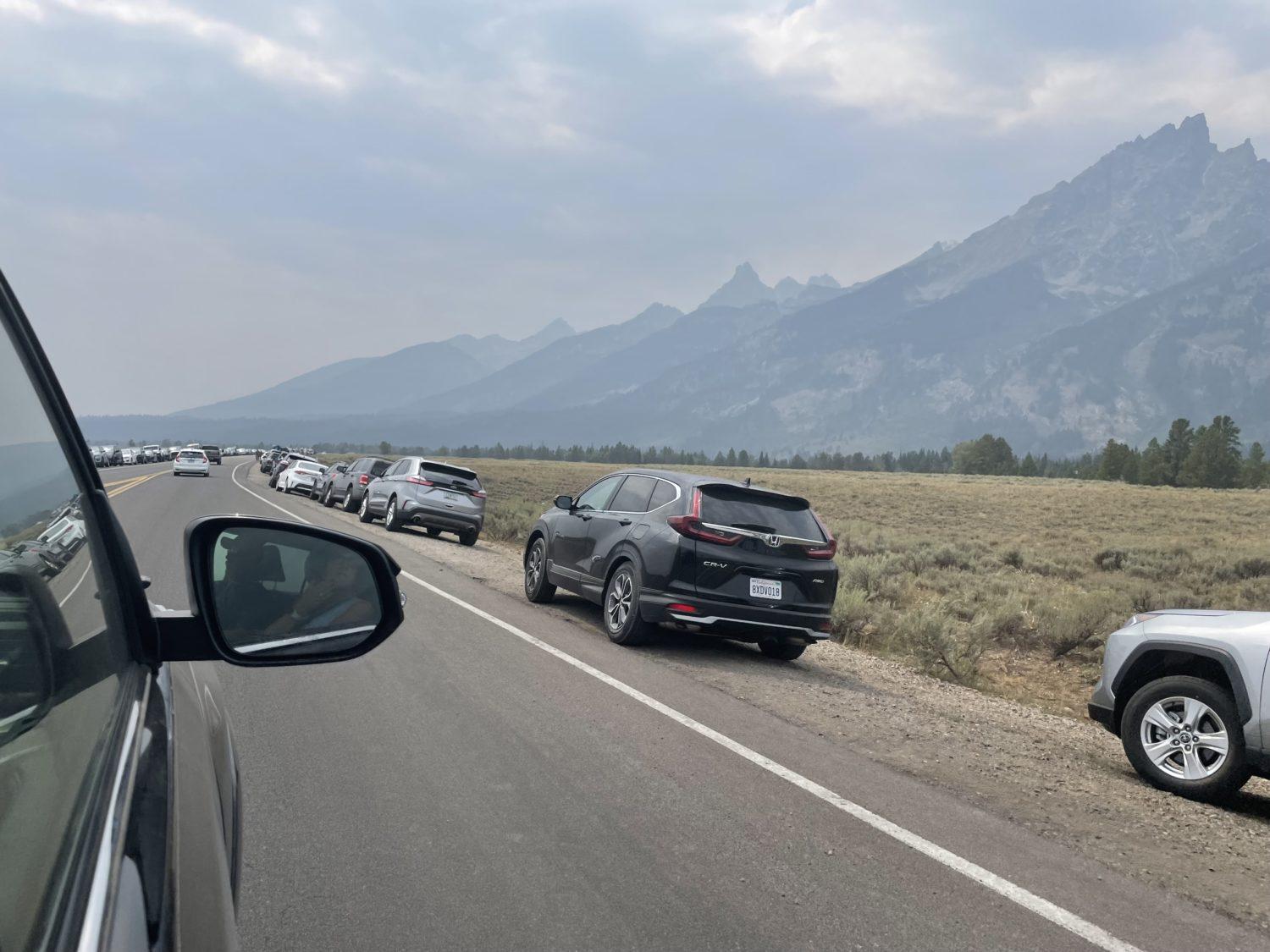 At Glacier National Park, park crews told us they never take down signs indicating the Avalanche and Logan Pass parking lots are "full" because they both routinely fill up by 7 a.m. When we arrived at 6:45 a.m., we had no problem getting a spot at Logan Pass. But around noon, we were unable to get parking at either Logan Pass or Avalanche on other days.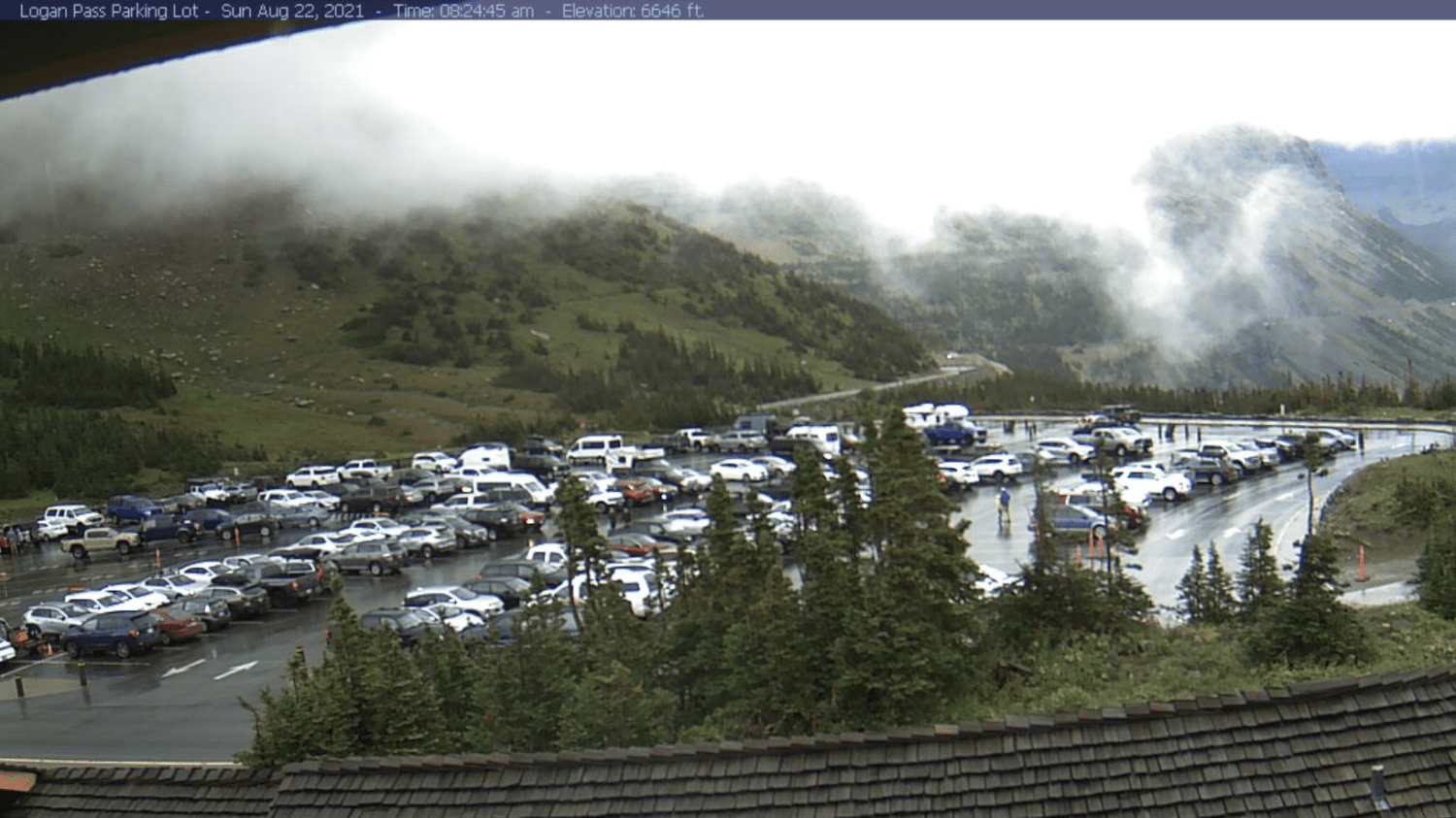 Tips to Avoid Crowds at the National Parks
Yes, it's busier than ever at some of our nation's most beautiful parks. But that doesn't mean you have to avoid them altogether.
Here's how you can enjoy the busiest parks without waiting in lines or fighting crowds.
1. Go Early
The No. 1, surefire way to avoid crowds National Parks crowds is to get into the gates very, very early.
Most people aren't willing to get up before the sun on vacation. If you are, you are the most likely to breeze through the gates and see everything you want without crowds.
Read more: How to Book Your National Parks Pass
The Park Rangers don't even man the entry gates until 6 a.m., meaning if you enter before that, you don't need a pass or a reservation. This worked at Yellowstone, Grand Teton, and Glacier last week in our quest to visit some of the most popular spots in the park.
When we entered Yellowstone at 5:45 a.m. on a Saturday, there was no wait and nobody at the West Entrance to check our passes. At Grand Prismatic Spring, a major attraction, we found an empty parking lot. When we entered at 6:50 a.m. the next day, there was less than a minute-long wait and crowds were sparse across the park until about 8:30 a.m.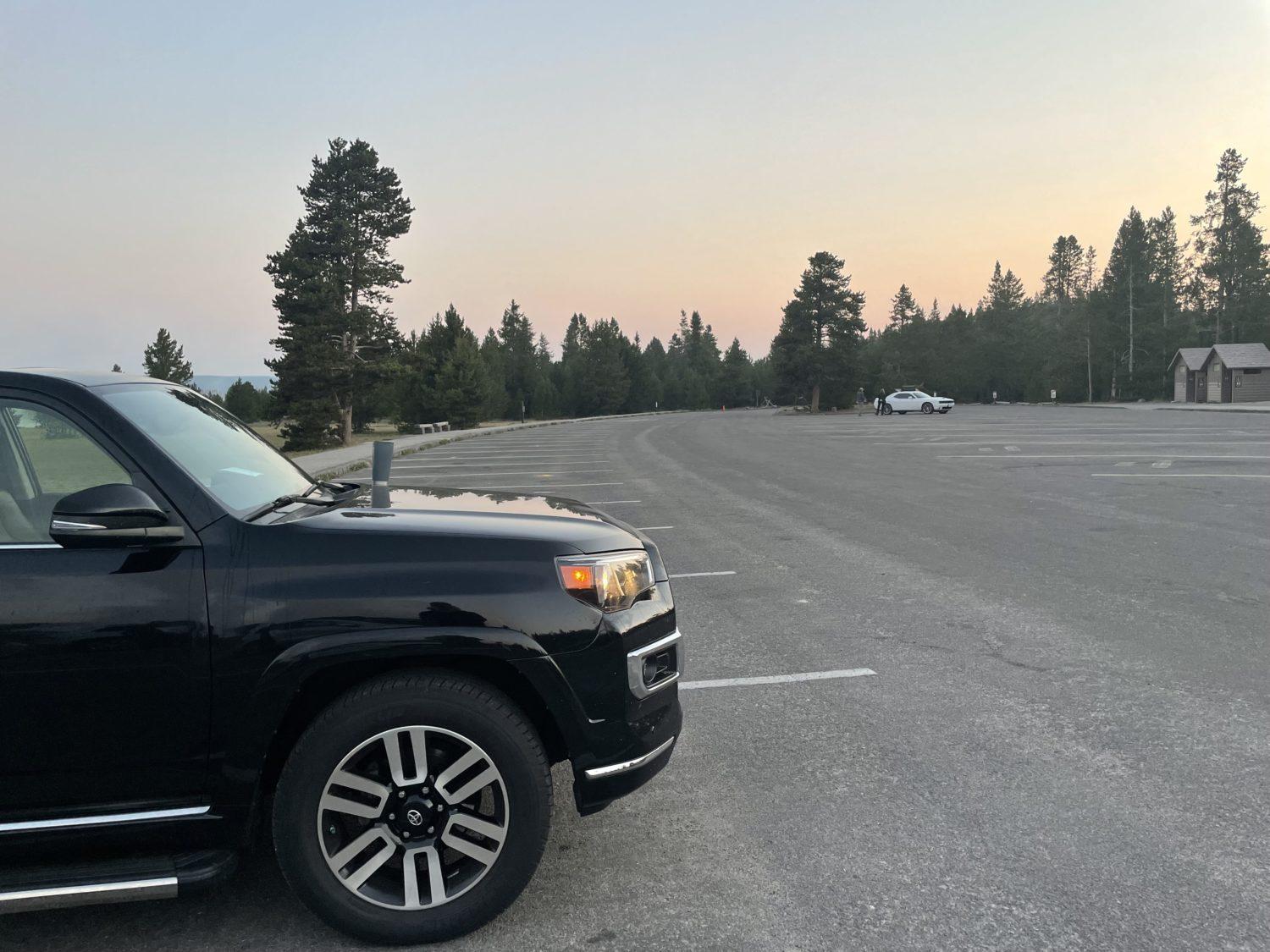 At Grand Teton, the Jenny Lake parking lot was similarly empty at 8 a.m. when we arrived. But by 2 p.m., miles and miles of cars lined the highway out of the overflowed parking lot.
To get to Logan Pass at Glacier National Park last weekend, we left our Whitefish hotel at 5 a.m. to get to the parking lot by 6:45 a.m. There was no wait at the gate, but we were part of a steady line of cars creeping up the Going-to-the-Sun Road. We got a parking spot (thanks in part to temperatures in the low-40s and some sprinkling rain), but the lot filled quickly as we prepared for our hike.
Read more: How to Book a National Parks Trip Using Points and Miles
The early start allowed us an early look at one of the best hikes on the continent: The High Line Trail. And we had it all to ourselves.
2. Or Go Late
Crowds also dissipate in the parks around dinnertime. Sunset, for instance, is a great time to explore. For many parks, you can go in for free after 5 p.m. – just as you can before 6 a.m. Plus, sunset is a beautiful time to see the sights and it's easily the best time of day for photography lighting.
For instance, we visited Old Faithful and the Upper Geyser Basin just before sunset, which allowed us to see both attractions with few crowds and in the perfect light.
3. Get Off the Beaten Path
In every park, there are a few attractions that will always draw crowds. Seeing them at odd hours can help ease those crowds, but the best option if you want some extra space from others is to get deeper into the parks.
Backcountry hikers and campers see the most remote, empty parts of the park. But even day hikers can get away from the masses for hours at a time, like our trek to St. Mary Lake at Glacier National Park.
The parks are vast, but most visitors spend their time in the developed areas around the most Instagrammable locations. Head deeper into the parks to escape. Just remember to bring bear spray and extra layers (especially in the early mornings and afternoons as temperatures routinely dip into the 40s, even in August).
4. Do Your Homework and Be Prepared
As crowds continue, the parks are taking notice and adding reservation systems and other restrictions. Knowing how to navigate them well before you arrive at the park will make your experience more smooth and allow you to avoid the thousands of other visitors better.
For instance, at Glacier National Park, a ranger said the reservation system for people looking to use the Going-to-the-Sun Road has helped spread crowds out throughout the day.
Other systems throughout Yellowstone and Glacier include park-operated tour buses and shuttle buses, which allow you to take in the sights without worrying about driving and feature guides to help you better understand what you're seeing.
Looking For Other National Parks Options? Try Utah!
Use the webcam features at the popular parks to help gauge how busy parking lots and other attractions are before and during your visit.
Bottom Line
Yes, National Parks are busier than ever. But that doesn't mean they're too busy to visit.
The National Parks Service has implemented new systems to help control – though not eliminate – crowds. Yet the power to have a better trip is largely in your hands. Most importantly, get inside the park gates' early in the morning – or late in the afternoon – to beat the crowds. And do your homework before arriving.