Whether you're hopping on a short domestic flight or flying eight-plus hours overseas, a few extra inches of legroom can make all the difference when it comes to an enjoyable journey.
Not all seats are created equally, and legroom can vary from aircraft to aircraft and even more between airlines, from major U.S. airlines to ultra-low-cost carriers notorious for knee-crunching seats. Luckily, there are ways to make a more spacious seat on your next flight.
Read on for the tools we use to scope out the seats with the most legroom, and the airlines that consistently give you the most room to stretch out – even if you're sitting all the way in the back of the plane.
Google Flights Legroom Extension
Google Flights should always be your first stop when searching for flights. But there's a browser extension that makes this search tool even more powerful if you're looking to fly for a bargain without sacrificing comfort.
If you're using Google Chrome as your web browser, add the Legrooms Extension for Google Flights. The free tool quickly displays a ton of additional, useful information about the flights you're looking at – including how much legroom your flight will have. Let's take a look at what it can show you.
We'll use a simple search from Minneapolis-St. Paul (MSP) to Denver (DEN) to demonstrate what Legroom can do.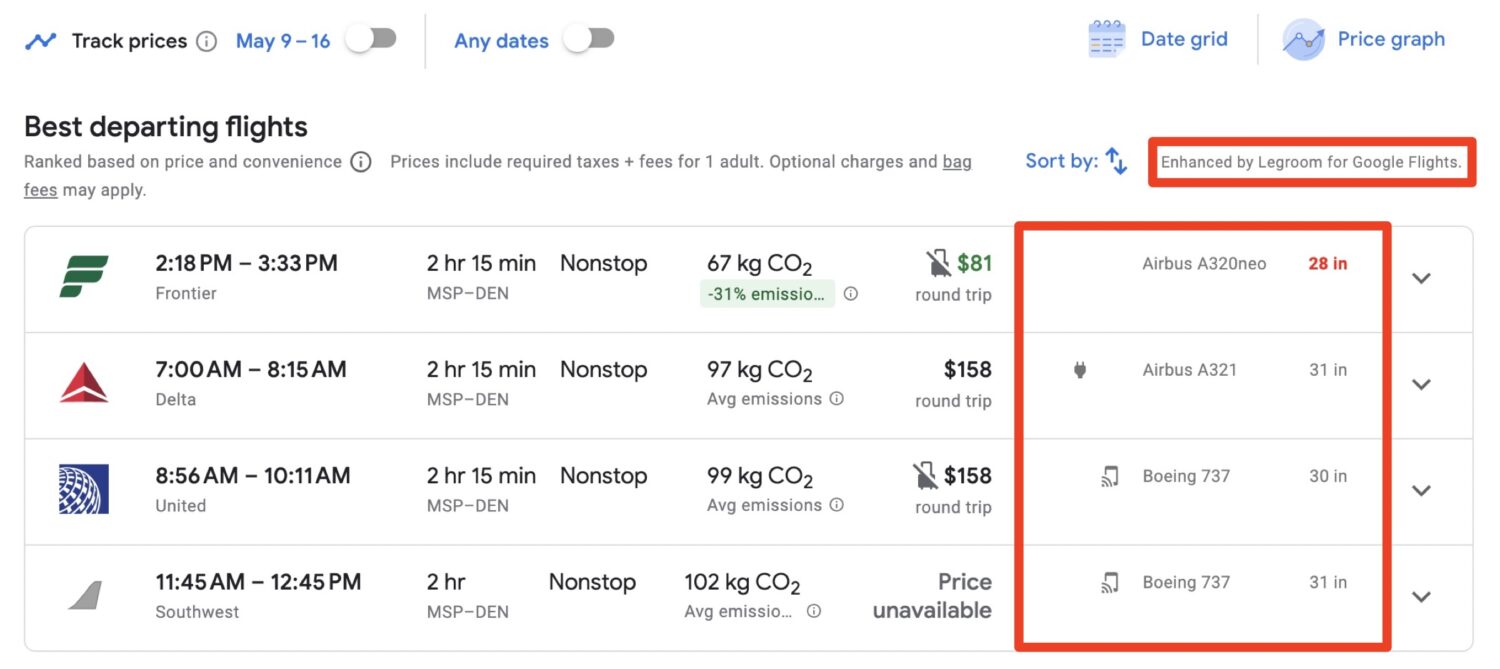 Read our full guide to using Google Flights to find the cheapest flights, every single time! 
The Legrooms extension immediately shows you plenty of useful information about each flight, from the plane type to the legroom to whether you'll be able to charge your devices onboard. While airlines might have this information when booking direct, it's not always easy to find. With the Legrooms extension, you can quickly get a look at everything you'll get on your flight.
Ever since Google Flights began displaying carbon emissions data for flights, this Legrooms Extension can't display each and every bit of information about the flight. Still, there's plenty of intel right at your fingertips.
Plus, you can click on the individual flights to glean even more data about the Wi-Fi onboard, if you have in-seat power and/or USB outlets, if there's live TV, and more.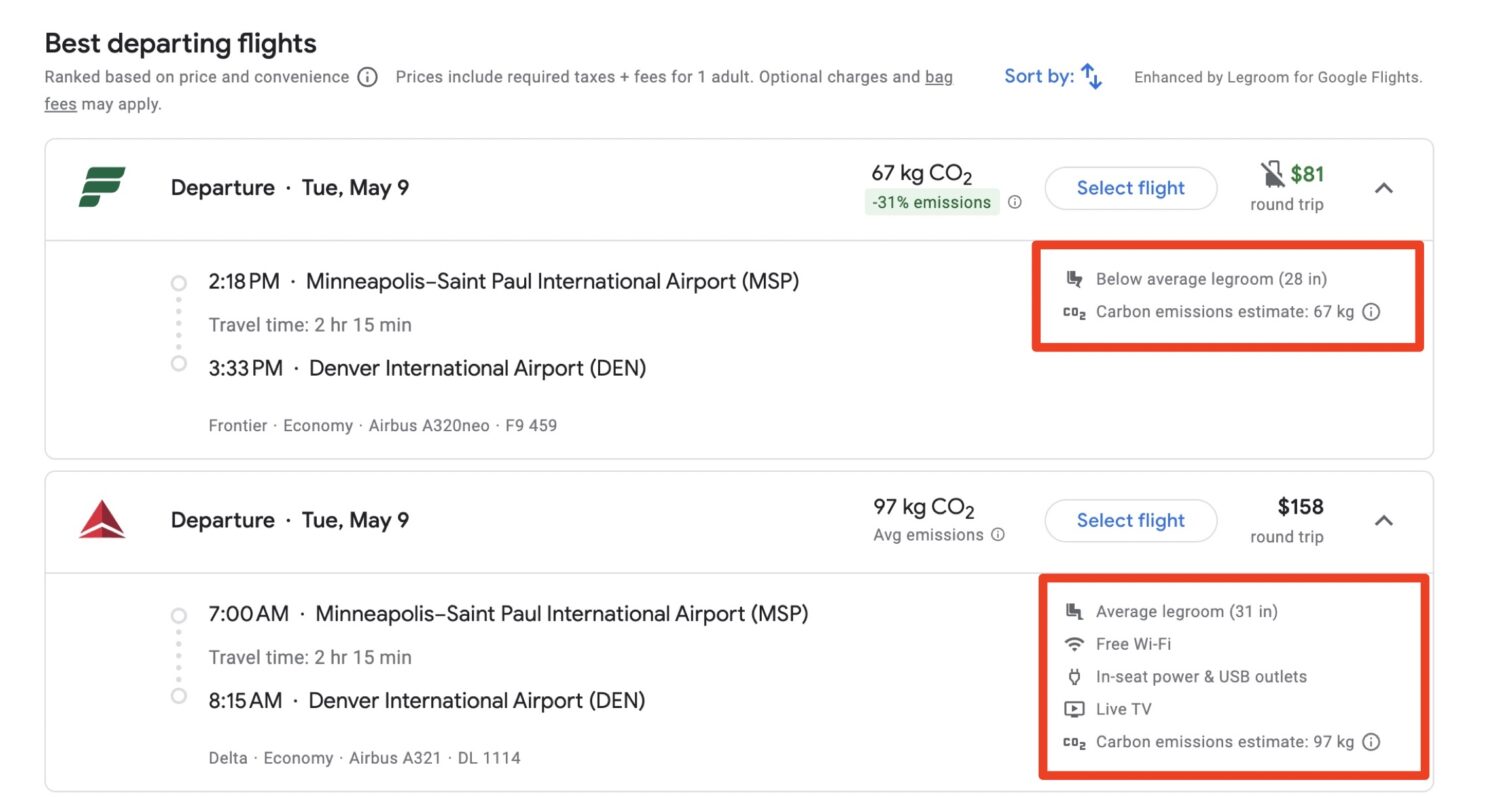 Most importantly, though: How much legroom will you actually have? These days, 31 inches of pitch or so is the norm … though that's as low as 28 inches on budget airlines like Spirit and Frontier, though those figures don't account for the extra space passengers get from those airlines' curved, slimline seats.

There's no better way to get a ton of information about the flights you may book. Use the Legrooms extension to help steer you toward the best choice.
Just keep one thing in mind: Airlines can change which type of plane operates your flight at a moment's notice. So while Legrooms can help prepare you for what's in store, it won't always reflect what plane you actually board that day.
AeroLOPA & SeatGuru
When it comes to selecting your actual seat on the plane, there are two tools that can help you scope out which ones might give you a little bit of extra legroom.
Ever heard of aeroLOPA? Me neither, until recently. Now, I turn to this tool every time before making my seat selection.
Aerolopa has detailed seat map drawings of dozens of world airlines to help you get a sense of what your seat looks like on almost any flight in the world. But, there's a hitch: You have to know exactly which type of plane you're flying on to pull up the right seat map.
That's where the Legroom extension we detailed above comes in handy. Let's say you're flying Japan Airlines economy class, which is known for having some of the most legroom of any airline in the world, and you learn from your Legroom extension that you'll be flying one of their Boeing 777s. Open a new tab, navigate to aeroLOPA, scroll down to "Japan Airlines" on the left-hand side, and click on the 777.
You should see an incredibly detailed seat map that looks like this.

While this map is great for showing you what your seat will look like onboard and how close you are to other seats, you need to scroll down to the bottom of the page to find actual numbers. That's where you'll find information including the seat pitch (the distance between two rows of seats) and width for every cabin on the plane – from first class to economy.

As you can see, this JAL 777 has an industry-leading 34 inches of legroom in economy. Plus, you'll see that the seats have a bottle holder, a plug-in, and a 10.6-inch seatback TV screen, too.
After booking my flight, before I pick my seat, I always pull up aeroLOPA to see what I'm getting onboard.
Read our complete guide to using aeroLOPA! 
SeatGuru is another tool you can use to scope out legroom on a plane. You can plug in your flight details and it will pull up information on the exact plane you're flying, the legroom specs, and even a color-coded seat map to help guide you to the best seats on the plane – and which ones you should avoid.
Read more: SeatGuru is Your Key to Finding the Best Seats on the Plane
However, SeatGuru has been less and less reliable lately. TripAdvisor, which owns SeatGuru, stopped updating it during the pandemic, so some seat maps may be outdated.
U.S. Airlines with the Best Legroom
So, which airlines have the best legroom? That's not too hard to discern when you look at the numbers using the tools above.
In the U.S., the airlines JetBlue and Southwest consistently offer the most legroom with an average of around 32 inches per seat, although you can find a few JetBlue planes with 33 inches of legroom. Alaska and Hawaiian seats typically have 31 or 32 inches of legroom, too.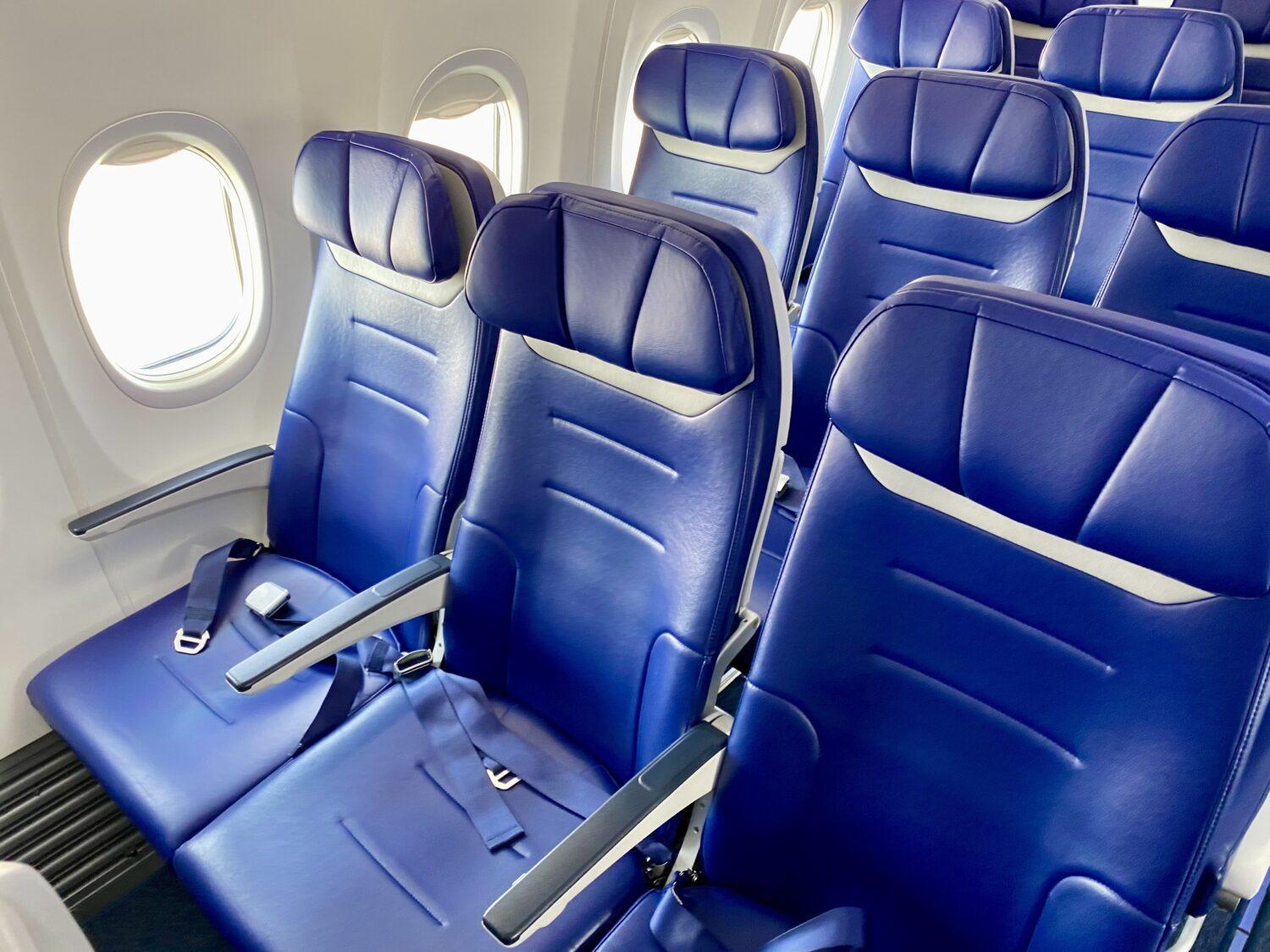 Delta, American, and United all offer between 30 and 32 inches of legroom depending on the aircraft, with Delta typically sticking closer to a full 32 inches of legroom. All three of those airlines fly diverse fleets, so it's best to check the Google Flights Legroom extension before you book to see what you're actually getting.
International Airlines with the Most Legroom
It's no surprise that international carriers offer some of the best legroom of any airline, and there are some that rise above the rest.
Once again, we have to highlight Japan Airlines' economy seats.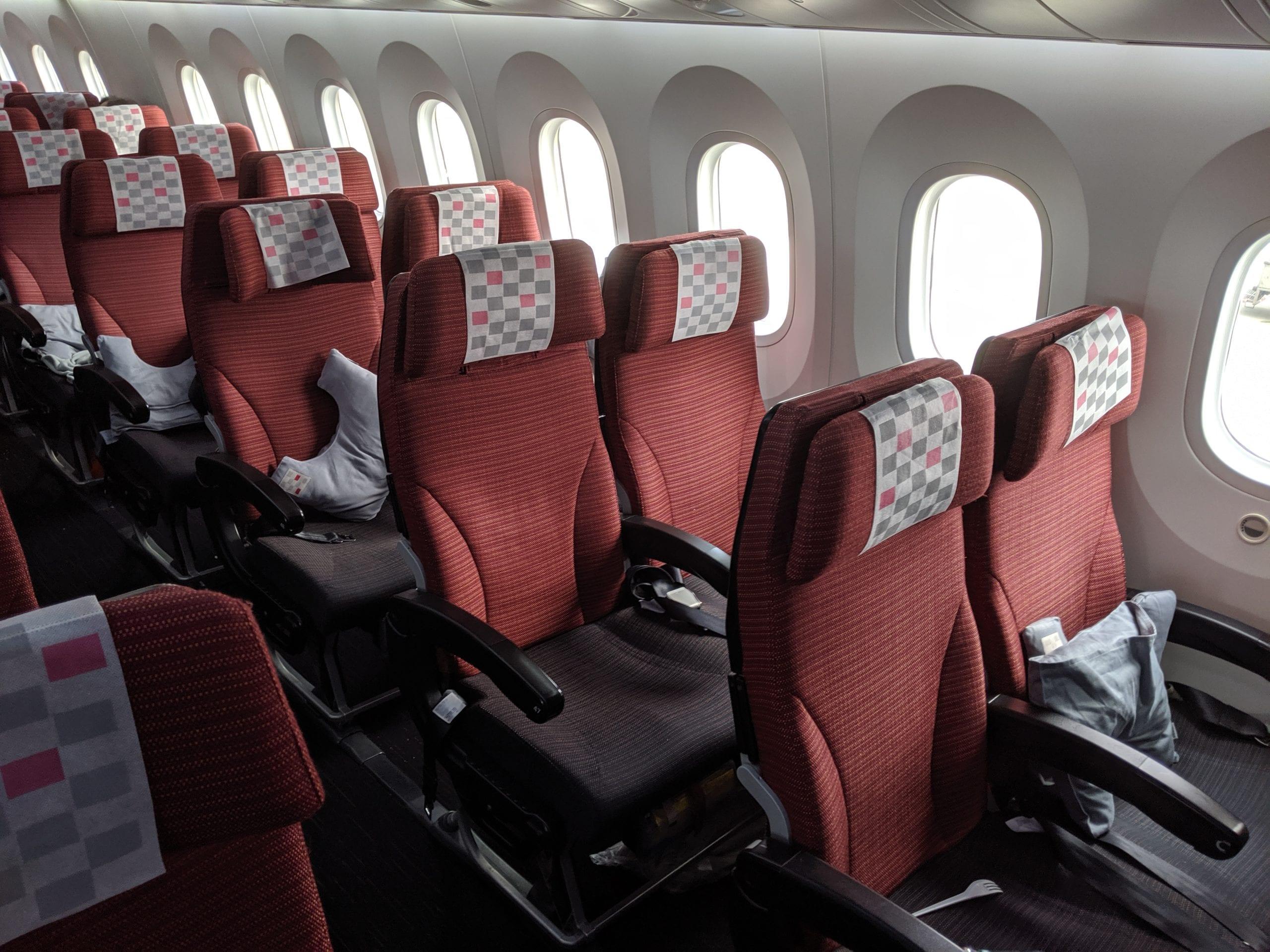 Most transpacific JAL flights have a super-roomy 34 inches of legroom, the same as you'd get in Economy Plus on United, Main Cabin Extra on American, or Comfort Plus on Delta in the U.S. But unlike those seats, you don't have to pay extra – that's the standard for economy.
Elsewhere in Japan, All Nippon Airways (ANA) also has between 32 and 34 inches of legroom on its transpacific flights, as does Taipei-based EVA, Emirates, and Singapore Airlines.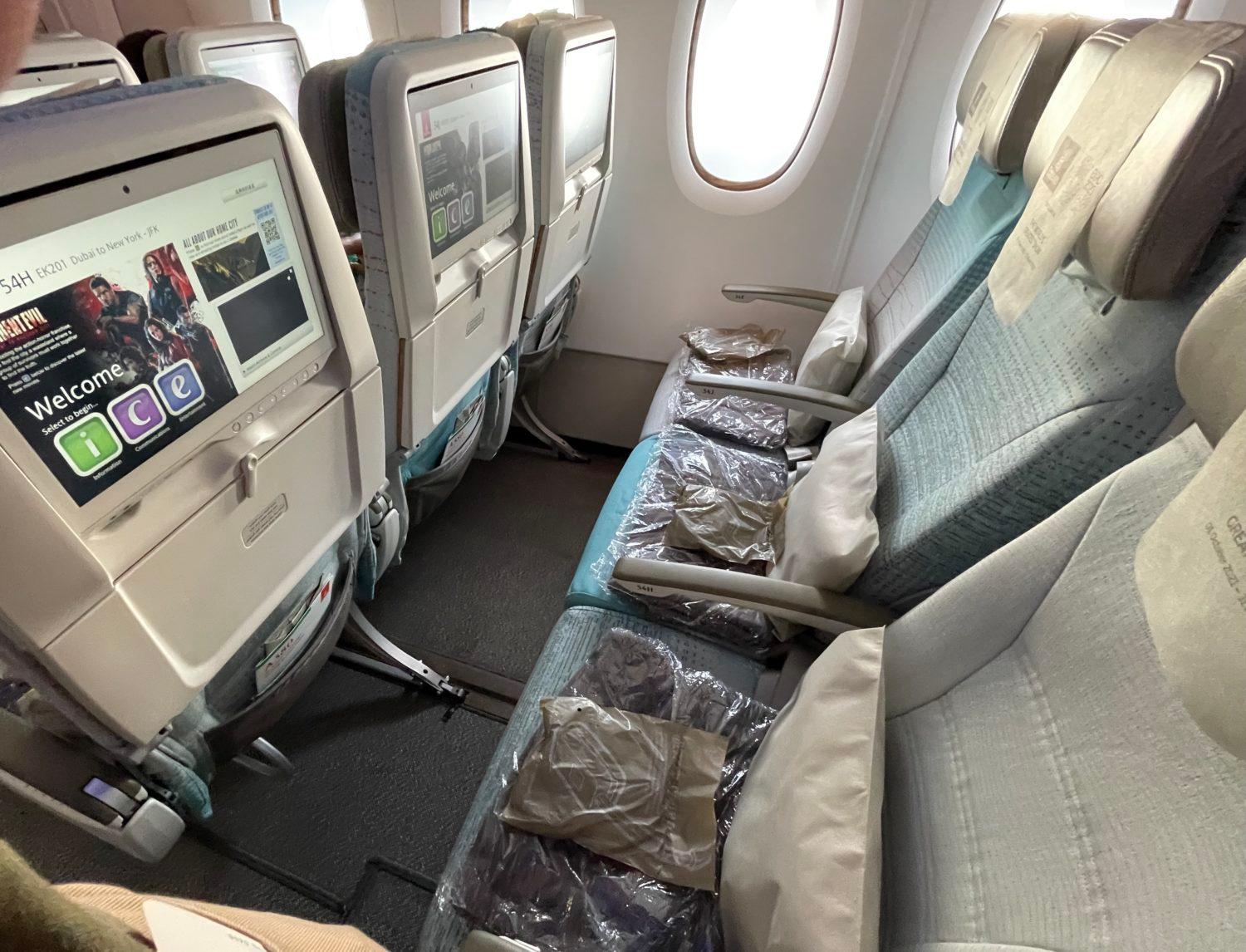 While those airlines above offer undoubtedly the most room, major international carriers like Air France, Korean Air, Cathay Pacific, SWISS, and Vietnam Airlines all boast 32 or more inches of legroom in economy, too. That's on par or better than most U.S. airlines.
Bottom Line
Finding the airlines with the most legroom is as simple as downloading the Legroom extension on Google Chrome, navigating sites like aeroLOPA or SeatGuru, and having a general idea of which airlines do it best.
Don't let yourself get crammed into a knee-crunching seat the next time you fly. Let yourself stretch out instead!