Delta SkyMiles aren't just good for flying on Delta, and booking flights on SkyTeam partner airlines is one of the best ways to use your SkyMiles. But it can be tough to find the award availability to actually book – especially with business class on Air France or KLM, who are stingy with letting SkyMiles members book their flights.
But we've found a goldmine of business class availability flying Air France or KLM business class from the U.S. to Europe during the crazy summer season, with four or more seats business class seats available almost daily in July and August. And you can book these flights for 75,000 SkyMiles each way – with very low cash fees.
The best availability is flying in and out of Washington, D.C.-Dulles (IAD), where you can easily fly a family of four (or more) in business class to either Paris-Charles de Gaulle (CDG) on Air France or Amsterdam (AMS) with KLM. Keep reading for a full look at all the summer availability on these routes and others. 
That KLM flight is one to watch for, as you'll be on the airline's great Boeing 787-10 Business class.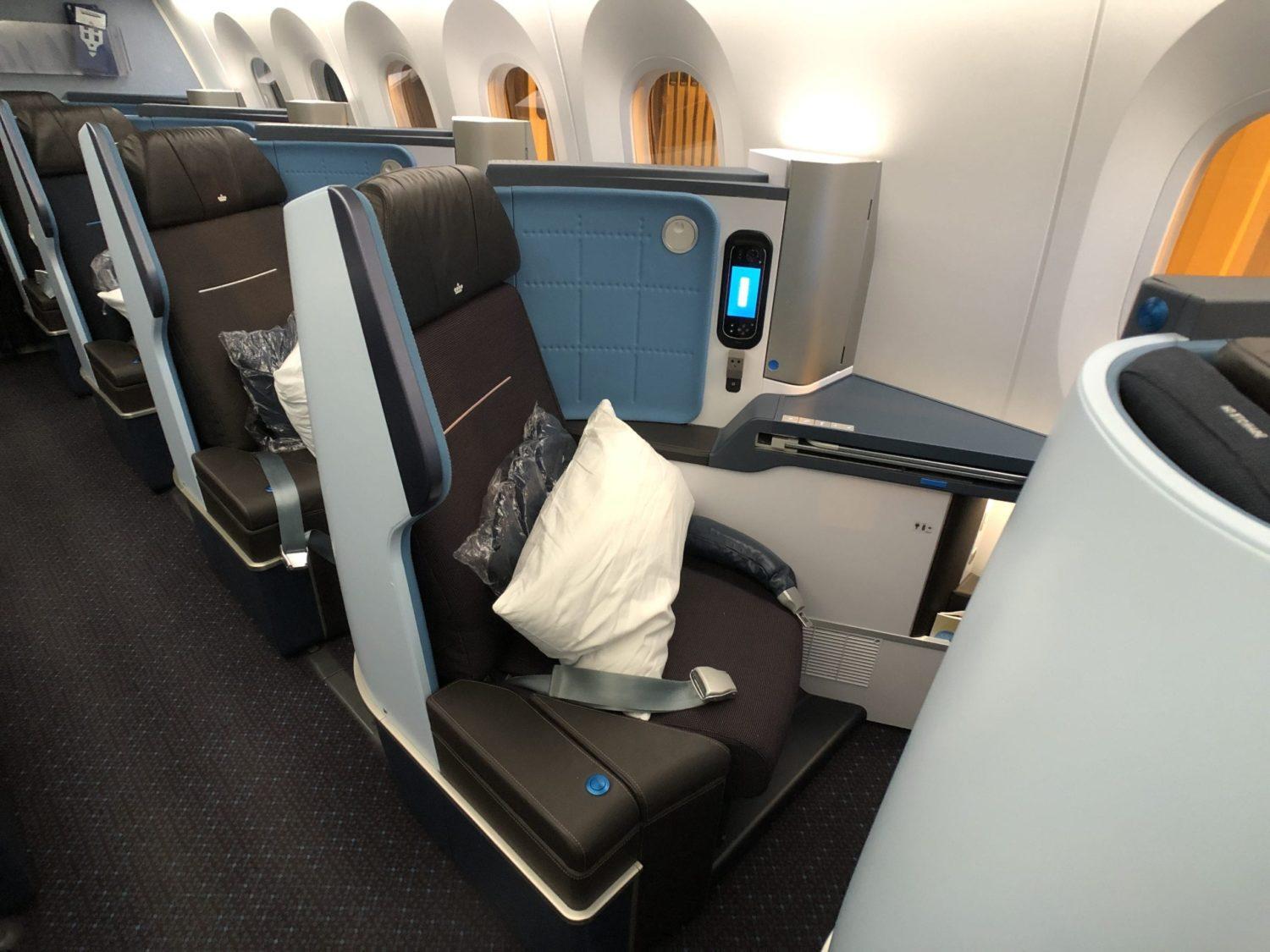 Read our review of flying KLM's 787 business class!
There's also rock-solid summer availability on the brand new KLM nonstop flight from Austin (AUS) to Amsterdam, which flies three times weekly through the summer. In July and August, you can book four or more seats almost every day for 75,000 SkyMiles each. And you'll find some scattered summer availability flying in and out of other hubs like Seattle (SEA), San Francisco (SFO), and Chicago-O'Hare (ORD), primarily flying Air France business class.
Not interested in visiting Amsterdam or Paris? No problem! You can typically use this longhaul availability to fly almost anywhere in Europe, connecting in either Amsterdam or Paris, and still pay just 75,000 SkyMiles each way. Just search for your final destination, whether it's Rome (FCO) or Vienna (VIE) or Prague (PRG) or elsewhere!
Getting home from Europe typically isn't a problem, either – there's solid business class availability back to Washington, D.C., Austin, and other U.S. cities – especially starting in late July and through August.
Unlike Delta flights, where SkyMiles award rates are constantly changing (and usually exorbitant for business class) the rates to book partner airlines with SkyMiles are stable. With Air France and KLM, it's always 25,000 miles for a one-way economy ticket and 75,000 for business class. The trick is finding the availability – and we just solved that problem for you.
So you could book a round-trip business class summer trip to Europe for 150,000 miles. That's fairly competitive with what other airlines charge – and far less than Delta typically charges for its own business class flights to Europe.
Don't have enough SkyMiles in your account? You can transfer American Express points from cards like the Platinum Card from American Express directly to Delta!
Of course, you could also book these flights using Air France/KLM Flying Blue Miles, which are transferrable from all the major banks like Amex, Chase, Citi, and Capital One. And while it may require fewer miles, Flying Blue passes on some hefty cash fees. Booking the exact same nonstop flight with Delta SkyMiles would save you about $400 in fees.


Thrifty Tip: Book round-trip fares to minimize your cash fees!
So just how easy is it to book these flights in the summer? We're so glad you asked.
Wide-Open Summer Availability
Residents of our nation's capital are in luck this summer. Check out how easy it is to book four or more business class seats to Amsterdam with KLM in the middle of summer.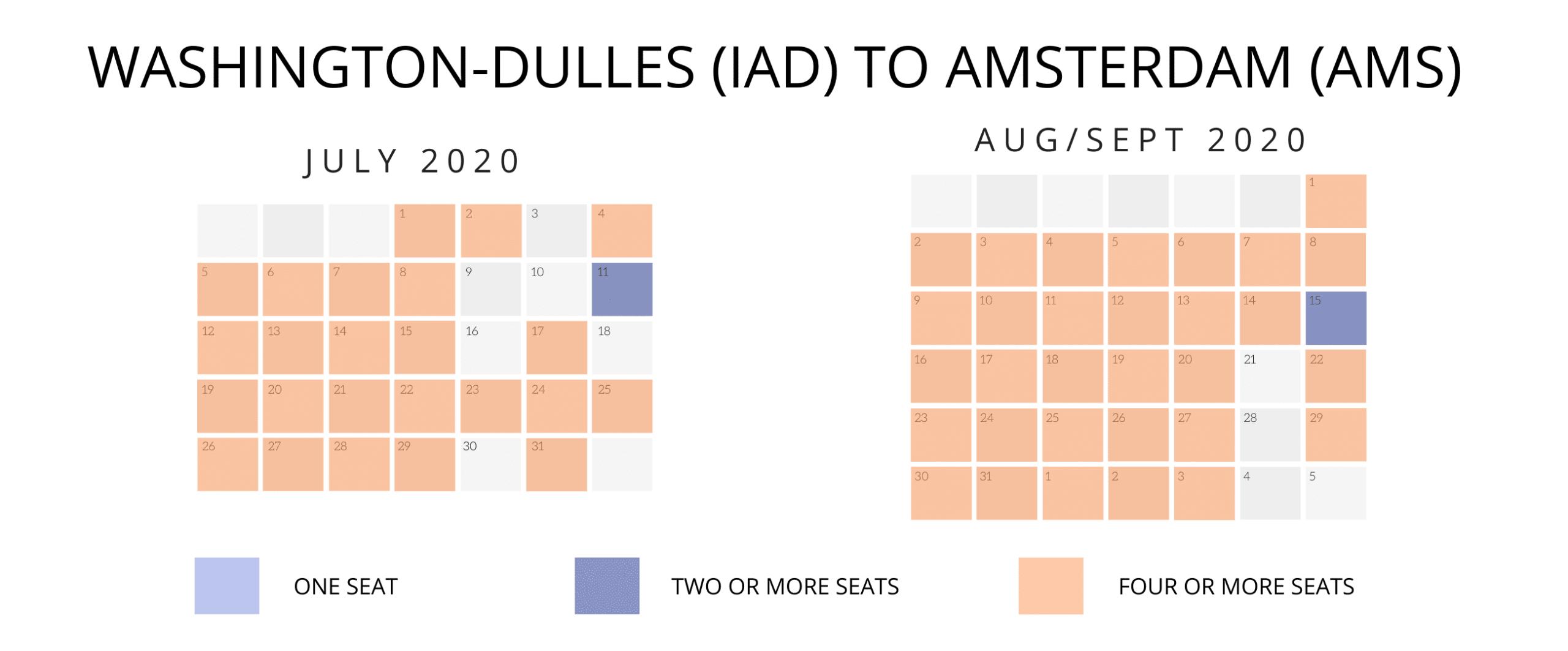 Thrifty Tip: Struggling to find this availability through Delta.com? Make sure to filter to show only nonstop flights – more options should appear.
There's equally great availability to fly Air France into Paris-Charles de Gaulle (CDG), on a mixture of Boeing 777s and older Airbus A380s.
Even the brand new nonstop flight from Austin (AUS) to Amsterdam (AMS) starting in May has rock-solid availability through the peak summer. This flight only operates Mondays, Thursdays, and Saturdays – and four seats are available through the summer on almost every one of them.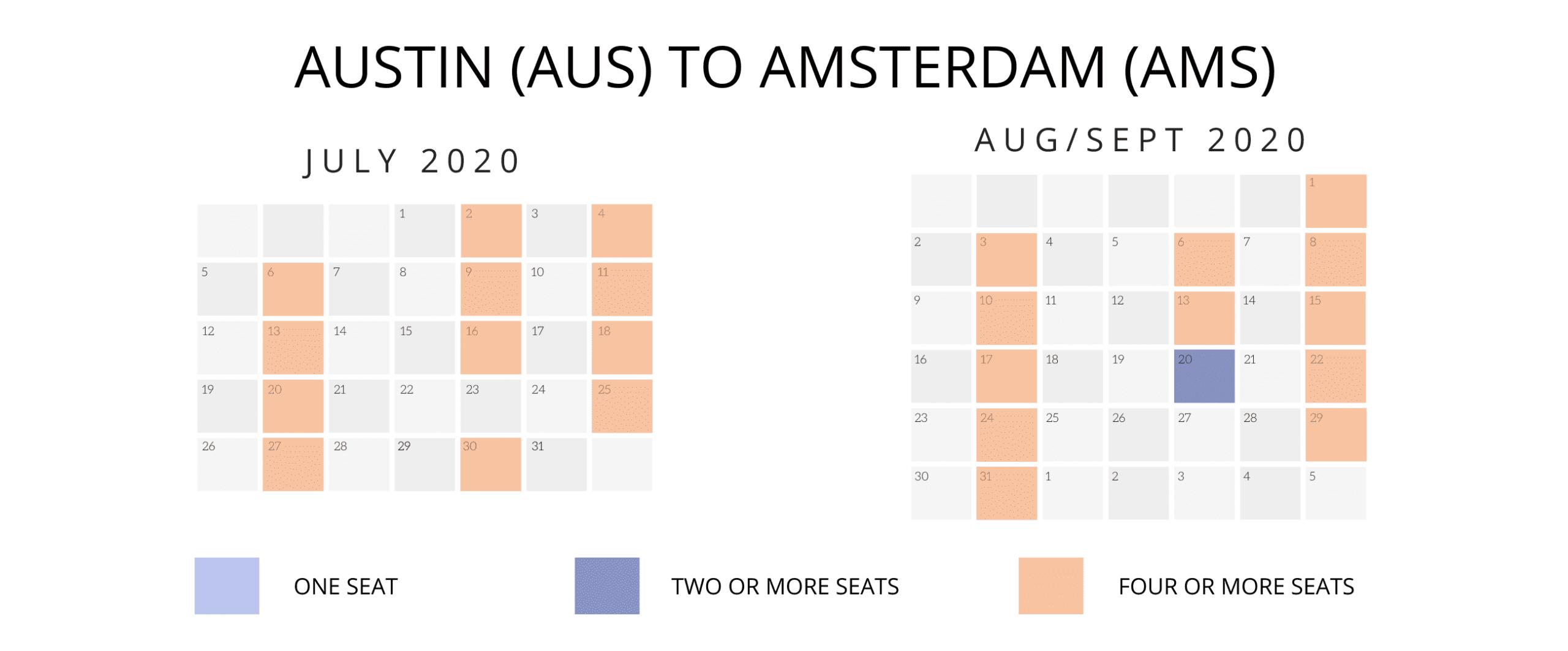 Outside of Austin and Washington, D.C., it's not quite so easy to snag a business class flight for 75,000 SkyMiles. But there are still some options, like Seattle (SEA) to Paris…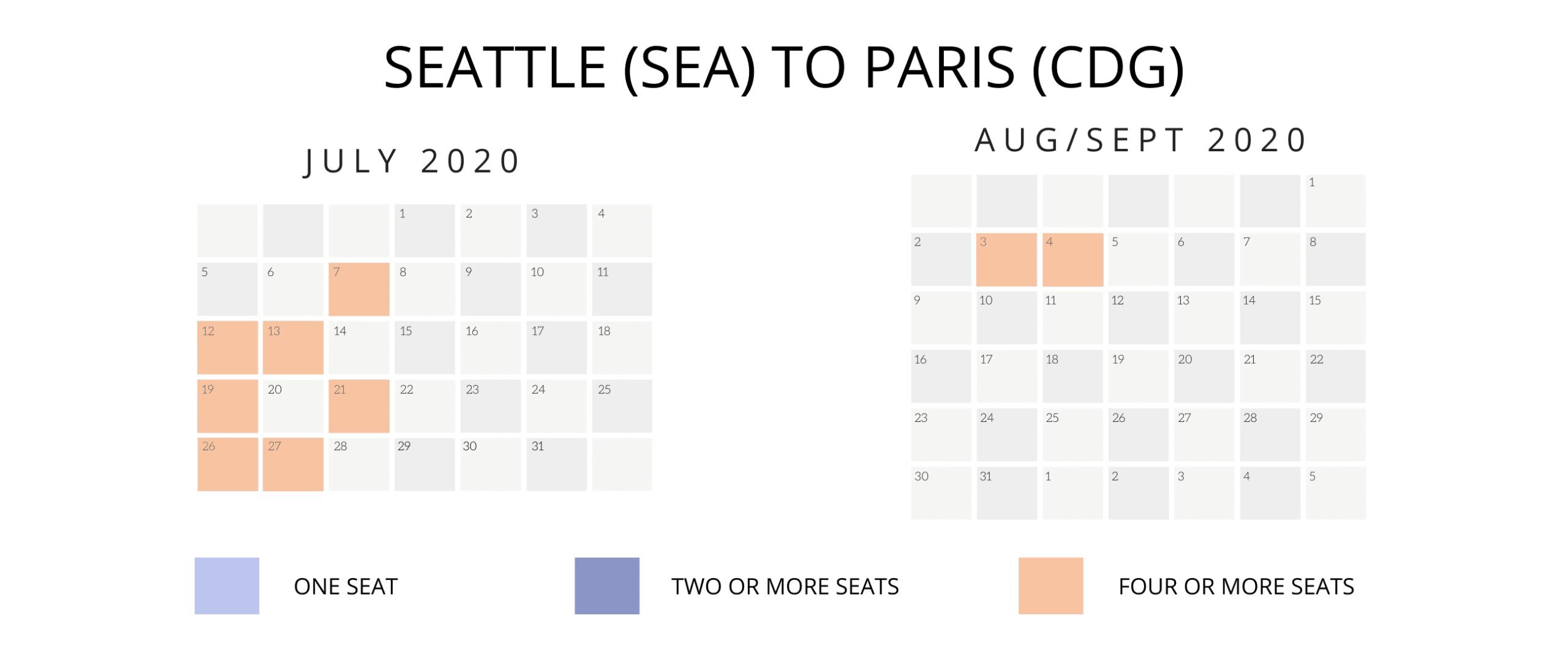 … or Chicago-O'Hare (ORD) to Paris …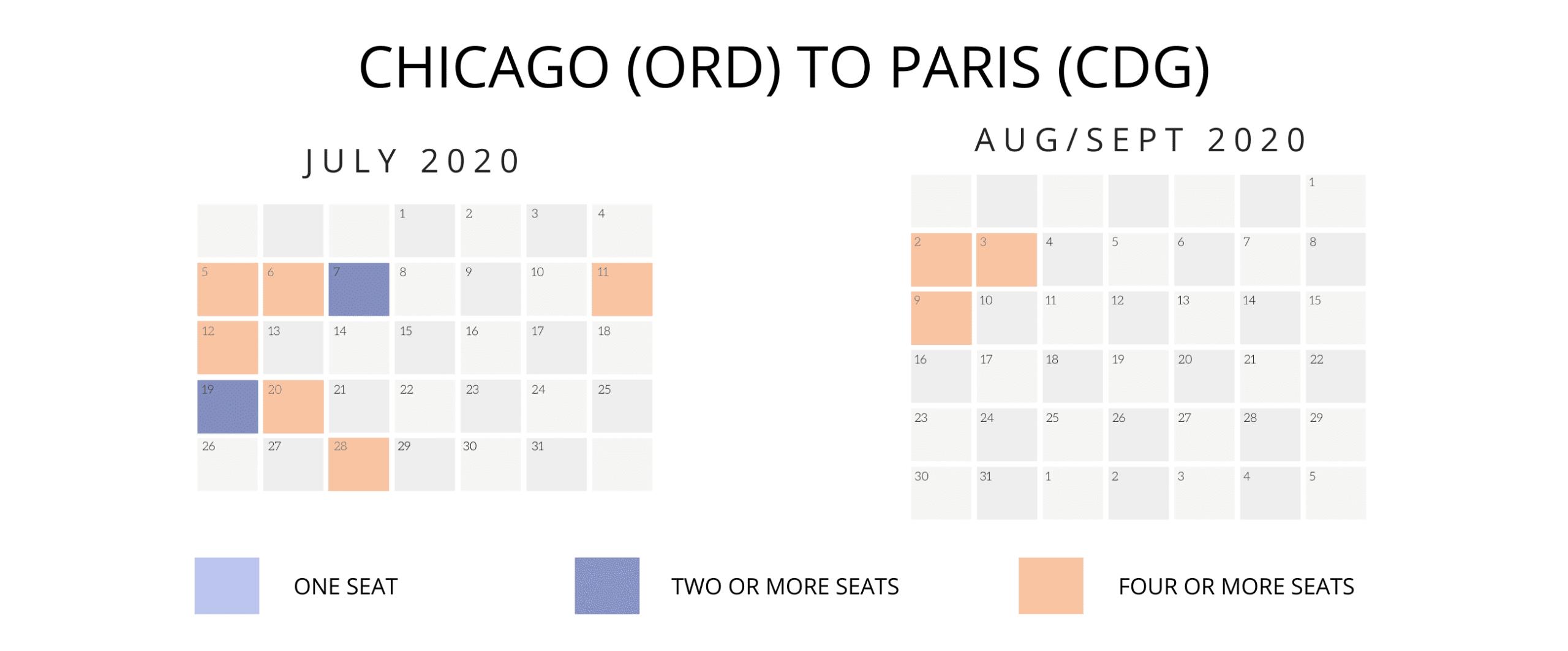 … and even the long flight from San Francisco (SFO) to Paris!
If none of these work, you're still in luck. You can still find many flights nationwide in Delta One business class to Europe for just a few SkyMiles more – 80,000 SkyMiles each way, or 160,000 SkyMiles round-trip. It's a holdover from a previous nationwide flash sale on Delta One award fares.
Bottom Line
Booking Air France or KLM fares with SkyMiles is a great value, but it's typically like pulling teeth to actually find them. But this is some outstanding award availability to fly to Amsterdam, Paris, or almost anywhere in Europe for just 75,000 SkyMiles each way.
Lead photo courtesy of Chris Lundberg via Flickr