Delta is out with an insanely lucrative promotion this week: Through Friday, Aug. 30, you get double the value when using SkyMiles toward a hotel and flight package vacation – each SkyMile is worth 2 cents toward your trip.
Package deals like this may normally make your eyes roll, and 2 cents apiece may not sound like much to brag about. But we're here to tell you this is the real deal.
There are plenty of good ways to put this to use, whether you're flying abroad or looking close to home. But there's perhaps no better way to book a domestic trip in the U.S. and come out way ahead than with this promo.
Case in point: I just booked round-trip flights to Las Vegas on Delta and three nights in a five-star hotel suite on the Strip for just 25,000 SkyMiles each. That's less than the flights alone would have cost, so this promo saved us some hard-earned SkyMiles and got us a top-notch hotel stay … essentially for free. 
Even if a trip to Sin City isn't your bag, read on to see how you can maximize this promotion for a great trip.
Getting Big Value out of Delta Vacations
It's not hard to find a way to get some serious bang for your buck out of this promo. For many travelers, it's as simple as heading to the promotional page, searching, and seeing how far your doubled SkyMiles can take you.
My wife and I started by searching for a Las Vegas package in October to celebrate her birthday when it's typically still hot enough in the valley to sit by the pool for a few days before winter crushes our spirits. We settled on the Delano, the five-star, suites-only resort connected to Mandalay Bay with one of the best pool complexes on the Strip.
The Delano's standard King Suites clock in at a whopping 750 square feet, with 1 1/2 bathrooms and separate sleeping and living areas.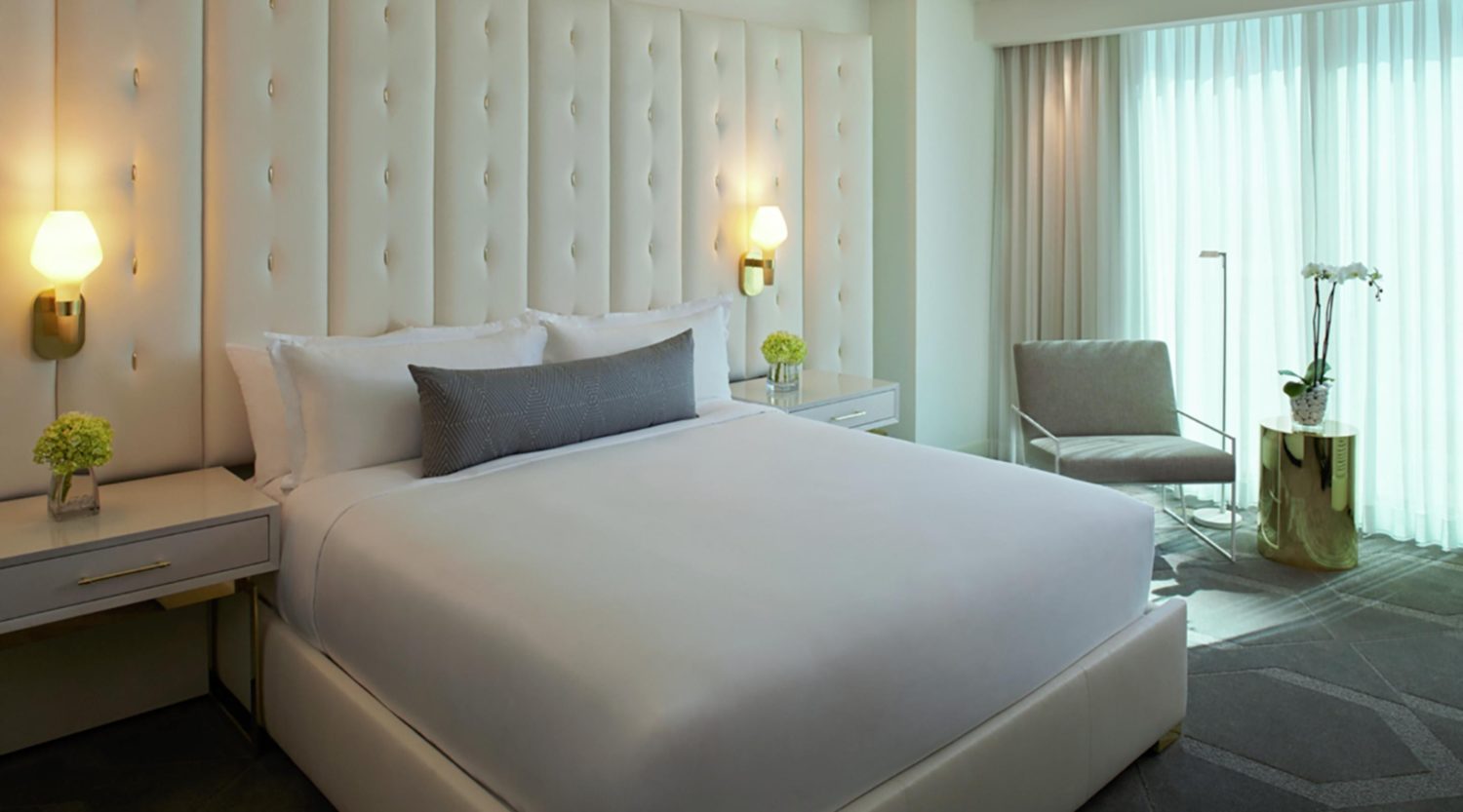 For the dates we wanted for a long weekend, Delta Vacations quoted us $505 per person for both flights. With SkyMiles getting 2x their normal value through Friday, it worked out to just over 50,000 SkyMiles total for the two of us. 
One of the beautiful things about this promotion is that you can use as many – or as few – SkyMiles as you want to bring down the price. In the end, we applied 50,000 SkyMiles even, paying just $11 to round it all off.
Breaking Down the Deal
So how'd we do? Did we actually come out ahead by booking this package with SkyMiles? Yes … by a lot. 
For starters, booking the exact same flights separately would have cost 27,500 SkyMiles per person – or roughly $300 each.
And these aren't basic economy awards either – they're full-fledged main cabin seats, so we can pick our seats and will even be eligible for upgrades thanks to Delta Medallion status. Thanks to how these Delta Vacations deals are processed, we'll even earn some SkyMiles, too!
In all, we saved a total of 5,000 SkyMiles by booking the flights through a bundled deal … and got three free nights in a hotel to boot.
And those free hotel nights were no small expense, especially considering this involves a weekend stay. All told, the three nights at the Delano would have cost us $537 total. Instead, it was included in our SkyMiles deal.
It gets even a little sweeter. You'll find that some of these package deals come with daily food and beverage credits at the hotel – in our case, $30 each day. So we'll be able to comp $90 in meals or drinks to our room over the course of our stay. In all,
By taking advantage of this Delta Vacations promo, we saved a few thousand SkyMiles on the flights and got three nights in a hotel plus some meals for free. Once you add up the cash costs, we squeezed more than $1,200 out of our 50,000 SkyMiles.
Leveling Up the Vegas Experience
We're not done yet. While this isn't part of the Delta Vacations package, we're planning to go a step farther on our trip to Vegas.
We've written before about an easy way to turn virtually any hotel status into free meals on the Las Vegas Strip. Through a two-step process of matching status, like the automatic Hilton Honors Gold status you get by holding the Platinum Card from American Express you can get Caesar's Diamond status.
That unlocks a free $100 dining credit called the "Diamond Celebration Dinner," which is good at dozens of restaurants at Caesar's Entertainment properties on the Strip. And because my wife and both hold the American Express Platinum card, we'll have $200 in free dining credits total.
We can either use these credits separately or stack them together for one all-out meal on the Strip. Not bad for 20 to 30 minutes of work!
Read our guide to score $100 in free dining credits in Las Vegas.
Bottom Line
This is just the tip of the iceberg of what's possible with this Delta Vacations Promo. Getting twice the value for your SkyMiles makes it fairly easy to get a great deal on almost any trip.
Start searching to see what you can find – but be sure you book soon, as this double-value promo ends Friday, Aug. 30.