The Singapore Airlines Krisflyer program is a great option for getting to Asia using points and miles. They're some of the easiest miles to earn, thanks to transfer partnerships with all the major credit card programs. And they're one of the only ways to book Singapore's amazing business class and first-class flights to Singapore (SIN) – or fun fifth-freedom flights to Europe.
But while many airlines make it easy and cheap (or even free) to book a stopover with miles, that's not the case with Singapore. You need to book a round-trip award ticket or a higher-priced one-way advantage award ticket to stopover in Singapore. 
But in practice, there's a little-known way to add a stopover to any of the cheapest, saver level award tickets for just an extra $100. Read on to learn how it's done – and why it's a good option.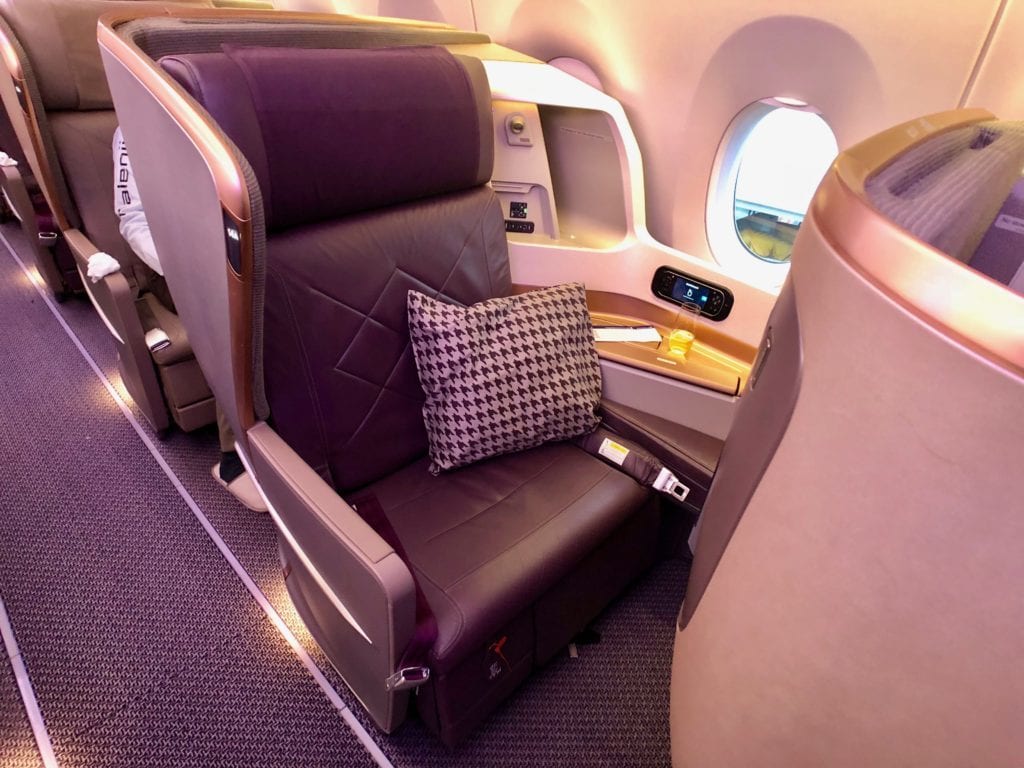 Read our review of Singapore business class from Singapore (SIN) to Los Angeles (LAX).
KrisFlyer Saver Level Award Tickets
Singapore awards aren't cheap, but using Singapore miles is generally the only way to book a premium cabin seat.
A one-way business class saver level award ticket from the U.S. to Singapore prices out at 95,000 KrisFlyer miles. That's up from the 88,000 miles it used to cost thanks to a devaluation in 2019. And you'll always want to find a saver ticket when you can: The higher-priced advantage awards will cost you another 30,000 miles in this case.

Generally speaking, the only difference between the two levels is booking availability. On most routings, the advantage level will almost always be available, while saver space can be a bit trickier to find, and requires a bit of flexibility with your travel dates.
One downfall of saver level awards, however, is that booking stopovers on one-way saver level award tickets are not permitted. Or at least that's what the terms of the KrisFlyer program state.
That means if you want to spend any time in Singapore (or Tokyo or Hong Kong, where Singapore also flies from the U.S.) en route to your final destination, you would have to book the ticket as two separate awards or book an advantage level award – both costing you significantly more miles. You simply can't book them online.
But what many people don't realize (including myself, until recently) is that you can actually add a stopover to a saver level award ticket for just an extra $100. You just can't do it online – you'll have to pick up the phone and call Singapore to book.
Singapore Airlines Stopover Rules
A Singapore Airlines stopover is defined as "any layover longer than 24 hours" and can be as long as one year. And if you are booking a round-trip saver level award ticket, the airline will allow you to add one free stopover.
However, if you are booking a one-way award ticket, the free stopover is only available if you book an advantage level ticket.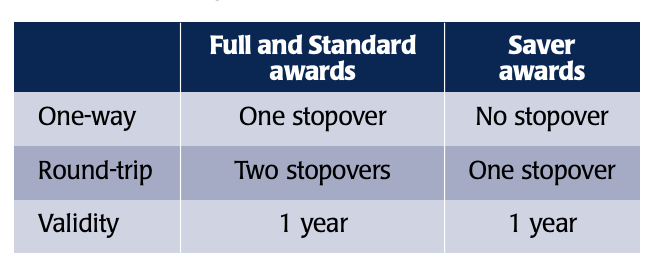 So while the airline's program guide indicates that you can not add a stopover on a one-way saver level award, that's not really the case.
How to Book a Singapore Airlines Stopover With the $100 Trick
Here's an example of what this looks like in practice.
My wife and I are in the early phases of planning a trip to Thailand for next November. After canceling a trip earlier this year, we each had a stash of miles in our Singapore KrisFlyer accounts. So when it came time to start booking our upcoming Thailand trip, Singapore Airlines was my first stop as we already had miles in our accounts.
But we both wanted to spend a few days in Singapore on our way to Thailand. On the surface, it appeared that my options were to book an advantage level award (which would allow a free stopover) or book this as two separate award tickets. One to Singapore and then another ticket from Singapore to Bangkok a few days later.

A one-way business class advantage level ticket was 125,000 miles while booking the flights separately would have cost 116,500 miles total. No thanks.

By simply picking up the phone and calling Singapore Airlines at 1 (800) 742-3333, you can pay $100 to add a stopover on a saver level award ticket. And in this case, our flights still priced out at 95,000 miles each.
First things first: You'll need to make sure there is saver level award space on both segments you are looking to book. Since there was saver space on both the Los Angeles to Singapore route and the Singapore to Bangkok route, I was good to go.
Luckily, in our experience, Singapore agents are incredibly knowledgeable and helpful. I simply mentioned I wanted to book a stopover in Singapore for three days and then travel onward to Bangkok. My agent immediately knew how to do it: He just let me know it would cost $100 since I was booking a saver level award.
So instead of paying 116,500 or 125,000 miles each, I was able to book Los Angeles to Bangkok with a two-day stopover in Singapore for just 95,000 miles and $148 – the $100 fee plus normal taxes and fees).
Seeing as these tickets would have cost nearly $4,000 per person, I was quite pleased with this redemption. While a few airline programs offer free stopovers on award tickets, paying an extra $100 per person isn't a bad price at all.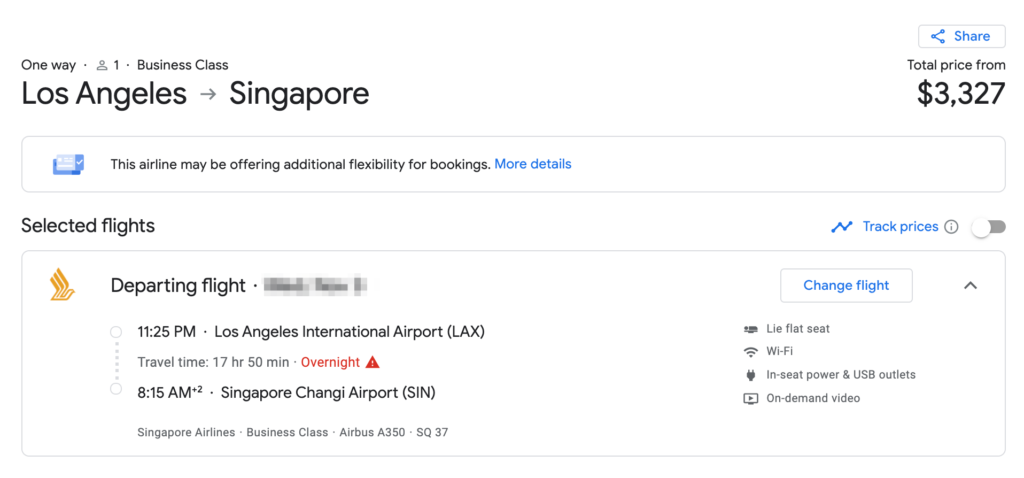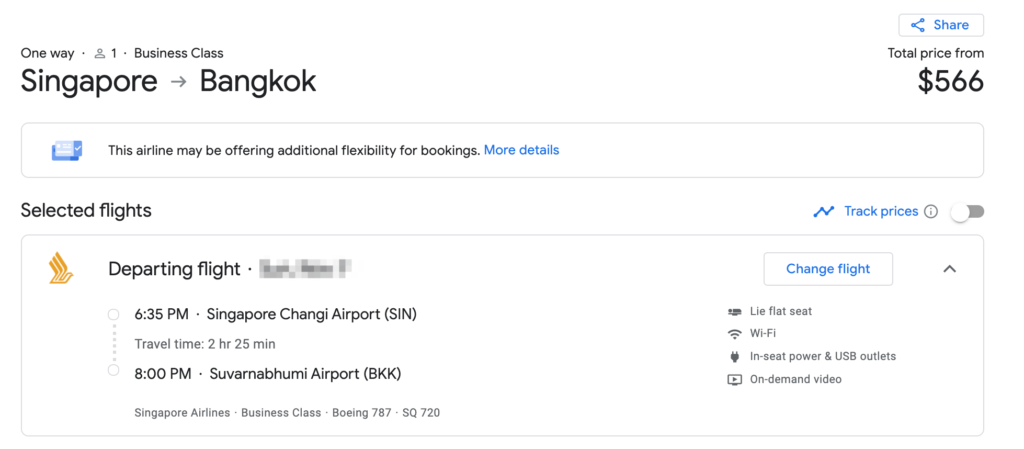 How to Earn Singapore KrisFlyer Miles
Using this trick to book a stopover on a Singapore Airlines saver level award ticket doesn't do you any good if you don't have Singapore KrisFlyer miles. And thankfully, they are incredibly easy to earn.
That's because they can be transferred from all of the major credit card points currencies. So if you have American Express Membership Rewards points, Chase Ultimate Rewards points, or Citi ThankYou points, you can transfer those points into your Singapore Krisflyer account at a ratio of 1 point = 1 mile. 
And if you have Capital One Venture Miles, you can also transfer into Singapore – though the ratio isn't as strong. For every 2 Capital One Miles you transfer, you'll get 1 Singapore mile.
Finally, if you have Marriott Bonvoy points, you can transfer them into Singapore at a ratio of 3:1. That means for every 3 Marriott points you transfer, you'll get 1 Singapore KrisFlyer mile. And Marriott goes further by adding a 5,000-mile bonus for every transfer of 60,000 Marriott points (20,000 airline miles). So transferring 60,000 Bonvoy points would net you 25,000 KrisFlyer miles.
Read more: Thrifty Traveler's Master List of Credit Card Transfer Partners. 
One of the best places to turn to earn Singapore miles is with Chase credit cards. Just for opening the Chase Sapphire Preferred® Card and spending $4,000 in the first three months of card membership, you will earn 60,000 Chase Ultimate Rewards points. These can be transferred to Singapore at a ratio of 1:1.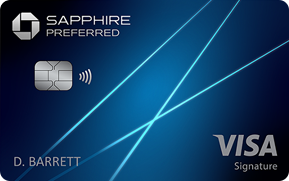 Click Here to learn more about the Chase Sapphire Preferred Card. 
Or you can earn 60,000 American Express Membership Rewards points after spending $4,000 over the first six months of card membership with the American Express® Gold Card. Again, 60,000 Membership Rewards points can become 60,000 Singapore KrisFlyer miles.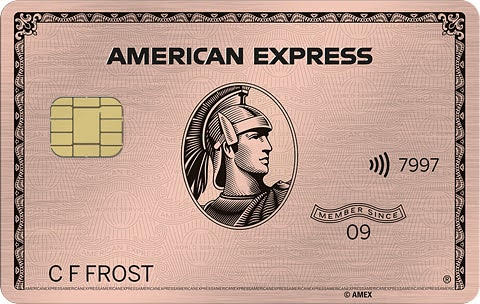 Click Here to learn more about the American Express Gold Card. 
Bottom Line
Singapore Airlines has an incredible business class seat, and it makes for a great way to travel between the U.S. and Asia. While stopovers aren't possible on normal one-way award tickets, this little-known option to pay $100 for a stopover is a valuable workaround.
You'll just need to pick up the phone and call to book. And luckily, that's a fairly painless process with Singapore.
Lead photo credit of Singapore Airlines