We've got good news and bad news. Bad news first? The year is more than halfway over already. But with that comes some good news.
After disappearing for many months, we've been finding some amazing Delta SkyMiles flash sales in 2023. Just ask our Thrifty Traveler Premium+ members, who get instant alert after instant alert every time we find a Delta deal to fly somewhere fun for a fraction of the SkyMiles it normally costs. While you might see sky-high rates for many flights and especially flying business class, stellar deals are still out there – Delta just doesn't advertise them.
But we find them anyway. We're talking about roundtrip flights to New Zealand or Chile for under 40,000 SkyMiles roundtrip – less than half the usual price. Want to get to Hawaii? We've got you covered with a deal for as low as 13,000 SkyMiles total. And travelers with dreams of flying Delta One Suites business class were in luck, too.
Many of these deals are gone now, but we're betting the next big SkyMiles sale is just around the corner. Until then, take a look at just how cheap Delta SkyMiles deals can get.
New Zealand for Just 37K SkyMiles
We saved the best for first. Take a look at this.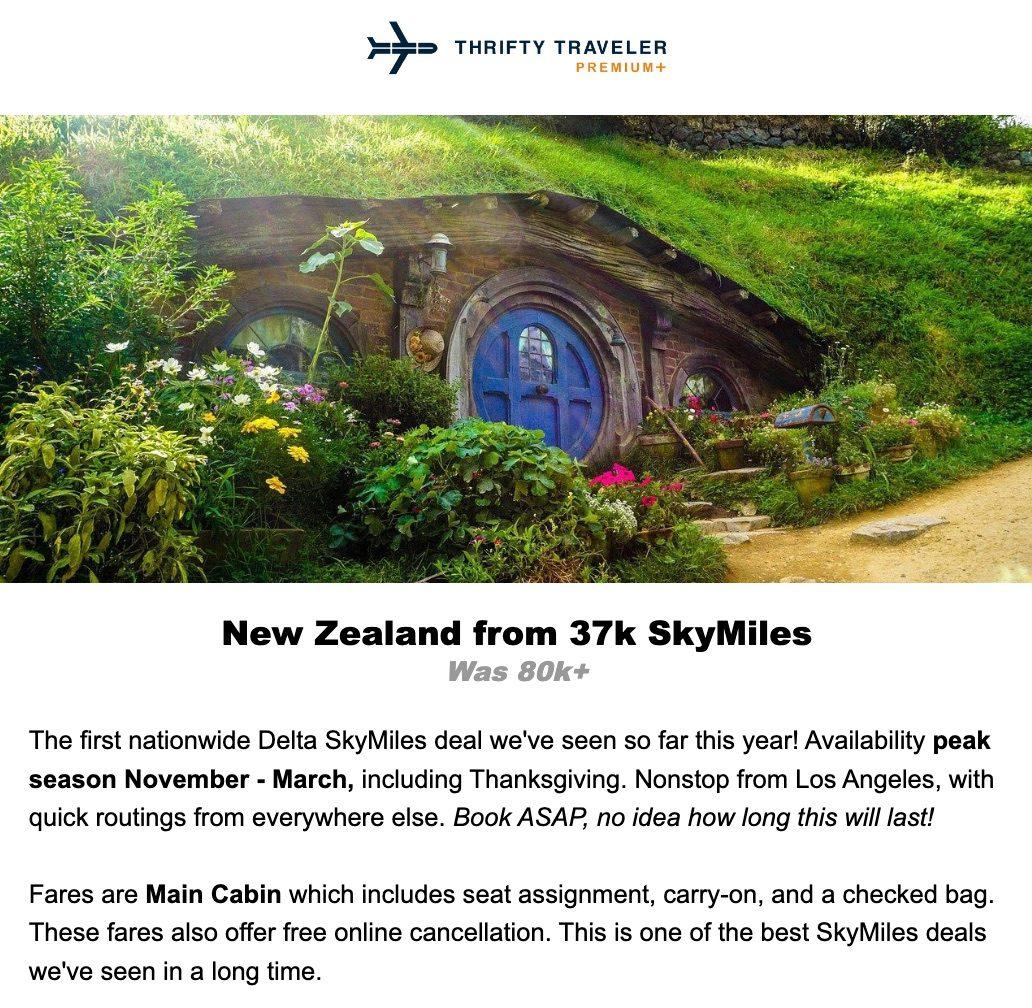 That's right: Roundtrip flights to New Zealand for as low as 37,000 SkyMiles. And these unbelievably low fares weren't just on Delta's new route from Los Angeles (LAX) to Auckland (AKL) but from 100-plus airports all across the country,
This was one of the best SkyMiles flash sales of all time, so it disappeared within just a day or so … but not before hundreds (and no, that's not an exaggeration) of our Thrifty Traveler Premium+ members from across the country booked an amazing trip for this fall or winter. Considering many of these flights cost up to $2,000 or more, it was a truly fantastic way to use SkyMiles.

Get the next amazing Delta SkyMiles deal straight to your inbox with Thrifty Traveler Premium+!
Chile for 37K SkyMiles, Too
Days after a jaw-dropping fare to the land down under, Delta followed up with another doozy: Roundtrip fares down to Santiago (SCL) in Chile for – you guessed it – 37,400 SkyMiles total.
Don't believe us? Here's the proof.

For the price of many domestic flights (or less), you could have booked a trip to see Patagonia with one of our most recent Thrifty Traveler Premium+ finds. We sent this deal to subscribers last month, helping them book a trip to Chile later this year for less than half the usual cost. Delta Amex cardholders got the lowest rates thanks to the TakeOff 15 discount, but even 44,000 SkyMiles at full price is an incredible deal.
Best of all, you could book your flights to Santiago at that price from nearly two dozen U.S. cities big and small. Check it out.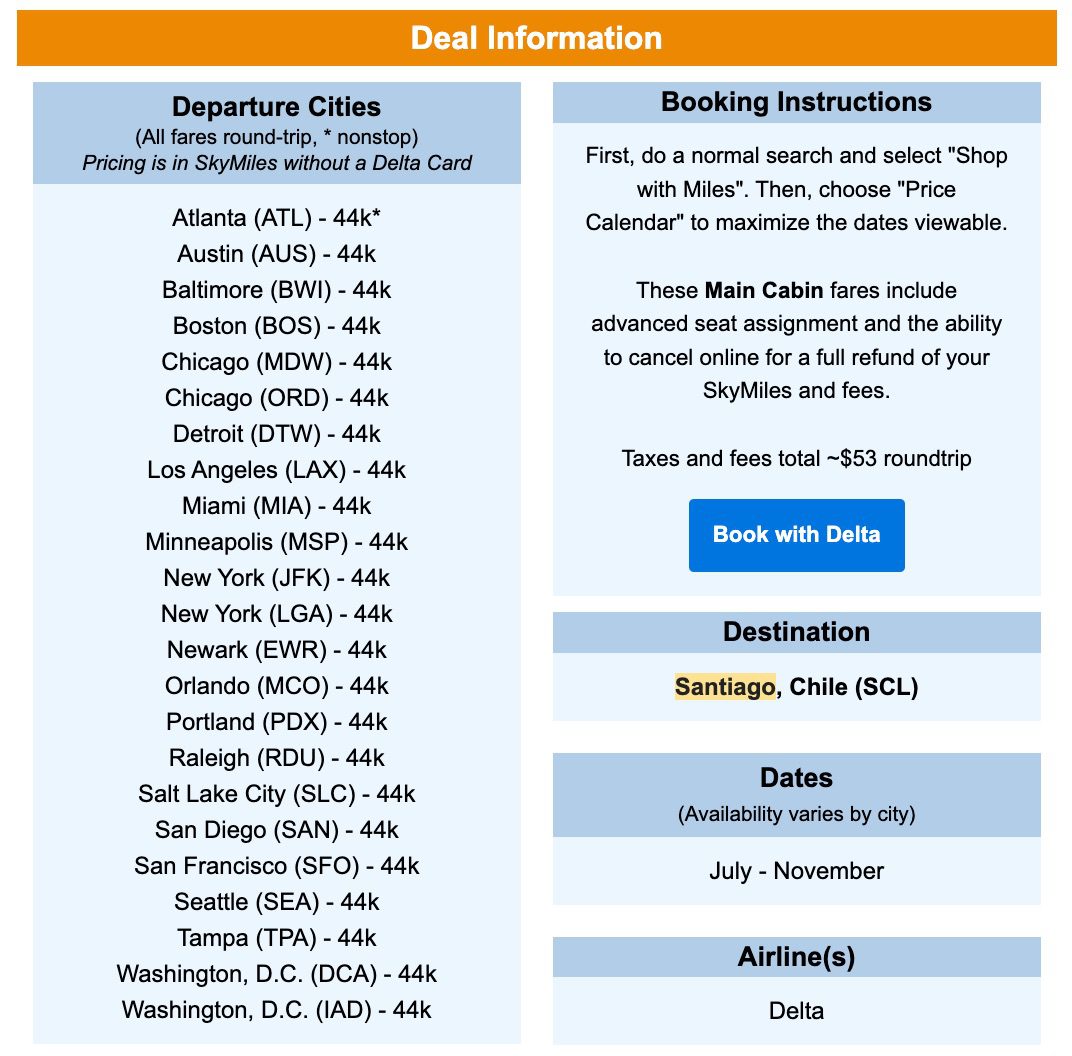 Santiago in Delta One Suites for 140K (Or Less)
These days, you're more likely to see business class seats abroad selling for 250,000 SkyMiles each way. But earlier this year, we unearthed a goldmine.
You could book roundtrip flights in Delta One Suites all the way down to Santiago (SCL) in Chile for just 140,000 SkyMiles roundtrip from airports across the country. If you've got a Delta Amex card in your wallet, it gets even cheaper thanks to the TakeOff 15 discount: Under 120,000 SkyMiles! 

These fares are long gone now – get the next Delta alert with Thrifty Traveler Premium+!
This wasn't just a one-off, either: These low rates were available from airports big and small across the country. That included Delta hubs like Minneapolis-St. Paul (MSP), Detroit (DTW), and Seattle (SEA) as well as other airports like Chicago-O'Hare (ORD), San Francisco (SFO), Washington, D.C.-Dulles (IAD), and more.
Oh, and forget about outdated lie-flat seats you'll find on many Delta routes. This sale included flights on Delta's latest-and-greatest Airbus A350-900, with the fancy Delta One Suites complete with closing doors. It's a long, nine-hour flight down to Santiago … and there may be no better way to do it.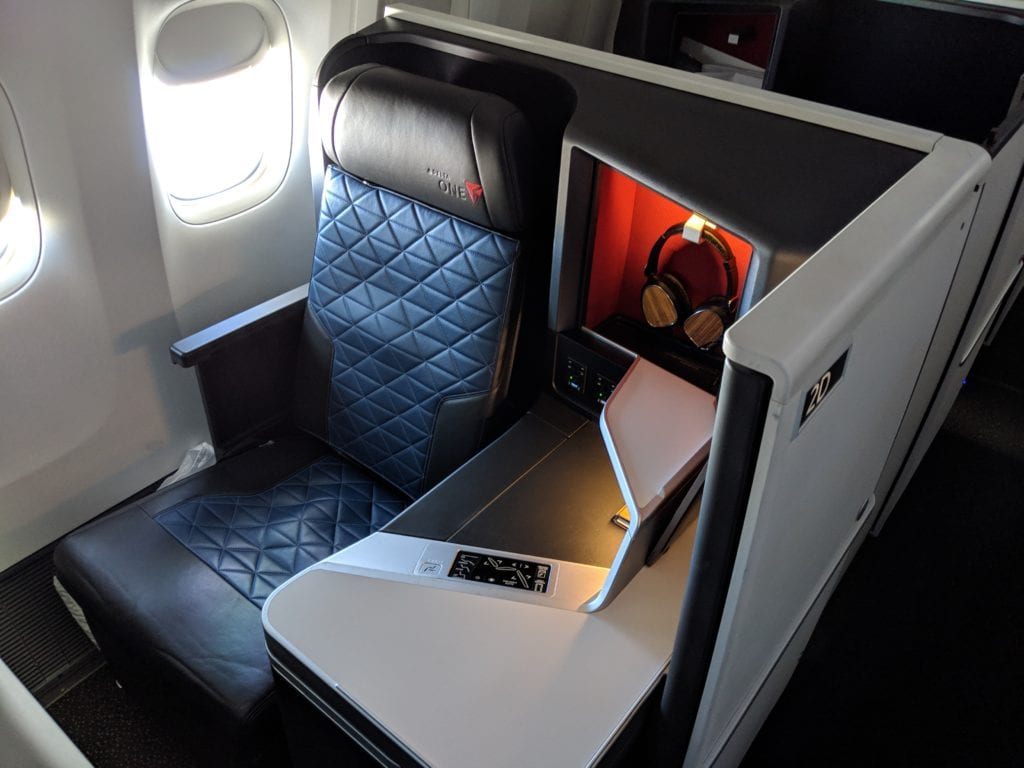 Hawaii from 13K SkyMiles
What beats a cheap flight to Hawaii? Just one thing: A nearly free flight to Hawaii. And our latest SkyMiles find helped travelers do just that.
How low can award rates go? How about 13,000 SkyMiles … roundtrip!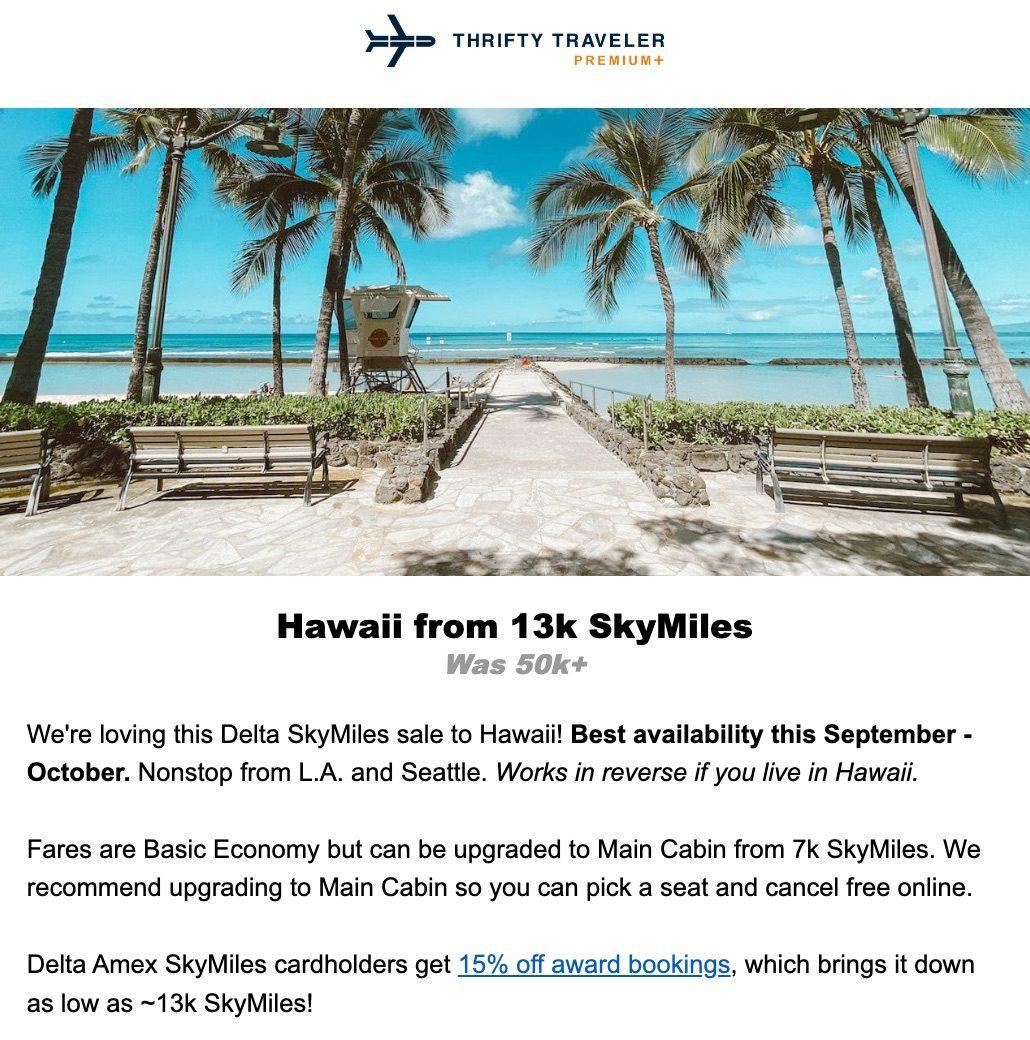 Get the next dirt-cheap SkyMiles deal to Hawaii with Thrifty Traveler Premium+!
For the price of most one-way flights within the continental U.S., you could get out to Honolulu (HNL), Maui (OGG), Kona (KOA), and even Kauai (LIH) later this year. This stunning Hawaii deal was bookable from nearly 20 U.S. cities for under 25,000 SkyMiles – none cheaper than the nonstop from Los Angeles (LAX).

Hit the Beach in Cancún from 9K SkyMiles
It's summer now, but (don't shoot the messenger) winter isn't far away. Planning ahead is key for those much-needed winter getaways. And we found just the deal down south to do it.
We recently unearthed another unadvertised SkyMiles flash sale with flights to Cancún (CUN) as low as just 9,200 SkyMiles roundtrip – and rates below 20,000 SkyMiles from dozens of airports! This was your chance to fly down south to Mexico for a fraction of what other airlines charge. Heck, it's fewer miles than most domestic trips!

Unfortunately, some (though not all) Delta hubs like Minneapolis-St. Paul (MSP) and Salt Lake City (SLC) missed out on these low rates thanks to the Delta hub penalty. But there were plenty of deals to be had around the country, whether you're flying nonstop from Atlanta (ATL), New York City (JFK), Los Angeles (LAX), Boston (BOS), and Seattle (SEA) or connecting from airports big and small nationwide.

Bogotá in Comfort Plus for 30K
Was it a mistake fare? Maybe, maybe not … but when the airline sells Delta Comfort Plus seats for substantially fewer SkyMiles than even basic economy, one thing's for sure: It's a darn good deal.
That's just what we found earlier this month: Roundtrip fares in Comfort Plus for 30,000 SkyMiles from more than a dozen U.S. airports down to Bogotá (BOG), helping travelers with SkyMiles stretch out (and maybe enjoy a few free drinks) for less. Get this: Delta was charging more than double the miles for a standard coach seat.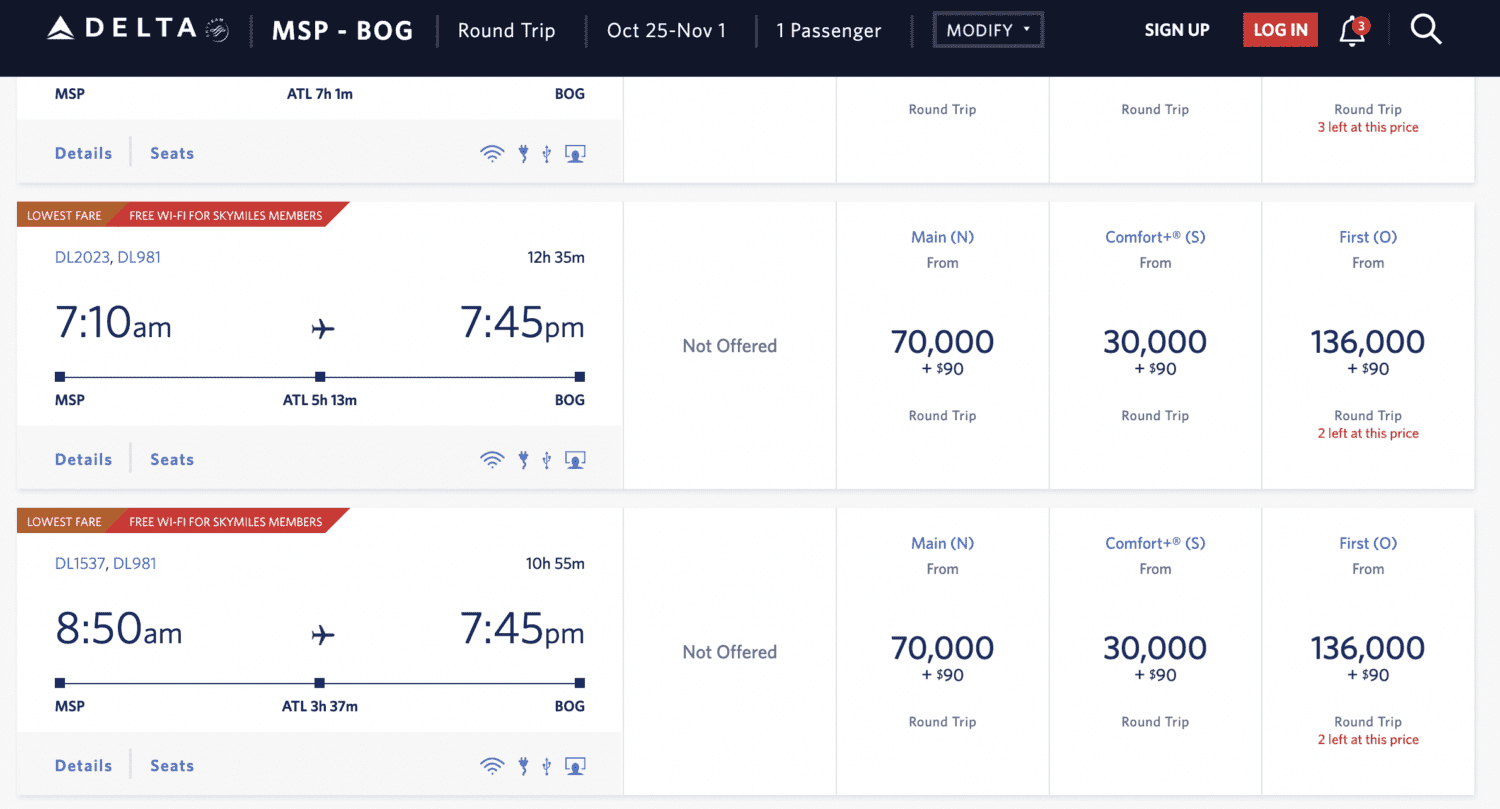 Mistakes like this one don't happen often. But when they do, we catch them and alert Thrifty Traveler Premium members straight away so they can book before the deal disappears.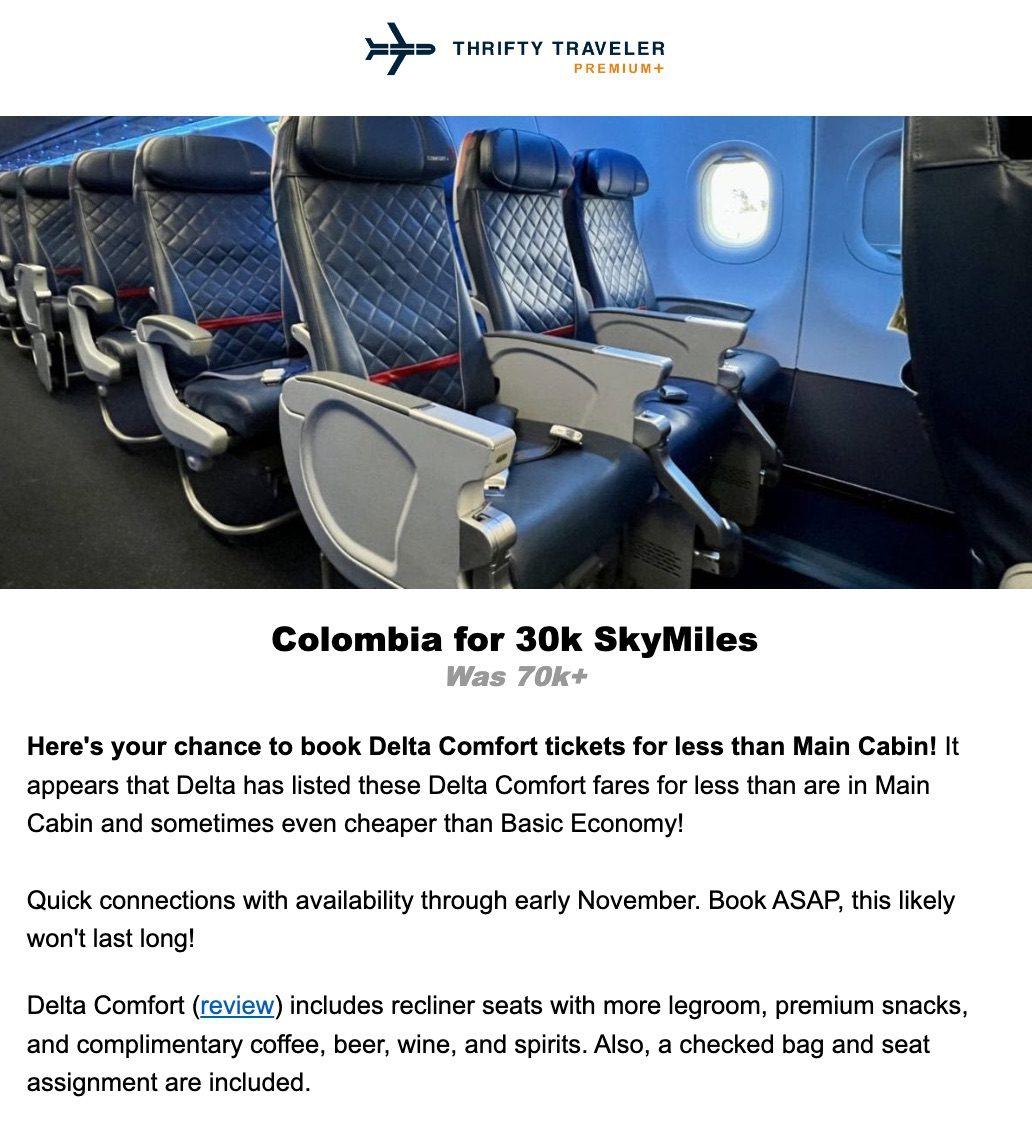 Domestic Deals for 9K RT Or Less!
If there's one thing you can count on with Delta SkyMiles, it's some great deals to redeem those miles for domestic flights. But some of those deals are better than others…
How about a trip to the Strip when flights to Las Vegas (LAS) drop as low as 9,000 SkyMiles?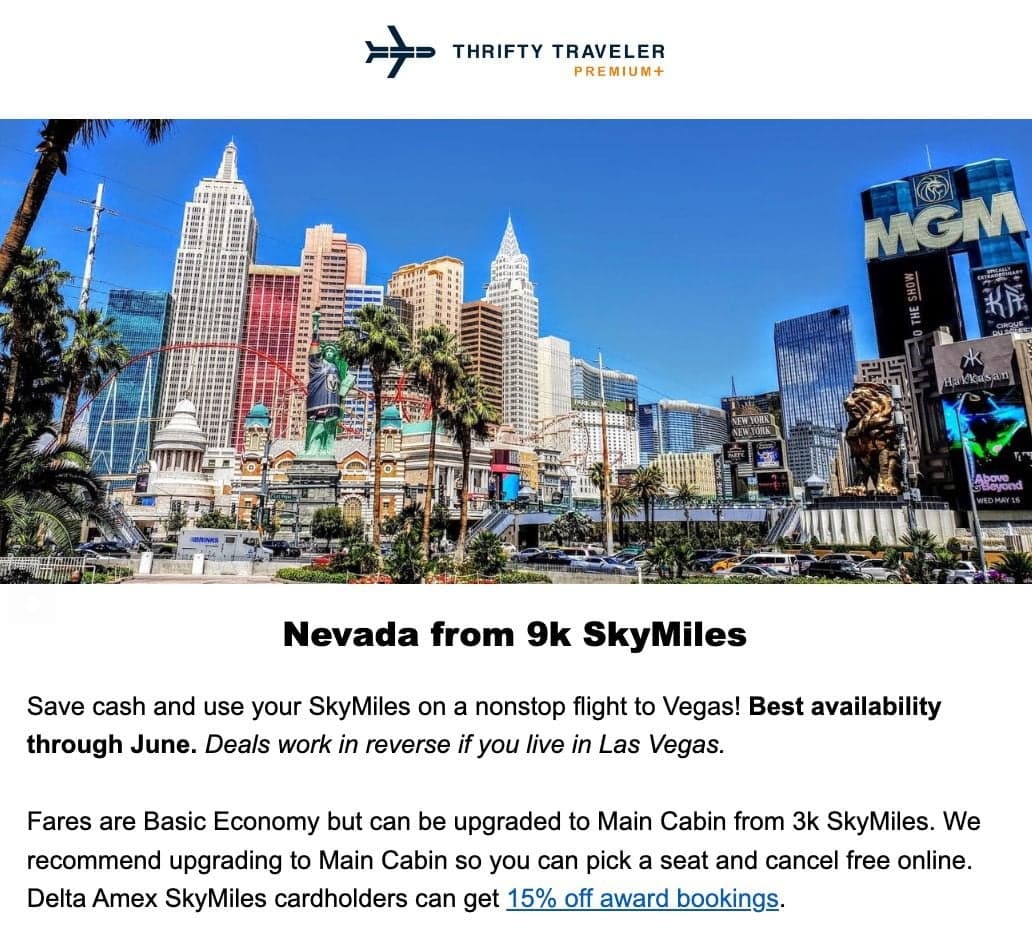 Or maybe New York City, also for 9,000 SkyMiles no matter if you fly into New York City (JFK), New York City-LaGuardia (LGA), or Newark (EWR)!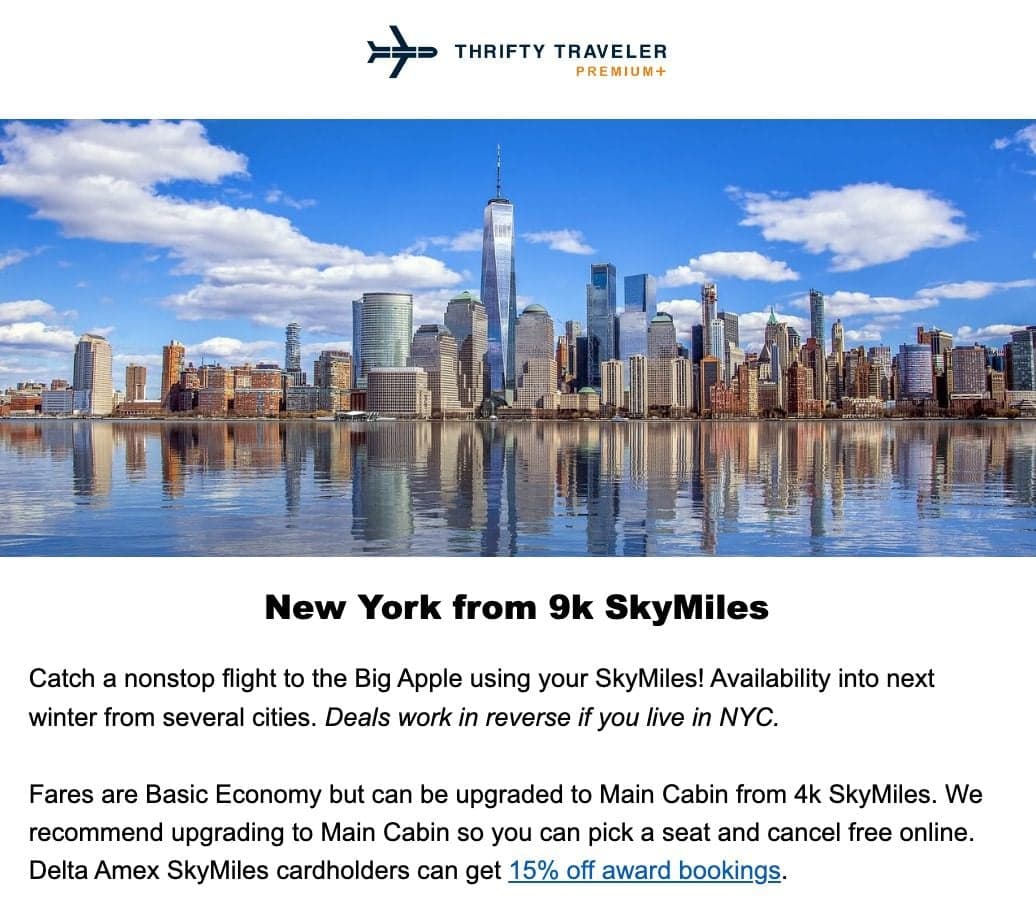 Prefer the quiet life? No problem: How about Portland (PWM) in Maine, the perfect spot to make your way up the coast of New England for – you guessed it – 9,000 SkyMiles roundtrip?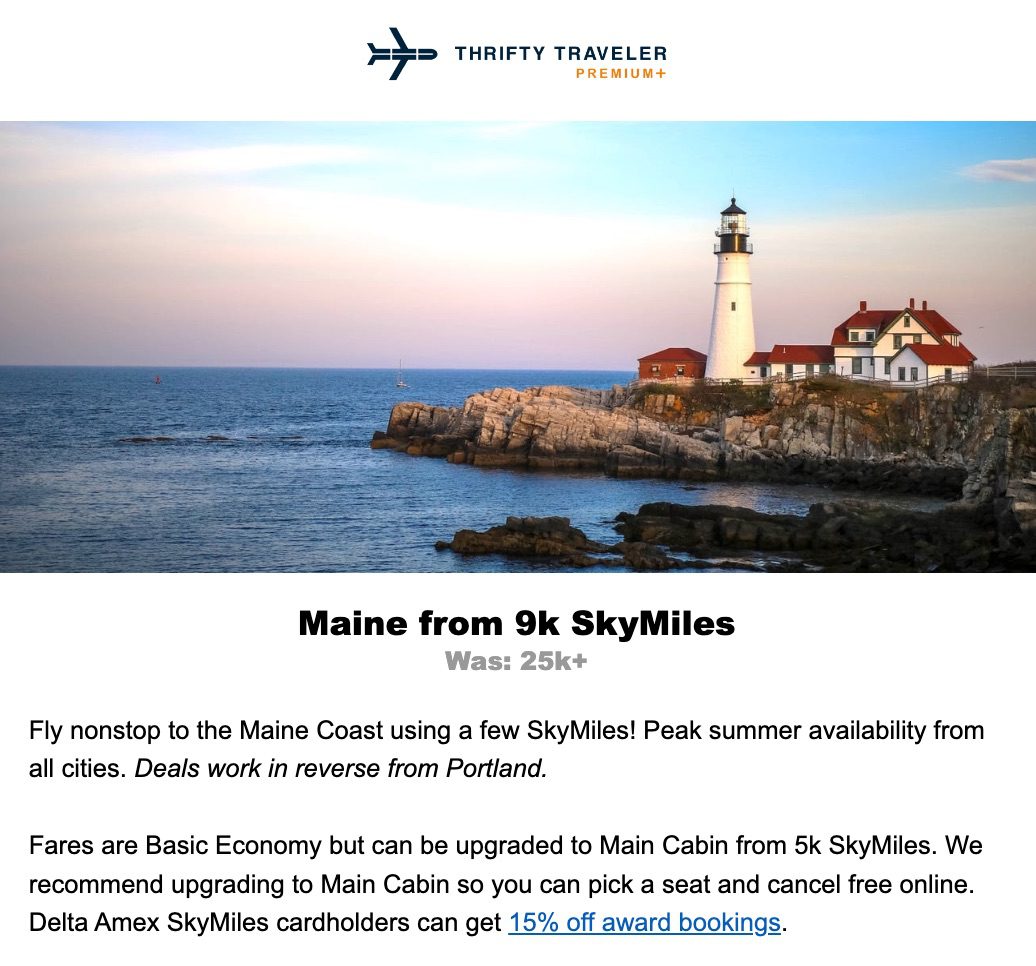 Bottom Line
We know, we know: Trying to use your Delta SkyMiles can be frustrating. Just trust us … the deals are out there.
That's what our Thrifty Traveler Premium+ service is all about: Letting you know exactly when you can book flights for fewer SkyMiles. These seven deals are just the tip of the iceberg – we've found far more deeply discounted Delta deals so far in 2023. And we're on the hunt for even more through the rest of the year.