After a summer of sky-high airfare, there's a better trend in the works: Flights are getting cheaper again. But it's not just cheap flight deals that are making a comeback. Deals to use your points and miles are back, too.
As travel demand rebounded and prices soared, finding the award availability to book a lie-flat business class seat became a tall task. Even flying economy, the deeply discounted award rates we had come to count on throughout the pandemic dried up.
But we've seen that trend get flipped on its head lately. If you've got some points or miles in the bank, you may want to have a look at some of these amazing Delta SkyMiles flash sales and rare business class award space Thrifty Traveler Premium+ members have received recently.
Here's a roundup of some of the best award space alerts we've unearthed in just the last few weeks.
A Resurgence of Delta SkyMiles Flash Sales
Delta SkyMiles can get a bad rap. Sure, the number of miles you need is constantly changing and a business class seat can cost hundreds of thousands of miles.
But there's an upside: Delta SkyMiles flash sales, with deeply discounted award rates on flights you'll never see on other airlines. And those SkyMiles deals have been better than ever recently, including…
Domestic deals to Boston (BOS) or New York City and back from 9,000 miles, or Denver (DEN) for as little as 7,000 miles roundtrip from across the nation.
Belize from 12,000 SkyMiles roundtrip thanks to a nationwide sale to this tropical destination in Central America.
Europe for 32,000 miles roundtrip from nearly every city in the U.S. to most major European hubs – or 148,000 miles in Delta One business class!
Tahiti from 50,000 miles roundtrip – with quick connections from several cities via the new nonstop from LAX.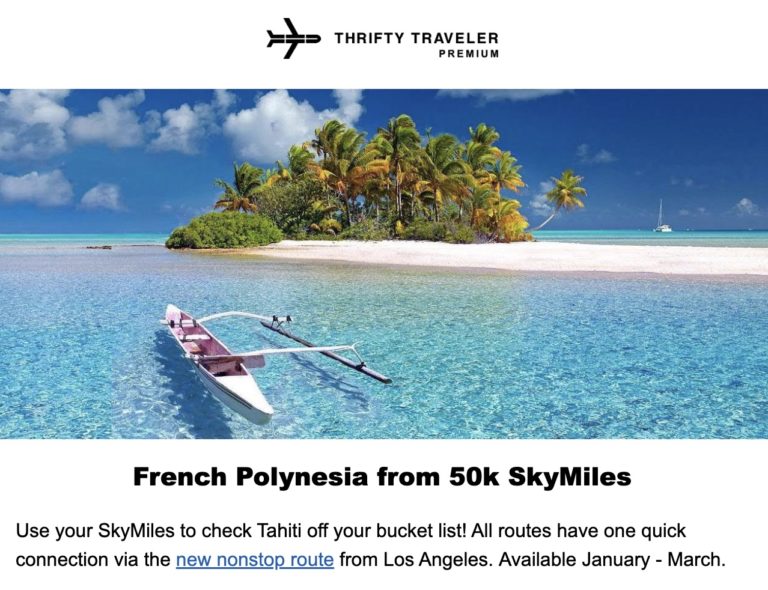 This deal is gone now! Get the next great Delta SkyMiles flash sale (plus other award alerts and cheap cash fares) with Thrifty Traveler Premium+!
We see the occasional deal on other U.S. carriers like nonstop American Airlines flights to the Caribbean from 12,000 points roundtrip, bookable with British Airways Avios at a bargain thanks to a 30% Chase transfer bonus available last month. We've also seen roundtrip flights to Hawaii available as low as 16,000 Southwest Rapid Rewards points.
Premium Cabin Deals Galore
If you're looking for a little luxury (and why wouldn't you be?), we've also seen a surge of business class award space to destinations all over the world – flying lie-flat on some of the top business and first class seats you can find in the sky.
Business Class Flights to London on Virgin Atlantic
Earlier this month, we let Thrifty Traveler Premium+ members know about wide-open award space flying Virgin Atlantic nonstop from Atlanta (ATL), Los Angeles (LAX), New York (JFK), and Tampa (TPA) to London-Heathrow (LHR). And with a 20% transfer bonus from Capital One to Flying Blue, you could book these fancy seats from New York for just 58,000 points one-way.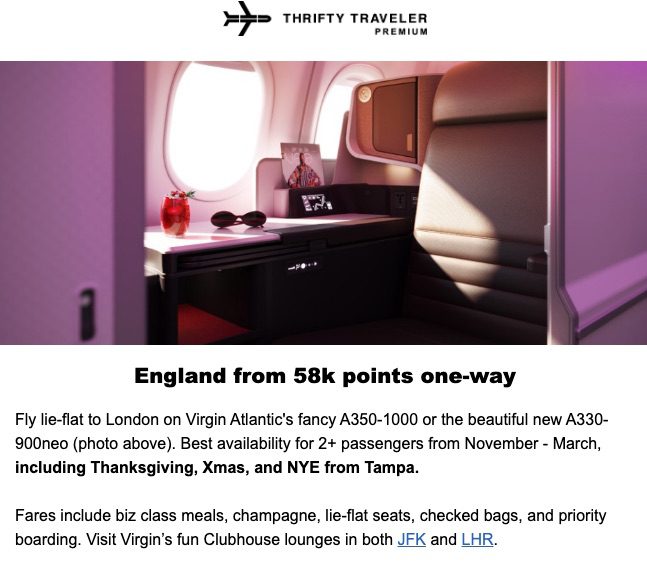 But the best deal was flying Virgin's fancy new A330-900neo from Tampa for 89,000 Flying Blue miles …. or by transferring just 74,000 Capital One Venture miles. And since Flying Blue is also a transfer partner with Amex, Chase, and Citi, there were many ways to book these seats over to London.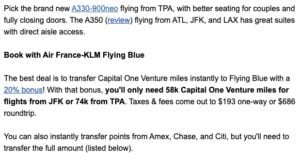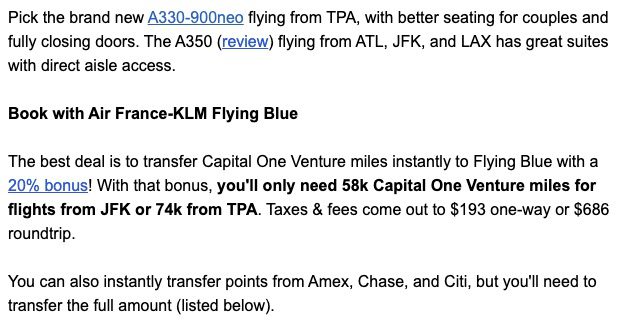 Qatar Qsuites … All the Way to Cape Town
It's one of the best deals in the world of points and miles. And it cropped back up again.
Fancy flying the best business class in the world? In late July, we discovered some great award space for two (or more) passengers to fly Qatar Qsuites nonstop to Doha … and then all the way down to Cape Town (CPT) in South Africa for just 75,000 American miles one-way.

Better yet, a 30% Chase transfer bonus to British Airways Avios at the time meant travelers with Chase Ultimate Rewards could book the deal for 74,000 points one-way.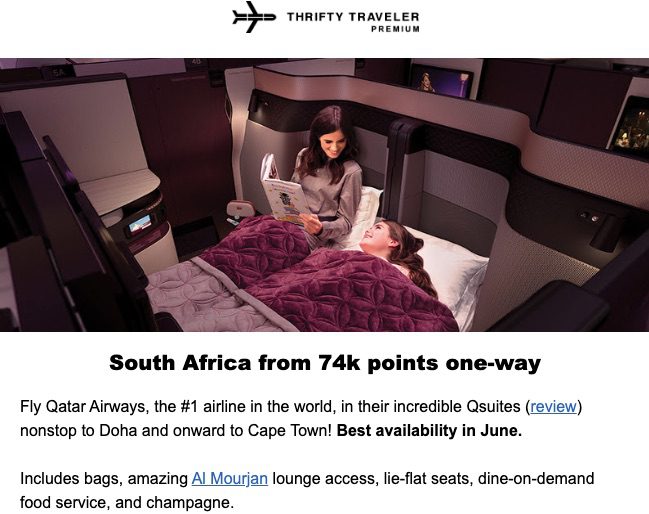 Want to learn more about how to book Qsuites with Avios? Read our complete guide.
JetBlue Mint Across the Country
Looking to fly lie-flat on domestic flights? JetBlue Mint is the best way to do it.
And we found plenty of seats available on coast-to-coast routes that could be booked for 50,000 American Airlines miles one-way. Best of all, you could bring the whole family as up to seven seats were available on some flights for late summer and fall travel.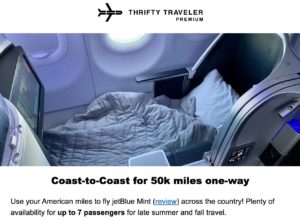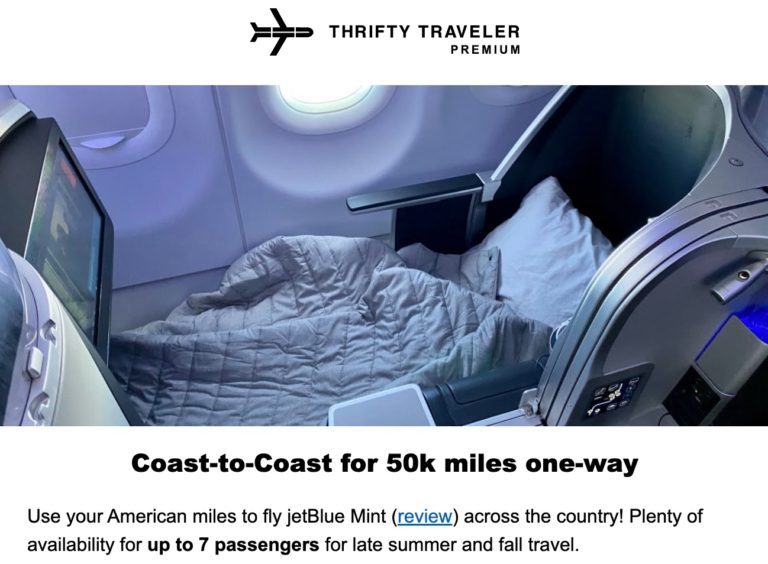 This included routes between Boston and New York and West Coast cities Las Vegas, San Diego, and Seattle – all for 50,000 AA miles one-way.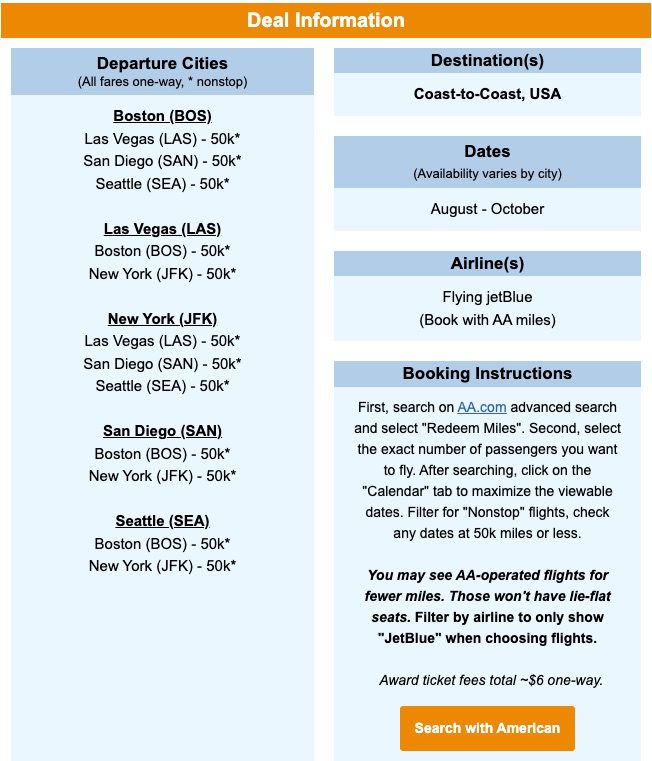 Unicorns Keep Popping Up
In the world of points and miles, some deals are rarer than others. And Thrifty Traveler Premium+ members have seen quite a few unicorns hit their inbox recently.
Fiji Airways
Business Class to Fiji, Australia, and New Zealand
Flying business class all the way to Australia is a real treat … but it's also one of the hardest awards to book in the world, as airlines are stingy with releasing those lie-flat seats.
We found a way to do it even sweeter: With a stop in wonderful Fiji on the way. We found some unbelievable award space for flights on Fiji Airways' new A350 from Los Angeles (LAX) nonstop to Fiji and onward to Sydney (SYD) … bookable for just 55,000 Alaska miles one-way!
This deal was so hot it only lasted a few hours before all the seats got snapped up.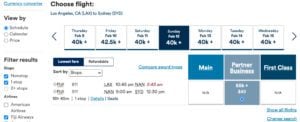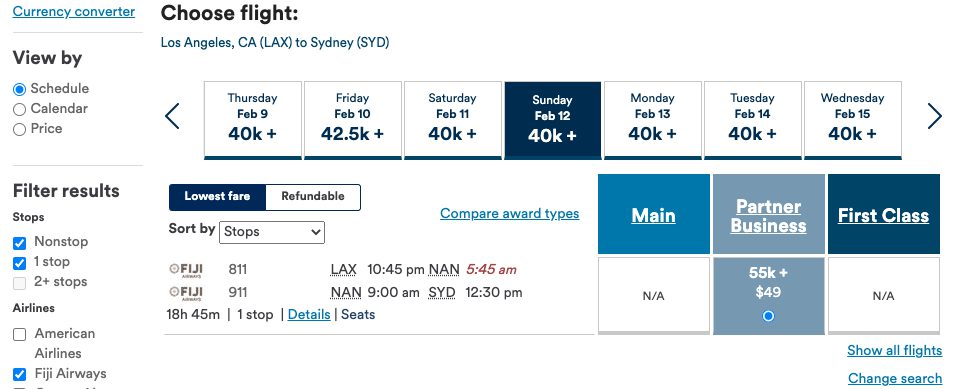 Best of all, these were bookable for peak-season flights in February and March. You could also fly from San Francisco (SFO) or to New Zealand on Fiji's older A330s but the cream of the crop was booking a seat on the beautiful A350.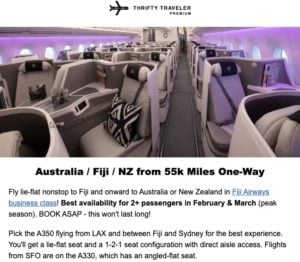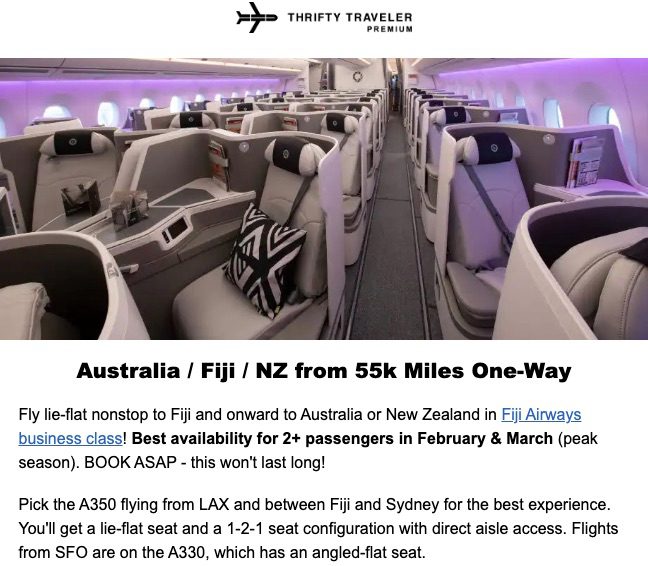 Delta One Business Class from Minneapolis to Amsterdam
The best way to book Delta One business class to Europe isn't using Delta SkyMiles – it's turning to Virgin Atlantic, which offers these same flights at an unbeatable 50,000 points each way.
But finding these seats bookable through Virgin Atlantic is another matter, as it's been a challenge in the last year or so. Fortunately, in late July, we alerted Thrifty Traveler Premium+ members in Minneapolis-St. Paul (MSP) that they could score lie-flat Delta seats over to Amsterdam (AMS) next year for just 50,000 points apiece.
Since Virgin is a transfer partner with all major transferrable points currencies, this deal was bookable whether you had American Express Membership Rewards, Bilt Rewards, Capital One Venture miles, Chase Ultimate Rewards, or Citi ThankYou points.

Qantas Business Class Nonstop to Australia
Award space doesn't get much rarer than a nonstop, lie-flat seat to Australia. But that's just what we found.
For just a few hours, nonstop flights on Qantas were bookable for 55,000 Alaska miles one-way – or 80,000 American miles flying business class on the airline's new 787-9 Dreamliner. We gave Thrifty Traveler Premium+ members the exclusive heads up on a chance to book this incredibly difficult award before it disappeared.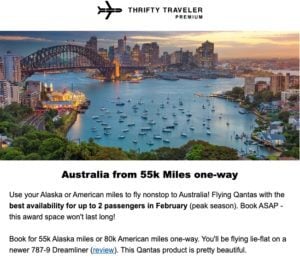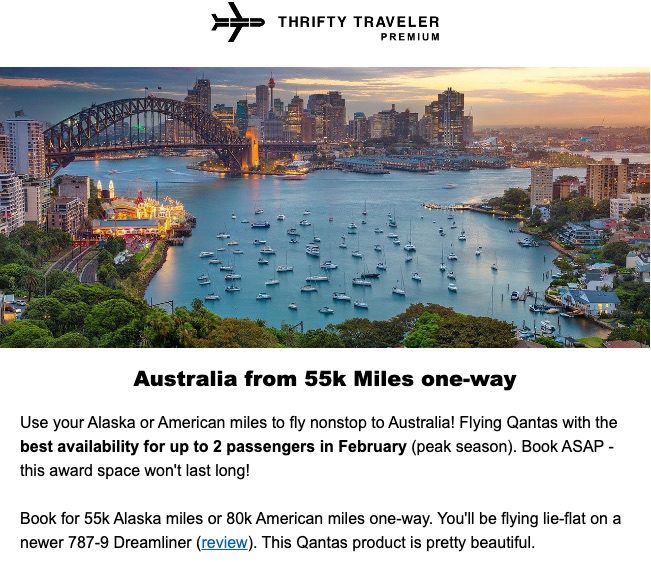 This unbelievable deal is gone now – get the next award alert sent straight to your inbox with Thrifty Traveler Premium+!
Summer 2023 is in the Mix
Our best advice to book peak summer travel? Book it well in advance.
And you're in luck: Summer 2023 is already on sale, with airlines selling flights roughly 11 months out – and some great deals are out there. That includes some amazing award space for peak summer 2023 travel.
Air France/KLM Business Class Wide Open for Travel in July 2023
Last week, we found July 2023 travel was wide-open flying Air France business class or KLM business class nonstop from most North American gateways to Amsterdam (AMS) and Paris (CDG) … or onward throughout Europe.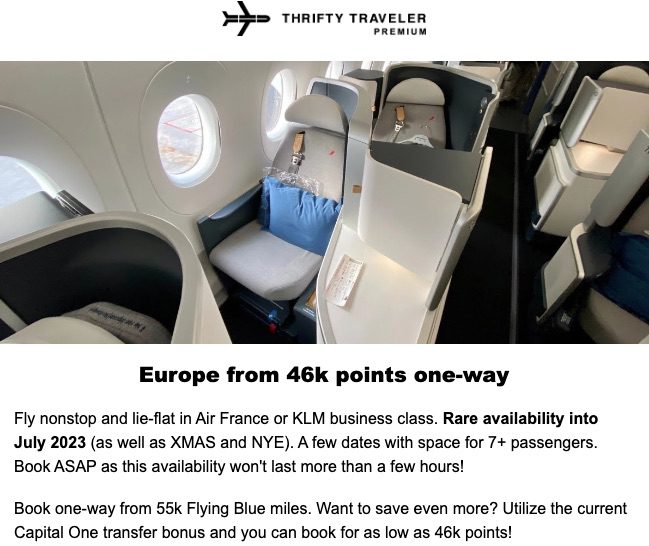 The price varied from departure city to departure city, starting from just 55,000 Flying Blue miles one-way from New York City (JFK). But with that 20% transfer bonus from Capital One, these could be booked using as few as just 46,000 Capital One miles.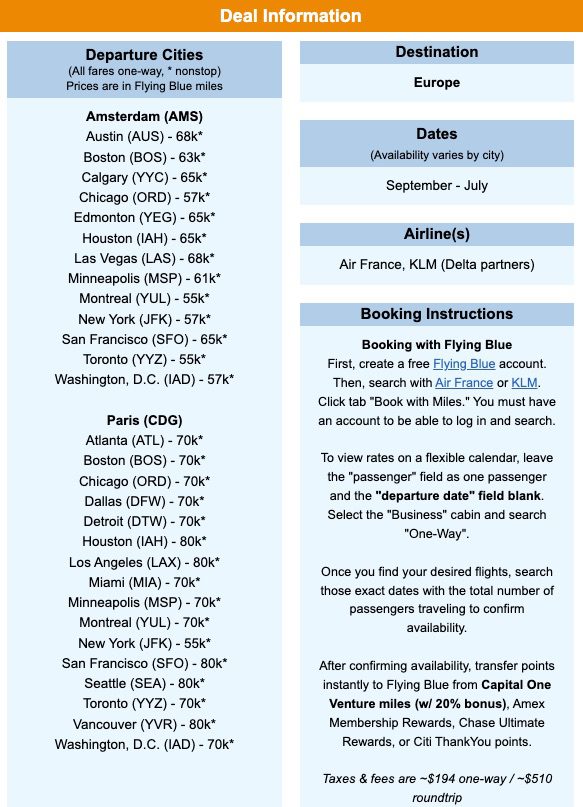 Iberia Business Class: The Cheapest Lie-Flat Seats to Europe for June 2023 Travel
Last but not least, we also recently sent a deal with summer 2023 availability to fly Iberia business class to Spain. At 34,000 Avios each-way departing from Boston (BOS), Chicago-O'Hare (ORD), New York (JFK), and Washington, D.C.-Dulles (IAD), this is the cheapest way to cross the pond in a lie-flat seat.
Better yet, a transfer bonus made it possible to book these flights for only 53,000 Chase Ultimate Rewards points roundtrip.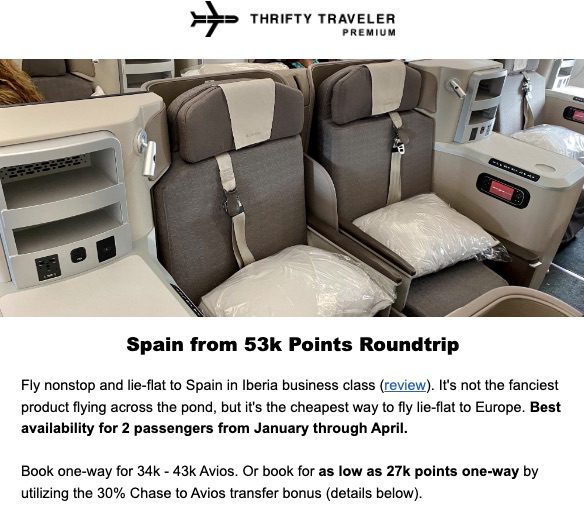 Bottom Line
After a summer of high flight prices and a lack of availability to use your points and miles to book a (nearly) free flight, there has been some relief lately.
Thrifty Traveler Premium+ members have been receiving a ton of amazing award deal alerts lately. If you've got points burning a hole in your pocket, join us to get these amazing opportunities to use those points sent directly to your inbox.