The weather stinks this time of year. But you can change it with a quick, cheap flight to the sun without ever leaving the U.S. A grand getaway to Tahiti or the Caribbean is always awesome, but sometimes you need something simpler.
And there's nothing simpler than booking a domestic flight deal alert. Our Thrifty Traveler Premium (and Thrifty Traveler Premium+!) members know it well – as soon as we find cheap domestic flights, we send them to their inboxes. And the deals for a warm weather domestic getaway on the cheap keep coming and coming lately.
From an $89 roundtrip ticket to the desert southwest and even California or a $96 roundtrip to fan-favorite Florida, here's a taste of where you can travel domestically for less this winter.

Cheap Flights to Arizona and Las Vegas
We love Arizona flight deals. We know travelers, do, too. This latest cheap flight to Phoenix (PHX) for a trip in 2023 was about as cheap as it gets.

Yes, just under $90 for a roundtrip, nonstop flight to the Arizona sun. That included this lovely little roundtrip fare to Phoenix (PHX) from Denver (DEN), where residents have experienced record-breaking cold temperatures lately.


But there's an even better way to get to Phoenix (PHX) if you've got some Delta SkyMiles. With fares as low as 9,000 SkyMiles roundtrip, you won't need many of them thanks to this Delta SkyMiles flash sale.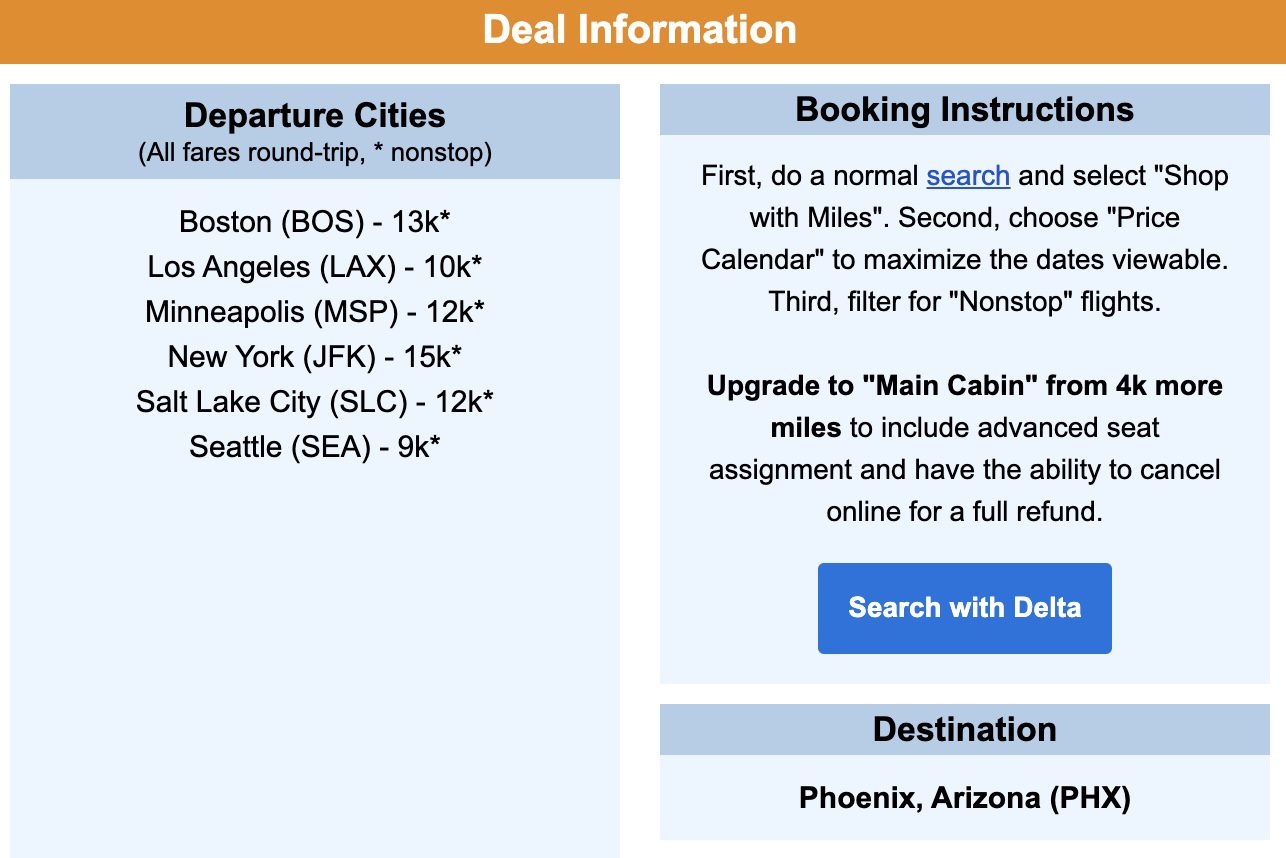 Only our Thrifty Traveler Premium+ members get award alerts to use their points and miles like this one!
Not far to the north and a bit to the west, cheap flights to Las Vegas (LAS) are almost always in steady to supply. Lucky for you, 2023 is no different with jaw-droppingly cheap fares like these.

As you can see, Vegas flights also routinely dip below $100 roundtrip from cities across the country. That includes this stunner of a fare from Austin (AUS) to Sin City.

And once again, why not use your miles on the trip? Save a little extra cash and put it on your team to win the Super Bowl at the sportsbook, instead – or head out on a road trip to see Utah's National Parks. These roundtrip fares under 10,000 SkyMiles apiece from several Delta hubs were the lowest award rates we've ever seen.

But let's go back to Arizona for one more destination that we love: Tucson (TUS). It may not be as reliably cheap as Phoenix (PHX), but that doesn't mean it should cost you $400-plus to get there.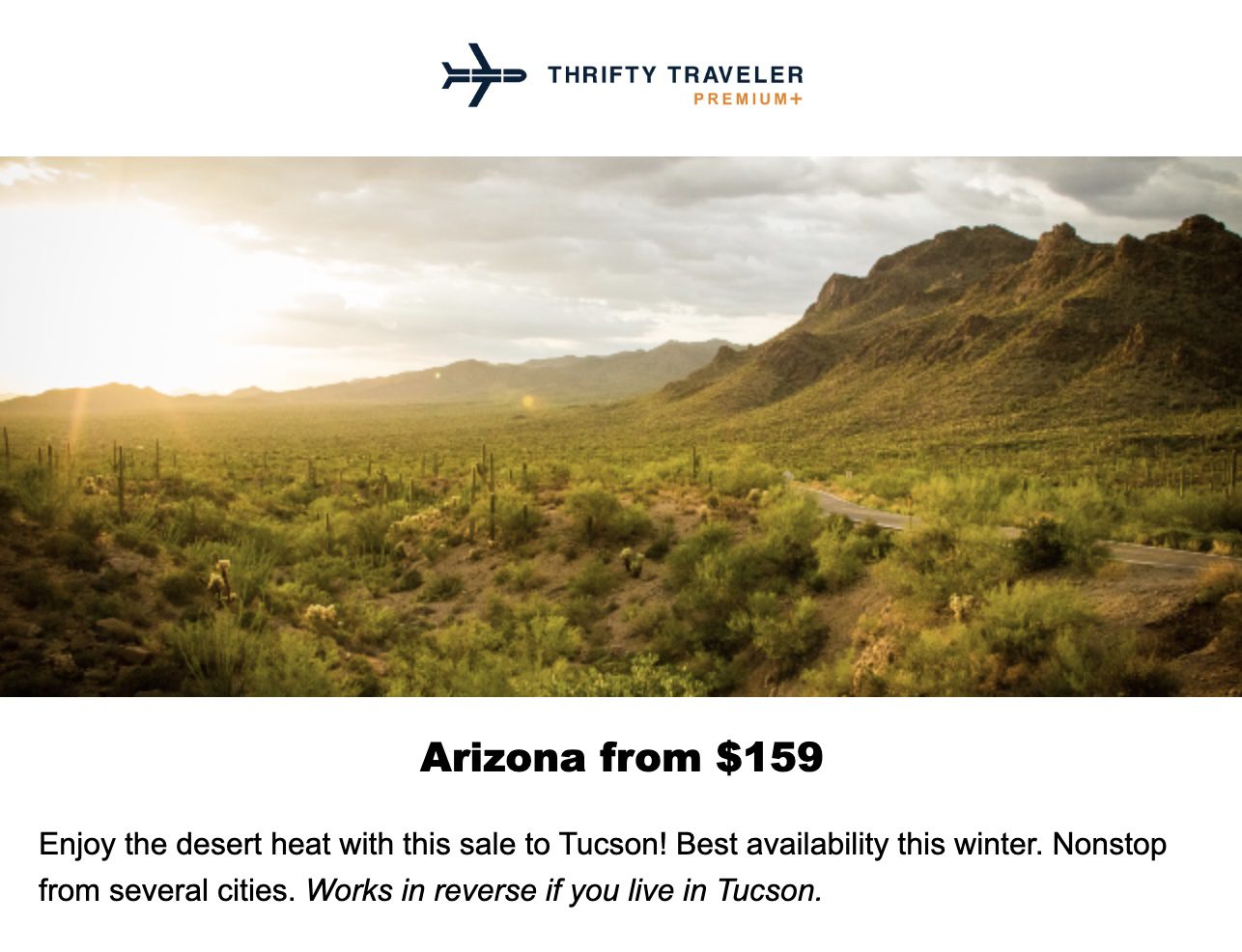 A trip to iconic Saguaro National Park would be worth the flights alone, especially at these prices.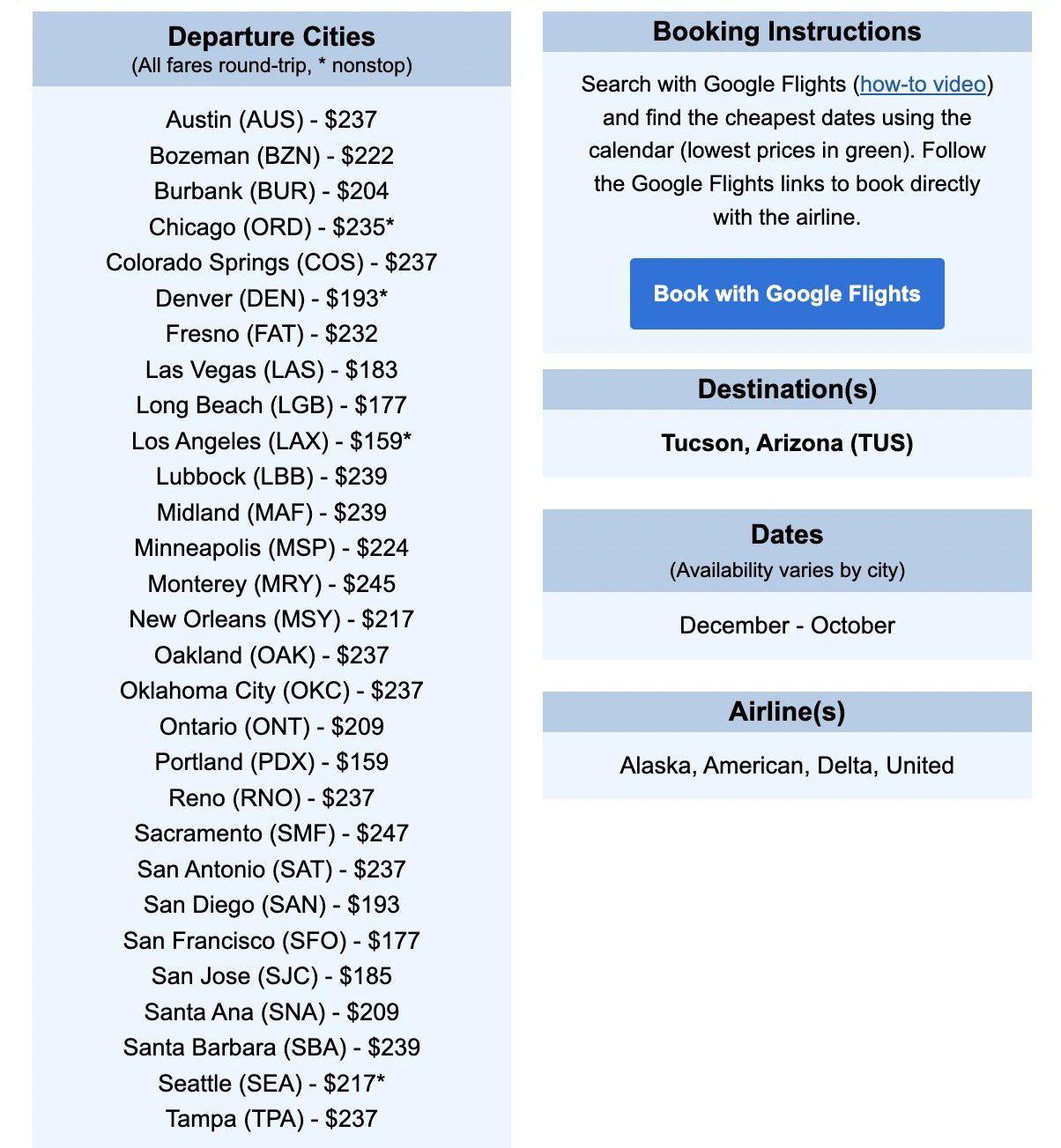 Look at all those cities on this list! From Minneapolis-St. Paul (MSP) to Midland (MAF), your next trip to Tucson is well within reach thanks to a flight deal alert like this one.
Cheap Flights to Southern California
Southern California boasts some of the best weather in the country, and that includes the desert air in Palm Springs (PSP). Quit paying $500 plus to get there – you can do much better.
How cheap can flights to Palm Springs really get? How about this: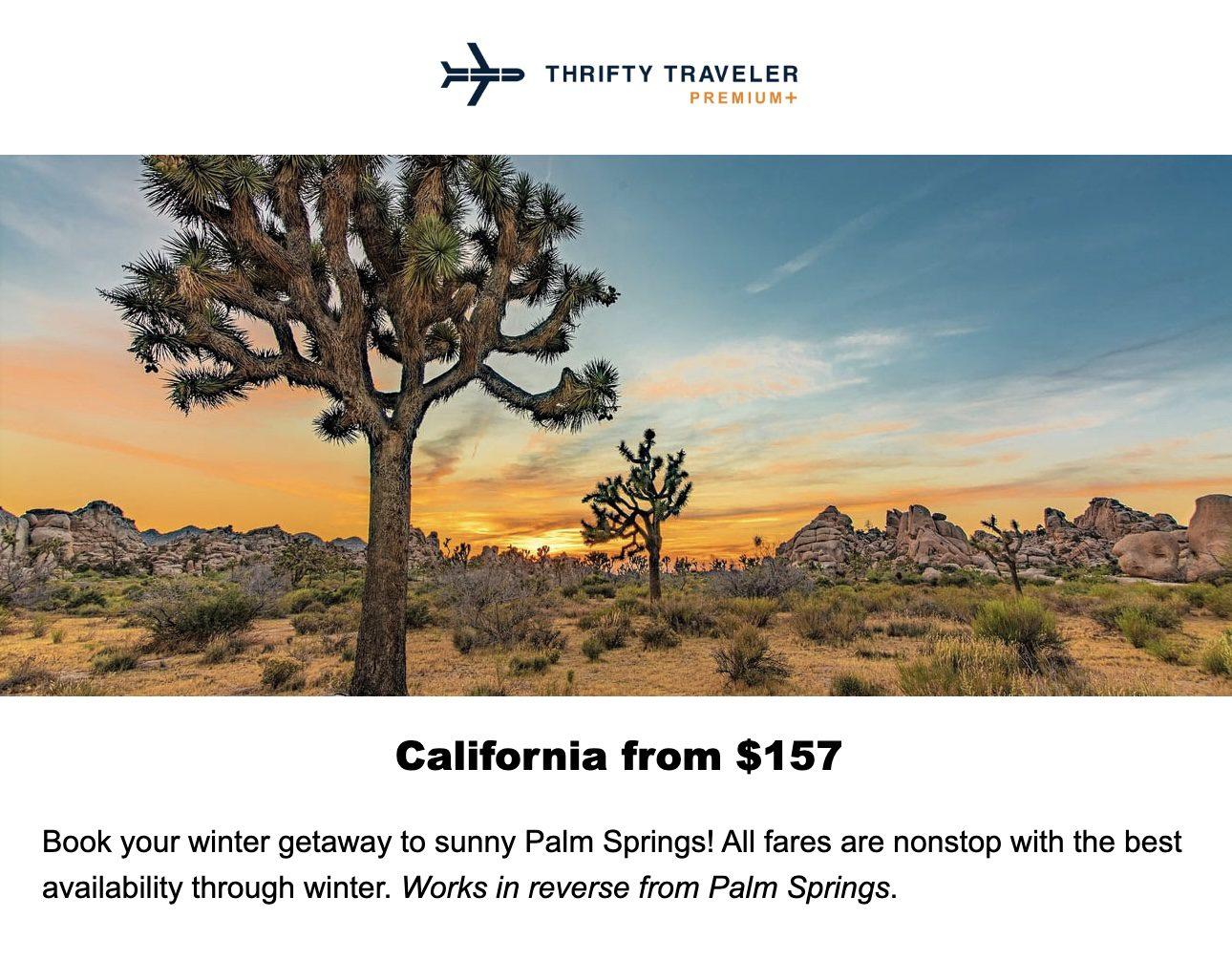 Our data shows that Palm Springs deals are among the most popular with out Thrifty Traveler Premium subscribers. Fares at these prices are why!

When we say Southern California, you were probably thinking of Los Angeles (LAX), right? Don't worry. We've found some amazing deals to get to LA, too.

This deal featured a ton of great, low, nonstop fares – including all the way from Canada and Florida.

Last, but certainly not least, is San Diego (SAN). Cheap flights to California's southernmost city can be harder to find. But we found a ton of San Diego deals last year for a trip in 2023, and we're still on the hunt today.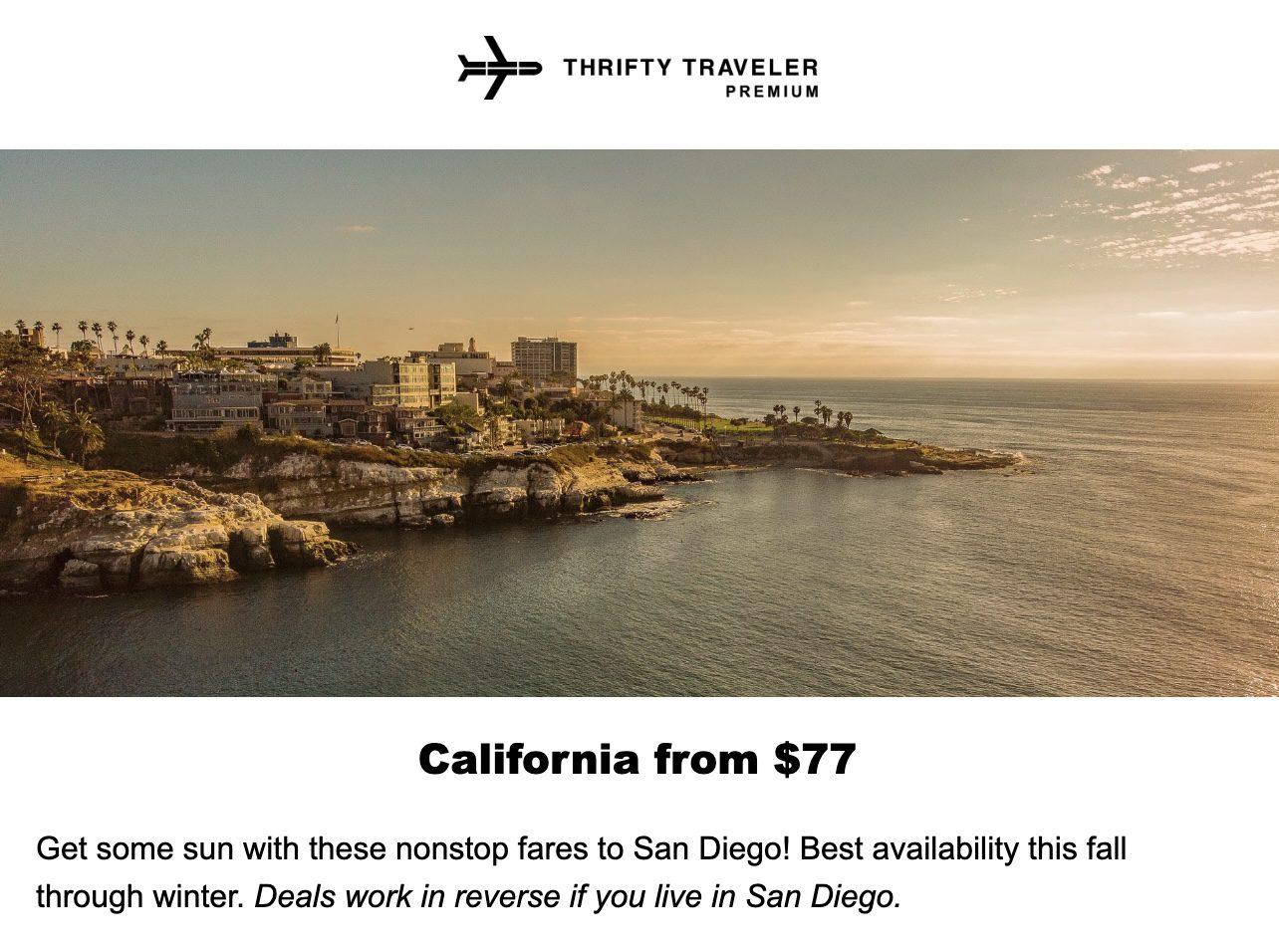 This latest nonstop deal to San Diego featured some wild fares, including roundtrip fares as low as $77 from Las Vegas (LAS) and San Jose (SJC)! But all across the country, fares were under $250 total.

Yet again, there's an even better way to book these flights: SkyMiles! SkyMiles fares to San Diego don't get much lower than this for a trip through spring 2023.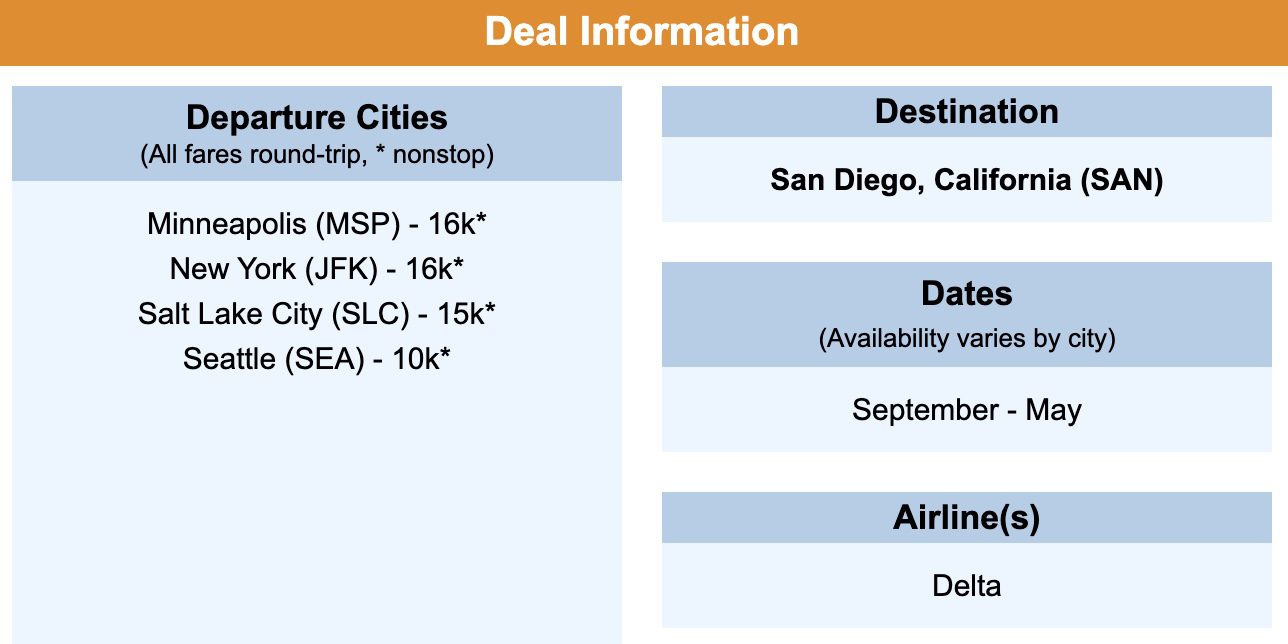 Get more deals like this one in your inbox with Thrifty Traveler Premium+!
Cheap Flights to Florida
When it comes to a winter warm-up for a bargain, Florida is practically a layup for Americans. There are so many destinations to choose from and airlines flying in and out, finding a good deal to Florida is sometimes like shooting fish in a barrel.
We've found flight deals to almost all of Florida's hottest spots. And none of these dirt-cheap prices are flying budget carriers like Spirit or Frontier – we don't send our Thrifty Traveler Premium members fares flying those low-cost carriers.
Let's start with Orlando, where cheap flights aren't hard to find. If you have a young one pulling at your sleeve about a trip to Disney or Universal, Orlando (MCO) is your jumping off point. Save your money for the parks with prices like these!

A trip to Disney this winter  for under $100 total? That was a reality for travelers in Austin (AUS) as well as many other cities across the country

These prices are gone now, get the next deal with Thrifty Traveler Premium!
And then, of course, there are the SkyMiles deals to Orlando. And it may be easier to find a bargain than you think – especially with a Thrifty Traveler Premium+ membership!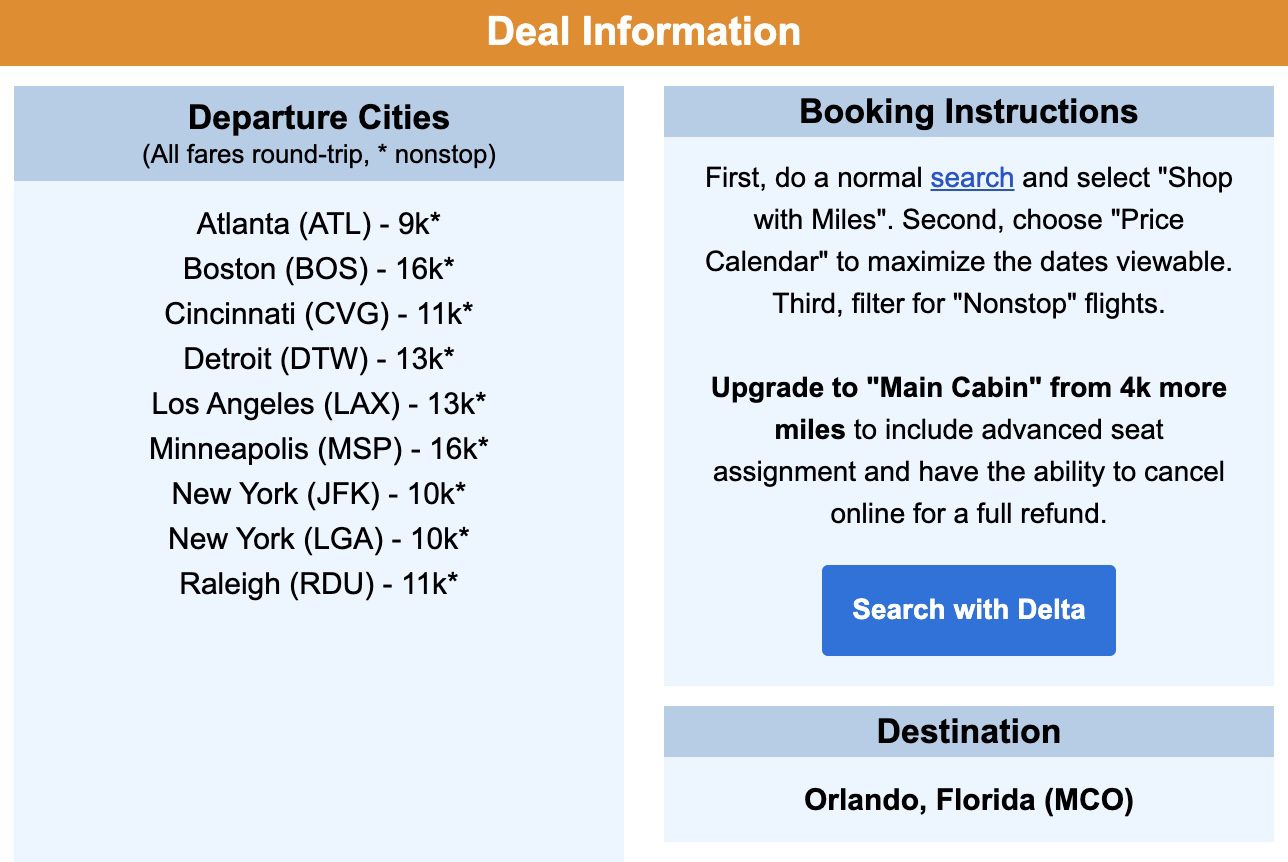 The Florida Panhandle doesn't get enough love, in our opinion. If you can get a nonstop flight to Destin (VPS), Panama City (ECP), or Pensacola (PNS), you're going to have your toes on a white sand beach in no time.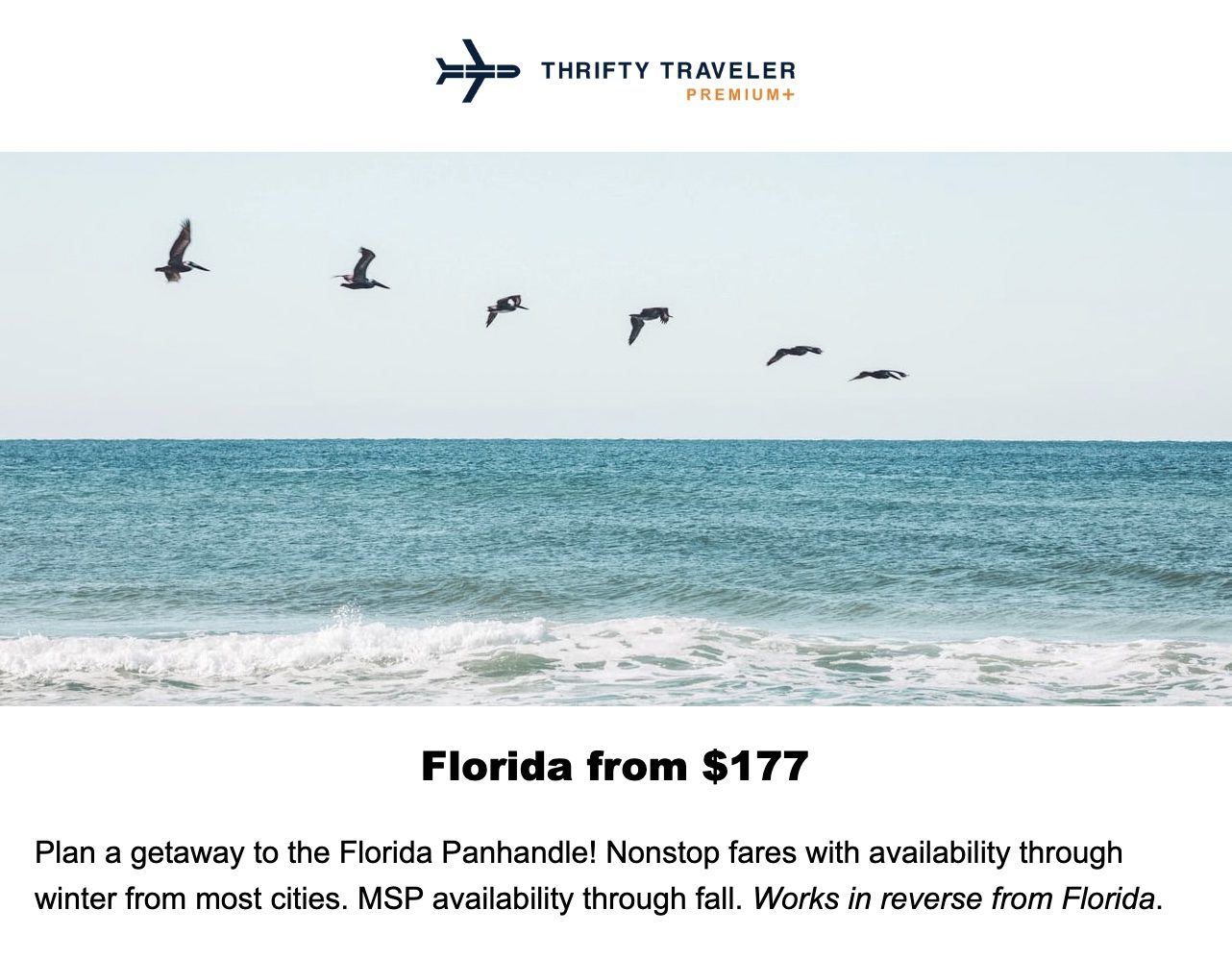 Wrapped further south around the Gulf of Mexico is another extremely popular Florida destination: Tampa. It's home to lovely beaches, superb weather, and occasionally … flights under $150 roundtrip.

We also found cheap flights straight into nearby Sarasota (SRQ). A flight right into Sarasota is great for families who want to avoid the busier airports. We sent Thrifty Traveler Premium members this stellar deal last fall for a trip in winter 2023.

On the other side of the state is West Palm Beach (PBI), where you can get the same outstanding weather along the Atlantic Ocean at a low price thanks to deals like this one.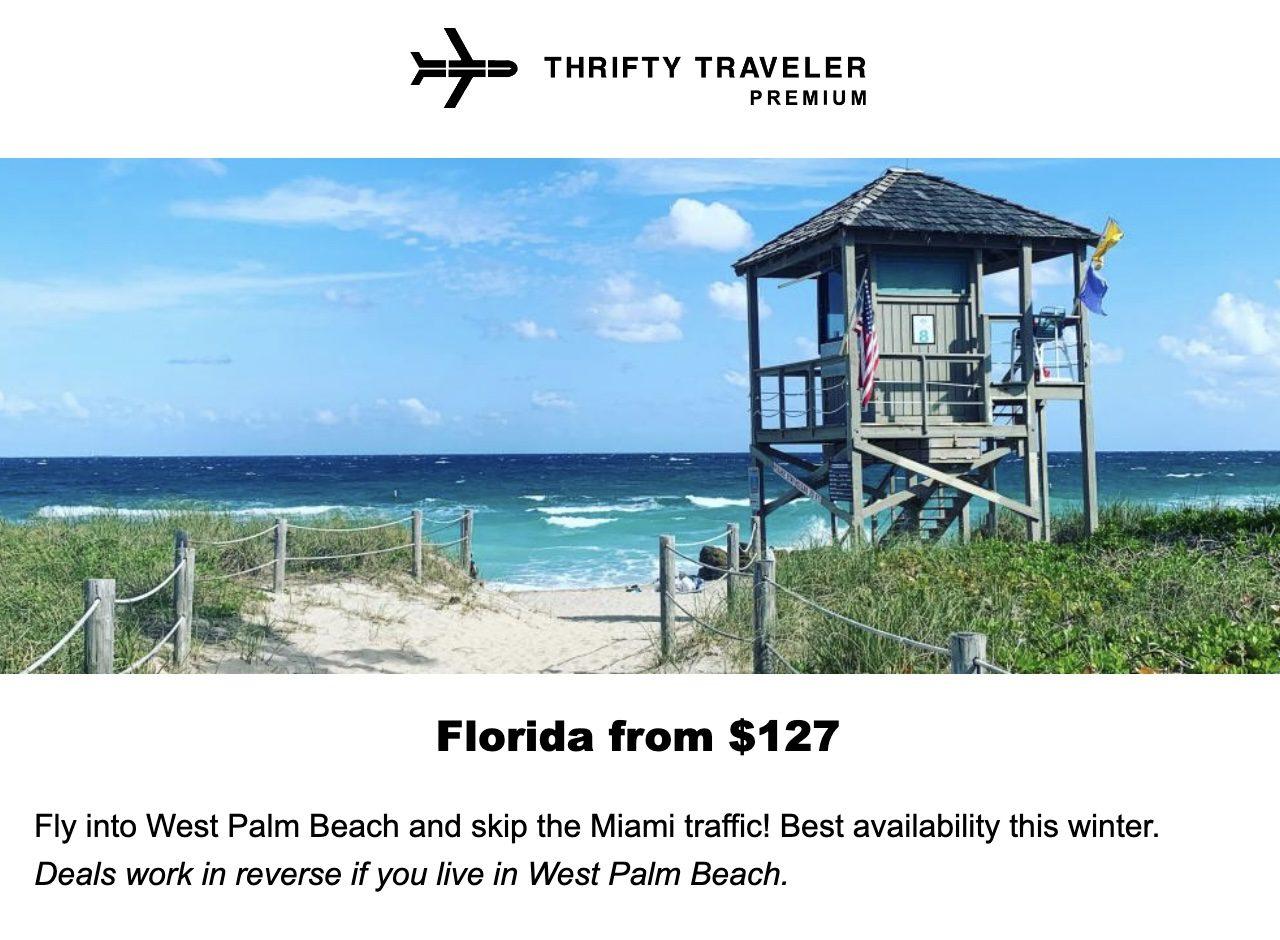 Did I mention Florida has a lot of airports and destinations? Here's a sampling of a few more super cheap flights to Florida we found over the last few months for a trip this winter.



Resolved: Don't pay $400 or more for a flight to Florida this year.
Bottom Line
You can escape the bad weather without ever leaving the U.S. thanks to these domestic flight deal alerts.
Our Thrifty Traveler Premium members get the first crack at booking these awesome fares, helping them book their way out of the cold and into the sun in 2023.