On average, airfare is high right now. There's no doubt about it. But we've been noticing a trend that we think you're going to like, especially if you're looking to travel within the U.S.
We've already been seeing domestic airfare dropping for flights flying all over the U.S. this spring. But now, domestic flight prices are getting cheaper during the peak summer months of June, July, and August as well – some of the most popular months to travel. That's right: Your summer trip might be more affordable than you could have imagined just a few months ago.
After nearly a year of sky-high domestic flight prices, the fever appears to be breaking. And the fever is breaking to the kinds of destinations that are perfect for a summer getaway in 2023.
Let's take a look at what's leading this trend and what you could book for your summer getaway this year.
Peak Summer Flights in the U.S. are Getting Cheaper
When we send out Thrifty Traveler Premium members flight deal alerts, the majority of the lowest fares are for what we call the shoulder season, which is the months before and after peak summer, like May and September.
While we're definitely finding those shoulder season bargains and sending them to our subscribers, we're also giddy to report that availability during the peak summer months keeps popping up.
This deal for flights to Cape Cod (HYA), Martha's Vineyard (MVY), and Nantucket (ACK) is the perfect example.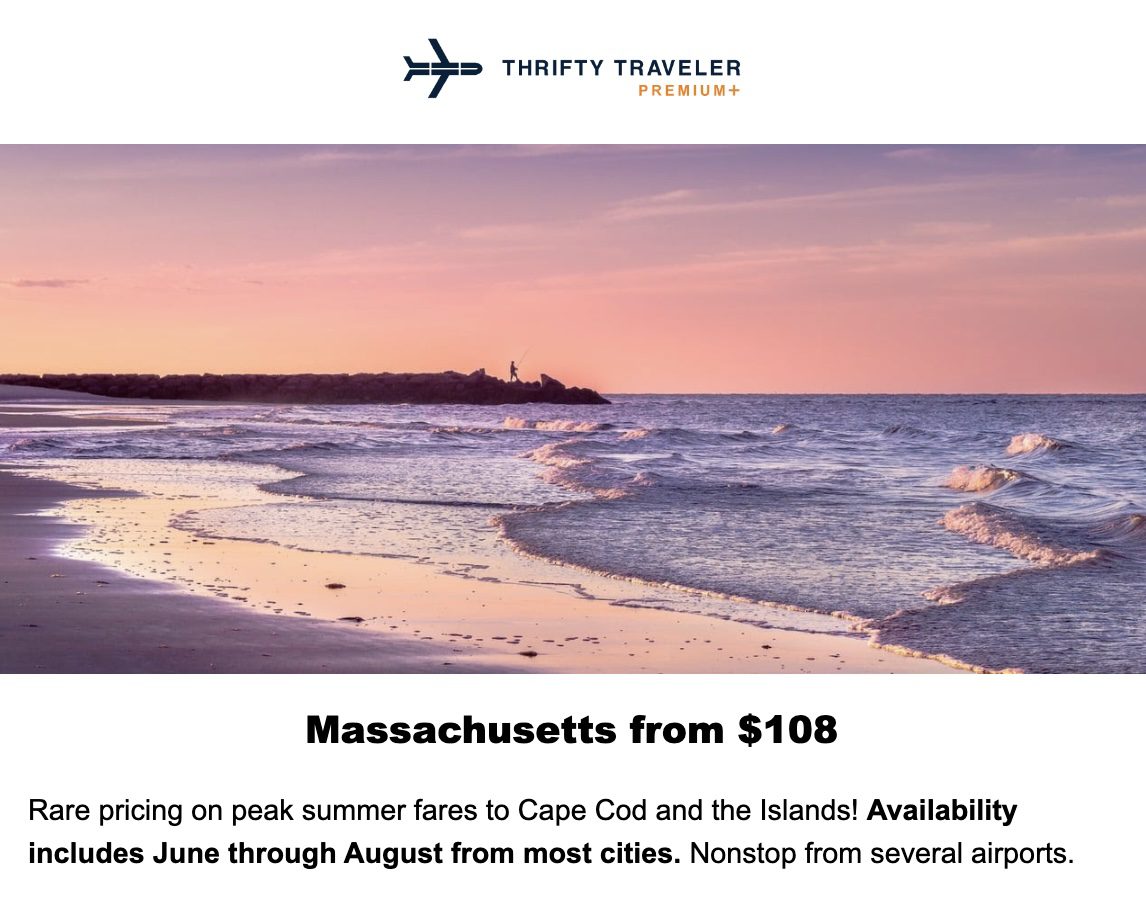 Flight deals to Cape Cod and the Islands are already rare, and inexpensive June fares are sometimes nearly impossible to find.
But JetBlue ran a "Spring Sale" that sneakily included some crazy cheap fares that extended well into June, and other airlines had to match them to stay competitive.
At first, we thought this was a one-off triggered by the JetBlue sale, but as we've kept digging into domestic airfare over the past few weeks, we're noticing that this is a trend, not a flash in the pan.
Take this flight deal with great, low fares to Myrtle Beach, South Carolina.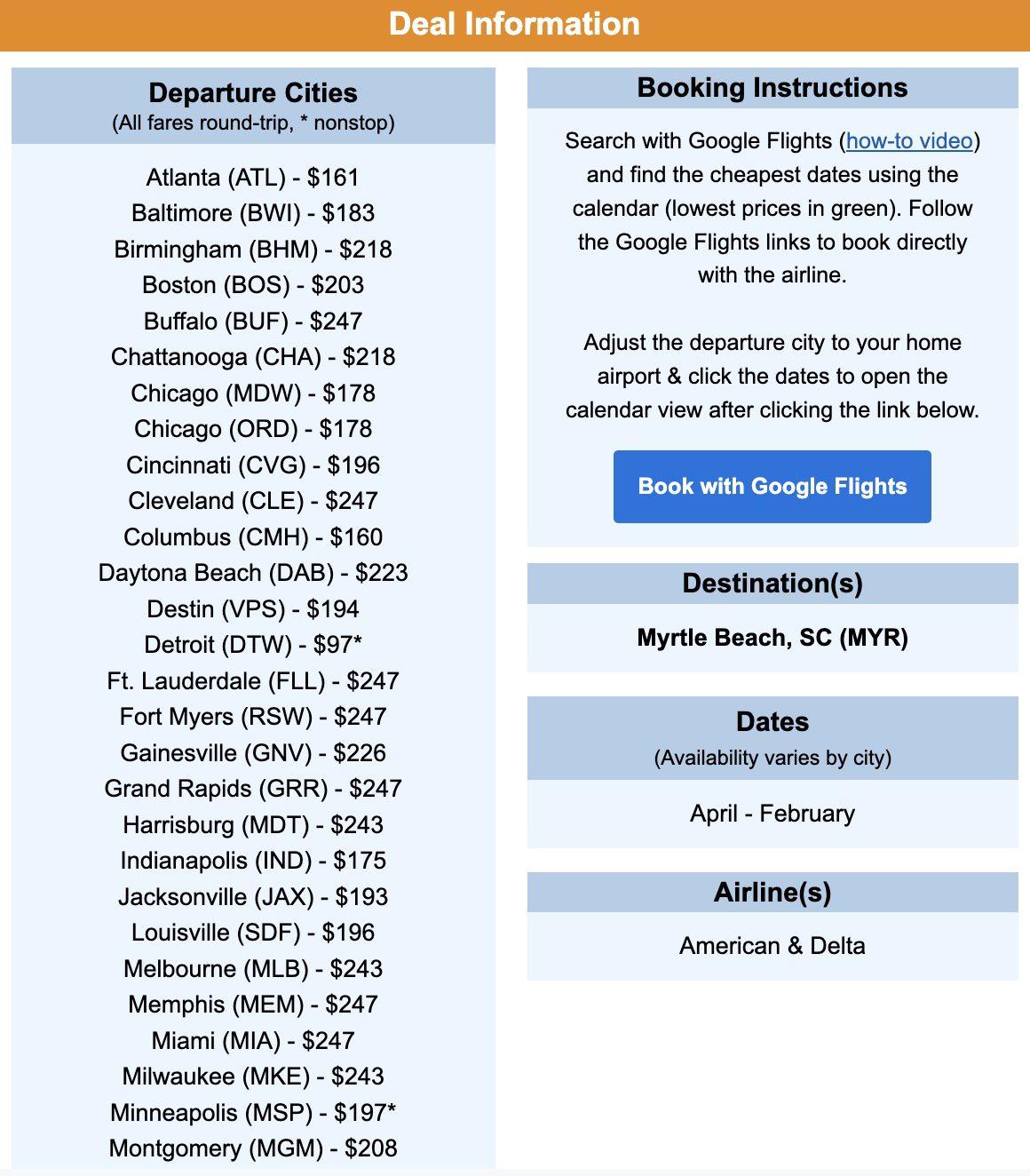 This deal included tons of peak summer availability that could get you and the whole family to the South Carolina resort town from dozens of cities for cheap.
We saw the same thing with this flight deal to Destin, Florida (VPS). Destin is on the Florida Panhandle, where white sand beaches greet visitors every year.
What normally doesn't greet visitors, however, are sub-$200 flights in June and August.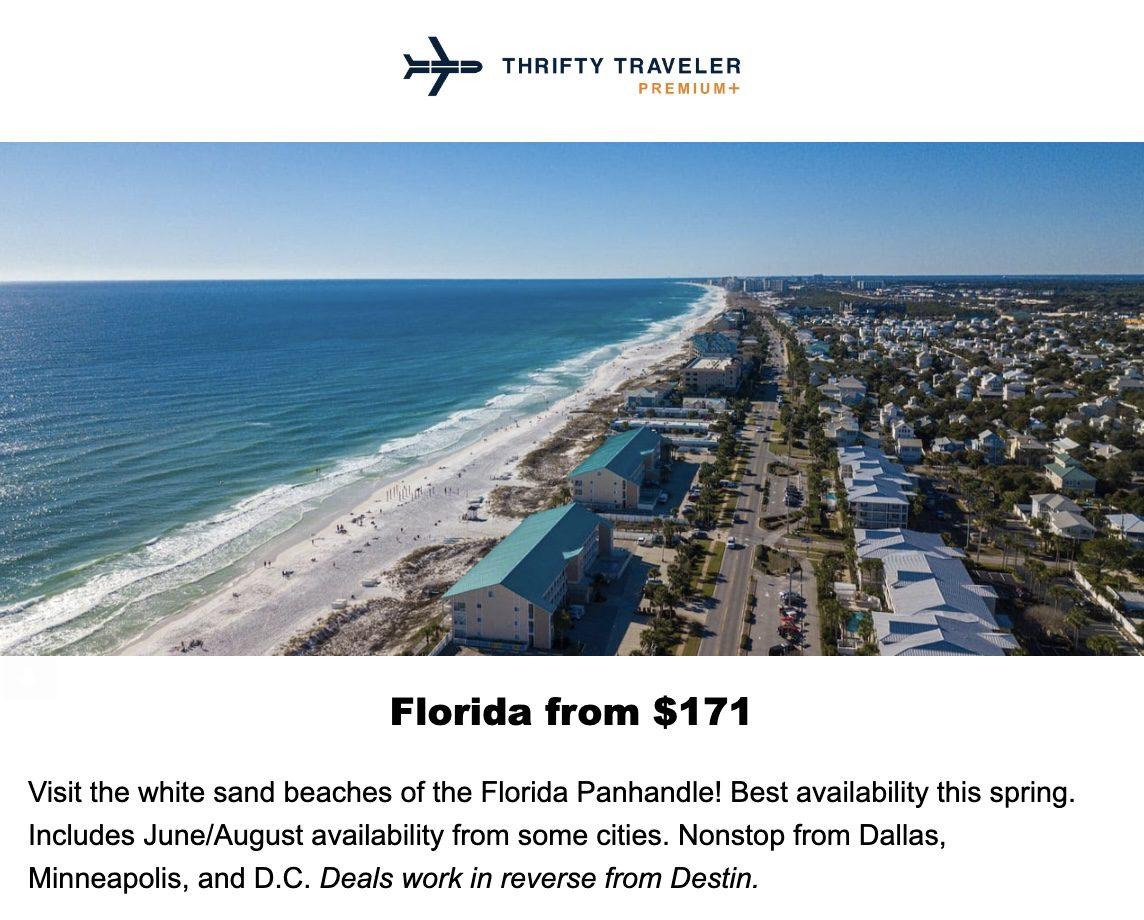 A number of cities included in this flight deal had June and August dates available. And while Florida doesn't jump out at most travelers as the place to be during the already hot summer months, it's a great way to have the beach to yourself in some warm waters – well ahead of hurricane season, too.
We're hoping this trend continues, opening up more U.S. destinations with summer 2023 availability over the days and weeks ahead, too.
The Best Summer Flight Deals We've Found
We've seen airfare drop for some destinations in peak summer over the last few weeks, but we send our Thrifty Traveler Premium members alerts for cheap summer flights year-round.
The following are some of our favorite flight deals we've sent to our subscribers in 2023 for summer trips.
For me, summer screams national parks, and we've had plenty to work with there over the past few months.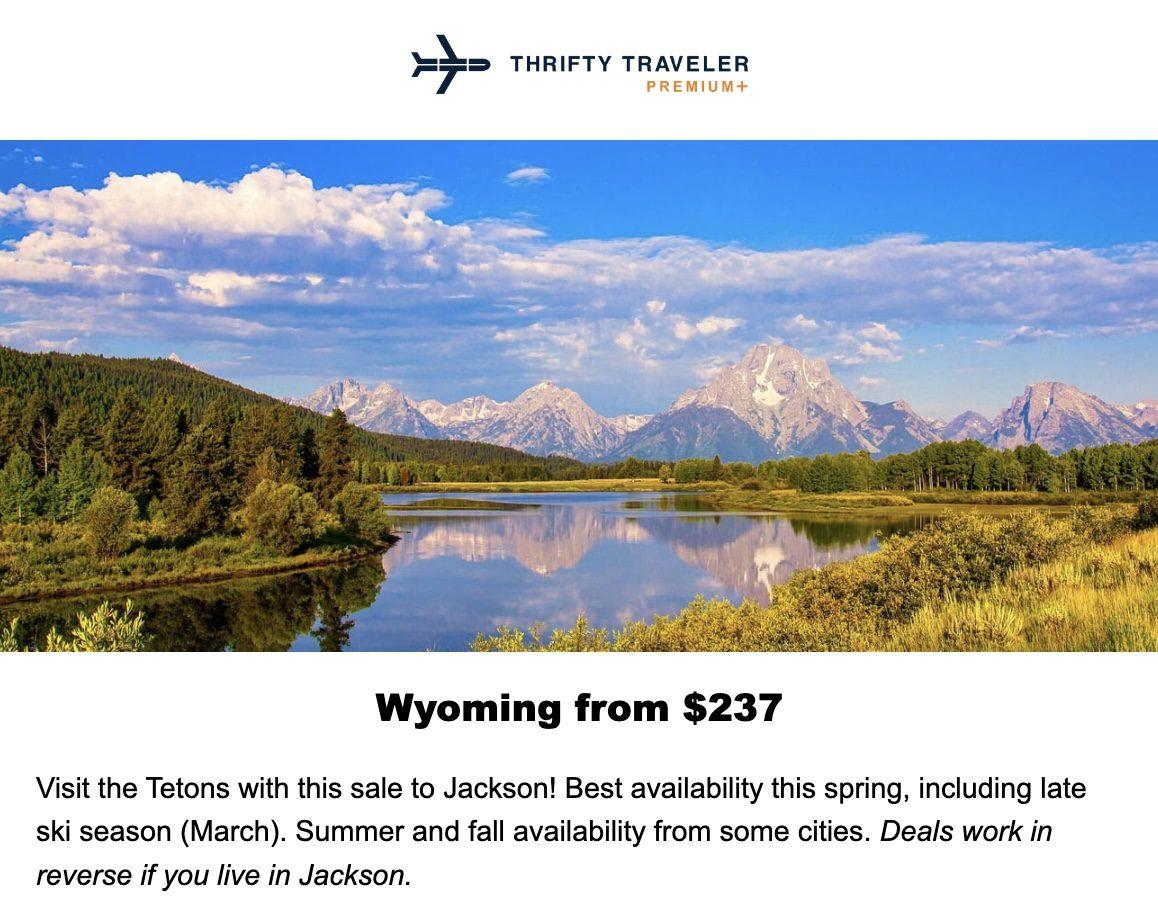 This flight deal to Jackson, Wyoming (JAC) puts you on the doorstep of the incomparable Grand Teton National Park.
As you can see from the deal example below, it included some peak summer availability on the renewed nonstop route from Minneapolis (MSP), too.
This deal is long gone now – get the next one in your inbox with Thrifty Traveler Premium!
The fun doesn't stop there, either. How about these peak summer fares to St. George, Utah (SGU), which is the ideal gateway to explore Zion National Park?
On the East Coast, one of the jewels of the National Parks system is Acadia National Park, and a cheap flight to Portland, Maine (PWM) is a great jumping-off point to explore that epic park and the entire Maine Coast to boot.
Maine is insanely charming in the summertime and would make a perfect summer getaway.
And yes, it's even possible to find peak summer flights to somewhere as popular as Hawaii, too.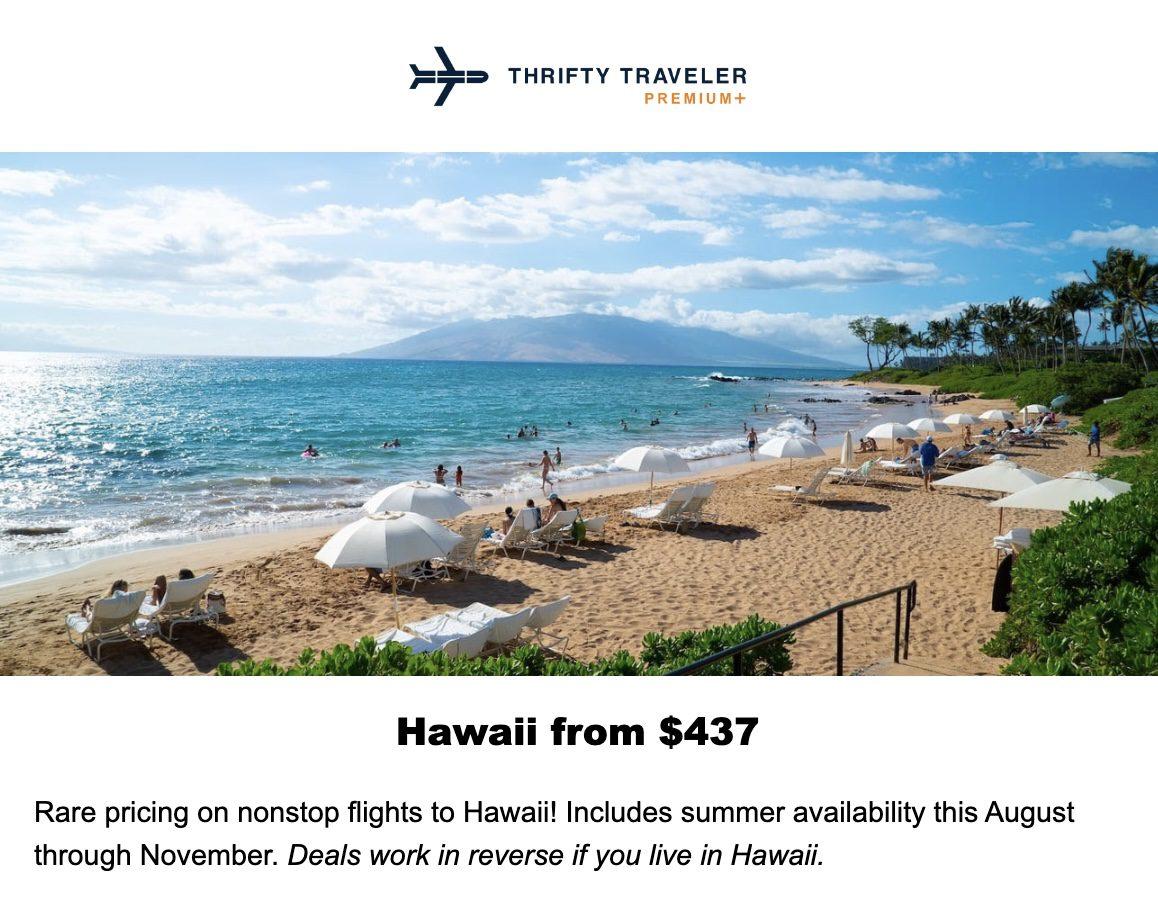 We couldn't believe our eyes when we saw the nonstops from Dallas (DFW) to Honolulu (HNL) and Maui (OGG) drop to $437 roundtrip, but it was real!
The best deals for summer travel can pop up at any time. Getting flight deal alerts sent straight to your inbox ensures you're ready to book cheap flights like these as soon as we find them.
Bottom Line
Flight prices might be high overall, but the latest domestic flight deals we've sent to our Thrifty Traveler Premium subscribers are bucking that trend…and they're for peak summer travel!
If you've ruled out a summer getaway this year due to high prices, think again. We continue to find peak summer domestic airfare for our subscribers in what we hope is a trend that sticks around for a little while longer.