Fellow travelers, the moment has come to look back on the craziest flight deals of 2019. Are you ready?!
Finding cheap flights and helping you see the world for less is what we do here at Thrifty Traveler. But we are still in disbelief at some of the insanely cheap flight deals in the last year. Most of these deals are no longer bookable at these prices, but these were all round-trip flight deals that we found and sent to our Thrifty Traveler Premium members.
Let's take a look back at the best of the best. From mistake fares, flash sales, and fare wars galore, you'll be shocked at these prices. Let's count down to the absolute best flight deal of 2019.
10. Flights to Asia under $300 … Round-trip
Yes, you're reading that right! This year, we found not one but two deals to Asia for under $300 round-trip. You could have flown on the cheapest flight we've ever seen from Los Angeles (LAX) to Beijing (PEK) nonstop for just $284 round-trip.
Been looking for a cheap flight to Japan? How does $277 round-trip from Philadelphia sound? That's nearly $1,000 less than typical fares from the East Coast!
9. $200 for a Round-trip Flight to Argentina or Chile?
If you've ever searched for flights to South America, you know they're typically crazy expensive. Paying $1,000 or more isn't out of the norm.
That's why we could hardly believe our eyes when we found this mistake fare to Argentina & Chile! You could have flown from Boston (BOS), Los Angeles (LAX), Miami (MIA), New York City (JFK), Chicago (ORD), or Ft. Lauderdale (FLL) for as low as $209 round-trip. That meant savings of at least $750, and it was even available in peak summer!
8. Business Class Mistake Fare: New Zealand AND Australia!
How does flying like this to New Zeland look?
This dream come true was made possible by an insane mistake fare on Air New Zealand. You could fly from Chicago to Australia with an optional stopover in New Zealand, making this a two-for-one deal.
For just $1,491 (a standard price of an economy flight to Australia) you could have gotten lounge access, and a business class seat including priority boarding, champagne, and lie-flat seats. The cost of this luxury experience is typically over $7,000. We loved hearing from Premium members that booked this one!
7. Just 30K SkyMiles for Round-trip Flights to Europe
Dozens of travelers are on their way to Europe for just 30,000 miles thanks to this flight deal.
Delta cut SkyMiles award rates flying partner airlines like Air France, KLM, or Virgin Atlantic – and with that came some unbelievable value when using SkyMiles. With this deal, you can fly to most major European cities for just 30,000 SkyMiles round-trip!
Most airlines charge at least 60,000 miles for a round-trip to Europe, and Delta often charges much, much more. Cash prices on some of these flights can exceed $1,000.
6. Flights to Australia under $500 
2019 started off strong with some wild fares to Australia in the $400s and $500s! You could have flown round-trip to Australia during peak summer for under $500 from these cities:
Chicago (ORD) – $482
Dallas (DFW) – $450
Denver (DEN) – $482
Houston (IAH) – $479*
Los Angeles (LAX) – $469*
New York (LGA) – $486
Newark (EWR) – $486
Philadelphia (PHL) – $450
Phoenix (PHX) – $446
Washington DC (DCA and IAD) – $494
Nonstop from Houston for under $500? Pinch me! Flights to Australia are typically at least $1,250, so this was a steal.
5.

Flights to Europe Under $200 Round-trip!
Yeah, this one blew some minds. Flights to Europe have been dropping all year, and this one took the cake.
We found some extra spicy nonstop and round-trip flights from the east coast to Spain for under $200! You could have flown from Boston (BOS) to Barcelona (BCN) or New York City (JFK) to Madrid (MAD) for as little as $183. Now that's a good excuse to head to Europe!
4. Fly Delta One to Europe for Just 98K SkyMiles Round-trip
It had been over two years since we'd seen Delta One fares this low! If you want to fly to Europe in style…this is the way. The best part was you could book the excellent Delta One suites.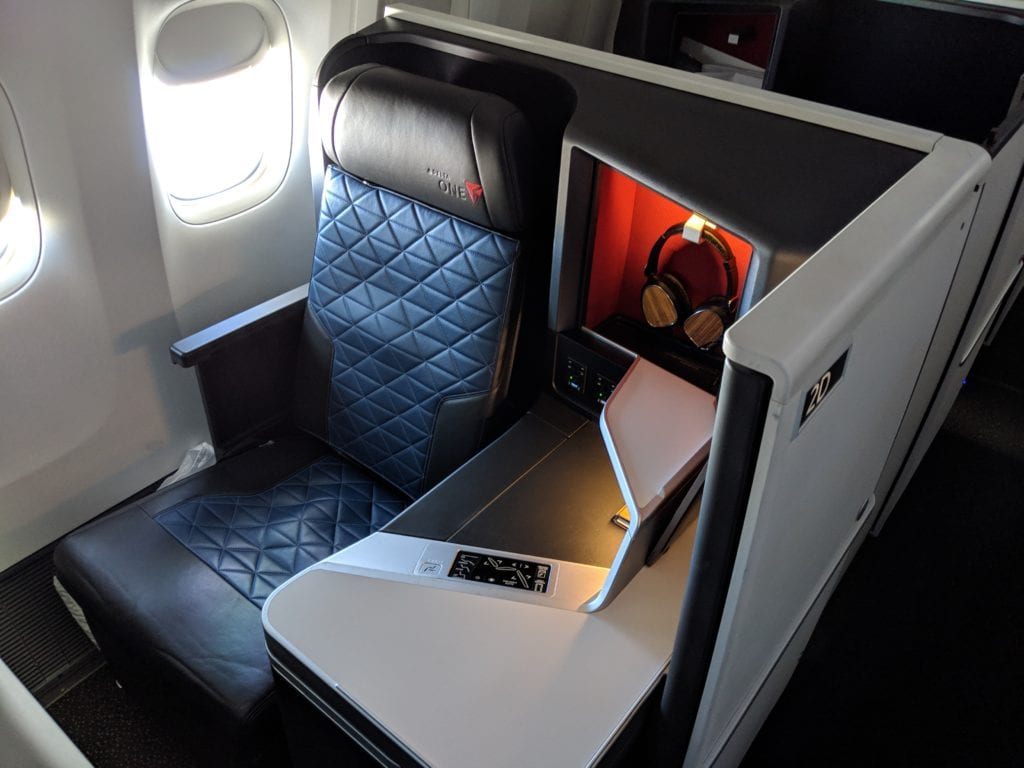 These fares included Delta Sky Club lounge access, business class meals, lie-flat seats, champagne, amenity kits, and priority boarding. This is one of the best uses of SkyMiles we've ever seen. Normal pricing on a Delta One flight to Europe is 250k SkyMiles or roughly $5,000 or more! 
3. Nationwide to Switzerland and Germany $200-300s
A series of insane nationwide flash sales to Austria, Germany, and Switzerland was one of the best deals you could find this past year. You could have flown from nearly any airport in the U.S. to Europe during peak summer for $300 or less round-trip.
To give you an example of why this deal was so wild, take a look at this small sample of the airports where you could hitch a ride to Europe under $300 roundtrip:
Akron (CAK) – $291
Bangor (BGR) – $288
Birmingham (BHM) – $291
Cedar Rapids (CID) – $293
Des Moines (DSM) – $293
Duluth (DLH) – $293
El Paso (ELP) – $281
Fargo (FAR) – $293
Grand Rapids (GRR) – $293
Green Bay (GRB) – $293
Harrisburg (MDT) – $292
Kansas City (MCI) – $292
La Crosse (LSE) – $293
Lexington (LEX) – $292
Little Rock (LIT) – $291
Madison (MSN) – $293
Milwaukee (MKE) – $293
Omaha (OMA) – $293
Peoria (PIA) – $293
Reno (RNO) – $281
Richmond (RIC) – $291
Rochester (RST) – $293
Santa Ana (SNA) – $293
Santa Fe (SAF) – $289
Sioux Falls (FSD) – $293
St. Louis (STL) – $293
Syracuse (SYR) – $293
Tucson (TUS) – $282
Tulsa (TUL) – $294
Wichita (ICT) – $293
2. 10,000 American AAdvantage miles to New Zealand
In October, American Airlines sold round-trip flights from the U.S. to New Zealand and Australia for as low as 10,000 AAdvantage miles. Yes, 10,000 miles to get to New Zealand and back.
As you can imagine, this nearly broke the internet. The sale didn't last more than an hour, but many of our Thrifty Traveler Premium members were able to book the deal of a lifetime after we shared it in our exclusive members-only Facebook group before it died. And the savings here were huge: These flights would have cost more than $1k each in cash. This was the deal of a lifetime!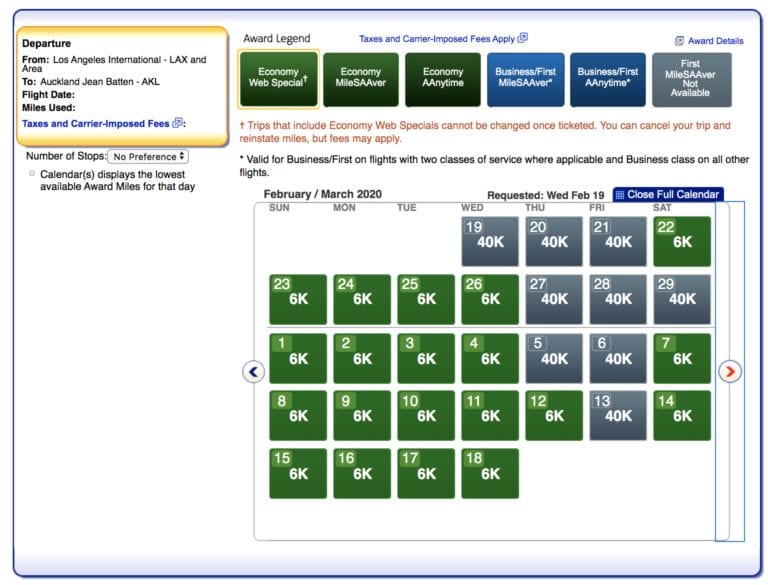 1. Round-trip Flights to Hawaii Under $100
The moment you've all been waiting for: the craziest flight deal we found in 2019! Less than $100 to get to Hawaii? We're not kidding – this was real!
When Southwest officially launched its flights to Hawaii, they offered unadvertised round-trip flights for as low as $91! Fares were lowest from the west coast, but we found exceptionally cheap flights from other cities, too:
Albuquerque (ABQ) – $176
Austin (AUS) – $216
Boise (BOI) – $174
Burbank (BUR) – $176
Chicago (MDW) – $274
Dallas (DAL) – $216
Denver (DEN) – $174
El Paso (ELP) – $224
Kansas City (MCI) – $266
Las Vegas (LAS) – $176
Long Beach (LGB) – $176
Los Angeles (LAX) – $176
Minneapolis (MSP) – $264
Oakland (OAK) – 

$91

*
Oklahoma City (OKC) – $316
Ontario (ONT) – $176
Phoenix (PHX) – $176
Portland (PDX) – $176
Reno (RNO) – $176
Salt Lake City (SLC) – $176
San Diego (SAN) – $176
San Jose (SJC) – $98*
Santa Ana (SNA) – $176
Seattle (SEA) – $176
Spokane (GEG) – $176
Bottom Line
These crazy flight deals of 2019 are still blowing our minds! This is only a small sample of some of the best deals we found in the last year: we found over 1,200 other flight deals in the last 365 days! You could travel to nearly every corner of the globe for pennies on the dollar.
All these deals and far more were sent first to Thrifty Traveler Premium subscribers. Stop missing out and make 2020 your year of cheap travel!