Since reopening to North American travelers last year, Australia has quickly become one of the most popular international travel destinations on the planet.
Airlines like American, Delta, United, and Australian-based Qantas have bolstered their schedules with flights to Brisbane (BNE), Melbourne (MEL), and Sydney (SYD). And people are clamoring for a chance to fly down under in 2023 and beyond. But if everyone wants to fly to Australia this year, does that mean flight prices are going to be high?
Far from it. Over the past few weeks, we've been sending our Thrifty Traveler Premium and Premium+ members incredible deals on roundtrip flights to Australia. We're talking $759 roundtrip flights down under, compared to the $1,300 we've all gotten used to seeing. And, our team of flight deal analysts has found some great award space to make that long flight across the Pacific much more comfortable with points and miles.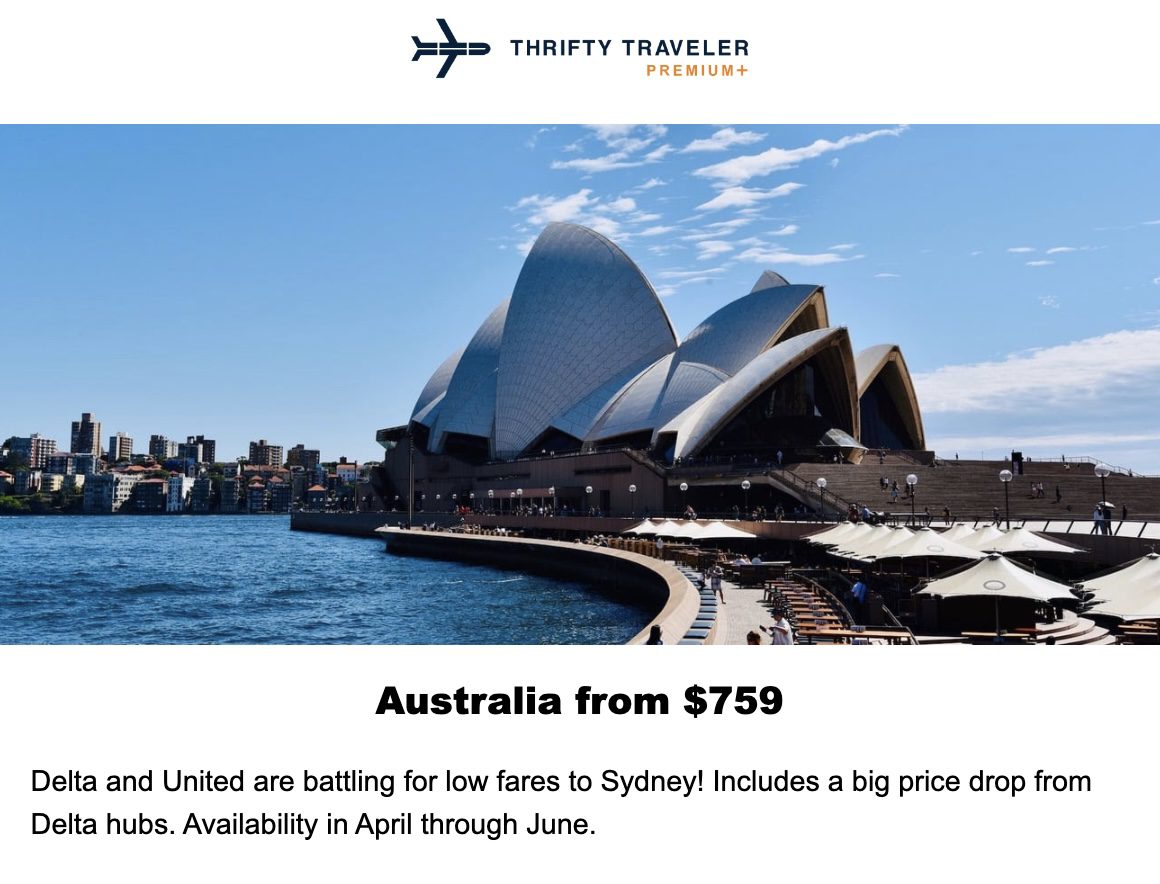 So why are there so many cheap flights to Australia lately? And how can you book them?
Why Flights to Australia Are Cheap Right Now
Two reasons:
Airlines are flying to Australia more (both the number of routes and how often they fly them) to keep up with demand.
Competition. So many carriers are flying down under that flight prices are staying low.
Here's the best example of that. Minneapolis-St. Paul (MSP) is a tried and true Delta hub, so to siphon customers from Delta, United offered this crazy cheap fare to Australia this spring.

Minneapolis wasn't the only Delta hub targeted by United on this recent flight deal we sent to Thrifty Traveler Premium members, Atlanta (ATL), and Detroit (DTW) all were as well. Delta also helped out travelers in United's hubs of Chicago (ORD), Denver (DEN), Houston (IAH), San Francisco (SFO), and Washington, D.C.-Dulles (IAD) with low fares, too.

When airlines compete, we all win.
And then there are the oddballs, like Jetstar Airlines. Ever heard of them? Neither had I. Not until we sent subscribers this crazy deal from Honolulu (HNL) to Sydney (SYD) for just $440 roundtrip.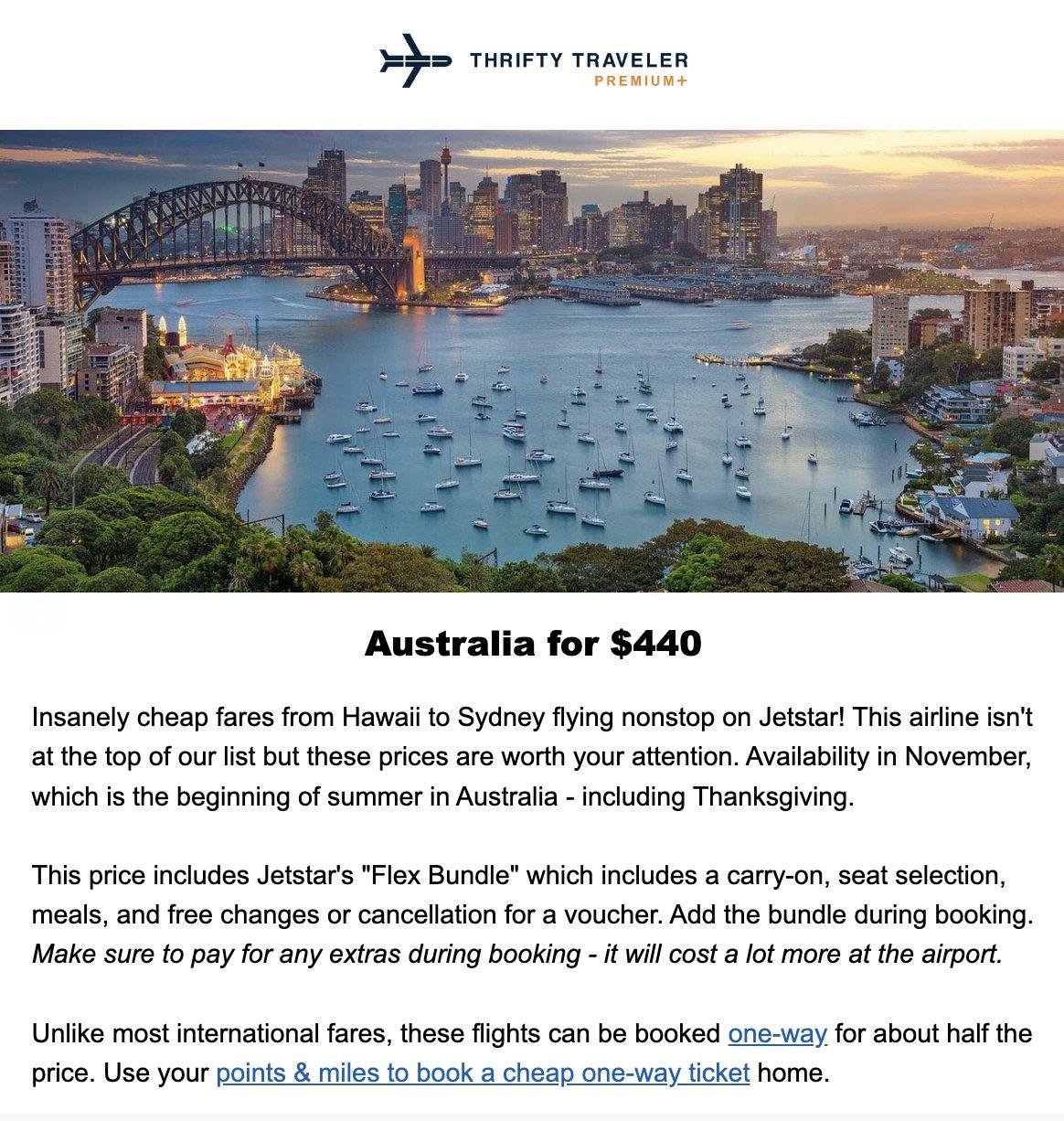 Jetstar is a low-cost carrier, and we don't normally feature airlines like that in our Premium deals. But when Jetstar offered fares this low for travel to a destination this popular, we simply had to tell our members about it. This deal is a great find for our Honolulu (HNL) subscribers, or anyone who is looking to build a once-in-a-lifetime Australia and Hawaii 2-in-1 trip.
Rare Award Space for Premium Economy, Business Class
Let's face it. You're going to spend double-digit hours in the air on these flights to Australia no matter what. That's a long time in the air, so it might pay to book a little extra comfort.
And in many cases, it's not going to break the piggy bank to do exactly that. Ever heard of Premium Economy?

Premium Economy is a perfect middle ground between business class and economy, and it could be exactly what you're looking for. These 50,000-point seats from Dallas (DFW), Los Angeles (LAX), San Francisco (SFO), and Vancouver (YVR) are bookable with Cathay Pacific Asia Miles (transferable from Amex, Capital One, and Citi).
You can get them at 65,000 American Airlines AAdvantage miles, too.

Want to get horizontal in some lie-flat business class seats? We've seen great rates for that lately, too.

Qantas business class on the A380 or the 787-9 Dreamliner is a crazy comfortable ride. And for just 80,000 AAdvantage points, the seats could be yours.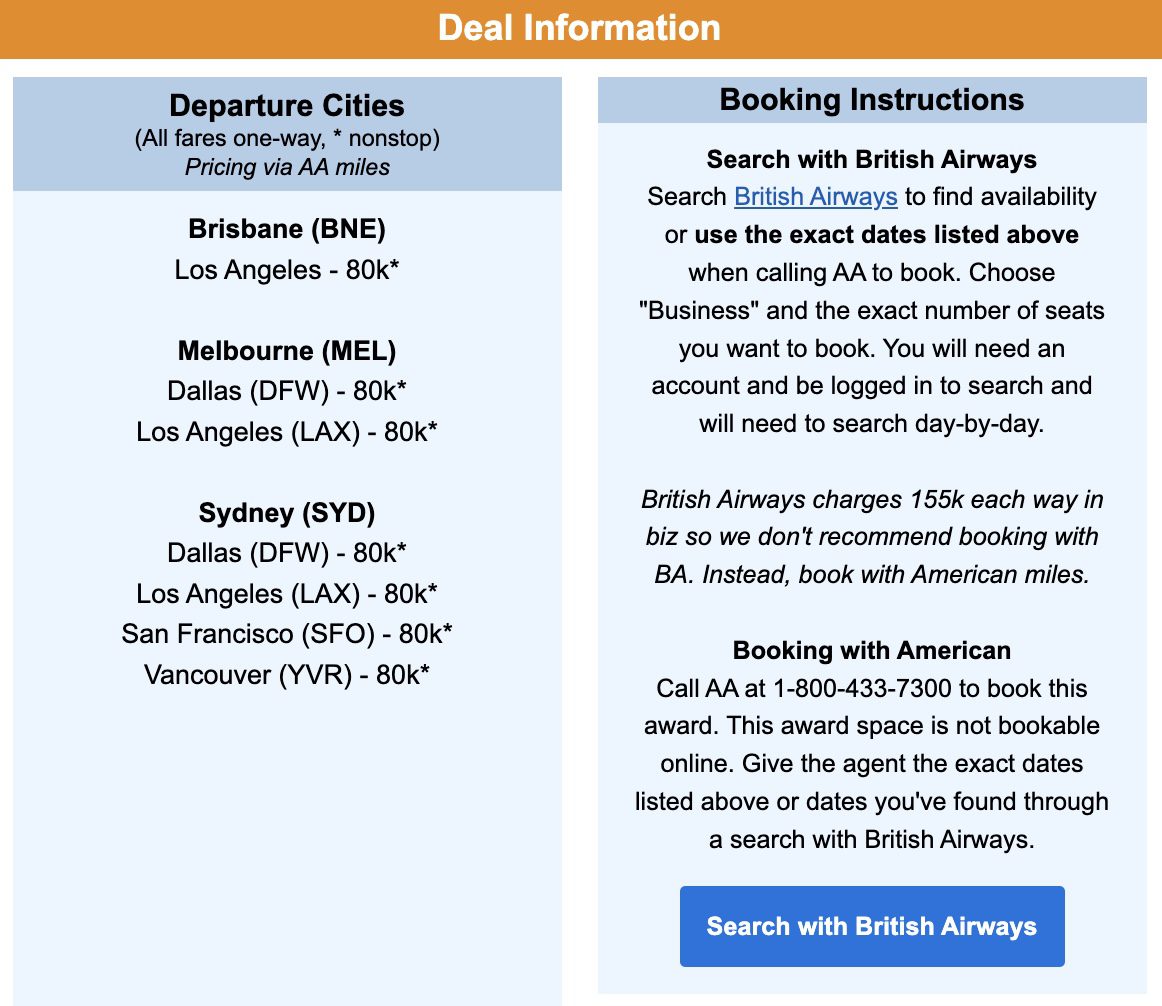 The beauty of this one is that it's not just to Sydney (SYD), either. The Melbourne (MEL) routes from both Dallas (DFW) and Los Angeles (LAX) are both included in this deal, as is the Brisbane (BNE) route from Los Angeles.
You could book this one with British Airways for a much higher rate, as you can see below. But no matter which miles you use, you'll need to use British Airways' site to look for the availability.

But what about that Dallas to Melbourne route? Do business class flights ever pop up on that brand new flight? Not usually … but they did.

This incredibly rare award space popped up a few weeks ago and caused all of the sirens at Thrifty Traveler HQ to go off. We scrambled the jets and sent this "Unicorn Alert,"  which we save for our rarest and most time-sensitive flight deals.
We know that some Premium+ members got to book this one, and we're jealous we won't be onboard sipping champagne with them!
Bottom Line
Cheap flights to Australia are in the cards for your 2023 trip! We're seeing some incredible rates on the best routes down under on airlines like American, Delta, United, and Australian airline Qantas.
Make sure you're signed up for Thrifty Traveler Premium and Premium+ so you don't miss out on the next great deal to Australia.