From Mandalay Bay in the south to the Stratosphere in the north, the Las Vegas Strip is crowded with casinos, hotels, and resorts to choose from – and many of them seem interchangeable. But then there's the Waldorf Astoria Las Vegas.
The Waldorf Astoria stands out on the Strip as one of just a handful of resorts without a casino. But there's much more to this five-star hotel that might catch your eye. It's a familiar building with a relatively new name, taking over for the former Mandarin Oriental back in 2018.
After a recent trip to Las Vegas, it's obvious that while the Waldorf Astoria isn't quite perfect, it clearly stands among the absolute best hotels on the Strip. But does it live up to its five-star reputation? And how has the COVID-19 pandemic affected that?
Keep reading for the full review.
Wondering what it's like to visit Las Vegas during the pandemic? 

Booking the Waldorf Astoria Las Vegas
The Waldorf Astoria is widely viewed as one of the best properties on the Las Vegas Strip. And it's priced accordingly.
Cash rates for the Waldorf Astoria Las Vegas are almost always north of $200 a night, even in the middle of the week of a slow season. Weekends easily go for $300 to $400 a night, and that gets even higher when you get into the busier seasons.
Luckily, you can also book the Waldorf with Hilton Honors points. While Hilton rates can fluctuate wildly, the going rate seems to be 80,000 points per night. Though you can sometimes snag a deal for between 55,000 points to 65,000 points or so.


Check out what other Las Vegas resorts you can book with points!
But there may be no better way to book the Waldorf Astoria than with the Hilton Honors American Express Aspire Card. While the card carries a hefty $450 annual fee, it comes with far more in value. And that really showed when booking this property:
You get instant Hilton Diamond status, which comes with complimentary upgrades, executive lounge access, and much more.
You get a free weekend night certificate to use at almost any Hilton property. Hilton even extended these certificates to work for any night of the week during the pandemic.
You also get a $250 annual credit to use at Hilton resorts – and the Waldorf Astoria Las Vegas qualifies for that credit!
Free breakfast for statusholders typically gets you and a companion $25 each daily at Zen Kitchen. But the hotel also allowed us to spend that elsewhere throughout the resort, including at the fantastic SkyBar or for drinks down at the pool.
In the end, we booked our three-night stay using two unused weekend night certificates, booking the third night with 80,000 Hilton points. That alone was worth more than $1,000 – especially considering you get to avoid Las Vegas' atrocious resort fees when booking with points or certificates.
But as you'll see, it got even better after checking in thanks to a free upgrade.
Checking In
The Waldorf Astoria Las Vegas is in a prime location near the center of the Strip, right by Aria and Vdara and just south of The Cosmopolitan.
That location is a great selling point. But when you arrive, you'll find the Waldorf Astoria Las Vegas has a bit of a goofy setup.
For starters, there's no self-park garage. If you've got a set of wheels, you can pay $35 daily for valet parking. Otherwise, look into parking at a nearby property like Aria and make the short trek over to the Waldorf.
Thrifty Tip: During the pandemic, MGM Resorts locations like Aria, MGM Grand, Bellagio, and others are waiving their usual parking fees so you can park for free on the Strip – even overnight.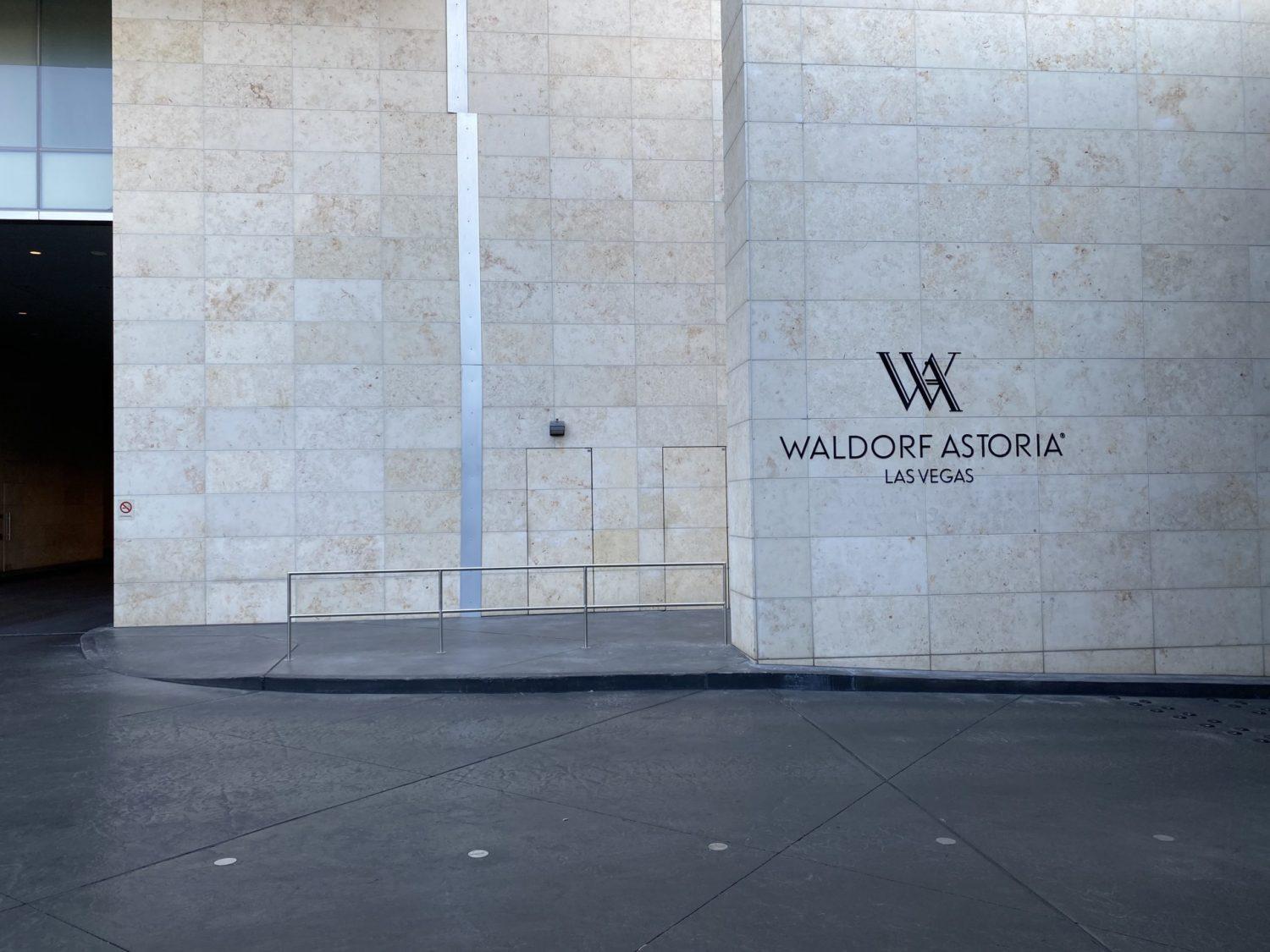 Walk in and you'll immediately notice what's missing: a casino. The Waldorf Astoria is one of a handful of Las Vegas Strip resorts without a casino. To me, that's a selling point.
While it seems as if you've entered the lobby, you haven't. This is the main entrance, and while there are chairs and a small desk, it's not time to check in yet.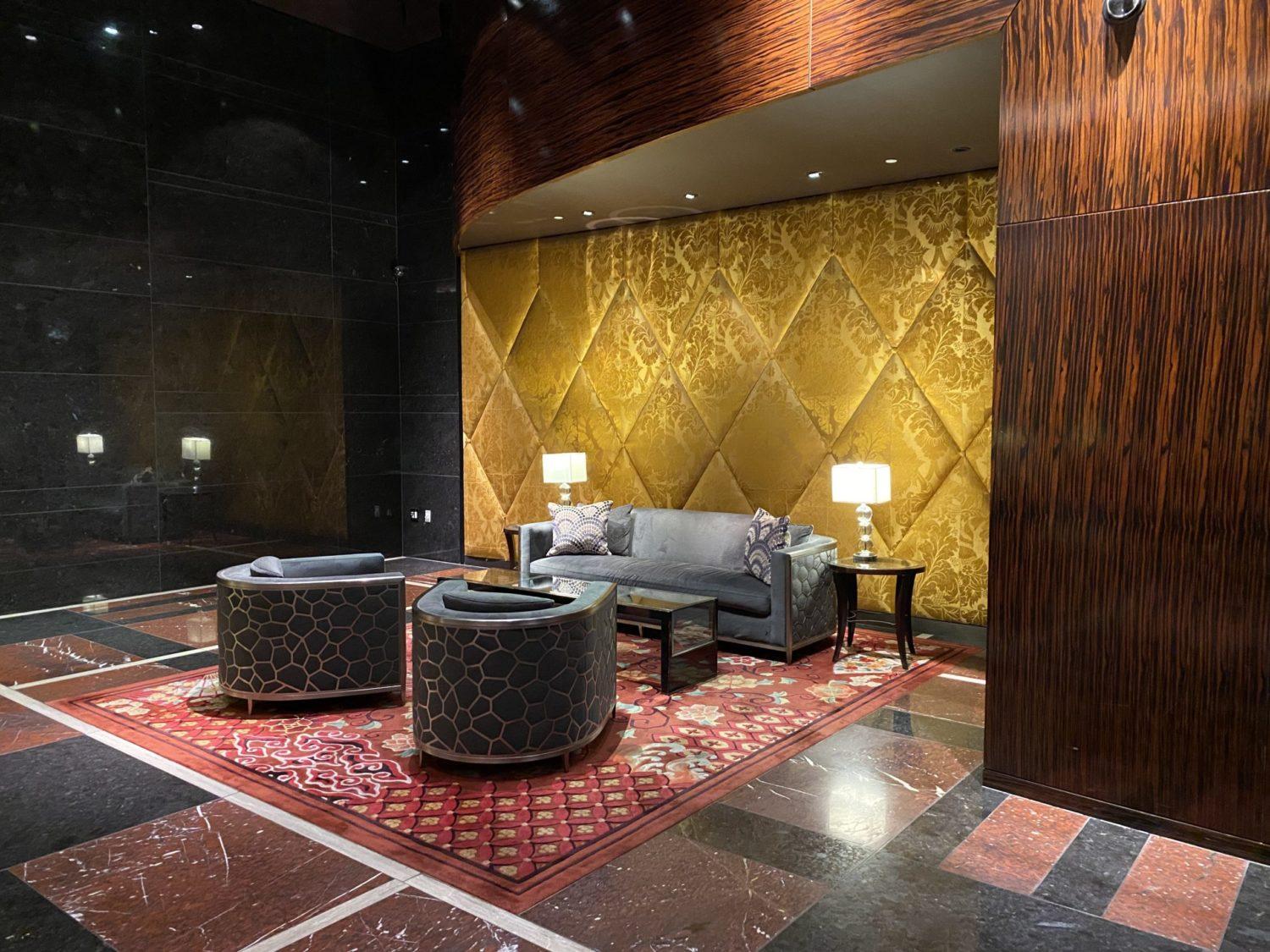 Instead, you'll have to take the elevator up to the 23rd floor to reach the stunning Sky Lobby to check in.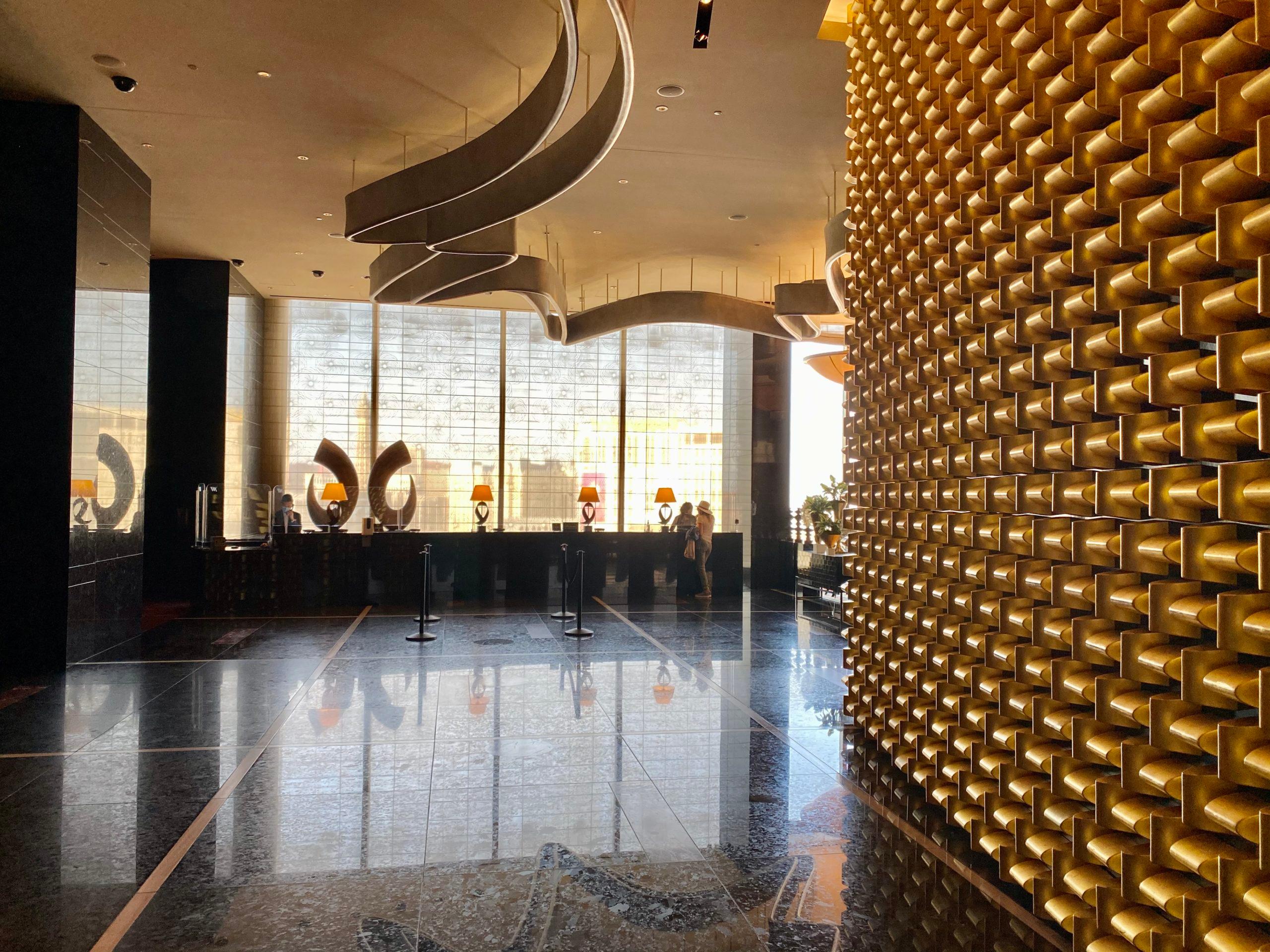 Plexiglass partitions were installed at the check-in desk, and every employee was wearing a mask. A helpful check-in agent got us started, grabbing ID and a credit card to pull up our reservation.
Thanks to Hilton Diamond status from the Aspire card, we were automatically upgraded to a Strip View room on a higher floor. But with occupancy rates so low due to the pandemic, we pushed to see if there was anything even better available.
And we got lucky: Though upgrading to a massive villa with its own kitchen would have cost us another $599 a night, the agent offered to upgrade us to a two-bed Waldorf Junior Suite for free. Considering these rooms regularly sell for over $500 (or much more) a night, it was a good get.
One other quirk with the Waldorf Astoria Las Vegas: The elevators. You can't reach rooms from the ground floor elevator, so you'll always need to make your way to the Sky Lobby or other common areas, then transfer to a second bank of elevators to reach your room.
With that, we made our way to the second bank of elevators and headed down a few floors to our room.
The Room: Waldorf Junior Suite
Like all hotel chains, Hilton has stepped up its game when it comes to cleaning. Our room was sealed with a "Hilton CleanStay" sticker, which is a reassuring touch.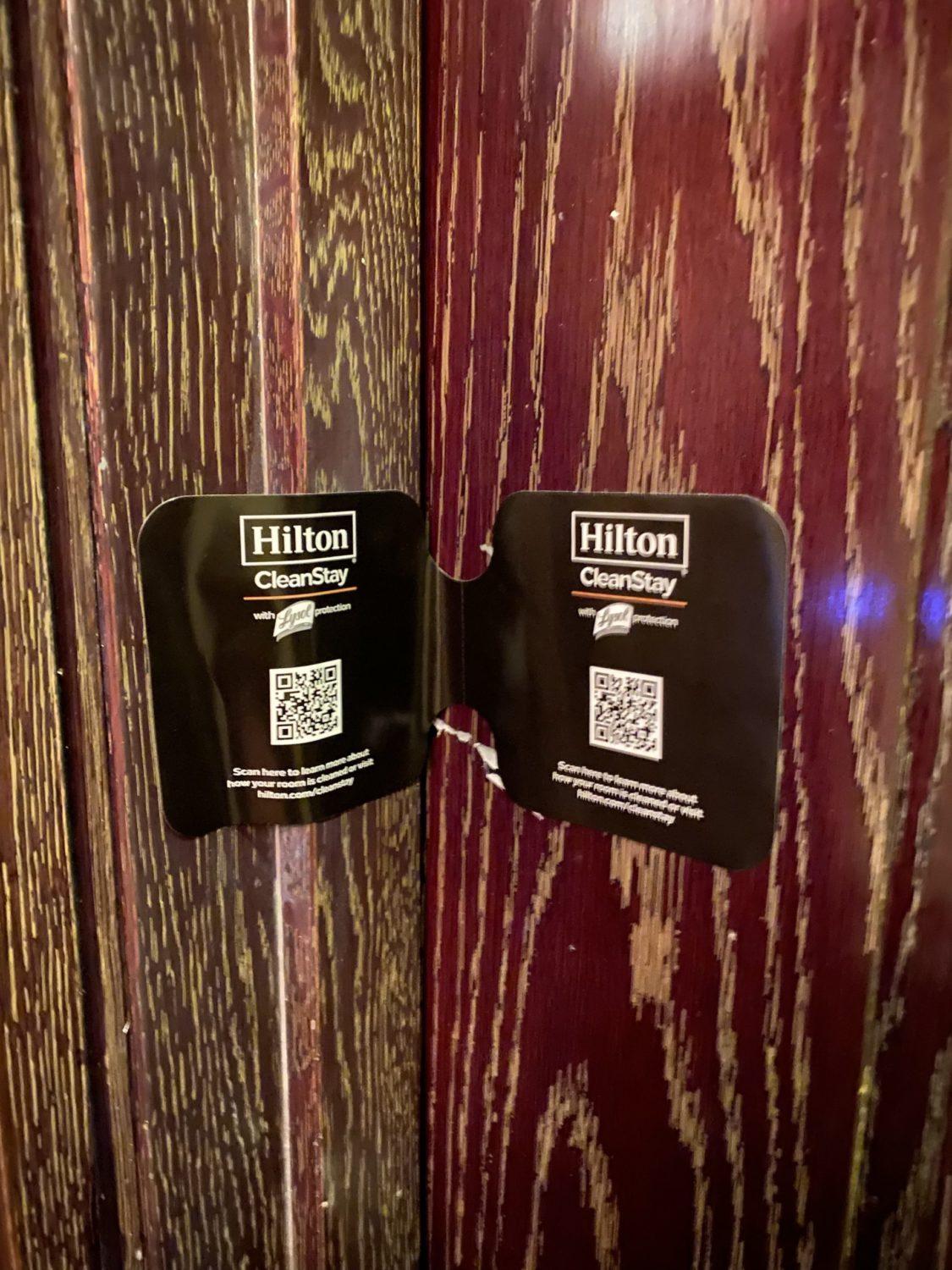 The Waldorf Junior Suite we were upgraded to clocks in at 650 square feet, which is quite a bit larger than your average Las Vegas room. And it felt like it. Best of all, it was laid out incredibly well, with plenty of space for storage and an absolutely massive bathroom.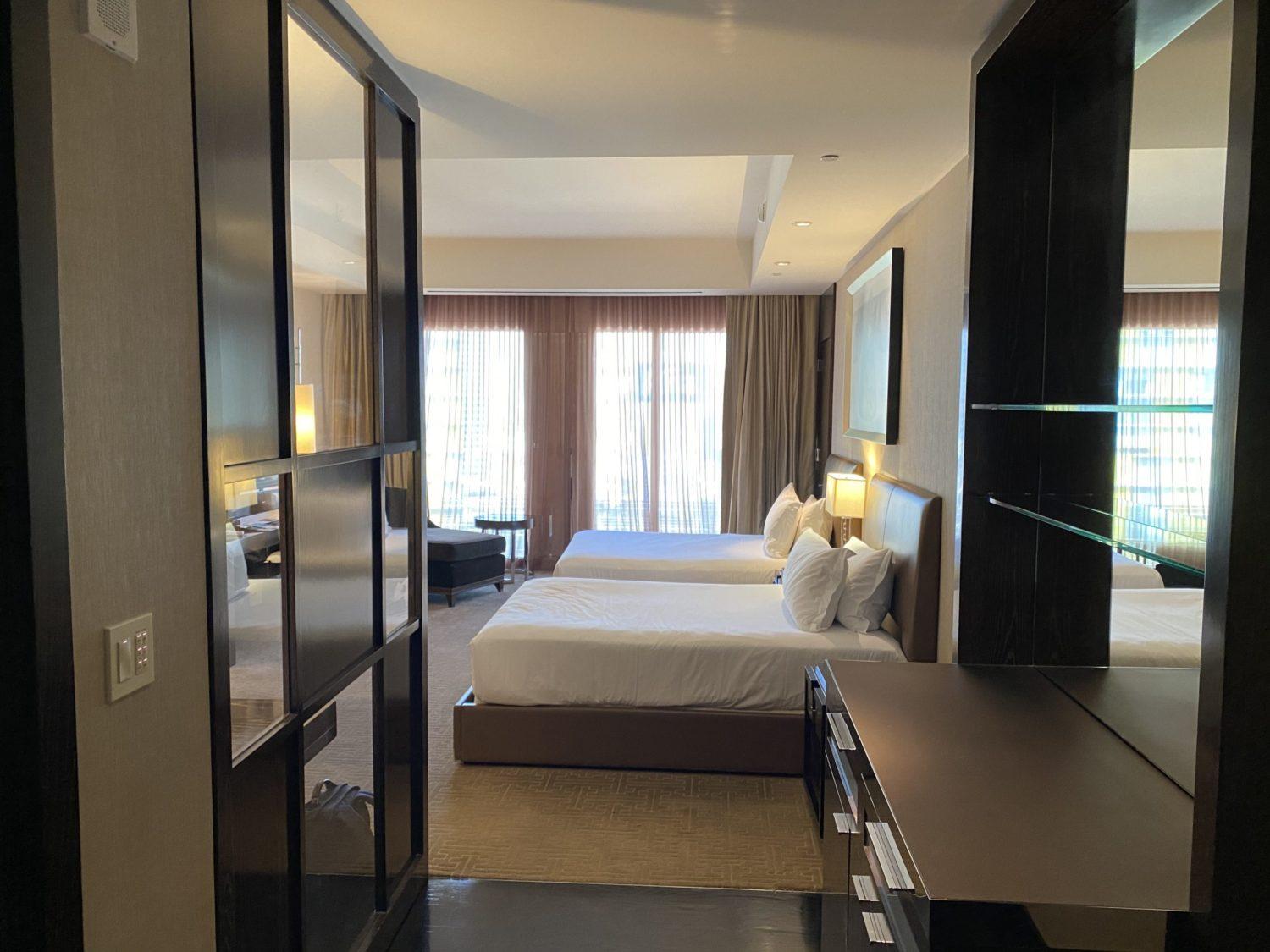 Walking in, you'll find electronic controls for the window shades as well as lighting for the room – which I'll admit, I never quite figured out how to operate correctly. But the curtains were much easier, exposing a magnificent view of the Strip.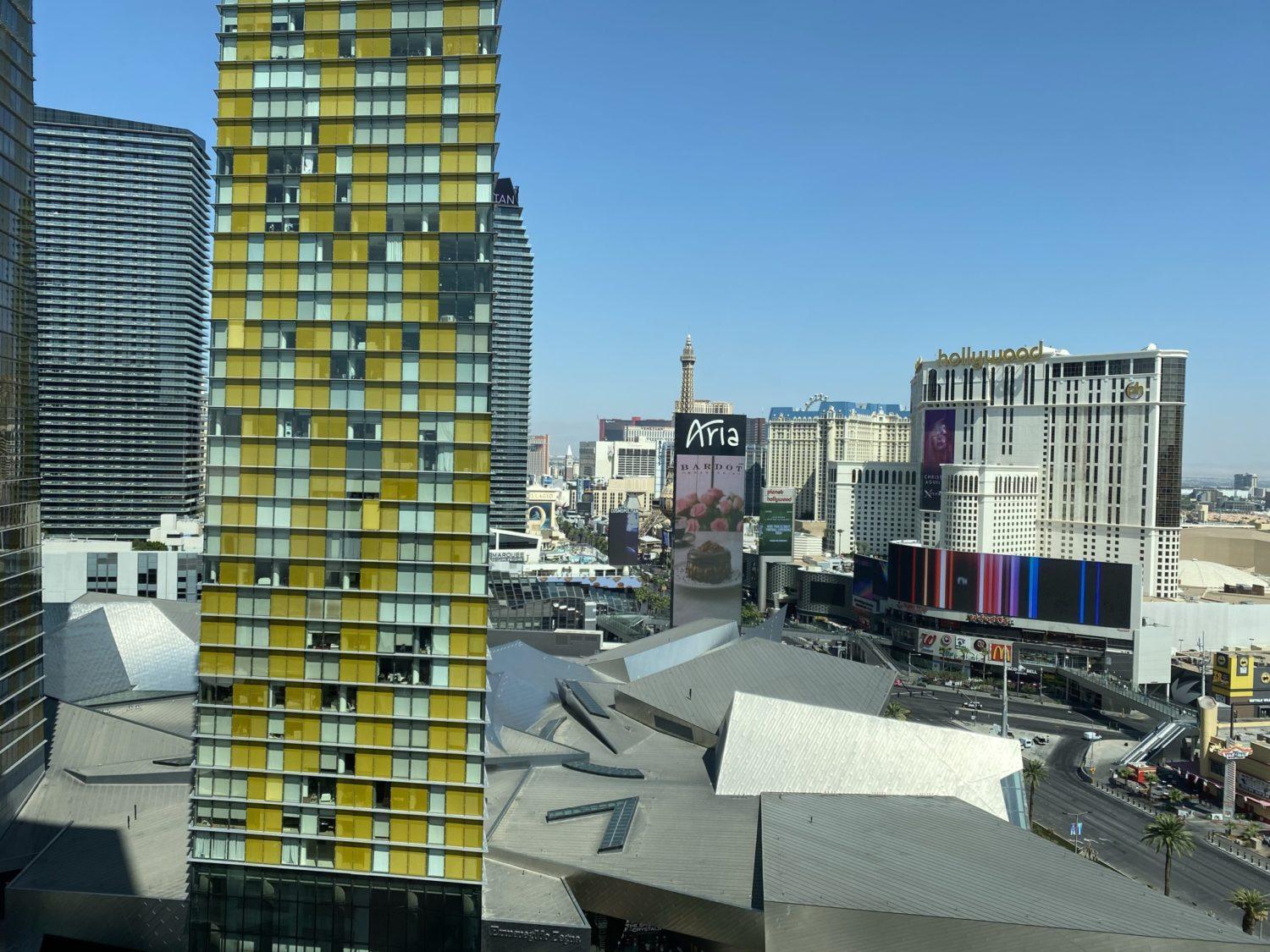 The Waldorf Astoria Las Vegas was once a Mandarin Oriental property, and it shows. You can still see it in much of the decor with an Asian flair.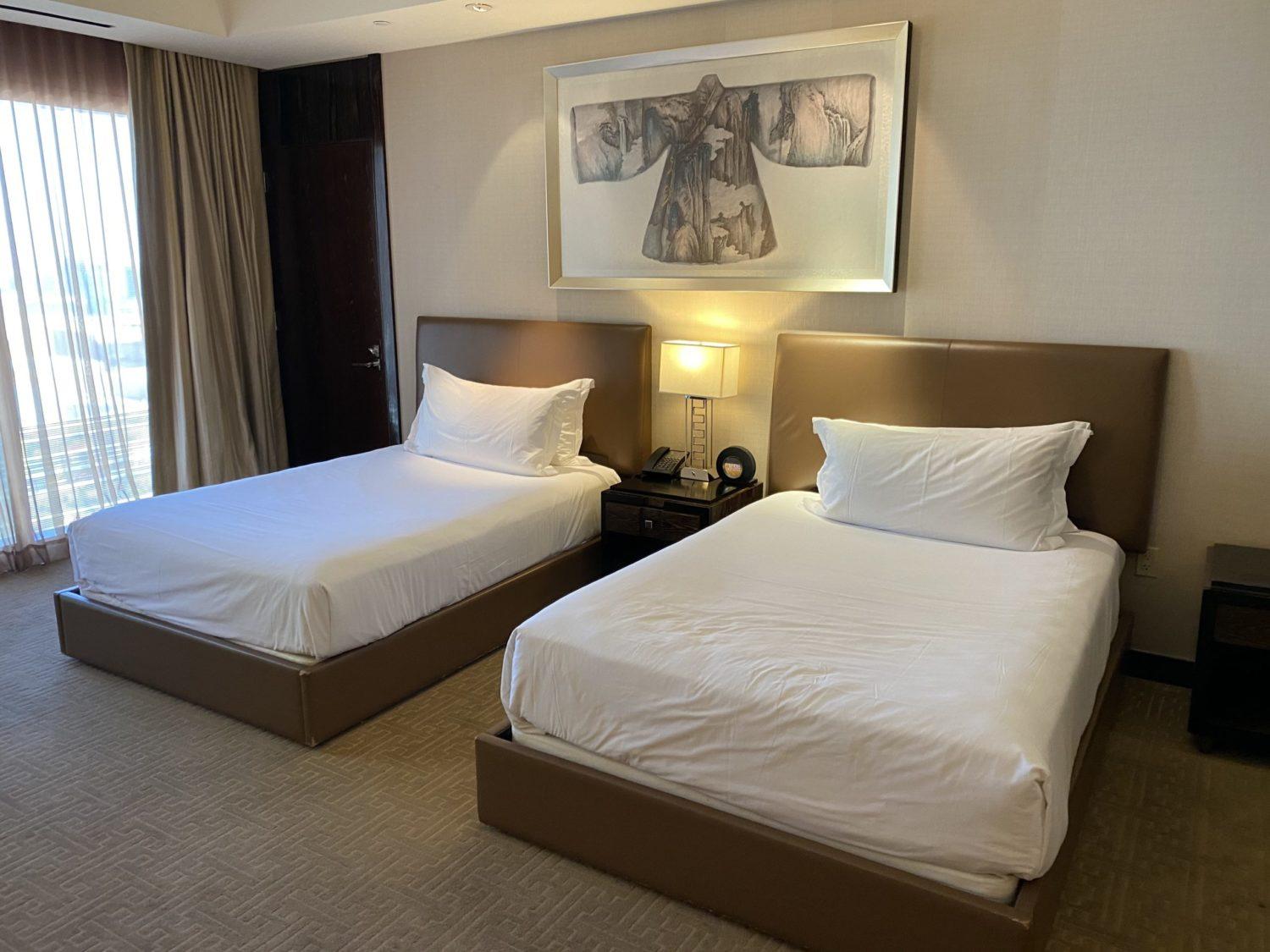 While the beds were certainly comfortable, they lacked the "I could sleep forever in this" factor that sets apart many top-tier luxury hotel brands.
At the front of the room there's a decent-sized entertainment center. For a room this size, the TV seemed to be a bit on the small size. But the decor here is excellent, too. And the chaise is a nice touch.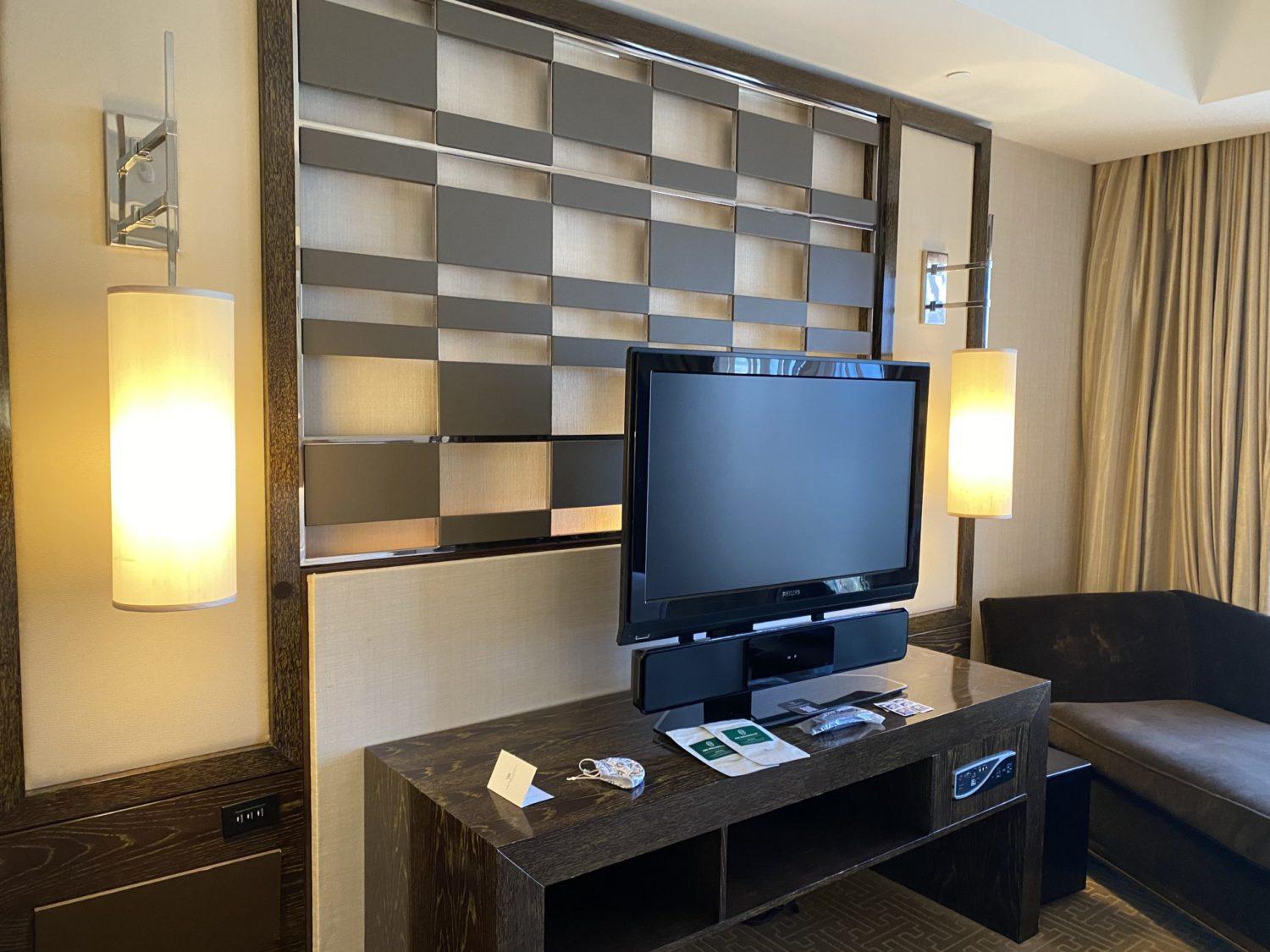 Back toward the front of the room you'll find a large, sturdy desk if you need to get some work done.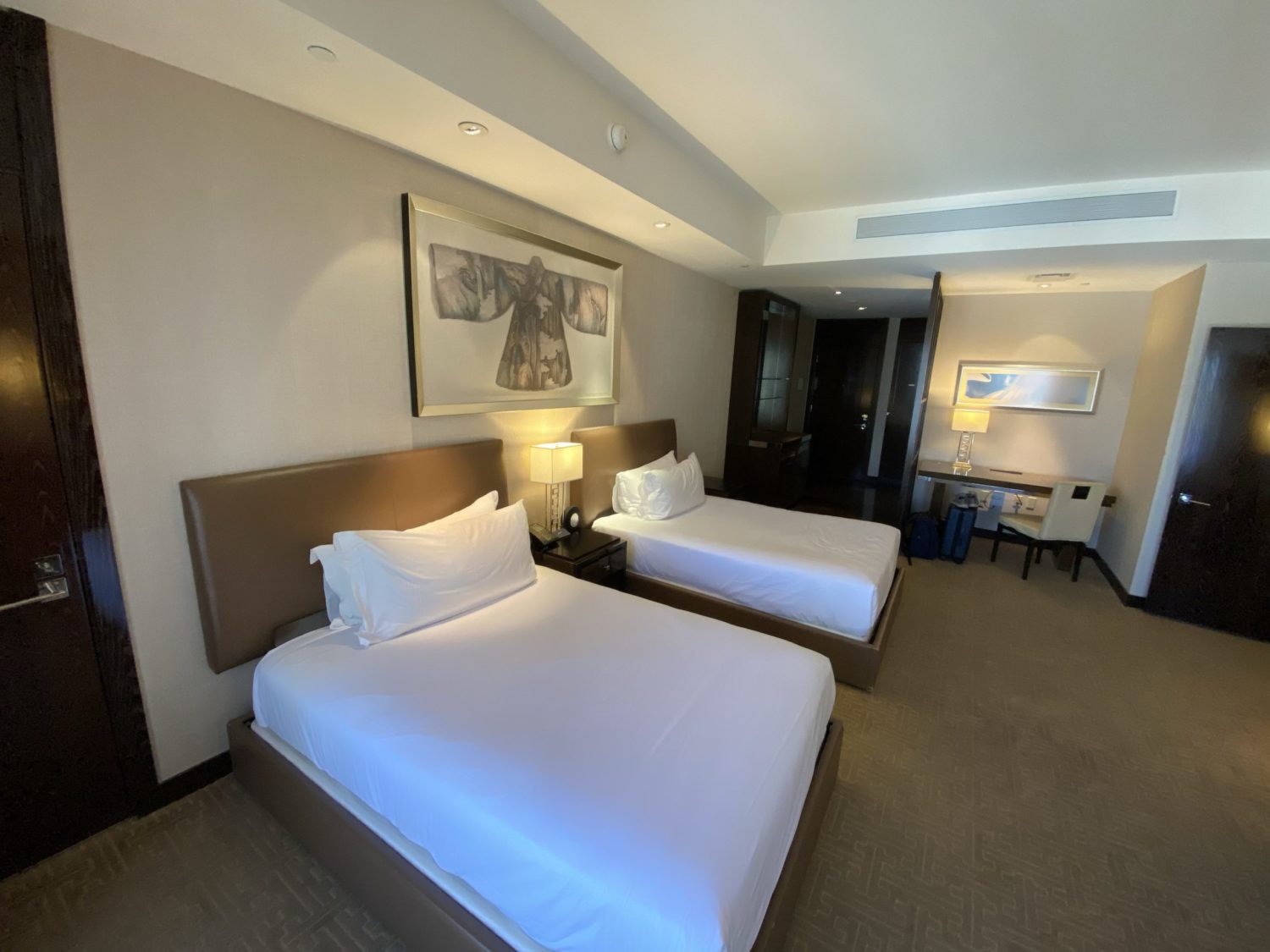 There's also a bar with a minifridge, though ours was never stocked throughout our stay.

Right by the door there's a unique feature: a valet closet, where you can leave shoes to be shined or clothes to be steamed. You can also request additional towels or linens and simply have them dropped off in here.

Some parts of the room were definitely showing a bit of their age. It's a small issue, but there were plenty of scuffs on the leather bed frames, wooden cabinets, and elsewhere.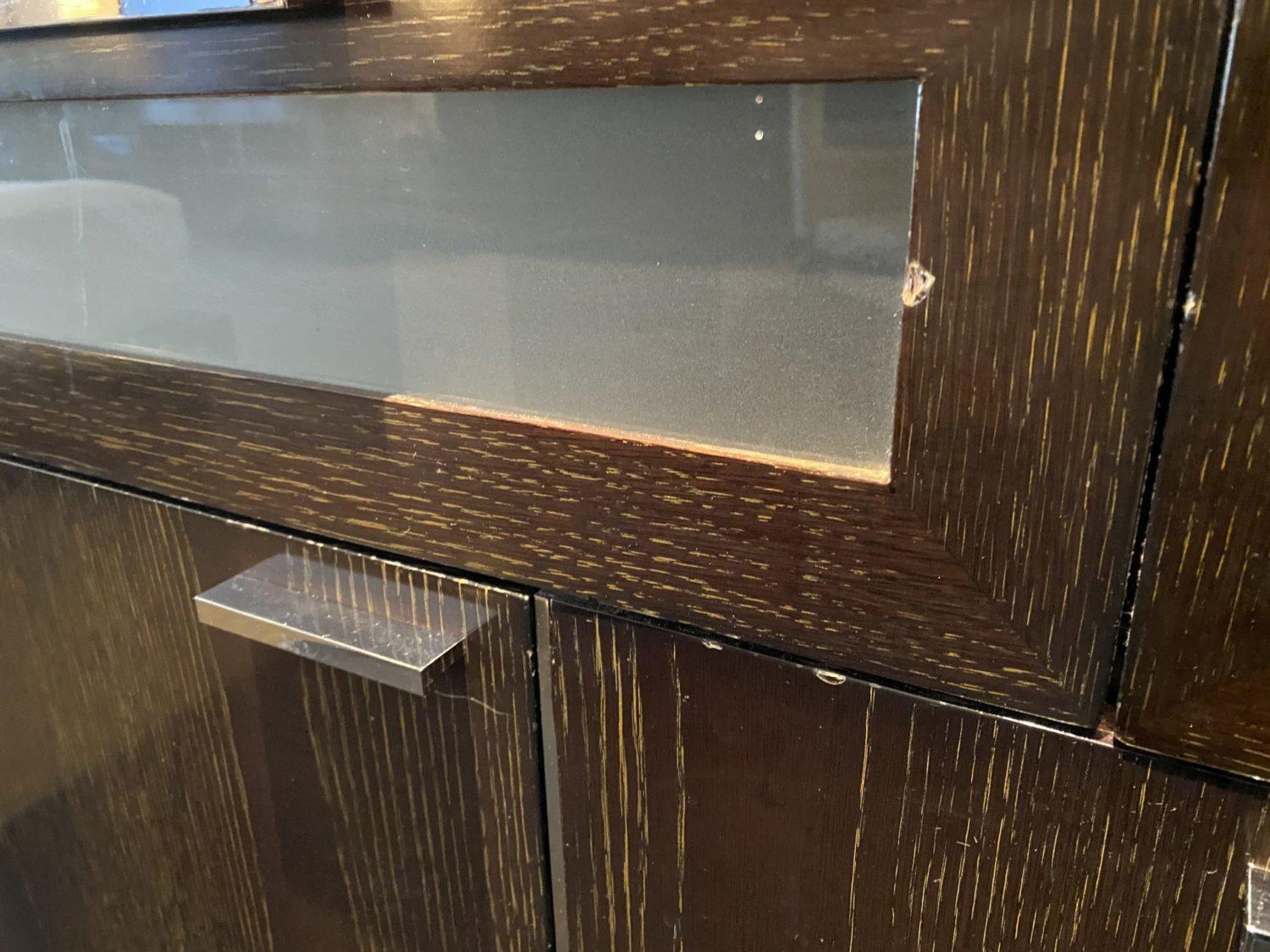 While the room could use some touchups or new furniture, it made up for it with the showstopper of a bathroom, complete with a dual vanity, standalone tub, a massive shower, a separate room with a toilet, and more. Unlike the rest of the room, the bathroom was immaculate.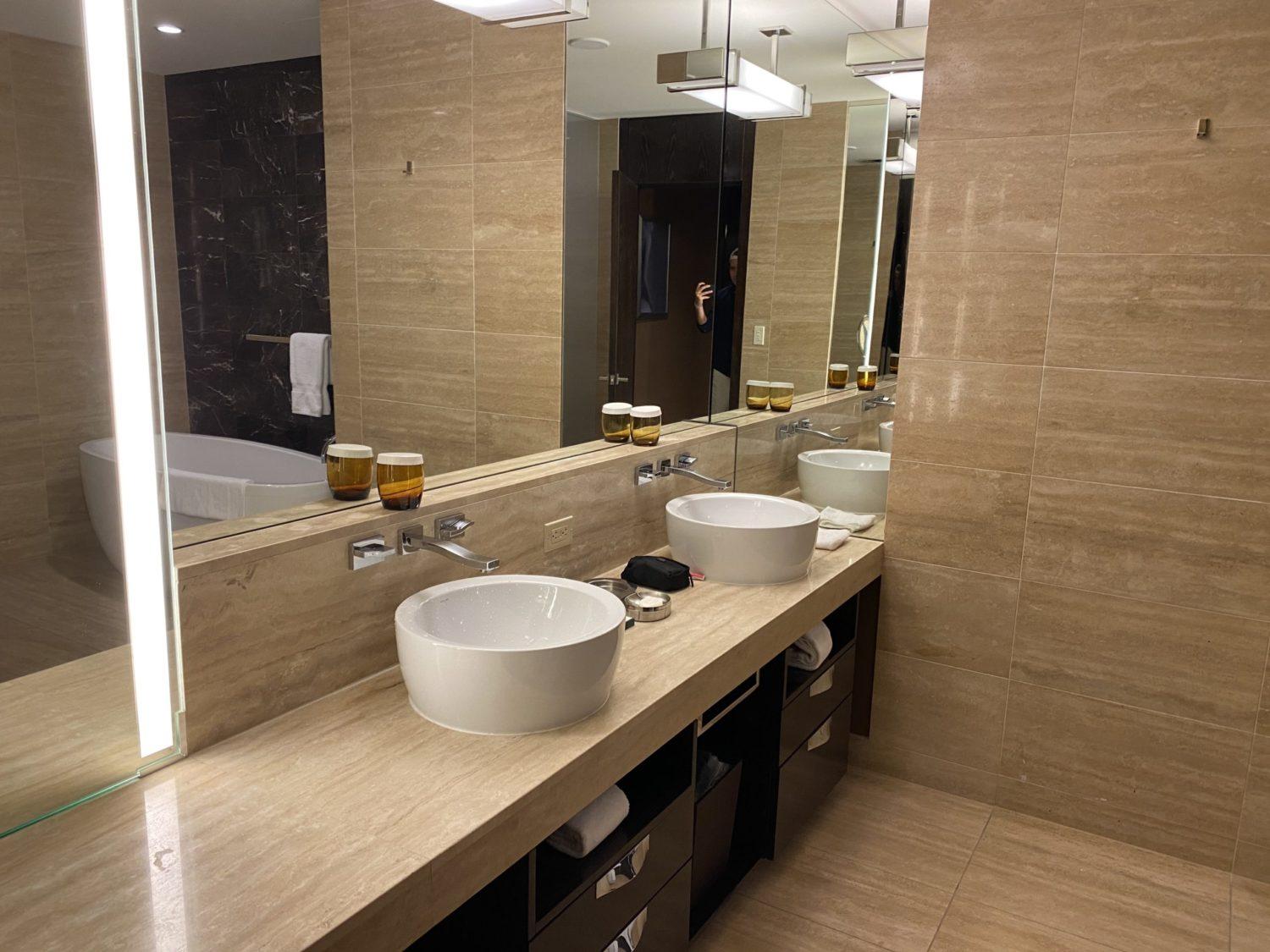 The bathroom was bright, with plenty of lighting options. The design really works – especially the floor-to-ceiling stone set against the dark woodgrains.
The soaking tub is positively massive, easily capable of fitting two at once.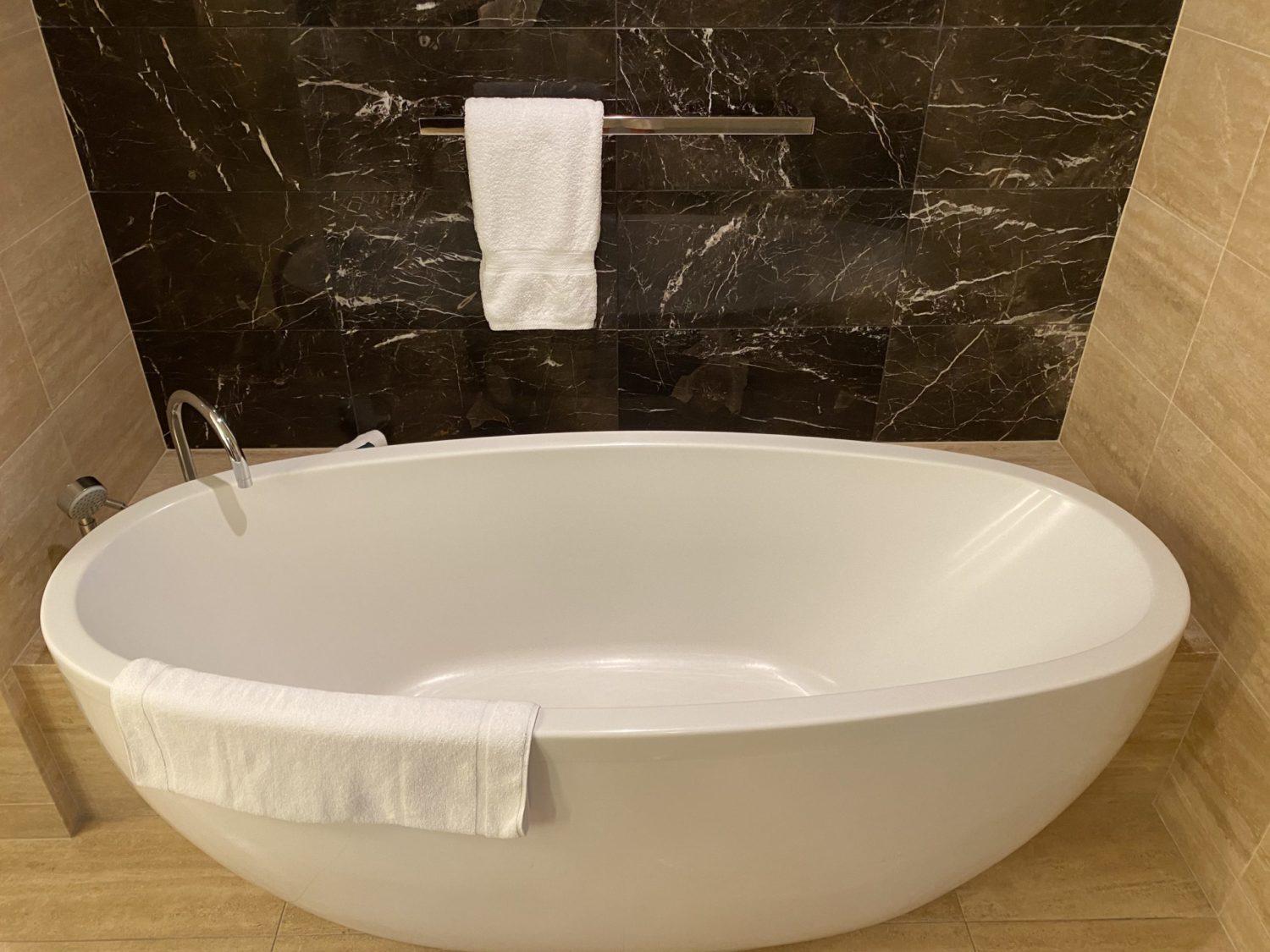 The shower was also quite large and well done, with a seriously heavy-duty frosted glass door and – you guessed it – more lighting.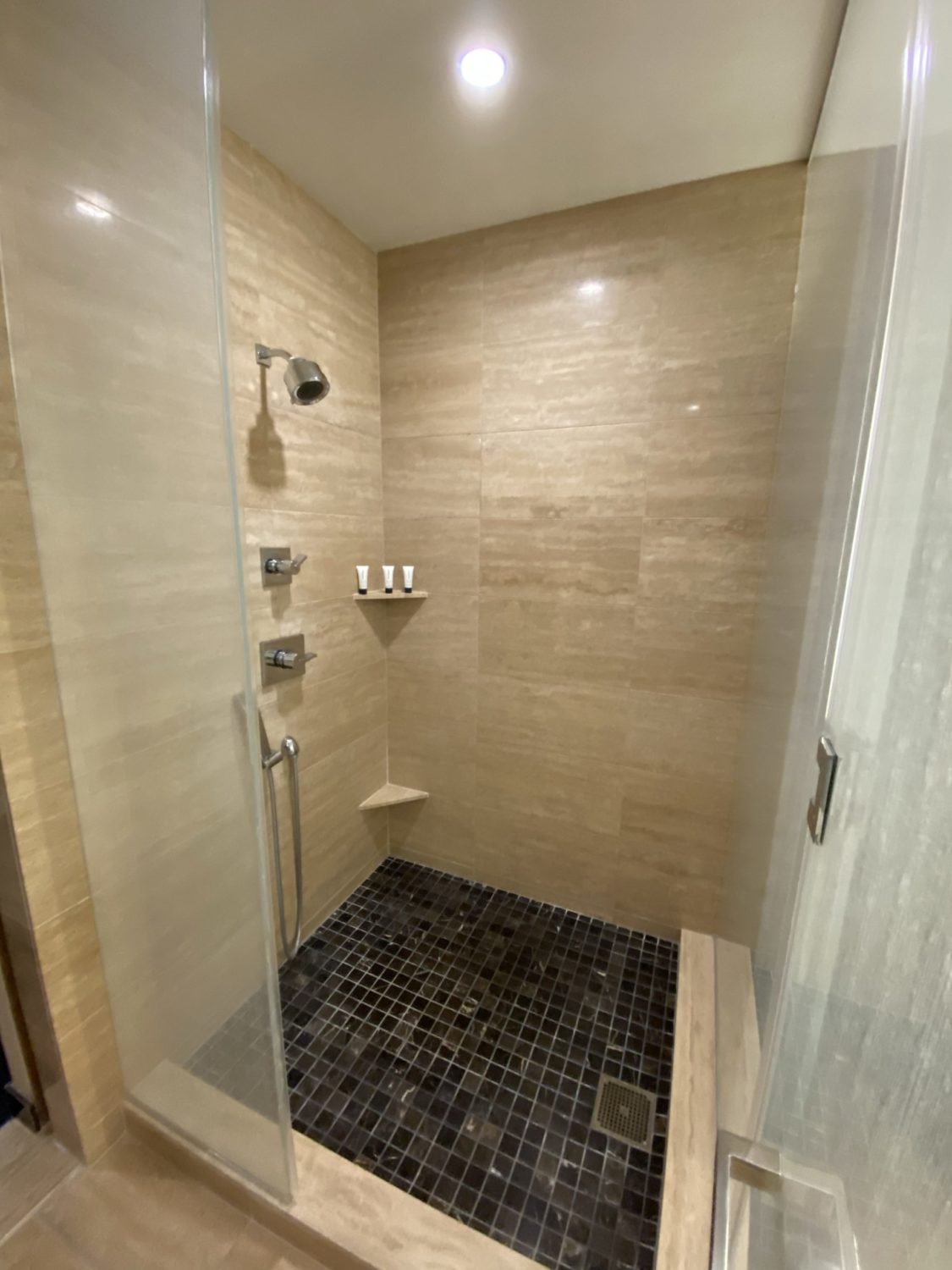 While many hotel chains have done away with single-use plastic toiletry bottles, that's not the case here. The Waldorf Astoria Las Vegas was stocked with plenty of Salvatore Ferragamo toiletries, which I happily snagged on my way out.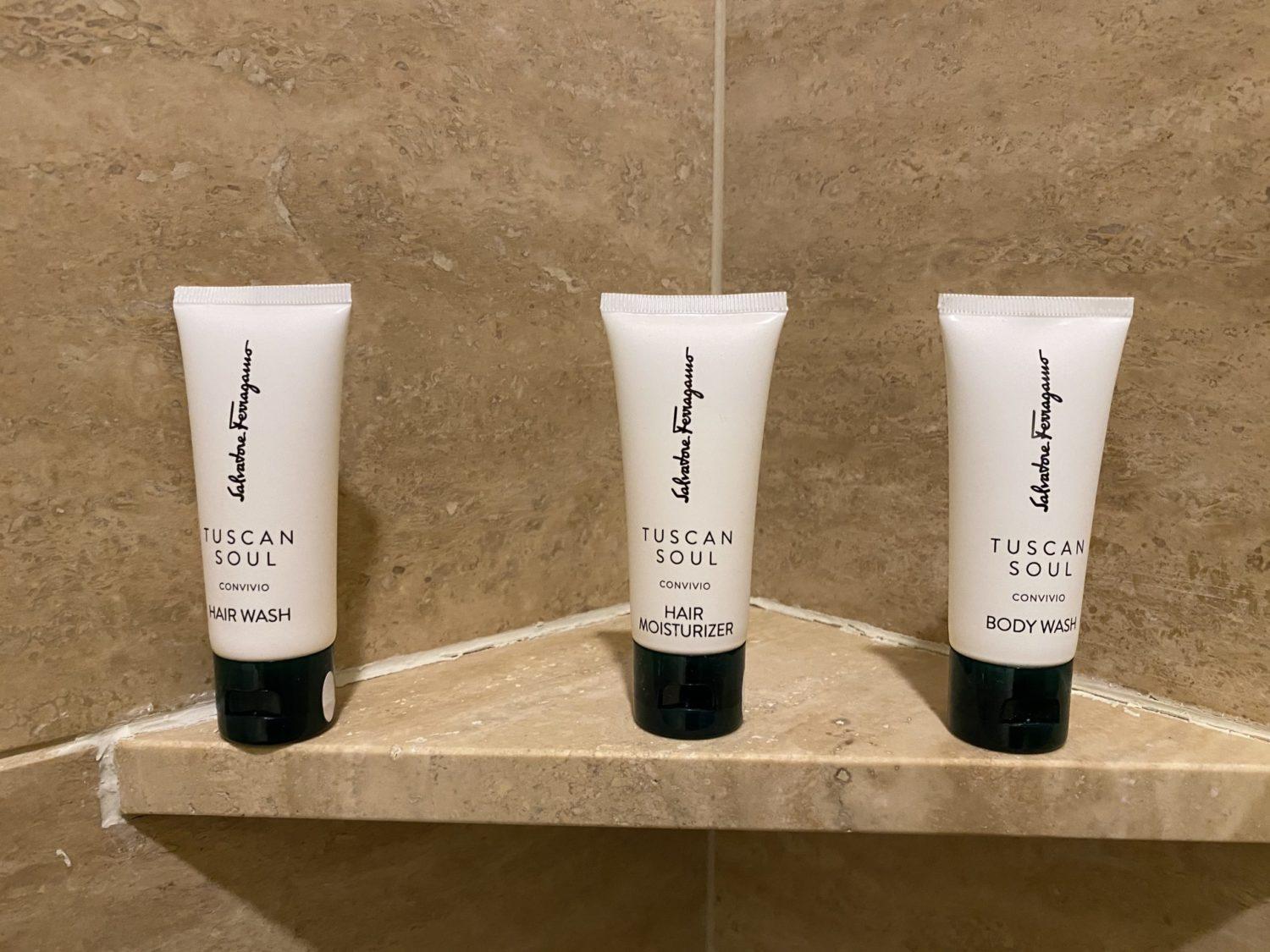 The toilet is in its own small room off the main bathroom, complete with another sink.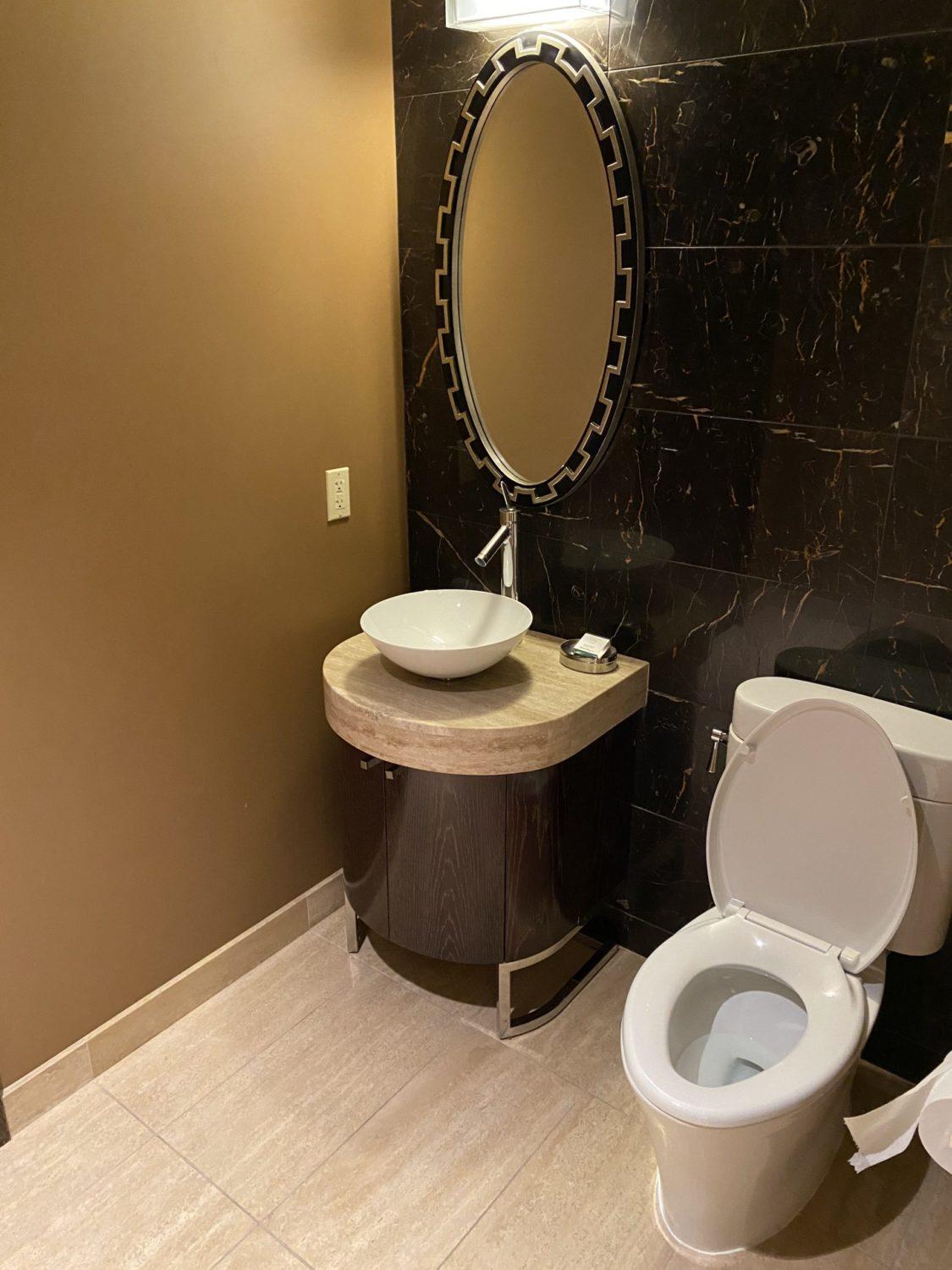 On the other side of the bathroom was a large closet and changing room, with a dresser and plenty of room to keep your luggage and any clothes you need to hang up. Oh, and who could forget the bathrobes?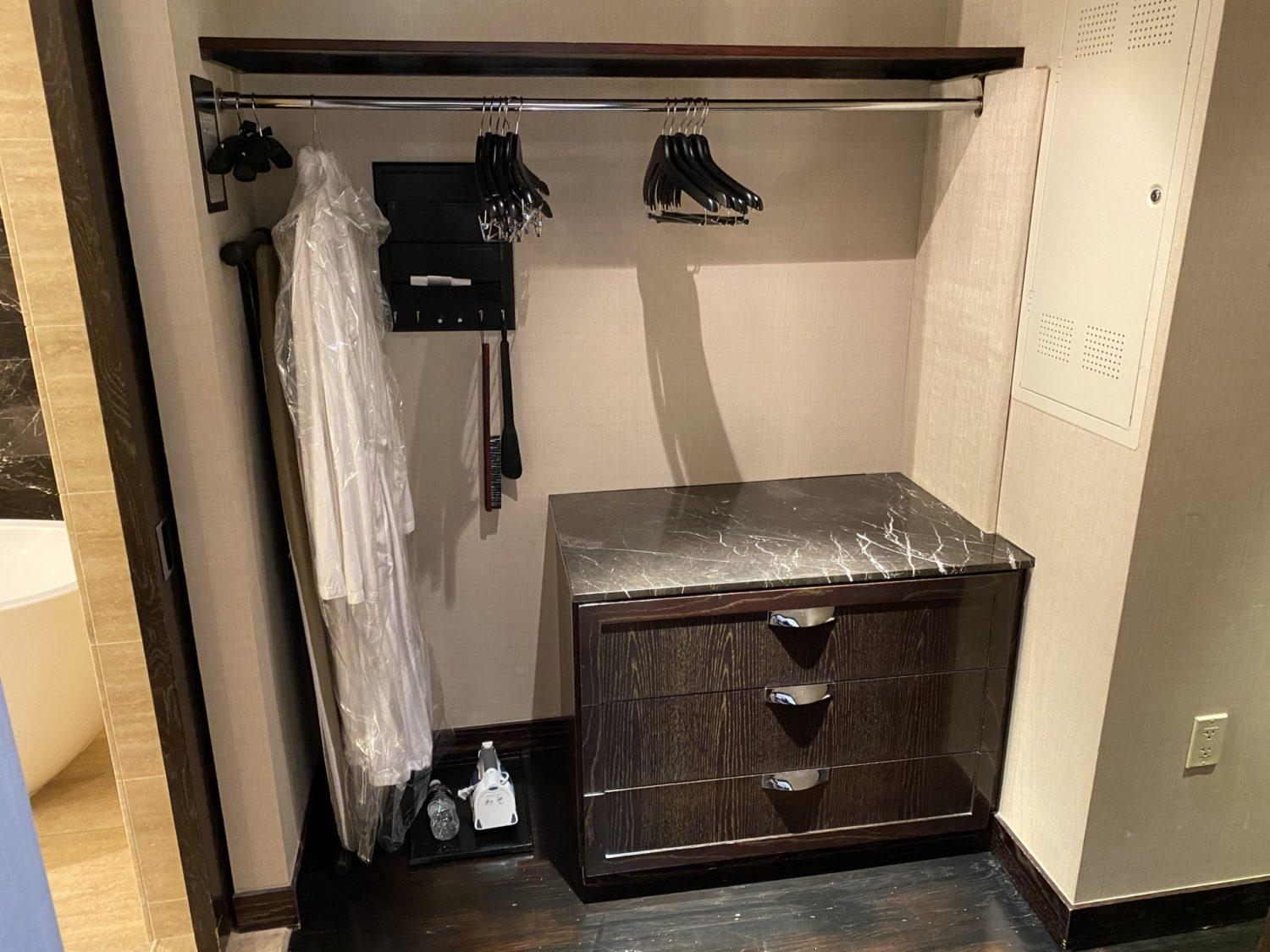 In all, the room was great. While it could use some decor updates, it was spacious and functional. And the massive bathroom was pretty much flawless.
Waldorf Astoria Las Vegas Pool
There are plenty of amenities at the Waldorf Astoria, and we'll get to those shortly. But none can top its pool.
There's a small desk as you walk to the pool on the hotel's third floor, where you can grab a towel and waters from an attendant. And then you walk out to this.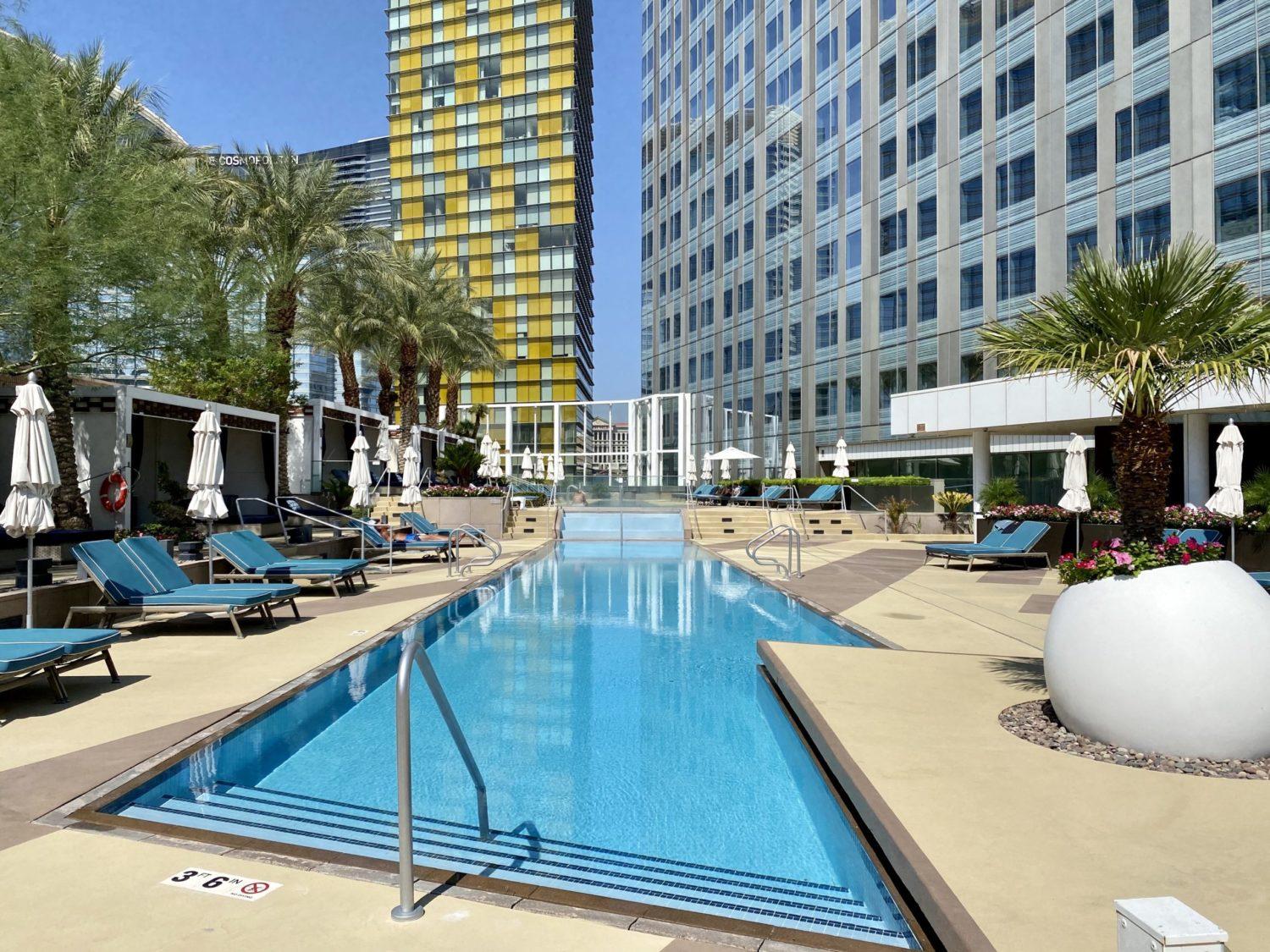 The main pool area has two tiers, with lounge chairs situated all around it. A pool attendant explained that all the lounge chairs were appropriately socially distanced.
The pool is by no means massive. But with visitors to Las Vegas down during the pandemic, it was positively empty during most of our stay – we never saw more than a handful of other guests down here.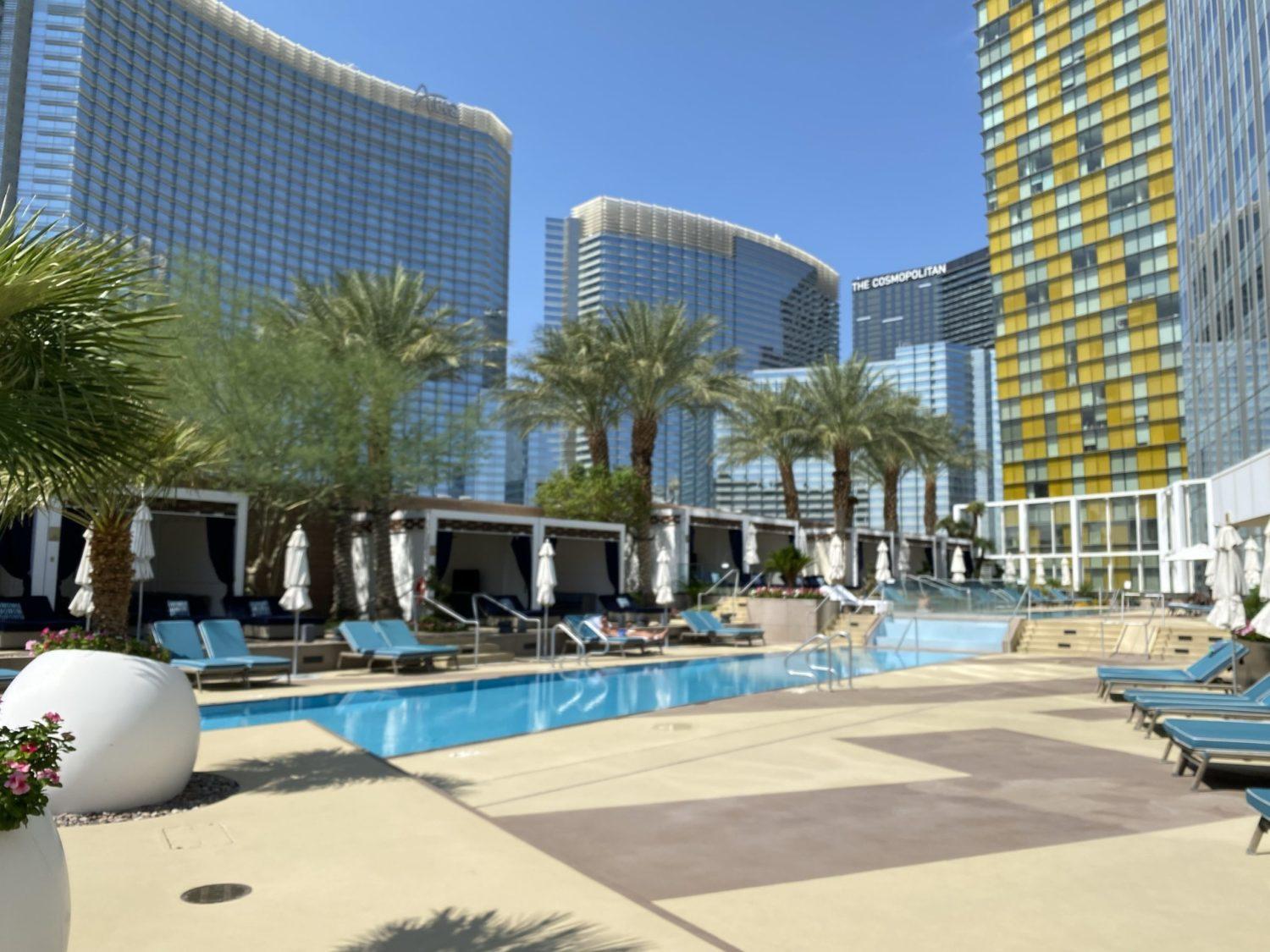 And that really highlights what I liked most about the Waldorf Astoria Las Vegas: It felt like an oasis. There's no casino, and no signs of the hectic Las Vegas life you find elsewhere, especially a bit farther north on the Strip.
There's another small wading pool and a hot tub (which was closed due to COVID-19) in a Palm tree-lined area to the side, which was a great place to relax with more shade … and even fewer guests.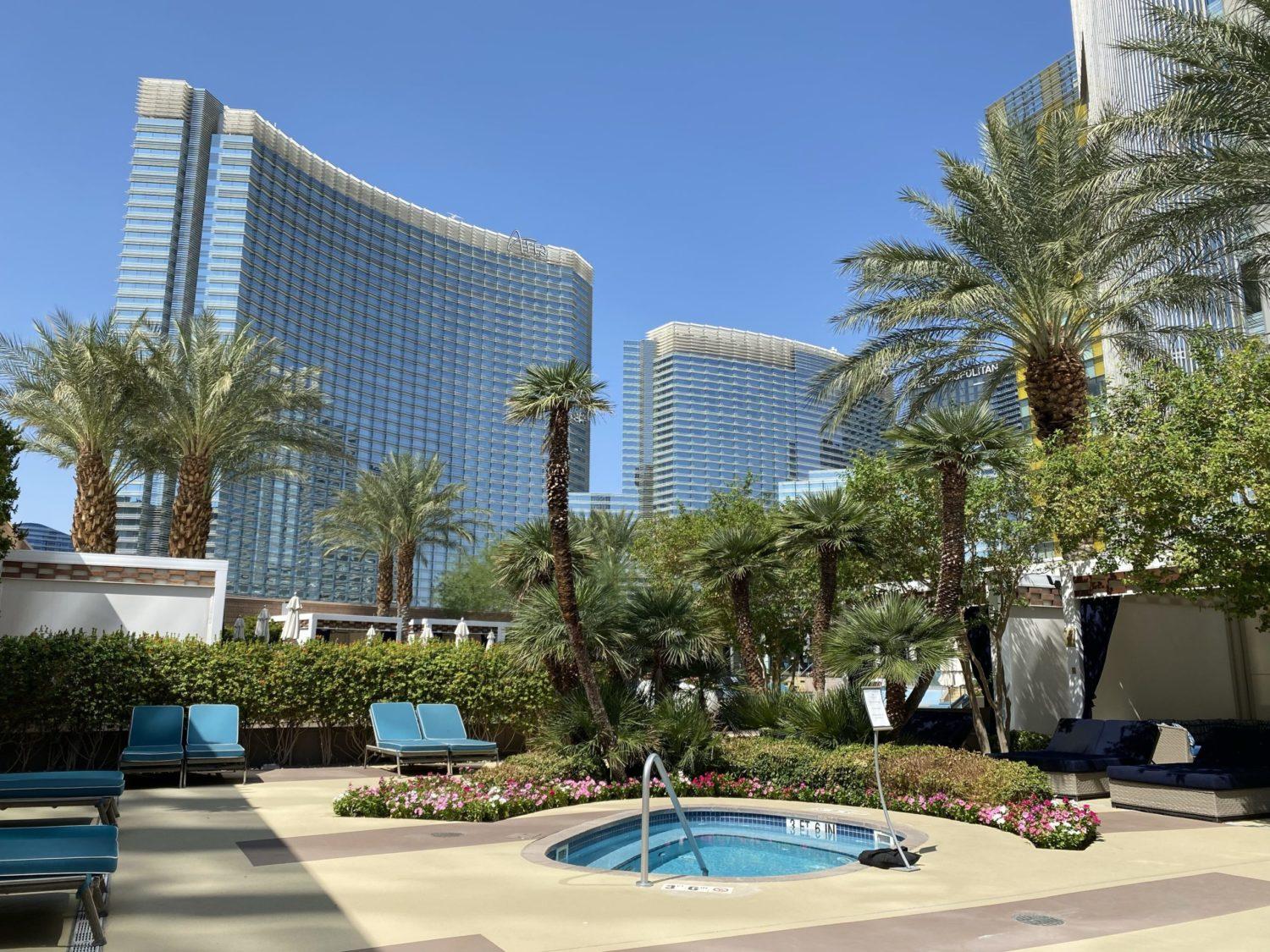 Plenty of cabanas equipped with fans, shades, and TVs were available for daily rentals, but that seemed unnecessary given how empty the entire pool area was. And there's also the Pool Cafe, which normally serves drinks and light bites. Food service was shut down due to the pandemic, but you could still buy wine, beer, and cocktails.
Other Amenities at Waldorf Astoria Las Vegas
The Waldorf has a spa as well as a dedicated salon, but both are currently closed due to the pandemic.
But the gym is open. And while I didn't use it myself, I did check it out. It's a great space, with huge banks of treadmills, ellipticals, and other cardio machines. All the natural light is nice, particularly against the deep red woods.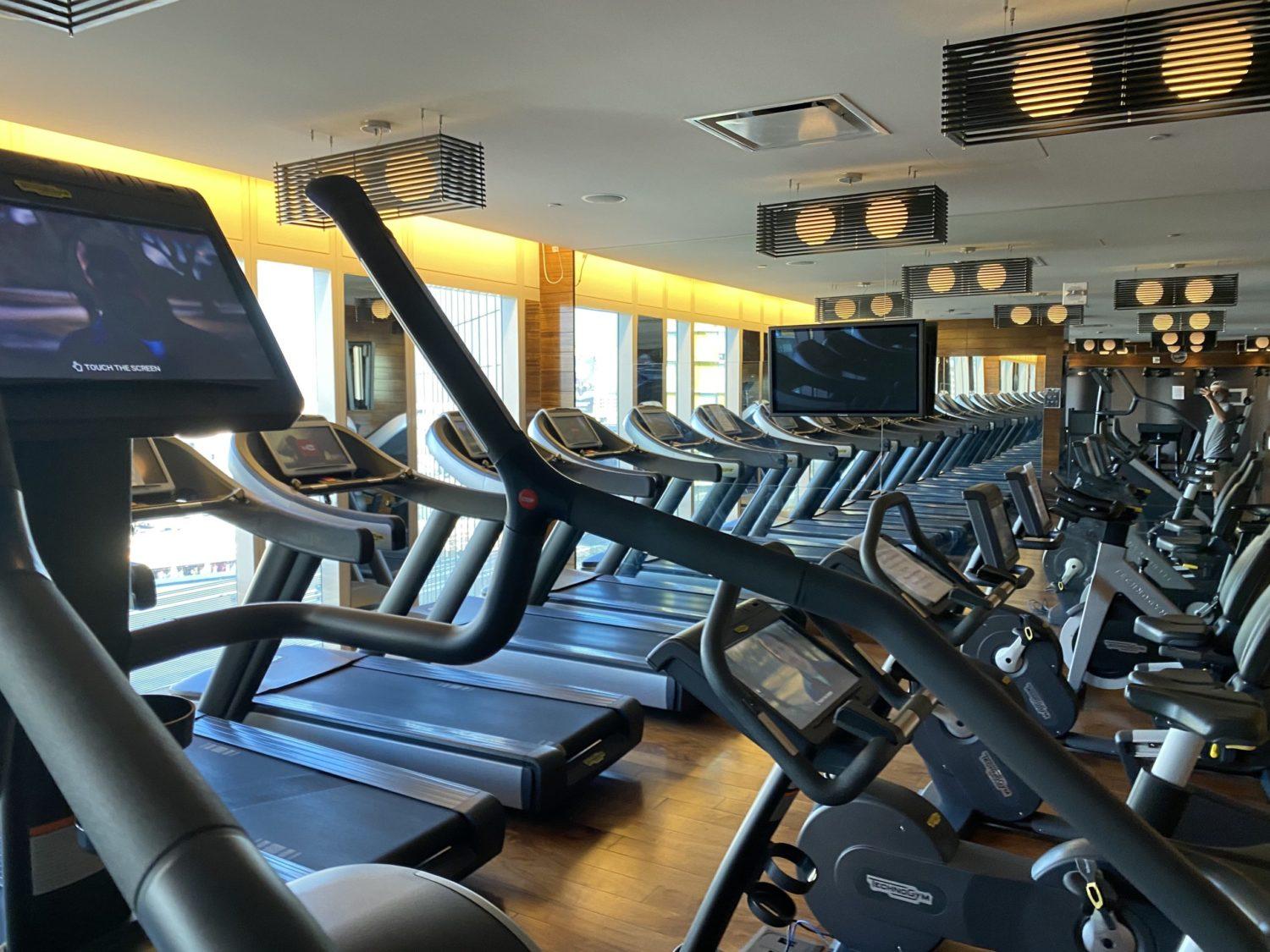 There are also plenty of weight machines and free weights, too.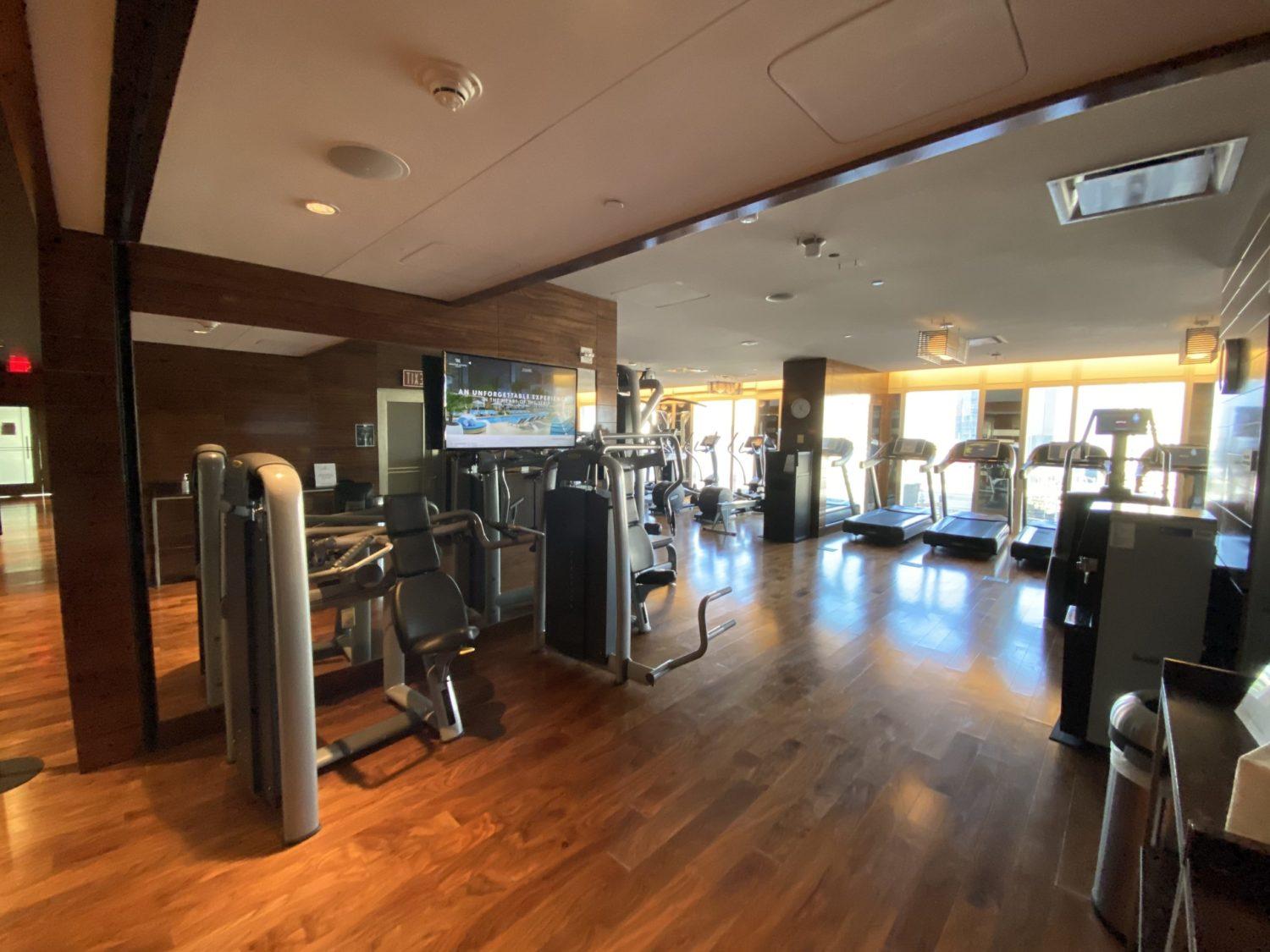 There wasn't a soul here when I popped in, and I can't imagine this gym ever gets busy these days. But it's worth noting that the Waldorf hasn't done much to promote social distancing while working out by removing any treadmills or other machines.
There wasn't a designated attendant present when I visited, and the gym doesn't use a reservation system to make sure it doesn't get too crowded. I also didn't see any signage about the requirements for wearing a mask during and after workouts, but I may have just missed that during my quick visit.
One other great amenity we didn't use? The house car. A signature touch of many Waldorf Astorias worldwide, you can hitch a free ride to anywhere within a 2-mile radius Thursdays through Mondays. But the hotel has just one house car, and you can't make reservations – it's first-come, first-served. So that means it'll likely be hit-or-miss as to whether you can really make use of it.
Waldorf Astoria Las Vegas Drinks and Dining
There are a few restaurants and bars scattered across the property.
The star of the show is Twist, a five-star restaurant (with prices that match) from renowned French chef Pierre Gagnaire. It looks like a stunning space, but that's all I could see as the restaurant was closed during our visit due to COVID-19.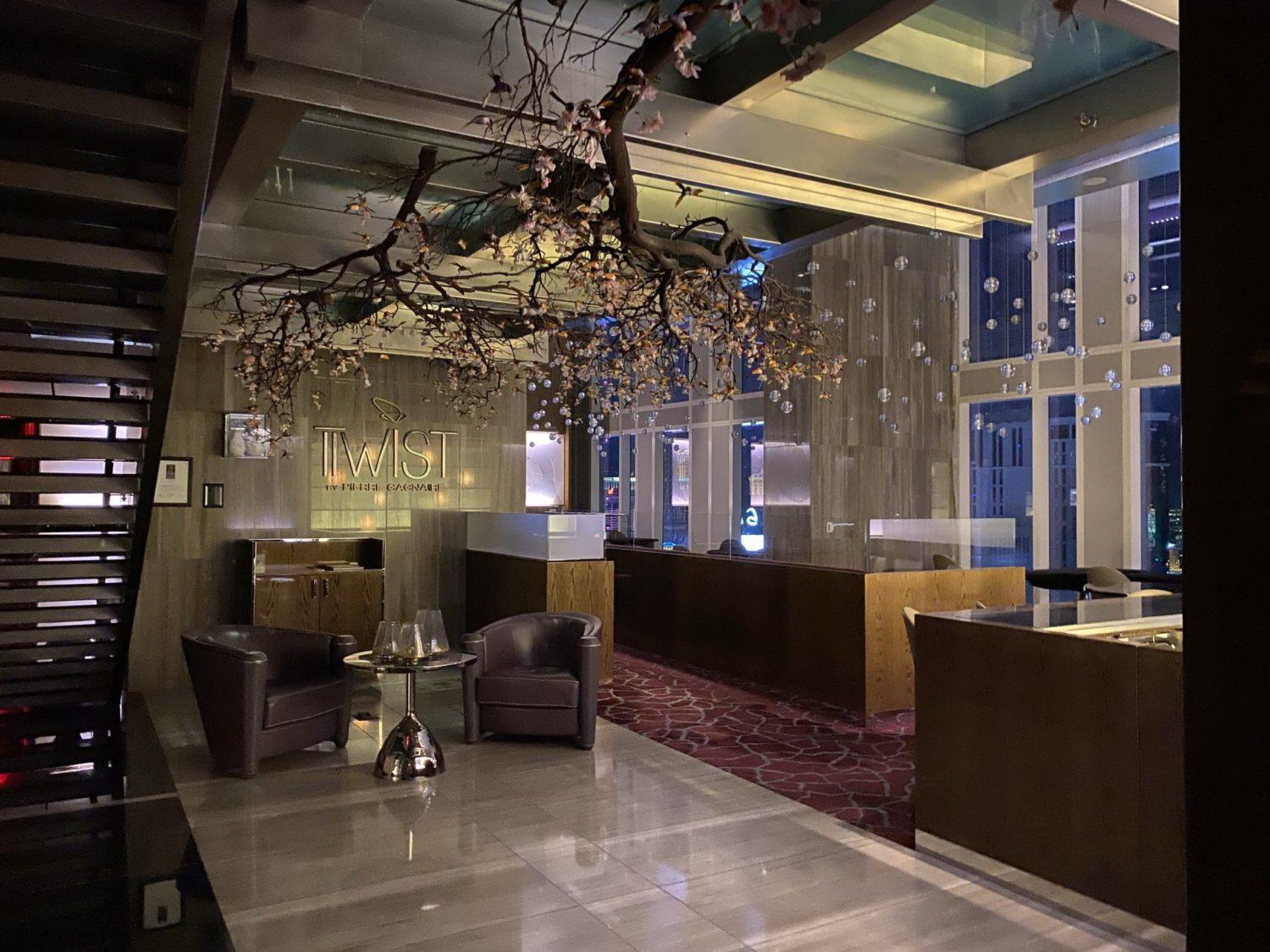 There's also Zen Kitchen and its grab-and-go cousin, Zen Cafe. This is where you can get breakfast each morning and put that free breakfast credit to use. We never attempted to eat at Zen Kitchen itself, preferring to grab food and bring it back to the room.
The menu at Zen Cafe was by no means expansive but good enough for a breakfast bite or early lunch.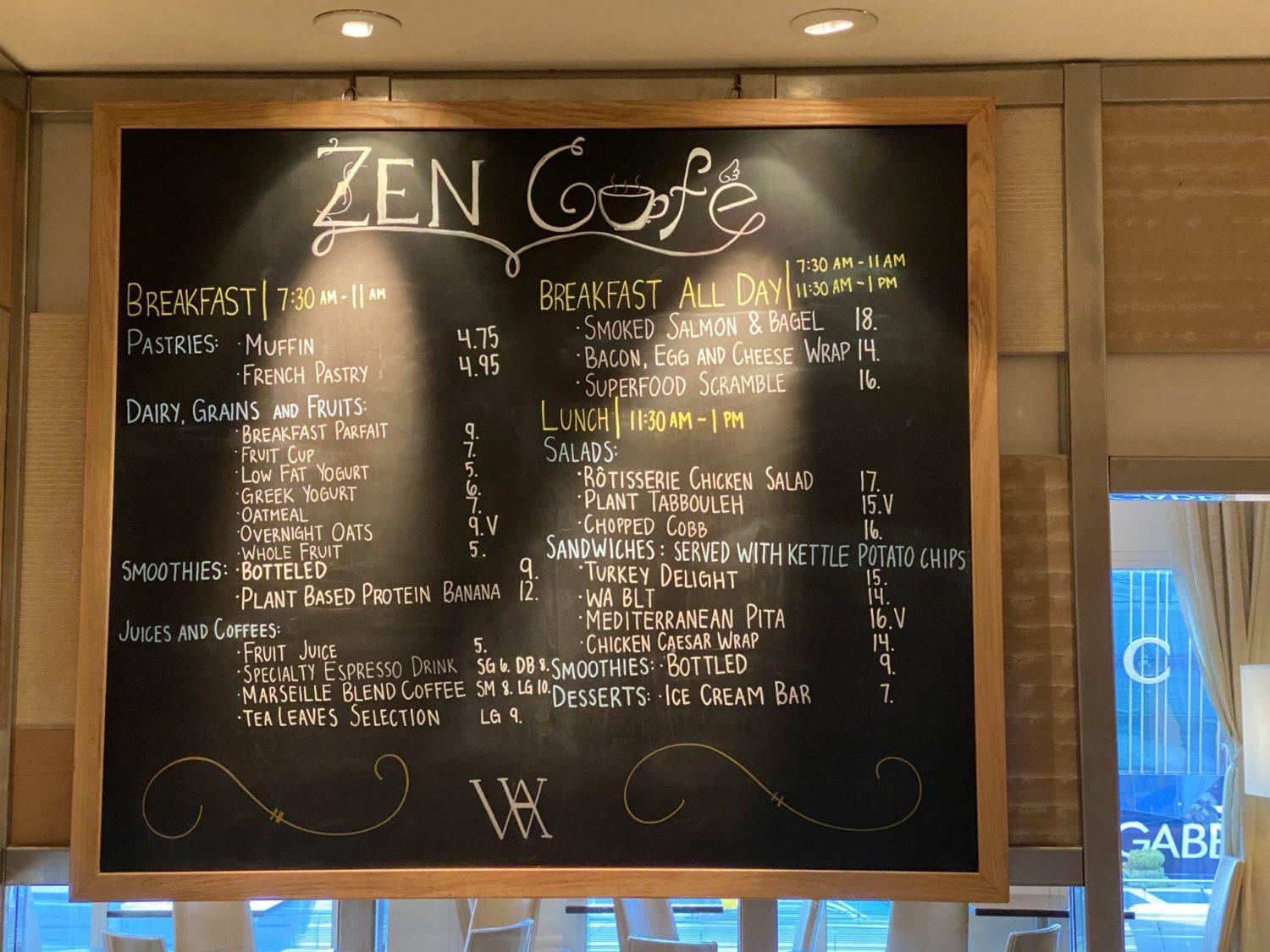 The WA BLT was quite good, if a bit odd that it came on a baguette. The iced coffee, however, was not great.

But if there's one thing the Waldorf Astoria is known for, it's SkyBar. Boasting some of the best views of the Strip, it's one of the top places to grab a cocktail and chat.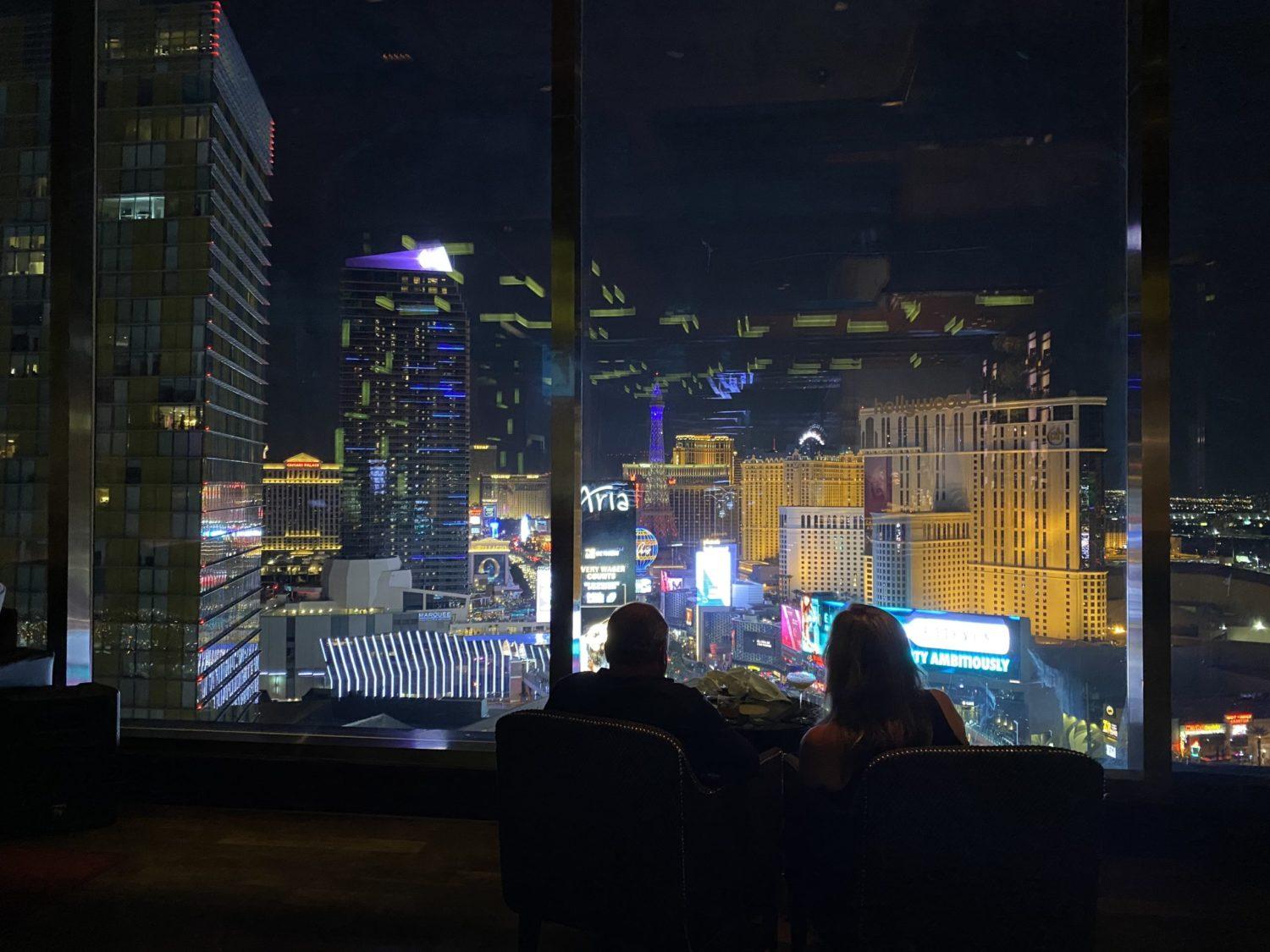 SkyBar has removed a lot of seating in the name of social distancing, so getting a table may be challenging despite the small crowds in Las Vegas. Reservations aren't a bad idea. On the bright side, waiters at SkyBar were friendly, eager to make cocktail recommendations, and great about wearing their masks.
The Golden Knight cocktail made with Japanese Whisky was stellar, as was the bar's take on a Mezcal Old Fashioned called The Meadows. Scope out their full cocktail menu.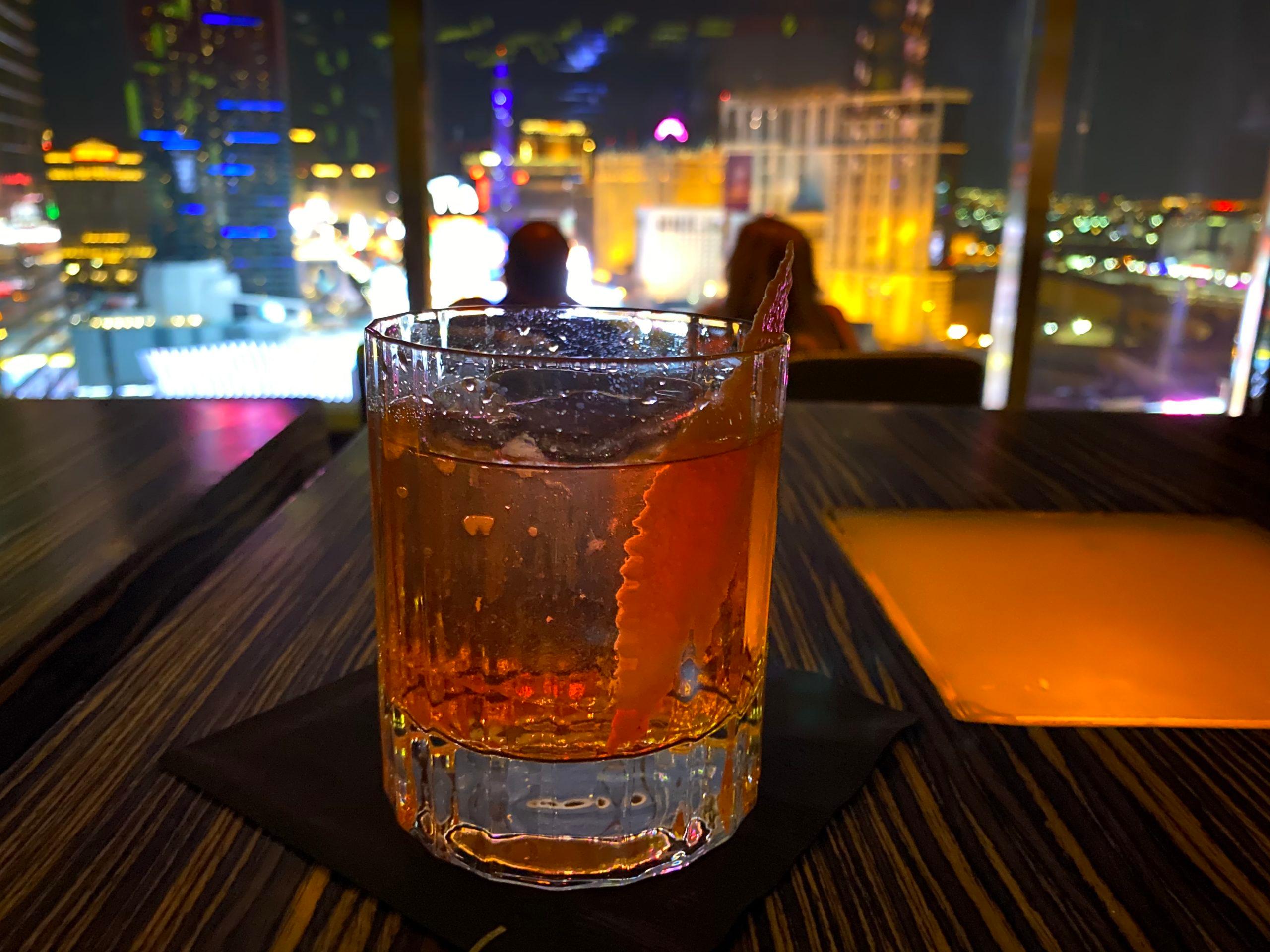 These were easily some of the best cocktails I've ever had in Las Vegas, though I'd still rank Skyfall Lounge at Delano slightly higher – if only for the 64th-floor views from the far south end of the Strip.
Bottom Line
The Waldorf Astoria Las Vegas quickly became one of my favorite properties on the Strip.
The decor could use a facelift in some places. And the extra service flourishes that set brands like the Waldorf Astoria apart might be missing today. But in its place, there's an extra sense of oasis throughout the Waldorf Astoria that make it tough to beat in Las Vegas – now or any time.
Oh, and I'd go back just to grab another glass of The Meadows, too.