Japan is back open, and travelers are (understandably) flocking back there. Here's your chance to book the best Hyatt properties in the country – maybe the world – using points, including if you're heading there this summer.
Our team recently uncovered wide-open availability at the Park Hyatt Kyoto this summer into the fall and throughout early 2024. Whether you're just starting to plan a trip for next year or already have a hotel booked for this summer, this is too good to pass up: The Park Hyatt Kyoto an immaculate property in one of the best locations in Japan's cultural crown jewel city. So if you've got Hyatt points – or Chase points that you can transfer to Hyatt – don't wait.
The Park Hyatt Kyoto is a category 8 property, which means a standard night will you cost 40,000 World of Hyatt points per night. That may seem steep, but that's as good as it gets for a high-end property like this. And since cash rates are routinely over $1,500 a night, it's an excellent way to use points. Plus, Hyatt's peak- and off-peak award pricing system means you may see rooms bookable for as few as 35,000 points a night – or as much as 45,000 points during busy times.
Aside from a blank spot through much of the fall and again during peak cherry blossom bloom from mid-March through early April, you shouldn't have a problem booking a room at the Park Hyatt Kyoto using your points from now through early June 2024.

While we wish we could give you a first-hand review of this stunning property, no one on the Thrifty Traveler team has stayed here yet. With the hotel opening in late 2019, it was closed off to most foreigners for nearly three years during the height of the COVID-19 pandemic. So even though the Park Hyatt Kyoto is nearing its fourth birthday, it should still feel brand new for years to come. Most importantly, it's located in Kyoto's buzzing Gion district, with plenty to do just outside the hotel doors and a short walk to the iconic Kiyomizu-dera temple.

The hotel is said to provide guests with a "one-of-a-kind Kyoto experience by blending modern and traditional aspects of Japanese hospitality with the elegance of the Park Hyatt brand." This property features 70 luxury guest rooms, including nine suites, five unique dining options, and a retreat from Kyoto's hustle and bustle with a full onsite spa and wellness experience.
Wondering what it's like to visit Japan since reopening? We sent one of our reporters there earlier this year to answer that very question!
How to Book the Park Hyatt Kyoto
As of publication, there is currently standard room award availability at the Park Hyatt Kyoto on most dates from now through the end of the booking calendar in June 2024, aside from during the fall and mid-March to late April.
Most months have at least 25 nights with standard room availability bookable from 35,000 to 45,000 points per night, including this summer.
Log in to your World of Hyatt account, search the property, add your dates, and make sure you select "Use Points" before clicking "Find Hotels."
Try searching for one-night reservations at a time to ensure every night of your planned stay is available. If not, Hyatt will show you far more expensive suite availability – or nothing at all.
You should be able to easily find availability to book a standard room with one king bed or two twin beds.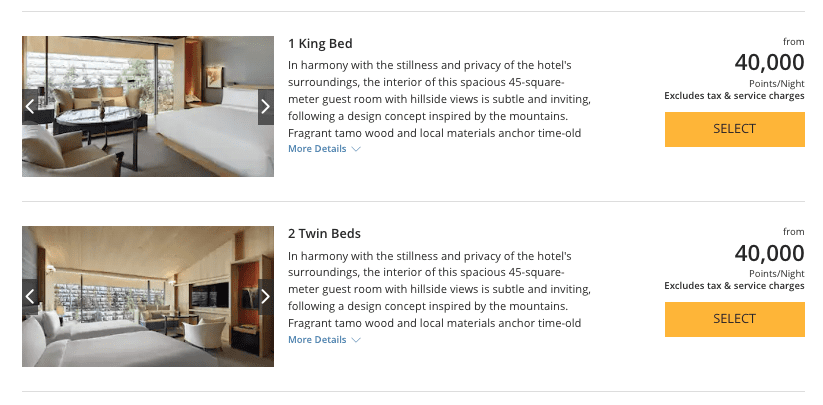 Current Park Hyatt Kyoto Award Availability
Award availability is pretty wide open from now through early June 2024.
During that time frame, most months have 20 or more nights of award availability, including some that price at an off-peak level of 35,000 points per night. That should make it fairly easy to book a three- to four-night stay or even a weeklong booking using Hyatt points.
To start, log into your Hyatt account and search for the property. You can click the "Points Calendar" option, highlighted below. Fair warning: This won't show you actual availability that you can book with your points, but it can help you identify nights that have either off-peak (35,000 points per night) or standard (40,000 points per night) award space.

After clicking on "points calendar" it should open up a calendar view where you can see how much each night will cost in points, depending on whether it is a peak, off-peak, or standard night.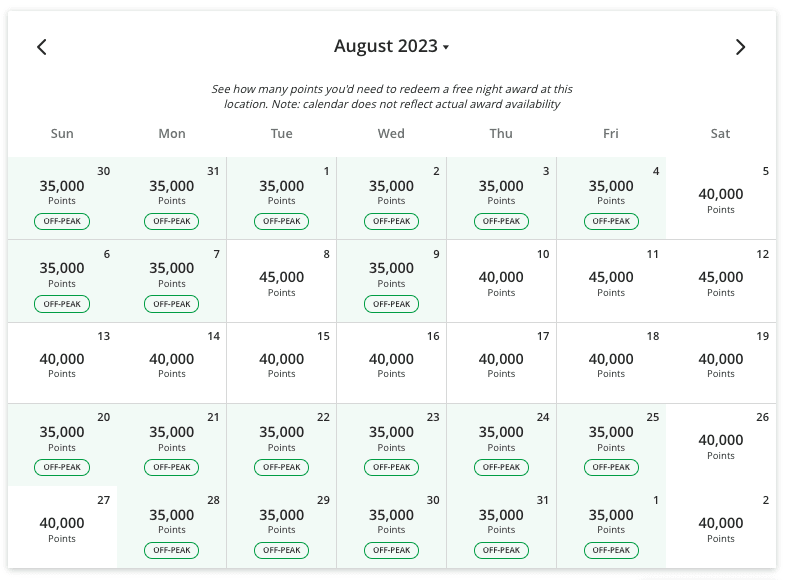 Once you start searching for your actual trip, nailing down a four- to five-night stay or longer may require some trial and error. If just one night of your stay is unavailable, Hyatt will only show you higher-priced suite availability … or perhaps nothing at all. For that reason, it's best to search one day at a time to ensure there's standard room availability for each date of your planned stay.
As of publication, the calendar is pretty wide open so you shouldn't have too much trouble stringing together a multi-night stay.
Bottom Line
Just planning your Japan trip for next year? Book this property using some Hyatt (or Chase) points.
Already got a hotel booked in Kyoto for this summer? Cancel it, then book this property using some Hyatt (or Chase) points.
There's currently wide-open availability to book the Park Hyatt Kyoto this summer and from January through early June 2024. It's chalked up to be one of the best Hyatt properties on the planet, and you can book for as few as 35,000 World of Hyatt points a night. But we don't know how long this award space will last, so book quickly!
Photos courtesy of Hyatt Hotels