Editor's Note: Easy come, easy go. Within a few hours of posting this alert, it appears that all the available nights at Calala Island have been booked!
Calala Island is an all-inclusive haven on a private island off the coast of Nicaragua, with just four private beach villas and nothing to do but relax. While it's bookable with World of Hyatt points, it's also practically impossible to find availability … until now.
We just unearthed some unprecedented availability to snag a few nights (or a week or more) at Calala Island this fall, from mid-September through December for 40,000 points per night. It's patchy over that period, so it may require some trial-and-error to find a stay that works. But for a property that typically costs $3,000 or more a night, any availability to book with points is absolutely incredible. From transfers to meals and drinks, almost everything you could possibly want is included with your stay.
We've searched this vaunted property for many months without seeing even a single date available. But act fast. This is one of the hardest properties in the world to book using points. Travelers around the globe will snap up every date they can, and fast.

Calala Island is a Category 8 Hyatt property, which means it typically costs 40,000 points per night. The property has a three-night minimum – though given the hours-long trek (by plane, car, and then boat) to get from Managua (MGA) all the way to Calala, that's probably not a bad thing.
For example, you can currently book a weeklong stay in late September or early October. Late November through mid-December seems to be another sweet spot for availability. That's incredible.


Paying 40,000 points per night may seem steep, but that's a small price to pay for a private island getaway that would normally run you close to $3,000 a night or more. Plus, those 40,000 points cover absolutely every expense you could imagine: Transfers from Managua all the way to the property, meals, drinks, activities, and more. Really, the only thing that isn't included are your roundtrip flights to Managua.
This is more than an all-inclusive resort – it's an all-in experience.
Just beware: The cancellation policy for this property is incredibly strict. You'll only get all your points back if you cancel at least 90 days in advance. Cancel 89 to 29 days before arrival, and you'll forfeit 50% of your points. And canceling within 28 days of arrival means you'll lose it all. Gulp.
We haven't personally stayed at Calala Island, but it gets rave reviews from the relatively few travelers who have been able to make it there. It's got just four private villas scattered across the tiny island, so privacy won't be a problem. Everything from the meals to the service sound absolutely impeccable. You can fish, snorkel, paddle board, island hop, and even do private rum tastings to your heart's content – and it's all included.
Check out a full review of Calala Island from One Mile at a Time and you'll see just how special this place is – and why it's so notoriously hard to book.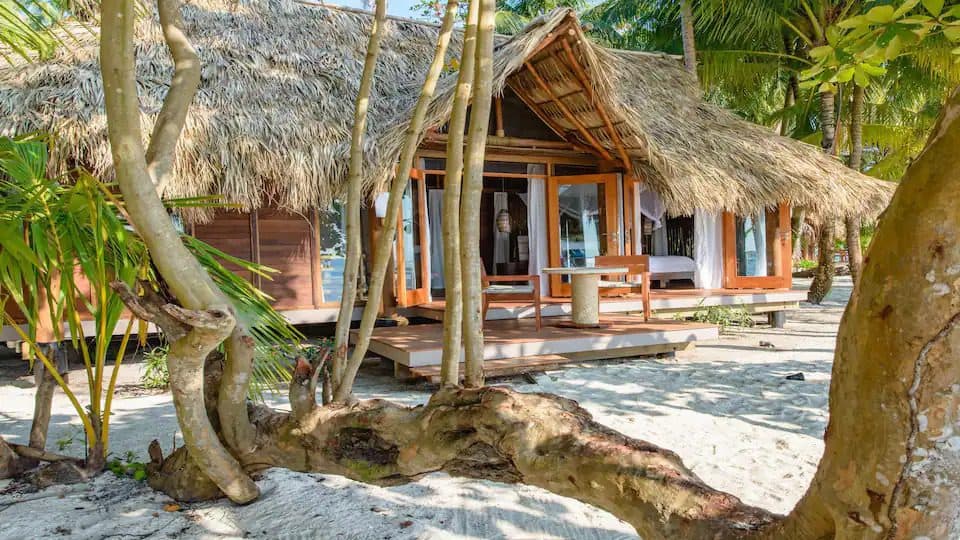 How to Book Calala Island
As of publication, there is currently solid standard room award availability at Calala on many dates from mid-September through early October and again from late November into mid-December, with more dates scattered in between and throughout early 2024.
Log in to your World of Hyatt account, search the property, add your dates, and make sure you select "Use Points" before clicking "Find Hotels."
You must book at least three nights – if even one of your dates is unavailable, Hyatt's search will error out. Try again with different dates.
Points reservations include almost everything: Roundtrip transfers from the Managua (MGA) airport, accommodations, food, drinks, and many activities.
Bottom Line
This is truly incredible.
Calala Island is an unrivaled all-inclusive resort on a private island off the coast of Nicaragua … and it's practically impossible to book using points. But we're seeing some rock-solid availability to book for 40,000 points per night throughout the fall.
If this property has been on your list (or is now), book now and ask questions later. This availability is sure to go fast!