Back in October, Mr. TT and I took a roundabout way to Doha, Qatar. Our end goal was flying Qatar Airways' new QSuites business class product back to the US. We first needed to get to Doha, and we decided to fly airline products we hadn't yet flown.
Our journey started in Houston, Texas where we flew one of the more unique fifth freedom routes out there. Singapore Airlines offers flights between Houston and Manchester, England which they operate on the fancy new Airbus A350-900. After a fueling stop in Manchester, the aircraft eventually ends up at the airline's home base in Singapore. However, you are able to book the Houston to Manchester segment without going to Singapore.
This is now one of my favorite and most unique ways to get to Europe. Read on for a full review.
Booking
Singapore is pretty stingy when it comes to releasing saver award space. However, finding award availability on the Houston to Manchester route is a breeze. You should easily find saver award space for 65,000 Singapore KrisFlyer miles in business class. In fact, we were able to find two seats on the exact same day we needed to make our trip work. 
You can generally only book business and first class seats directly through Singapore's own KrisFlyer program. But luckily, Singapore miles are some of the easiest in the world to pile up – you can transfer points from Chase, American Express, Citi, and Marriott. So I transferred a stash of Chase Ultimate Rewards points I had been saving to my KrisFlyer account.
All said and done I paid 65,000 Singapore KrisFlyer miles and $5.60 of international taxes and fees for my one-way business class ticket to Manchester, England.
Pre Flight Experience
We arrived in Houston after taking a positioning flight from Minneapolis (MSP) on Delta. Once we landed, we made our way to Terminal D at Houston's George Bush Intercontinental Airport (IAH).
The check-in area for Singapore Airlines was located at the far end of the terminal. When we arrived there was no line at the check-in counter so we were able to check-in and get our tickets quickly.
One of the best parts about flying Singapore business class out of Houston is that you will get access to the United Polaris Lounge before your flight. It is one of the best airport lounges in the United States. The food and drinks were both free and delicious. You can read our full review of the lounge here. 
After having a complimentary meal and cocktails in the lounge, we made the 10-minute walk back to the D terminal to board our flight to Manchester. Singapore started boarding the flight earlier than the listed time on our boarding pass so unfortunately, we didn't board the plane with the other business class passengers.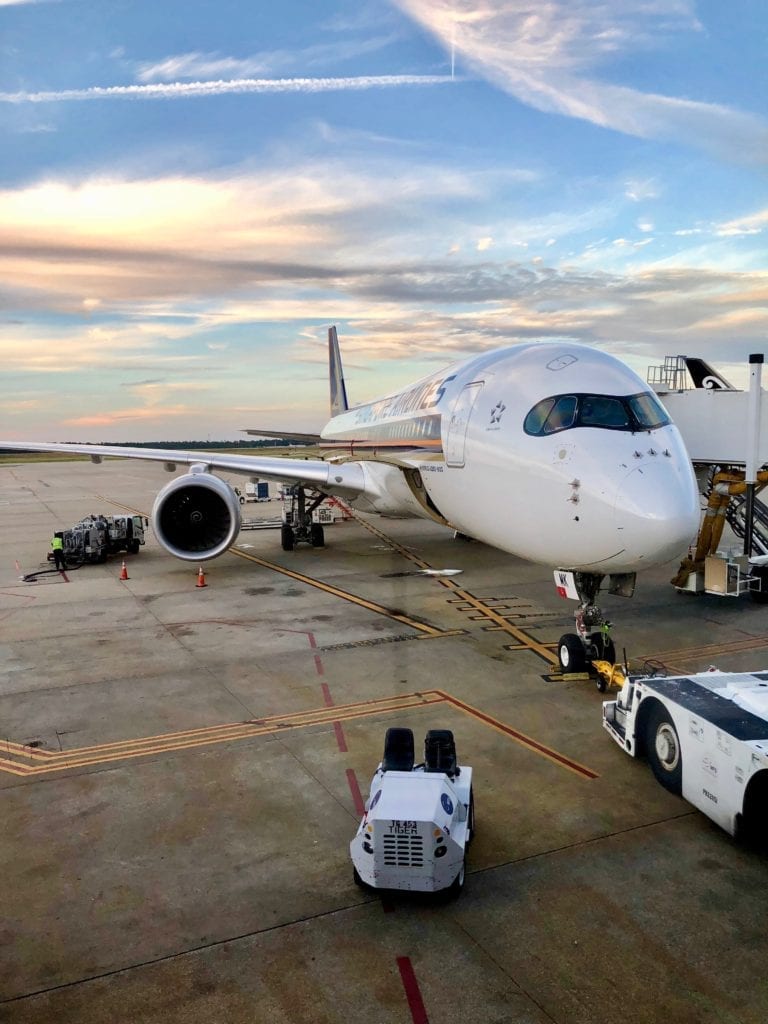 Cabin
To say I was excited for my first ever flight on Singapore was an understatement. The airline was recently rated as the world's best. When you first enter the aircraft and see the business class cabin, it isn't hard to see why. The onboard business class product is the same basic layout and design that you'll find on Singapore's777 which Kyle reviewed last month on the treck home from his honeymoon.
Singapore doesn't have any first class seats onboard their A350-900. There are however 42 business class seats arranged in a 1-2-1 layout. The business cabin is separated by a galley and essentially creates two different business class cabins as you can see below. I was seated in seat 14A for our flight, while Mr. TT was two rows behind me in 16A.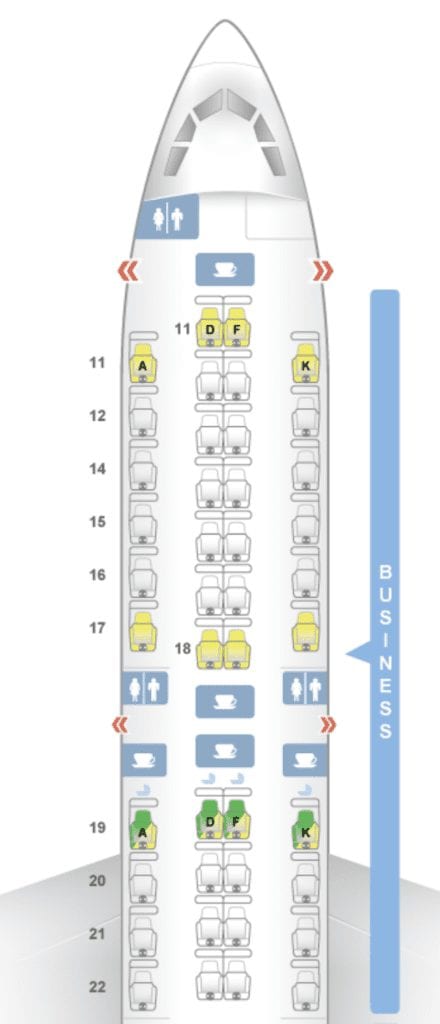 Once we boarded, we were immediately offered a glass of champagne before takeoff. Both Mr. TT and I happily obliged.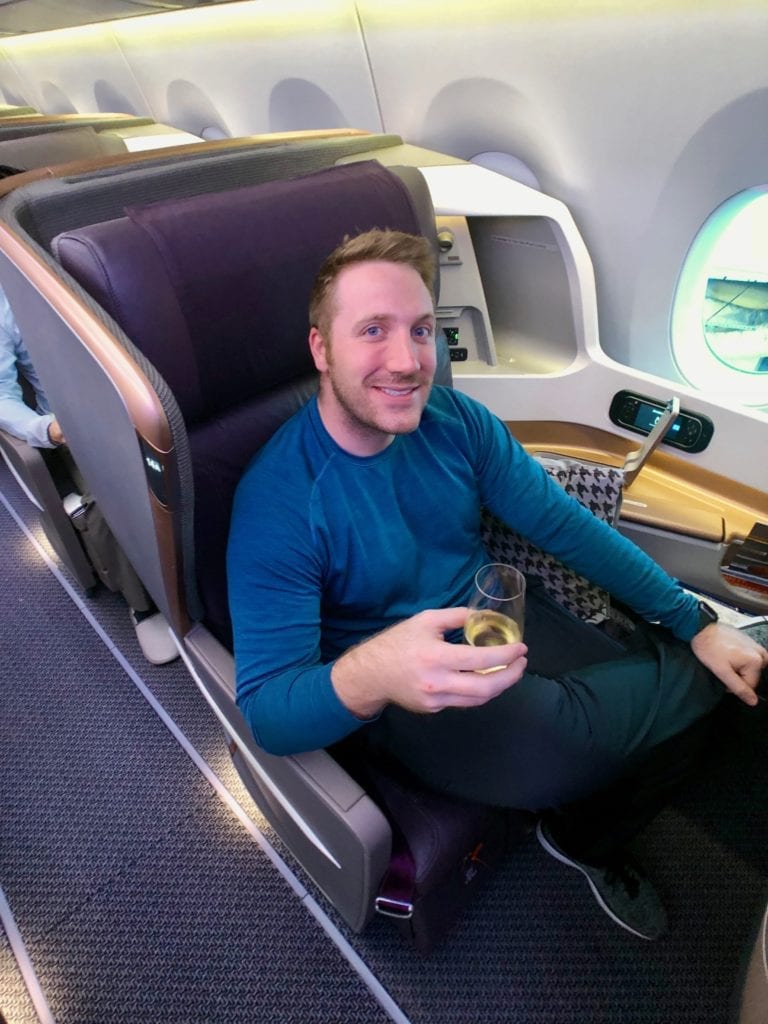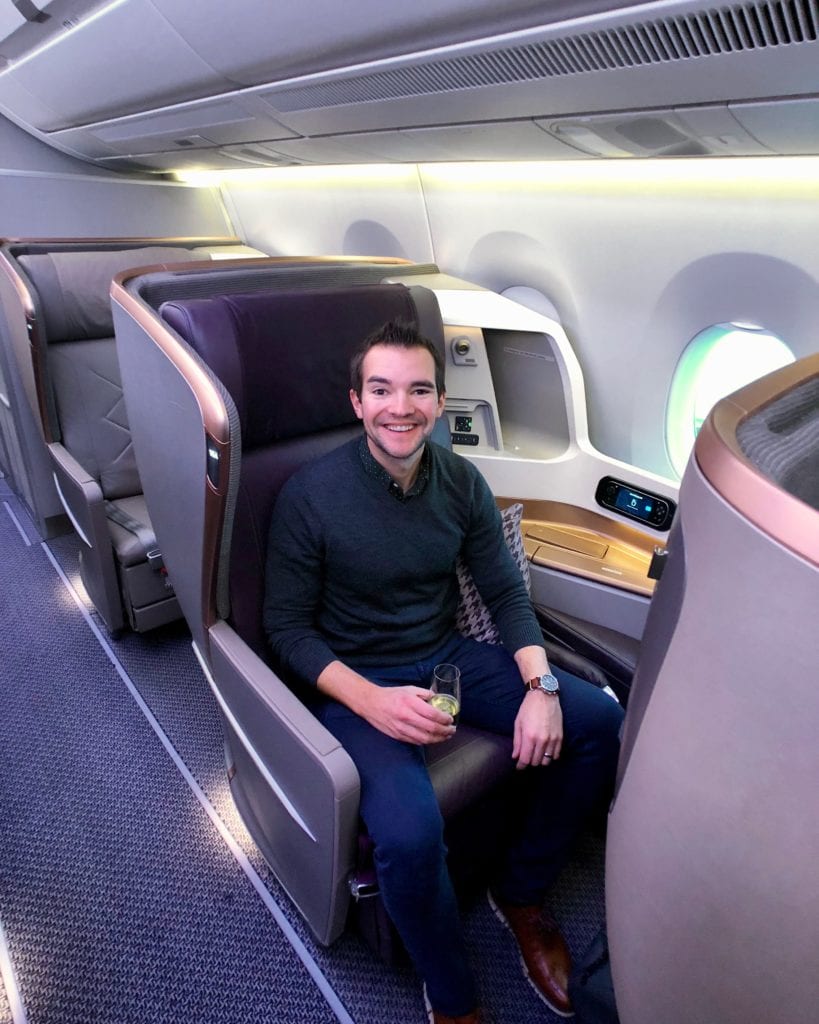 Seats
From an aesthetics standpoint, the business class seats are beautiful. I am not sure I have seen a better-looking business class seat in all of my travels. However, there are a few functionality quirks I will outline shortly.
From the gold detailing to the leather seats that alternate colors by row, Singapore's business class seats are well designed. At 28 inches wide they offer plenty of room to stretch out. These seats are among the most spacious business class seats of any airline.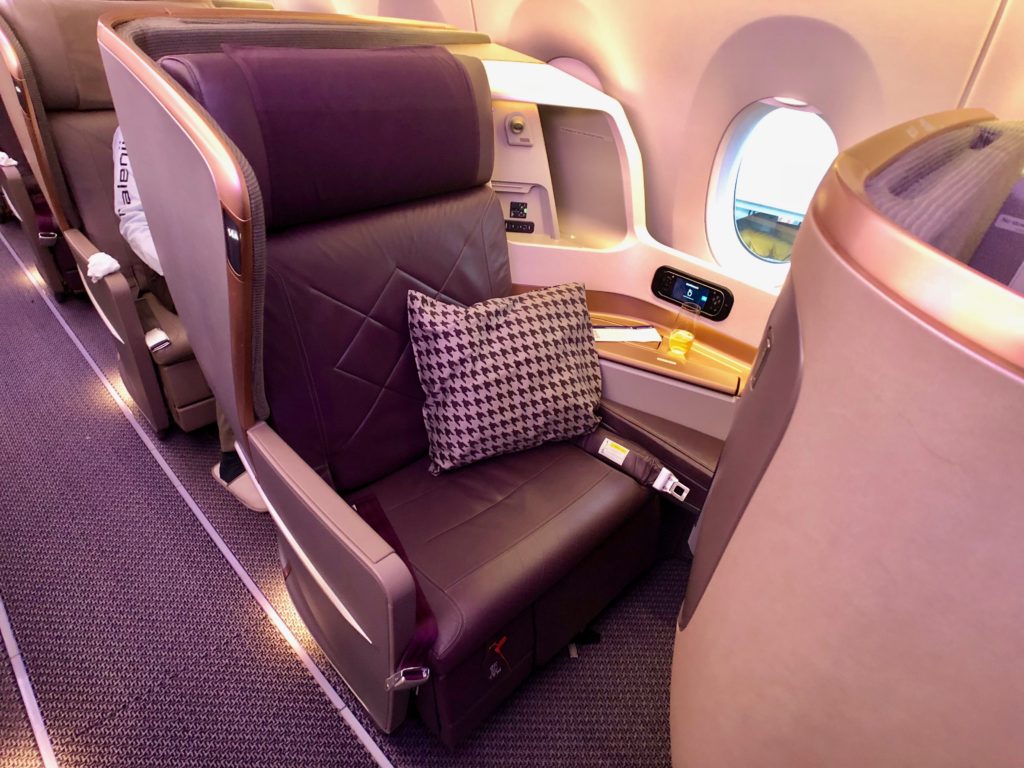 While all seats are excellent, there are a handful of slightly better seats scattered throughout the cabin – if you can get one. The first row in each section, called bulkhead seats, offer much more legroom because you get a full bench for your feet rather than a small cubby (pictured below). Unfortunately, these are reserved for Singapore's elite flyers until shortly before departure, so they can be tricky to book.
On Singapore's Houston to Manchester route serviced by an Airbus A350-900, these are the seats located in rows 11 and 19. Neither row was available for our flight.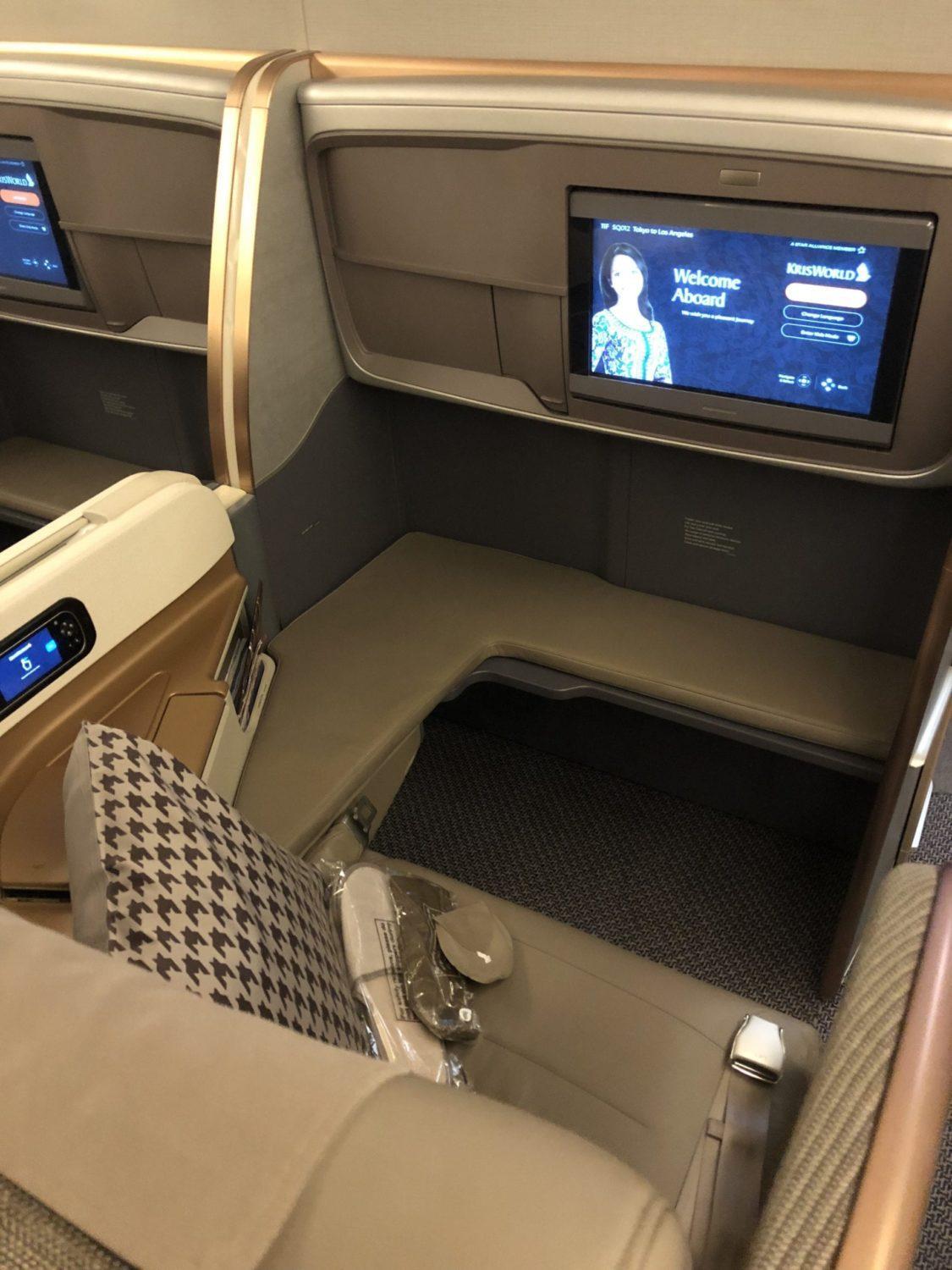 If you don't get a bulkhead seat you certainly aren't going to suffer. However, the seat design will require you to angle your body a bit to use the foot cubby. It's a small quirk, and while many complain about this feature, it is still very comfortable in the upright position.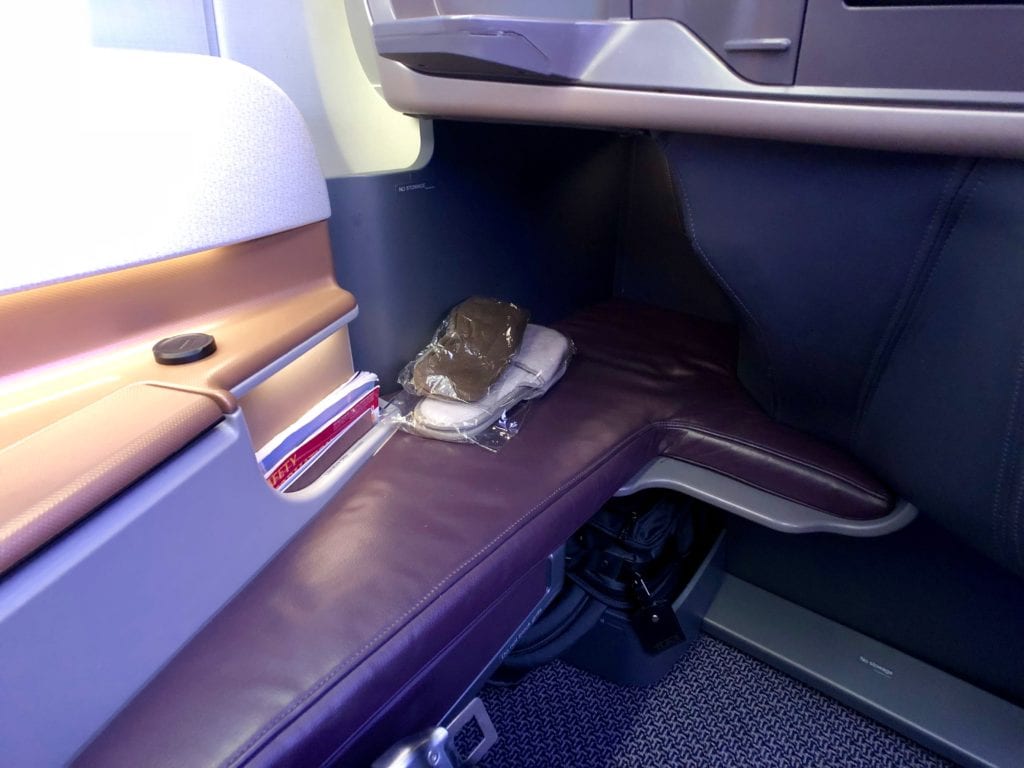 The seat's extra space doesn't come at the expense of storage options, which are plentiful. The gold center console holds a dining tray, and a storage compartment, which holds a solid set of noise-canceling headphones.
The tray storage is genius – simply push down on the console and it pops up, allowing you to pull it out and over your lap. The tray itself is enormous and stable, and you can even adjust its height. This was a nice touch as it made finding the optimal height for working and eating easy. 
Above that, you've got a large space for a laptop or other large electronics, though this has to be empty for takeoff and landing. This is also where you'll find a reading light, ports for electricity and USB. It's also home to one of two headphone jacks. It was the perfect space to store my laptop while I wasn't using it. 
And there's even a small cubby on the seatback where you can store a phone, passport and other small items. Below that, there's a sliding panel that hides a mirror as well as a small shelf.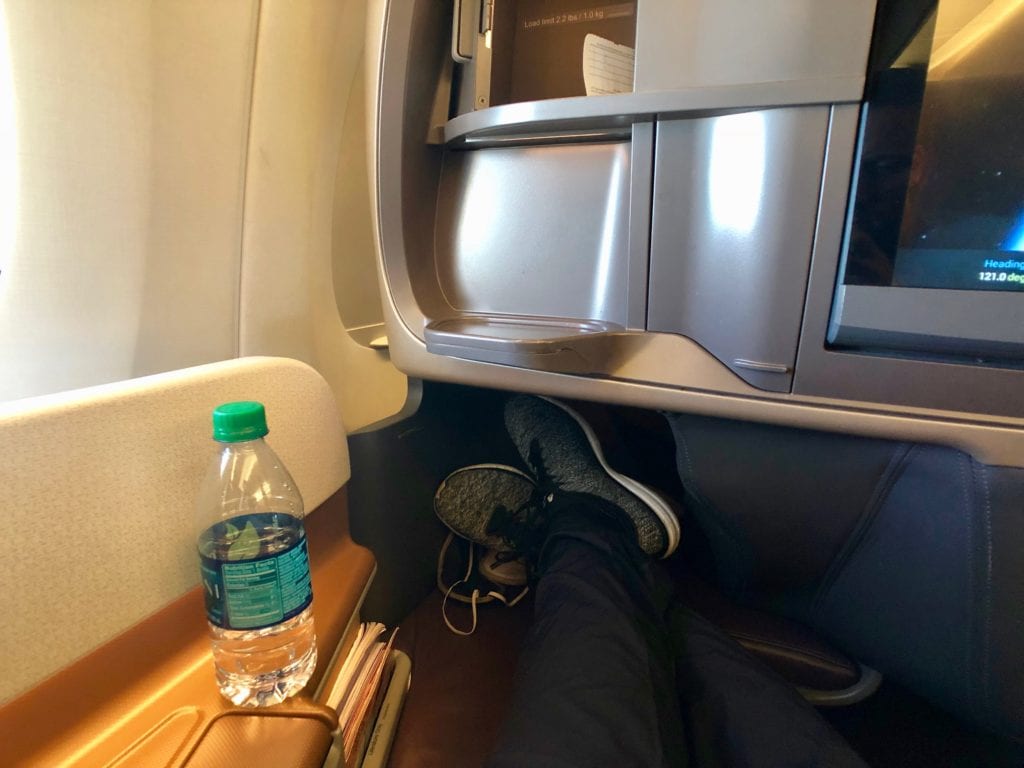 One gripe I have with Singapore's business class seats are the adjustable positions they offer. Singapore's unique seat design means you can recline a fair amount and put up the footrest, but you can't recline all the way back to bed mode while sitting. If you are somebody who likes to spend most of the flight in a reclined position, you might not be the biggest fan of this seat. 
When you want to put your seat in lay flat mode, you fold the seat down from the back to reveal a fully made bed. After I had dinner, a flight attendant offered to make the bed for me. While this isn't a huge problem, it does require you to get up from your seat to position it for bedtime. It only takes a few seconds so I didn't find it to be a huge issue. 
Between this feature and the foot cubbies, Singapore gets a lot of flack for its setup. Because you have to angle your feet into the cubby while you are laying completely flat, I didn't think it was the most comfortable business class seat I have been in, but it certainly wasn't the worst. I had no problem getting almost 4 hours of sleep, but I can see why many don't prefer this seat. 
Amenities
If there's one area where Singapore falls short, it's on amenities. Singapore doesn't offer an amenity kit in business class. Instead, they stock the lavatories with earplugs, shaving kits, combs, lotion, toothbrushes, and more. And while that might be all you need, it feels like an oversight as other airlines offer fully stocked kits for business class passengers.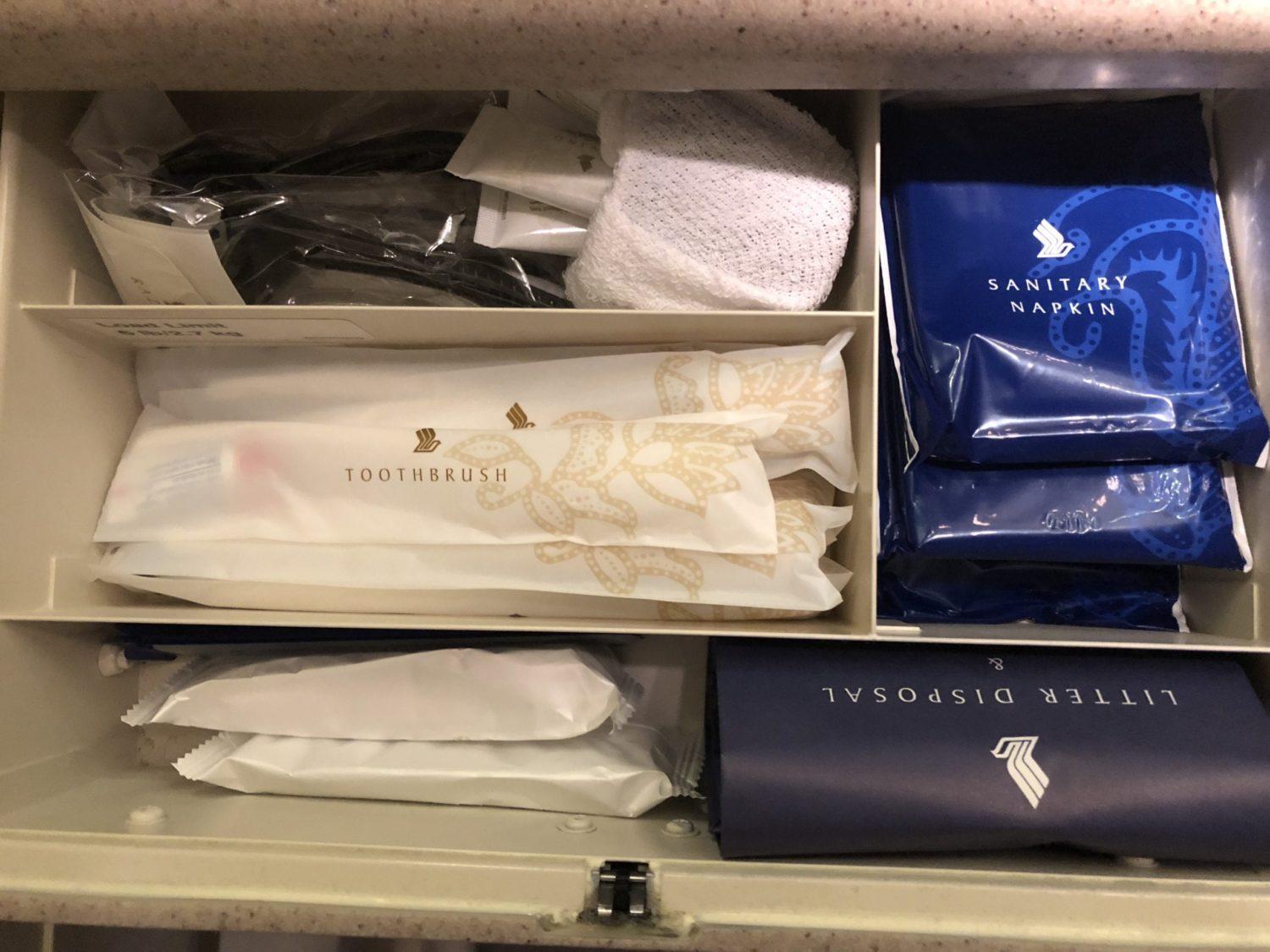 Service and Dining
Singapore Airlines is known for its service in business class. I was impressed from the moment we boarded and a male purser escorted me to my seat and offered to help stow my luggage. The flight attendants were outstanding on our flight. Every attendant I interacted with addressed me as Mr. Serati which I thought was a nice touch. They were speedy without being sloppy,  and attentive without being overbearing. This isn't an easy feat by any means. 
I never felt like I waited for anything. Drinks were served quickly and the meal services were impressive. They made serving a 4-course dinner to 42 business class passengers look easy.
Shortly before takeoff and after finishing the pre-flight champagne, I ordered a glass of Bordeaux while Mr. TT ordered an infamous Singapore Sling.
Book the Cook
When it comes time to eat, there are plenty of choices onboard, but the airline's Book the Cook feature blows it out of the water. Singapore offers this incredibly expansive pre-order menu for premium cabin passengers, and it's among the best in the world. It allows you to preselect your meals from a much larger menu than what's available on board.
It's generally only available on long-haul international flights. If you're at an outstation, like we were in Houston, there are a dozen or so choices to pick from. But the options are seemingly endless when flying out of their SIN hub. Check out all the different Book the Cook offerings departing from Houston here.
Just when you can Book the Cook seems to vary by flight. My menu opened up about six months ahead of the flight. Sadly, however, it wasn't available when I booked 9 months in advance and I never went back into my account to take advantage. Don't make the same mistake I did, and access this great feature by logging into your KrisFlyer account and managing your booking within six months of your departure date.
Because I didn't book the cook, I ordered off of the in-flight menu which was still fantastic. About 30 minutes after takeoff, the flight attendant working our row came to take our order for the main course. I chose the braised pork cheeks on sauteed rapini. It was served with a delicious polenta.
Roughly 20 minutes later we were served the starter, smoked salmon served with quinoa, pomegranate fennel salad, and a wasabi cream sauce. Flight attendants came around with a bread basket, from which I chose a roll. 
The salmon was delicious and maybe my favorite part of the entire meal. The wasabi cream sauce was incredibly flavorful and tied the whole dish together.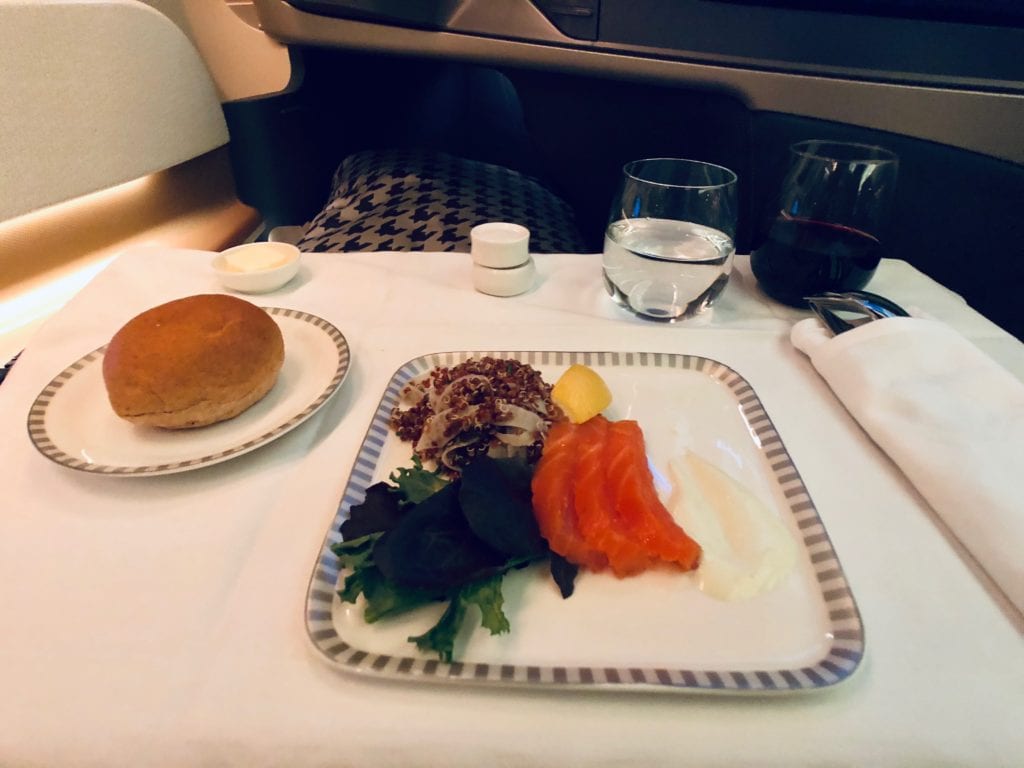 As mentioned above, I opted for the braised pork cheeks on sauteed rapini. While the presentation was nothing special, the pork cheeks were incredibly tender and delicious. This helped to remove some of the regrets I had by not booking the cook in advance. 
For dessert was a simple but delicious bowl of Hagen Dazs vanilla ice cream. It was nothing fancy but it hit the spot.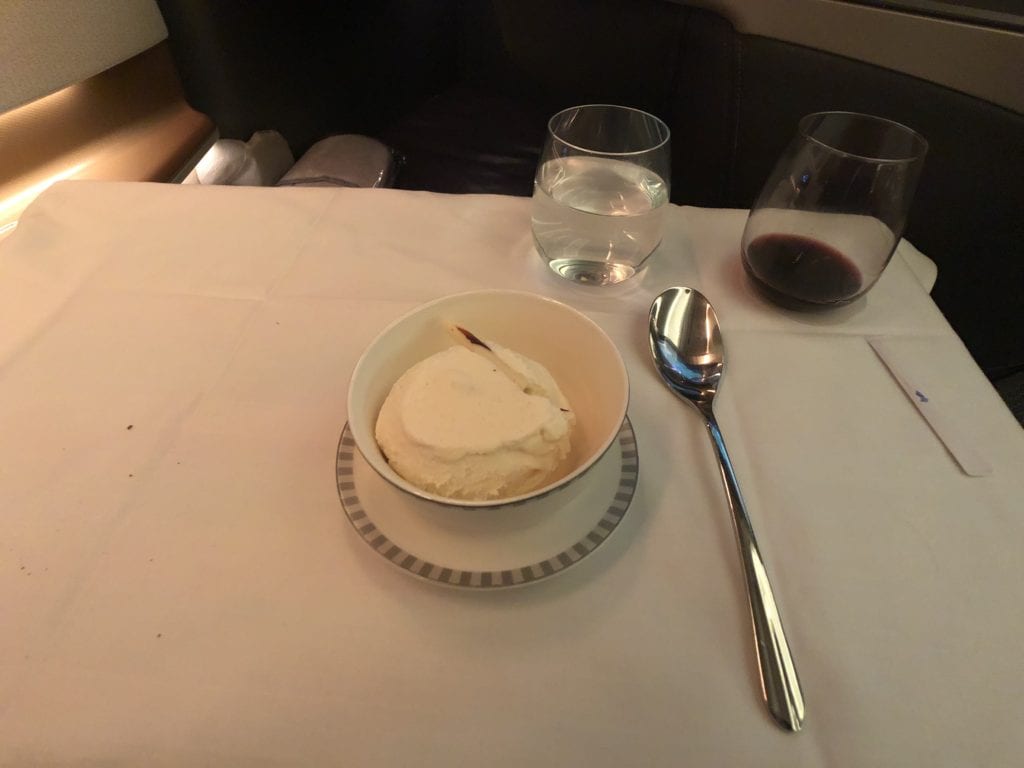 And finally, the flight attendants came around with a cheese platter. I was so full from the previous three courses that I skipped it and wasn't able to get a photo.
After dessert, I got ready for bed and moved my seat into the lay flat position. After nearly 4 hours of sleep, I was woken by one of the flight attendants with a hot towel to prepare me for breakfast about 90 minutes before we landed.
I was honestly still full from dinner but I went with the breakfast burrito. It was rather large so I only ate about half of it. The burrito was good but I wouldn't write home about it.
.
In all, Singapore's food is fantastic and I was very impressed. Though the next time I depart out of Houston on this route, I would surely opt for Book the Cook. 
Entertainment
Singapore Airlines' business class seats are equipped with 18-inch entertainment screens. And these displays are about as sharp and crisp as they come.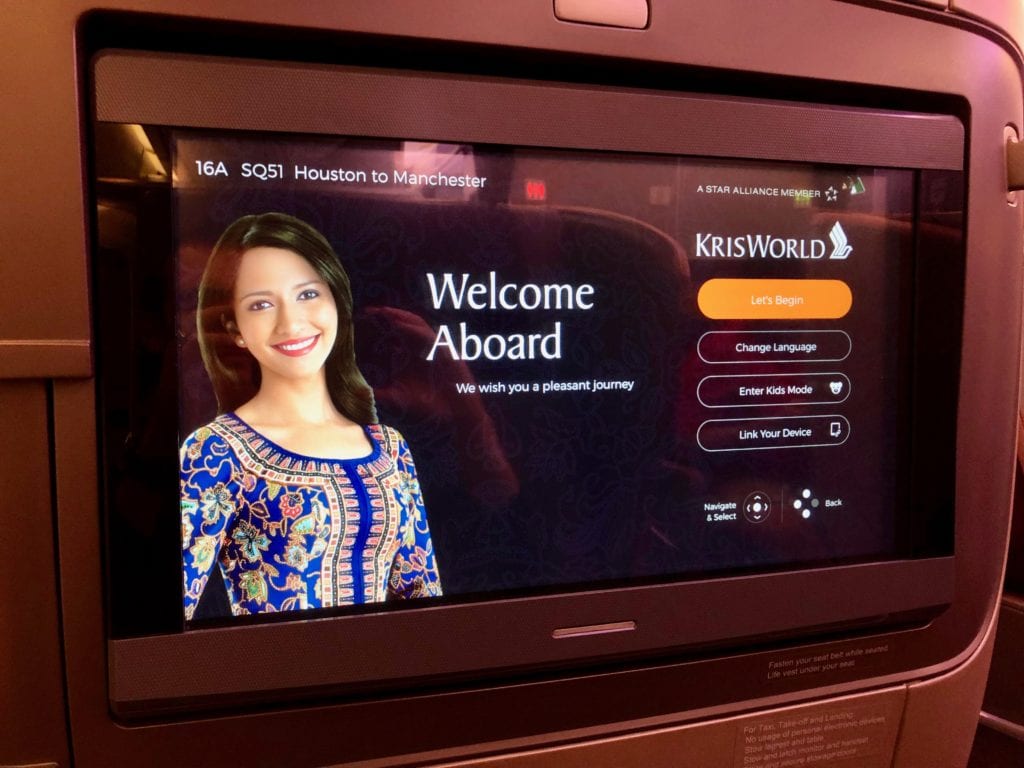 The button on top allows you to release the monitor so it can be tilted downward. So while some carriers drop the ball when it comes to watching entertainment while reclined and lounging, Singapore nails it.
I found the positioning of the monitor to be perfect. It's close enough to your seat that it feels bigger than its 18 inches (which is already on the big side for business class.) Yet it's not so close that your eyes will burn a few hours in. 
My one complaint about the screen is that it's not a touchscreen. Everything has to be controlled by the wired remote above the console storage. Though not the biggest deal, I did try and navigate the screen by touching it at least a handful of times. It's a minor fault in what I otherwise consider to be a perfect setup.
To make up for that, Singapore has a fantastic in-flight entertainment selection. There were at least 300 movies on board, with a great mix of new releases, older classics, and some standbys. Because our flight was relatively quick at just under 8 hours, I didn't end up watching a movie. Rather I slept, ate, and enjoyed my first Singapore business class experience. 
Bottom Line
Though not without some minor faults, this was an incredible flight. I can say this is one of my new favorite ways to get to Europe out of the continental US. Singapore miles are incredibly easy to earn and there is no shortage of award availability on this route. Both the food and service was great and it isn't hard to see why Singapore is always in the discussion for being the top airline in the world. 
Lead Photo (CC BY 2.0):  Benjamin van Waart