Norwegian is a European budget airline with several nonstop routes from the US to destinations in Europe. With budget airlines, it's often difficult to know the level of quality until you take the flight for yourself.
I recently flew on Norwegian from New York's JFK airport to Paris Charles de Gaulle airport (CDG) to try the airline out for myself. Read on to find out what it's like to fly Norwegian and decide if flying with them is worth the cheap price tag for your next European vacation.
Booking Process
The booking process for Norwegian was straightforward. Because nonstop options departing from the US are limited to mainly east coast cities, I decided to fly out of New York JFK airport. Some dates and departure cities were slightly cheaper, but I ended up paying $211.10 after all taxes and fees for a one-way ticket to Charles de Gaulle airport in Paris. That's a pretty good deal if I do say so myself.
However, it's important to note the "budget" aspect of this cheap plane ticket. Like most budget carriers, the cheap price comes at a cost. The fare I booked with Norwegian was a "LowFare" which only includes a personal item.
On Norwegian, they only allow one personal item and one carry-on bag for LowFare tickets, similar to domestic Basic Economy fares. The carry-on bag can be no larger than 55x40x23 cm (21.5″ x 15.7″ x 9.05″) and the personal item no larger than 25x33x20 cm (9.84″ x 13″ x 7.87″). Additionally, both together cannot exceed a combined weight of 10 kilograms or roughly 22 pounds.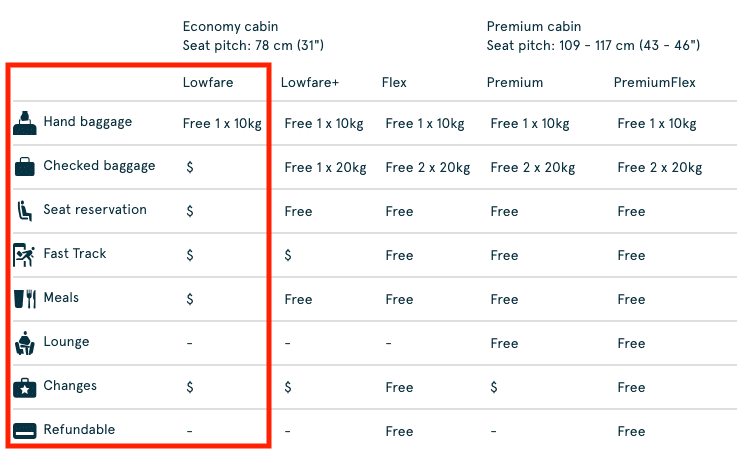 Because I was flying alone for a short trip to Paris, not having an assigned seat and checked baggage didn't matter to me. I did take note that meals cost extra, so planned to bring my own meal for the flight.
In the weeks leading up to my flight, I got tons of emails about bidding for an upgrade to a Premium seat on my Norwegian flight. I was curious what bidding for these Premium seats looked like, but quickly disregarded: upgrades were an exorbitant amount.
Ticket Change Process
I ended up needing to change my ticket a few weeks before my flight due to the Primera Air bankruptcy news as this put a wrench in my travel plans. I was nervous that the process would either be exorbitantly expensive or really complicated. However, it really was neither. For a $100 change fee, you can change your flight with Norwegian. If your new flight is more expensive than your previous booking, you'll pay the difference as well.
I called in to talk with customer service about this change and had a pleasant experience working with the representative. He informed me of all my flight change options and the costs involved in changing my ticket. He also informed me that it would cost $25 extra to have a customer service representative change the booking over the phone, but the change is free if done online.
I decided to simply change my booking on my Norwegian account on their website. In all, I paid $166 to change my flight reservation with Norwegian.
Preboarding Experience
When I got to Terminal 1 at JFK Airport, I had my backpack as my carry-on so I didn't need to check in through the line. I used a Norwegian kiosk to check in which was easy. There was a pretty long line for the staffed check-in desks even 3+ hours before boarding, so I was glad to only have a carry-on item.
When I got to the gate, it was nestled back in a corner and the desk was unattended for the majority of the time. About 5 minutes prior to boarding, a desk attendant came and set up the two Norwegian signs. The attendant didn't set up a personal item or carry on size checker at the gate, so I figured mine was good to go.
However, I noticed that almost everyone had a yellow tag on their bags that said "Approved Baggage". I worried that if I didn't have this tag, they wouldn't accept my carry-on bag. I went up to the desk right before boarding and asked for a tag for my backpack. I assumed I wasn't the only person who checked in at a self-check-in kiosk, so I wasn't sure how others had gotten this bag tag. Nonetheless, I got my tag and prepared for boarding.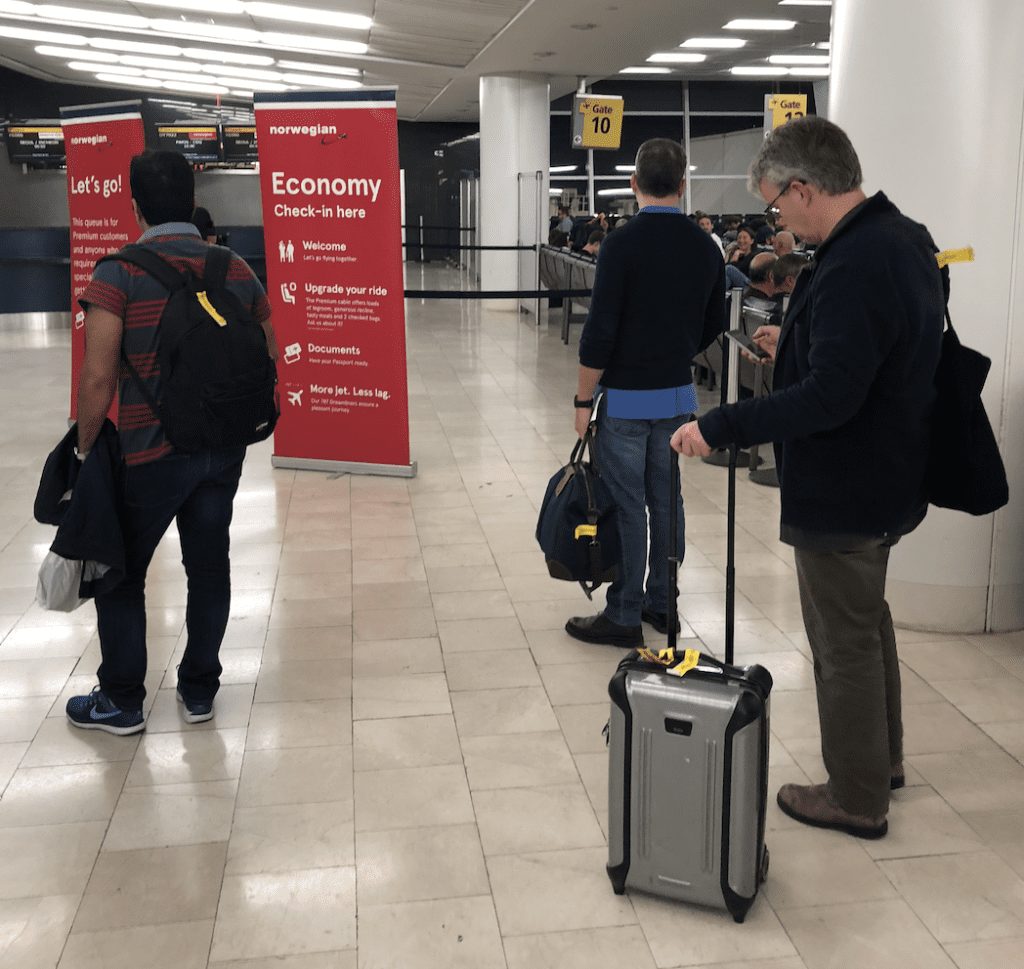 Prior to boarding, the gate agent made an announcement and asked if anyone wanted to upgrade their seat before boarding. It seemed like nobody took them up on a last-minute upgrade, so we began with boarding.
Boarding Process
For boarding, we were instructed for form two lines: Premium passengers and those flying in Economy seats. The Premium passengers were directed to their line by a gate agent, while those sitting in economy just started forming a line and waiting behind the economy banner.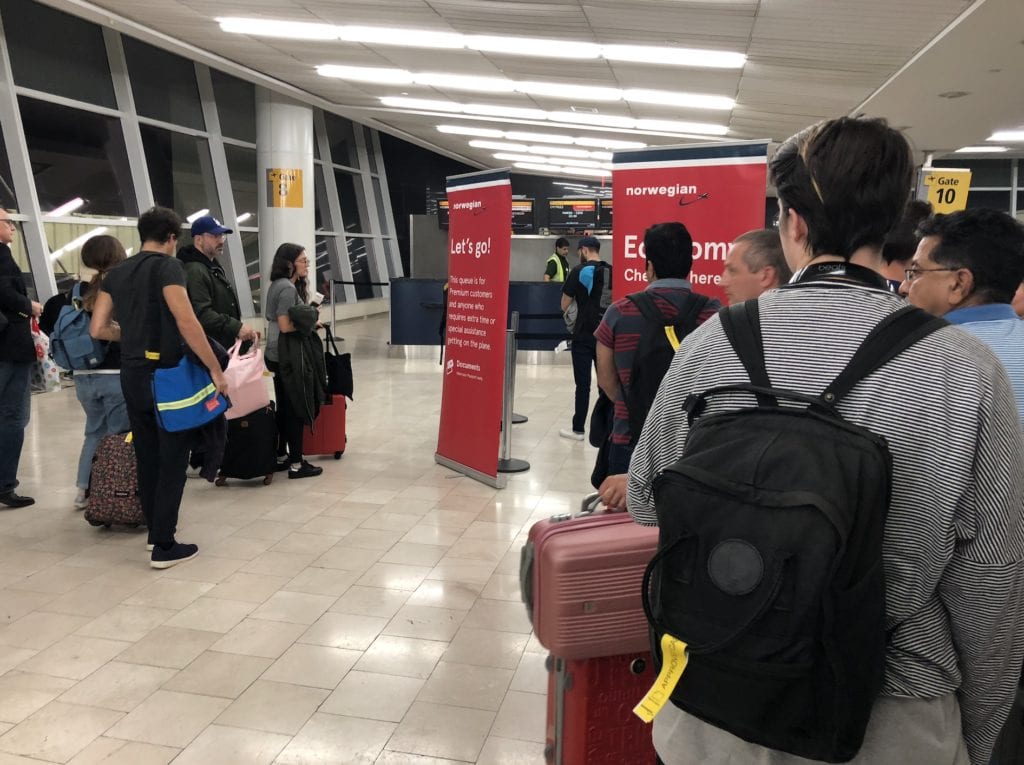 Onboard Experience
When boarding, the Premium seats were to the left of the entrance door; for all economy seats, we turned right. We were greeted by flight attendants at the door and throughout the cabin.
Economy seating on the Boeing 787-9 Dreamliner aircraft we flew for this flight to Paris was arranged in three columns of three seats each (3-3-3).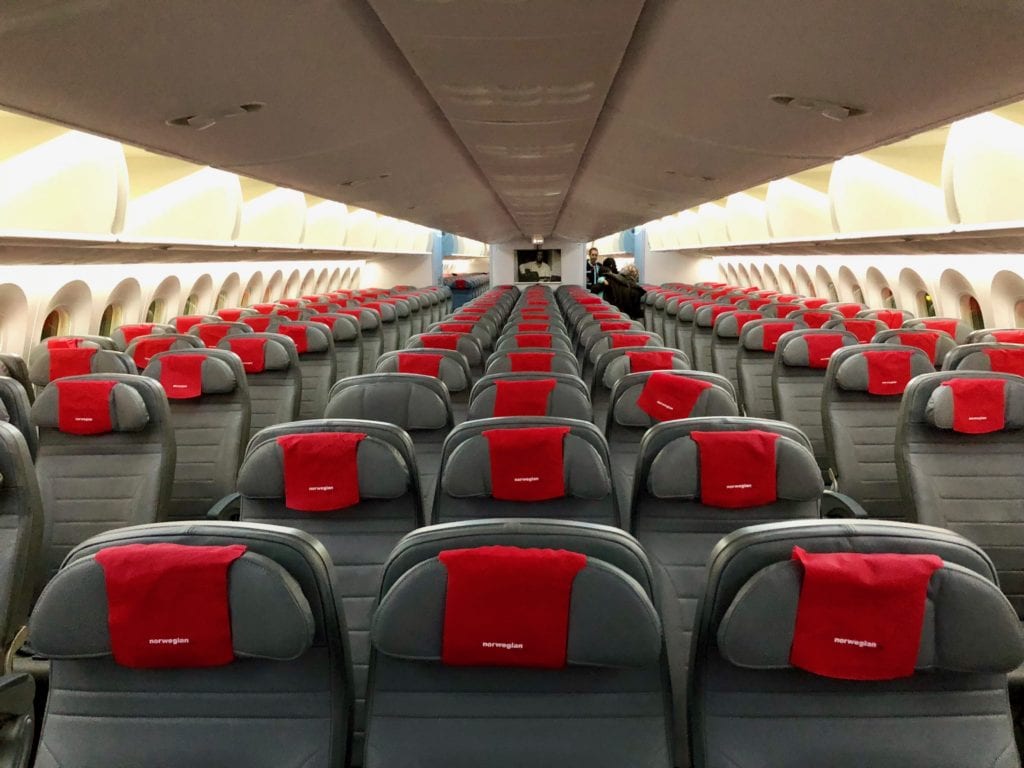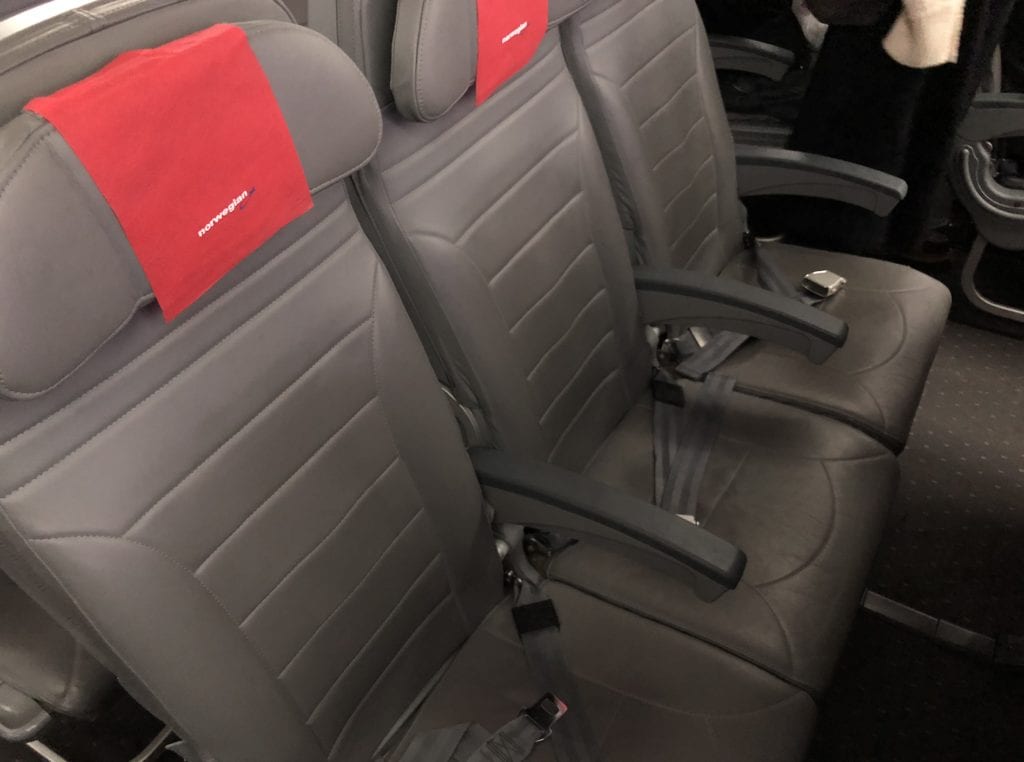 When I got to my aisle near the back of the plane, I was glad to have been one of the first in line to board. It was every woman and man for themselves when it came to finding overhead space. There was a decent amount of space above the seats in the middle since there were overhead compartments on both sides of the middle section, but the left and right aisles were less lucky.
I'd recommend sitting in the middle section of 3 seats for this reason. But of course, if you're flying the cheapest fare option you don't get to pick your seat.
Considering everyone in economy could bring on a carry-on and personal item for free, things filled up very quickly. Of course, nobody wanted items under the seat in front of them, especially with the limited seat pitch, so people were shoving their items overhead. This makes it crucial to be close to first in line to board when flying Norwegian Economy.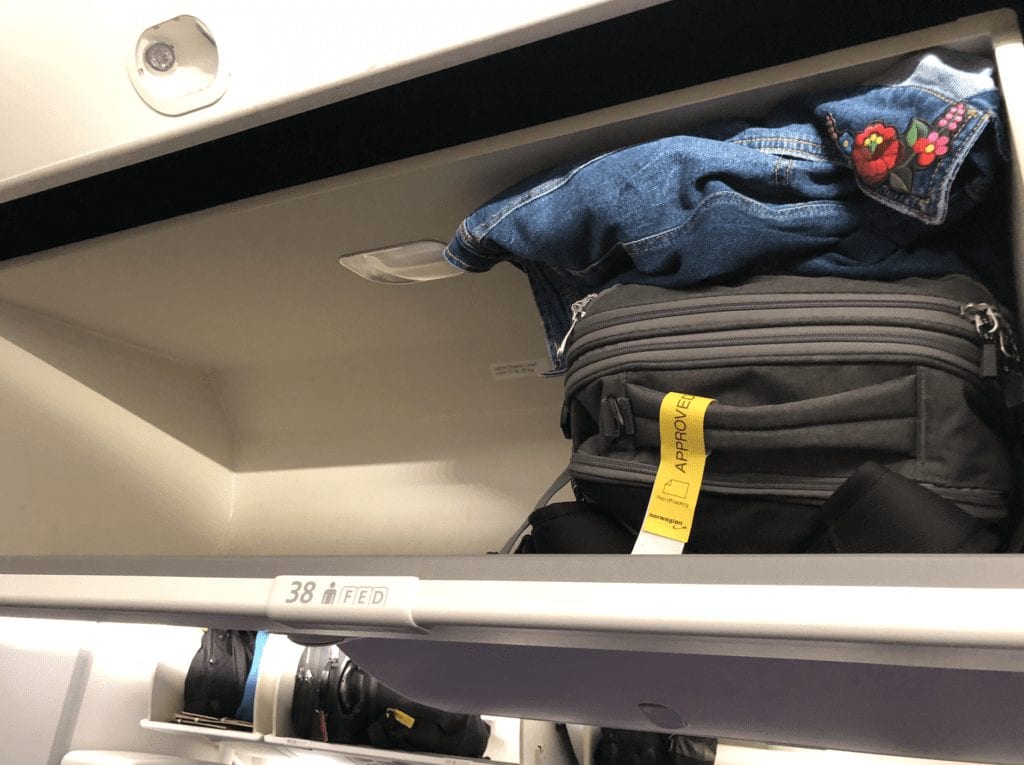 I sat in 38F with only a few rows behind me. I was very glad to have been assigned to a seat in the middle aisle. I had easy access to standing up and moving around. Plus, the middle seat ended up being empty so I got a little extra legroom on my left side.
Seat pitch is only 31-32 inches on most Norwegian flights (especially on the 787-9 aircraft), so it can feel a bit cramped for these transatlantic flights if you're tall. I'm 5″8, and you can see where my knees landed in comparison to the seat in front of me.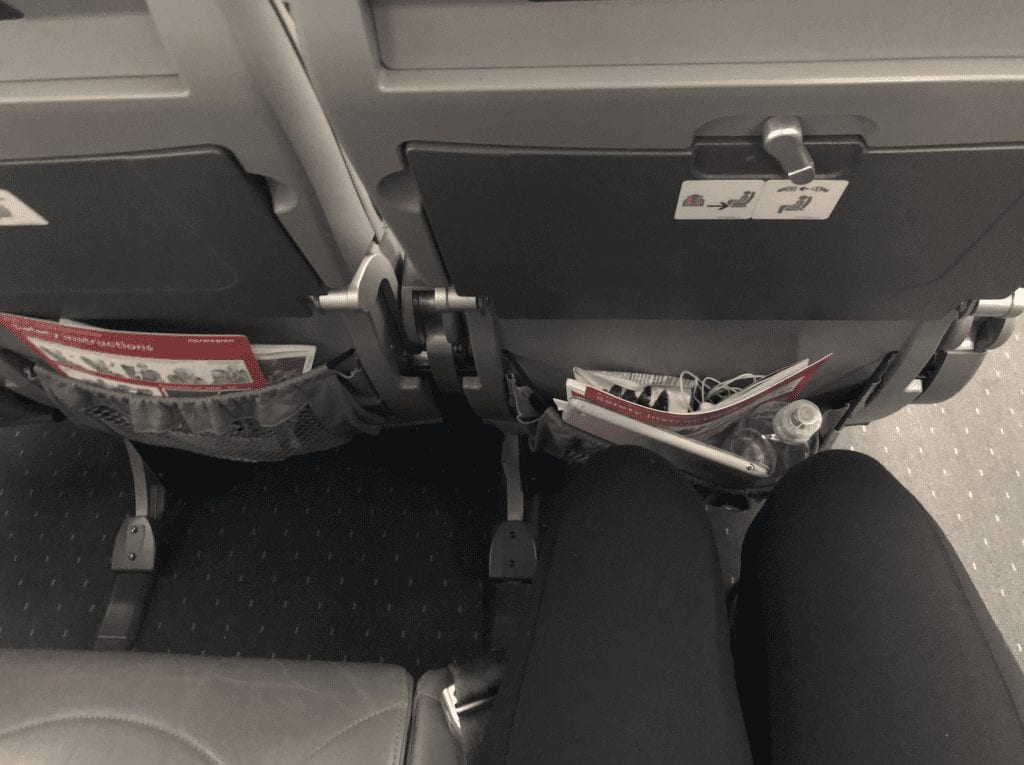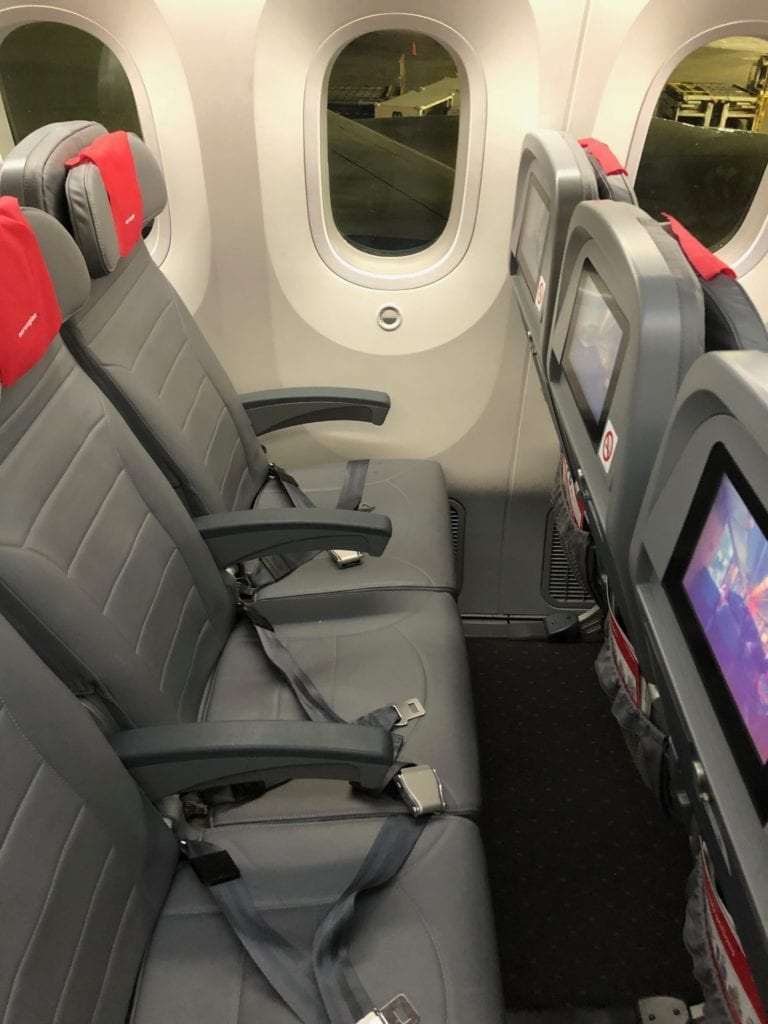 Seats in economy did have seat-back entertainment, which was nice. The touchscreens were great quality and had a USB port to charge electronic devices and headphone jack. During the boarding process, Norwegian screens shuffled through short tidbits about their "Tailfin Heroes" that can also be seen on the tailfin of their plane wraps.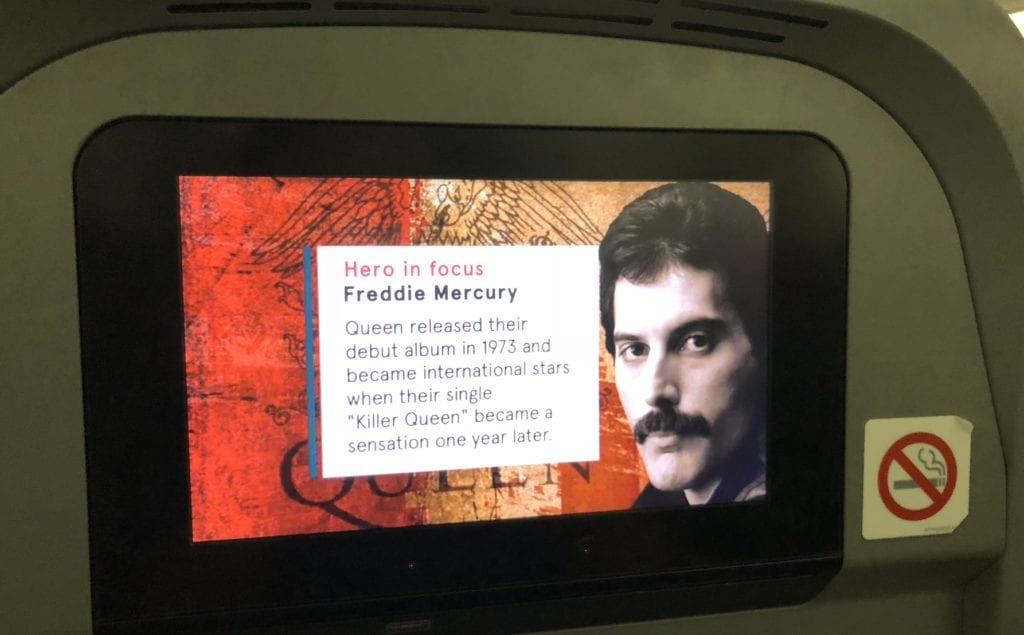 Service
During the boarding process, Norwegian flight attendants were extremely kind and wore some amazing plaid blazers. Attendants assisted several individuals who had heavy carry-on bags to get their items in overhead compartments. All of the attendants spoke English well, although the announcements were a little more difficult to understand.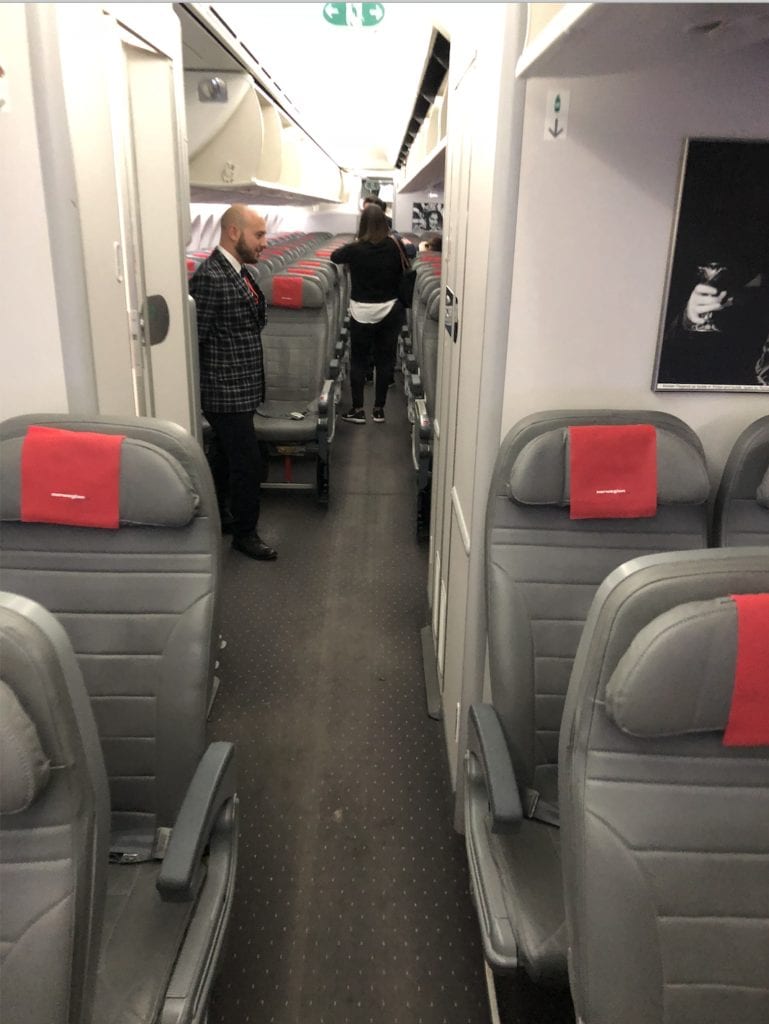 During the boarding process, I noticed that one attendant kept a notepad of things to do to provide excellent service. For example, one woman had lost her partner in the shuffle of boarding and she became worried that her partner hadn't boarded yet. The flight attendant wrote it down and went to look for him.
When he came back to check, the man had arrived, and the attendant said, "Thank goodness you made it!" and crossed it off his list. To me, that's pretty stellar service for a budget carrier.
As we all took our seats, the pilot came on over the intercom and said: "We are nicely on time tonight; it's incredible!". That made me wonder if Norwegian flights are often delayed or late. We ended up taking off 30 minutes earlier than scheduled and arrived 30 minutes early in Paris.
I found it hilarious how abundantly clear they made Premium and economy out to be during my booking, preboarding, and in-flight experience. One of the times I noticed it most was during the safety demonstration video.
For example, economy passengers have to reach for the oxygen mask but Premium seated passengers can pull a streamer and get their's "at the perfect reaching level". Differences like these are more about convenience and small details, but when you hear it in a safety demonstration it makes it seem like Premium is a safer way to fly.
Because food and drink cost extra, the cabin crew didn't have to constantly come around the cabin serving. For this reason, cabin crew were almost completely absent from sight besides the first and last half hour of the flight to serve preordered food to passengers who had paid beforehand.
Food and Drink
For LowFare customers in Economy, no meal is provided. Also, no drinks are provided for free. One can purchase snacks and drinks through the touch screen entertainment system. One can simply swipe most major credit cards on the side of the entertainment system to purchase.
Prices were as cheap as $3 for a snack and $3 for a bottle of water. I knew that meals would cost extra, but didn't think about water costing money as well. I would have packed two water bottles that I had filled in the airport beforehand instead of just one. 6 hours is a long time to go on one water bottle. The system gave you the option to round up to $4 on a water bottle purchase to donate to their charity.
A summary of drink prices: A Heineken was $4.50, the wine was $6.50, smoothies were $2.50, soda was $3, shooters $8, and coffee was $3.
For food options, a hot sandwich was $7, a small salad was $9, and most chips, cookies, and snacks were $3. I packed my own water and snacks and had eaten a meal at the airport prior to boarding, so I didn't make a purchase in-flight.
They also sold duty-free items like Hugo Boss perfume and Bose headphones on this entertainment system.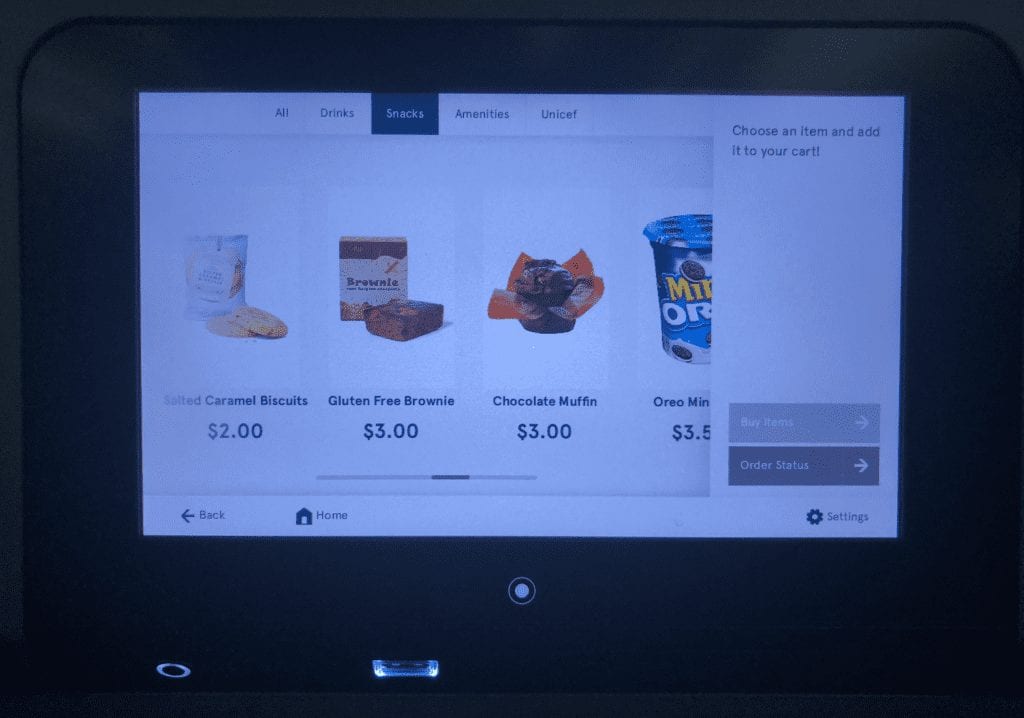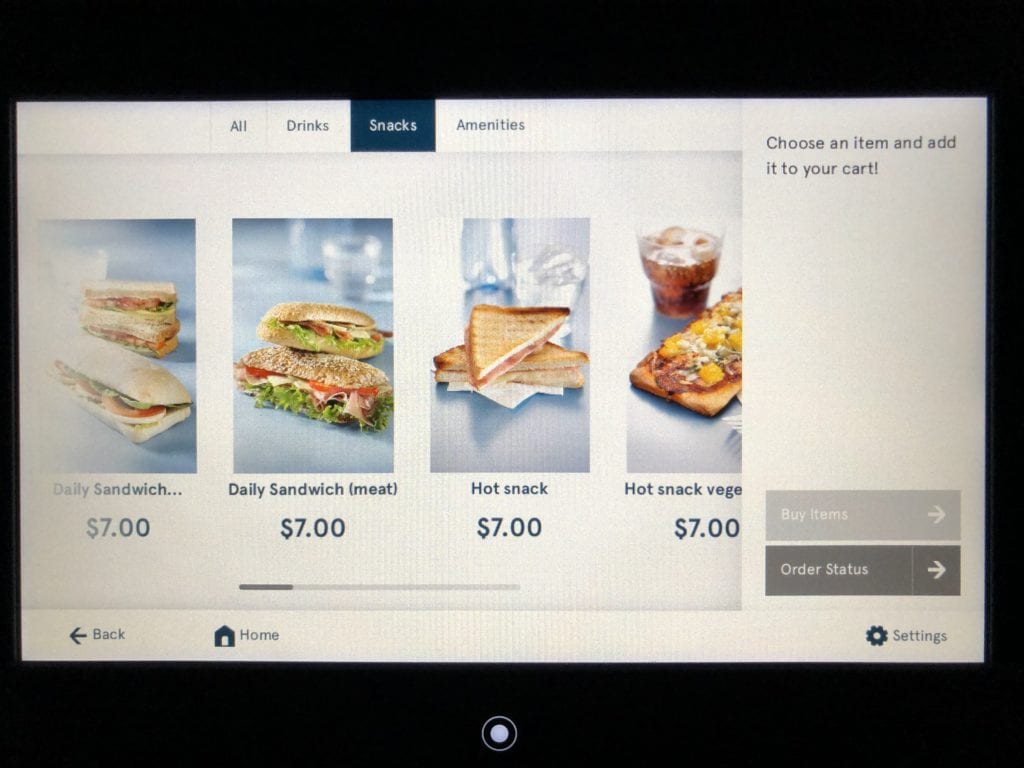 In Flight
The one thing that eased my mind about flying this budget carrier was knowing that I'd be flying on the Boeing 787-9 Dreamliner. The windows on this beautiful aircraft are 65% bigger and have the dimming feature. Calming lights and music set the ambience when boarding and preparing for takeoff.
The plane's fresh air system gave out clean and humid air. The lower cabin pressure is said to leave passengers more rested and with less jet lag after the flight. Maybe I'm drinking the Kool-Aid, but the mood lighting did seem to make me less tired during the flight. It was an insanely smooth ride to Paris.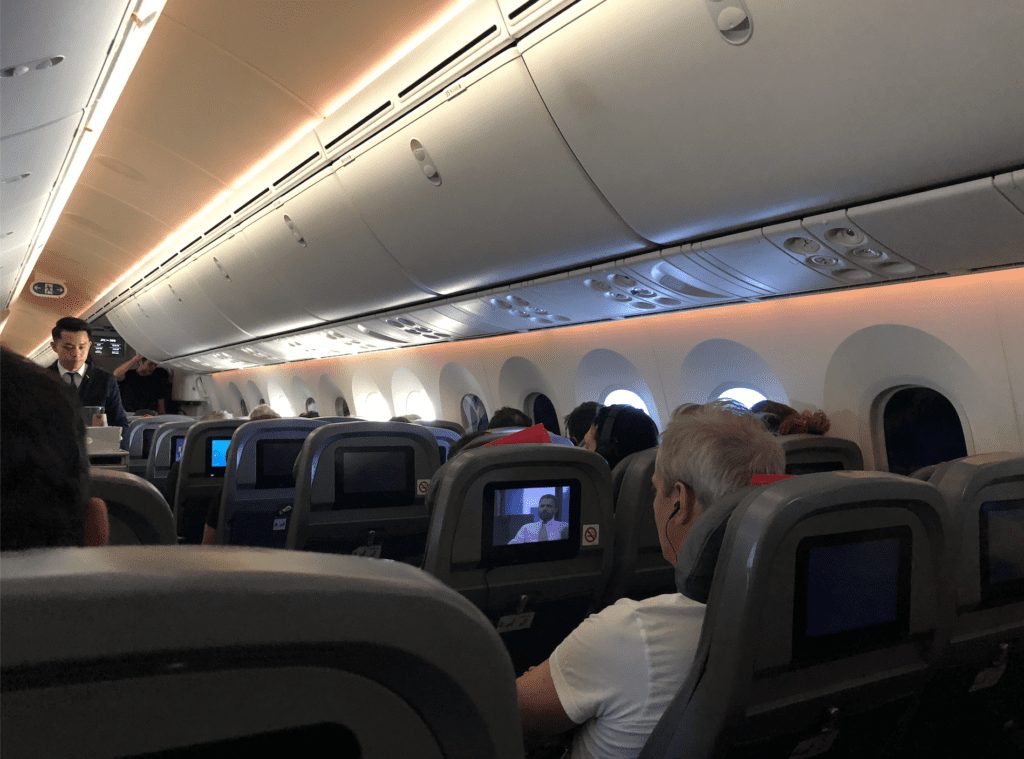 For in-flight entertainment, there were over 150 hours of movies and TV shows onboard. The entertainment system also had a 3D map, through which you could browse points of interest like tourist attractions and restaurants at your destination.
I was able to read about multiple notable attractions and sights in Paris and scroll through pictures to further prepare for my time in the beautiful city. This was a really lovely feature that takes the flight route map to the next level.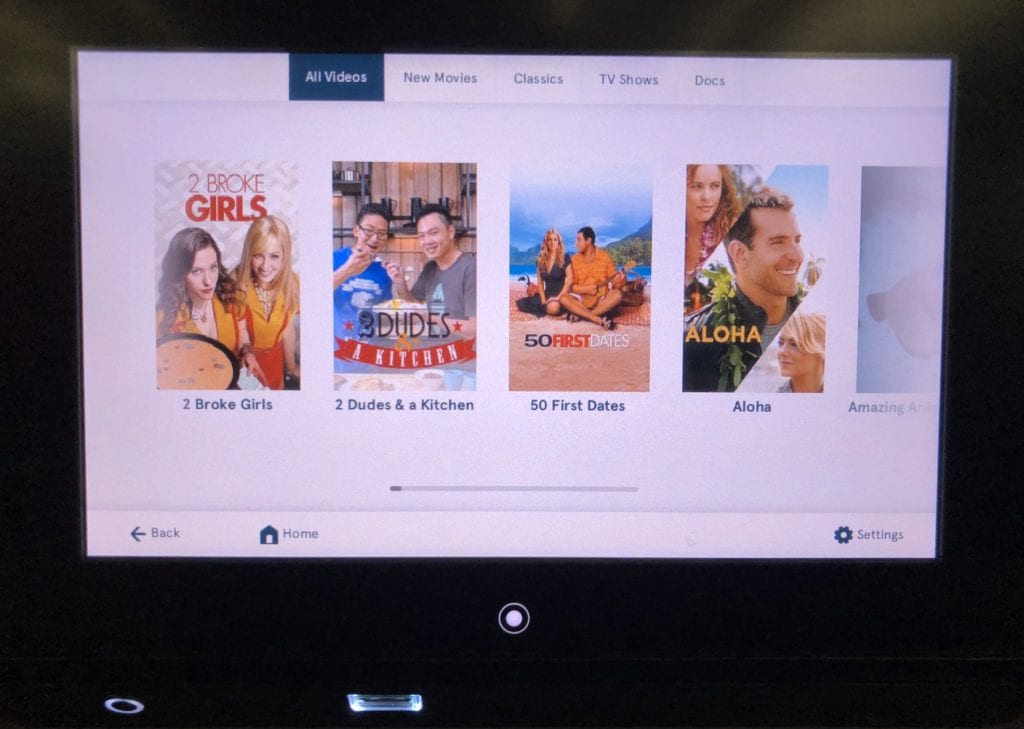 As we landed and prepared to deplane at Charles de Gaulle airport in Paris, the ambient lighting that was present during our boarding process returned. This time in a wave of moving colorful lights. The music and ambiance definitely made me forget that Norwegian was a budget carrier and that I had only paid $211 for this flight (plus change fees).
Bottom Line
My experience flying with Norwegian was definitely one I'd do again. If you don't mind packing for your trip in just a personal item and carry-on bag (which you should do anyway) and sitting wherever, the LowFare class is a great option for hopping the pond to Europe for cheap.
I would highly recommend bringing your own snacks and drinks (especially water). If possible, pack your items into one carry-on bag and put it overhead so you have more legroom beneath the seat in front of you. Other than that, flying Norwegian was honestly pretty on-par with other flights I've taken to Europe.
If you're looking for a cheaper way to fly to Europe and don't mind booking a positioning flight to get to one of their nonstop departure hubs, fly Norwegian. I found the experience to be completely acceptable.