Delta's newest aircraft, the Airbus A350, has gotten plenty of accolades. Much of that has centered on the flashy Delta One Suites, the business class cabin considered among the best in the world.
However, it's time for some attention on Premium Select. That's Delta's name for the hybrid premium economy seats that more and more airlines are rolling out. And this is much more than your typical economy seat with a few extra inches of legroom, like Delta Comfort Plus.
Mrs. Potter was lucky enough to snag a Premium Select seat for a work trip to Seoul, Korea earlier this month. She went on this flight with one question in mind: Is it worth the extra money (or miles) from what you'd pay for a regular economy ticket?
The short answer: Absolutely. Delta Premium Select is a great middle-ground between economy and Delta One that's easily worth the extra money.
Read on for the full review of her flight in Delta's Premium Select cabin from Detroit (DTW) to Seoul-Incheon (ICN) and back home to Minneapolis-St. Paul (MSP) via Atlanta (ATL). One note: This review will weave in content from both legs of the trip to try and paint a fuller picture of what you can expect.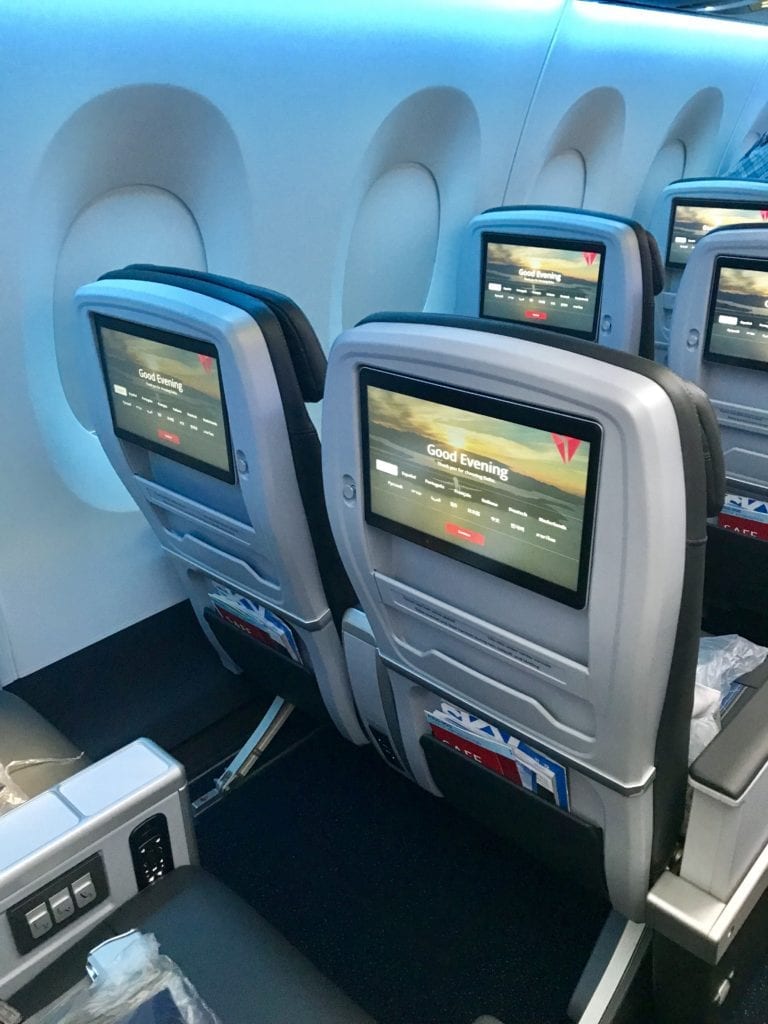 Booking
I paid about $1,550 for the round trip to Seoul, which was roughly $300 more than a main cabin economy seat was selling at the time. That's a pretty standard price differential between the two cabins, though it's not unusual to see a premium of $500 or more to book into Premium Select.
When I booked this ticket, Premium Select on Delta came with a great bonus. I got to enjoy a domestic first class seat at the front of the plane for the short hop from MSP to DTW, and home from  ATL to MSP. Unfortunately, Delta has since downgraded this perk: Premium Select passengers now get a spot in Delta Comfort Plus on connecting flights.  
At the time of publication, most of Delta's A350s fly out of Detroit, with routes to Shanghai Pudong (PVG), Beijing (PEK), Tokyo-Narita (NRT), Seoul-Incheon (ICN) and Amsterdam-Schiphol (AMS). The Delta A350 also flies from Atlanta (ATL) to Seoul (ICN) and service between Los Angeles (LAX) and Shanghai Pudong (PVG) began July 2nd. See all of Delta's A350 routes here.
Delta is clearly proud of these birds, and they make it easy to tell which routes fly them. Look for "FLAGSHIP" during your search to make sure you'll be on the A350. But Delta has gone all-out in overhauling much of its longhaul fleet with both Delta One Suites and Premium Select. The airline also is retrofitting its 777s with the new updated cabin as well, and some 767s will get the same treatment. The same is true for its new Airbus A330-900neos. 
If you're looking to burn SkyMiles to fly the A350, prepare for some headaches. While Premium Select was incredibly cheap when the A350 first rolled out, it has gotten pricey since then. The lowest rates I could find were 64,000 SkyMiles for one-way flights between DTW-NRT and ATL-ICN, with the best availability just a month out from departure. Meanwhile, many routes were 135,000 SkyMiles or more for Premium Select, which is not a great redemption.
Thrifty Tip #1: To find the best rates, use the Price Calendar search feature and narrow your search to nonstop fares in Premium Select. That should eliminate other routes that aren't on A350s from your results.
Cabin
Delta's Premium Select cabin is laid out with 6 rows in a 2-4-2 configuration. This gives the entire section an extra feeling of spaciousness. It's airy and bright, and there's no question these planes are Delta's latest and greatest.

There's a small divider at the back of the cabin to section off the regular economy cabin, and a full bulkhead and galley separating the Delta One cabin. That gives the cabin a feel of intimacy and even a bit of exclusivity.

There isn't a bad seat in the house. If you're traveling alone or with a companion in Premium Select, your go-to seats should be those 2-seater sections on the wing sides.
While bulkheads may give you some extra legroom, the pitch you get in every row should be plenty. Plus, bulkhead seats come with the trade-off of a smaller entertainment screen in your armrest. You also may notice more disruption from travelers and flight attendants moving in and out of the galley in front of you.

No matter where you're sitting, the main selling point of the A350 is a more comfortable experience. Like the new generation of Boeing 787s, the cabin pressure is higher (closer to sea level) than your typical aircraft so you feel a bit better when you arrive at your destination. It's also equipped with some fancy mood lighting which can mimic sunrise and sunset. And the engines are substantially quieter.
On this front, I can't say the A350 lived up to the hype. The aircraft is noticeably quieter than the Boeing 747 it replaced and I also felt better on arrival. 

Seats
At 18.5 inches wide with 38 inches of pitch (or legroom), each Delta Premium Select seat feels substantially larger than a standard economy seat. Considering a standard economy seat has 32 inches of legroom at most, that's a big improvement. These seats made the biggest difference in making this a big step up. 

The larger width meant there was none of the shoulder bumping that I'm used to in long-haul economy. That additional space meant I could shift around a bit while trying to sleep. And the armrests are large enough that I'd never hit arms or elbows with my neighbor unless I tried to.
The seats are nearly brand new, and they feel like it. The leather is high-quality, and the padding also felt a step above a normal economy seat.

The middle armrests are far more spacious than what I'm accustomed to in economy, with ample space for both my arms and a neighbor as well. You can rest a drink here with ease, and there's also a small storage space that would fit a passport, small phone, etc.
Storage and power ports are two areas where Premium select seats fall a bit short. Your storage options aren't much different than in economy, which didn't bother me but could pose problems for others. Aside from the small space in the armrest, you just have the seat back and space under the seat in front.
The only option to charge devices is a shared power bank between the two seats in front of you. Delta does not have a USB port on its entertainment screen in Premium Select as it does in other planes.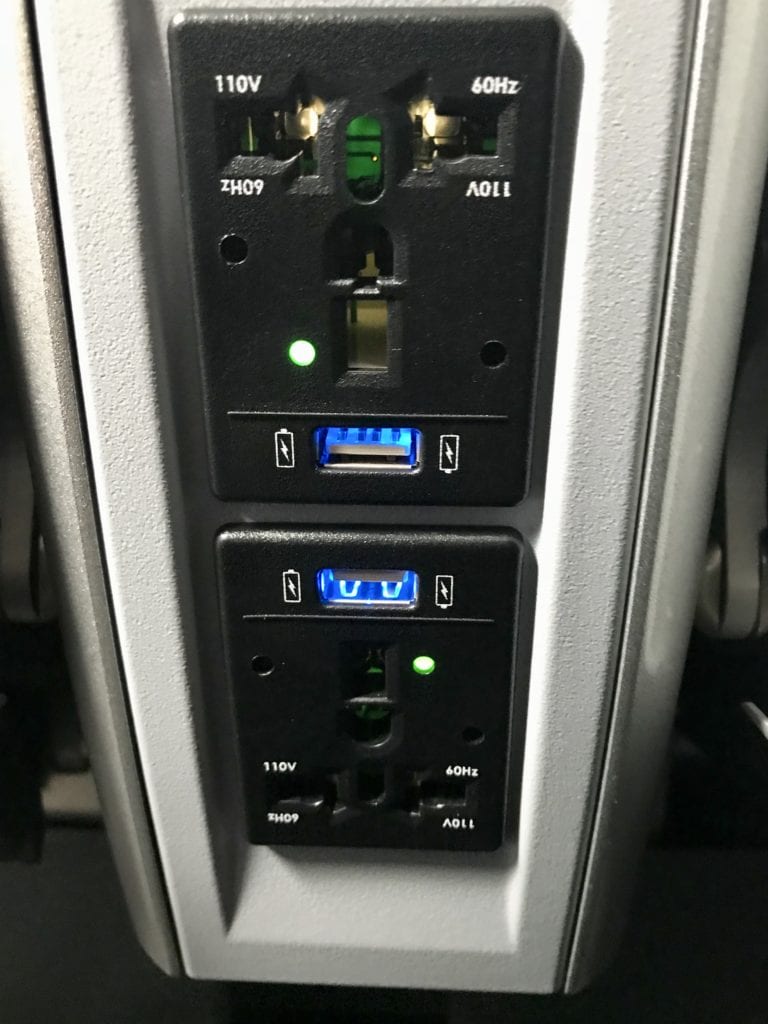 The inclusion of a pop-out leg rest, not just a footrest, was a game-changer. Especially for shorter people like me, it was great to support my legs while reclining or sleeping.
The seat controls are mostly intuitive, controlling the recline, leg, and footrest. I'm not sure if my controls were wonky, but I needed to manually pull up and push down the leg rest itself after it was popped out. Either way, it was easy and comfortable.

In general, these Premium Select seats feel more like the big recliners in Delta's domestic first class than a regular economy seat. Sitting on a plane for 13 hours may never be enjoyable, but the extra space and padding made it far more comfortable and beyond tolerable.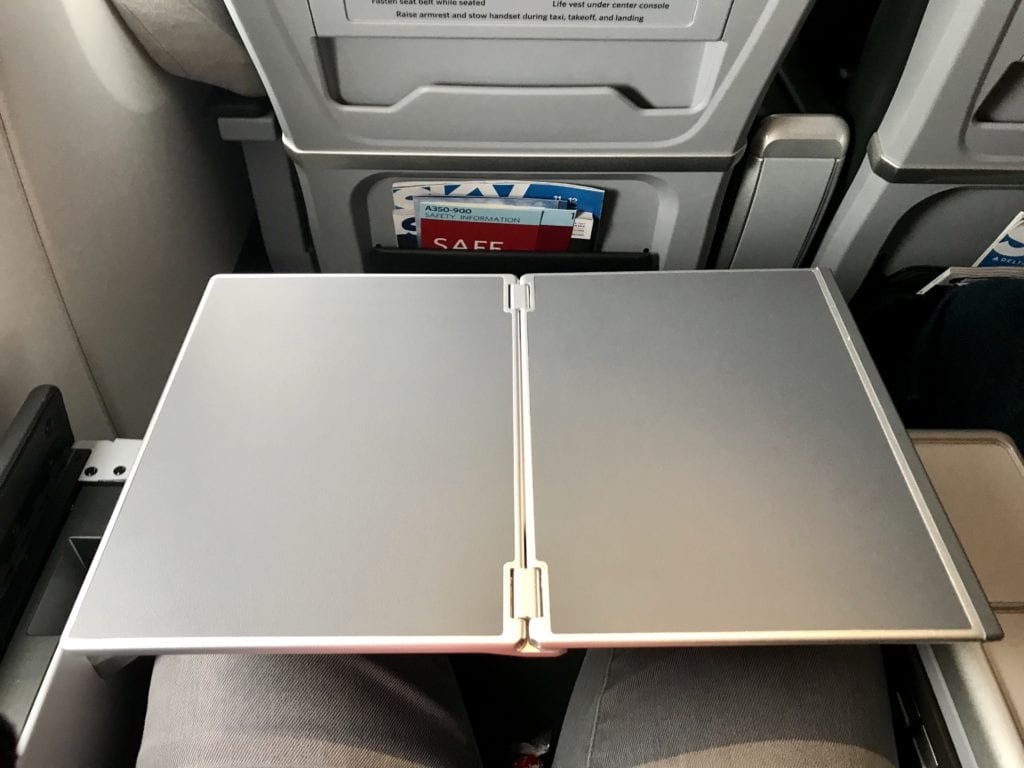 Entertainment & Amenities
After sitting down, the first thing I noticed was the entertainment screen. At 13.3 inches, it's huge. And better yet, the display was incredibly crisp. You can operate the screen by touch or with a small remote by the seat controls below the armrest.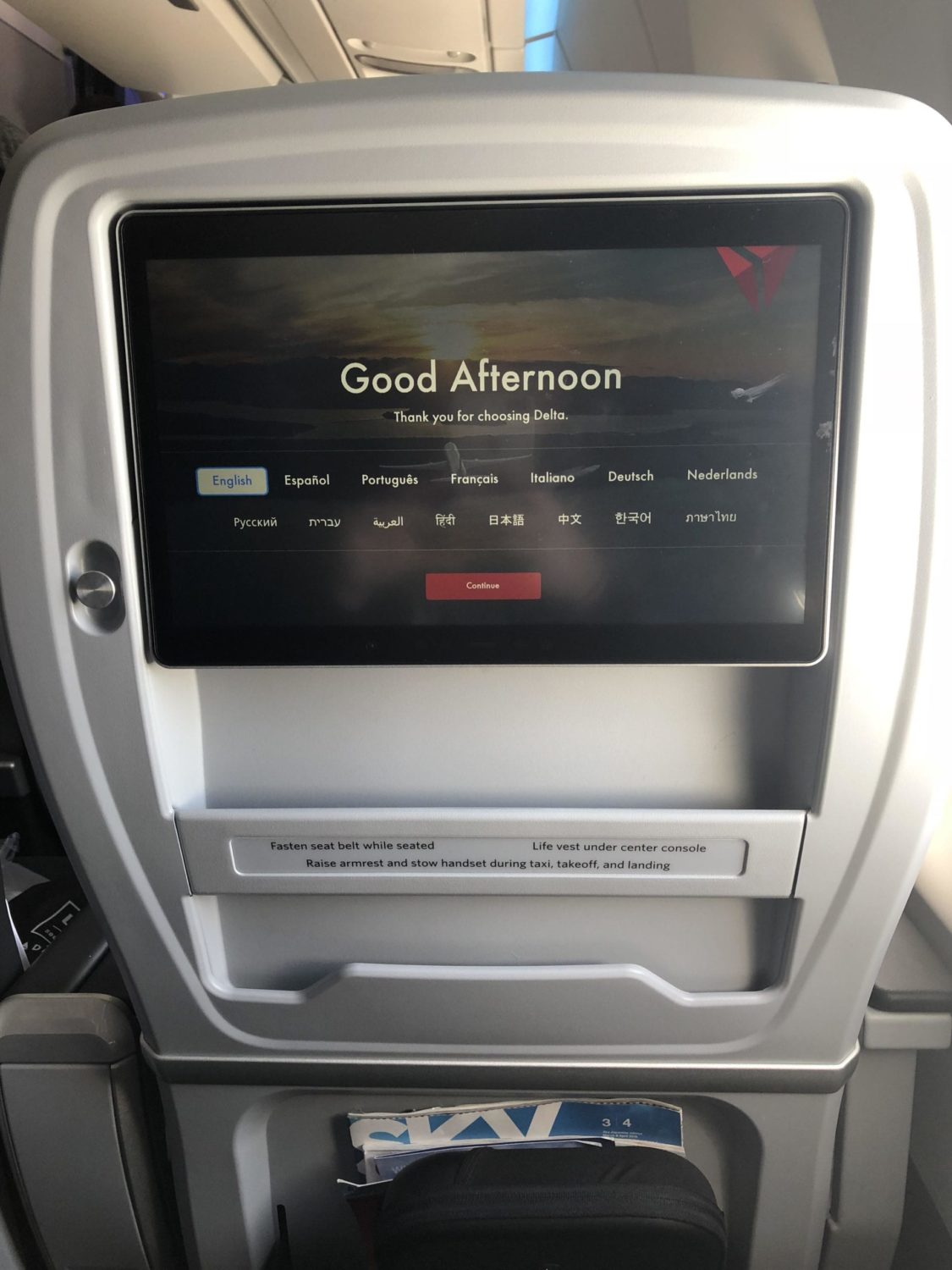 Like all international Delta flights, it was well stocked with movies and TV shows. After 26 hours in the air, I can honestly say I never ran out of things I wanted to watch.

Waiting at my seat was a pair of Delta-branded noise-canceling LSTN headphones, the same that Delta One passengers get. While the sound was decent, they were extremely uncomfortable. I used them for just a few minutes before opting to use my own pair. I'd highly recommend you bring your own headphones in case you feel the same way I do.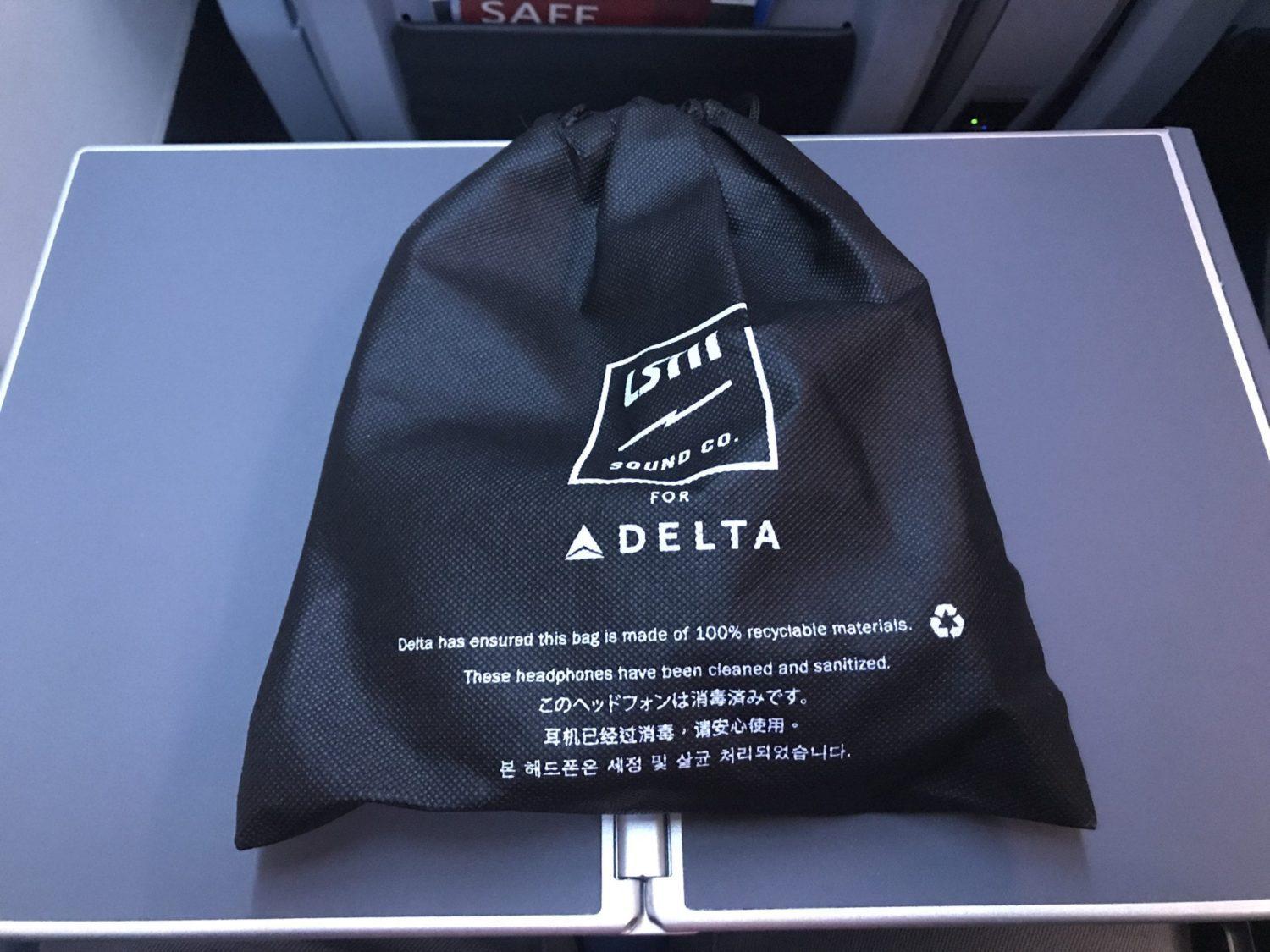 Also waiting at the seat was a Tumi amenity kit, a small leather pouch. Inside was an eye mask, pair of socks, a toothbrush and toothpaste and some Malin + Goetz lotion. This was simple but a nice touch, and just another way that Premium Select felt a step above economy.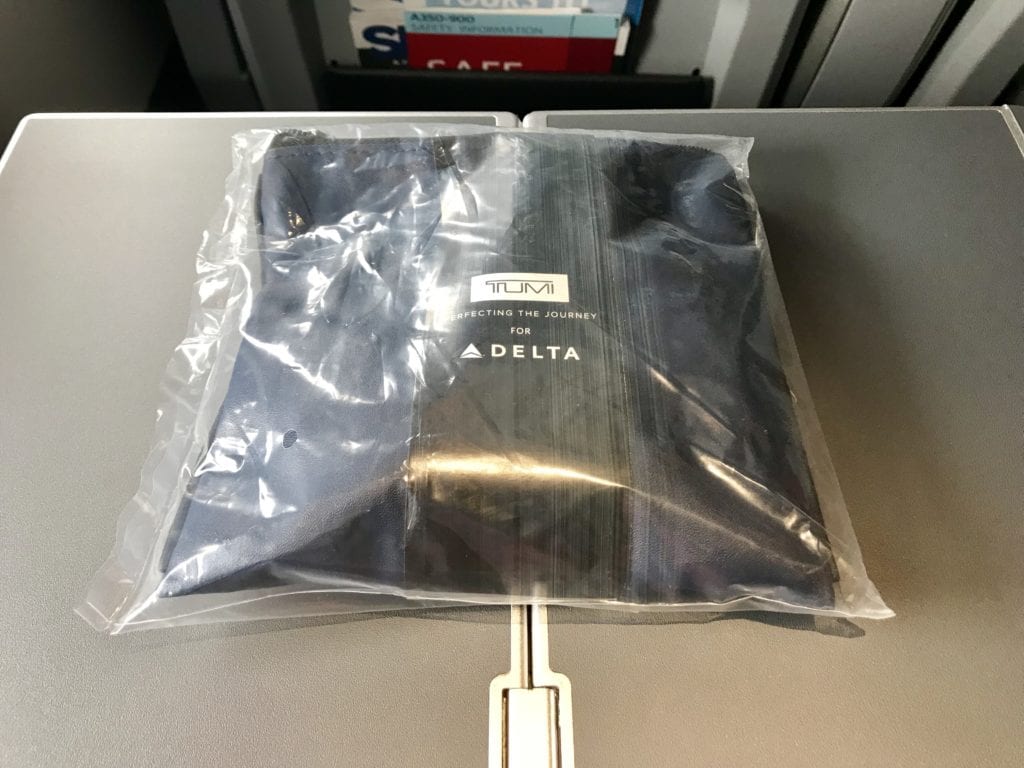 My favorite amenity by far was the pillow. Plush, large and stuffed inside a real cotton case, it was miles better than the tiny economy pillows that feel like they're covered in scratchy gauze.

The Westin branded blanket wasn't quite as notable, but definitely better than an economy offering as well.

Service
I'm not sure whether I got lucky with a good crew or if it was just another benefit of Premium Select. But service on both of my flights was outstanding. The service began almost immediately after getting seated as flight attendants offered a choice of orange juice, sparkling wine or water.
Throughout the 14-hour journeys, every flight attendant was warm and attentive. Fliers on domestic airlines can attest that this isn't always the case, even on long-haul international flights.
On the flight home from ICN, the flight attendant working my aisle was truly exceptional. She addressed me and every single passenger by our last names, was proactive in offering refills, and seeing if there was anything she could do.
In short, the service in Premium Select was far better than anything I've ever experienced while flying economy.
Dining
The impressive aspects of eating in Delta Premium Select started before even seeing a morsel of food. That's because the flight attendants laid out a small white tablecloth over our trays and handed out warm towels before serving each meal. The thick cardstock menus were both pretty and useful. Much better than selecting "chicken or beef."

The extra touches didn't stop there. Every meal in Premium Select is served on real dinnerware, not the containers in economy. Delta uses plates, glasses, and silverware from Italian designer Alessi. I can't overstate how nice it was to have real cutlery rather than plastic utensils.
As in domestic first class, every meal was served at once on a tray. As for the meals themselves, most were good and easily better than what you'd get in economy. Few, however, were outstanding or memorable. Based on Mr. TT's experience flying Premium Select, the food is a mix of what is actually served in Delta One, and also what is served in economy. 
My first meal was delicious, and easily one of the best I've eaten on an airplane. I picked the Cacio e Pepe ravioli, and everything from the salad to the dessert was well done.

The ravioli wasn't soggy or overcooked and the asparagus was (amazingly) still crisp, not mushy. While small, the vegetables in the side salad were also crisp and the dressing was full of flavor. The apricots with ricotta, prosciutto and honey was a creative but delicious combination. For dessert, a small chocolate mousse hit the spot.
A few hours after the first meal, flight attendants came around with snack options. A small flatbread pizza and Magnum ice cream bars were decent but nothing more. The snack options are the same that were offered to economy passengers. 

As with all international flights, you can have your fill of alcoholic drinks for free. And the choices in Premium Select are expansive, though nothing truly top-shelf. Your wine selections are simply white, red or sparkling, though all are drinkable.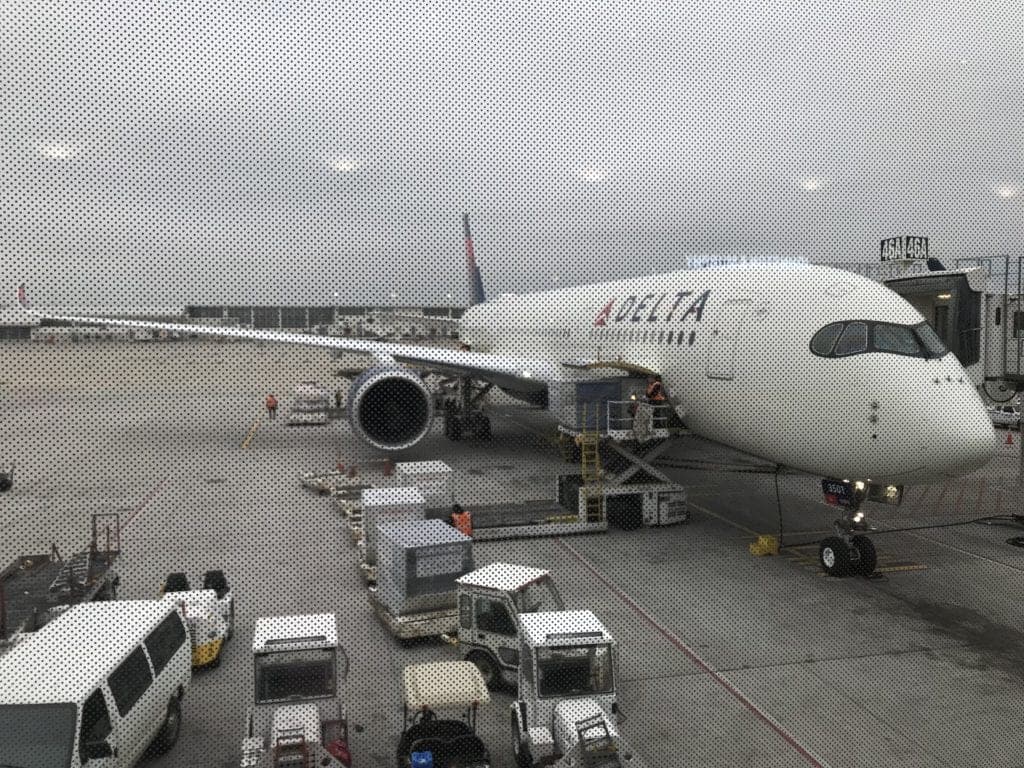 Bottom Line
Delta found a way to make the Premium Select seats bigger and more comfortable while mixing in some business class touches that make it head and shoulders better than a ride in main cabin economy. Considering it's just a few hundred dollars more for a round trip, Premium Select should be a no-brainer for a long trip across the Pacific Ocean.
I'd book this ticket again in a heartbeat.