When you're splurging to fly business class to Europe, you want a comfortable seat, storage for your things, a good meal, and a solid sleep. Some great service throughout just elevates it.
That's Swiss business class. After a recent flight from Chicago-O'Hare (ORD) to Zurich (ZRH) on their Boeing 777, it stands out among the many options to fly business class to Europe – especially more popular domestic carriers thanks to lie-flat seats and food and wine that were a big step above what you'll find in the U.S.
Check out what we thought of our first Swiss experience.

How to Book Swiss Business Class
Flights in Swiss business class – or any business class to Europe and back, for that matter – are regularly $5,000 roundtrip or more. Don't do that.
Because it's part of the Star Alliance, there are a handful of ways you can book using points and miles, including:
United MileagePlus: 74,000 miles each way
Air Canada Aeroplan: 70,000 miles each way
Avianca LifeMiles: 63,000 miles each way
ANA Mileage Club: 88,000 miles roundtrip.
At 88,000 miles roundtrip, booking with ANA is a slam dunk … at least on paper. It's typically one of the best ways to book flights to Europe in business class. But with $800-plus in fees and no ability to book one-way flights, that was a no-go.
So we booked our one-way flights from Chicago-O'Hare (ORD) to Zurich (ZRH) using 63,000 Avianca LifeMiles and just $49 in taxes and fees each. It was easy to book for two or more – the award availability in Swiss business class is frequently wide open. Plus, points are transferrable to LifeMiles from Amex Membership Rewards, Capital One Venture Miles, and Citi ThankYou Points.

But paying cash isn't always such a bad option. Through Thrifty Traveler Premium, we have seen seats on this route as low as $1,525.
Checking In, Lounge Access & Boarding
Swiss (and most international airlines) depart out of Terminal 5 at Chicago-O'Hare (ORD).
Upon arrival, we were required to check in at the counter – online check-in was not available, as agents needed to check our passports and CDC vaccine cards to fly to Switzerland. Thankfully, we were several hours early for our flight, which made check-in a breeze – there was no one in line.

We were offered to upgrade to Swiss First Class via online check-in for $1,499 each. Swiss First Class is nearly impossible to book with points and miles – and it's a big upgrade over business class.
But it may not make sense to pay that hefty upgrade for a flight departing Chicago, as there are no first class lounges in Terminal 5 at O'Hare. Departing from Zurich, we would have given it much more thought to take advantage of Swiss's beautiful lounges at its Zurich (ZRH) hub.
That said I don't think it makes sense to book it from Chicago as there are no first class lounges, so you wouldn't get the whole first class experience. If we were departing from Zurich, we definitely would have considered the upgrade offer as Swiss has beautiful lounges in Zurich.
That's not the case in Chicago. While there's normal a Swiss Lounge open for use near gate M7, it's been closed throughout much of the pandemic. Instead, there was a Swissport lounge with very basic amenities. And if you are expecting a luxurious lounge experience, the Swissport Lounge is not it.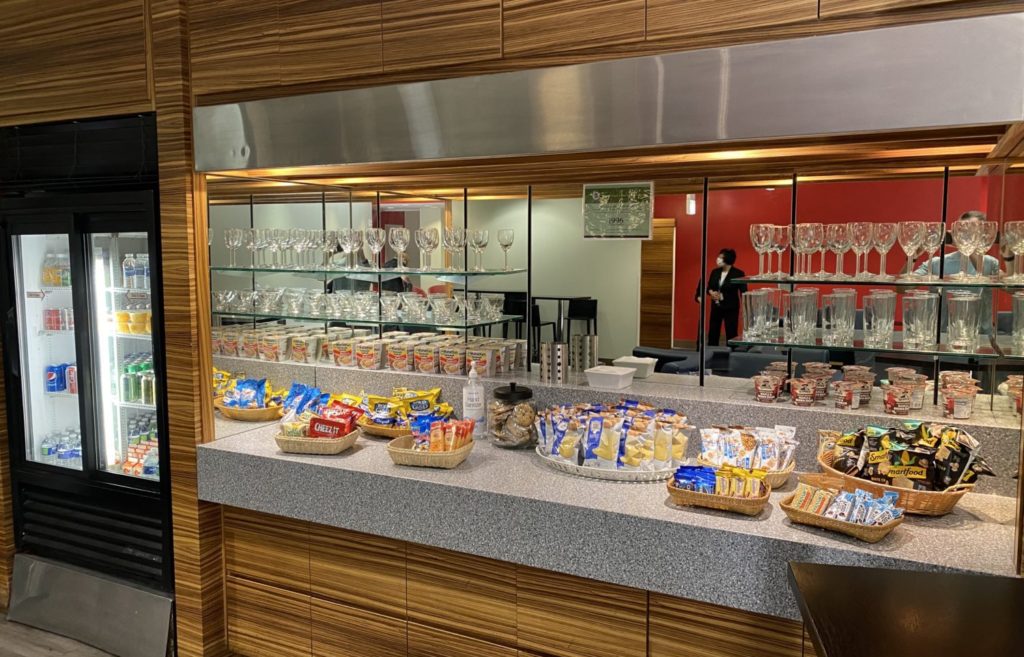 There were some food options including bags of chips, oatmeal, and ramen. The only beverages available were nonalcoholic drinks including soda, water, and coffee. Alcohol service has been temporarily suspended. The lounge itself is small, but it was also very empty.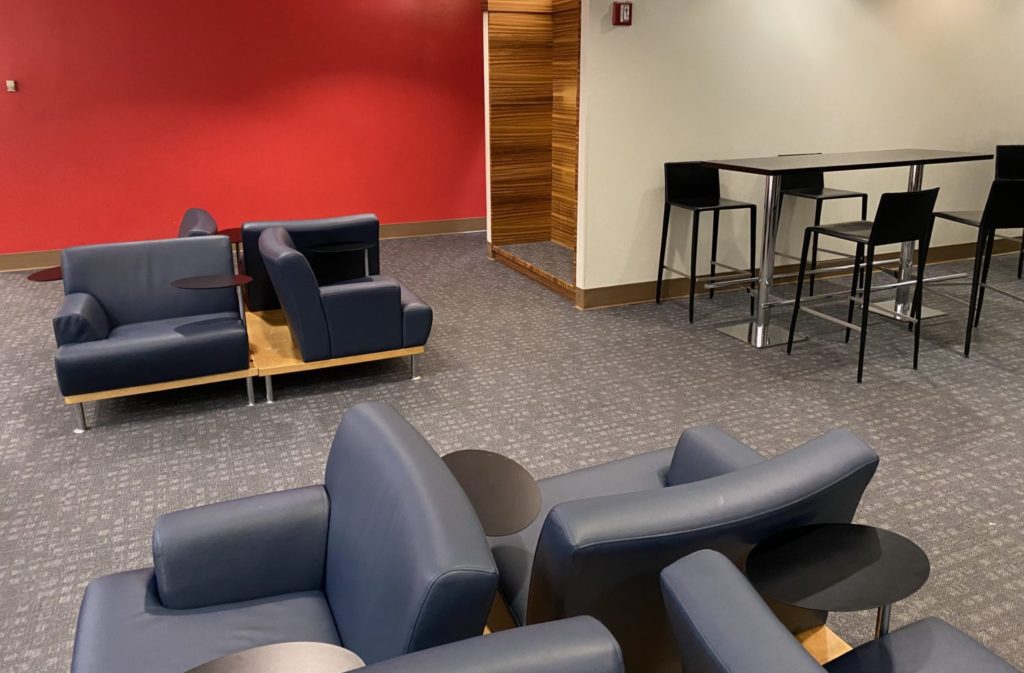 We ended up going to the Air France-KLM lounge nearby using our Priority Pass membership instead because it had more food and drink options. Once United Polaris Lounges reopen, you would have access to it as a Star Alliance business class flyer – but you'd have to leave security and venture over to Terminal 1 to get in.
Swiss's Boeing 777-300ER was on time at gate M17. Gate agents checked boarding passes and boarded first and business class and later economy passengers. The boarding process was efficient and started on time.

Everyone boarded through the business class door, including economy passengers. If you want to be seated in a quieter part of the business class cabin, you could book seats in the mini-cabin to the left as you walk in, in rows 4 or 5.

Swiss Business Class Cabin
As you board the aircraft, all passengers are greeted with "Welcome" in English as well as Switzerland's four official languages, German, French, Italian, and Romansh. While most probably don't notice, it's a great way to highlight Switzerland's multilingual society.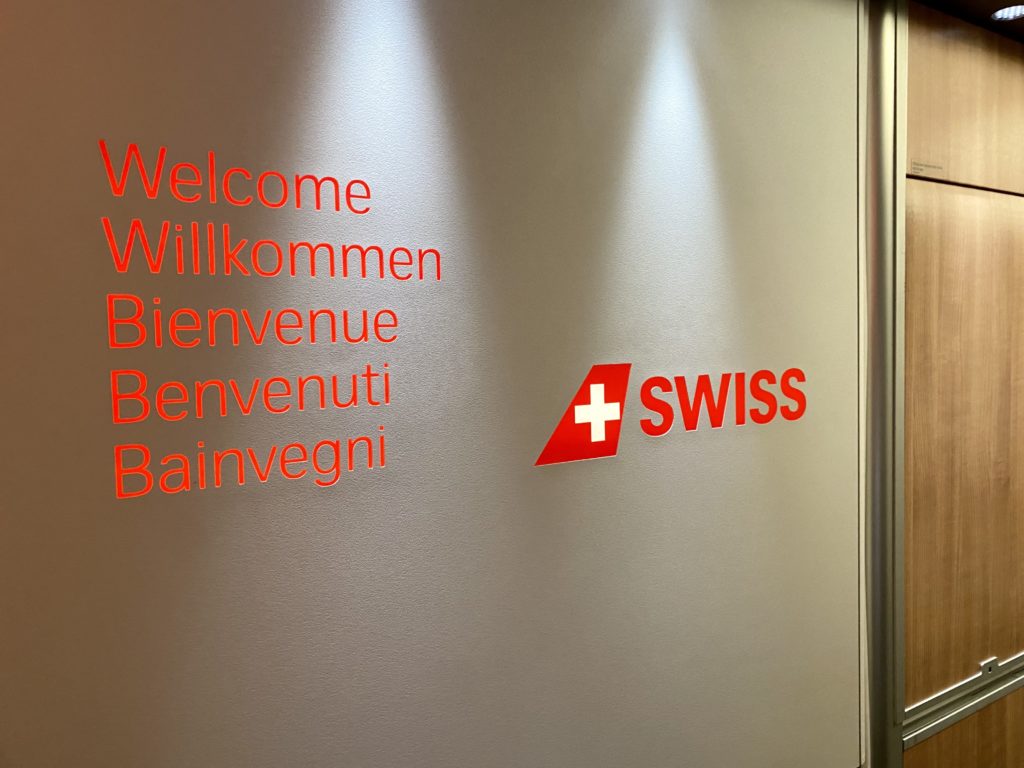 The business class cabin itself appeared relatively new and the large cabin with 62 seats showed little wear, thanks to a fairly recent refresh of nearly every plane in the Swiss fleet. The wood tones and seat designs work well. The cabin itself was clean and aesthetically pleasing – simply, very Swiss.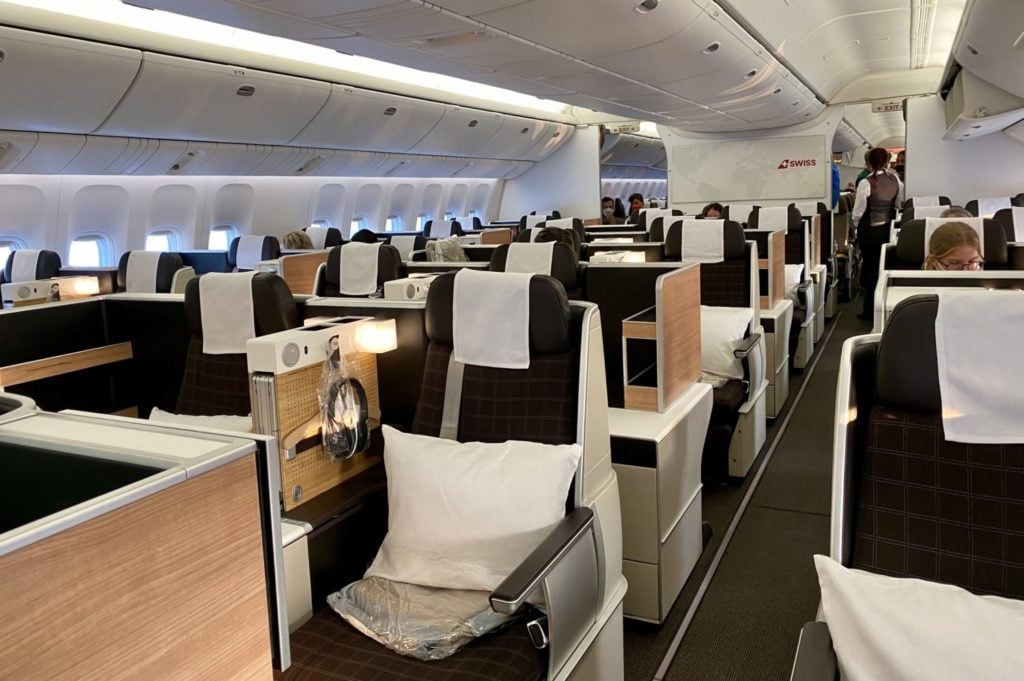 The business class bathrooms were nothing special, but they were clean. The flight attendants seemed to clean the restrooms multiple times throughout the flight.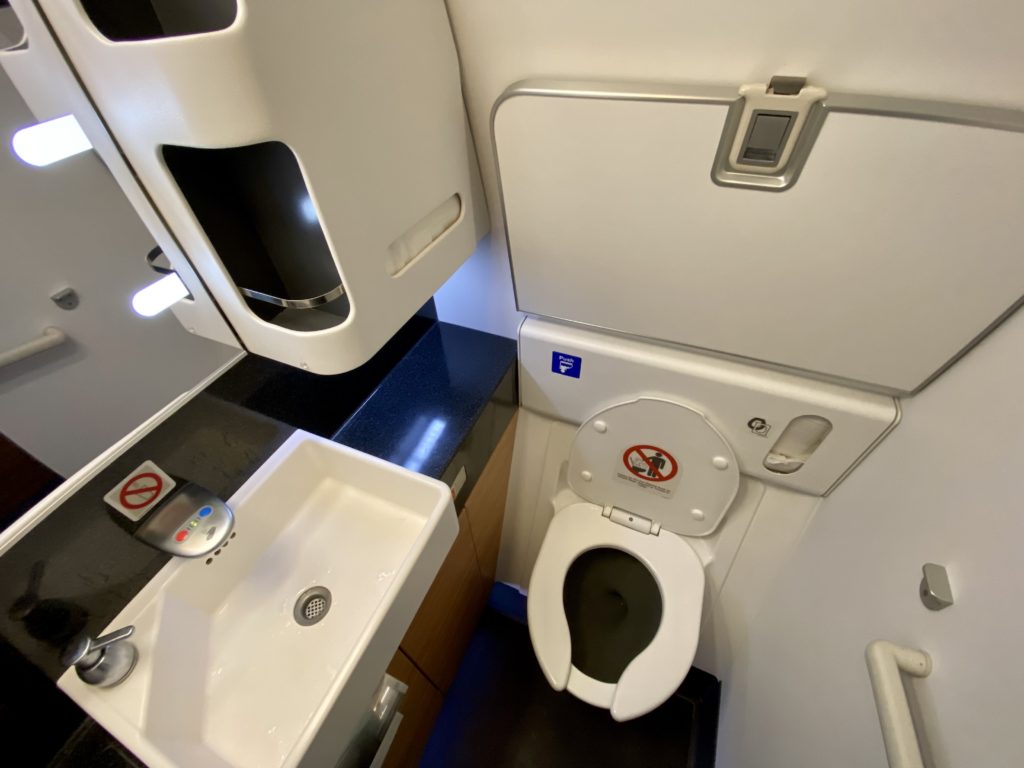 Swiss Business Class Seats
Swiss business class seats aren't nearly as fancy as what you'll find on several other carriers. But they're spacious, with plenty of storage for any items you're bringing with. While they're not the best for couples you'll find in the skies, middle seats are still quite nice for couples or friends traveling together.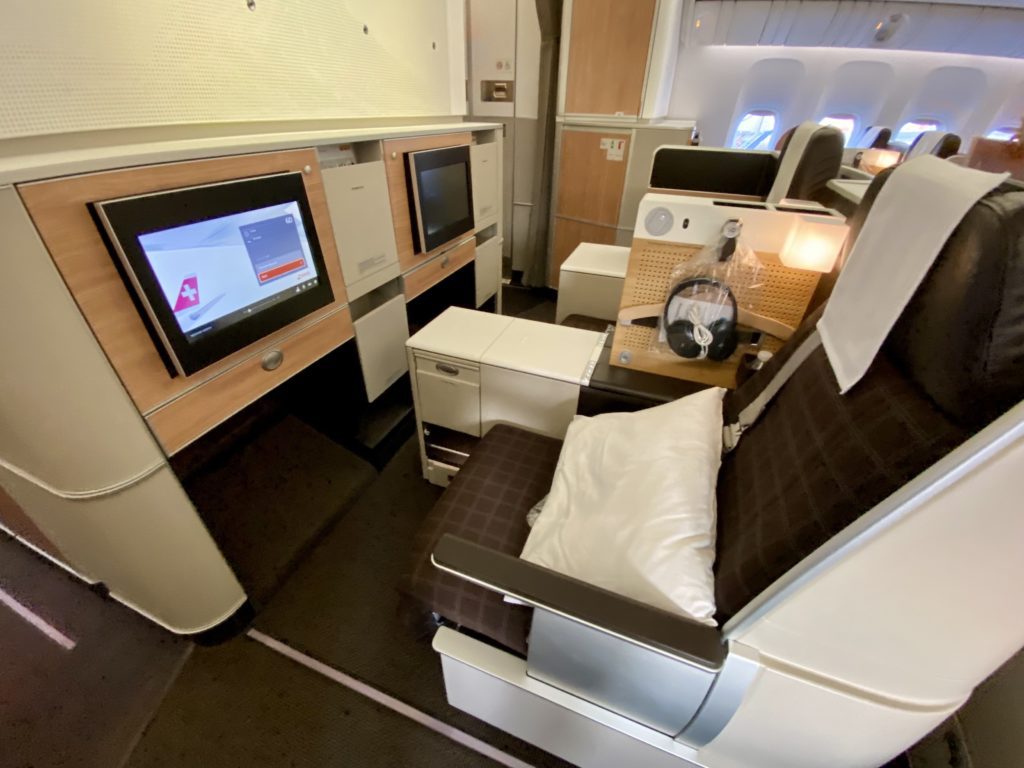 But some seats in Swiss business class are much, much better than others. They're affectionately dubbed the "throne" seat. There are 11 of these single seats in all across the cabin, with more privacy, storage, and wide side tables on either side. I sat in seat 9A and Jared sat in seat 7A (pictured below) which is situated right behind the restrooms and galley.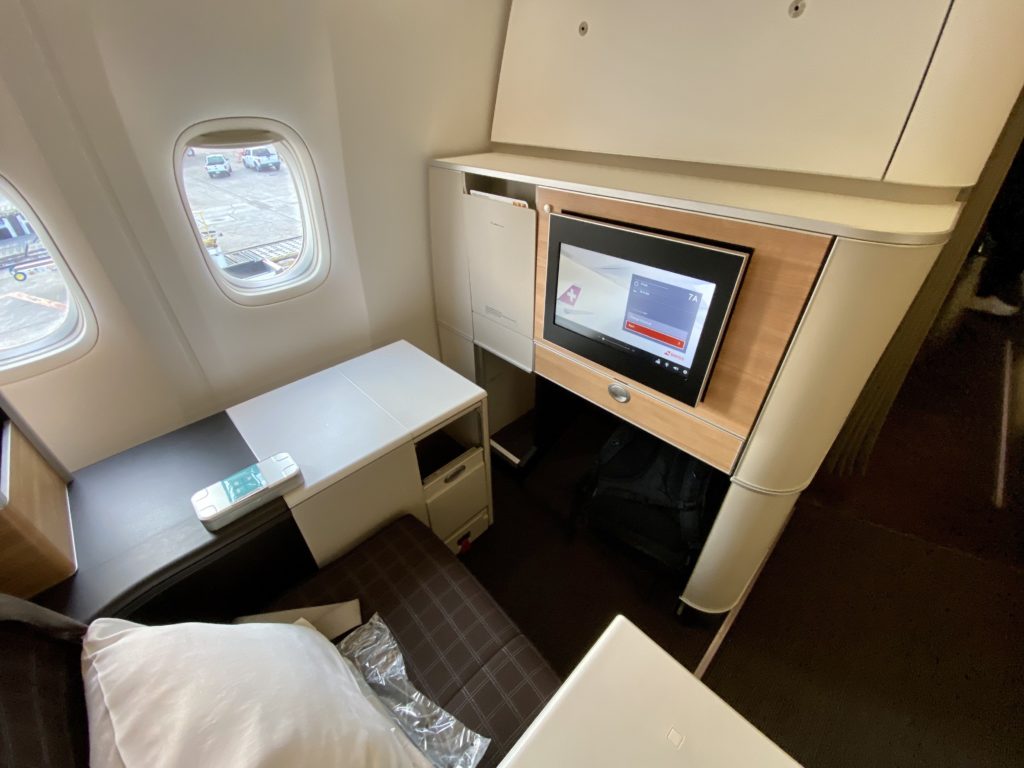 When booked in advance these "throne" seats cost an extra $160. But you can change your seat selection to an available seat for free 24 hours in advance, at least so long as some are available.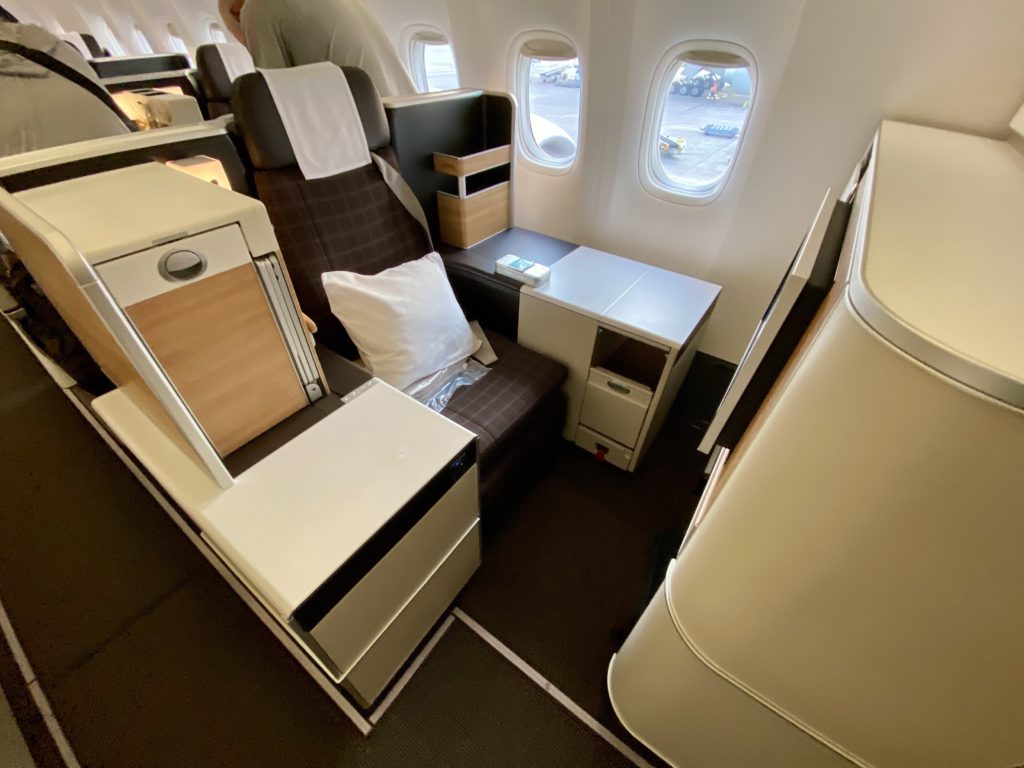 There was no question that the 7A bulkhead seat has much more legroom and room in the footwell than did our 9A seat. Definitely try to snag one of those bulkhead seats if you can.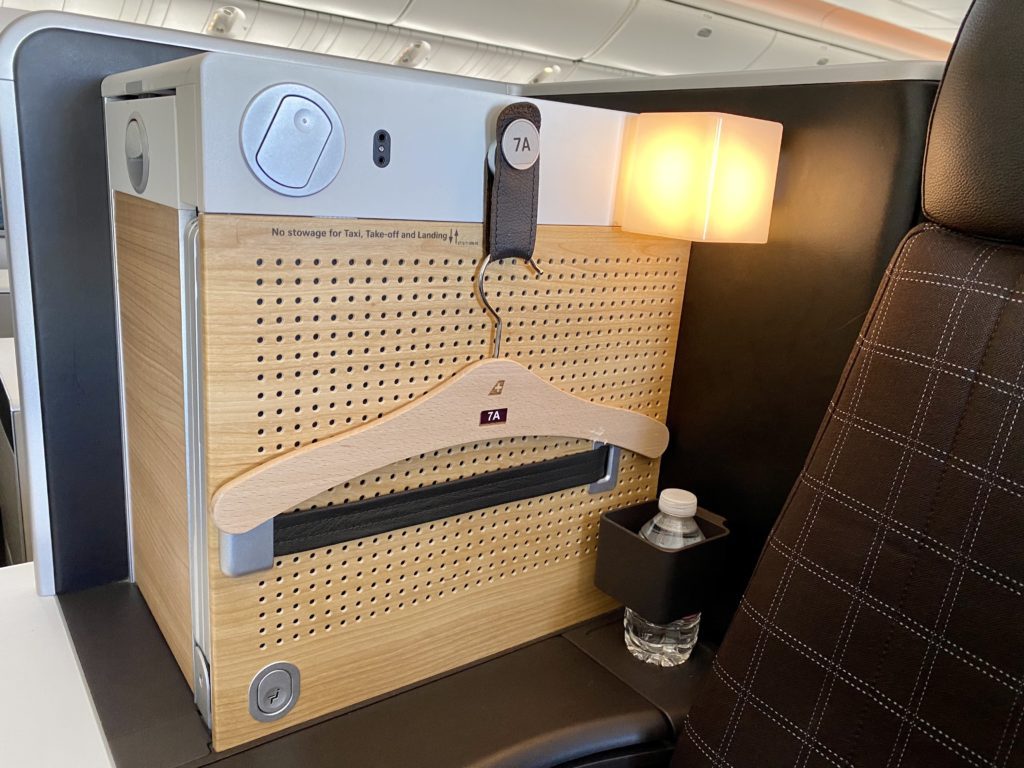 The right-hand side of your seat includes additional stores and houses your tray table. I loved the leather strap with your seat number "7A" and the labeled hanger. These small touches help set the cabin apart from other airlines' business class seats, which at times seem almost interchangeable.

Each seat is fully lie-flat and has controls to adjust various seat features. You can adjust the lumbar position, firmness of your seat, and use the massage function.

There are a few other differences between the bulkhead seats you'll find like in 7A and others. These bulkhead seats feature a larger footwell (as pictured) and the storage container below the inflight entertainment screen could easily fit a laptop. The same could not be said about Seat 9A, another throne seat just two rows behind.

One of the great things about the throne seats is how much storage room you have. Instead of having to get up and get stuff out of the overhead compartment during the flight or have stuff on the floor in the way, there is plenty of storage room for your personal items.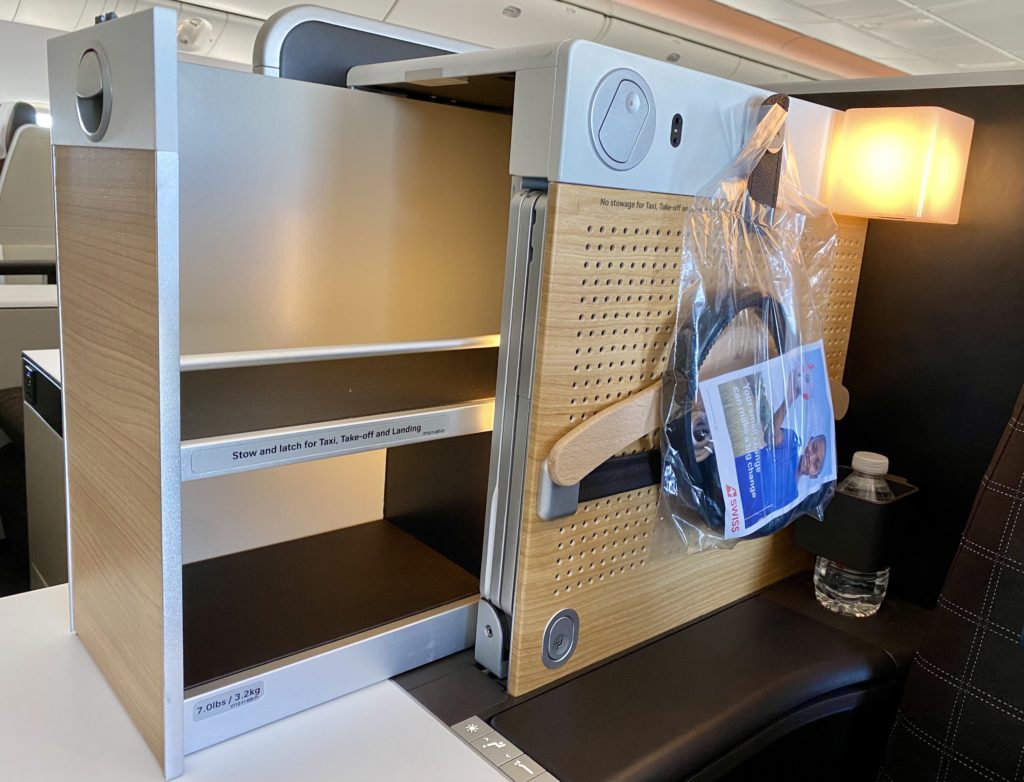 There is also a cubby for shoe storage – or anything else – during flight. Honestly, I don't think we've flown on a business class seat with this much storage space before.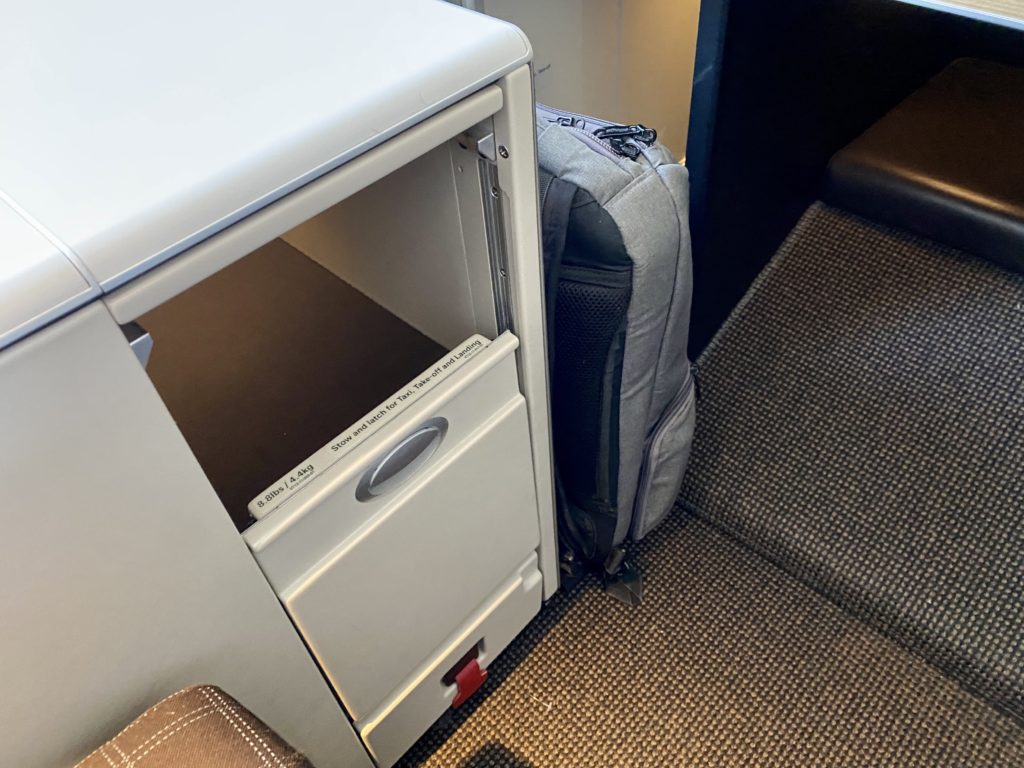 After the dinner service, it was time to catch some sleep. The seat fully reclines to lie-flat and a pillow and blanket were provided (blanket not pictured). The seats weren't as comfortable in the bed mode as some other business class flights we've flown. And even though I am just 5 feet 2 inches, the very narrow footwell made it seem like it didn't have a ton of room. If you're taller, you will want a bulkhead seat.

How to Book Swiss Business Class Throne Seats
The most spacious seats are the single seats by the windows in seat A & K. They cost $164 to select those seats at booking but we are were able to select them for free at online check-in 24 hours before departure. We selected seats 7A and 9A.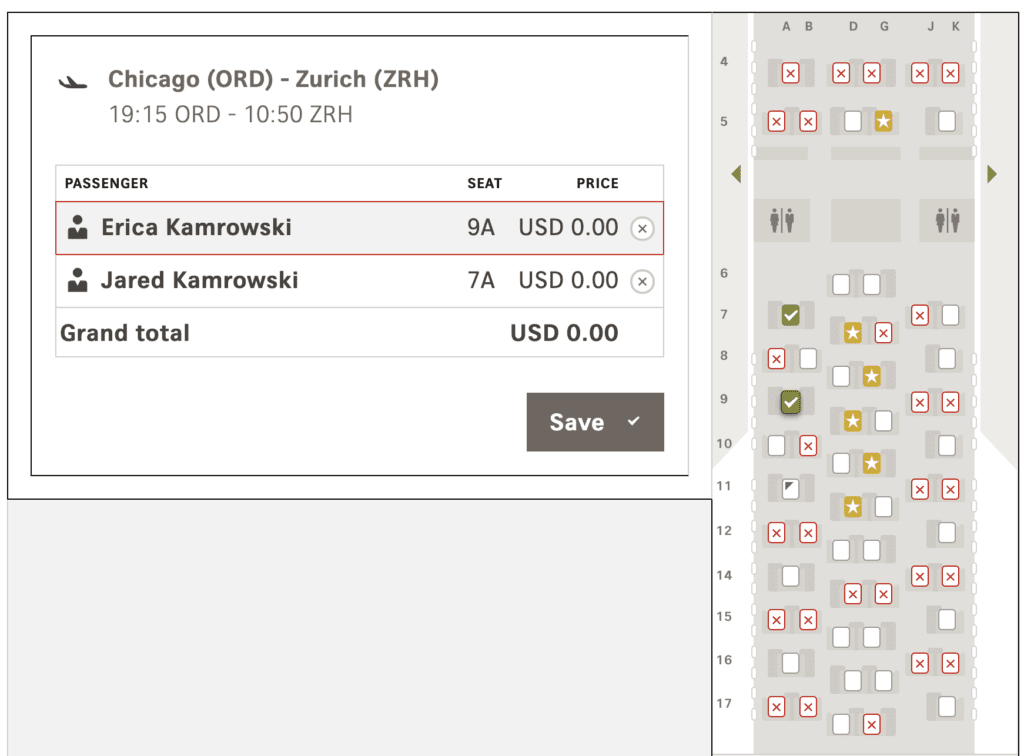 As was stated before, Jared was in seat 7A, which was a bulkhead seat and roomier than my 9A seat. We both were fans of the "throne" seat but since we were traveling together, it did take some of the fun out of the flight not to be seated next to one another. Had this been a daytime flight home from Europe, we would have chosen to sit next to one another.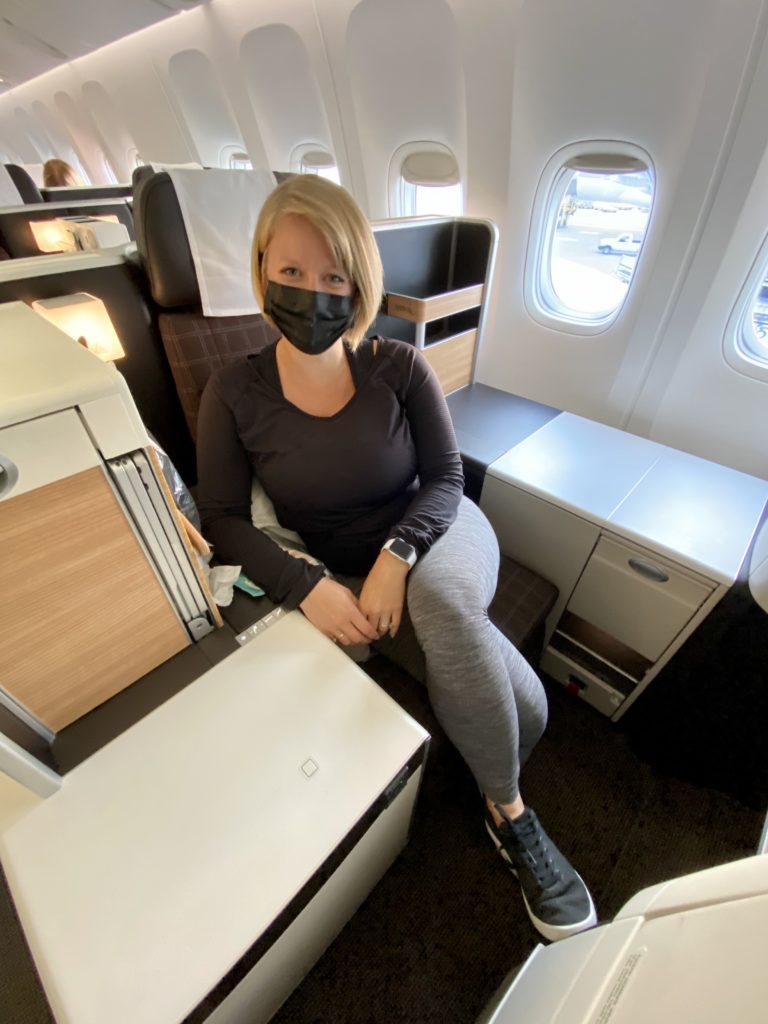 Service and Dining
After boarding, and a glass of champagne or orange juice after takeoff, the flight attendant handed out the dinner and drink menu along with the breakfast menu. Breakfast is served about an hour and a half before landing.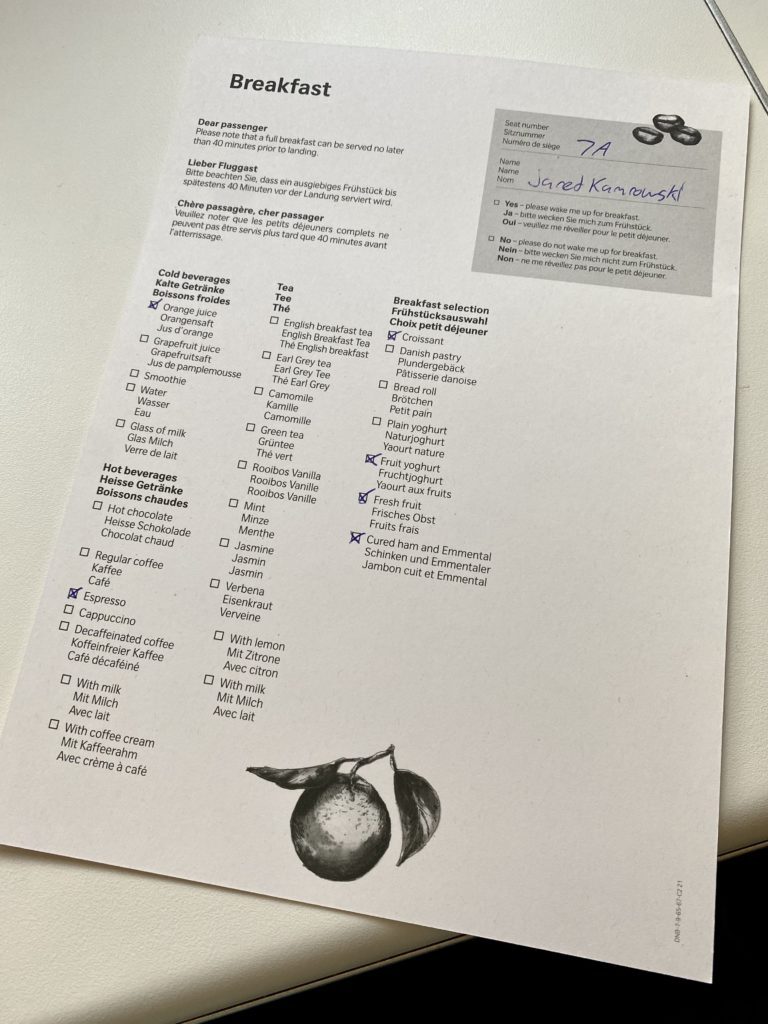 You are asked to fill out this form to order your breakfast at the beginning of the flight. You can also choose whether or not you want to be woken up for breakfast service.

The drink menu had a handful of Swiss products along with the standard drink choices. The alcoholic after-dinner or digestif choices included quite a few Swiss options along with Italian and French liquors.

The wine list is small, with Duval-Leroy Champagne and two choices for white – Swiss or French – and two choices for red, also Swiss or French. I did ask about a "Discovery Wine", a special selection that is supposed to be available on the flight, but they did not have one for our flight.

Beverages were served from a beverage cart, versus individually served by the flight attendant. They did come around with the beverage cart before dinner and a few times during dinner.
The pre-dinner drink was served with warm nuts and a choice of still or sparkling water.

For dinner, passengers were only given a choice of main courses. Jared chose the sauteed prawns and I had the butternut squash ravioli. We were served everything else listed on the menu.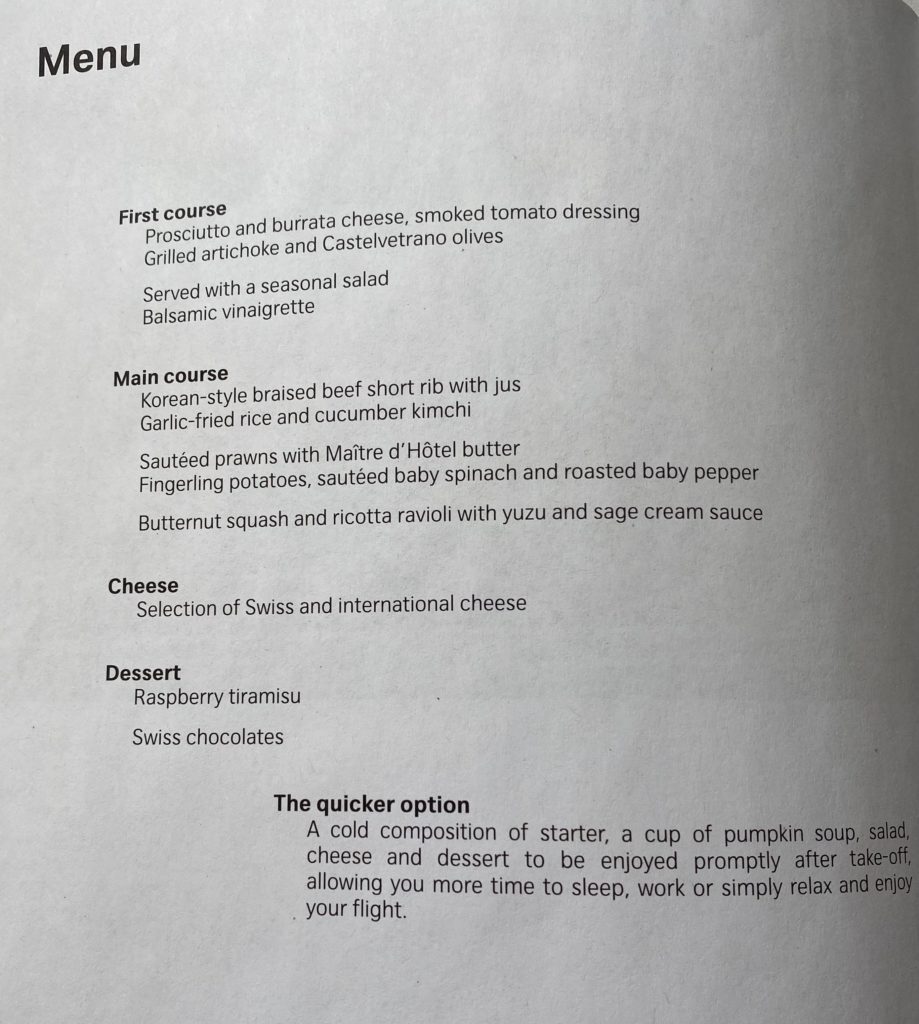 The first course all came out in one tray – and it isn't divvied up quite like it's laid out on the menu, likely a pandemic-driven change to simplify service. You receive a tray with the appetizer, cheese selection, and then you are offered your choice of warm roll, including pretzel rolls – of which I gladly had a few.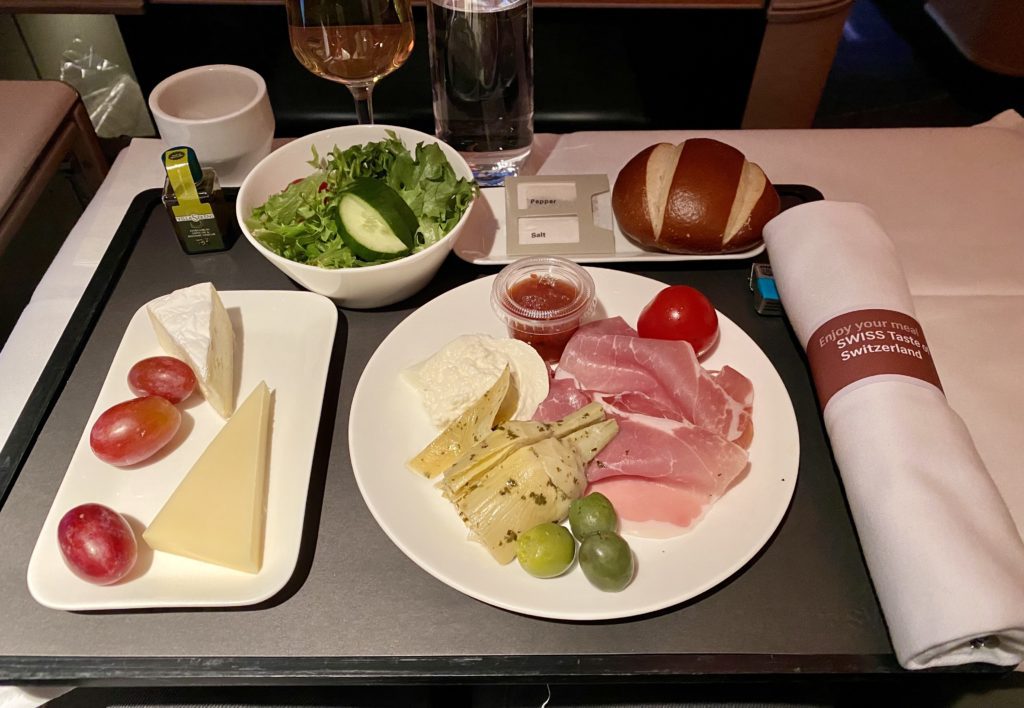 Once the first course was gone, flight attendants came by with the main course. Here's a look at the shrimp.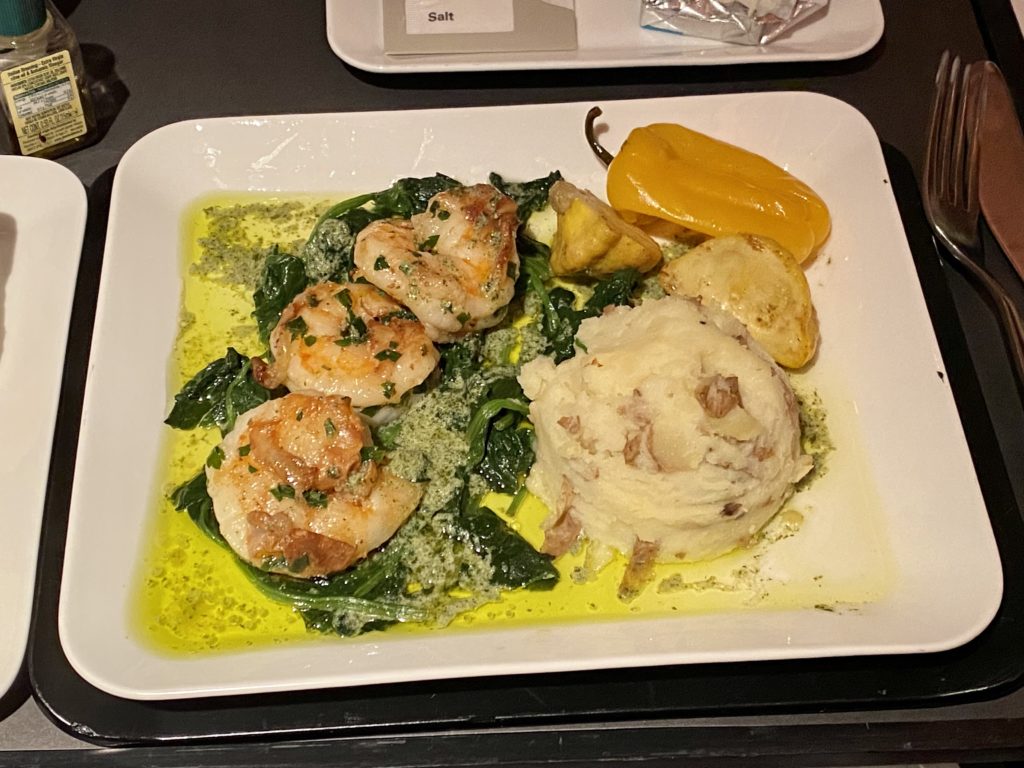 Overall, the food was good, and the service was prompt and the flight attendants were attentive. They made sure we had wine for each course, and offered us bread rolls multiple times during the meal. It would be more enjoyable if the meal was coursed out more, but that's splitting hairs.
After we finished dessert and any after-dinner drinks, there wasn't any in-flight service until breakfast was served. Because our flight was on the shorter side just about eight hours, another mid-flight meal or snack wasn't necessary.
Jared and I both chose to be woken up for breakfast prior to landing. It was nice to have it pre-ordered and not have to groggily figure out what to have after sleeping for a few hours.
The pastries were just ok and the fruit seemed like it had been previously frozen. But it was nice to be able to choose from quite a few options.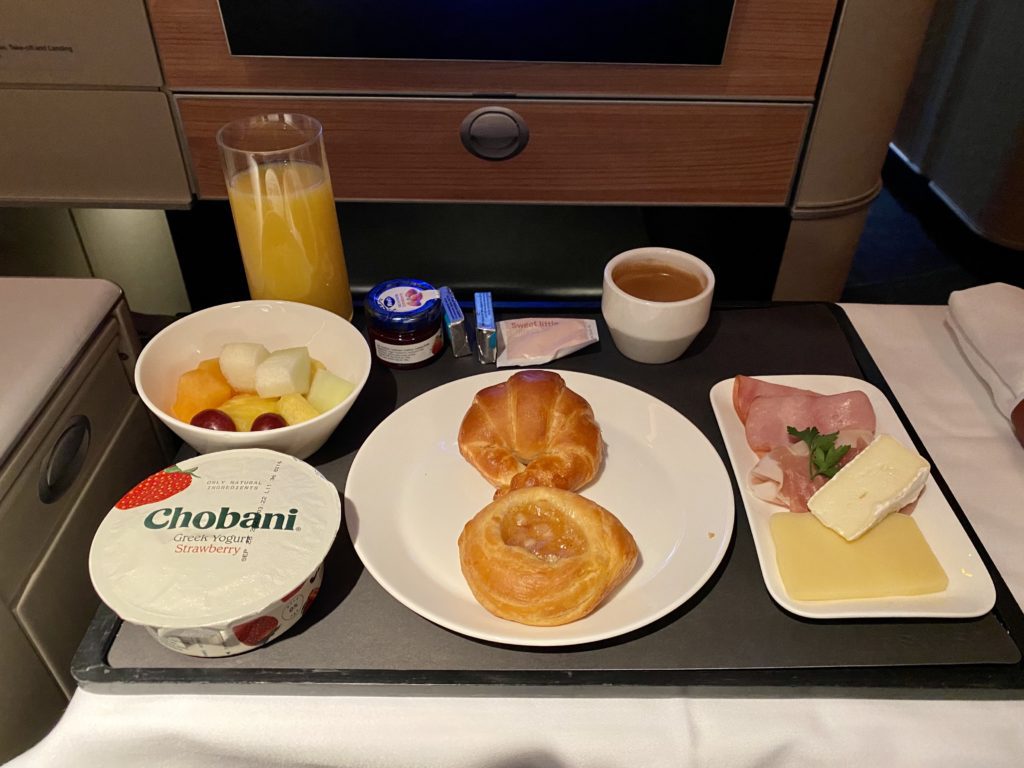 I was glad to see this aircraft was equipped with various espresso drink options instead of only basic coffee for breakfast.
Amenities
The amenities flying Swiss business class were simple but sufficient. Clearly, they save the best for passengers flying up front in first class.
The amenity kit was very simple – yet still very Swiss – with a toothbrush, toothpaste, chapstick, earplugs, an eye mask, and socks. Once you get home, the metal Victorinox case is the perfect size to store any foreign cash you may have accumulated from prior trips.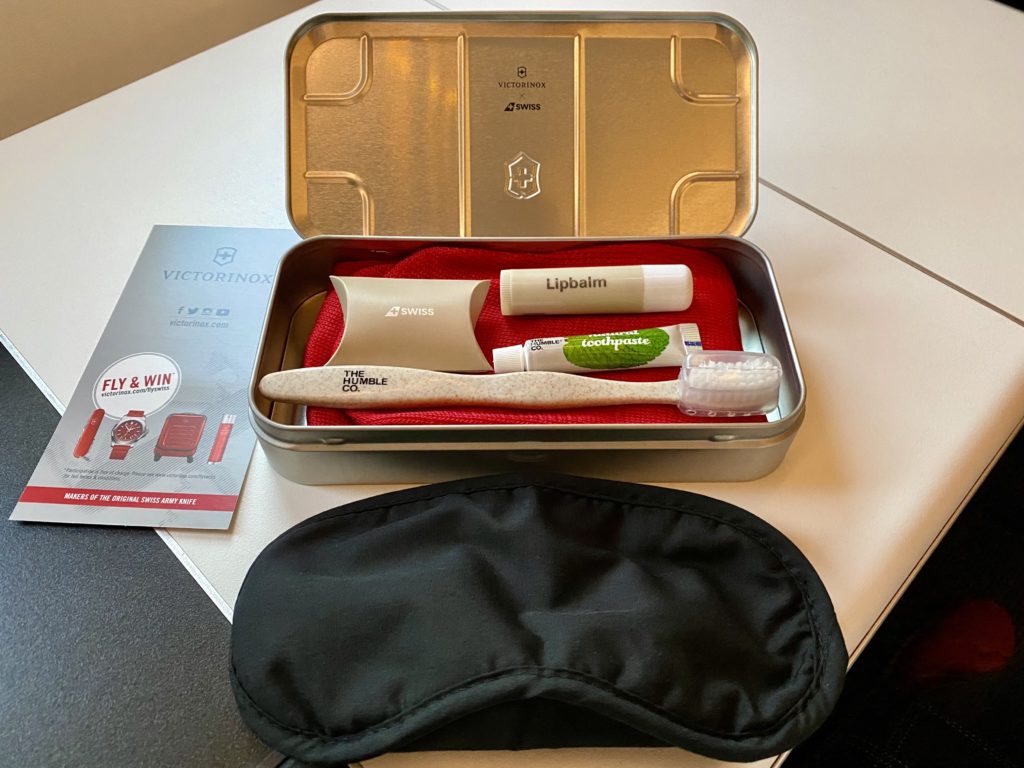 There was also a pair of Swiss-branded headphones wrapped in plastic waiting at each seat.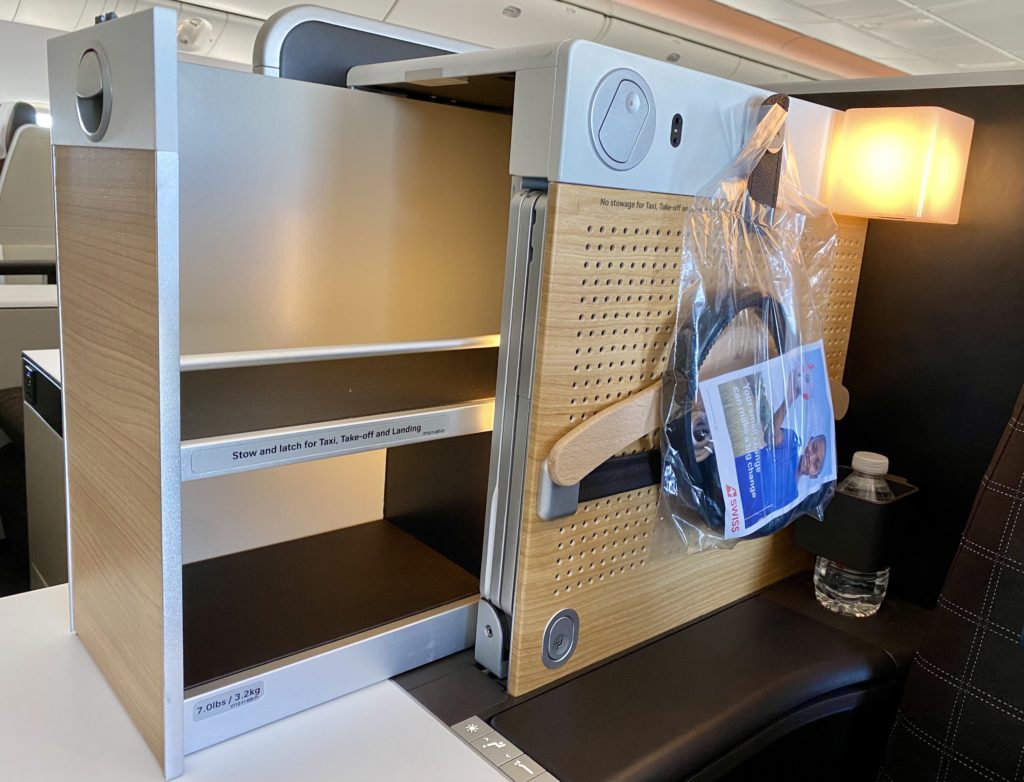 Entertainment & Wi-Fi
Each seat was equipped with a crisp, 15-inch screen.

The IFE was relatively easy to control and Swiss offered a decent lineup of movies. You could control inputs via the touchscreen or the corded controller in the right-side armrest.

No instructions for connecting to WiFi were available at my seat and the staff on the aircraft took a while to determine the URL to connect as well. When I finally was able to connect after trying several times, I quickly realized why the flight attendants weren't well versed in the Wi-Fi: It's exorbitantly expensive.
The Swiss Franc (CHF) is close to 1:1 with the U.S. Dollar so you can see that even 20MB of data costs around $9, and would provide less than two or three minutes of connectivity if you were only reading email. I eventually tried to connect at the 20MB price point, to check data speeds, but the payment was never processed.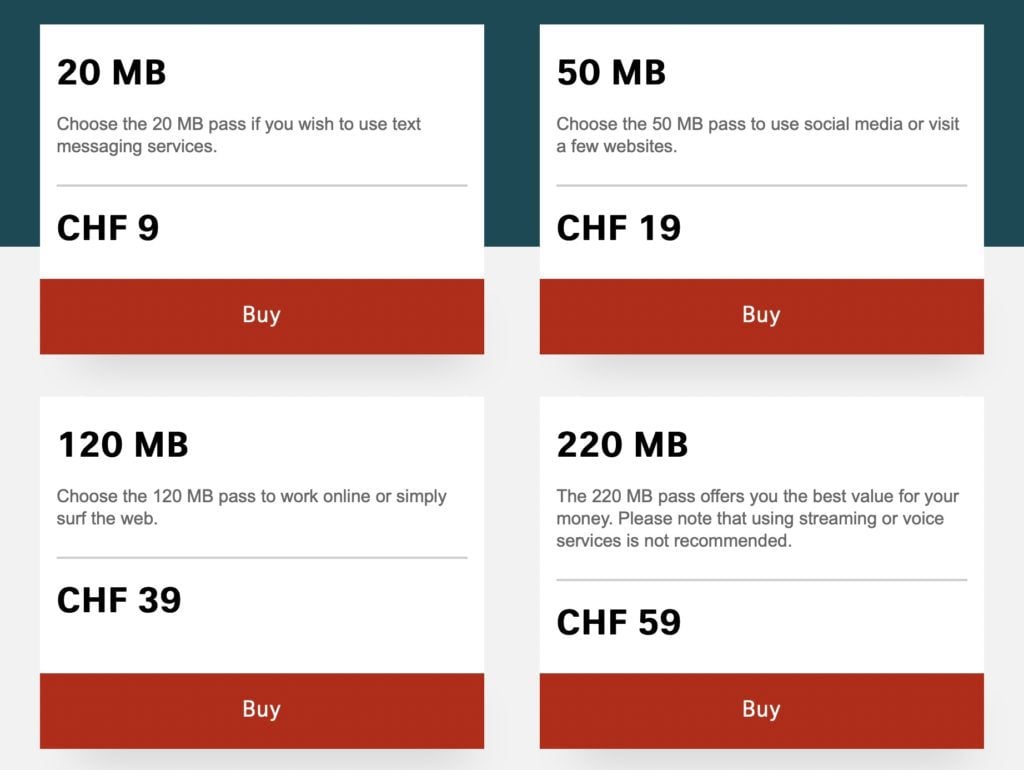 Bottom Line
It's hard to beat the attentive service, quality food, and decent seats offered in Swiss business class. While the WiFi was the weakest part of the experience, we're willing to let that slide as sleep was a higher priority on this trip than getting work done.
Best of all, this flight is easy to book using points and miles, which makes it even easier to recommend flying Swiss.
We're excited to fly this route again in the future and fly home from Zurich (instead of departing from Chicago), so we can visit the beautiful Swiss lounges and get the full Swiss Business Class experience.