Almost every aspect of the flying experience has changed during the pandemic. And that even extends to low-cost carriers like Sun Country.
Just like fellow budget carrier Spirit Airlines, Sun Country has made some noticeable changes to improve safety while flying. Yet some things remain largely unchanged from those blissful pre-pandemic travel days: no social distancing during boarding and deplaning and no blocked middle seats. And when it comes to inflight service, Sun Country has taken a bare-bones approach to limit contact between flight attendants and passengers.
Deciding which airline you should fly with is more important than ever as people consider returning to the skies. So I captured the flying experience on a recent Sun Country flight from Las Vegas (LAS) to Minneapolis-St. Paul (MSP).

While this review comes from my experience on just one flight, it paints a picture of what you should expect if you get on a Sun Country sometime soon during the COVID-19 pandemic.
Before Flying
Before booking with Sun Country, I read up on their COVID-19 policies to get a better feel for what to expect:
Changing or Canceling Fares: Sun Country does not currently have a special cancellation policy in place, but the airline always allows fares to be changed or canceled for free at least 60 days before departure (with fees applying for flights closer to departure).
Blocked Seats: Sun Country is not blocking seats from sale, but CEO Jude Bricker has said flight attendants will work with passengers on board to spread out when any extra seats go out empty. See our guide to airlines currently blocking middle seats.
Face Masks: All passengers and crew are required to wear a face covering. Sun Country lists no exceptions to this policy.
Cleaning: While Sun Country isn't cleaning its planes between each and every flight, the airline says it has boosted its cleaning procedures to any plane that's on the ground for two or more hours – as well as overnight.
Check-In: Like many other airlines, Sun Country has a check-in certification process requiring travelers to confirm they have not had COVID-19 symptoms; have not tested positive for COVID-19 or been exposed to anyone who has; and will wear a mask throughout the flight. Sun Country's certification also instructs passengers to check their own temperature and confirm it is below 100.4 degrees Fahrenheit.
Boarding: Sun Country's boarding process has not changed.
Service: Sun Country has suspended all in-flight service, including free drinks and buy-on-board beverages and food.
Sun Country isn't blocking middle seats during coronavirus, and I didn't want to get stuck in one. So I paid an extra $17 for an aisle seat in the front. Sun Country did mention its air filtration and cleaning on the seat selection page: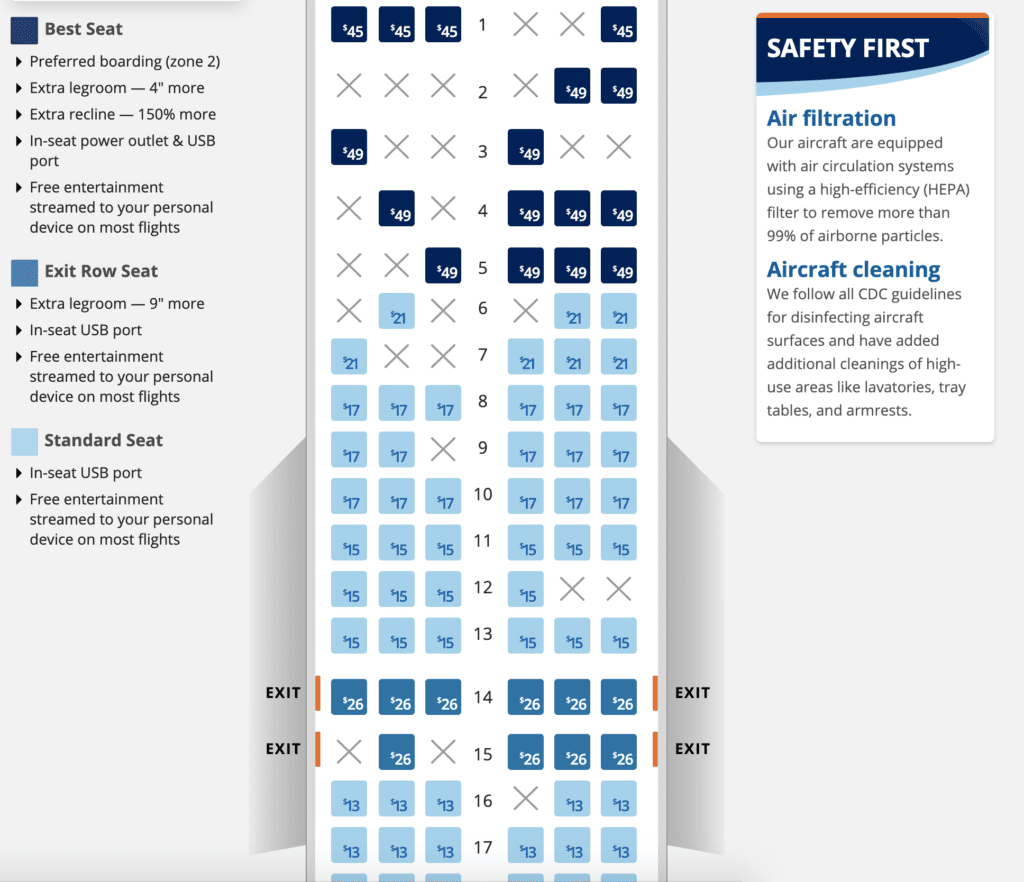 At the Gate
I flew Sun Country on the second leg of my flight home after moving my brother to California. In this case, my flight was from Las Vegas (LAS) to Minneapolis (MSP). And because it was a connecting flight, I did not enter through the check-in gates. I headed to my Sun Country gate to await my flight.
At the Las Vegas airport, most people were wearing masks in the gate area – except while eating and drinking. The Las Vegas airport is vigilant about safety during the pandemic: You'll see signage and hand sanitizer stations everywhere. I heard overhead announcements every 10 or so minutes reminding travelers to wear masks, spread out, and wash their hands frequently.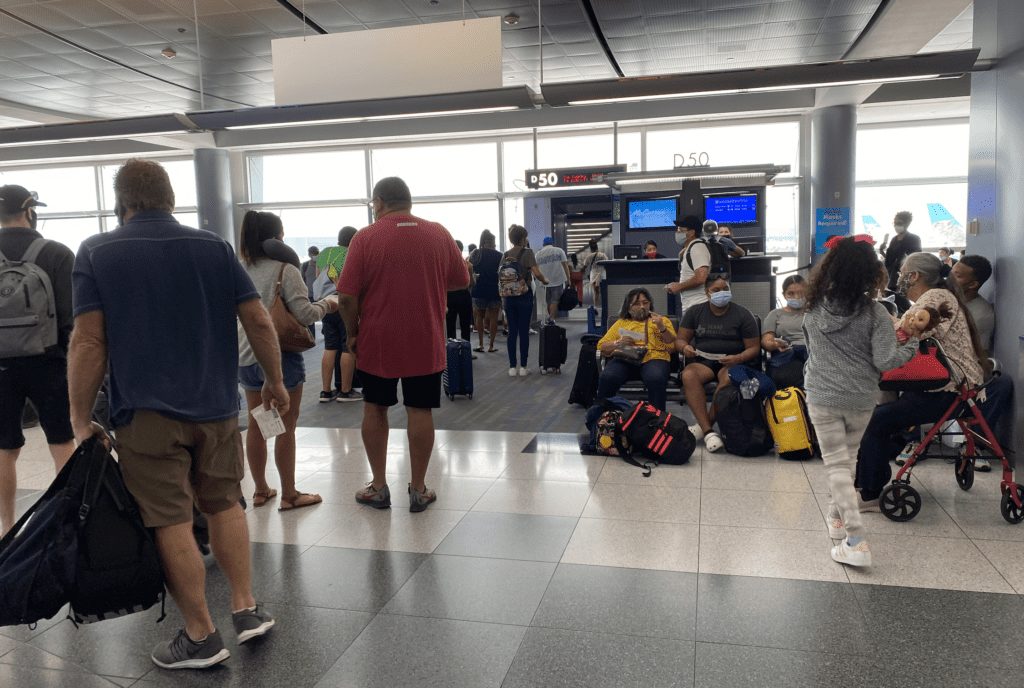 There was a Sun Country flight boarding at the gate before mine. The gate agent made an announcement to remember social distancing when boarding.
Boarding
When it came time for our flight to board, everyone got up and in line as normal – social distancing was not enforced in the boarding line.
At our gate, there were no social distance space markers on the ground or boarding area – a contrast from other airlines like Delta. I didn't see any additional COVID-19 signage with safety reminders from Sun Country, but there were airport posters about mandatory masks. Keep in mind your experience may vary by flight – especially if you're departing from Sun Country's Minneapolis-St. Paul (MSP) hub.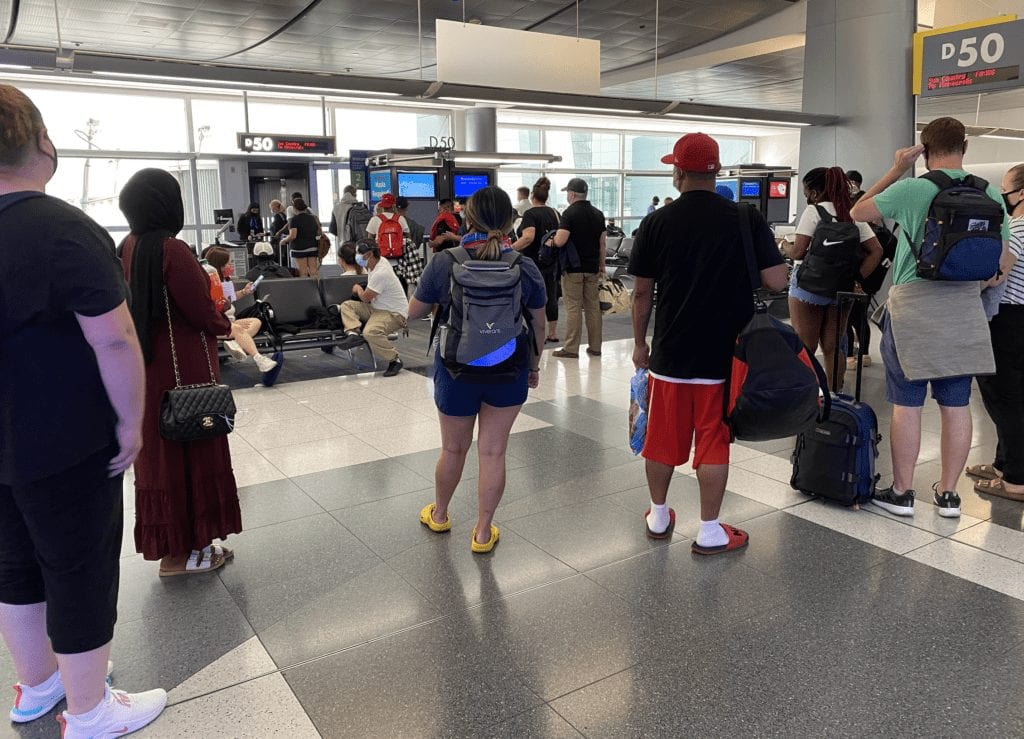 Some airlines have switched up boarding during the pandemic. But the Sun Country boarding process has not changed during COVID-19, and the airline was not enforcing or reminding passengers to social distance on the jetbridge.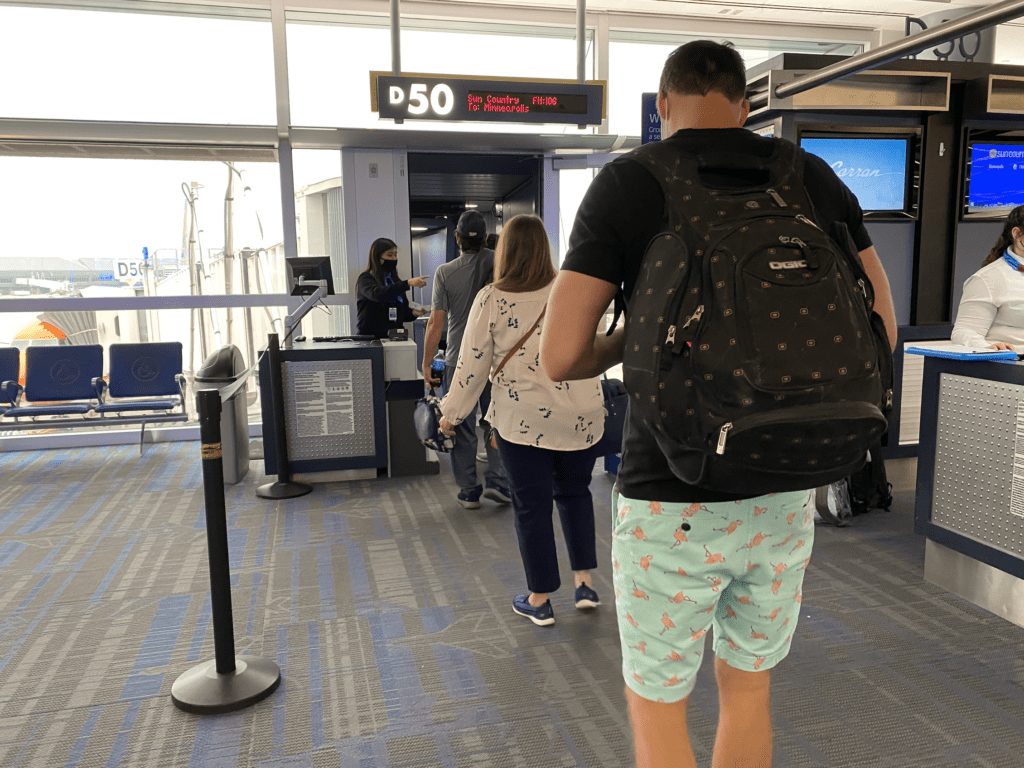 On the Plane
As I boarded the plane, I noticed that we had a nearly-full flight from Las Vegas to Minneapolis: Just a few seats were empty.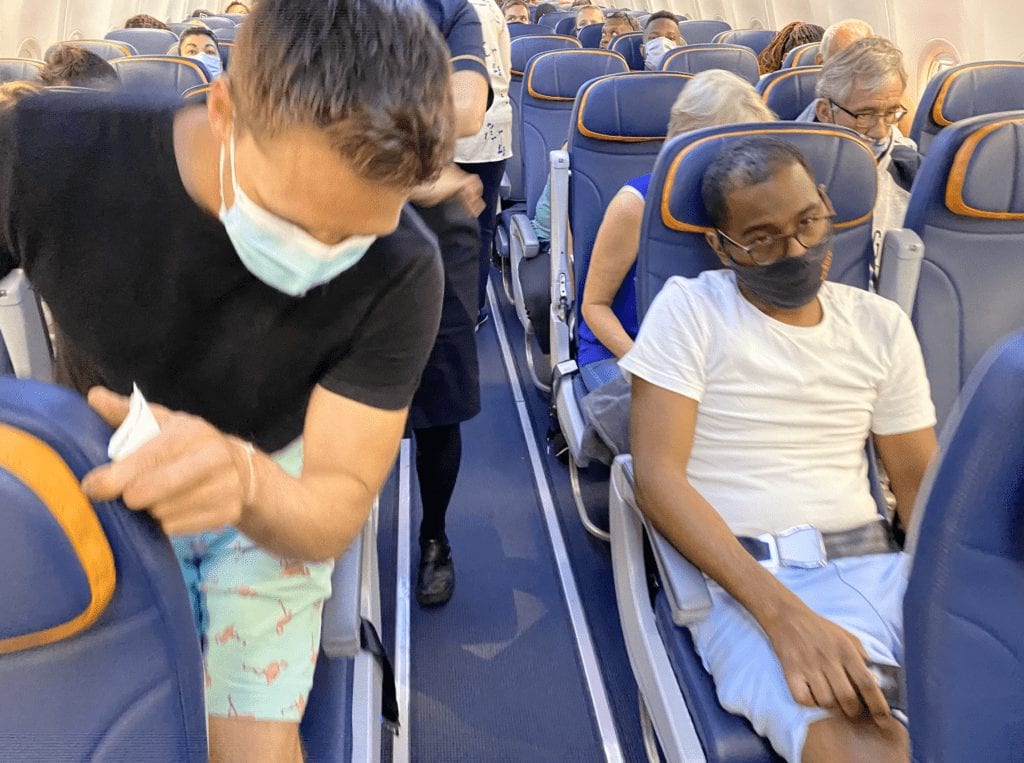 The flight attendant had to speak to two people who were not wearing masks as they boarded the flight, then made an announcement about their mandatory mask policy.

Inflight
As we took off, flight attendants weaved some COVID-19 reminders throughout their announcements: reminding passengers to keep masks on throughout the entire flight, wash their hands frequently, and to cough or sneeze in their elbow. There was no word about Sun Country's enhanced cleaning or air filtration measures, which is commonplace flying during the pandemic.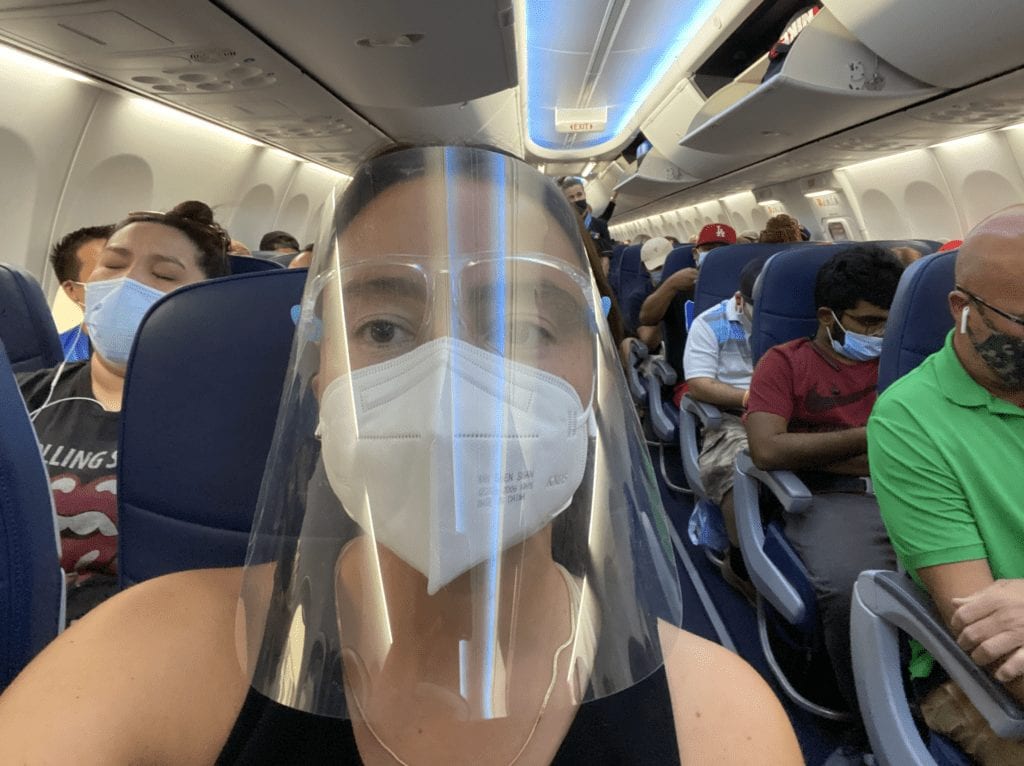 Sun Country has suspended all food and beverage services to avoid person-to-person interaction. Nothing is available even for purchases, so you'll want to bring drinks and snacks on your flight. Besides the occasional pass through the cabin to pick up trash, I hardly saw the flight attendants throughout the duration of the flight.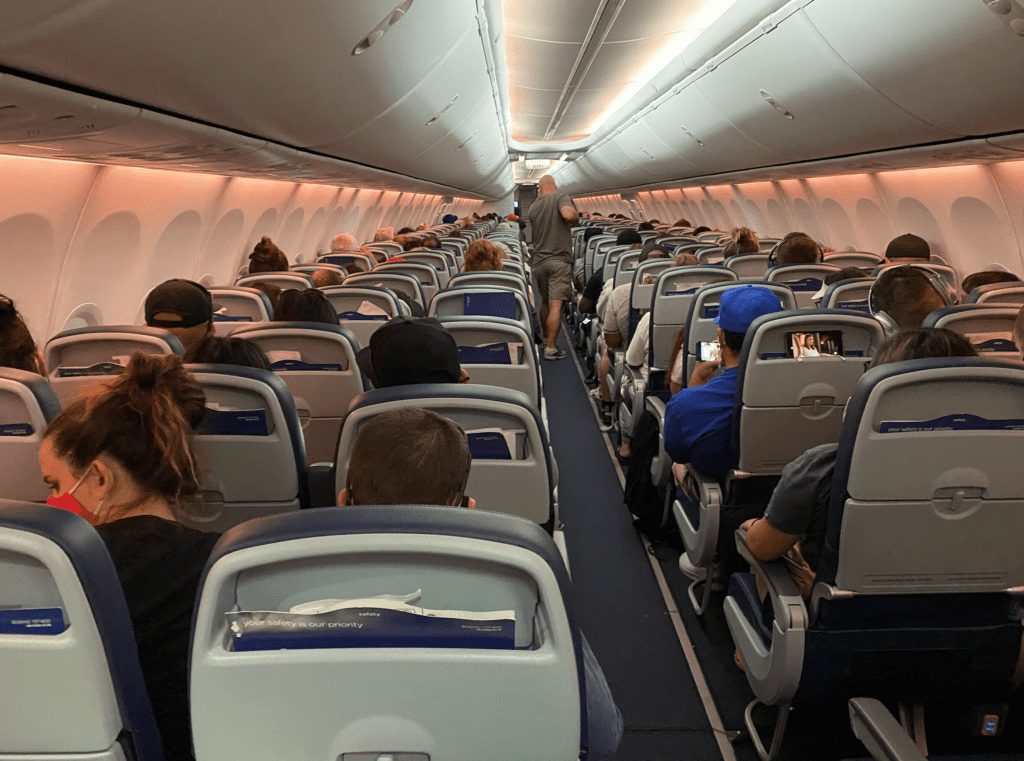 Several passengers wore face masks incorrectly, including one passenger a row ahead of me wearing her face mask as an eye mask to sleep. Aside from the reminders during boarding, I didn't see or hear any Sun Country flight attendants asking passengers to wear their masks properly during my flight.
Deplaning
When it came time to deplane, there was not an announcement reminding travelers to socially distance while getting off the plane.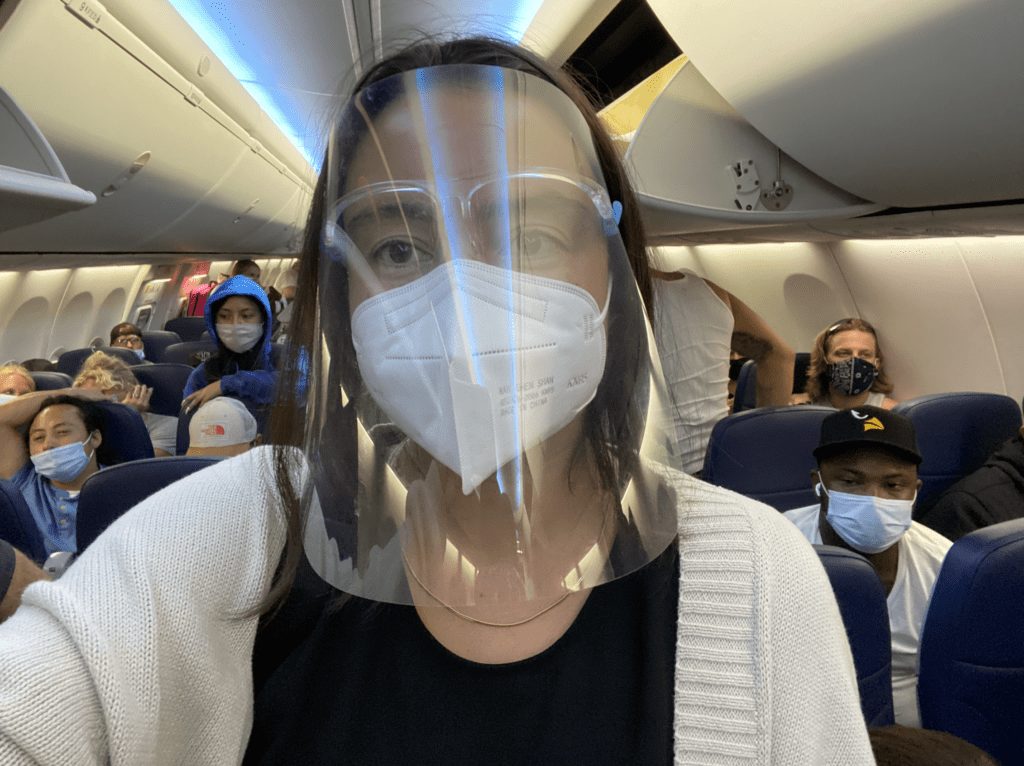 As in pre-COVID times, when the seatbelt sign turned off and we came to a stop, many travelers sprang to their feet. There was no enforced social distancing while deplaning.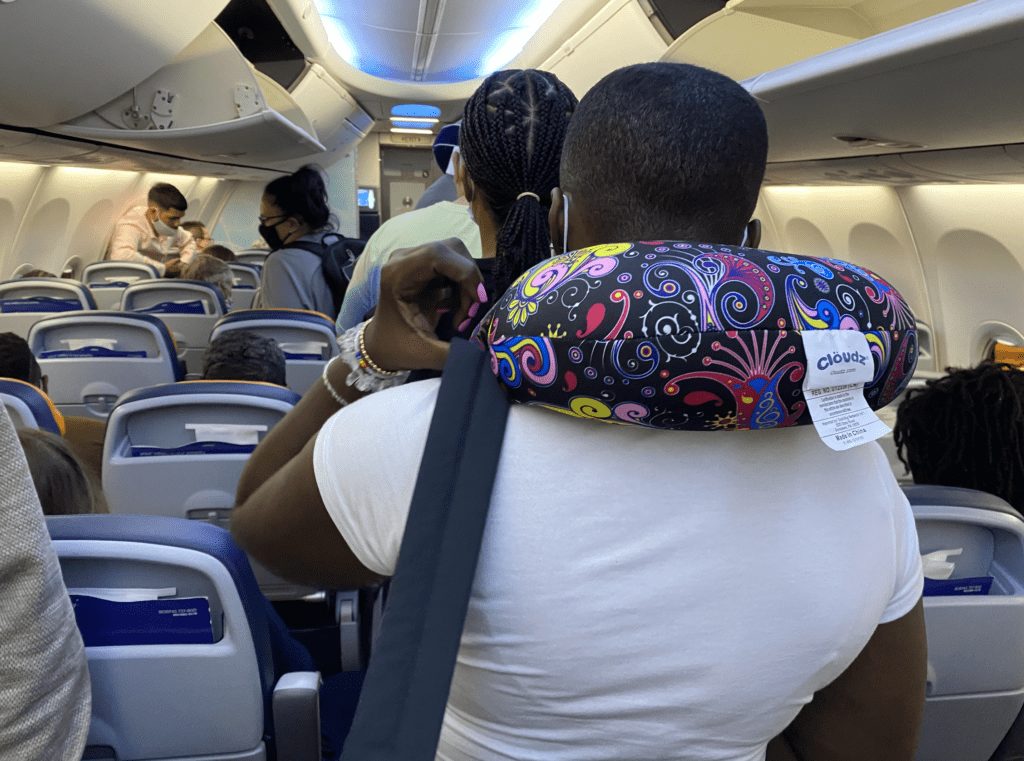 Bottom Line
Aside from the new mask requirements, flying Sun Country during COVID-19 looked and felt a lot like the days of pre-pandemic travel – and that's about what I expected.
Until in-flight service resumes, don't expect to get any food or drink onboard your next Sun Country flight. And with flight attendants largely steering clear of passengers expect to pick up trash, enforcement of mask policies might be spotty as it was on my flight.
While it will vary by flight, Sun Country is selling flights to capacity which means you might be on a fairly full flight. And the boarding and deplaning processes remain largely unchanged, too.